Here's tips on protecting butcher block countertops including the best wood sealer options, sealing benefits, and how you keep your butcher block kitchen countertop from staining.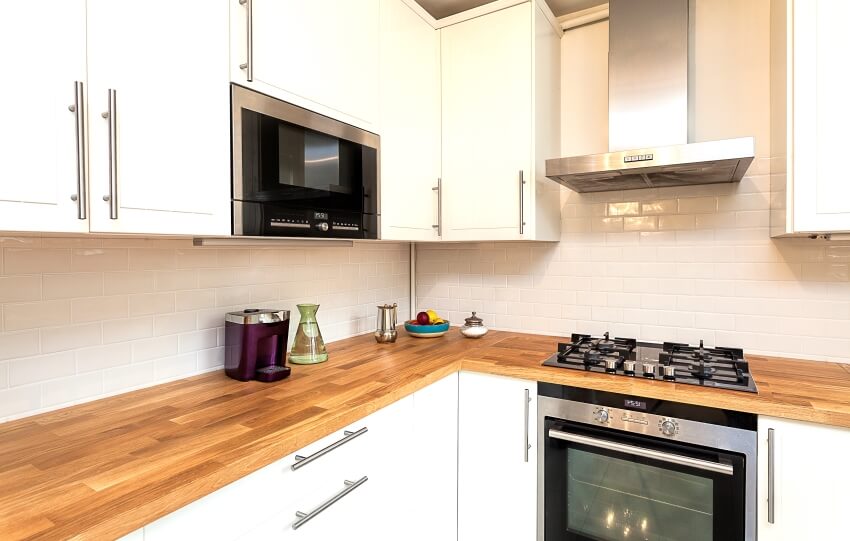 Butcher block countertops offer a lot of benefits. Not only are they aesthetically pleasing but they're affordable as well! They can last a long time too but they're susceptible to damage and stains if you don't take the proper measures.
Don't let that stop you from enjoying the butcher block countertops you love, though! Keep reading and we'll go over how you can protect your butcher block countertops.
How To Protect Butcher Block Countertops
There are a few different ways that you can make sure your butcher block countertop lasts years to come without losing its appeal. Before diving into more specific questions, let's take a look at some of the general measures that you can take to protect your butcher block.
Since it's so susceptible to liquid damage, it's a good idea to start by sealing your butcher block. This will help you avoid any damage from moisture. Since sealing doesn't last indefinitely, it's a good idea to reseal your butcher block countertop every 10 years.

Extreme temperature fluctuations can cause the wood to contract and expand accordingly too. While you can't help seasonal changes, you can reduce the risk of warping by protecting your counter from direct exposure to items like hot pots and pans.
Finally, don't forego using a cutting board or other type of countertop protector. Otherwise, you risk scratching and scoring your countertop in its place. Some minor burn and cut marks on butcher block countertops can be sanded out.
If you're looking for a low maintenance countertop option wood may not be ideal. Read more about this in our comparison of butcher block vs granite countertops for more about durability and maintenance differences.

What Is The Best Sealer For Butcher Block Countertops?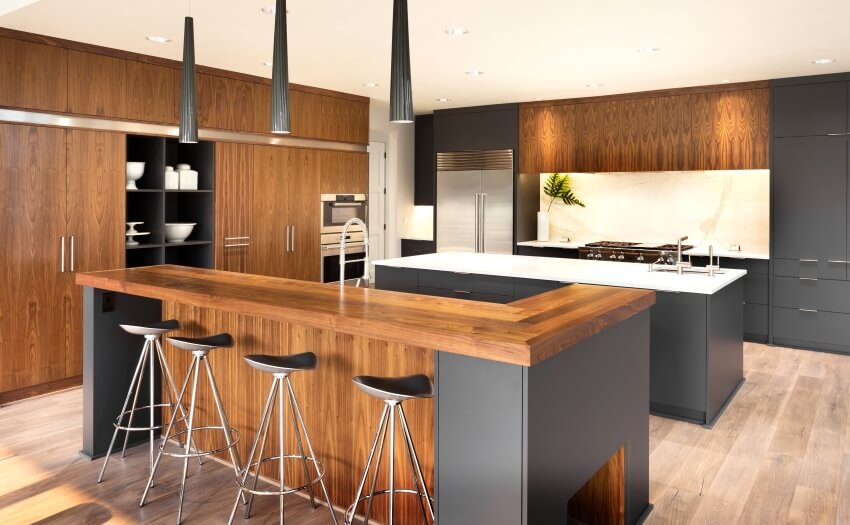 Sealing your butcher block countertops is a great way to make sure that they're safer from water damage. However, making sure that your butcher block countertop is sealed correctly is to know which sealer you should turn to.
One of the best options you have is mineral oil. Since we're talking about countertops and butcher block is a popular choice for kitchens rather than somewhere like a bathroom, you'll need to make sure that you're using food-grade mineral oil.
This is a popular choice for a few reasons. The good news is that this natural choice can help keep your countertop looking great without causing too much hassle or expense. The only downside is that it can leave an oily residue behind on your counter.
So, not everyone who owns a butcher block countertop uses mineral oil. There are a few other popular options like paraffin wax or tung oil.
How Do You Keep A Butcher Block Countertop From Staining?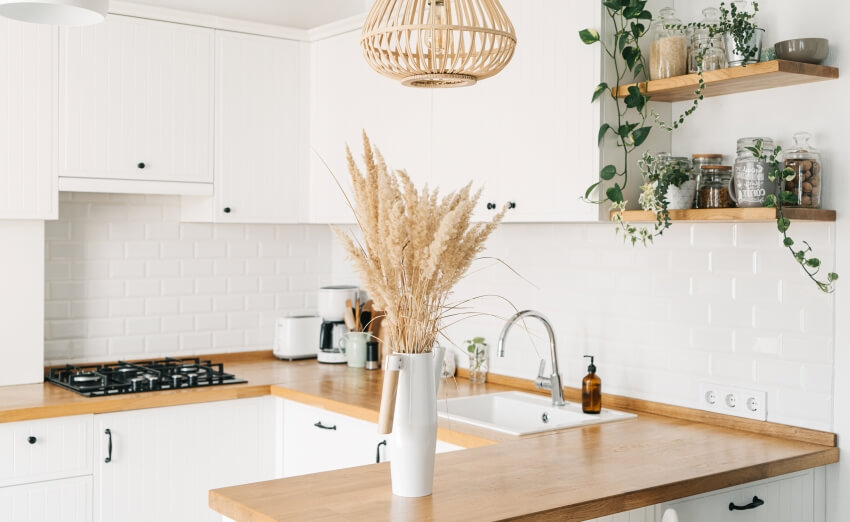 To start, sealing your butcher block countertop will help keep stains out. This is because it helps to keep liquids and messes from seeping into the wood, leaving a permanent stain behind.
Luckily, there are a few steps you can take to keep your butcher block countertop safe from messes as you go. For example, if you spill anything on your countertop while you're cooking, make sure to act fast. You don't want to leave a mess and give it time to set.
Daily cleaning helps as well. You can just use mild dish soap to wipe down your counters. For further disinfecting power, turn to white vinegar.
You can simply spray the area with a bit of vinegar and, after a few minutes, wipe it up with a damp cloth. Finally, let it dry completely before covering that section of the counter with anything. For more related cleaning tips, see our butcher block backsplash ideas here.

Is Polyurethane Safe For Butcher Block?
When it comes to sealing kitchen countertops, it's crucial that what you use is food-safe as well as safe for your countertop. So, where does polyurethane fall in this concept?
The good news is that polyurethane is both safe for the wood in your butcher block countertops and keeps your counters food safe.
There is a big caveat to this concept, though. While cured polyurethane is safe, uncured polyurethane is not safe and you should make sure to work with it under the proper ventilation and with the right safety gear on.
Since curing times can vary from a couple of days to a whole month depending on the polyurethane you choose, make sure that you properly cure the countertop seal before using the counter at all.
Do You Need To Seal Butcher Block Countertops?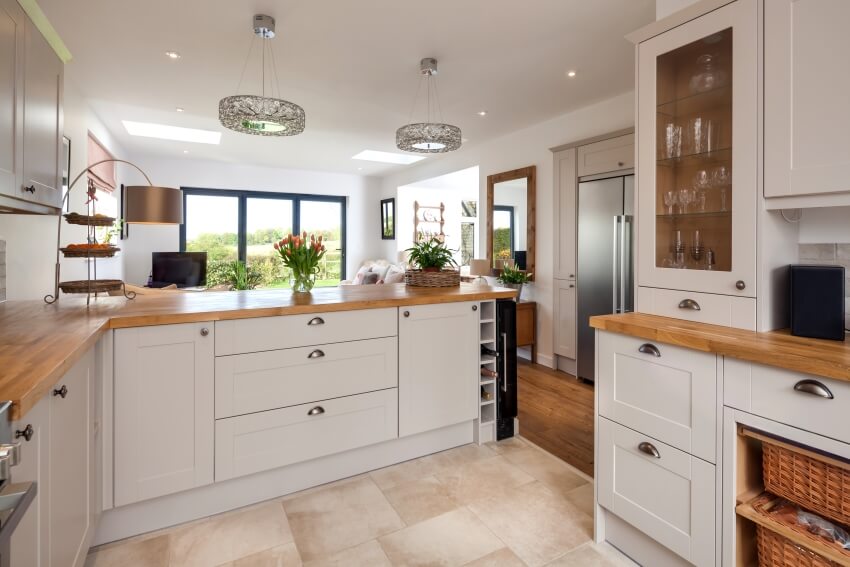 Yes! If you want your butcher block countertops to last for years to come and look great the whole time, you have to seal them. Of course, for the best results, you'll want to choose the right seal to make sure that your countertop looks great, avoids damage, and remains food-safe.
All in all, you won't want to skip out on sealing your butcher block countertops if you want them to perform as well as they possibly can.

What Happens If You Don't Seal Butcher Block?
Wood is susceptible to absorbing things around it that you probably don't want to be trapped in your countertop. No one wants to prepare their food on a countertop that starts to absorb the dust, debris, and moisture it comes into contact with.
Even further, it's a good idea to seal your butcher block countertops not just for hygienic reasons but for aesthetic reasons as well. If you don't, your butcher block countertop will retain stains, spills, and any other messes.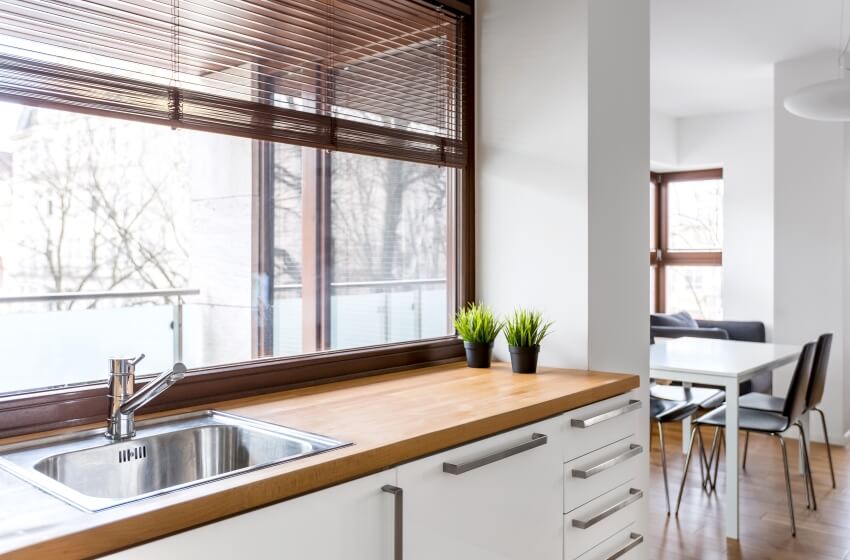 Finally, sealing your countertop properly can help you avoid warping. Specifically, it helps with warping from wood that dries unevenly.
That said, it's important to note that while sealing may help with warping, it won't entirely prevent it. It helps to reduce the damage but the wood will naturally expand and contract as the temperature of it and around it changes.
Like any other countertop, butcher block countertops offer a lot of benefits but come with a few drawbacks due to their fragility. These types of wood countertops often get a lot of flack for being a bit delicate. However, if you love the look of butcher block countertops, you don't have to sacrifice durability.
By following proper basic maintenance steps, you can make sure that your butcher block counters last years to come without showing too much wear and tear from regular use.
Visit our types of kitchen countertop protection guide for more related content.