Welcome to our ultimate guide on beautiful soapstone countertops including a variety of kitchen design ideas.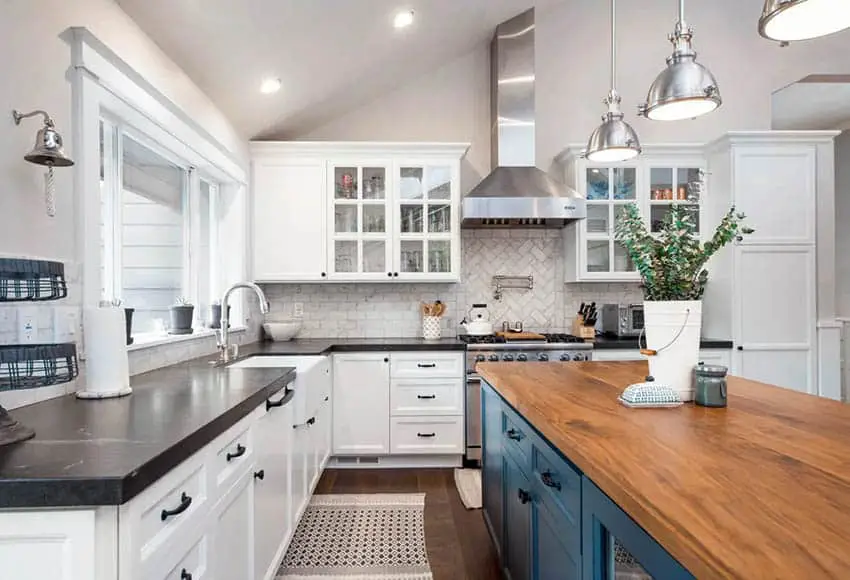 So you may be wondering exactly what are soapstone countertops? Soapstone has become an increasingly popular material of choice for kitchen counters due to its beauty and ease of use. Soapstone hails its name from it's soap-like surface texture. Similar to granite or marble, soapstone is a natural material. Soapstone when used for kitchen countertops contains higher concentrations of quartz to help make it more durable for day to day use.
This stone naturally contains talc, so compared to other stones like quartz or granite, soapstone is a softer material, which is why soapstone with high talc content is a popular material for sculptors. For countertops, the soapstone with lower talc content are recommended as they are more suitable for for interior & architectural applications.
Due to its natural beauty and durability soapstone is often used for applications such as countertops in the kitchen & bathroom, sinks and fireplace surrounds. Unlike many other counter types soapstone does not need to be sealed or stained, however many homeowners apply oil or wax to the surface at least twice a year to help keep it looking new.
Soapstone Countertops Pros and Cons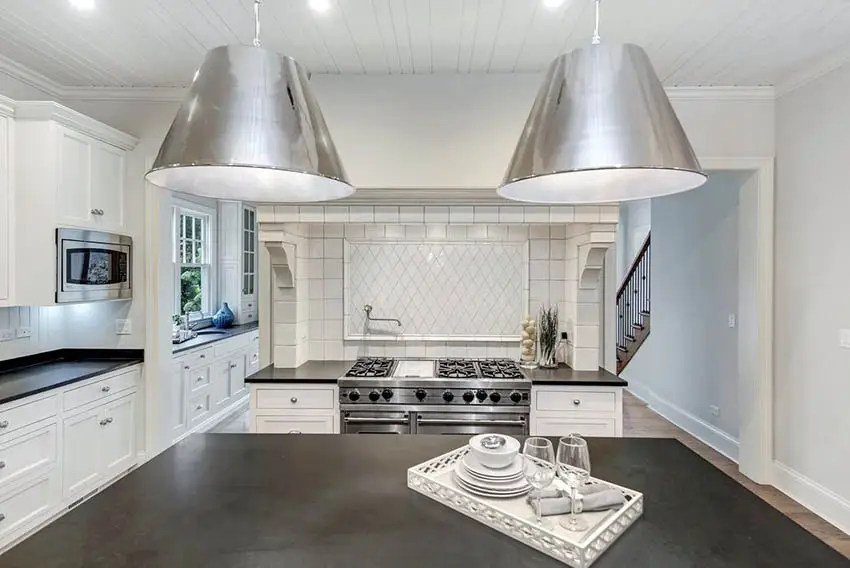 PROS:
Soapstone is non-porous, meaning unlike granite or other porous stones, you don't need to seal this material constantly to keep it in shape.
Because this material is so dense and non-porous, it doesn't hold bacteria, doesn't stain, and is very easy to clean.
Unlike other materials with strict lists of cleaning agents that can be used, soapstone can easily be cleaned with soap and water or any all-purpose cleaner. Acids from lemons and other fruits won't really affect the material.
You don't need to seal this material. A layer food-grade mineral oil is enough to maintain its sheen
Easy to resand in case of chips or scratches
Because it is soft, you can easily carve-in or fabricate features such as a drainboard, or even make an integrated sink using a piece of soapstone.
Easy to DIY since you can cut it using diamond-tipped circular saw.
Heat-resistant – so there is no worry cracking its surface when you put a hot pan on top of it.
Can be used both indoors and outdoors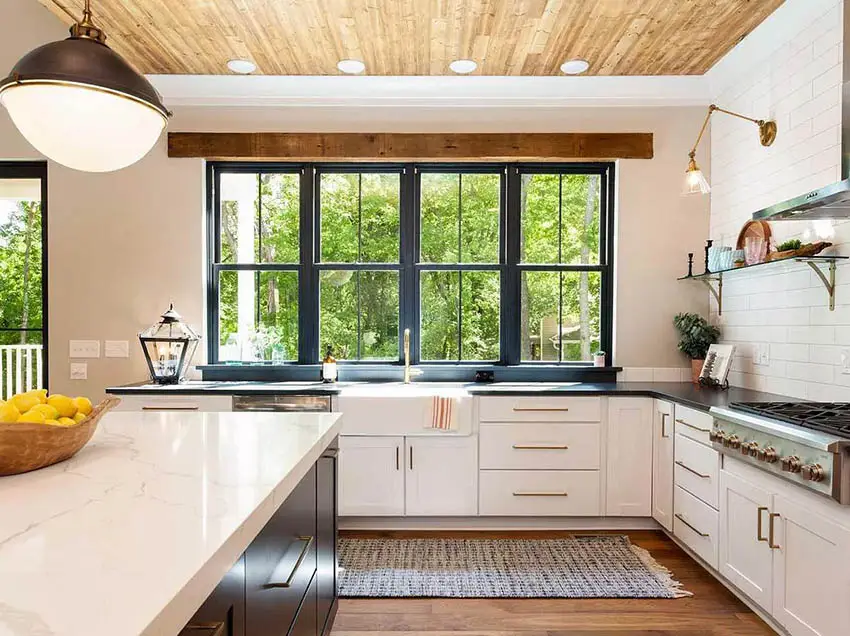 The combination of white cabinets, white marble and black soapstone, gold metal handles and raw wood perfectly creates this simple and relaxed mid-century modern kitchen look.
CONS:
Price – soapstone can cost as much as premium-grade granite countertops, which is a harder material
Its softness means it is prone to scratches and chipping (which can easily be remedied by sanding)
It only comes in 7′ or 84″ lengths, so this means you'll have to have more seams on your counter if you have a long run.
It changes color over time – for some, it can be a pro instead of a con, but do keep it mind that soapstone naturally darkens over time. Adding mineral oil will help speed up this darkening process as well
Colors are limited
Soapstone Countertops Cost
Depending on where your soapstone is sourced and its talc content, soapstone can range from $45 to $85 per square foot. This cost will be affected depending on your location, installation cost (if you're using professional installers), thickness of your slab, configuration and other special fabrication needs (adding drain-boards, openings for built-ins, etc.
Installed, soapstone can cost around $60 on up to $105 per square foot. They are comparable to the cost of high end granite.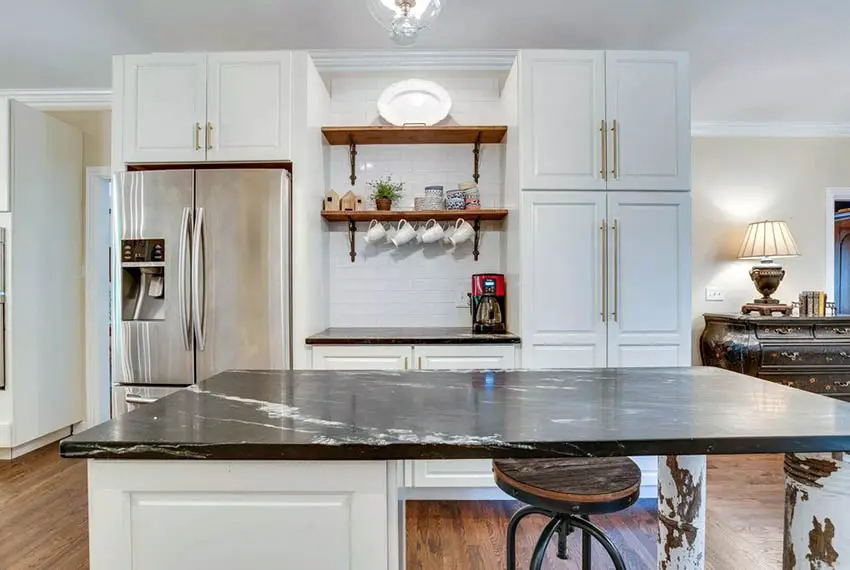 A thick slab of soapstone was used to achieve this floating kitchen island look. The bold white streaks on the soapstone seems to mimic the antiqued finish of the support legs/columns of the kitchen island.
Soapstone Countertops Colors
Soapstone naturally comes in very limited colors, mostly in the shades of gray. The veining of soapstones varies from quarry to quarry an can vary from small to large. Although some might contain hints of blue or green, the dominant colors are usually white, gray or black. Always keep in mind that soapstone naturally darkens over time, so take note of that when selecting your soapstone color.
Black Soapstone Countertops
Soapstones are commonly found in black color with varying vein sizes and patterns, depending on the quarry of your soapstone. Most dark gray soapstones will darken to black over time, so do keep that in mind.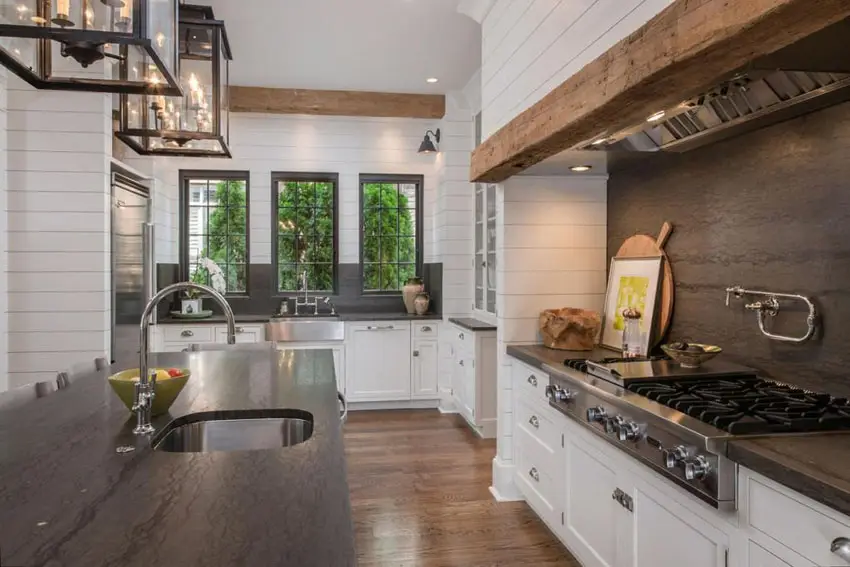 Unique dark veins adds a subtle pattern and detail to this black soapstone countertop. The dark surface easily complements the all white kitchen cabinets and white wall siding.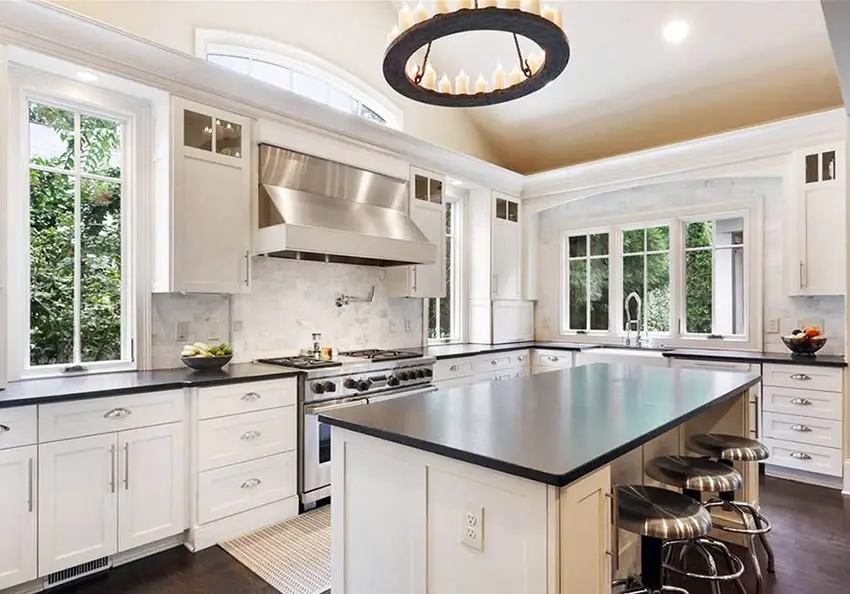 Need softer edges? Soapstone is the way to go! Because soapstone is soft, it is easier to buff and soften its hard edges and corners. Rounding of edges and corners not only gives a different vibe, it also makes your kitchen safer for children and adults alike, because there's less sharp points to accidentally hit.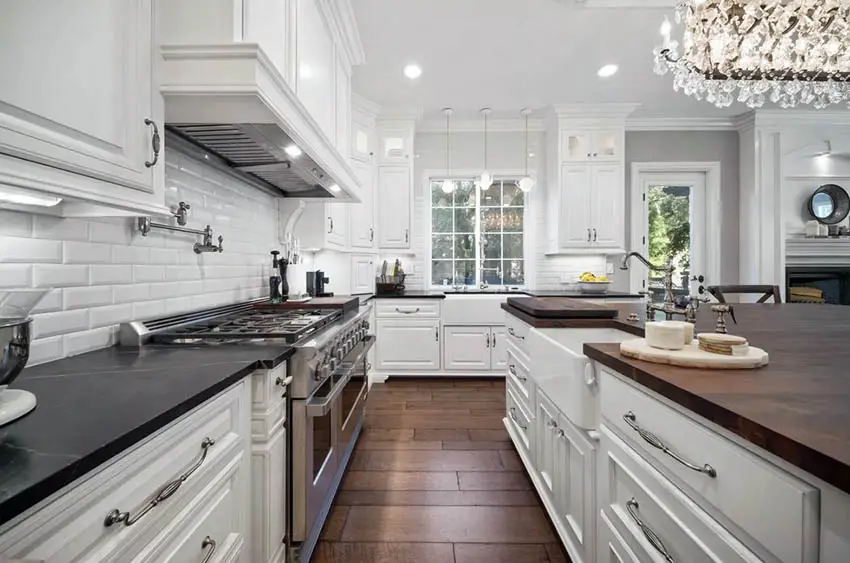 This French style kitchen features a unique combination of white kitchen cabinetry paired with black soapstone and butcher's block countertops. The matte finish of the countertops aid in toning down the intricacy of the details of the cabinets, giving the kitchen a more contemporary feel.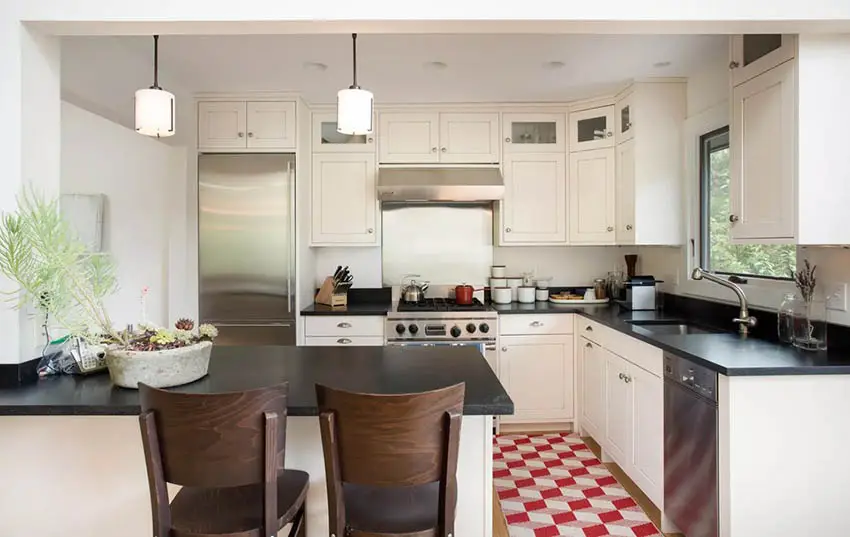 Some soapstone counters, like this kitchen peninsula design, have very little/subtle grain patterns. In time, or when applied with layers of mineral oil, it could become dark enough that it almost looks all-black.
White Soapstone Countertops
Don't expect a pristine white like quartz on soapstones. Most of white-background soapstones will have varying amounts of gray veins scattered along, so it would appear more light-gray overall than white. If you're lucky, you'll be able to find a slab that has more white than gray.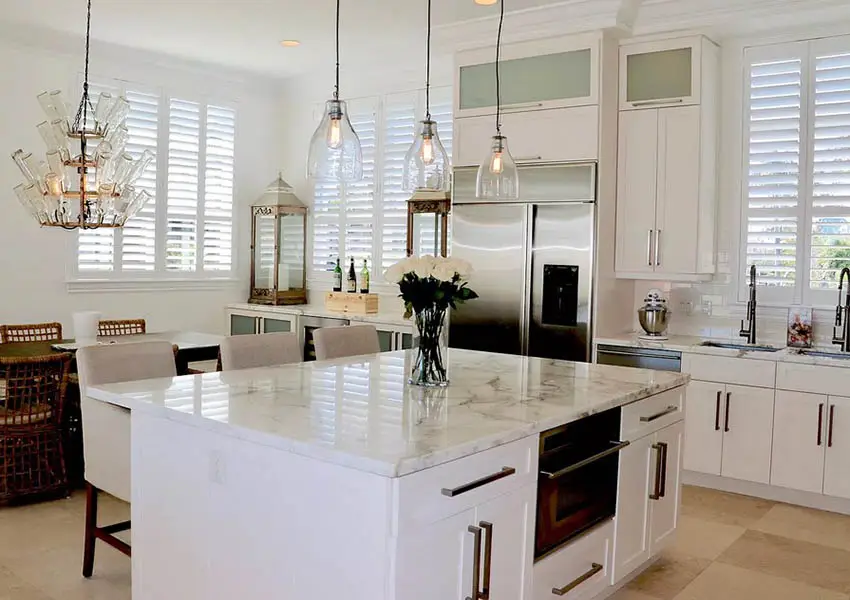 This kitchen island has a gorgeous white soapstone countertop with light gray veining.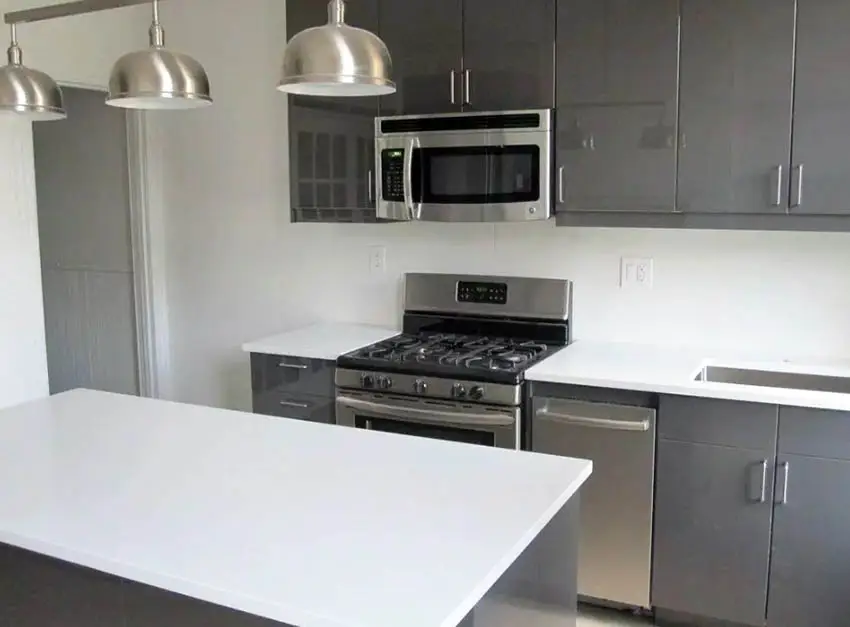 This modern kitchen design features gray cabinetry paired with all white soapstone counters.
Green Soapstone Countertops
Finland green soapstones are famous for this green talc color that gives that green tint to the soapstone. They come in varying shades of green as well.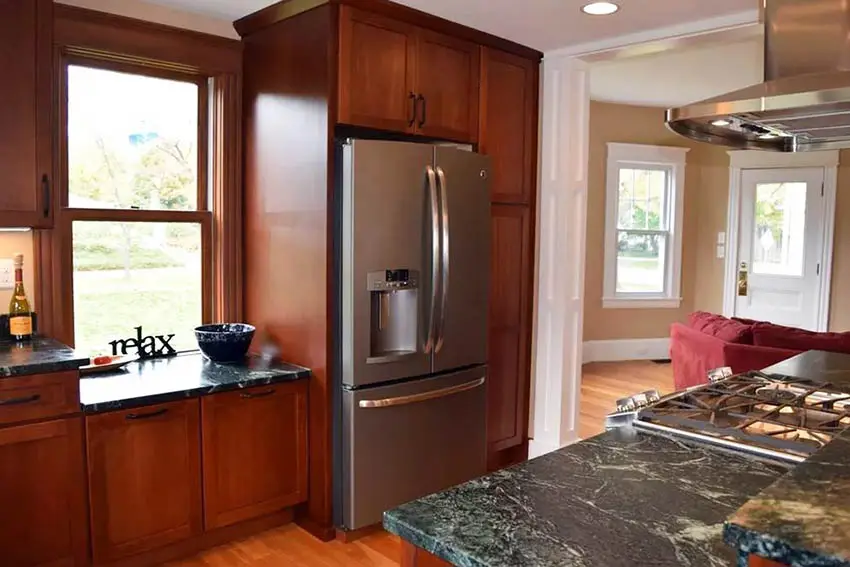 While most soapstone comes in various shades of gray, white and black, you can also find soapstone slabs with hints of green undertones like this Finland green soapstone counters. It has a unique and striking white vein patterns that makes the countertop surface pop-out a little better against the wooden cabinetry.
This French-inspired kitchen definitely maximized the use of space and storage for this kitchen design. The bold white streaks on the dark green soapstone countertop add a striking accent to the large slab used on the kitchen island.
Gray Soapstone Countertops
Gray soapstone often has striking white veins that look impressive and can provide a lighter backdrop. They can be used for island countertops, waterfall countertops and backsplash with great results.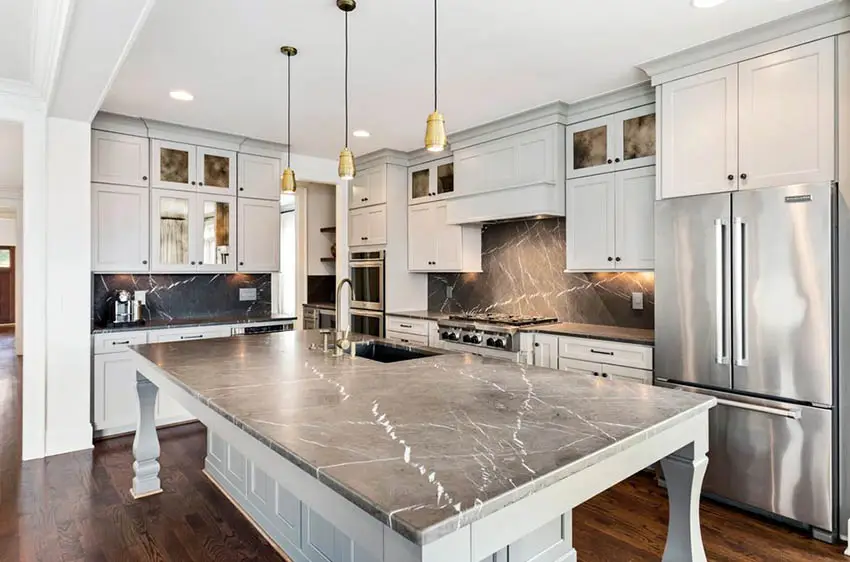 This kitchen uses gorgeous gray slabs of soapstone on the kitchen island, countertop and even the backsplash. The gorgeous white vein details against the gray countertop surface adds a more modern feel to the traditional style kitchen.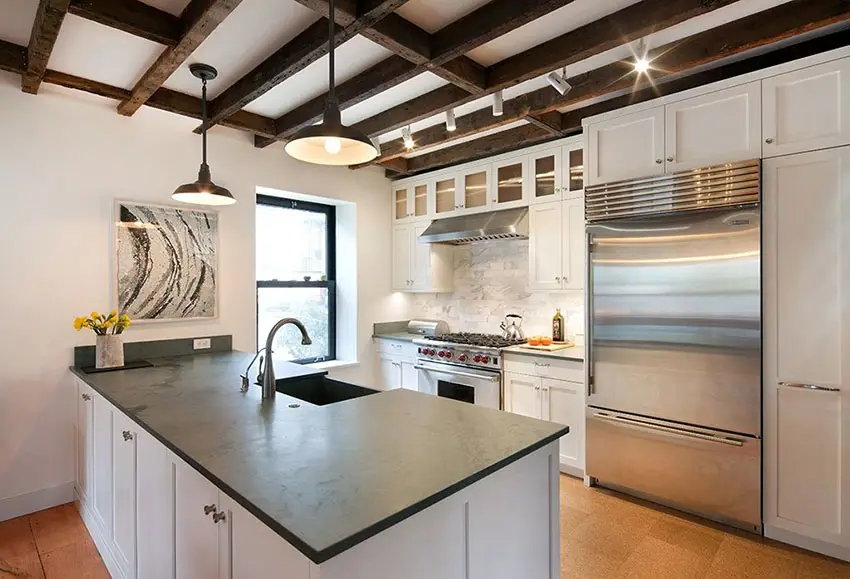 Dark Gray soapstone perfectly matches with the the white and gray marble subway tiles and also stands-out well against the all-white kitchen cabinets.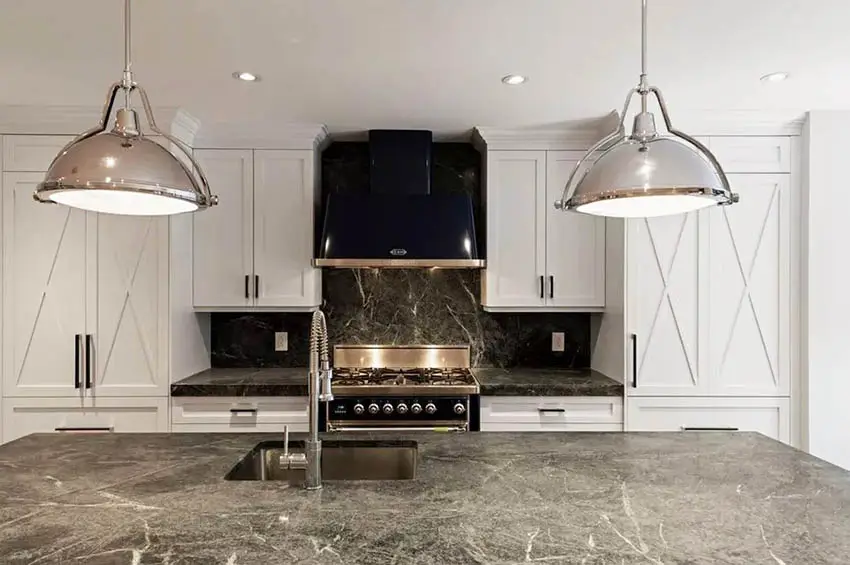 White farmhouse style kitchen cabinets combined with dark gray soapstone counters and backsplash create a very bold contemporary look that is both avant-garde and timeless.
Faux Soapstone Countertops
If you like the look of soapstone but don't want to deal with the constant dents and scratches, then making a faux soapstone counter might be the best solution. First off, you can also consider soapstone which were already mixed with quartz. These alternative makes the soapstone harder, and therefore more suitable for kitchen counter use.
Otherwise, if you're on a tight budget, you can just make a faux soapstone. There are different possible materials to do this, but among the popular ones are through laminates (can look obvious), using paint or using epoxy. If you're DIY'ing, choose the method that best matches your current equipment and skill-set!
There are also many types of quartz countertops which can provide a similar appearance to soapstone.
Caring for Soapstone Countertops
The non-porous quality of soapstone makes it easy to clean as it does not hold stains. Any minor nicks or scratches can also be rectified by light sanding and a layer of food-grade mineral oil. Since this material doesn't need to be sealed, an occasional sanding and mineral oil is all that is needed to maintain this material.
DIY Soapstone Countertops
As soapstone is a soft material, it's easier to cut than most other countertop surface materials, so it will save you costs if you have basic DIY knowledge. Here's our simple recommended DIY method for cutting soapstone:
Use a thin sheet of plywood to serve as a cut-out template. This way, any measurement mistakes will be minimized (and will be lest costly!). Once you get the plywood cut-outs finished, you can use these measurements as the cutting guide for the soapstone.
Use a knife to score/mark the edges on the soapstone, using your plywood template as guide.
Prepare your cutting table/surface. Make sure it is level to avoid chipping and damage to your stone.
Use a circular saw or a jigsaw and attach diamond-tipped blades. Don't forget to cover the sides of the saw blade with tape to avoid damaging the stone.
Wear your safety gear and proceed cutting at half the thickness of the stone, the cut the remaining depth after. Bboth wet and dry cutting is possible.
Sand the edges of the sandstone, starting with an 80-grit, increasing the grit gradually to smooth the surface.
Optional: Add a layer of mineral oil to add sheen and darken the soapstone.
Soapstone Outdoor Countertops
For outdoor applications, soapstone is still a good choice. Its non-porous surface is ideal for the outdoors, as it will not absorb bacteria in its pores. This also makes it more resistant to moisture and weather-related damages.
Just always keep in mind that soapstone is softer than other common materials like granite, so do keep away from hard, heavy objects or any areas that exposes it to possible surface impacts, as the soapstone is easily chipped and dented.
Where to Buy Soapstone Countertops
Depending on your location, soapstone availability and types would vary. Most builder & hardware stores that carry other stones such as granite, would also probably have soapstone.
You can also search for soapstone or natural stone stores/specialists in your area for more selections and detailed recommendations and installation guides. Many stone suppliers can also deliver and accept orders online, so if time and convenience is an issue, a simple internet search will give you a list of suppliers around your area.
Soapstone Kitchen Countertop Ideas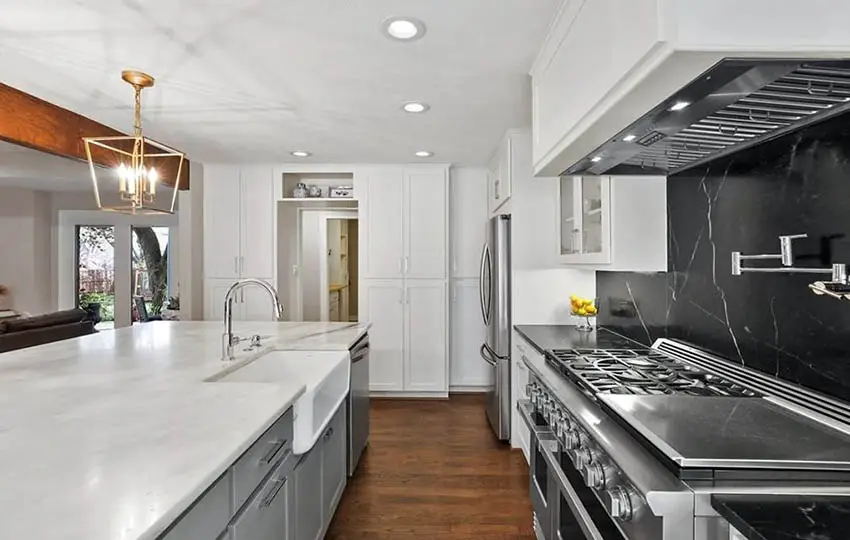 This stunning kitchen design features black soapstone countertops and backsplash contrasting with a white marble island with gray base cabinet. The main kitchen cabinets are all in white with a rich wood flooring throughout the layout.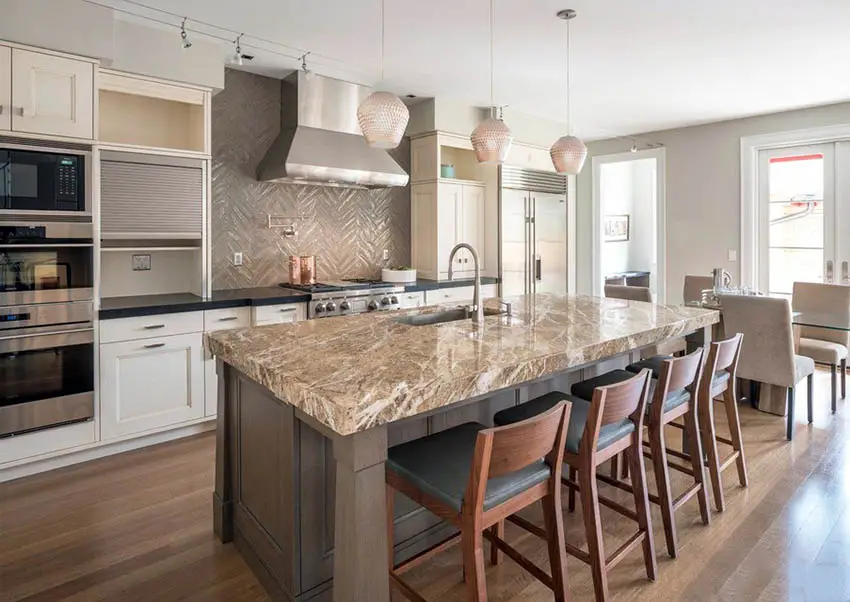 The soft sheen of the black soapstone used on the main countertop is a nice contrast to the shiny surface of the beige quartz used on the kitchen island top. The black also adds a nice depth and color contrast since most of the space uses white or light shades of brown/beige.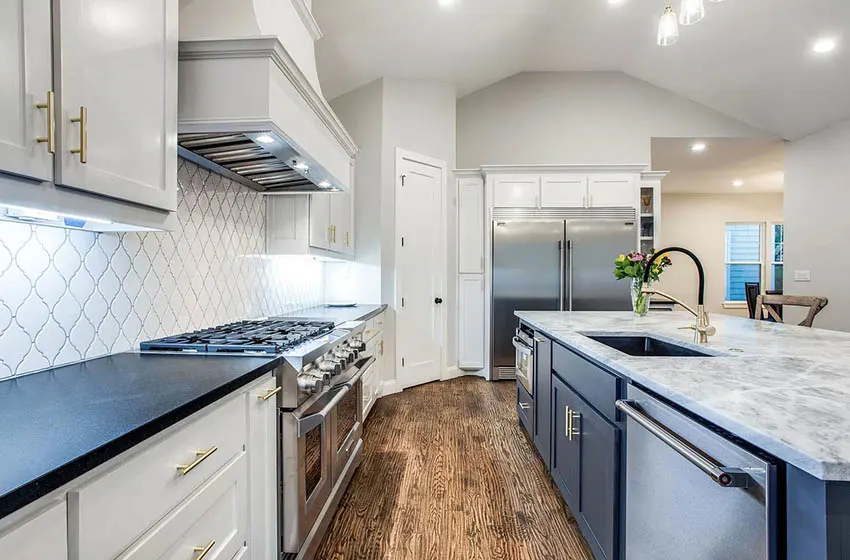 This kitchen walks the line between light and dark with black soapstone countertops paired with a white soapstone counter island. The island itself has a dark gray base cabinet while the main kitchen cabinets are white. A white Arabesque tile backsplash helps to add cohesiveness and keep things looking bright.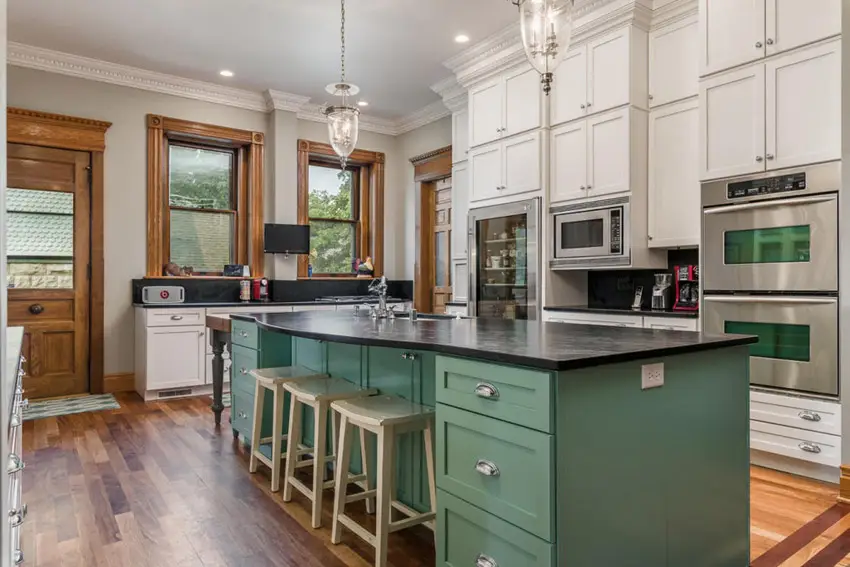 Rustic sage green definitely adds a cool and funky pop to this all white kitchen set-up, with the addition of black soapstone countertops to complete the simple yet bold look of this kitchen space.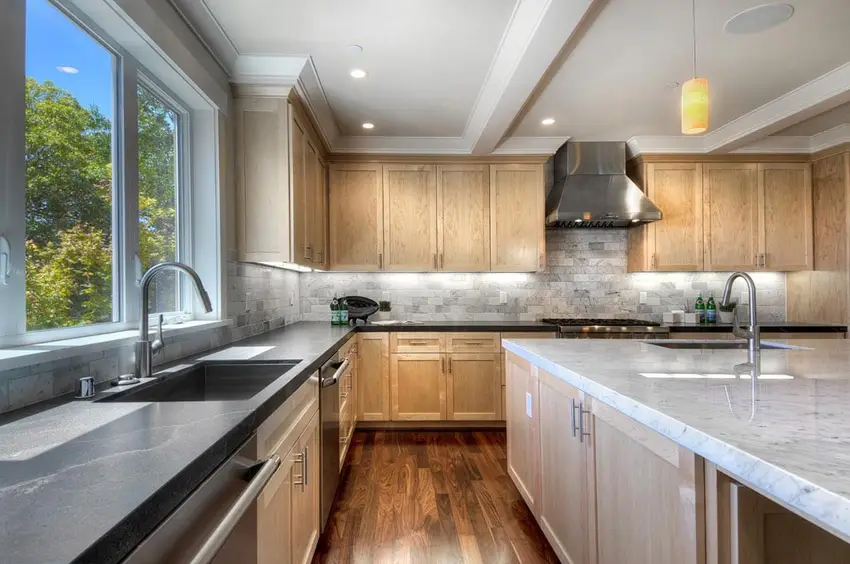 Can't decide between soapstone and marble? Why not use both? Soapstone and marble both have that soft look and looks good in any space, whether in more traditional or more modern spaces!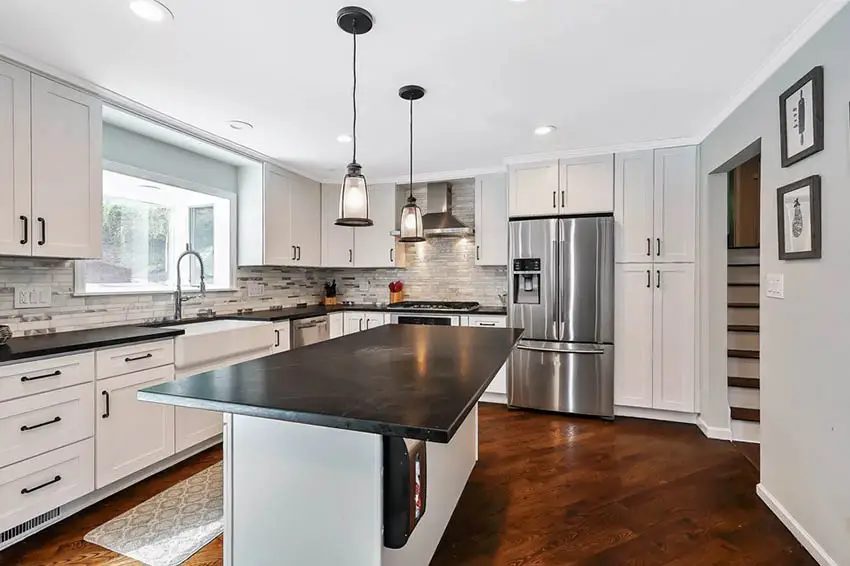 This white kitchen features black soapstone countertop all throughout the kitchen paired with mosaic marble backsplash to add a little pattern and texture to the walls.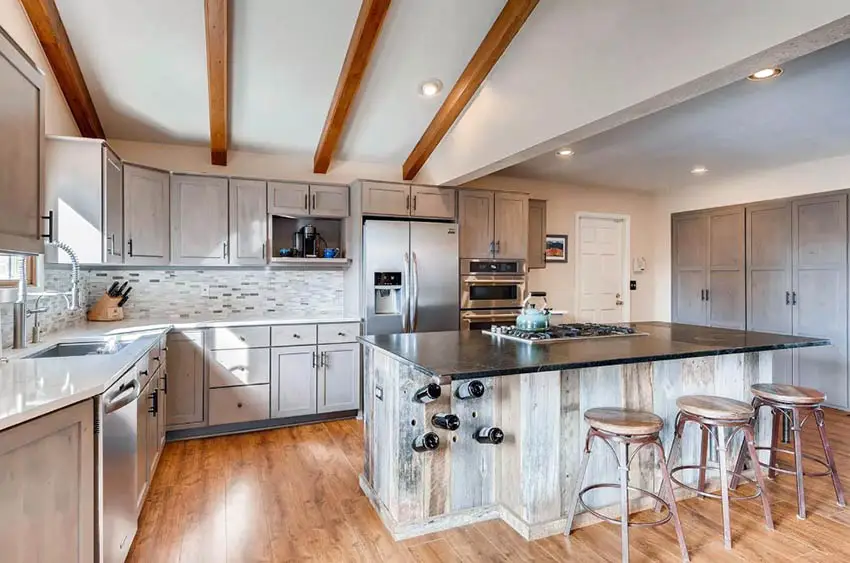 Since the majority of the kitchen uses weathered wood and other variations of wood finishes, the dark and solid color of the black soapstone in the kitchen island is a welcome contrast to the otherwise muted palette of the space.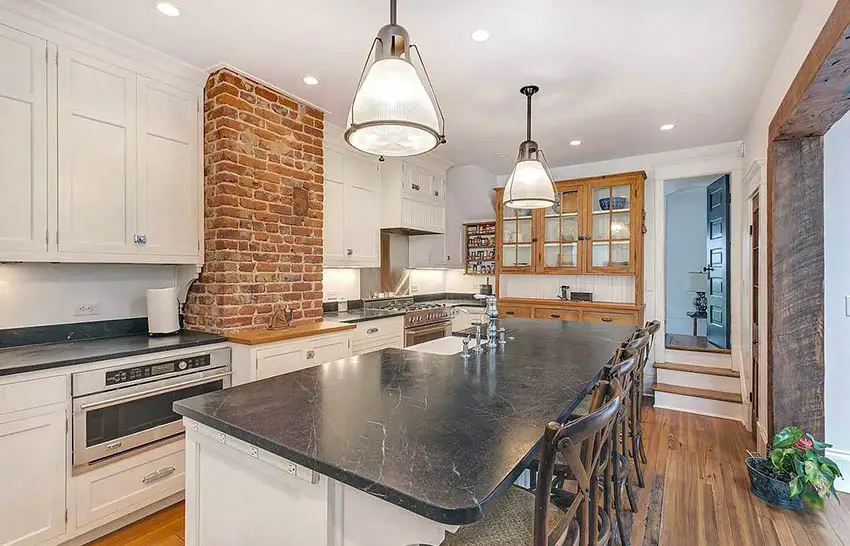 It's just lovely to see how the old architectural elements/finishes are kept intact in this kitchen design, giving it more personality. The old bricks and wood definitely helps add a rustic element to the simple white and black theme of the kitchen that uses white cabinetry and black soapstone.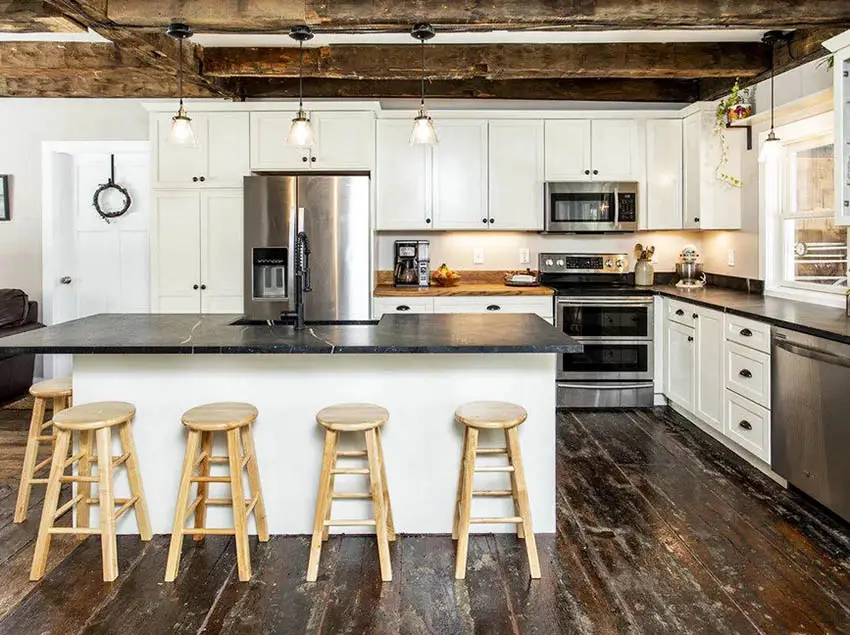 Old and weathered hardwood floors and wooden beams look grungy and bold, but is toned down with the combination of white cabinets and soapstone counters. The addition of natural oak barstools helps add a little warmth to the space.
Soapstone counters are definitely one of the best go-to materials if you're going for that clean Scandinavian look. The signature matte white cabinets definitely works well with the subtle sheen of the black soapstone countertop.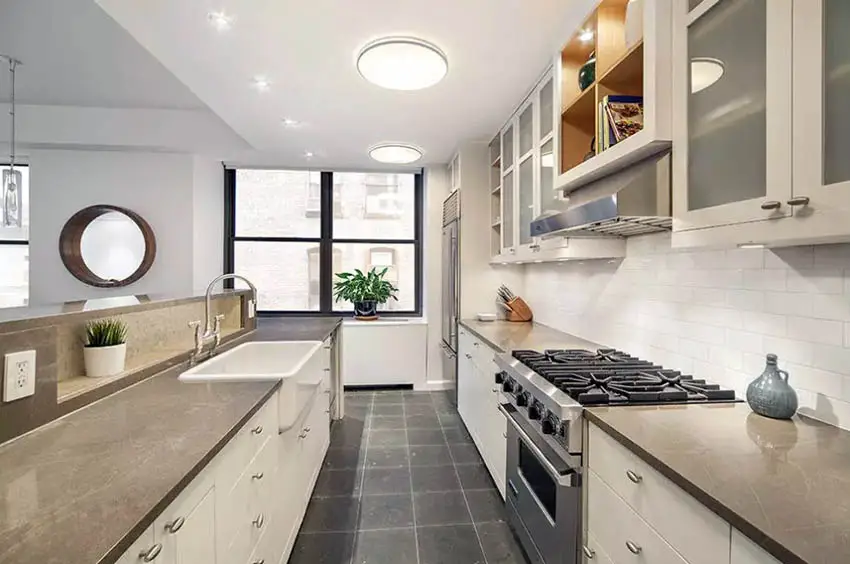 Since the kitchen flooring of this design already uses black slate, the soapstone used for the countertop is light gray instead of the usual darker shades. The subtle gradation of colors gives a more balanced and a more dynamic feel to the minimalist design of the space.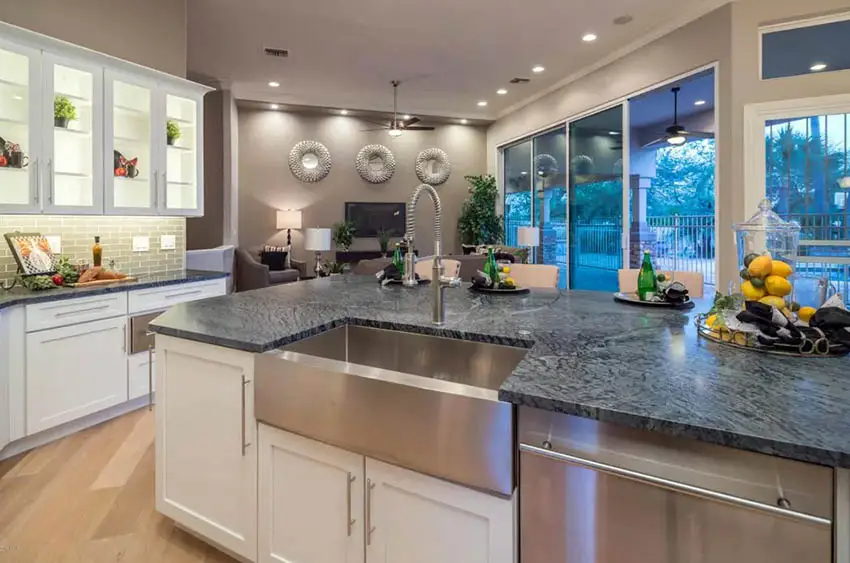 The soapstone used in this kitchen has a very unique swirly pattern that by itself serves as the focal point of the whole kitchen-living space.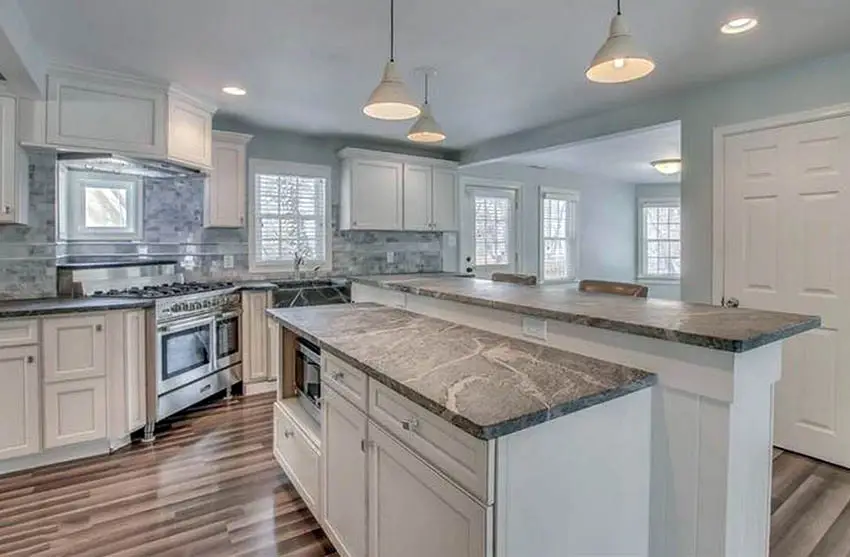 This kitchen features a lovely gray soapstone breakfast bar island with two tiered design for meal preparation and bar stool height seating.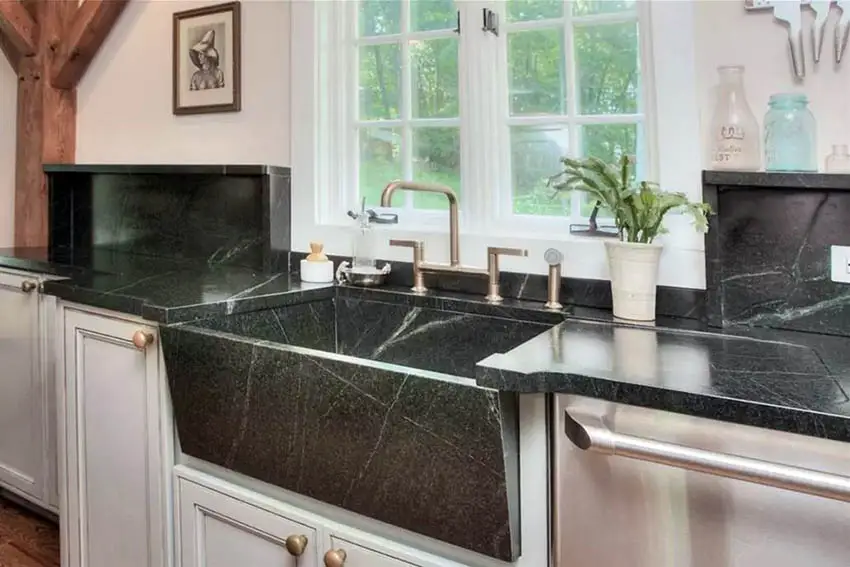 One of the additional advantages of soapstone is that you can make a sink using the same material as well as carve a drainboard on it. This example shows a kitchen sink made out of the same soapstone material as the counters, as well as a carved drainboard by the sink to help maintain a neat and dry counter.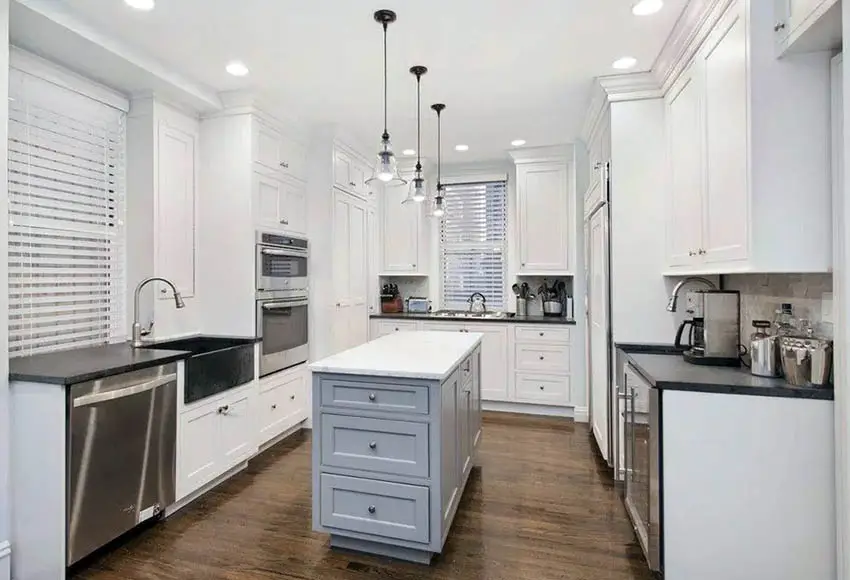 Complementing the small, well-planned white kitchen space are black soapstone countertops. The counters and cabinets were custom-built to fit perfectly in the small space while still providing ample space and storage for functional use. See more gray and white kitchen designs here.