Here's our post and beam kitchen guide including modern designs and lighting ideas together with the most popular styles to maximize your kitchen's look.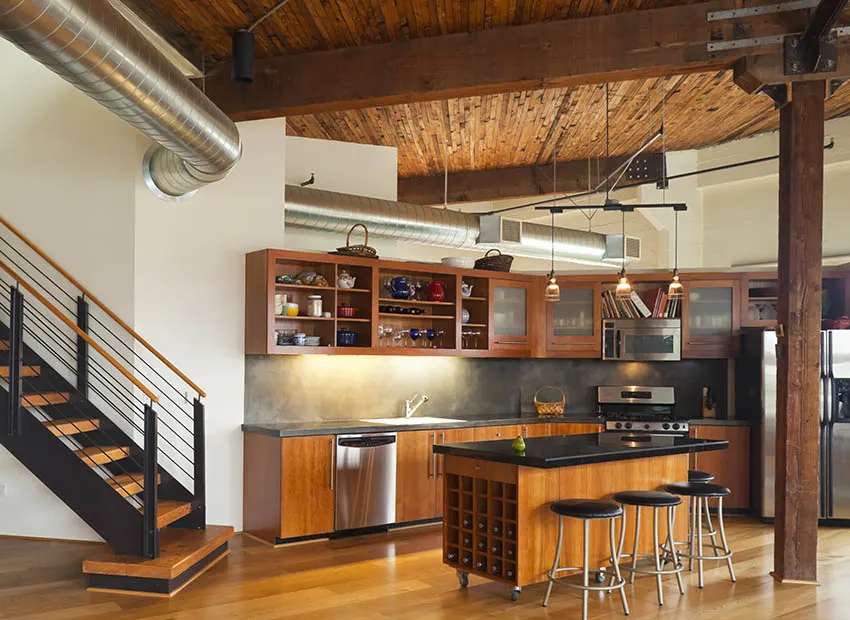 Simple yet effective, the post and beam kitchen give visual weight to your kitchen while allowing it to flow through and open up to your space.
The welcoming feature also showcases excellent craftsmanship with its structural construction that rhythmically play along with the contrast of its vertical and horizontal elements.
What Is A Post And Beam Kitchen?
As the term implies, a post and beam kitchen use posts and beams to define your kitchen space while acting as a transition between the kitchen and the adjacent space. This frames up your kitchen while allowing visual continuity between the said spaces.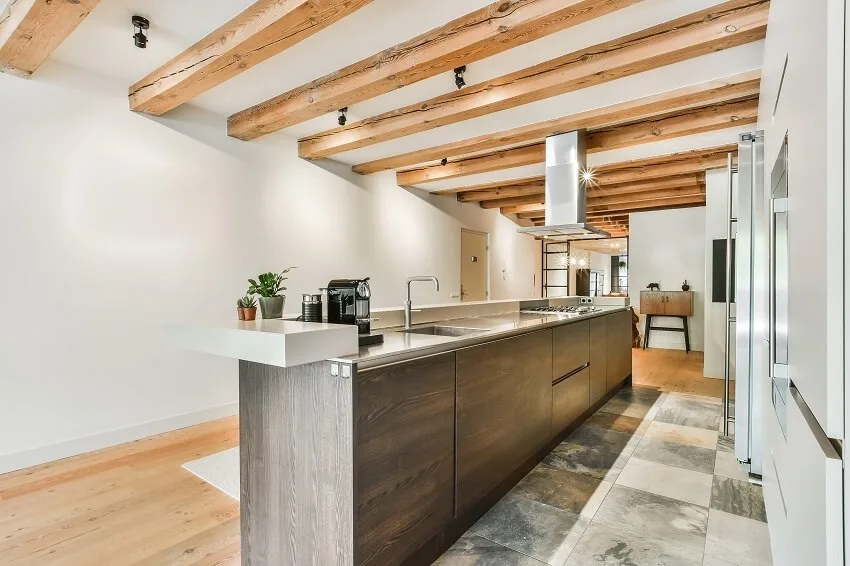 The simple construction of vertical posts holds up horizontal beams that are all made of wood and are connected usually by using the half-lap joinery as well as hidden fasteners and sometimes decorative metal braces.
The half-lap joint uses two members notched to the half-thickness and lapped on each other with the face flush. You can also use the mortise and tenon connection which is arguably one of the most common types of joinery and woodworking joints.
The mortise and tenon have a smaller end wood which is the tenon, and the hole through which the tenon will be secured is called mortise. Pins and wedges; bolted plates to lock the joints in place can also be used.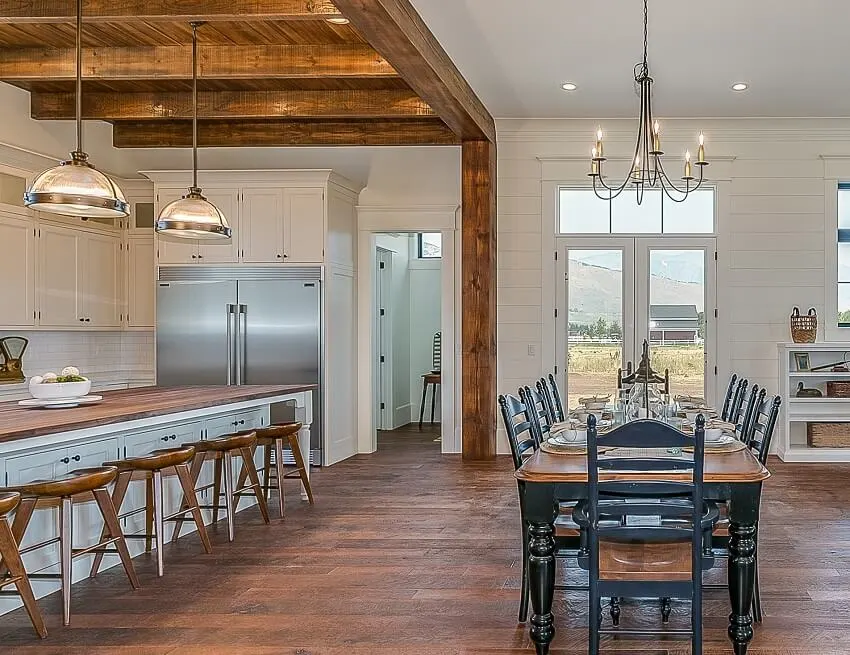 For load-bearing posts and beams, kitchens tend to utilize large wooden beams that are placed around 8 feet apart. There are also horizontal beams that are placed across them to support a roof or a second floor. Read more about wood kitchen ceilings here.

What Styles Are Great For Post And Beam Kitchens?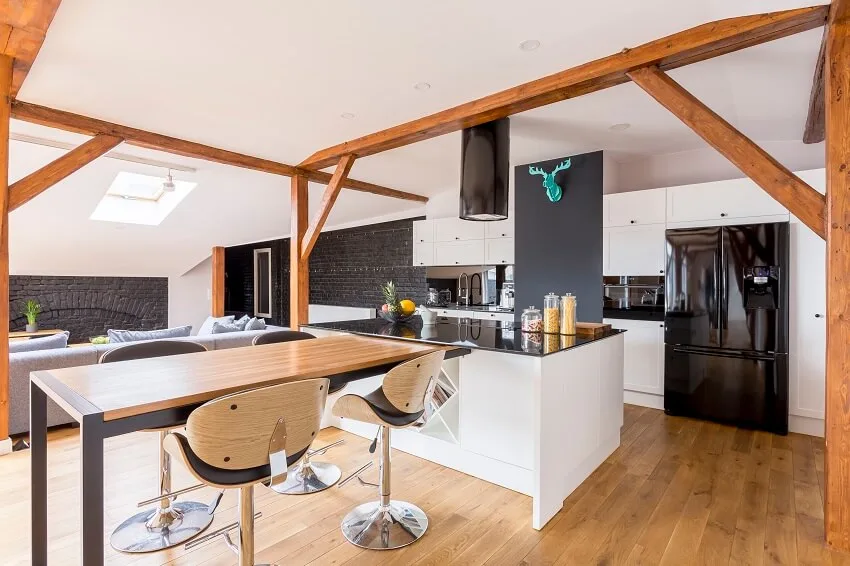 The post and beam kitchen works well mainly with styles that are built with timber framing. The most popular today is farmhouse, mid-century, cottage style, and mountain lodge. A post and beam ceiling design works well with homes with an open concept layout with higher ceilings.
Post and Beam Design Considerations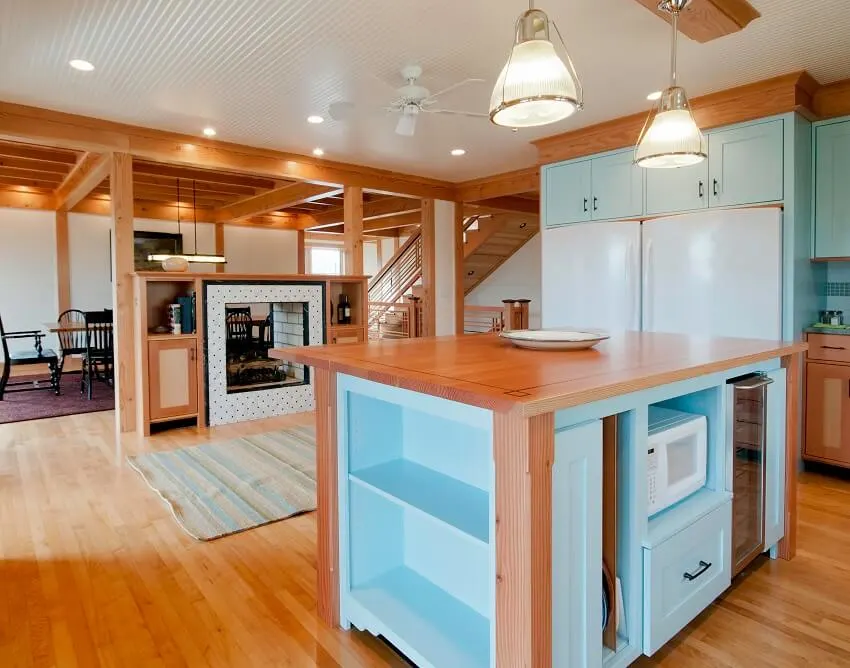 • Ceiling Height – If you're going to put horizontal beams in a flat ceiling, make sure they won't take up too much space. Many local building codes require a minimum of 7'6″ of headroom above the floor, so the bottom of your new faux beams should be higher than that.

• Beam Design -There's one more thing to think about when designing a post and beam kitchen: the look of the beams. What role will they play in the design of your kitchen? Will they play a prominent role, or will they appear to be secondary support? See the best kitchen design ideas here.
Post And Beam Kitchen Design Ideas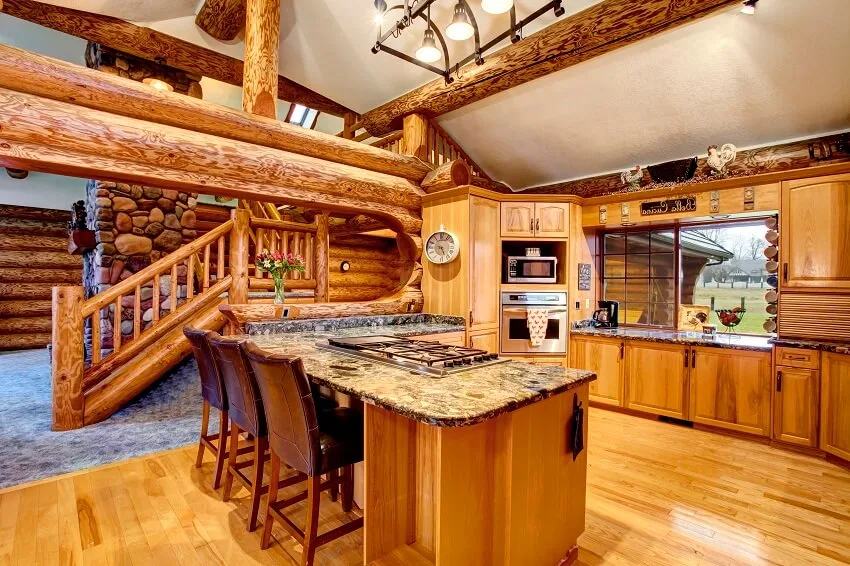 1. Add storage niches. If you've got faux posts (non-load bearing) with relatively wide widths, you can add niches for storing kitchen items or décor. This also adds visual interest and maximizes your kitchen space.
2. Add brick. For wide spans, it is an opportunity to add texture to your wood material. You can add it midway as long as it doesn't take much of the open view or add bricks around half of your post's pedestal.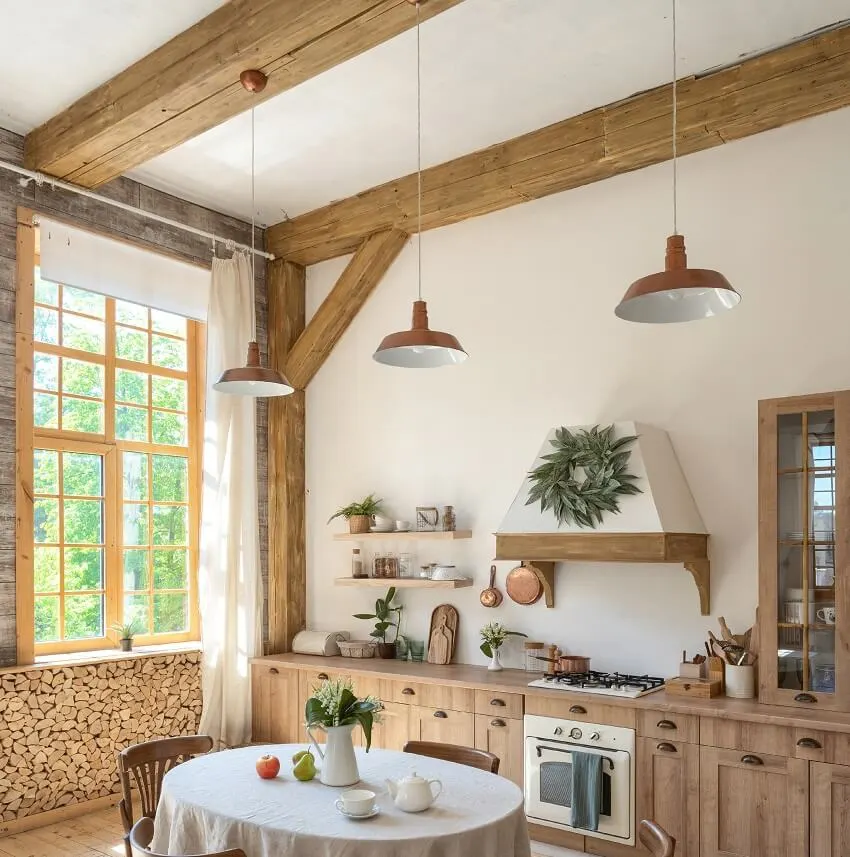 3. Wood logs. Instead of opting for your usual rectangular profile, use large wood logs instead. The rustic look is great for your farmhouse or cottage-style home.
4. Tree-trunk posts. While wood logs are an attractive alternative to your usual rectangular posts, you can go even more organic with tree trunk posts.
For your cottage or farmhouse-styled kitchen, strip and polish the trunks and install it in your structure. Choose tree trunks with protruding branches on top to give it a more animated look.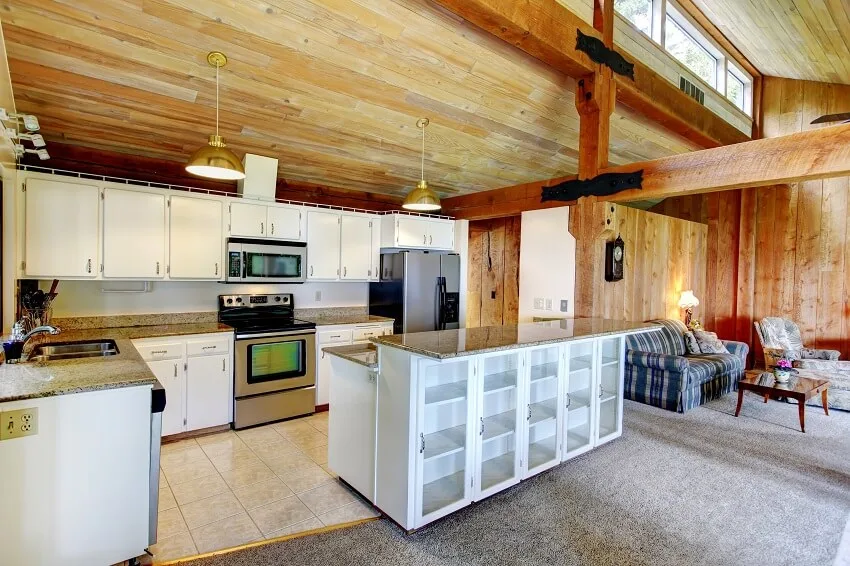 5. Reclaimed wood. Reclaimed wood with all its dents and crevices is an attractive post and beam material. Polish and varnish these members leaving the imperfections.
6. Add a Metal Wine Rack. An attractive and space-saving option to store your wine is installing a single-file wine rack along with your post. From curved art-nouveau style to minimalist racks, there's a lot of affordable metal racks you can find at your favorite home depot.
7. Half-posts. Your posts don't have to go from floor to ceiling. With a faux post and beam kitchen, you have the freedom to have a partial wall dividing the kitchen while half of it is posts resting on top.
8. Paint the Beams. For kitchens that are all wood already, painting the beams can add needed contrast and create character. We wrote an article on what color to paint beams here.
Modern Post And Beam Kitchen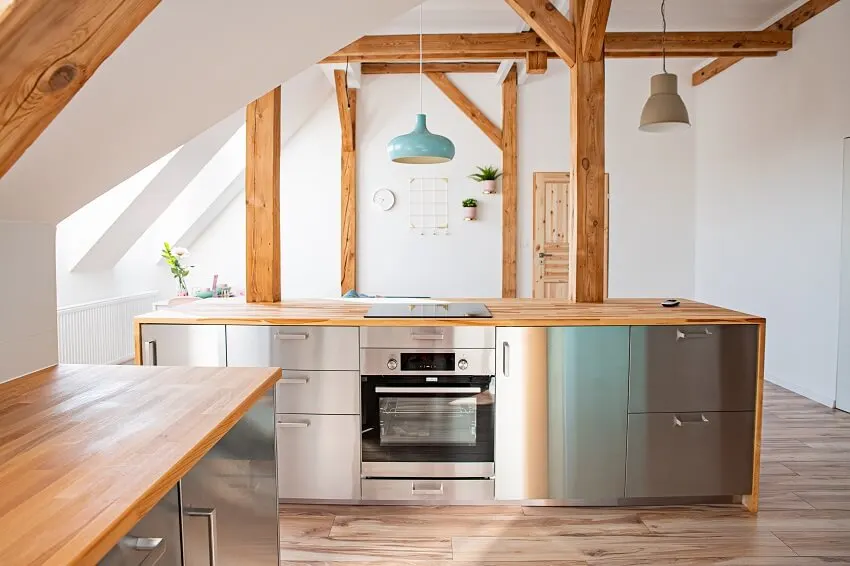 As the kitchen has become the forefront of in-home entertaining and with the popularity of open spaces, post and beam kitchen designs are more relevant than ever.
Cooking is now regarded as a higher-status creative endeavor, as well as something that should be shared with others.
Modern homeowners also value the ability to converse with guests while cooking and keep an eye on their children while preparing meals and cleaning up, making the post and beam kitchen an excellent choice.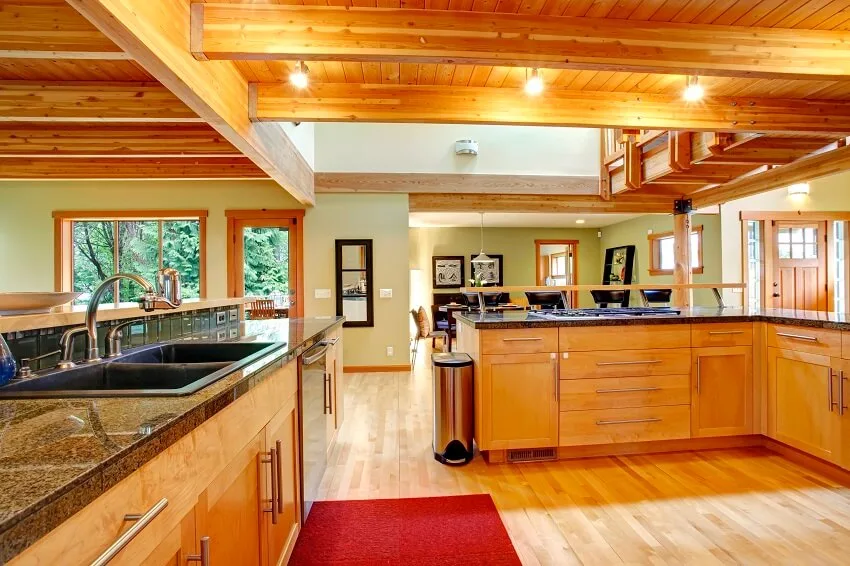 With the use of composite wood such as glulam, Parallel Strand Lumber (PSL), and Laminated Veneer Lumber, modern post and beam kitchens have a more streamlined design (LVL).
These are artificially compressed woods that can be made in lengths of up to 24 meters (80 feet) or even longer.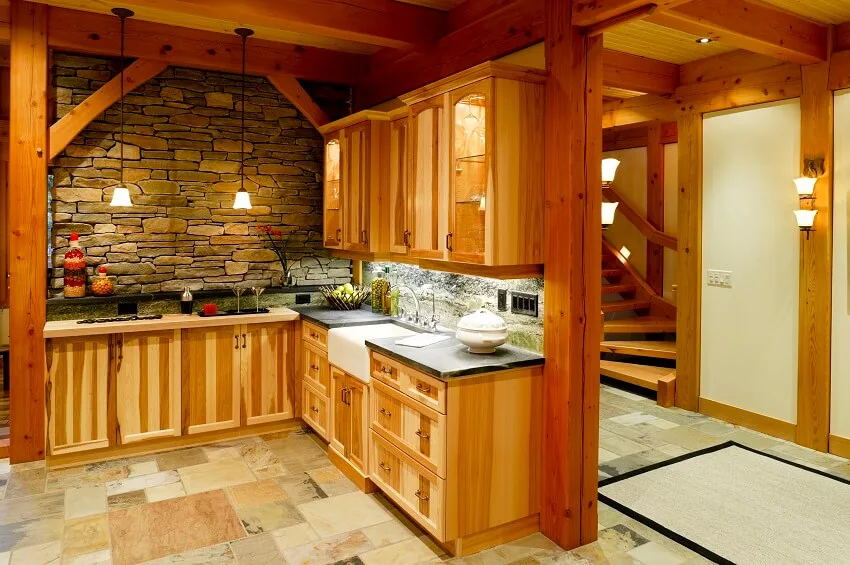 One of the biggest advantages of glulam is that it can be made into curved and shaped beams, which is ideal if you want to incorporate curved elements into your post and beam kitchen design.
PSL and LVL are relatively new composite timbers that, despite being manufactured in straight sections, can be laminated on-site to produce longer or thicker beams. As a result, the cost of transporting larger beams can be reduced.
How To Light A Post And Beam Kitchen?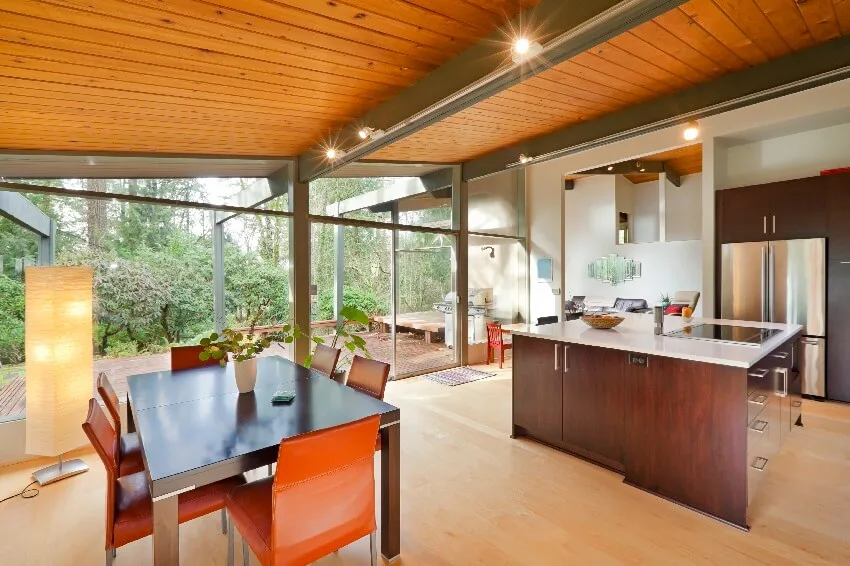 Obviously, enough light is required in a kitchen to allow for safe slicing and dicing. However, once that basic requirement has been met, it's time to experiment with lighting. The types of lighting fixtures you choose will depend largely on the style of your kitchen and your lighting needs.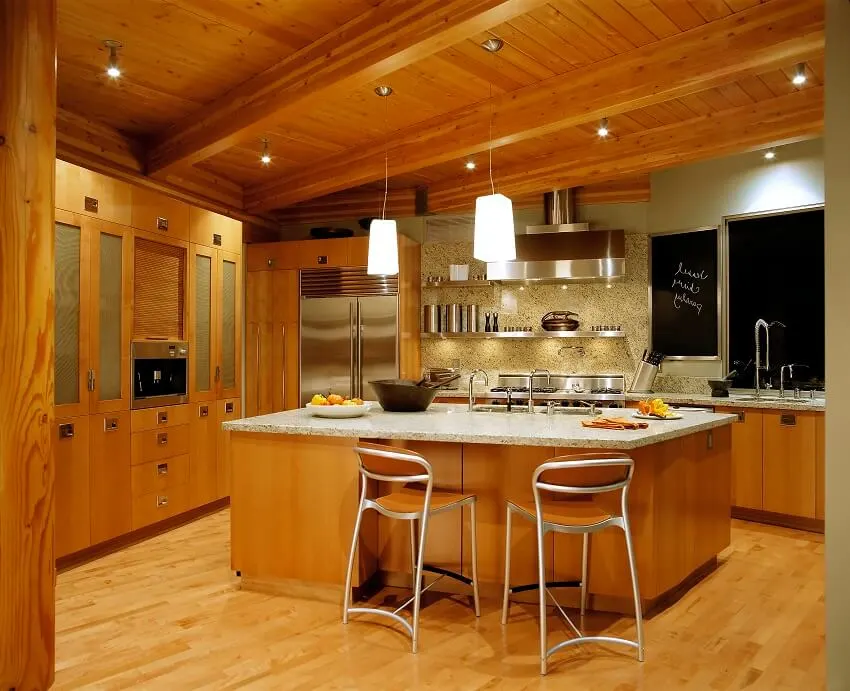 1. Track lights along your beams. If you've got a series of beams running through your kitchen ceiling, you can use track lights along. It gives that industrial look while not taking much of your headroom. You can also tilt your track lights to light a specific area when working.
2. Frosted glass pendant lights. The color of your light will depend on the graining and hue of your wood. You can use cool colors for your gray or white-hued wood, while warm colors are great with your brown and beige colors.
Frosted glass adds a transparent and light texture to your wood, and can its unique shape is an interesting feature framed by your post and beam element.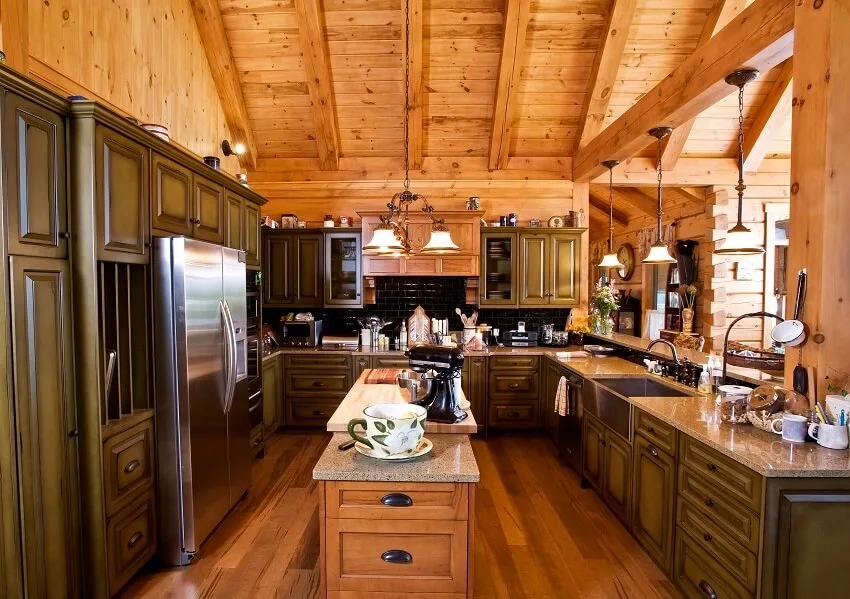 3. Vintage pendant lights. Hang your vintage pendant lights on commercial piping that is painted black. Aside from an attractive contrast to your wood texture, it can also serve as a conduit for your electrical wiring.
4. Hanging vintage bulb lights. Line up a series of vintage bulb lights with varying heights along your beam. You can use small-sized bulbs with different colors or go bold with large clear bulbs with different shapes.
5. Vintage Chandelier. While three is the magic number when it comes to your pendant lights, you can opt for a single focal point for your lighting. A vintage chandelier with a white floral design is an attractive contrast to your wood background and works great in rooms with higher ceilings. See more vaulted ceiling ideas here.
6. Recessed lighting. Can or canless recessed lighting is a good option for those looking for a minimalist way to add lighting without using a protruding fixture. Can lighting is often used for rooms with lower ceilings for this reason.
Takeaway: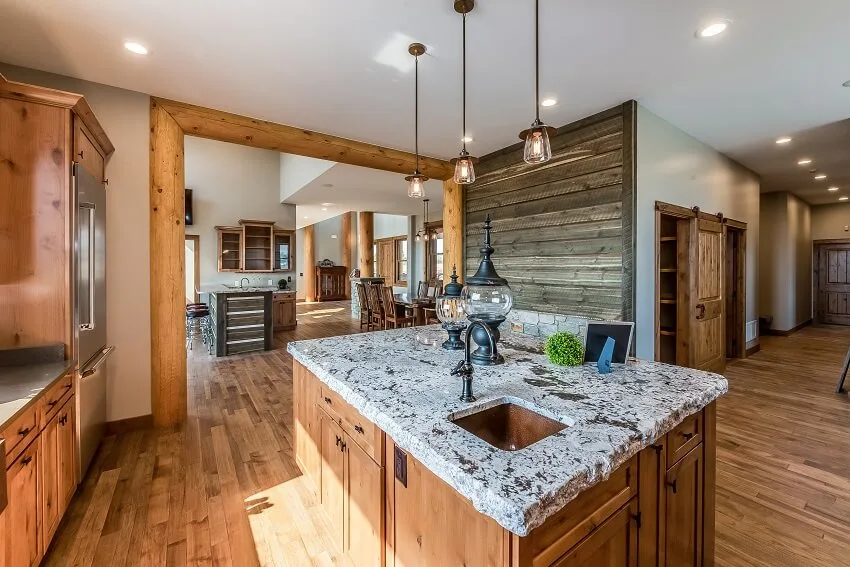 To create well-crafted joints in post and beam framing, a skilled carpenter is required. A trained eye can tell the difference between a well-made post and beam frame and a genuine timber frame.
When deciding between the two, cost and a desire for authenticity are usually the deciding factors. When compared to a conventional home, timber framing will cost 25% more on average.
When compared to post and beam construction, it will cost 15% more. When it comes to the careful connections and sheer beauty of timber post and beam construction, it has a lot in common with timber framing. The difference is in the tradition's purity, and the level of craftsmanship required.
Visit our gallery of faux wood beams article for more related content.