Below are our two sinks in kitchen guide, including some ideas on where to place them, what a second small basin is for, and why you should have two for your kitchen.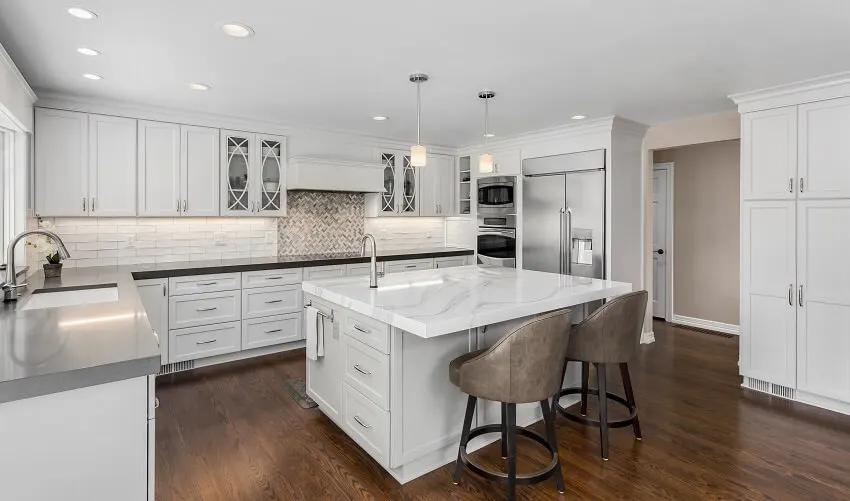 If you're wondering about having two sinks in your kitchen, there are a few things to think about before taking on such a project. A second basin may be installed for many purposes, and according to who uses the kitchen the most, having two in your kitchen can solve many problems and enhance its usefulness.
If you're having a new home built, planning two sinks in the kitchen will be much simpler. Having a water supply and drain line installed for a second can cause a lot of work and expense for an existing kitchen.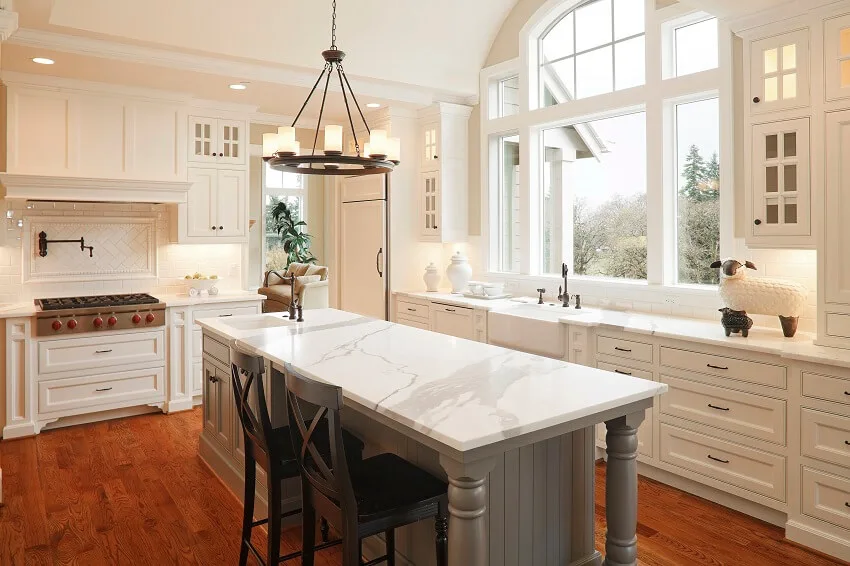 If the location of a second sink and the cost are within your budget, then it's time to consider the reason for two in the kitchen and where the second one should be installed.
Think of the kitchen workflow and how much space there will be between the two. If there isn't much room in a kitchen and only a few steps between basins, the cost may not be worthwhile.
However, installing a small basin in an area set off as a wet bar makes the proximity to the second one less important.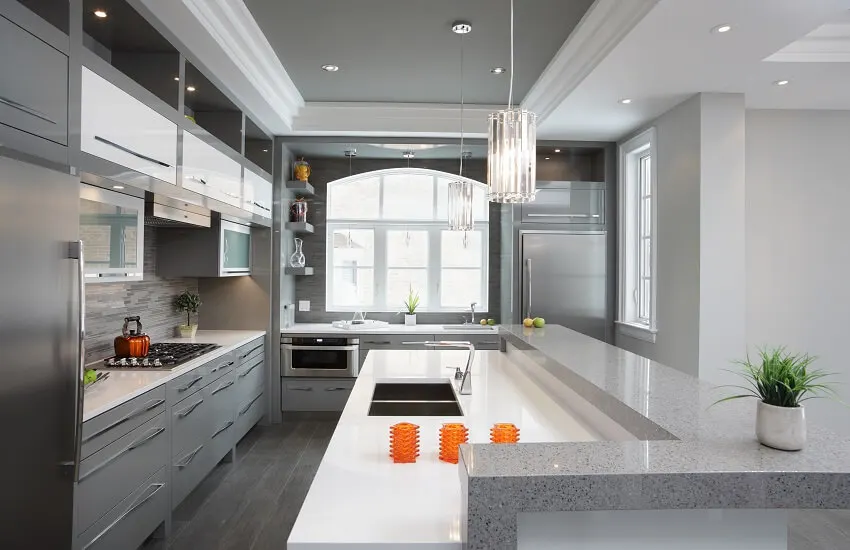 Whether for having extra space to do food prep or allowing two people to wash and rinse dishes and cooking utensils, a second sink in the kitchen may be worth the time and cost.
This guide includes information about two washbasins in a kitchen, where to place the second, what type, and how it can be used.
Why Have a Kitchen With Two Sinks?
Advantages of Having Two Kitchen Basins
– Improved kitchen workflow & efficiency
– Easy multitasking
– Separation of tasks (clean vs. dirty)
– Flexibility in food preparation
– Avoids cross-contamination of cooked/uncooked food
– Convenient kitchen cleanup
– Accommodates multiple users
– Increases home value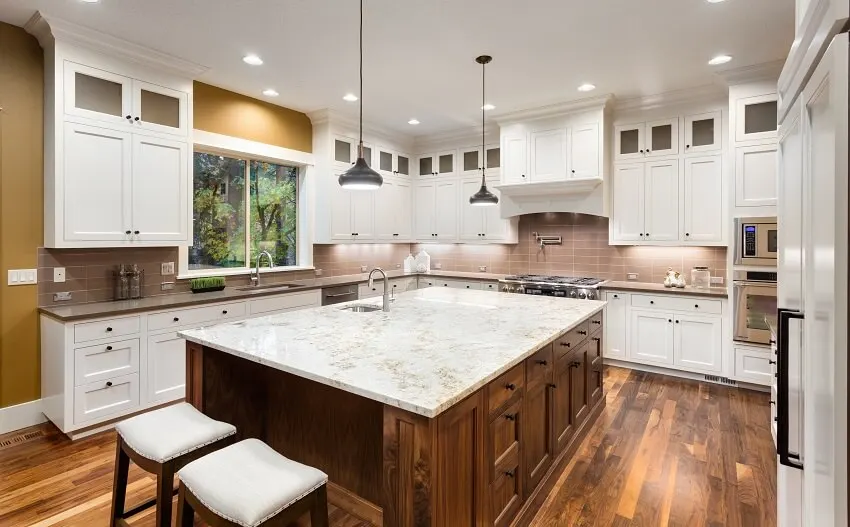 Often, having a second sink in a kitchen is a helpful addition for avid cooks. Placing a washbowl near the stove or refrigerator allows easy access to ingredients during prep work.
In this case, the basin should be deeper and larger to accommodate food and food scraps after cutting and prep work.
Most prep sinks are under-mount or drop-in styles. An under-mount design is mounted under the countertop with no lip rise above the counter. This allows food scraps or liquids on the counter to be easily wiped into the basin for disposal.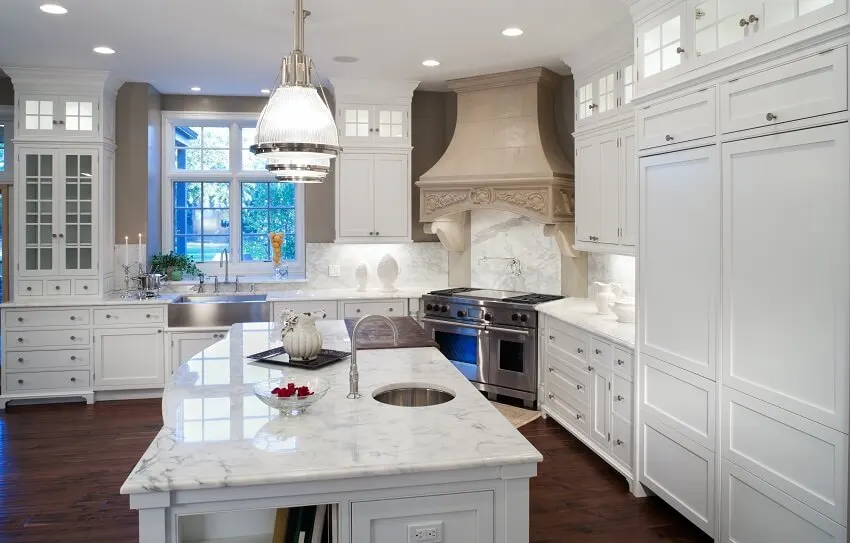 A drop-in sink is also called a self-rimming style and has a rounded lip where the edge meets the countertop. Most traditional types are drop-in as they're inexpensive, easy to install, and are dropped in from the top, accommodating numerous countertop styles and materials.
However, the benefits of a drop-in sink may not stand up to the convenience of having an under-mount that does not have a lip to cause a build-up of food scraps and liquids.
Busy kitchens are perfect places for two basins, especially when more than one person likes to cook. A second one avoids bumping into each other and makes cooking a meal or baking more manageable and faster.
Installing a second sink in a large kitchen across the room from the main basin creates two distinctive prep areas to allow for several people to cook, rinse, clean, and prepare at the same time. Families who cook together will appreciate having two workstations in the kitchen to keep tasks separate.
How Do You Use Two Kitchen Sinks?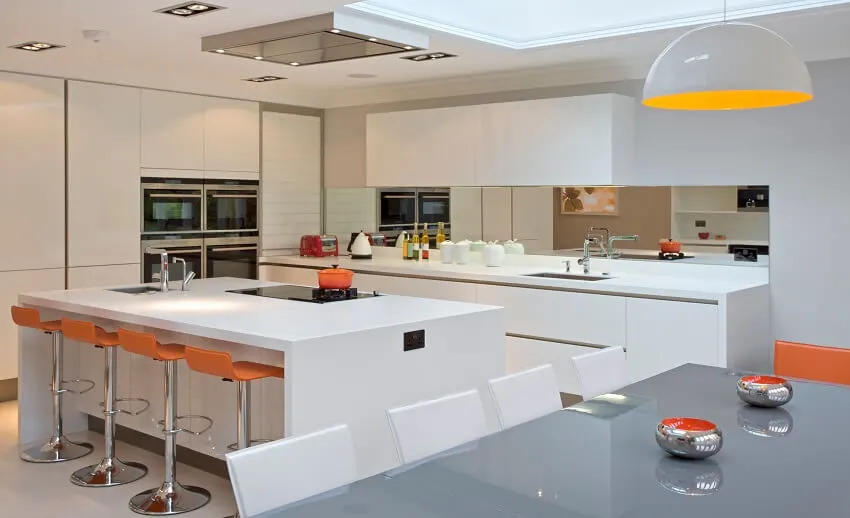 Using two kitchen sinks opens up many conveniences and promotes safe food handling. While one basin can be designated for food prep and mixing, the other can be the clean-up area.
It's safe to keep cleaners away from food, and having a place to rinse dishes or platters, separate from food prep, makes for a more sanitary kitchen.
A basin earmarked as a clean-up area is also great for washing hands, rinsing out wash rags, or giving bowls a quick rinse.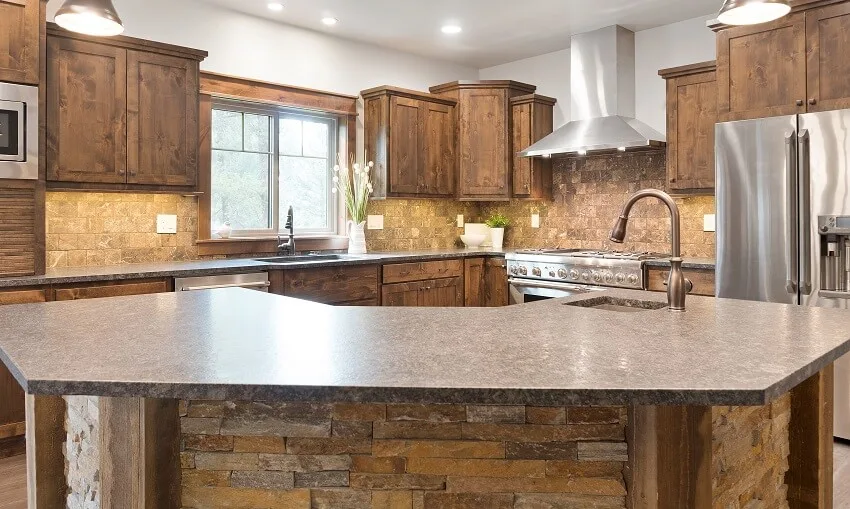 Once you decide to install an extra basin or design your new kitchen with two sinks, there are a few options to choose from:
• What will its function be?
• What size will work?
• What area in the kitchen will make it convenient?
• Will guests make use of it?
• Will children be using it?
• Do you entertain often?
• Is your kitchen a busy family hub?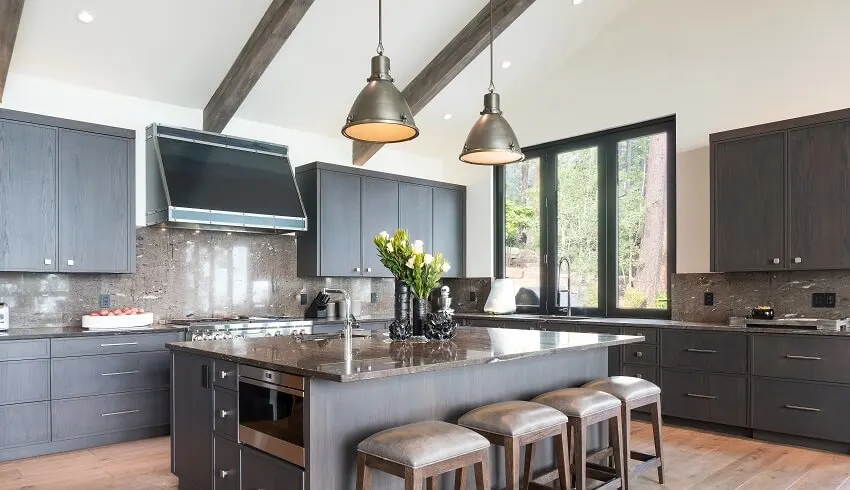 Considering these questions helps simplify and decide what type of sinks to purchase and where they should be installed. If the kitchen has a large pantry, a second basin nearby makes food prep easier by having ingredients close on hand.
For a home with children and busy schedules, a second across from the main basin where all the food prep and washing happens allows children or guests to wash up or have a spot to place their dishes after a meal or dessert.
For multi-generational families with a long history of cooking, two washbowls in a kitchen give everyone room to work together without bumping elbows.
However, if a kitchen is small, a second basin may need to be smaller and be helpful for a quick rinse of a bowl or pot.
Where To Put A Second Sink In The Kitchen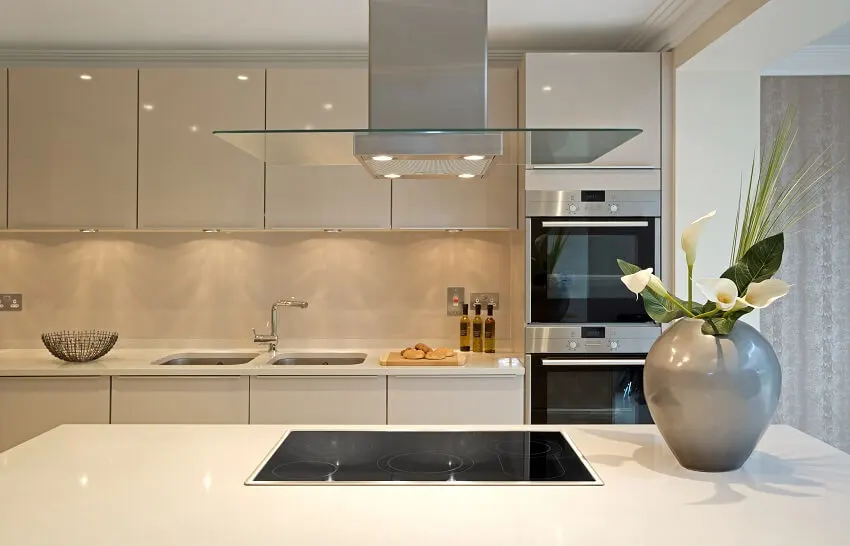 As previously discussed, the second sink in a kitchen has many uses and purposes. If trying to decide where a second one will work the best, consider the following:
• As a Workstation: If the basin is a meal prep workstation, consider placing it opposite the main basin and across the kitchen.
• For Water Access: For family members or guests to access water, place the second basin away from the main one and close to the kitchen entrance.
• As a Coffee Station: If you and your family and guests are coffee aficionados, having a set-off kitchen area for a small basin and coffee maker setup provides easy access to that morning cup or after-meal brew.
• Easy Access in a Peninsula: If a peninsula jutting out from the wall, a second basin in the middle gives access from the front and back so multiple people can use the fixture simultaneously.
• Next to the Main Basin: Of course, putting a second basin right next to the main one makes it easy to cook and clean simultaneously.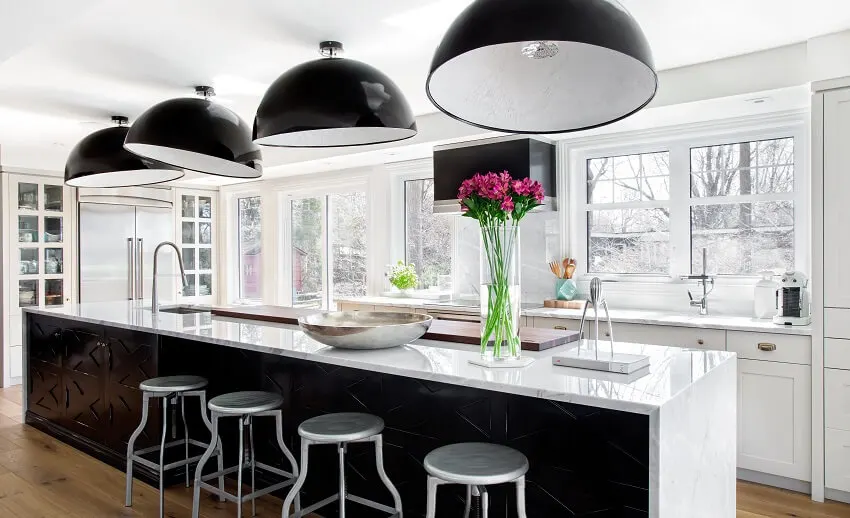 What Is A Second Small Sink For?
Uses for Small Kitchen Washbowl
Beverage preparation
Rinsing produce
Hand washing
Emptying beverages
Filling water vessels
Bar & drink mixing tasks
Secondary food prep
Overflow during gatherings
Cleaning small items
Indoor plant care
A second small sink in any kitchen makes for an easy place to set up a custom home bar for mixing drinks for you and your guests. Wet bars don't take up much space and make for a convenient spot to make drinks and still visit with guests.
Place a second small basin as a wet bar in or near a peninsula, an island, or between the kitchen and dining room.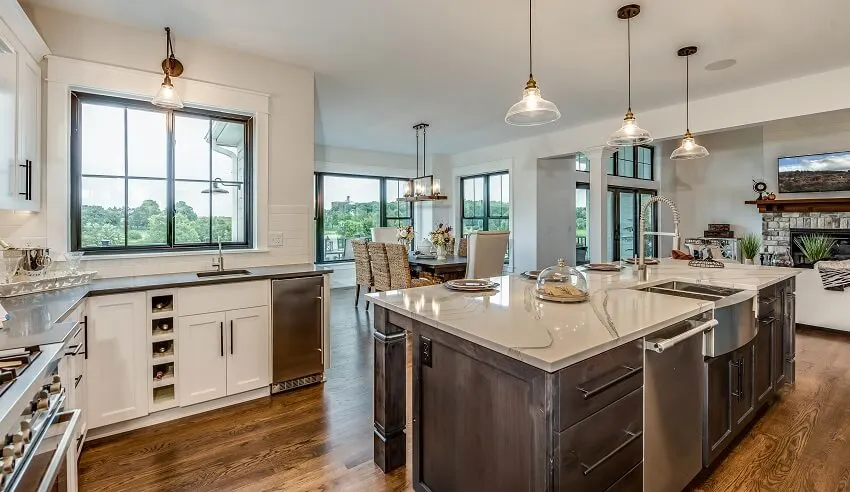 Whether you have a large or small kitchen, a small utility basin can be used as a hand-washing station, a spot to wash baby bottles, or simply for extra kitchen duties such as cutting fresh flowers.
Second Sink In Kitchen Island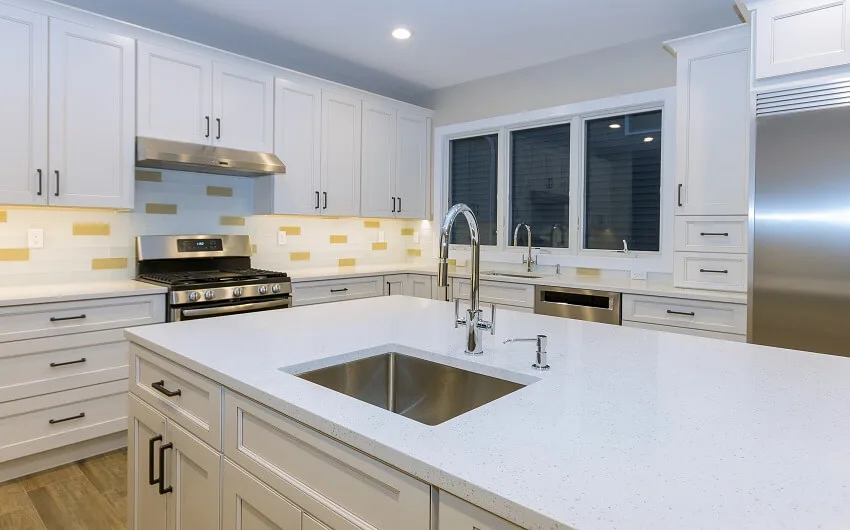 A kitchen with an island is a great place for a second washbasin. Islands are often the most-used spot for food prep and communal cooking and baking.
Having the additional water source is also a benefit, making clean-up easier. A kitchen island with a sink is also helpful for dish overflow, pots and pans, and glasses and mugs.
Kitchen Island With 2 Sinks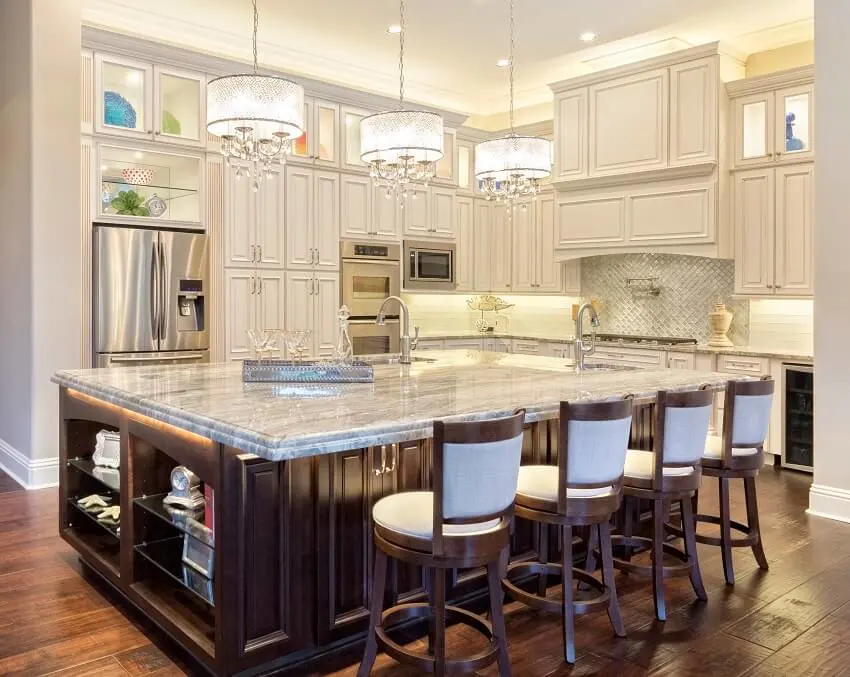 Everyone knows a houseful of family and friends on holidays such as Thanksgiving, and Christmas means many helpers in the kitchen. A kitchen island with 2 sinks is a life-saver when everyone is visiting, cooking, and cleaning, and counter space is premium.
Two basins in the kitchen island provide the same benefits as a double main basin but provide some advantages. One side can be for food clean-up and the other for washing dishes and cookware.
You can have one positioned next to the oven and another near the refrigerator, giving you designated prep and cooking areas.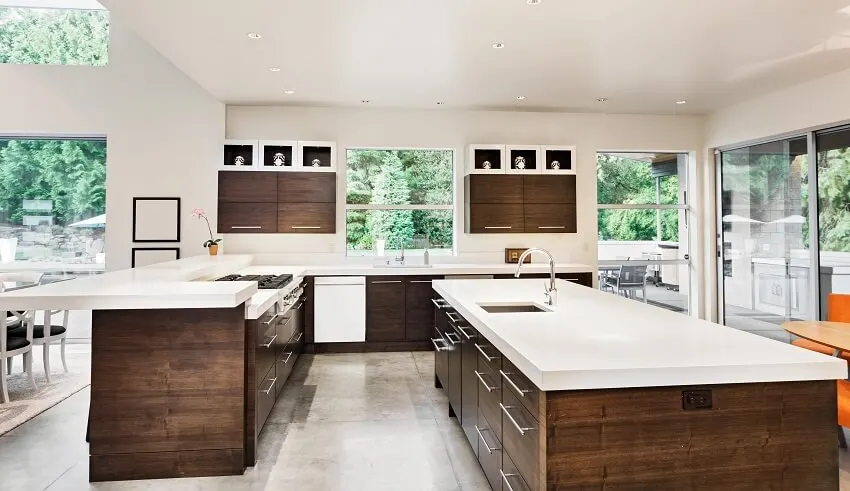 Benefits of Two Sinks Vs. One Large Basin
Better multitasking
Improved cleanliness & organization
Streamlined workflow
Convenience during gatherings
Individual space for personal use
Increased aesthetic appeal and home value
Flexible, customized usage
When planning to have two sinks in your kitchen, there's never a disadvantage!
Do you have any tips or experience to share using two washbasins in the kitchen? Please share your thoughts or favorite ways to use these products in the comments. Visit our guide on the differences between a single vs double kitchen sink for more related content.