Welcome to our guide on the differences between a single vs double kitchen sink including cost and pros & cons.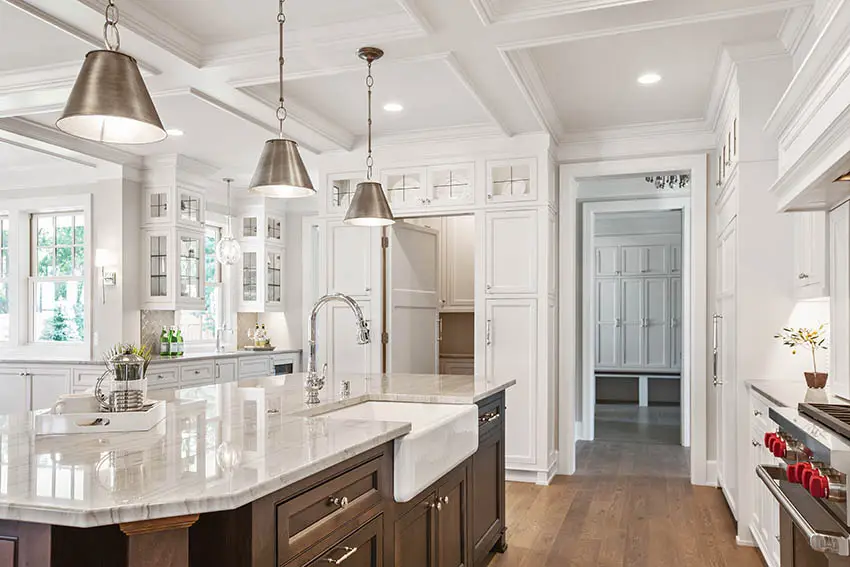 The kitchen is where most of the socializing, eating and cooking activity is taking place in the family's day-to day living and the kitchen sink is probably used more than anything else in the kitchen.
The configuration and the decision of using a single or double kitchen sink depends on how it will primarily be used.
Single bowl sinks are ideal for small kitchen with limited countertop space; while double sink bowl is perfect if there is a lot of cooking and washing up activity happening and if the countertop space allows for a double sink.
Difference Between Single and Double Sinks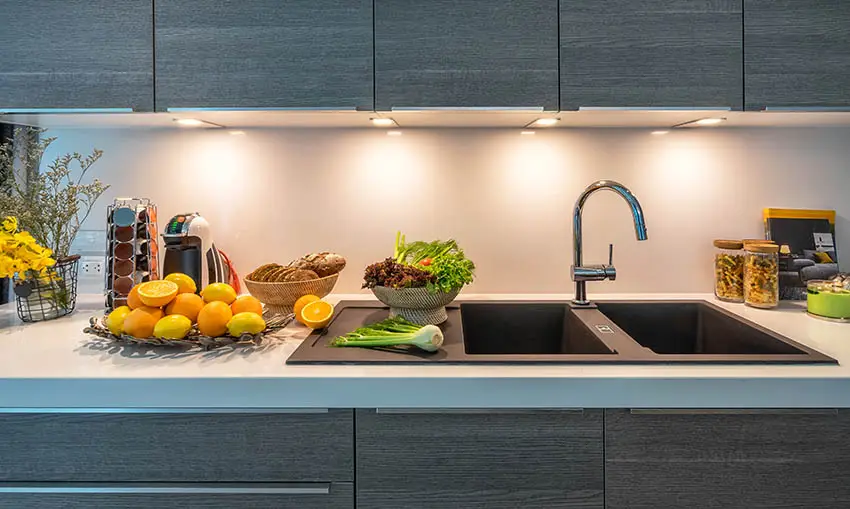 Single bowl sink usually has one large and deep basin which makes washing large items like pots and pans easier. It has a wider range of sizes that fits most kitchen, especially kitchen with limited counter space.
There are single basin sinks which have a built-in drying rack on one side which makes air drying plates, cups and silverware with ease. Single bowl sink are a better fit for corner sink installation. Since single bowl has only one drain, installation is faster, easier and cheaper.
On the other hand, double bowl sink has two basins in one unit separated by a divider with the same size or with one basin half the size smaller and sometimes shallower than the main bowl.
Usually the main bowl is about 21 inches and the second bowl is at least 15 inches – but double sink do come in a range of sizes and configuration.
Having a double sink bowl allows you to separate heavier items from delicate glassware and have one basin for soaking and the other basin for disposal.
Because of this, there is an increase of difficulty in installation since one side of the sink will have a garbage disposal. Due to the double bowl sink having two drains, the other needs to connect to the main drain before entering the waste trap.
Single vs Double Sink Cost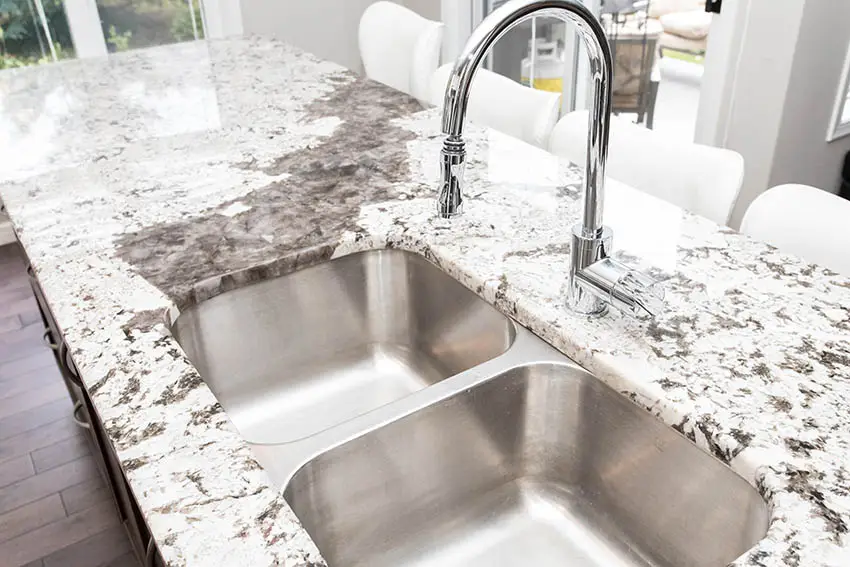 A single bowl sink costs less than double bowl sink primarily due to the size and material used. To install a single sink would cost around $150 while installation cost for a double bowl sink is around $175.
On average, a drop-in sink or self-rimming kitchen sink would cost $200 to $500, this can be a single or double sink depending on the model.
A corner sink would cost between $300 and $600 which is also available as a single or double bowl sink.
Undermount sink which is available as single and double bowl sink would cost on average $300 to $2,000; while a farmhouse sink cost between $500 and $2000 and available in single and double bowl styles.
Single vs Double Sink Pros & Cons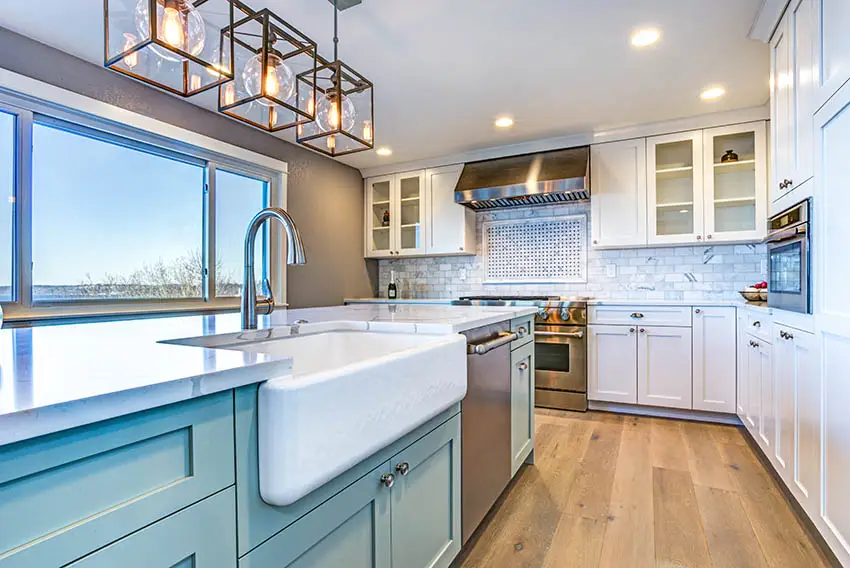 Large kitchen island with sink.
It is important to determine the pros and cons of having a single or double sink while considering how you work in your kitchen during food preparation, washing and cleaning up items used in cooking.
One should be aware of both the benefits and drawbacks of each kitchen sink style. While a deep single basin can wash heavier and bigger pots and pans; a double sink will allow you to soak, wash dishes on one bowl and us the other bowl for drying.
Single Bowl Sink Pros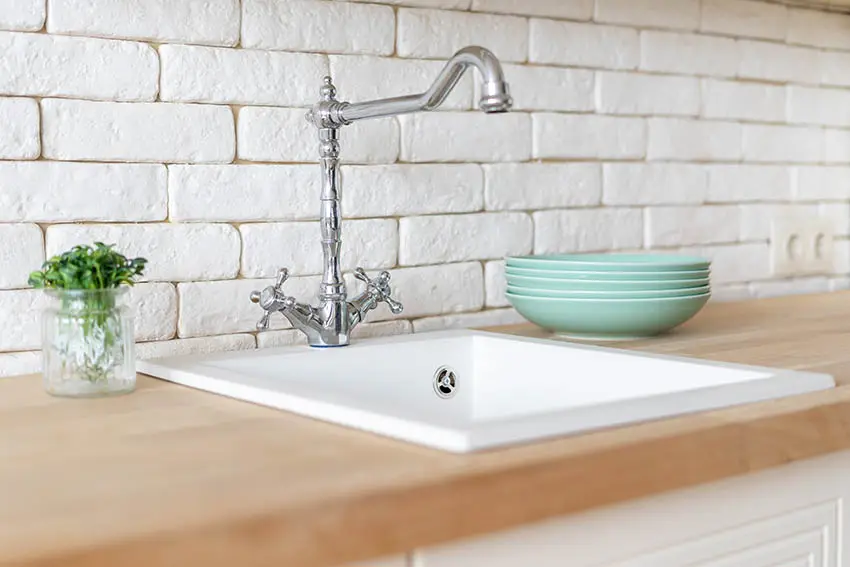 • With single bowl sinks, there are variety of faucets to choose from.
• Single bowl sinks cost less and easier to install since there is only one water drain to connect to get the sink working.
• There is more space for washing large trays, plates, pots, pans and woks in single bowl sinks.
• Single bowl sinks have more advantages and often fit better in a smaller kitchen and limited counter space.
• It is easier to clean and maintain single bowl sinks.
Single Bowl Sink Cons
• Single bowl sinks are less versatile since it is harder to wash, rinse and drain dishes and cutlery.
• There is no option of separating dirty and clean dishes; nor allows you to separate thawing meat in order to avoid contamination.
• For single bowl sink with garbage disposal, when the sink is full of water or dirty dishes the garbage disposal won't be accessible.
• Single bowl sinks may use more water and detergent when washing dishes.
• Single bowl sinks will need a separate space for drying. Built-in dryer may require a lot of counter space.
Double Bowl Sink Pros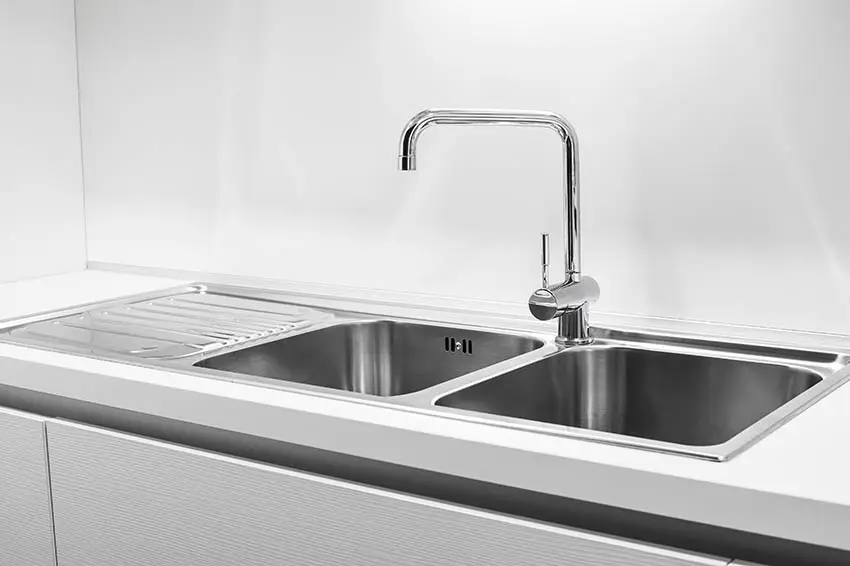 • Double bowl sinks are highly versatile and functional since it allows you to prepare meals such as vegetable in one sink while stacking dishes and utensils in the other bowl.
• Having a double sink bowl allows keep one basin free of contaminates when thawing raw chicken or meat on the other basin.
• Garbage disposal is always accessible.
• Double sink bowl allows you to soak dishes on one side and rinse dishes in the other side. It also allows you to separate heavy dirty dishes from delicate items.
• Double bowl sink automatically frees up counter space that otherwise would have been used by a drying rack; since you can use the other bowl to dry clean dishes after washing.
• If only half of the double bowl sink is used for dish washing, it would use less water and detergent.
Double Bowl Sink Cons
• One of the downside of a double bowl sink is the size and profile it can consume on the counter space since a double bowl sink can measure up to 40 to 48 inches long. And so it is harder to fit in a small kitchen area.
• Having a double sink bowl also means having lesser faucet options.
• For double bowl sink with one smaller bowl, it makes it hard to wash large items such as roasting pans.
• Double bowl sinks were primarily used for washing dishes in the past and now many new homes have dishwashers eliminating the utility of this cleaning option.
• Double bowl sinks are more expensive to purchase, it would also cost more and tedious to install.
Is a Single or Double Kitchen Sink Better?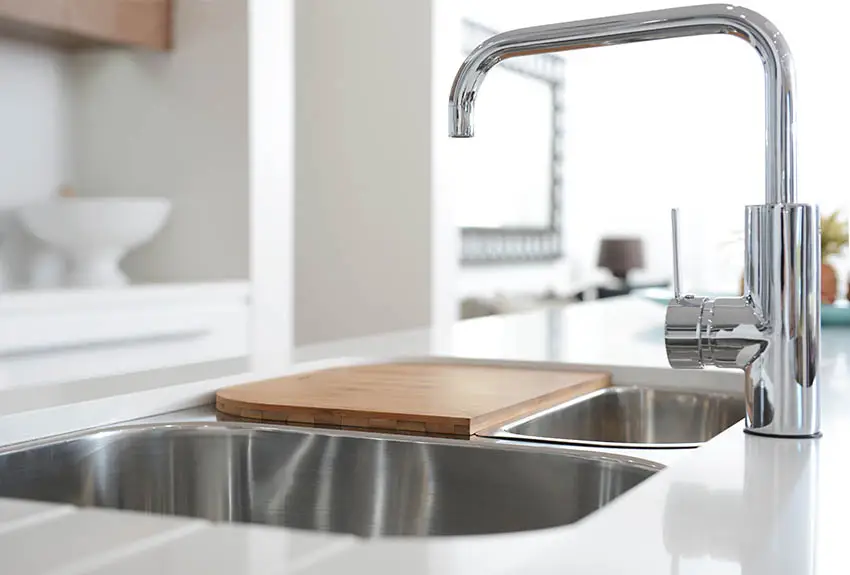 In conclusion, both single and double bowl kitchen sink have their own purpose in your kitchen area. We have listed the advantages and disadvantages of each of these types of kitchen sinks.
Take into account your counter space, cabinetry and countertop material of your kitchen. Consider the size, shape, style, material and configuration of the kitchen sink that works best for you.
A double bowl sink was more popular prior to the invention of the washing machine. Its design allowed for the easier washing of dishes. Having a divided basin served as a separator of the dirty dishes from the clean.
Nowadays, however a single basin sink gives more options for faucet configurations, costs less, are easier to clean and provide more room for washing larger items that can't fit in the dishwasher.
Remember, the ultimate choice is yours and we hope that you will enjoy using your kitchen for years to come.
"So let me do the dishes in our kitchen sink, put you to bed when you had too much to drink.
Oh, it could be so nice to grow old with you…"
For another related interior design guide visit our page on the types of kitchen faucets.