A popular question is how long does a kitchen remodel take. See the time it takes to complete small, medium, and large sized kitchen remodels and how to plan your design.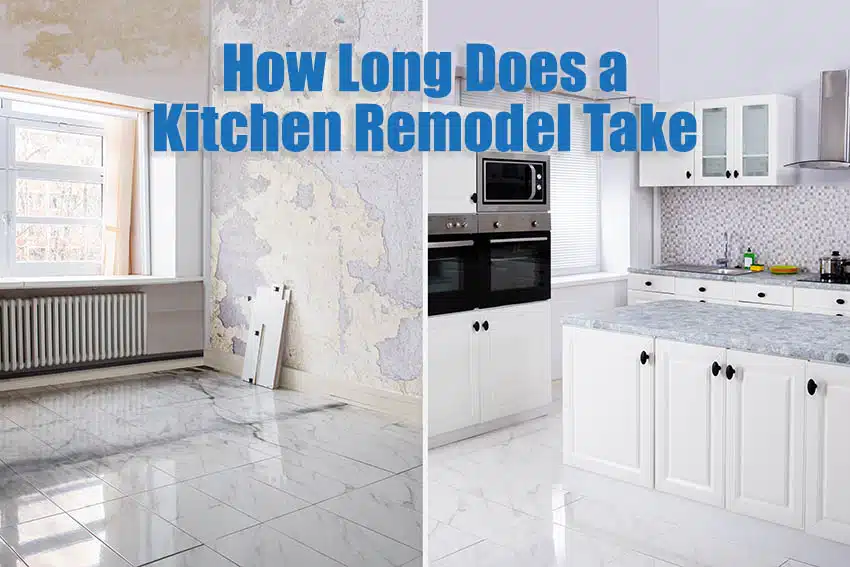 Kitchen remodeling sounds fun and exciting, but it can be challenging if you take it on as a project. It's an endeavor that takes up a lot of time and costs. You likely have some acquaintances who have just renovated their kitchens.
A novice kitchen designer or contractor may give you an erroneous time estimate. Some may have said, "I thought it would take less time to finish." The experts may have missed the opportunity to correct your inflated expectations.
You may put in a change order resulting in additional features of the scope of the job and a longer delivery time for the materials. Specific remodeling projects in the kitchen can finish up relatively quickly. Some take a few months. The answer to that question highly depends on the project's scale.
Average Time For Kitchen Remodel
The length of time necessary to plan, design, and renovate a kitchen is contingent on factors such as the scale of the project. The accessibility of materials and the design requirements may also weigh in.
Suppose the process for designing the kitchen is simple. In that case, the new components will replace the old ones while keeping the same arrangement. This type of kitchen is a replacement kitchen. You need to do very little building or personalizing to the space at the end of the day. For a kitchen of a reasonable size, replacement kitchen projects typically take between six and eight weeks to complete.
It takes more time to complete kitchen remodeling projects that call for a larger space, remove walls, make structural modifications, and reorganize the floor plan. Ten to twelve weeks is a reasonable estimate. That is the typical timetable for remodeling a custom kitchen.
Small Size Kitchen Remodel Time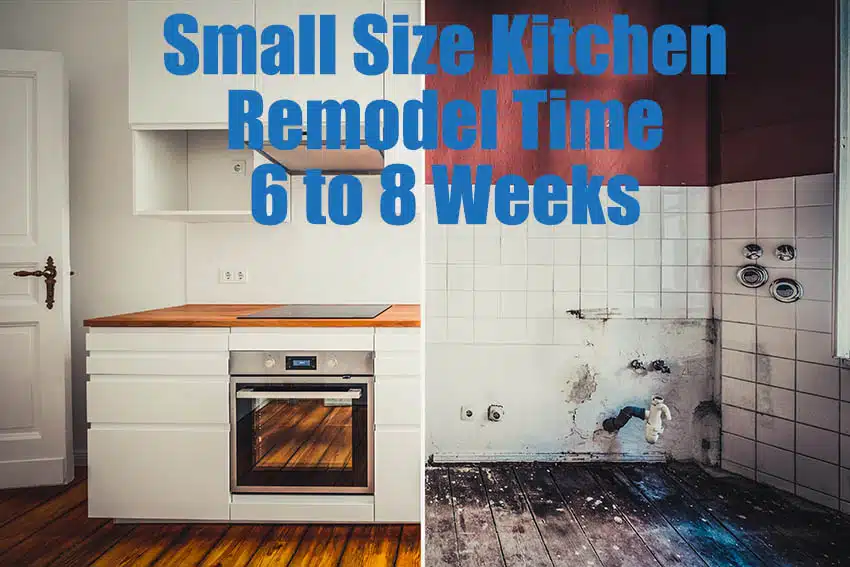 Remodeling a small kitchen should take between six and eight weeks, according to the opinions of professionals in kitchen design. It is a time-consuming operation that includes plumbing, electrical work, the installation of new appliances, and the finishing touches. An extra two weeks may be added to the deadline if you haven't planned and organized everything.
Nevertheless, it is highly typical for there to be holdups in renovating. It may be due to everyday causes such as a delay in the arrival of the material, fabrication of the countertop, or even the process of obtaining things built to order just for you.
Renovating a tiny kitchen may be done reasonably quickly because it does not entail any complicated restoration work. The eight-week time frame accounts for connecting the equipment and getting the kitchen ready to be used for its intended purpose. To ensure a smooth continuation of the project, you should plan for unforeseen tasks and obstacles.
Medium Size Kitchen Remodel Time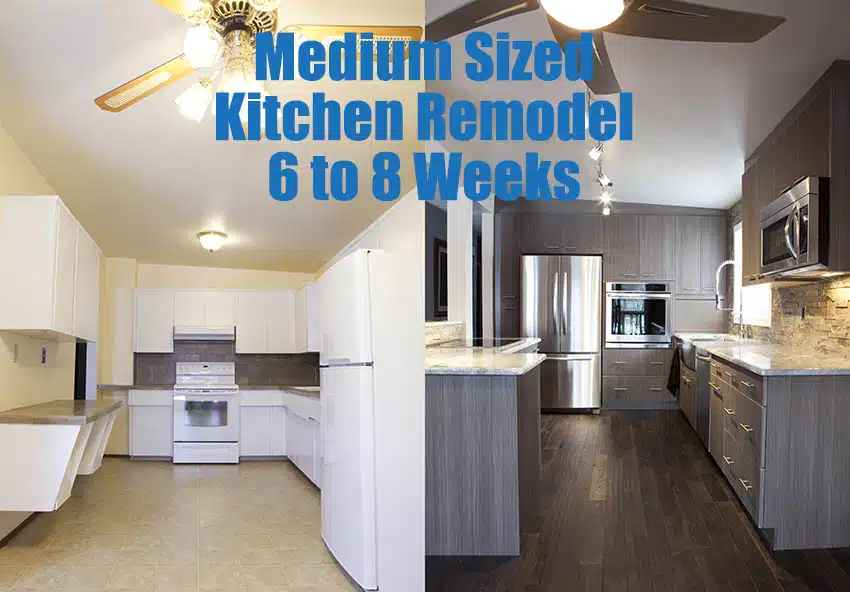 For a kitchen of a reasonable medium size, replacement kitchen projects typically take between six and eight weeks to finish up.
It takes more time to complete kitchen remodeling projects that call for a larger space, remove walls, make structural modifications, and reorganize the floor plan. Ten to twelve weeks is a reasonable estimate.
Large Size Kitchen Remodel Time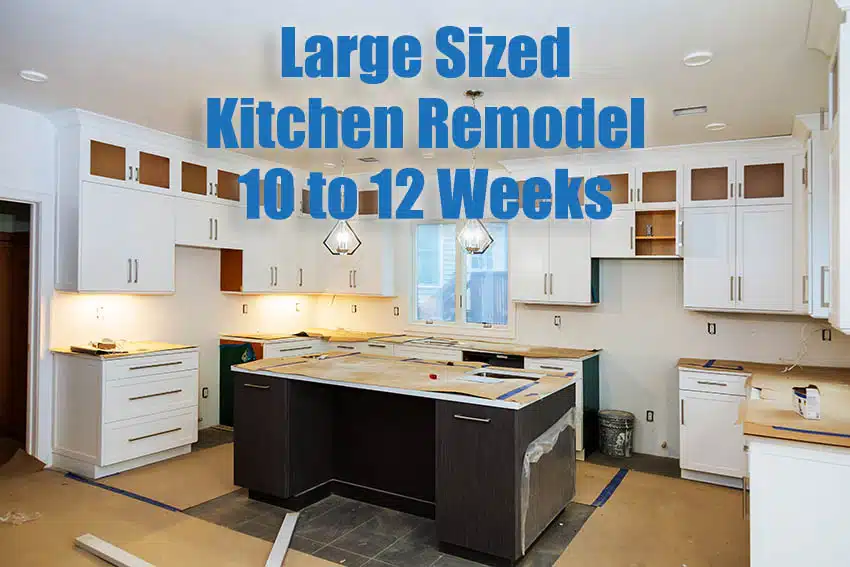 Larger kitchens that require extensive remodeling could take anywhere from ten to twelve weeks to complete. On the other hand, a comprehensive renovation of a larger kitchen could take anywhere from three to five months to complete.
Keeping all of this in mind will allow you to determine the next step in your kitchen remodels. Having said that, this is only a rough estimate of the time.
The actual time frame could be anything within the estimated range or even more. It all depends on how large or small your kitchen is, the design, and the complexity of the work. Suppose you've decided to tackle the makeover of your kitchen on your own. In that case, you should prepare for it to take significantly longer.
Always consult professionals in the remodeling industry for reliable pricing information and time frames for projects.
How Long Does A Full Kitchen Remodel Take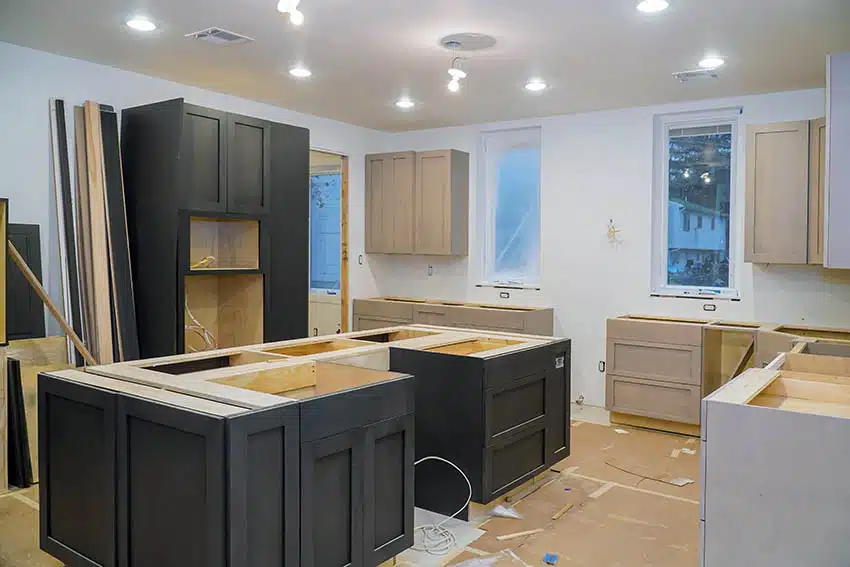 It's hard to give an actual figure as every kitchen is different. Still, a full-on kitchen remodel can be anywhere from ten to twenty weeks. You first need to start by defining your actual project. This process can take two to three weeks.
Begin by distinguishing the things on the must-have list from those on your wish list. Then develop your preferred aesthetic into an overall vision that complements your way of life and your own personality. You will need to itemize your budget, talk to a professional kitchen designer, get all the necessary permits, and get the green light to begin the project.
Then you move on to ordering the materials and the finishes. This task can take four to eight weeks, depending on the availability of the materials and freight timelines. If you postpone the start of your demolition, you will have everything you require before beginning building.
Doing so will require you to find a place to store your cabinetry. This extra precaution won't be an issue. Still, if your cabinets arrive pre-assembled, you'll need significantly more space to fit them in.
After that, you get started on the actual demolition and the preliminary construction, which can take anywhere from one to six weeks to complete. If you have animals as pets, you should consider finding a temporary residence for them throughout the renovation process.
Nails, wood, and other debris will be scattered all over, and there will be a significant amount of dust. When you leave the house during this particular period, it is only appropriate for them to do so.
The final touches on the construction are in the next stage. This step may take up to a couple of months to accomplish. We have now moved on from the crashing and banging associated with crude construction and are moving into the domain of refinement, attention to detail, and putting the finishing touches on things.
It is essential to remember that this stage is where all the effort and resources you have devoted to creating your dream kitchen come together. As a result, you need to do your best to fight off the temptation to speed up the construction process or to exert pressure on your contractors; remember that patience is a virtue.
How Long To Plan A Kitchen Remodel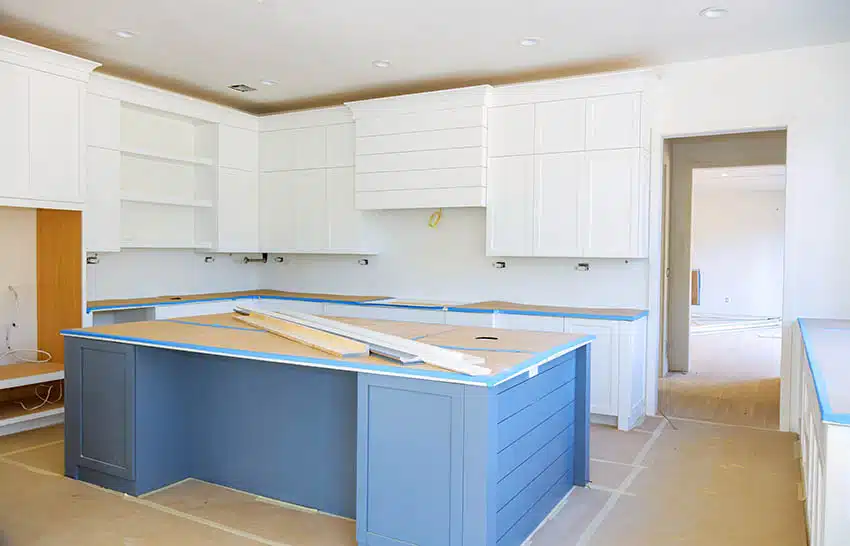 The planning phase can run for two to three weeks, depending on how detailed you would like to be. You've been putting money up for a significant kitchen remodel for some time now. On the other hand, you might have just decided that it's time for a change.
To ensure that you can stick to a financial plan well within your means and resources, you should write out your top-dollar budget. A helpful piece of advice is always to make an effort to save money or to add 10–15% to your budget to cover any unanticipated challenges that will invariably arise.
Consider in great detail the subcontractor services you will have to get to realize your ultimate goal. As the timetable for your project moves forward, you should get started looking for reliable and experienced subcontractors who can take control of specific duties.
Employing a general contractor to manage all of these subcontractor hires would be better for your remodeling timeframe. It would also reduce the stress associated with booking and arranging this large number of employees.
A contractor ought to have a good reputation, years of expertise, accountability, and, yes, even friendliness. Consult with members of your family and circle of friends for referrals. Ensure the contractor you hire is willing to listen to and respect your thoughts and ideas.
Your kitchen designer will assist you in transforming the creative vision you have for your space into reality. The goal is to have a chic, functional kitchen and one that you will be ecstatic to call your own.
Come prepared with the images and thoughts you acquired at the beginning of this process, and clearly express what you want to accomplish. You can use a kitchen cabinet design software program to help you narrow down your vision and help get your creative juices flowing.
Your kitchen designer will pay a visit to your home to perform an in-depth measurement of the area you have available and assess the present state of your room.
Depending on where you live, making significant alterations to your home can be challenging. It can include plumbing, electrical system, structural components, or mechanical aspects that require obtaining several permits. Suppose you have hired a general contractor to manage your project.
In that case, they should be familiar with obtaining permits. They will most likely take care of any permissions that are necessary on their own.
How Long Does It Take To Demo A Kitchen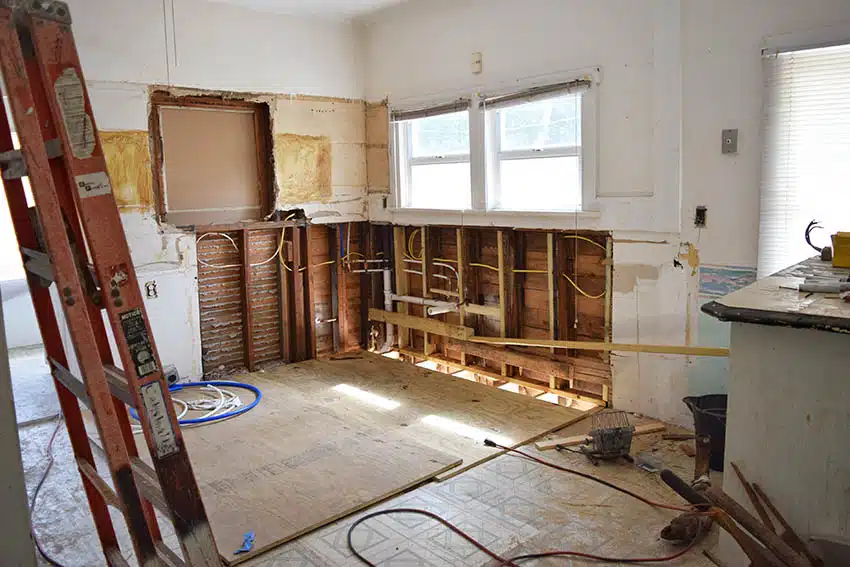 How long will it take you to take a kitchen entirely apart? Every demonstration has its chronology, which differs according to the location's dimensions and the components you will end up using. The total demolition of a kitchen typically takes between ten and twenty hours to finish.
Best Time Of Year To Remodel Kitchen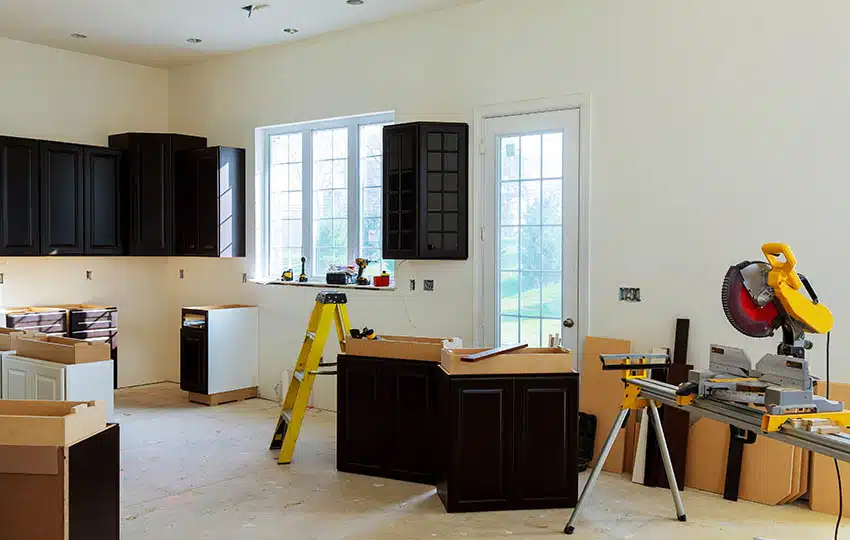 Suppose you want to get down to business. You can improve your kitchen whenever possible, but certain months are preferable to others. A sound and common suggestion are that one of the best times to start a project of renovating the interior of one's home is during the summer season.
The weather is more pleasant, which is helpful if you add to your house as part of your kitchen improvement project. It increases your chances of having a successful project. The workers may appreciate the comfort of your air-conditioned home if the work takes place entirely indoors.
Renovating your kitchen during the summer has several benefits, one of which is the increased amount of natural light that stream into the space due to the longer days.
When trying to find the greatest matches for cabinetry, countertops, flooring, and walls, natural light may help you identify the true nature of the colors you are considering using.
Natural light can help you find the best matches for cabinetry, countertops, flooring, and walls.
When you remodel your kitchen, it may take weeks to use that room for cooking again.
Suppose you can get the job done during the summer. In that case, you will be relieved that you have many choices available to assist you in getting through this time without having to dine out every day.
A fantastic substitute for cooking indoors is doing it on the grill in the backyard. Simple meals enjoyed outside can also include a variety of fresh seasonal produce that does not require any cooking.
Because summer is a popular time for vacations, this presents you with yet another opportunity to sidestep the hassle of a home improvement project.
Many households intend for the work to finish up during their summer break. They plan to be gone for a few weeks, and when they get back, their kitchen will be completely renovated and ready for use.
However, you remind yourself that the prices can go up in the summertime. Since this is a busy time of year for contractors, they may increase their rates.
The Second Best Option? Fall.
The fall is another time of year popular for extensive renovations to be performed in a kitchen. You can utilize the copious amounts of natural light available during the summer months to plan out your decoration scheme in preparation for beginning the process once autumn arrives.
A number of homeowners decide to perform renovations on their kitchens in the autumn because they want to have the work completed before the start of the holiday season.
It is exciting to think of the prospect of preparing seasonal feasts with updated countertops, cabinets, and appliances, which they look forward to showing off to holiday guests. They look forward to showing off their updated kitchen design to holiday guests.
The schedule is a little more flexible than it was a few months earlier because a contractor's major summer projects are typically winding down by the time fall rolls around.
Even yet, fall may be a busy season because it's common for homeowners to decide to tackle a last-minute renovation right before the holidays. As a result, you should wait to expect bargain prices on the work at this point in time.
If you decide to remodel your kitchen in the fall, you can locate attractive discounts on new home equipment. Before bringing in new models for the new year, it is common practice for retailers to sell off their existing inventory.
How Often Should A Kitchen Be Remodeled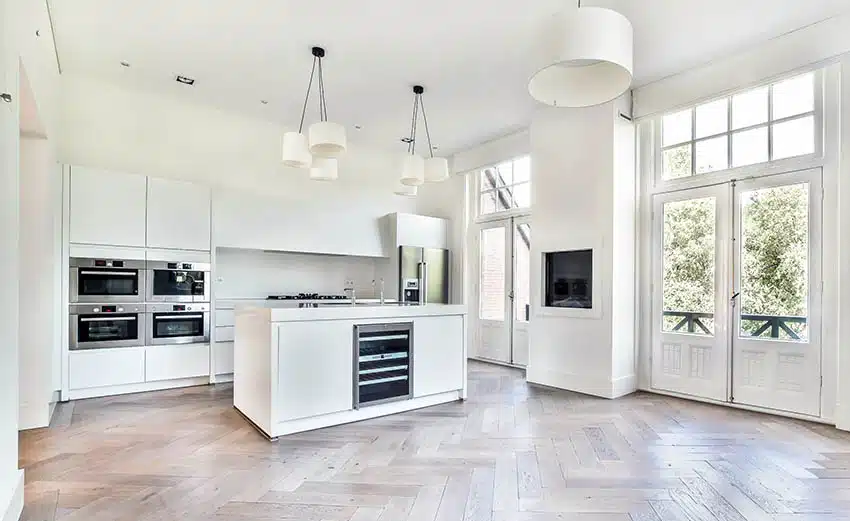 The straight answer to this is every ten to fifteen years. Renovating a kitchen is often necessary every ten to fifteen years on average. It takes time for color trends to shift and finishes to experience substantial wear and tear.
To keep your kitchen up to date, you should do whatever is necessary, such as upgrading the countertops, replacing the cabinet doors, switching out the hardware, and painting the cabinets differently. If it has been more than ten to fifteen years since you last performed this, the chances are good that your kitchen could use some updating.
You should only redesign your kitchen if it is really necessary because kitchen remodeling requires significantly more effort and demolition than kitchen renovation does. If the current kitchen layout serves its purpose well, there is no need to attempt to alter it.
Suppose your existing kitchen, on the other hand, cannot accommodate modern appliances or the requirements of your entertaining needs. In that case, you should investigate the possibility of redesigning it. Conduct a cost analysis to determine which renovation and remodeling will have the most significant positive impact on your bottom line.
Kitchen Remodel Tips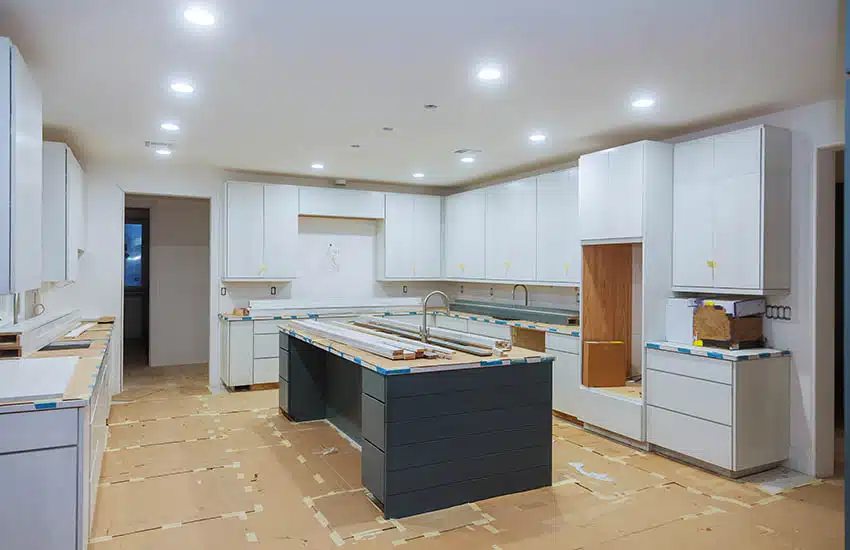 Here are some extra pointers on how to make the most out of your kitchen remodel:
• When shopping for fundamental pieces, opt for neutral colors.
• Go for easy wall and cabinet hardware changes. Countertops and backsplashes are expensive to replace. Pick neutral hues for the base and accent colors in easily-changed locations.
• Make sure the kitchen design is cohesive with the rest of the house.
• Modern homes should have modern kitchens. Traditional homes may demand warm-tone cabinetry with ornate finishes. Design a kitchen that fits your home.
• Invest in quality products, such as wood, instead of pressed wood.
• Natural wood cabinets cost more, but they last longer. Every design element should have a short- and long-term ROI.
Kitchens tend to be a little less forgiving when it comes to daily wear and tear, as it's the home area with the heaviest foot traffic. Investing in durable materials is vital to get bang for buck value for your money.
• Collaborate with a tried-and-true group of experienced specialists.
• If you spend money on kitchen remodeling or renovation, use only qualified professionals so that you get to save time and money and avoid frustrations.
Remodeling your kitchen can be a herculean task, for sure. But with the proper vision, military-like planning, and professional execution. You'll soon be on your way to enjoying a kitchen well worth the cost and the extra effort you put into its remodel in no time.
See more content like this in our article about expanding the kitchen in to the dining room.