Here we share our cove light ideas including what it is, differences from indirect lighting, types of ceiling cove lights, and where they are used for interior designs.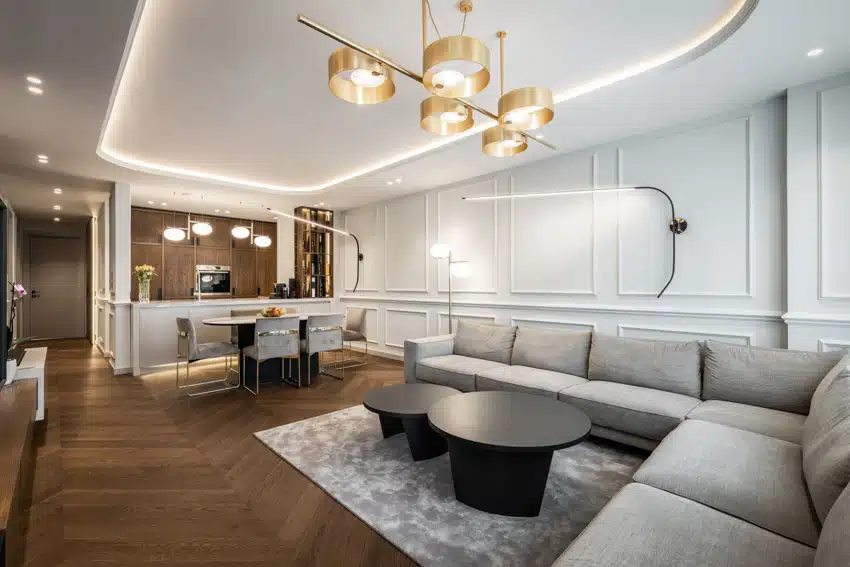 If you are a fan of gentle and pleasant lighting than you will enjoy cove light designs. Cove lights provide an indirect lighting source while also giving your room an easygoing radiance.
In addition to this, their general appearance is clouded and subdued. You can easily include them in your ceiling design. Two of the most remarkable things about cove lighting, are that they are simple to clean and they provide visual interest.

The use of cove lighting has the potential to revitalize an otherwise uninteresting space. When combined with other types of lighting, cove lights may provide your room or home with the highest quality illumination that is currently available.

What Is Cove Lighting?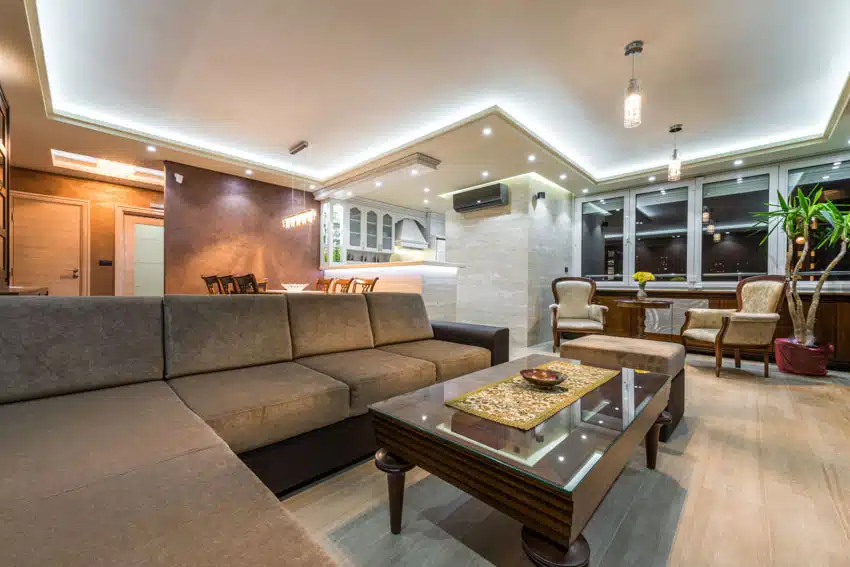 Cove lighting is a series of fixtures installed around the border of a ceiling cove or recess niche. The lighting fixtures cast light onto the ceiling or walls, which then reflect downward to produce a gentle and diffuse effect. The reflective qualities of the space enables cove lighting to function effectively.
Every type of house requires at least some form of illumination. Adding lights to your home gives it more personality, whether you consider them primarily in terms of their aesthetic value or overall practicality.
These days, many people who own their own houses understand how important it is to choose the perfect lighting for their properties. In particular, cove lighting has gained popularity for all the right reasons. Not only do cove lighting designs can completely change a room's atmosphere, but they also blend nicely and require less physical room.
Accentuating walls, ceilings, and other architectural elements in your house or place of business with cove lighting, a specialized form of lighting, is an excellent idea. It gives off a warm, comforting glow that you can employ in the home or commercial settings. It can transform any area into one that is more appealing.
You can use techniques like cove lighting to create an ambient or accent effect. In many cases, the lighting is indirect; its purpose is to wash a wall or ceiling. In contrast, the lighting fixture itself can nestle into a built-in cove.
Walls usually incorporate coves. There is also the option of constructing the coves into the ceiling. Lighting designers and architects generally utilize cove lighting to highlight an architectural element such as a wall, crown molding, or ceiling. Since there is no apparent light source, you can employ cove lighting.
Where to Use Cove Lights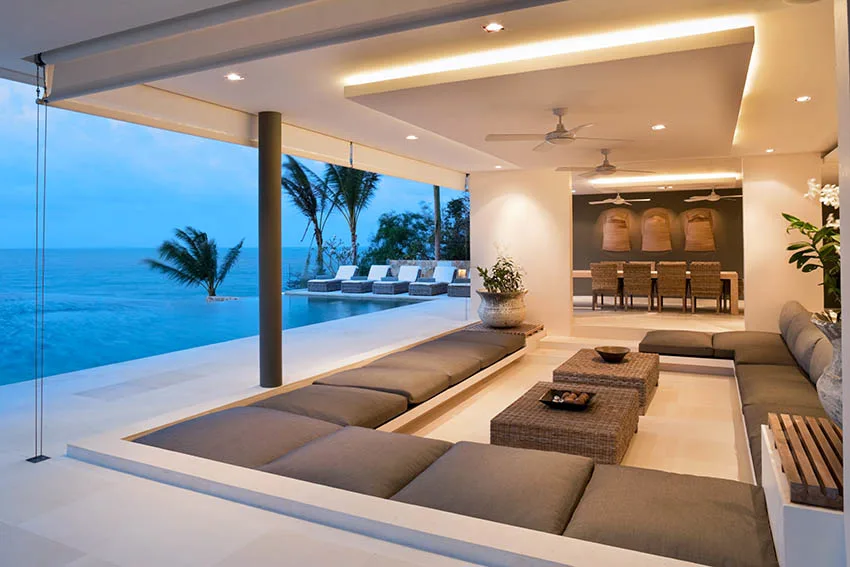 Have you considered installing false ceilings in your house? Recessed lighting will blend in perfectly. Cove lighting is a popular choice even though it is a relatively simple kind of illumination because of the visual edge that it provides to the rooms.
Cove lighting should be one of the alternatives you must explore if you want soft, diffused lighting across your living room, hallways, porch, or bedroom. All you need to do is to position them correctly with the assistance of moldings or valances.
You can be confident that cove lights, which come in various forms and dimensions, will lend an air of luxuriousness to any area around your home. In light of this, consider some of the options for installing cove lighting.
Use it in the living room: It would help if you had a well-considered combination of the many lighting levels in the living room, which should combine aesthetic value with functional applicability. Cove fixtures can enhance the mood lighting in a living room design.

Not only may cove lighting be in the ceiling, but it can also be employed to draw attention to a specific architectural element in the room. It could be on the wall, such as a statement stone relief feature, or even at floor level, such as an invisible light behind a cabinet hanging on the wall.

Use it to set a relaxing mood in the bedroom: Your bedroom ought to be a haven of peace and stillness. After a hard day of work, you should take time to unwind and relax.
Bedroom lighting with diffused light and moderate intensity levels will significantly assist this endeavor. Always remember that white lights have a cooling impact, while yellow lights give a warmer feeling.
Because they can adjust brightness according to requirements, LED lights with transformers and dimmer switches built in are perfect for providing this kind of illumination. In addition, this degree of illumination is easier on the eyes than the lighting provided by a table lamp would be.
Use it in the dining area to keep things interesting: For instance, a dropped ceiling and cove lights can provide your dining room with added dimension and depth, bringing a sense of coziness to a primarily white space. Light reflecting off ceilings tends to make rooms appear more open and lighter and brighter.
Turn your kitchen into an aesthetic yet still functional space: When attempting to get some work done at the kitchen counter, shadows cast by the overhead lights might be distracting and difficult to avoid.
An additional strip of lights installed beneath the cabinets can do wonders when it comes to lighting. The addition of cozy recessed lighting below the upper row of cabinets will lend a vibe of sophistication to your kitchen. It is aesthetically pleasing and functional, as it illuminates the worktop in the process.
Create some magic in the bathroom: The perfect bathroom lighting can help you achieve Zen oblivion when unwinding in a steamy bath with your favorite aromatherapy essential oils.
A glow is produced all around the mirror by strip lights that wrap around it. The mirror reflects and bounces the light, creating a low-key effect that is as quiet as a whisper.
Cove Type Lighting Vs. Indirect Lighting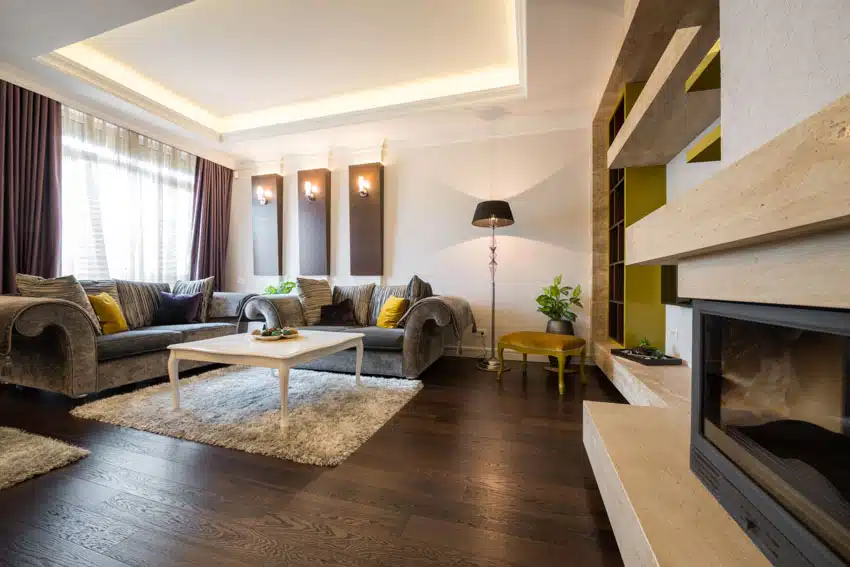 Any form of light produced by reflecting light off a surface is known as indirect lighting. When positioned to reflect off a wall, cove lighting typically provides indirect lighting ranging from wall wash to ceiling wash. It is because the light source focuses on either the ceiling or the wall.
In conclusion, when it comes down to it, every single style of cove lighting produces indirect light. On the other hand, not all forms of indirect lighting are cove lighting.
Cove Light Ceiling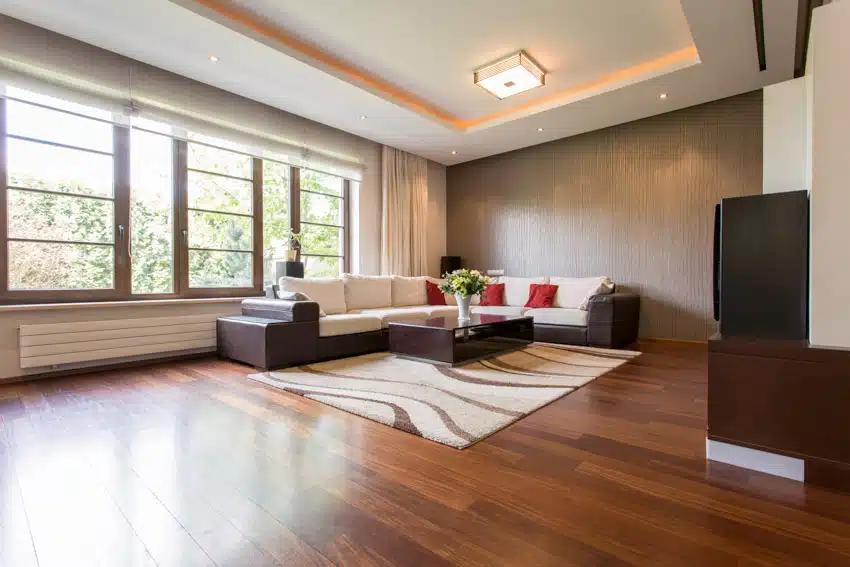 When it comes to lighting a cove ceiling, architects, interior designers, and general contractors typically propose one of two different lights. LED lights and fluorescent lights are both included here.
Light-emitting diodes, or LEDs, which have a low environmental impact and a long lifespan, are growing in popularity.
Because they are available in various colors, you may utilize them to create virtually any effect. On the other hand, lighting that uses fluorescent bulbs is inexpensive and consumes very little energy. Because they come in many different shapes and sizes, you may easily modify them for use in many cove systems.
False Ceiling Cove Style Lighting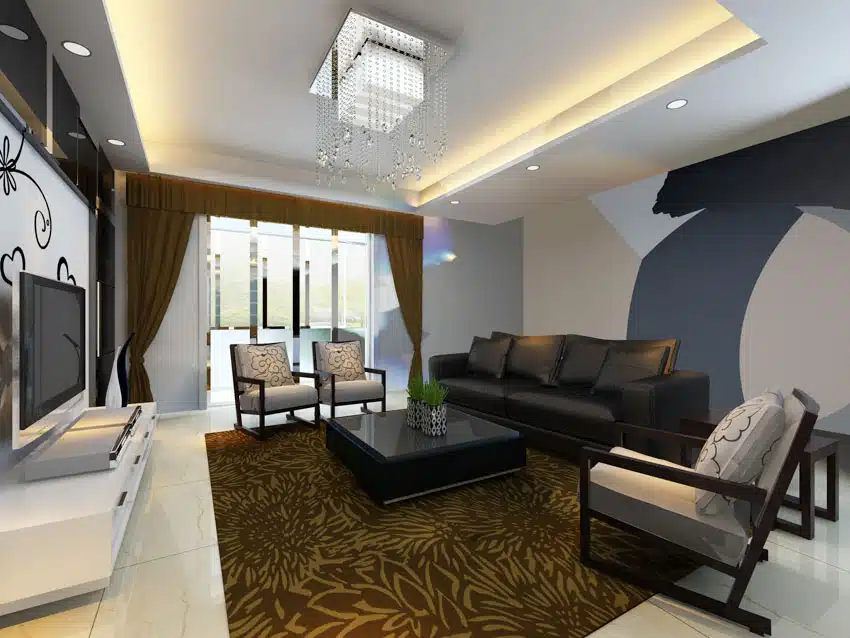 If you choose a simple cove lighting design, your ceiling will appear to have a halo-like look. You can choose a cool white lighting temperature to achieve an ultra-modern and streamlined style that will go wonderfully with the minimalistic theme of your home.
A fake ceiling designed in a minimalist style often consists of a rectangular drop with a cove space to house the lights. It breaks up the monotony of the ceiling's otherwise simple design.
Curved Cove Ceiling Lighting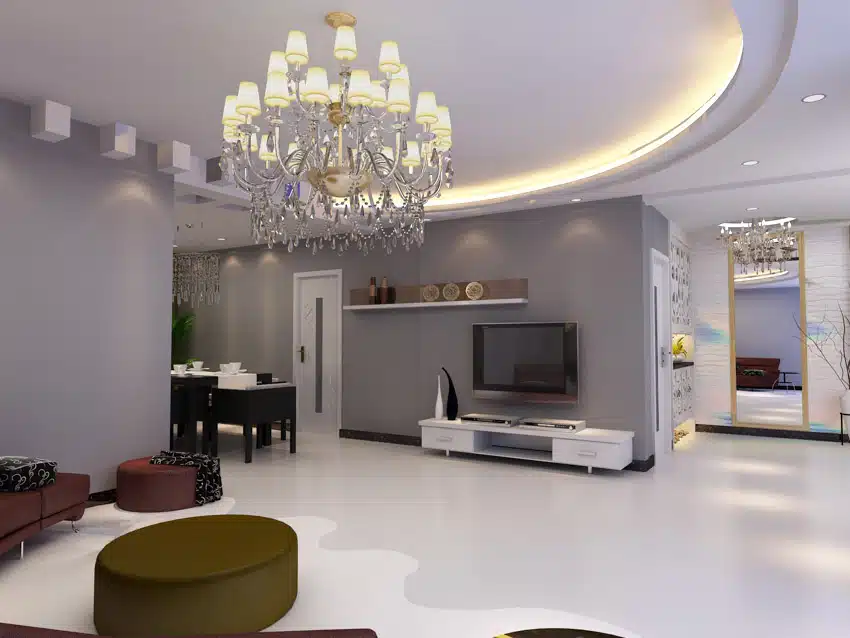 Suppose you want to give your ceiling some personality and increase its wow factor. In that case, you may design it with various patterns or add a curve appeal.
Both of these options are available to you. This kind of architecture is common in commercial and public places like shopping malls, restaurants, coffee shops, and other similar establishments.
When your guests enter the space, they will feel a sense of grandeur and elegance thanks to a curved cove lighting design that you have implemented. This design is guaranteed to grab attention.
Geometric Drop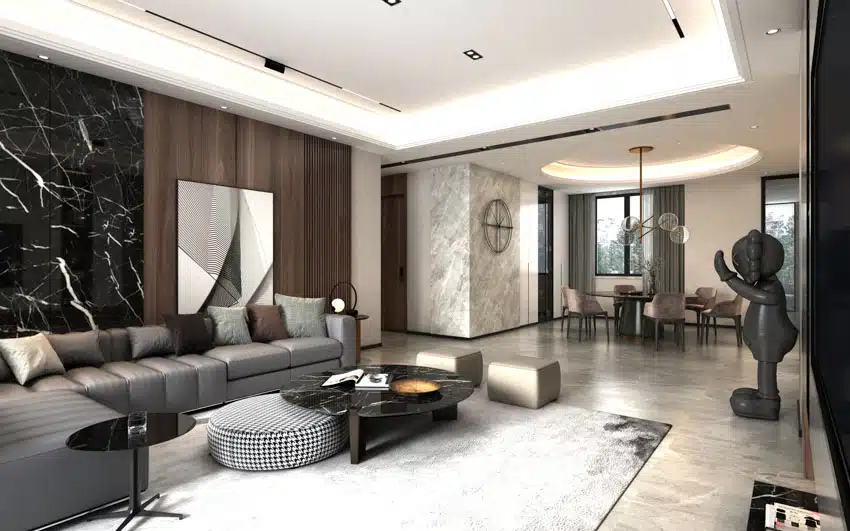 Suppose you want to maintain a minimalist aesthetic while incorporating some visual texture into the design. In that case, the use of a geometric pattern is the correct design choice to make.
Carve out unique geometric lines, curves, and patterns on your ceiling, and then use that space to install your cove lights.
Classic Cove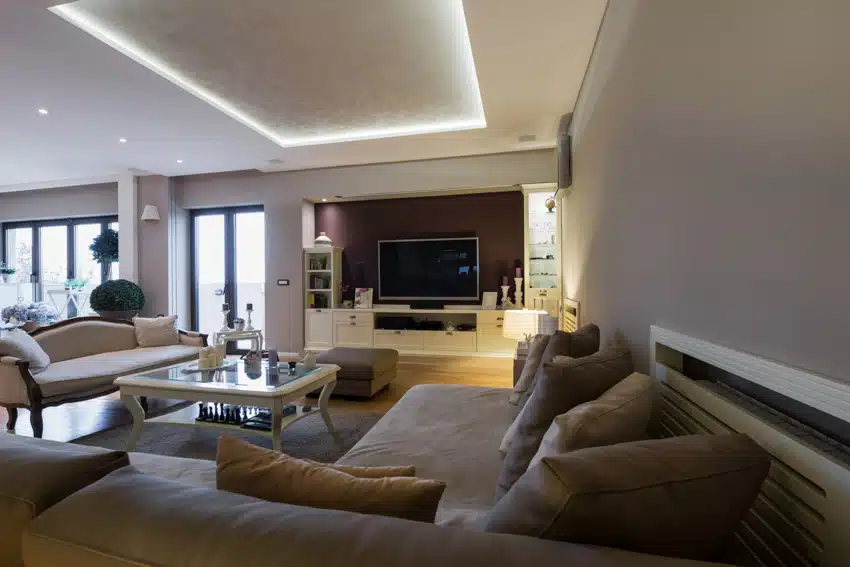 Traditional or classical interiors best fit a ceiling design with classical cove lighting. These interior spaces are in a transitional, modern Victorian or regency style. Ceilings in classical architecture tend to be more beautiful and intricate.
Intricate moldings and sculpted design features are on them, sometimes in the form of florals and wavy patterns. The recessed area has cove lighting installed on it so that it emits a gentle, warm glow and illuminates the fine details of the room.
Modern Or Contemporary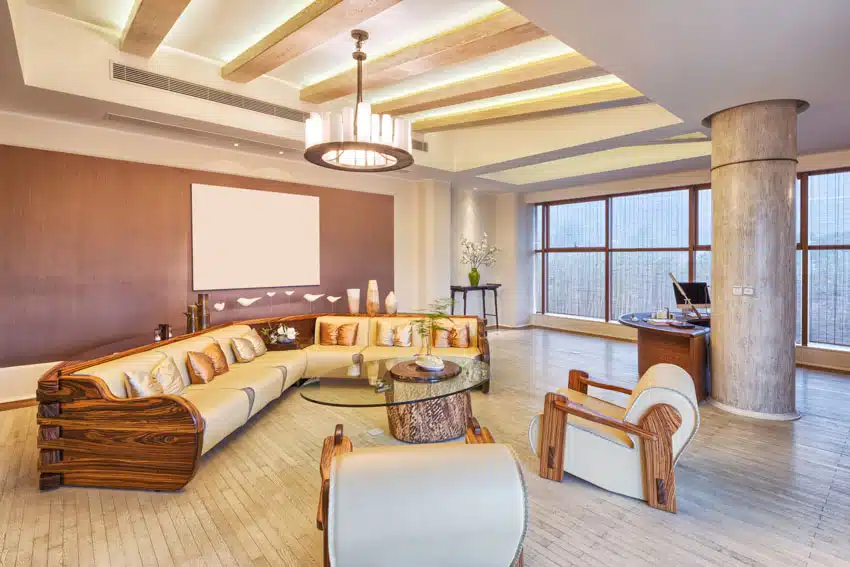 A contemporary design that uses cove lighting is an excellent choice for effectively illuminating an area. The living room and the main bedroom are the ideal settings for it.
Look for something that has a ceiling element that is uncomplicated and streamlined if you want to create a lighting design composition that is both classic and versatile.
Wood details act as visual accents in contemporary ceiling designs. After that, cove lighting highlights these characteristics while giving the room a gentle and calming glow.
Warm Cove Ceiling Lighting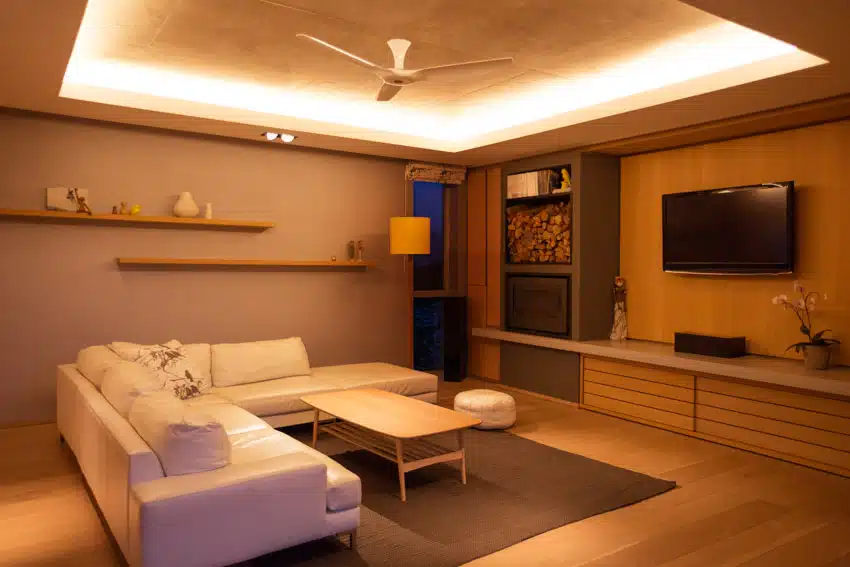 Because white walls encourage light rays to bounce off, warm light is often an excellent choice for a living room with white walls. It results in an appearance that is both reassuring and energetic.
In addition, warm light helps relax us. It helps facilitate the process of winding down from the day and getting ready for sleep as part of the natural human circadian cycle.
Because of this, the warm light is perfect for use in bedrooms. Choose warm light to install in your cove ceiling to bring a soft and warm glow to your space, which will help you create an inviting and cozy atmosphere.
Custom Ceiling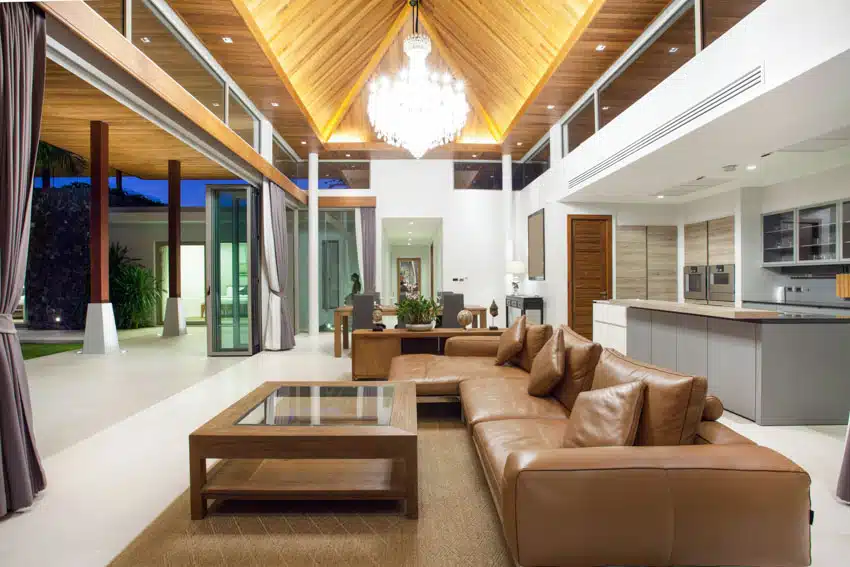 You may, of course, have a bespoke cove ceiling designed and created for your house if there is a particular design in mind. There is nothing quite like a ceiling design composition that is one of a kind and has never been seen in any home before.
There are some rooms that are either too large or too extravagant to have a ceiling design that is fundamental or conventional.
You should seek the assistance of a qualified interior designer to assist you in designing the ceiling of these areas. There are, however, rooms that are inadequate in size, and a drop cove ceiling would make these rooms appear even more congested.
Again, seeking the assistance of an interior designer will enable you to receive expert guidance on the most effective ways to utilize such areas in your home.
Recessed Light Cove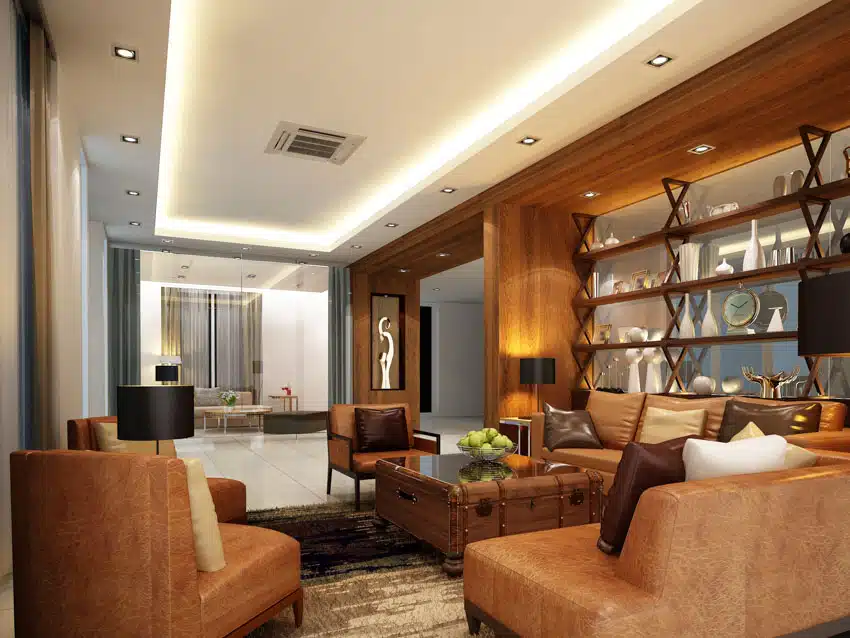 Indirect lighting may be created with ease using recessed cove lighting, which is also an excellent method to make a style statement. It is common practice to conceal the light source by tucking it away in the room's cornices, ceilings, or walls. It is a technique that is becoming increasingly popular.
LED Cove Light: Construction industry specialists, designers, and architects agree that LED strips are ideal for cove lighting in the modern day. It is because using LED strips is a means to fine-tune a traditional technique while giving it a contemporary vibe.
LED strips, manufactured with the most recent technology, produce stunning lines of light that imitate the attraction of natural light but do so without the harsh glare of older lighting fixtures.
Not only are LED light strips exceptionally bendable, but they are also straightforward for individuals to set up on their own. It is possible to peel and adhere to the strips wherever you like, and you can even trim them to any certain length without using any big tools. There has never been a simpler time to do LED cove lighting yourself.
Fluorescent Cove Lights: Fluorescent lighting is both inexpensive and good for the environment. It can come in various forms and dimensions, enabling a wide range of applications within the cove system.
The best lighting style for cove systems is according to your requirements and tastes. You may construct an attractive and fashionable cove system that will improve the appearance of your home with the assistance of the appropriate lighting.
Linear: Linear or track cover lighting is more expensive than fluorescent fixtures. Still, it has a lower voltage requirement and creates a stunning look in a space. They are effective for lighting up surfaces such as worktops, kitchen islands, bars, and other locations requiring task lighting.
Tungsten Lights: Tungsten lights are an old-fashioned form of illumination that have been widely used even in modern times. They create a natural and warm light that can come at a reasonable price. They are mostly being phased out in many states due to their energy inefficiencies.
Decorating Your Living Room with Cove Fixtures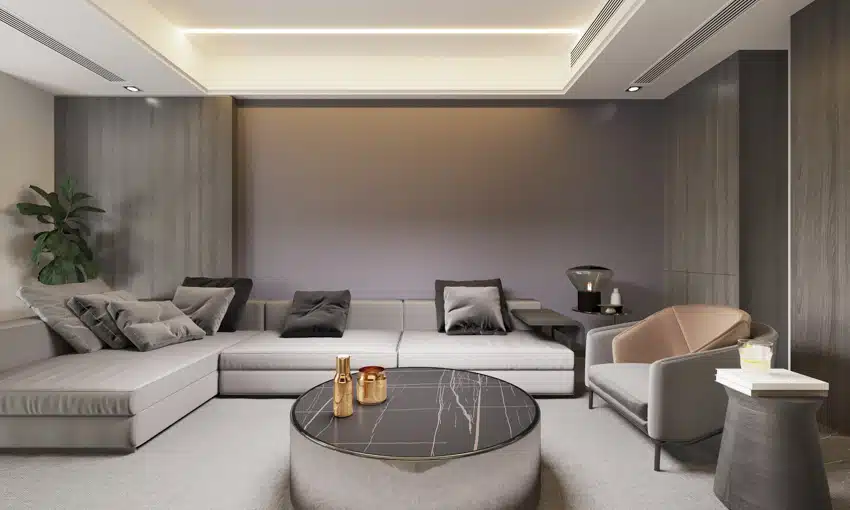 Adding further depth to a living space and bringing an interior design project to life are both accomplished through the strategic placement of cove lighting.
Cove lighting allows you to create depth and height, cozy wall nooks and crannies, and it draws attention to the most spectacular parts of your space. It's all about striking the right balance between light and shadow and infusing an environment with fresh vitality.
How to Add Cove Illuminaires in the Kitchen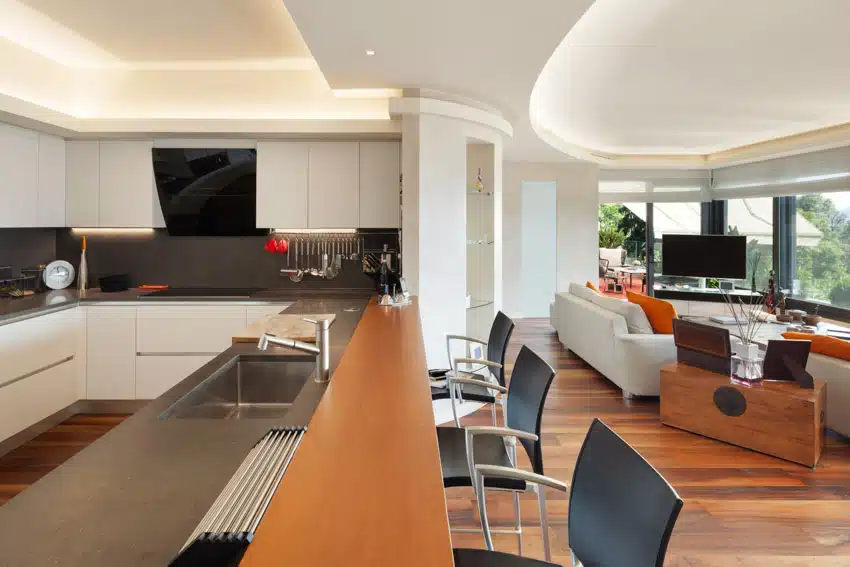 The appearance of any room in your home, including the kitchen, can be dramatically altered by utilizing a mix of direct and indirect lighting. It is especially true for kitchens.
However, most traditional kitchens only have direct lighting sources, such as lights mounted or hanging from the ceiling. In an existing kitchen or when building a new one, installing indirect or recessed cove lighting is an easy way to lend it a more modern appearance.
Ceiling tray light: Incorporate indirect illumination created by coves into your false ceiling. These tray ceiling lights contribute to the kitchen's overall lighting and produce a more diffused kind of illumination by directing light upwards toward the ceiling.
Downlighting: Putting LED downlights on the skirting of the lower cabinets is another way to make the kitchen's atmosphere feel more upscale.
In the same way, as in this illustration, the indirect lighting source is aimed downwards to make the ceiling appear to float while also providing a warm glow in the kitchen.
In the kitchen shelves: Cove lighting positioned advantageously within the shelves of the kitchen can be installed. You can see how recessed lighting adds sparkle to these types of shelves and highlights the items displayed by referring to this example.
Under-cabinets: You can bring a plain room to life with the help of indirect lighting placed under the cabinets. Not only does it provide a fashionable touch, but it also produces directional lighting on the kitchen surface. This kind of illumination makes the operations in the kitchen, such as preparing and cooking food, go faster.
In between the ceiling and the upper cabinets: It is possible to conceal thin spools of rope lighting by positioning them in the space between the top of your kitchen cabinets and your ceiling.
You will adore how the lights accentuate the space's sense of lightness and contemporary chic, making the full-height cabinets appear less dominant.
How to Accentuate Your Bathroom with Ambient Lighting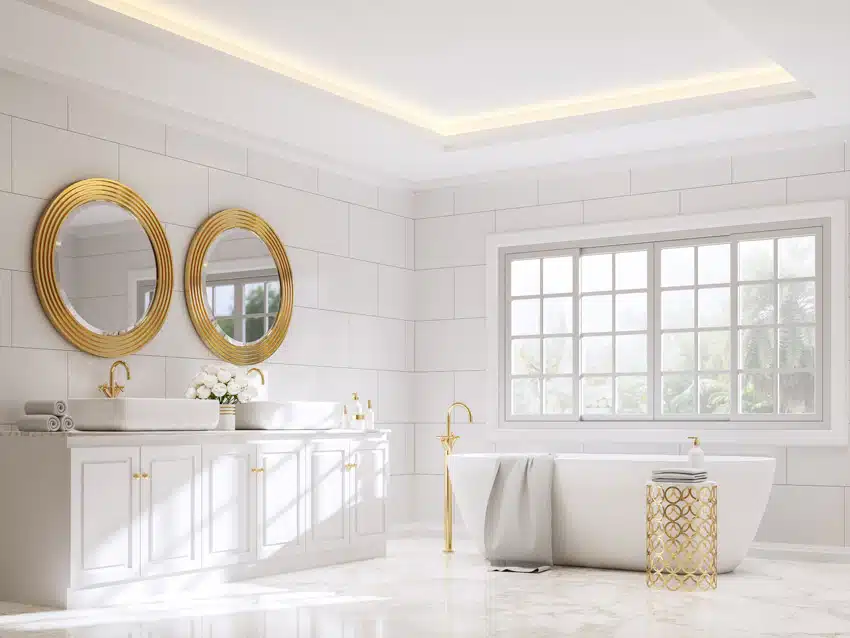 Bathroom lighting is crucial. Lighting a bathroom with layers is the most effective. An overhead fixture, wall sconce, or row of lights above the mirror generates ambient light. Daylight comes via windows or skylights.
Many bathrooms lack exterior windows, which may be due to privacy concerns. Mirror-mounted task illumination is standard. Accent lighting in a bathroom is usually a nightlight or candles. Cove lighting is preferable for bathroom accent lighting.
Uplighting: Cove lighting warms your bathroom. Ledges, crown molding, ceiling nooks or tray ceilings, and skylights light beautifully. Turn off the overhead light and luxuriate in a sandalwood vanilla-scented bubble bath under cove lights. A dimmer switch helps manage cove light brightness.
Under-cabinets: Install cove lighting under bathroom cabinets for a sophisticated look. It's like kitchens. It works on bottom cabinets, illuminating the floor. Illuminate any surface.
Bathroom cabinets above counters enhance the counter decor. Cove lighting under a mirror over the sink gives hand-washing illumination.
Shelving, arches, and alcoves: Bathroom built-ins are ideal for cove accent lighting. Add a soft focus to upmarket bathroom plants, art glass, flowers, bath linens, soaps, seashells, sculptures, etc.
Try different colored lights. Cove lighting replaces bathroom nightlights. LED lights produce less heat and consume less energy than incandescent bulbs. Cove lighting can be left day and night to maximize its ornamental potential.
Cost of Adding Cove Luminescence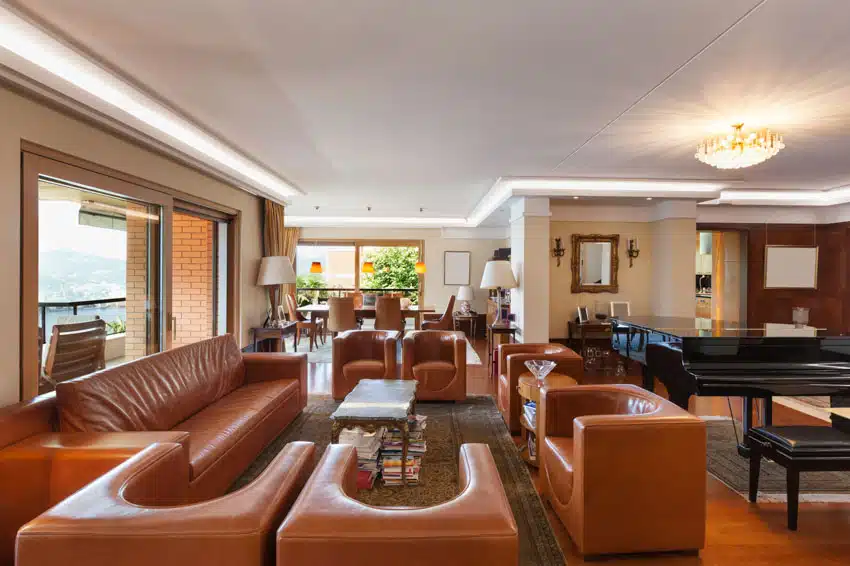 The cost of installing cove lighting might be relatively high. LED cove lighting, fluorescent cove lighting, linear cove lighting, and other types of cove lighting have different price points, ranging from $100 to $2,000 for the product. However, the price of wall cove lighting and rope cove lighting can range from $50 to $500, respectively.
No matter what your budget is, there will surely be a type of cove lighting that can make your home or business look more attractive. It is not true that you have to get the most expensive ones; instead, you should choose the ones that are the least expensive if you want the added value to your property.
However, the architectural designs of your house will determine the type of cove lighting you will install. Further revealing the cost of the cove lighting you will install. Here are some variables that might affect the cost:
Size: The size of the lighting fixture determines the price of cove lighting. There are both short and long variations of the cove lighting. The price paid for purchasing a short cove lighting differs from the price paid for a long one.
Brand: When looking for premium and low-cost cove lighting, another element to take into consideration is the brand. There are a variety of manufacturers of cove lighting that set their prices according to cost.
Because of the one-of-a-kind quality that they provide, the price that they charge is unusual. There is a huge variation in the cost of production from one region to the next. Additionally, the raw materials used help determine the cost.
Energy efficiency: Energy efficiency affects cove lighting costs. Some cove lighting brands aren't energy-efficient, while others are. Without watts and lumens, you can discuss light bulb efficiency.
Bigger wattage bulbs use more electricity. Smaller wattages take more energy to provide the required brightness. Cove lighting cost also considers energy efficiency. Energy-efficient cove lighting is more expensive.
What Type of Light Is Best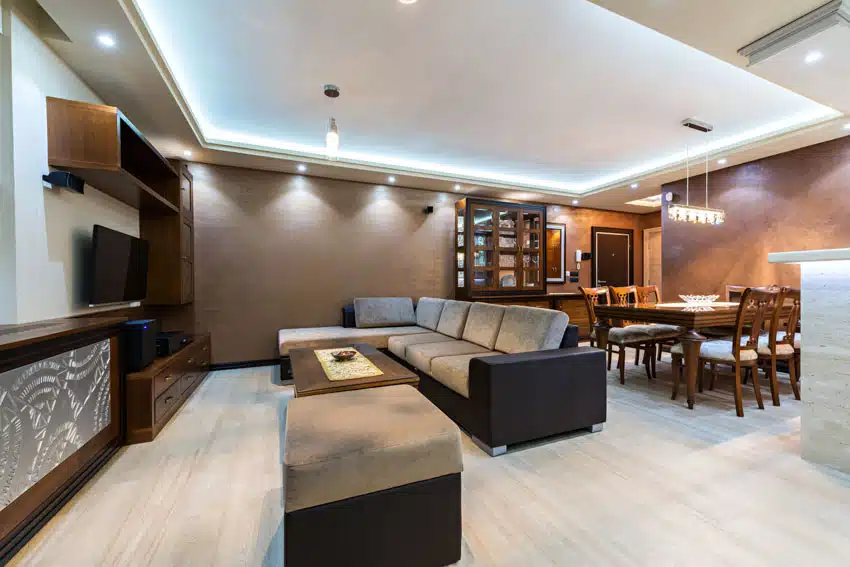 Cove lighting design is continuously developing to keep up with recent fashion trends and technological advances. There are several distinct lighting options available, each of which is suitable for use in cove systems.
LED lights, fluorescent lights, and tungsten lights are some of the lighting solutions that are currently the most often used.
As a result of their low energy use and extended lifespan, LED lights are quickly gaining a significant market share. They are also available in a wide selection of hues, which enables them to be in the production of any effect.
Which among them is best for cove lighting? Here's the straight answer. LED llighting is the most effective technology for applications requiring cove lighting. LED linear types of lighting fixtures offer flexibility and mold to fit snugly into virtually any cove design because of their low heat output and solid-state construction.
LED cove lights can provide warm or cold lighting for residential and commercial applications. These lights come in various color temperatures and produce light with a high color rendering index (CRI).
How Many Lumens To Use With Cove Lights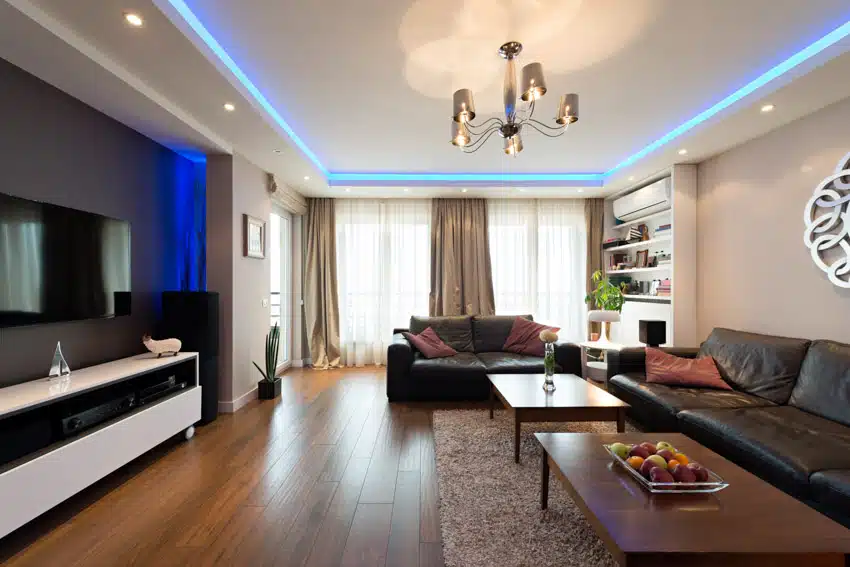 Suppose you are searching for cove lighting that produces the ideal quantity of light. In that case, you will want to ensure that you get one with the appropriate number of lumens. If there are more lumens, your cove's lighting will be brighter.
If you use a light with too many lumens, you can wind up with too much light, which can be uncomfortable and even blinding. So, how many lumens should you use for the proper quantity of cove lighting?
It depends on several aspects, including the size of the cove and the amount of light you want it to emit. The lumens required for cove lighting are typically between 300 and 500 per square foot.
On the other hand, you could need more than 500 lumens if the cove is vast or if you want the light to be brilliant. On the other hand, if your cove is somewhat tiny or you want it to be moderately sized, you may find 300 lumens is plenty.
The question now is, how can you determine how many lumens your cove lighting requires? Consultation with an experienced lighting professional is the most effective way to find this information.
They will assist you in locating the appropriate cove lighting and check to ensure that it has the required quantity of lumens. Suppose you are searching for cove lighting that produces the ideal quantity of light. In that case, you will want to ensure that you get one with the appropriate number of lumens.
How Far from Ceiling Should This Lighting Be?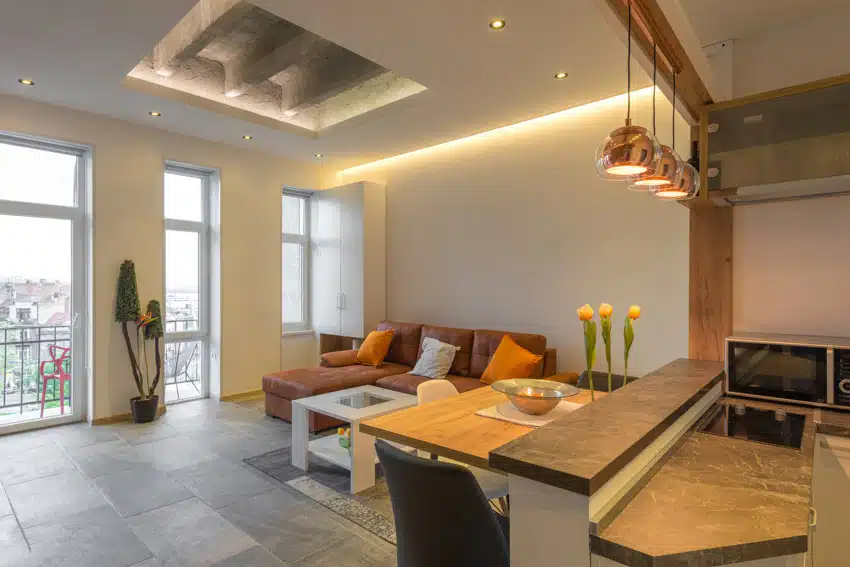 It should be within the range of 8 inches to 2 feet from the ceiling. You must maintain a space of at least 8 inches between the ceiling and the top edge of the cove. There is a maximum gap of 30 inches between the ceiling and the top edge of the cove.
The ideal distance from the ceiling to the top edge of the cove is between 12 and 24 inches; this will ensure the best performance and the highest possible light output at the work plane.
See more related content in our article about recessed lighting alternatives on this page.