Here's the recessed lighting alternatives including the different fixture types, cheaper options, best choices for kitchen lights, and design styles.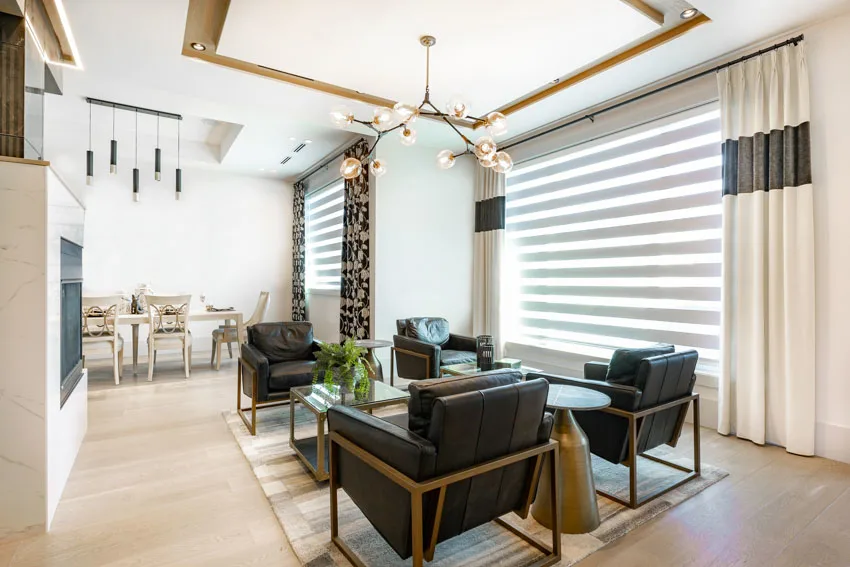 Recessed lighting, down lighting, pot lighting, and can lighting—whatever you want to call it—has grown in favor in recent years. They have been around since the 1950s, and they are well-liked for their ability to produce light while being unobtrusive.
It is famous for a reason: it is simple to overlay with other forms of lighting to create a layered aesthetic, and it adds atmosphere to any space. Housing, trim, and bulb are the three primary components of recessed lighting fixtures.
Recessed lighting is a flexible choice that may help you create a well-lit room in your house, but it's also simple to do it wrong, particularly if you don't plan to hire an expert or do some planning ahead of time.
However, all types of recessed lighting needs space in the ceiling, which is not always accessible, and they are renowned for leaking air, which is inefficient. Fortunately, there is now a superior option to recessed can lights.
Disc Lights
The ability to install unique downlighting without a recessed light can save electrical contractors time, effort, and space, thanks to the LED disc light's adaptability as a flush mount fixture.
The disc light is ideal for general lighting applications in homes, hotels, motels, and commercial buildings and serves as a cost-effective temporary lighting option.
The luminaire is an excellent choice for providing energy-efficient and long-lasting downlighting in bathrooms, showers, spas, and other indoor wet areas.
The commercial electric LED disc light makes it simple to switch out incandescently recessed or other ceiling-mounted light fixtures with energy-saving LED lights. Remove the old light fixture or recessed trim and install the LED disc light in its place.
Disc light is ideal if you already have a junction box elsewhere in your home, such as in your ceiling. You could take down the light fixture and hardwire this to that junction box, then pop it into place to create an immediate recessed light.
It also has a LED light, which is a good feature. It won't overheat, it will save you money on energy, and it will give you a pleasant, warm glow like an incandescent light. See more types of light fixtures here.

Pendant Lights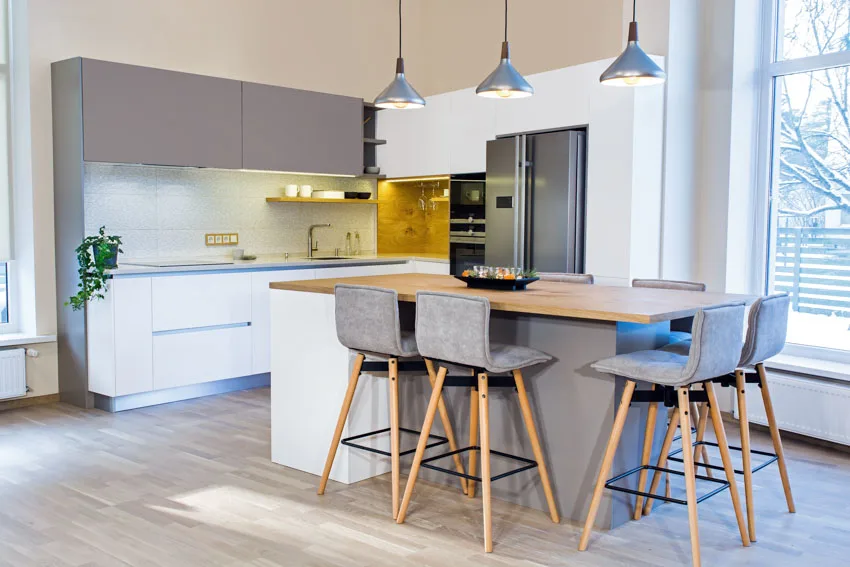 Pendant lighting is a kind of indoor lighting that consists of both traditional and contemporary lighting fixtures that hang from the ceiling and illuminate a room or other indoor area.
They may be found everywhere, from restaurants and retail businesses to classic and ultramodern dwellings. For a good reason, modern pendant lights have become an essential interior design feature.
The different types of pendant lights have an ethereal quality to them. They are not only beautiful, but they are also quite effective in lighting up a range of interior places.
Pendant lamps hang from cables, cords, chains, or wires from the ceiling. Pendant lights are explicit and are often used to illuminate spaces and add aesthetic value to them.
Spotlights And Downlights
A spotlight is a lamp that projects a narrow, powerful beam of light straight onto a target from any angle. Ceiling spotlights are one of the most versatile lighting alternatives and excellent for any environment.
You can change the angle of the light to highlight specific areas. Bar and multi-way spotlights are incredibly adaptable since they are fastened from a single cable point but have several light beams, enabling you to focus the light onto certain regions or items like photos!
One of the most fantastic types of work lighting is a spotlight.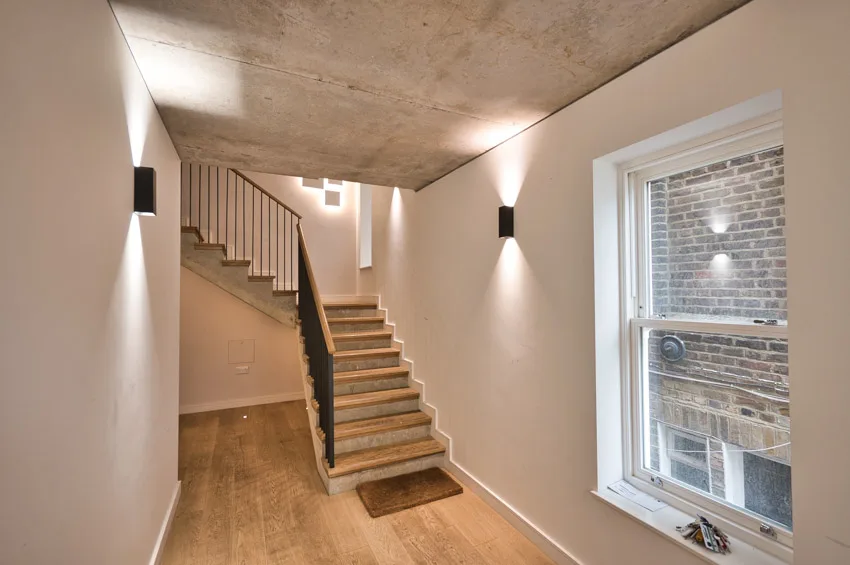 A downlight is a light situated or intended to direct light downwards, concentrating it in that direction. A downlight is a light bulb in a metal cylinder (typically a pressed steel or cast aluminum can) secured using clips, fixed on or recessed into the ceiling, and focuses the light downward.
You can use downlights in any area, but they are trendy in kitchens and bathrooms since they come in various fire-rated and IP-rated options.
A downlight may be LED-integrated (no bulb required) or with a bulb. You will determine the bulb's color temperature by the intended mood of the space in which it is placed – cool and crisp or warm and inviting.
So, what's the difference between a downlight and a spotlight?
A spotlight is fixed to a wall or ceiling and can provide multiple light beams, allowing you to direct light directly onto a place or object.
Downlights are mounted on or recessed, concentrating the light downward. In contrast, a spotlight is fixed to a wall or ceiling and can provide multiple light beams, allowing you to direct light onto a place or object.
Tube Lights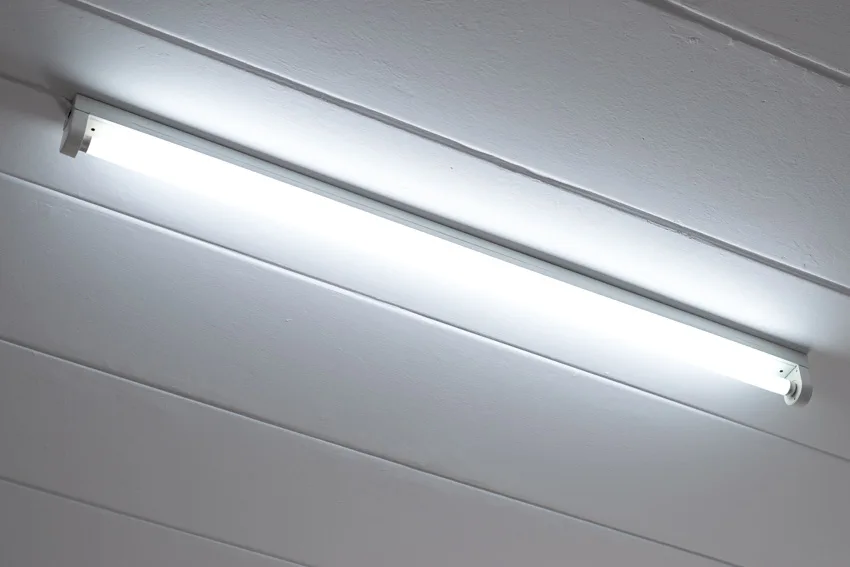 Tube lights are from non-hazardous materials devoid of lead, mercury, and other harmful compounds, making this tube safe for everyone in the rare event that it breaks.
An aluminum backbone, polycarbonate glass, and high-quality electrical components provide state-of-the-art capability in LED tube lighting.
Traditional fluorescent tubes have a substantially shorter lifespan than LED tubes. LEDs can withstand over 70,000 hours of testing.
LED lighting's efficiency may help you save a lot of money. It can mimic natural sunlight because LED chips include all color spectrums, resulting in the brightest white.
Track Lighting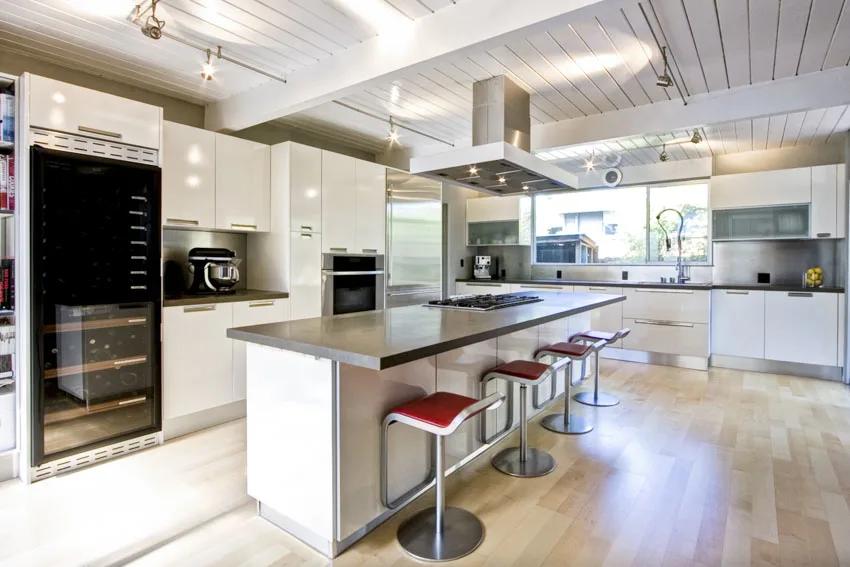 Track lighting fixtures are a fashionable and adaptable method to produce light in almost any area in the house. Hanging track systems may be customized to match the demands of any area with features like movable or swiveling heads and customizable rails or tracks.
You may also hang track systems from the wall to provide tremendous lighting and an exciting aesthetic aspect to your area, in addition to providing adequate overhead light.
Track lighting provides light to odd corners and crucial workstations in kitchens since it is as simple to install in one configuration as it is in another.
You may run a section with canister heads across a work area where you walk and stand, and the heads can be positioned and targeted to provide over-the-shoulder light on your countertops and appliances. The railway may also be run straight over an island or peninsula, with pendant heads to illuminate such areas.
You may apply these tips in the different types of garages, workshops, potting sheds, or greenhouses as well.
A track lighting system is also helpful for illuminating an extended, tight region like a corridor. You can install a track parallel to a wall where you display pictures or artwork and attach and aim canister heads to spotlight each item, maybe three or four feet away from the wall.
The track lighting's built-in versatility allows you to adjust the illumination whenever you change anything on the wall.
A clever trick is to install track lighting in a bathroom and mount heads that reflect off the vanity mirror to illuminate the face of whoever is standing there.
Flush Mount Lights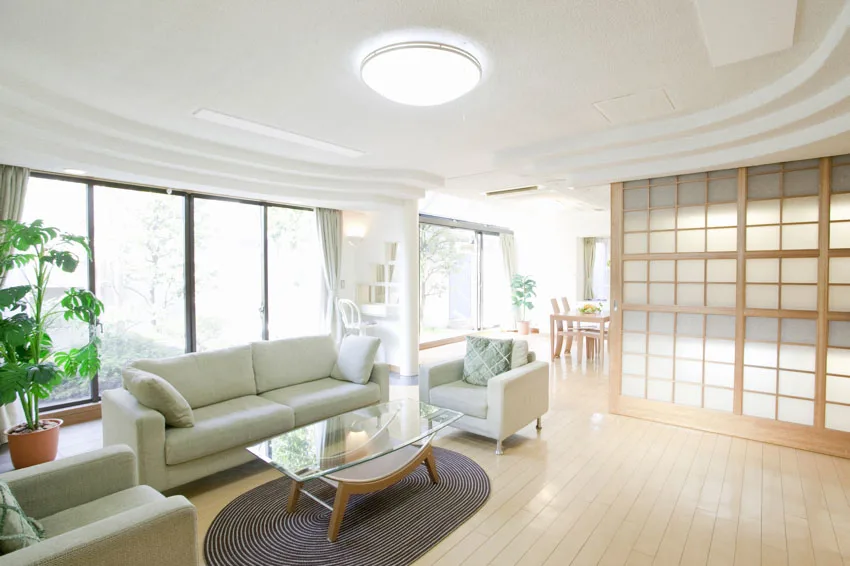 A dome-shaped ceiling light fixture installed flush to the ceiling is a flush mount light. The base of a semi-flush mount lamp reaches slightly below the ceiling, making it more attractive. Semi-flush mount lights are similar to pendant ones, but they don't dangle as low.
Flush-mount lights are typically 13 inches wide, although they may be anywhere from 12 to 24 inches broad. Semi-flush-mount lights may be anywhere from 6.25 and 23 inches wide.
Flush mount types of ceiling lights are a primary lighting option for your house. Try a semi-flush mount light if you're looking for a bit of additional punch.
The adaptability of flush mount and semi-flush mount lights is their most vital feature. They offer ambient light in both informal and formal spaces and places with low ceilings.
Use the flush mount and semi-flush mount lights in the bathroom, bedroom, dining room, foyer, hallway, kitchen, living room, office, or pantry.
Cheaper Alternative To Recessed Lighting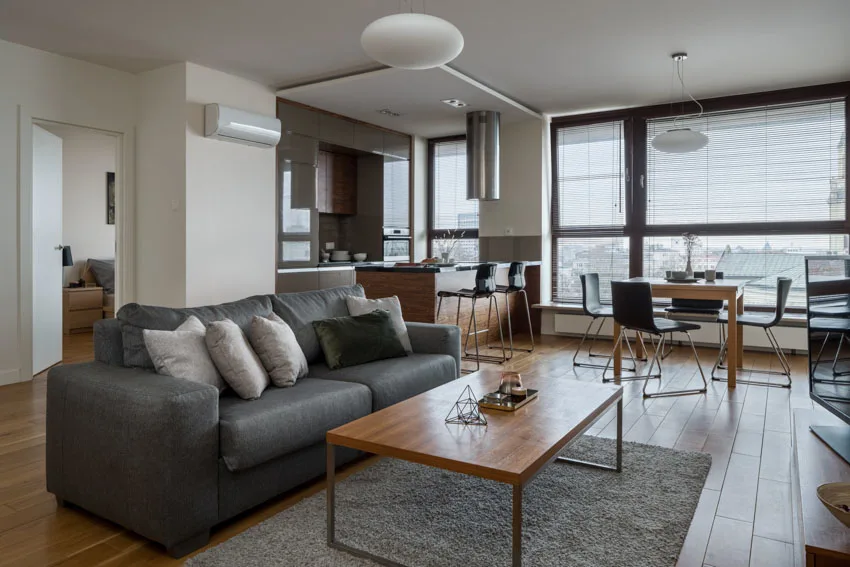 Ceiling flush mounts provide attractive ambient lighting alternatives to recessed lights. Semi-flush ceiling lights may be used in a decorative chandelier in kitchens with lower ceilings to make a decorative statement.
If you're thinking of putting many recessed lighting fixtures in a space, think that you can also get the same look using track lighting. Recessed lighting fixtures are affordable, but the cost will mount up quickly if you need a lot of them.
Aside from the expense of the fixtures, there's also the cost and hassle of installing recessed lighting. Finally, once they arrive, they remain. Repairing the wiring and the hole in the ceiling after removing or relocating a recessed fixture might cost as much more than the initial installation.
On the other hand, track lighting is significantly more adaptable, less invasive, and far simpler to remove and replace traces.
Recessed lighting may be ideal for ample space with a lot of activity, such as a family room, while track lighting may be preferable in other locations.
Alternative To Recessed Lighting In Kitchen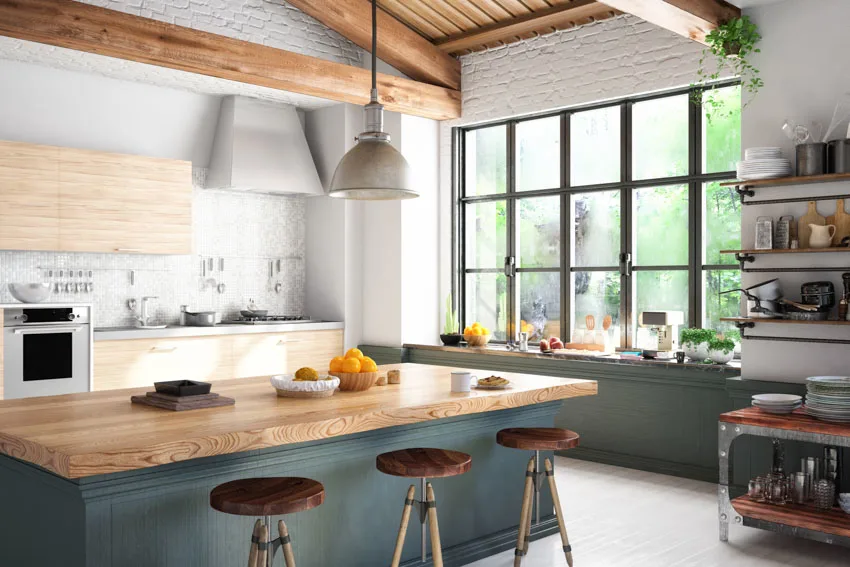 Ambient lighting: As the name implies, ambient lighting provides a contemporary and general illumination to a space. The ceiling is where you'll need the most fabulous ambient lighting.
Medium to small kitchens often have dome-shaped flush mount or semi-flush mount lights. It's enough to have a single or a few flush mount lights.
When you stand in front of countertops or any other position in your kitchen, ambient lighting often creates a shadow. As the name implies, track lights are a series of lights strung along the ceiling in a linear pattern.
You may place a set of track lights above your island or breakfast counter to create a contemporary form of kitchen lighting. It's also popular to put it next to the counter since it's a great focus light.
Accent lighting is a kind of ornamental lighting that complements your kitchen's contemporary lighting. You may use accent lights to give a subtle emphasis on crucial objects in the kitchen.
There are absolutely no limits for accents, making it one of the most flexible kitchen lighting options. You may mount a wall sconce on any wall or next to your breakfast counter if you have enough room. It is fashionable, contemporary, and aids in the illumination of the wall.
Is Recessed Lighting Going Out Of Style?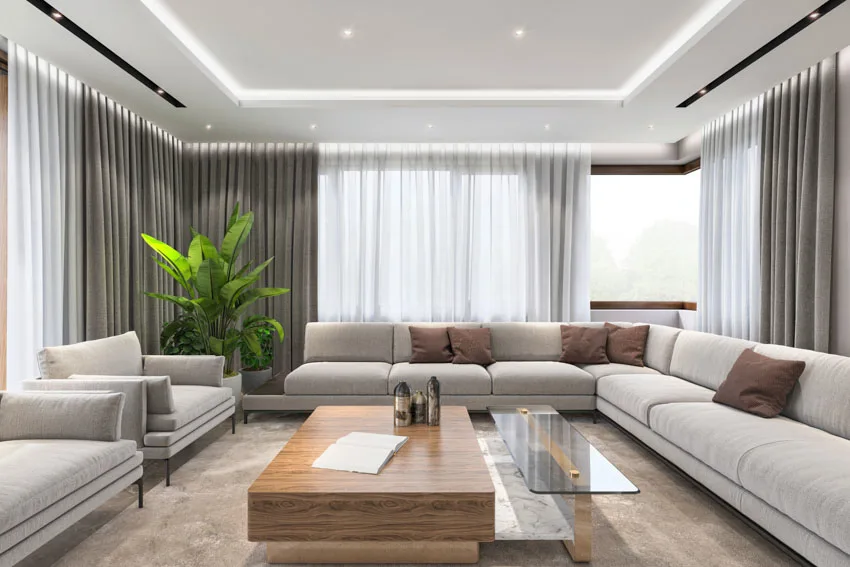 Recessed lighting is an investment that will never go out of style. However, as time passes, the finishes and sizes will alter. There are too many benefits of recessed lighting to go out of style or be phased out.
See more related content in our article about canless recessed lighting pros and cons on this page.