Here's our types of pendant lights design guide including what they are, the different kinds, materials, styles, bases, finishes, sizes to choose, and indoor lighting ideas.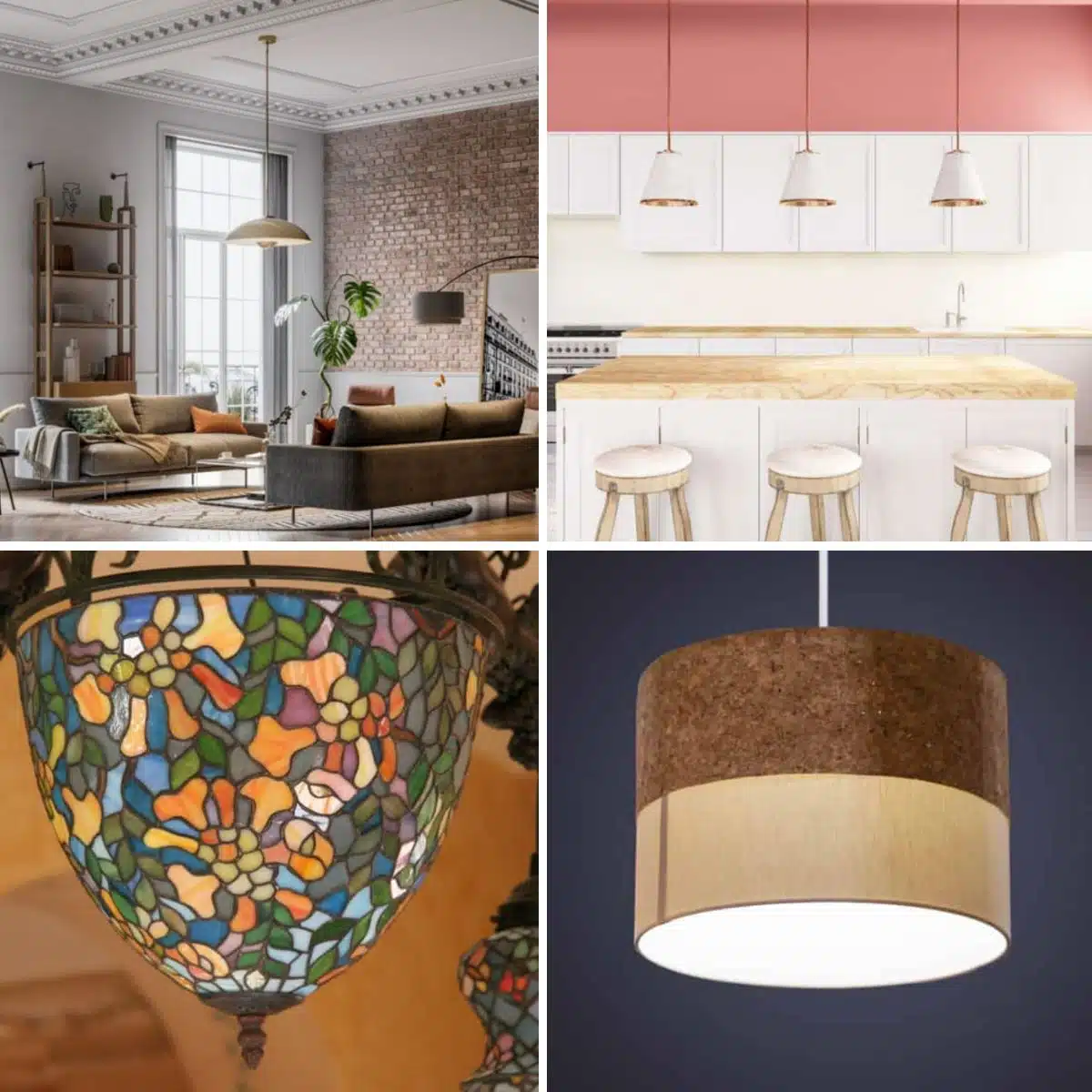 One of the most common alternatives for interior design lighting today is pendant lighting. They are swiftly replacing the traditional chandeliers in many houses worldwide.
They range from modern to classic, with various shade designs, materials, colors, and sizes. These ceiling light fixtures not only illuminate your interior décor but also offer a beautiful touch to your house.
Choosing a pendant light, let alone lighting in general, is complex – with so many choices available. Depending on your room style, practical demands, and space type, there is always an excellent pendant lighting design suited to your needs.
This guide will help you classify your pendant light selections and narrow down your choices.
We will describe various kinds of pendant lights to make the process a bit simpler for you and to guarantee that your interior lighting décors, including the design, shade, materials, styles, and bulb, appear harmonious and pleasant.
Pendant Types
Shade Materials
Single Lamp
Down
Glass
Multi Light
Cord
Metal
Globe
Linear
Fabric
Drum Shade
Lantern
Wood
Shade
Mini
Plastic
Inverted
Cluster
Shell
What Are Pendant Fixtures?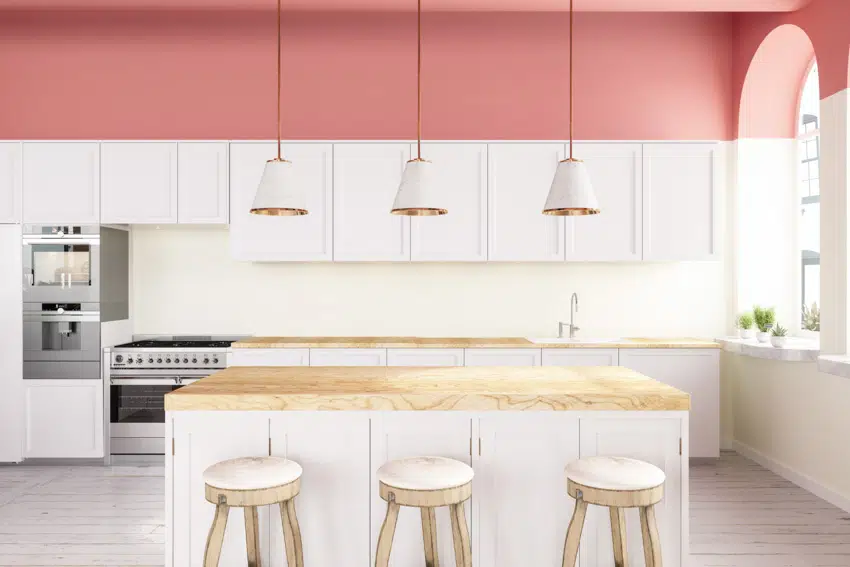 A pendant light fixture, also known as a drop light or a suspended light, is a single light fixture hanging from the ceiling by a string, chain, or metal rod.
Pendant lights are often used in groups, hanging straightly above kitchen worktops, dining tables, and sometimes in restrooms. Both function and appearance are essential in pendant lighting. They are also one of the most excellent kitchen lighting options.
Different Types Of Pendant Lighting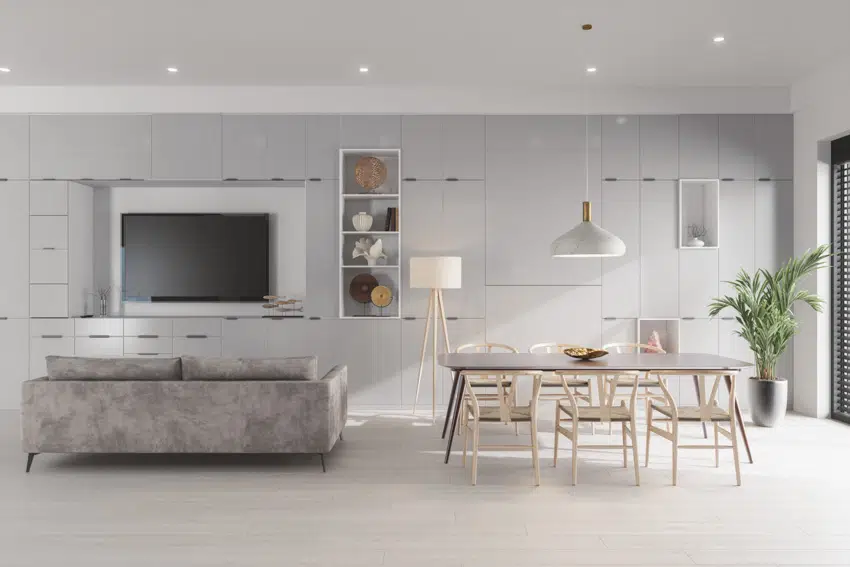 Different kinds of pendant lights will work well in different locations, and you can choose from various types to suit your needs. If you are looking for pendant lighting, think about the size, range and function of your room before deciding.
Pendant lights with shades that point up (uplight) are intended for ambient lighting, while those with shades that point down (downlight) are for task lighting.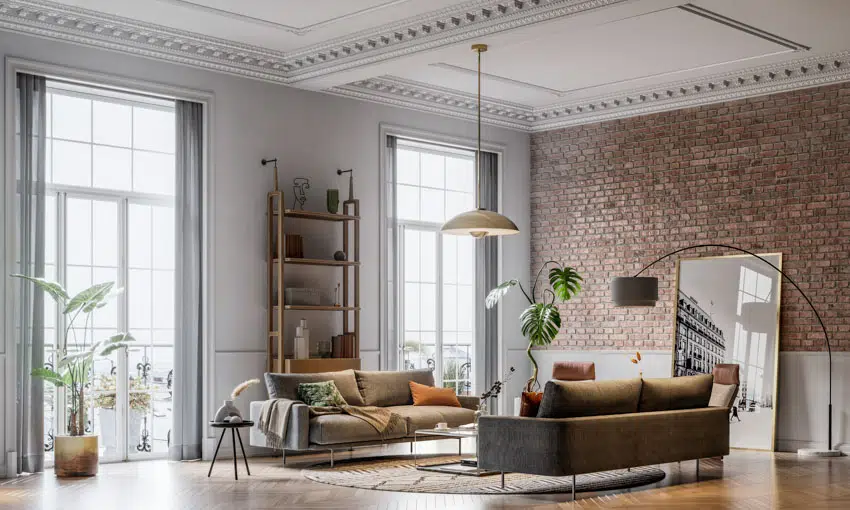 You may use pendant lights to provide ambient lighting in the bathroom, bedroom, dining room, foyer, hallway, kitchen, living room, gaming room, or bar. The following are the most popular types of pendant lighting:
Single Lamp Pendants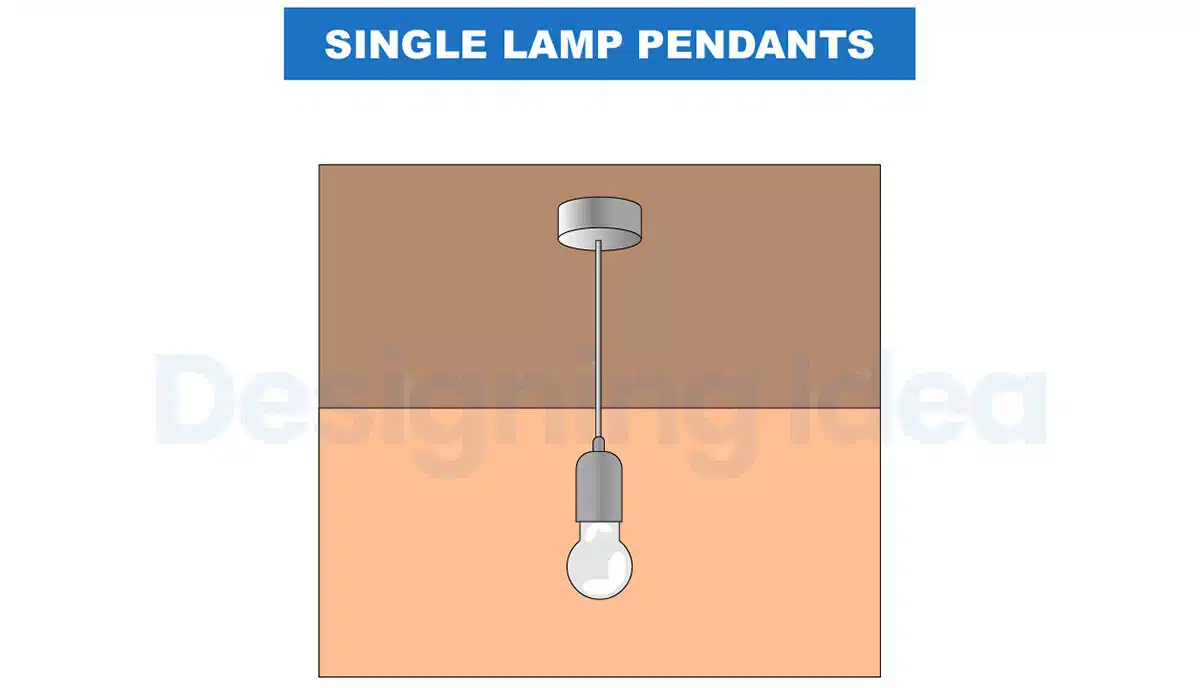 Single lamp pendant lights are similar to traditional pendant lights, but they are considerably straightforward and smaller, ideal for many situations.
These are more adaptable than other varieties and may easily fit into smaller spaces. Single lamp pendant lights are available in various sizes and may integrate components from all of the different pendant light types and combinations.
They may work well independently in certain situations, but it's also a good idea to group numerous lamps in one space to get a lot of light. They come in various styles, from a traditional crystal cone to a contemporary single teardrop lamp in a modern house design.
Example of a single lamp pendant.
Multi Light Pendants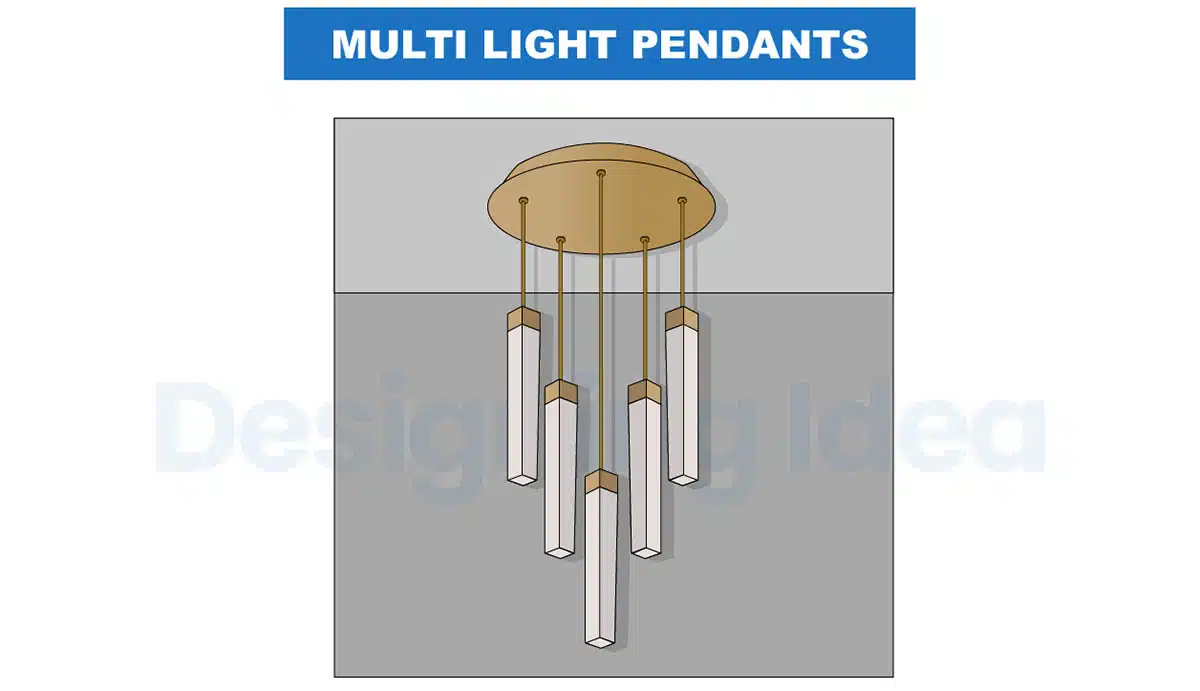 A multi-light pendant consists of multiple separate lights clustered together. These might be fashionable options that complement specific interior designs and aesthetics.
Multi-light kinds are often used above a kitchen island to provide enough illumination while occupying just a small portion of the ceiling.
These are comparable to linear lights, although they are not quite the same. Multi-light pendant lights are more likely to have a variety of light bulbs and lights incorporated.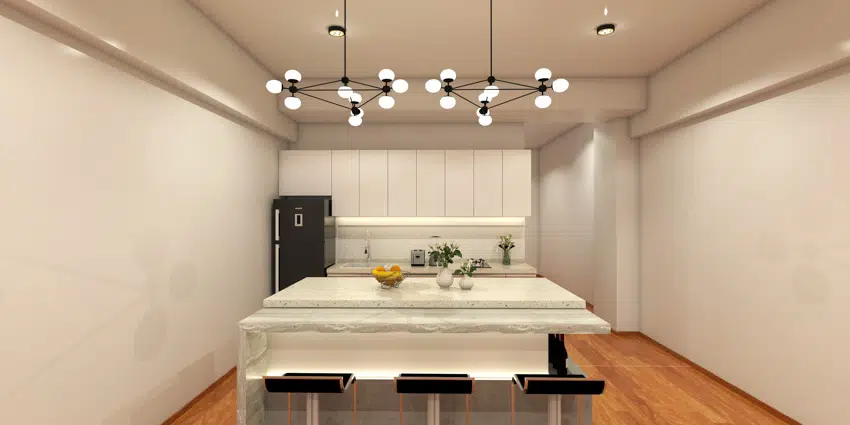 Example of a multi-light pendant.
Globe Pendants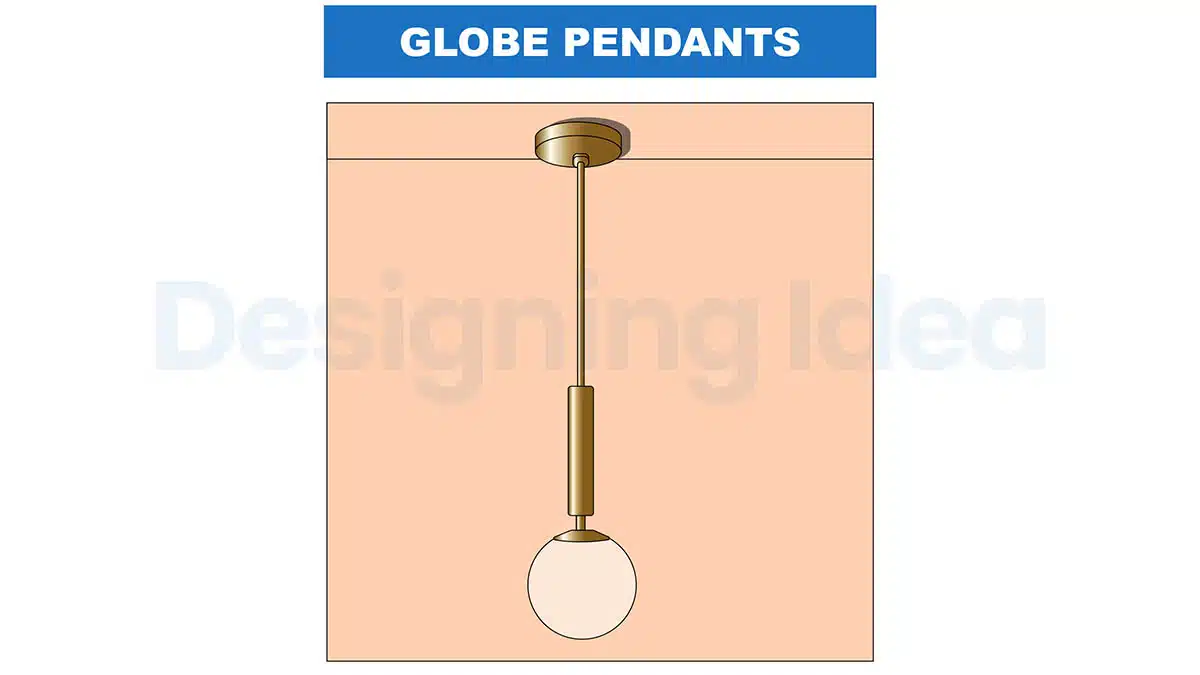 Globe pendant lights have whole spherical shades that are either transparent or diffused, making them a favorite among pendant lighting kinds. They are fantastic for distributing light evenly around an area or creating a traditional lighting style.
Glass ball pendant lights are a great example of globe pendant lights. Because of its subtle form, the globe pendant light is simple to fit into current home styles. They are perfect for kitchens, cafés, or even in a corridor.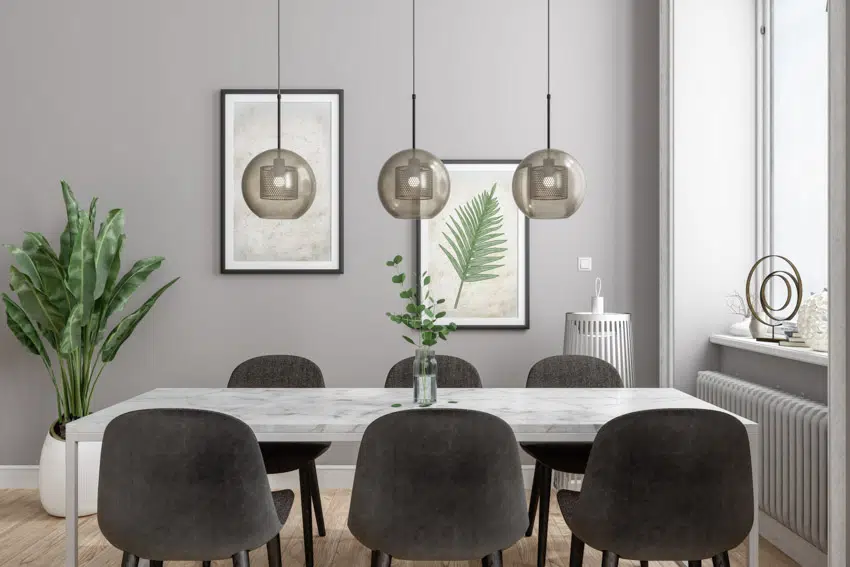 Picture of globe light fixtures.
Drum Shade Pendants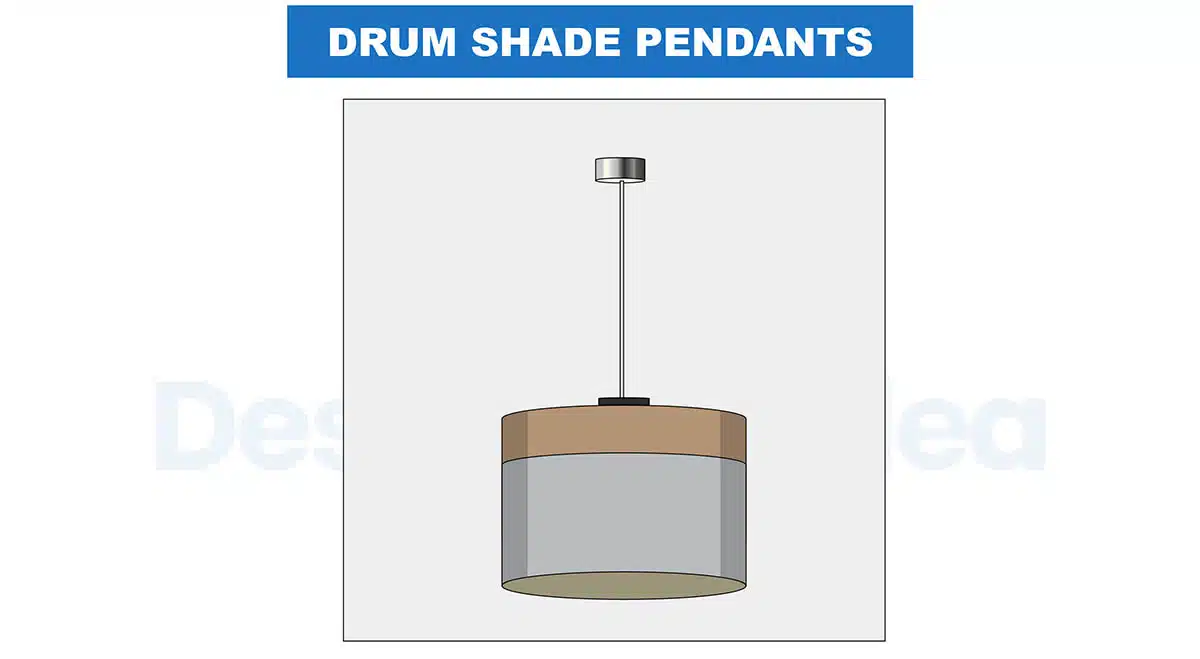 The drum shade pendant light is bulb-shaped like a drum, straightforward and classic. Its primary purpose is to generate ambient light.
It is not frequently the primary light source in a room, but it enhances mood. These types of lighting fixtures may be utilized as statement pieces and are a terrific alternative to glass pendant lighting.
Drum shade pendants often have fabric, giving a room a gently diffused feel. You may use them to create a statement or big accent in spaces such as the dining room, master bedroom, or living room.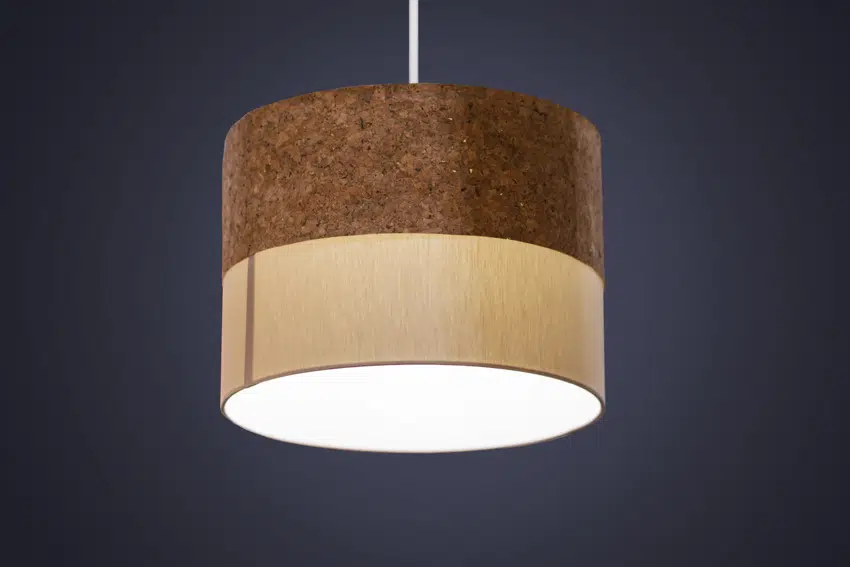 Image showing a drum-style shade.
Shade Pendants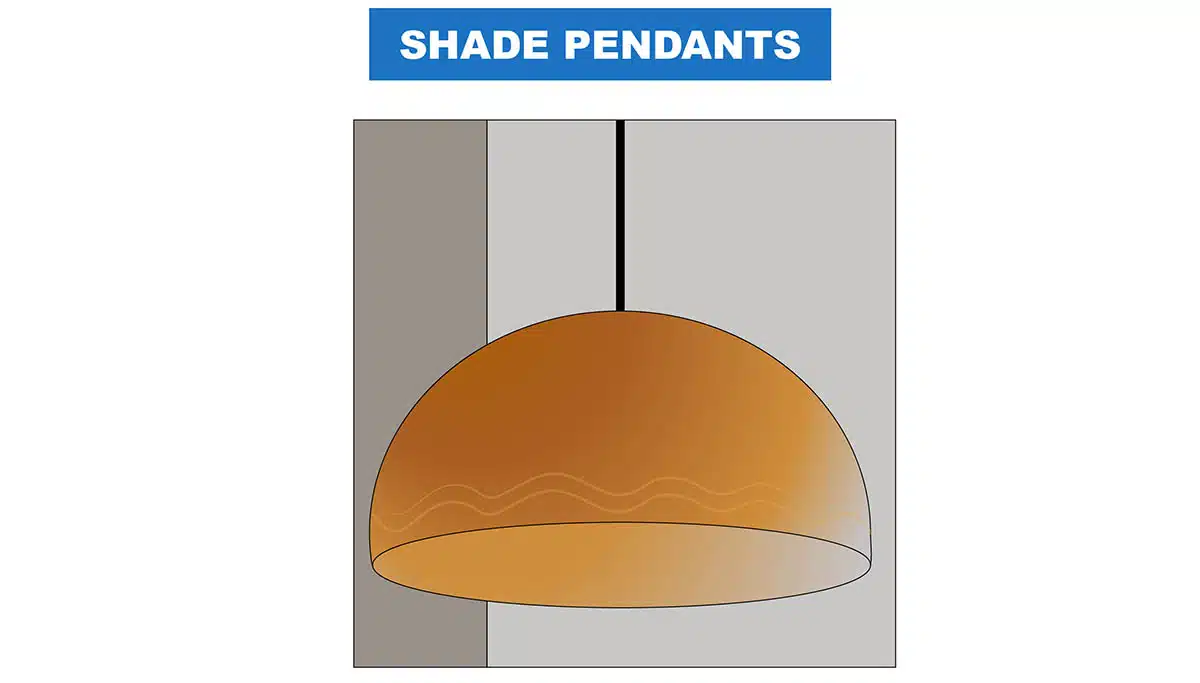 A shaded pendant can filter out some light and provides a more calming atmosphere. The shade diffuses or entirely blocks the light, allowing it to be directed either at the top or bottom of the lamp.
A shaded type might be a wonderful accent to a place where you desire a more low-key mood. Copper, bronze, and porcelain hues, as well as wicker, rattan, and wooden finishes, can be utilized.
Pendant lights with shades always look excellent and are a great statement for interior design.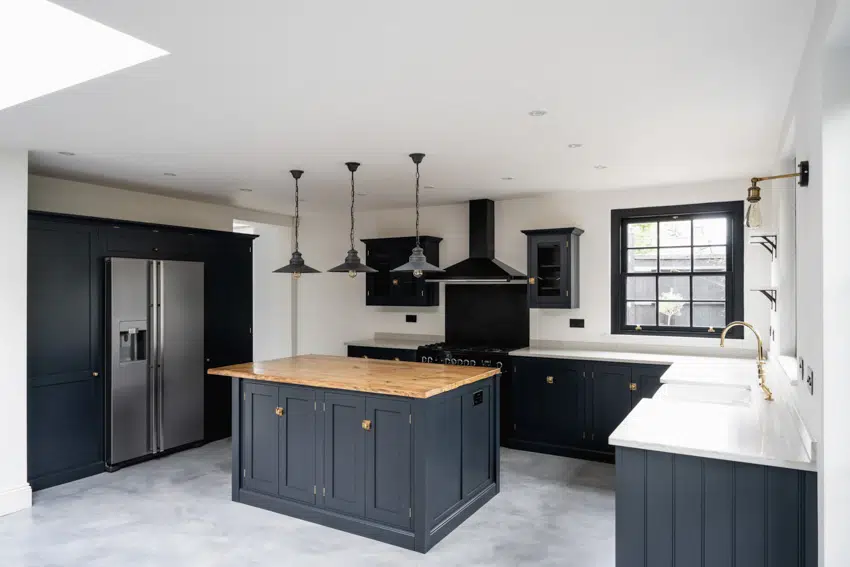 Kitchen with black shade fixtures.
Inverted Pendants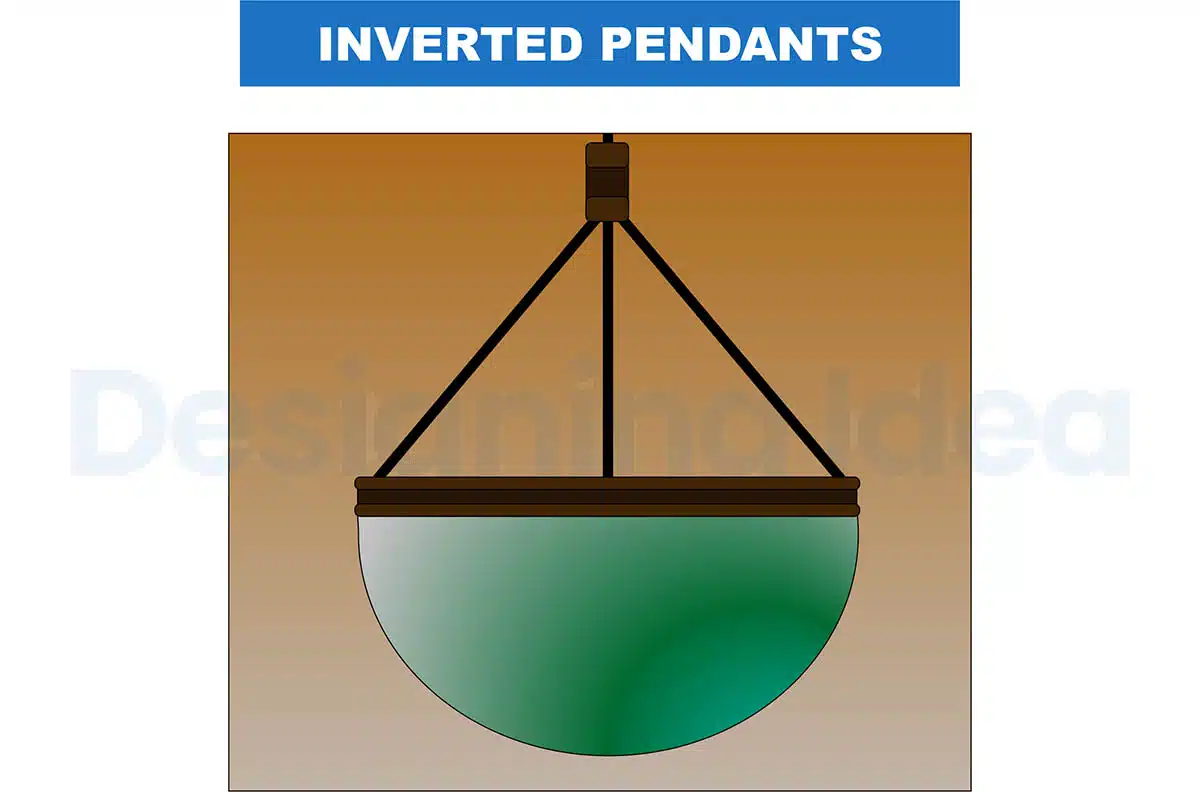 An inverted pendant light is similar to a semi-flush-mount light, except it hangs from a chain instead of attaching directly to the ceiling.
A dining room, a foyer, and a breakfast nook are popular places for inverted pendant lights.
An inverted pendant is like a bowl with a center rod connecting to the bottom. It casts light upwards, with two or more small chains fastened occasionally. Its form also guarantees that the room's lighting is not overly intense or distracting.
Rooms with inverted pendants are often gloomy and melancholy, making them ideal for a low-key evening at home.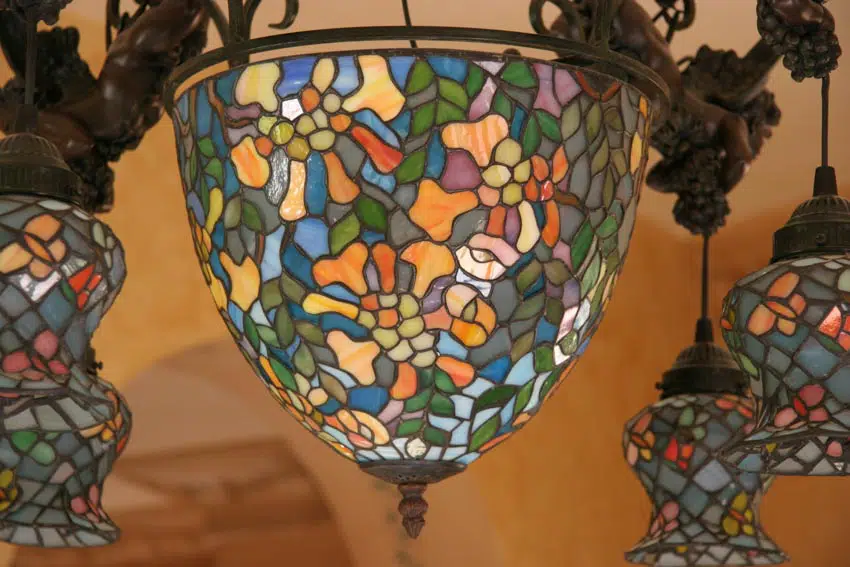 Picture of a stained glass inverted pendant.
Down Pendants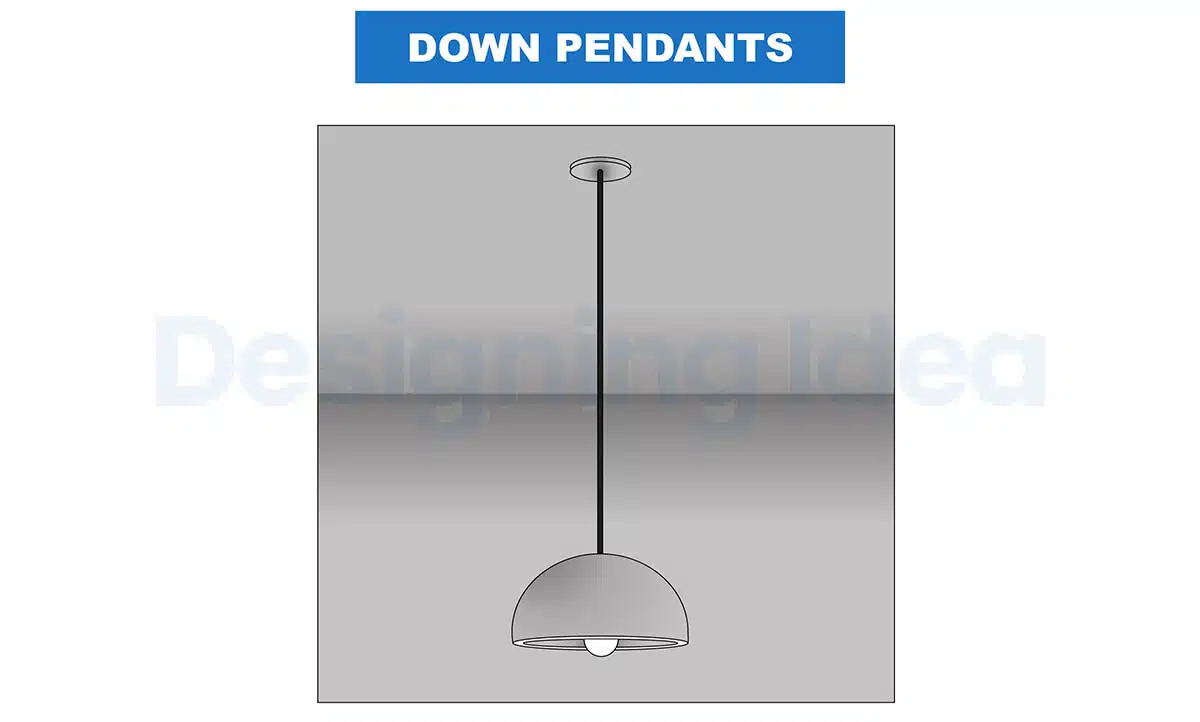 These pendant lights are similar to inverted pendant lights; but downward. This design lets direct light shine down on the chamber below, with a precise concentration on where the light is hanging down.
Down pendants are pretty standard and may be hung over a kitchen table, a countertop, or any other place where a direct light source is required to highlight a particular area or feature.
Due to its directed light, this pendant form is ideal for spaces where task-oriented activities occur, such as a kitchen island or an office workstation.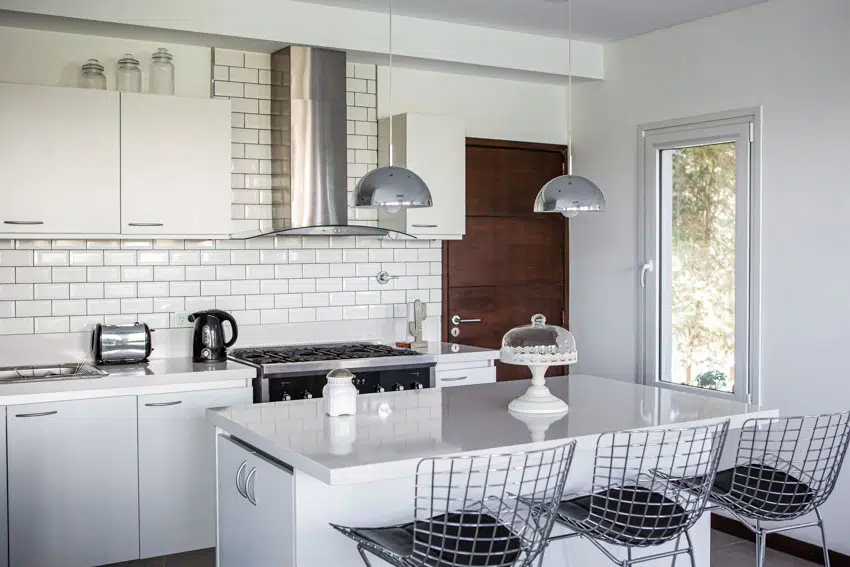 Down pendant light in kitchen.
Cord Pendants
In a nutshell, cord pendants are more flexible and considered casual, while stem-mounted pendants are better suited for more formal, permanent settings.
Depending on the size of your area and the specific demands of your project, one ceiling pendant may be better than the others. Naked light bulbs on a cord is terrific for making a subtle impression and may be used alongside lights in apartments or over dining tables in small eateries since they are not bulky.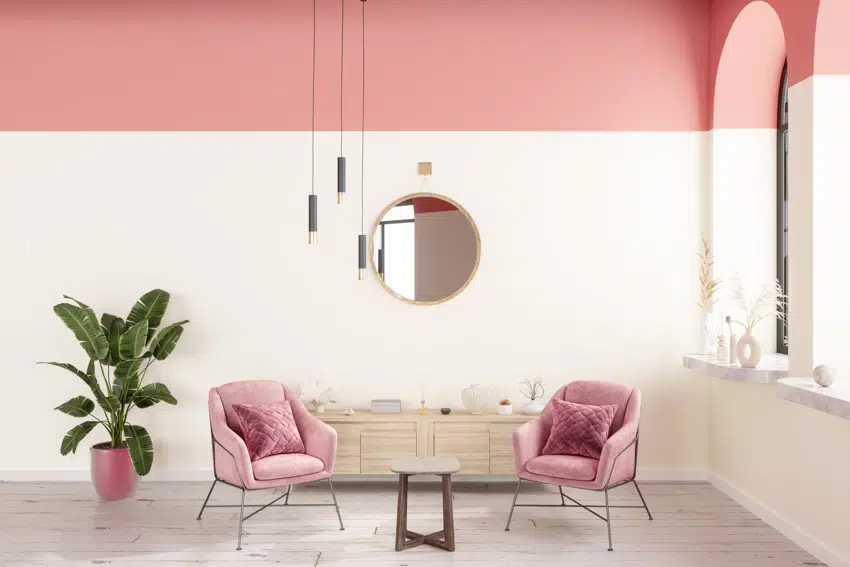 Cord pendants are also ideal for showcasing designer light bulbs or expressing your creativity via cluster arrangements.
Linear Pendants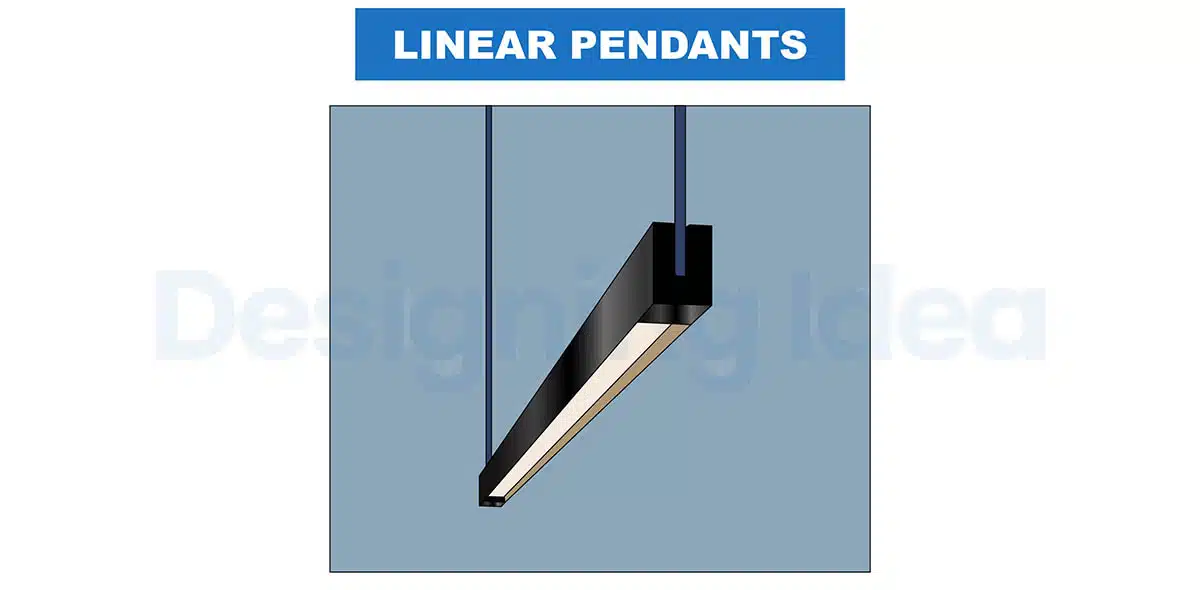 A linear pendant light is ideal for kitchen islands. Linear lights are a collection of a long, straight line of lights from a single hanging pendant light.
They look great when hung straight along long surfaces like kitchen islands, big dining tables, a bar, or even light-up café sitting spaces because their size gives enough light, ideal for contemporary and classic settings.
Pendant lights in this style are trendy among individuals who love modern or minimalistic home decor. They come in both inverted and dome forms and are comparable to multi-light or cluster pendants.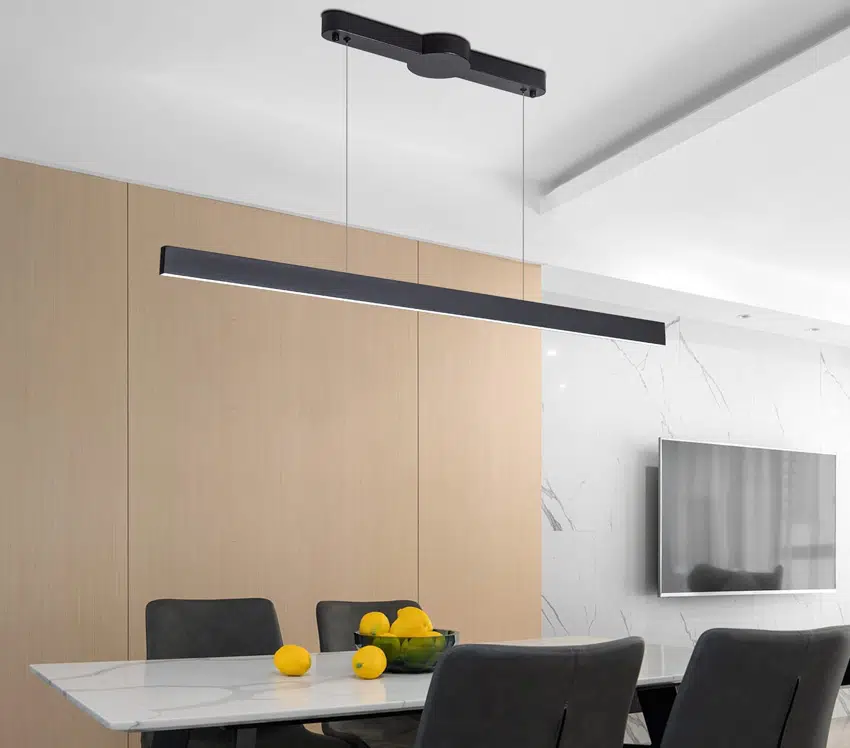 See this LED linear pendant light at Amazon [sponsored link]
Lantern Pendants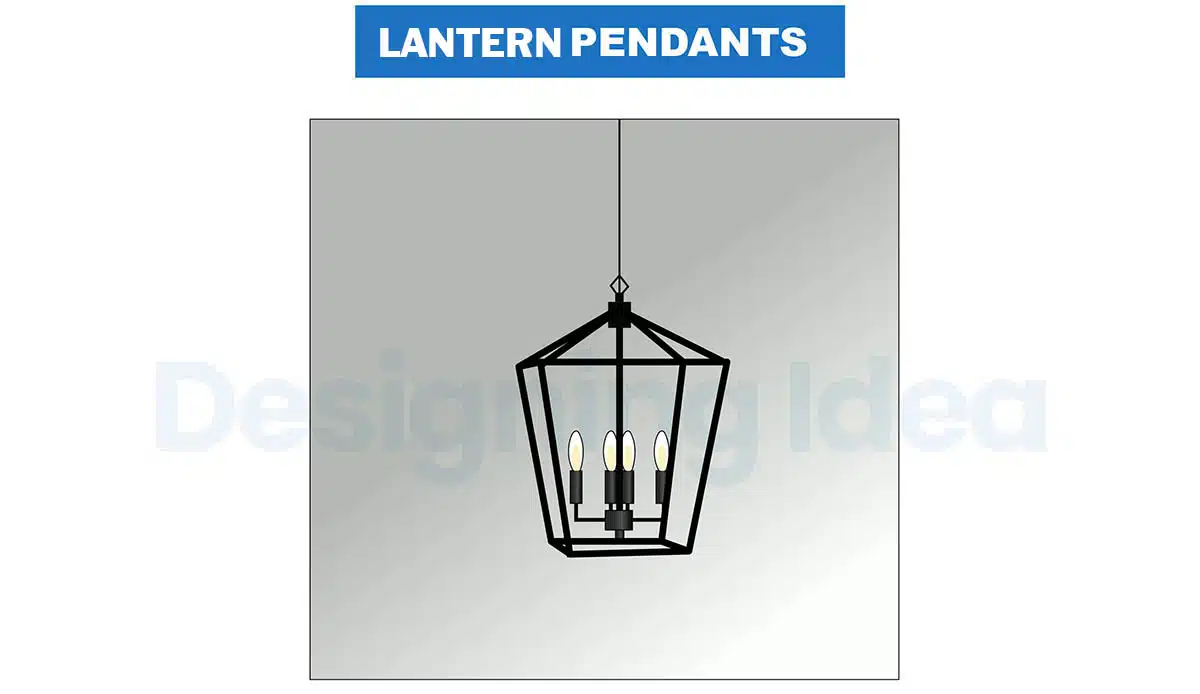 Lantern pendant is the pinnacle of retro pendant lighting. These have an unrivaled classic charm and eternal appeal. A clear glass panel lantern light over a white dining table can give your home a fresh look.
Lantern pendant lights are often glass with metal frames and exposed light bulbs, allowing for excellent light transmission and adding glitz. It comes in old bronze or brass, nickel, black finishes, and maybe industrial or vintage design.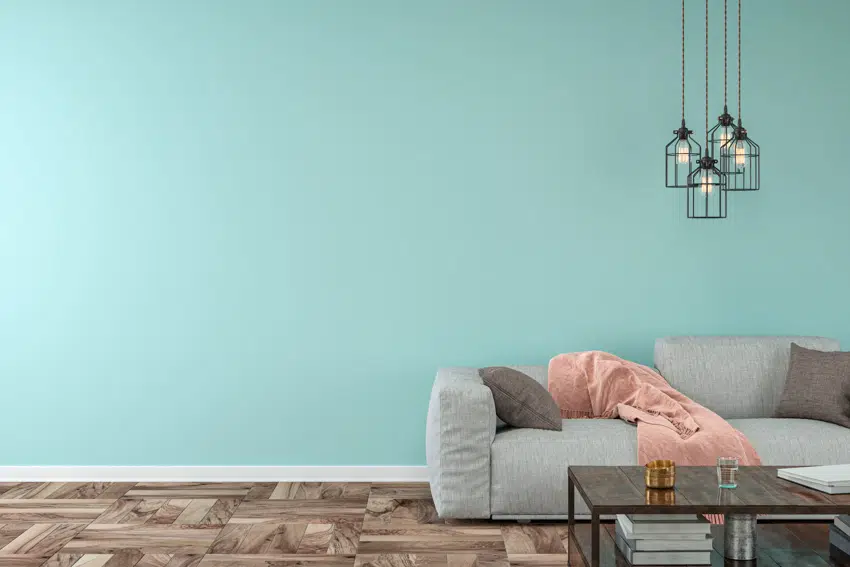 Lantern shaped light fixtures offer ambient illumination, making them ideal for relaxation and reading areas.
Mini Pendants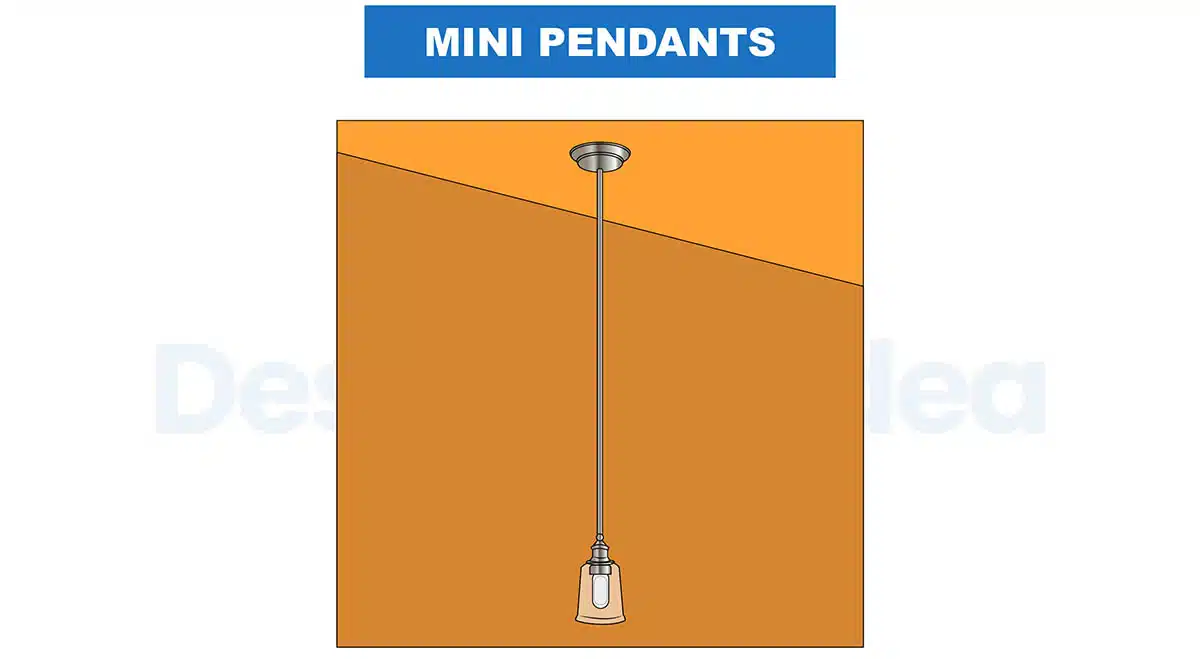 Mini pendants are a smaller version of bowl or dome pendant lights used for accent lighting. Mini pendant lights may be installed individually or in three over a bathroom sink and study or home office desk.
These pendant lamps are also suitable with track lights due to their reduced size. Depending on the available space and requirements, you may even install many pendant lights in a vertical row above the island in your kitchen.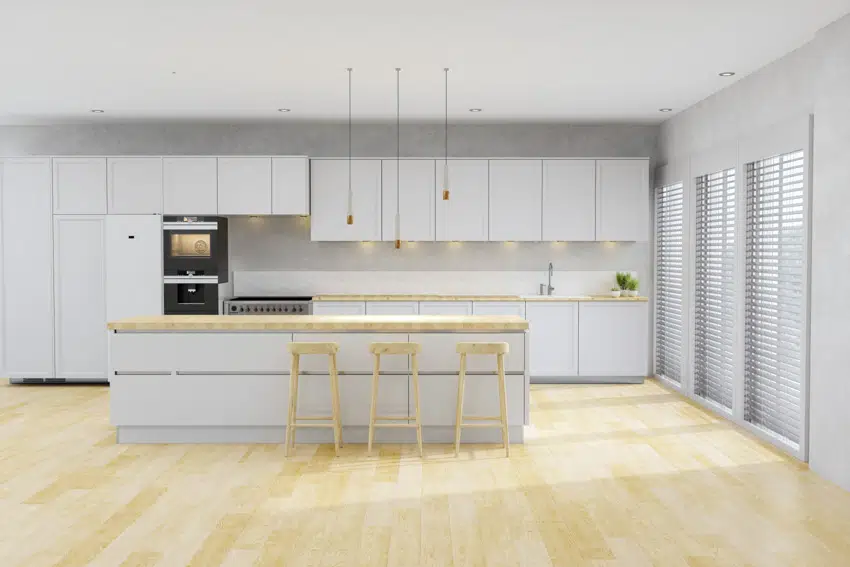 To create a combination of accent and ambient lighting, combine mini pendant lights with track light heads.
Cluster Pendants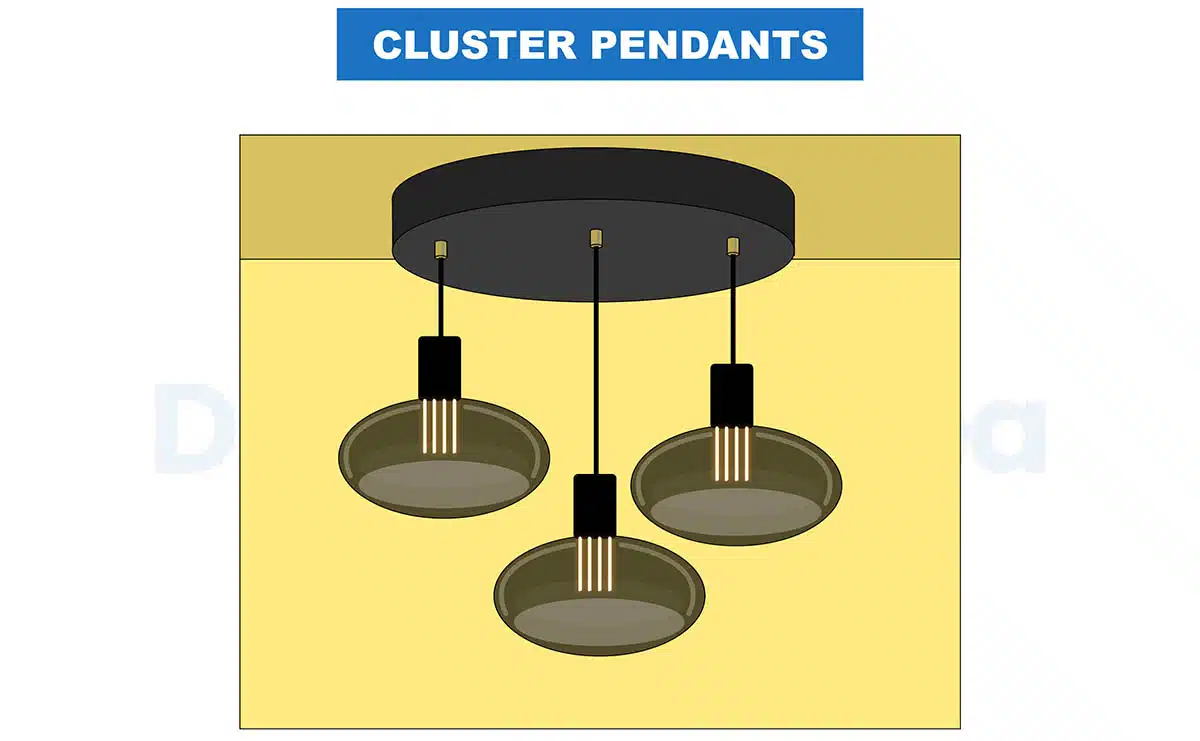 A cluster pendant is a fantastic substitute for classic chandeliers and is excellent for modern décor. Cluster pendants may illuminate a space like a contemporary version of a large chandelier, with each bulb, mounted to an individual shade or a smaller pendant linked to a central figure.
They are mainly used in living rooms and dining rooms to make a statement. Cluster pendants are a perfect choice if you desire the grandeur of a chandelier but want a more modern lighting design.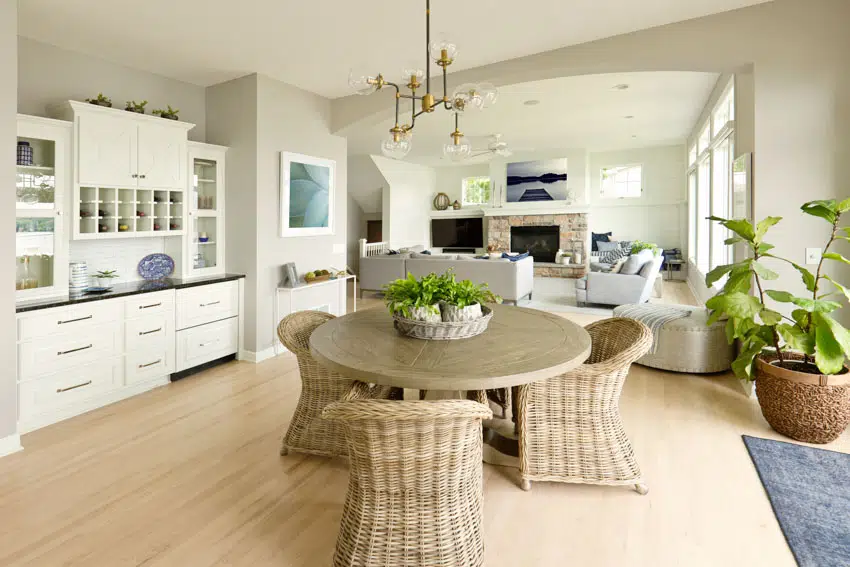 If you have one overhead electrical opening and want to make a statement with lighting, a cluster pendant is practical without requiring you to install extra holes for different lights.
Types Of Materials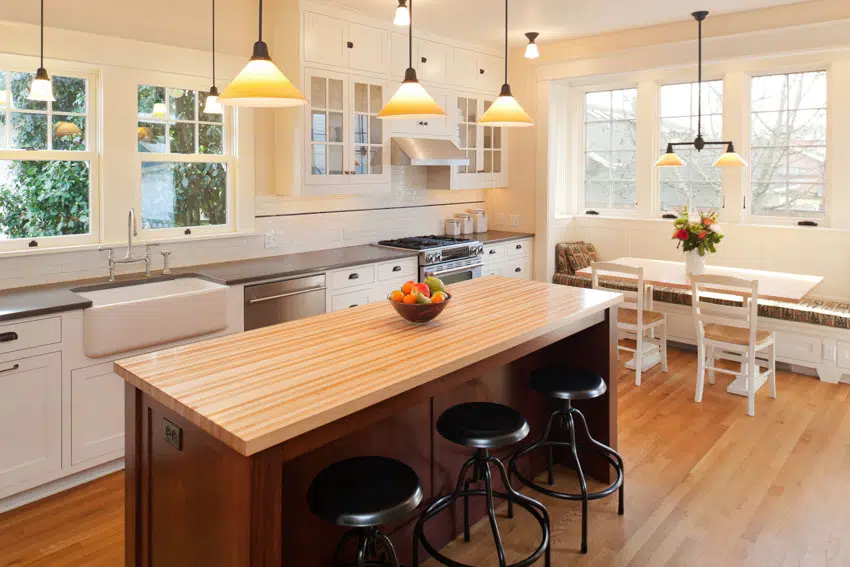 Here we share the different types of materials used in pendantlight shades
Glass Pendants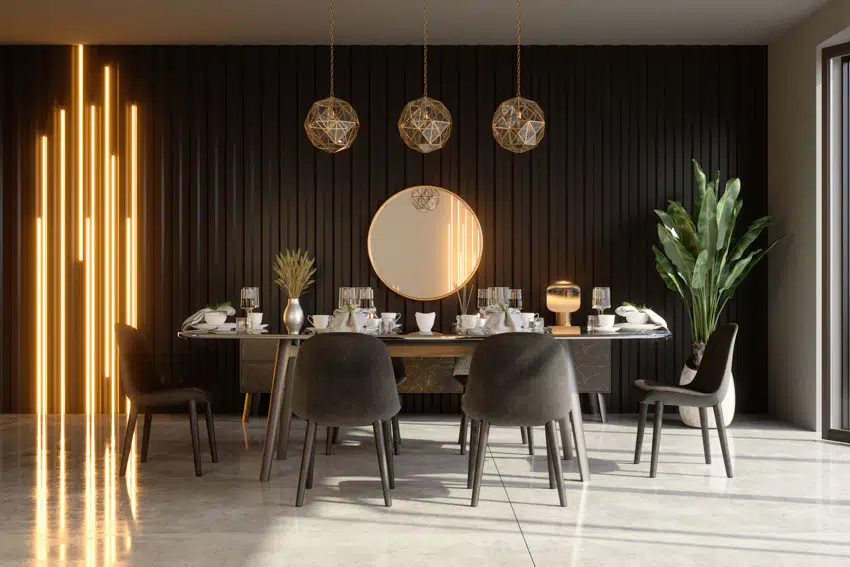 Glass is a good material for pendant lights. These can be clear glass or stained glass. Clear glass naturally diffuses light in all directions, making it an excellent choice for well-lit areas such as bathrooms and kitchens.
With glass, the design and customization possibilities are endless. They can evenly distribute and diffuse light in your space.
Glass pendants come in various finishes, including clear and opal, ripple, and crosshatch light shade designs. Some glass pendant lights come with colored shade options too.
Metal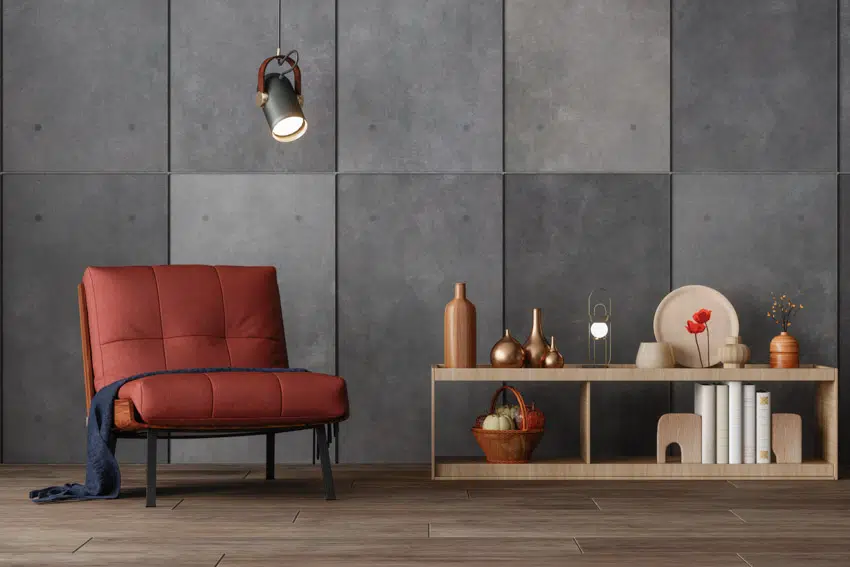 Metal is one of the most common materials used in pendant lights, and it is also one of the most popular. Metal is more durable than the other options.
They are not breakable, either. However, they are somewhat hefty and more costly than their plastic counterparts. Metal lamp bases may come in various finishes, and they are ideal for an industrial vibe in the kitchen.
Metals with gleaming, reflecting surfaces, such as polished chrome or brushed nickel, may help create a more dramatic lighting effect.
Fabric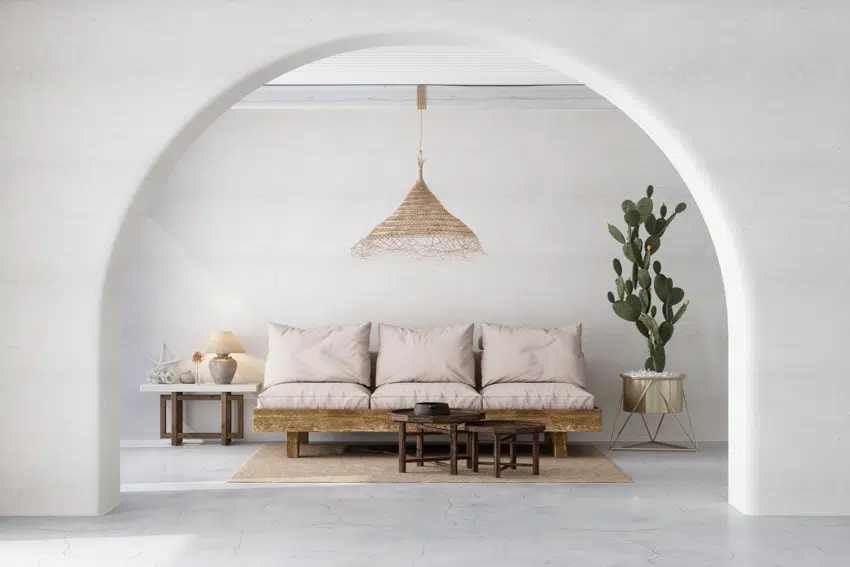 Fabric is highly appealing, and it has a softer and cozier aspect than metal or glass. You can utilize fabric to create a low-key and relaxing atmosphere in a bedroom or other lounge-style environment.
Fabric isn't as durable as different kinds of material, but it is still a great option. These may be less expensive than metal or glass. Fabric creates a more diffused light, which is ideal as bedroom lighting.
Swapping a glass or metal fixture for fabric can give space a sense of comfort and lightness.
Wood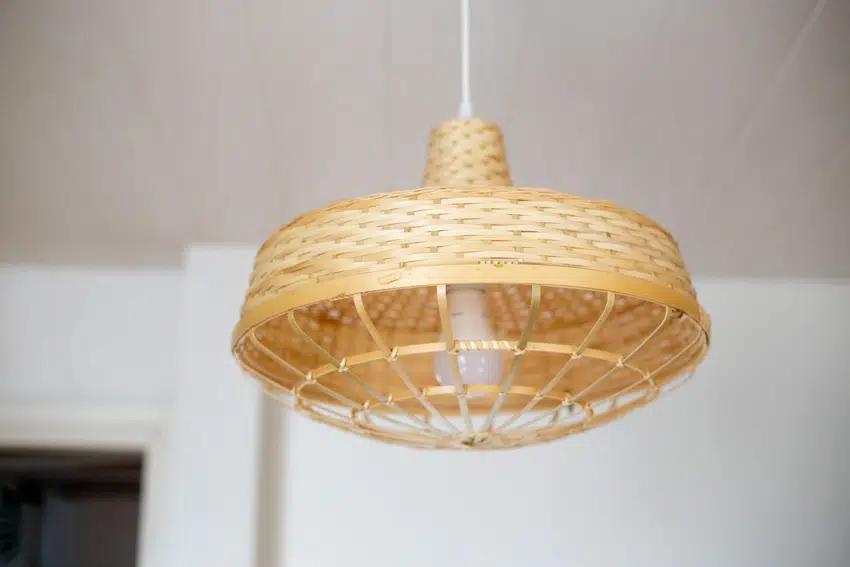 Wood, as a material, helps create a warm and pleasant environment. Anything made of wood, whether a pendant lamp or a table, has an air of grandeur.
Wood materials for pendant lights are also suitable for use in a cabin. A wooden shade is a good choice for those who want a raw or rustic vibe. You can also use bamboo, or rattan material with great effect to realize a coastal vibe.
Stay away from chilly lighting with a blue hue rather than the yellowish glow that would work much better to accentuate the warmth of the wood design.
Plastic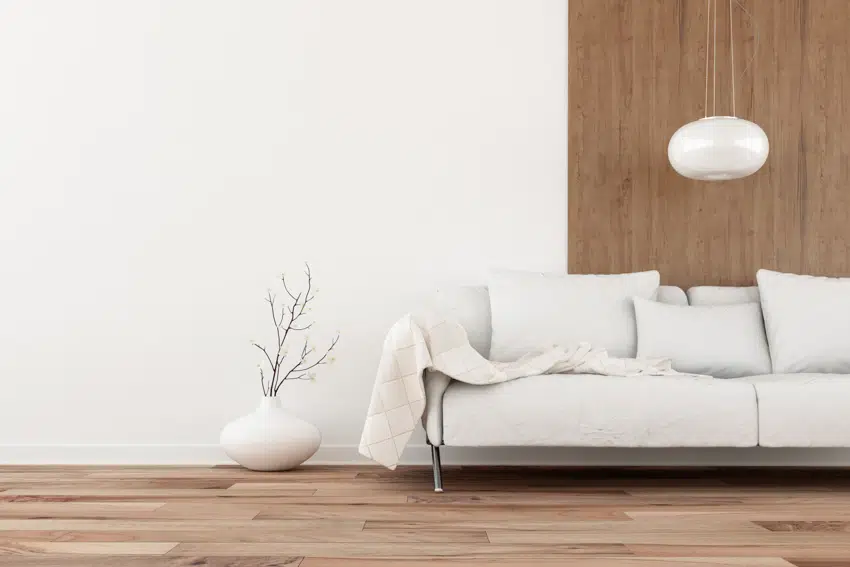 The plastic used in certain pendant lights is more durable and less likely to break than other alternatives. They are also lighter and less expensive than other materials like glass, metal, and ceramics.
If you search for inexpensive pendant lights, those with fabric and plastic shades are less expensive, though plastic is prone to yellowing and wear with time.
Shell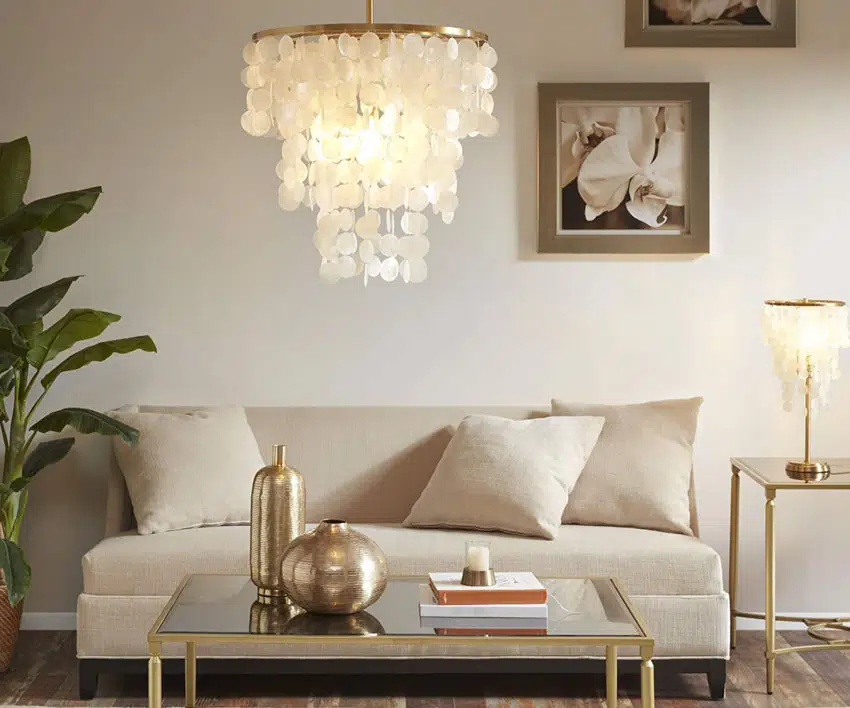 See this shell pendant light at Amazon [sponsored link]
Shell pendant lights are another choice for a one-of-a-kind, seaside look. These lights, created from natural oyster shells and beach materials, have a distinctive aesthetic and design.
They also appear incredibly contemporary and sophisticated, making them a viable accent to any decor. Shells are pleasant to the eye because of their natural color, brilliance, and texture.
Shell materials offer an organic appearance that works well in coastal, transitional, and contemporary settings.
Types Of Light Styles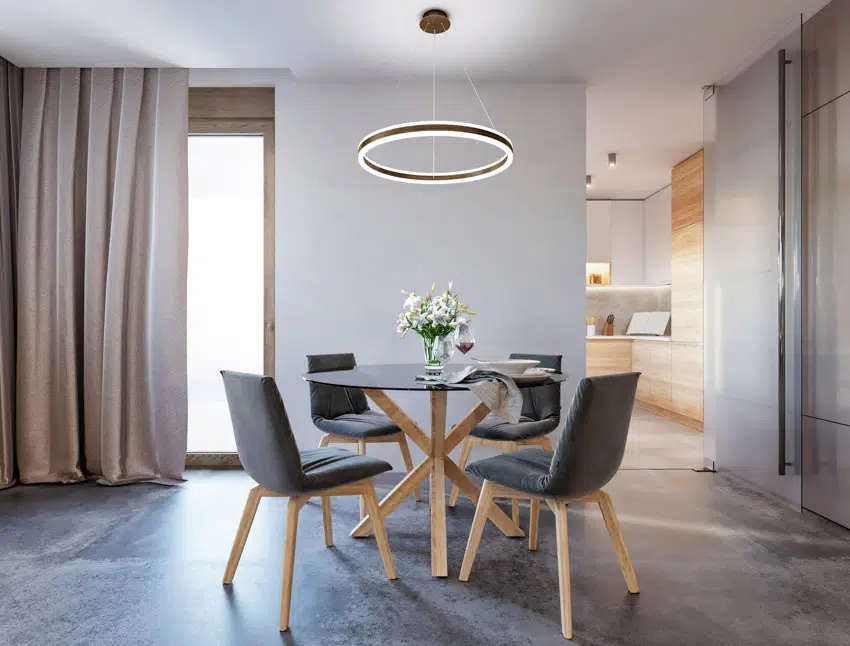 The essential factor to consider is style when it comes to hanging lights. Choose a style that you enjoy and that complements the rest of your decor. These are the most common pendant light styles that every homeowner should know.
• Traditional: The appearance of the traditional lighting style is more elaborate and timeless.
These pendant lights have a more elegant appearance and contain more ornamental elements. This category includes rustic, antique, and farmhouse-style pendant lights.
• Contemporary: Contemporary hanging lights are subtle and straightforward, with clean lines and a crisp, minimalistic appeal.
With minimal ornamentation, these types of ceiling lights offer a streamlined look. Contemporary light fixtures include modern hanging lamps with exposed light bulbs and abstract pendant lights.
• Modern: Modern pendant lights offer light layers and an updated, stylish design. Modern minimalist metal pendants, beautiful globe pendants, and sleek geometric pendants make excellent accents to living areas, kitchens, and dining rooms.
• Cascade: Cascade lighting, a focus piece for the living room and dining area, creates shadows and gentle light while retaining an airy appearance.
• Foyer: The design of a foyer pendant light may set the tone for the remainder of the house. You may choose from various mood-setting pendants for the entrance, above stairwells, or other areas with high ceilings.
• Candle: You may use candle pendant lights in a foyer, living room, dining room, or anywhere else with a hanging fixture.
• Cottage: Cottage lighting is really warm and inviting. These designs combine rustic, natural components with modest, attractive embellishments.
In these designs, color palettes with calm, pleasant neutral tones predominate.
• Coastal: Pendant lights with a coastal motif are ideal in various places around a beach house. Seeded glass, natural wood, wrought iron, stainless steel, and different beach shells are all design aspects to look for. Consider the positioning and intended utility when selecting a coastal-themed pendant.
• French country: You may use french country lighting outside and indoors for another choice of stylish and relaxing overhead design.
• Glam: Glam is a gleaming and glistening design. It is silky, shiny, glowing, and wants to show off.
• Industrial: Industrial lighting is a design concept that pays homage to the utilitarian appearance of ancient factories and warehouses.
An industrial style developed into an eye-catching and straightforward look by combining unpolished aspects into more deliberate designs.
• Rustic: Rustic pendant lights are a lovely way to give your living room a rustic feel. Natural organic components like wood, stones, rope, and distressed metals create these pendant lights.
• Mid-century: geometric shapes, crisp lines, and natural forms are hallmarks of mid-century pendant lighting.
• Tiffany: A tiffany light is a light fixture with a glass shade created by Louis Comfort Tiffany and his design company.
The stained leaded glass was the most renowned. Tiffany lights are associated with the Art Nouveau period.
Light Base Materials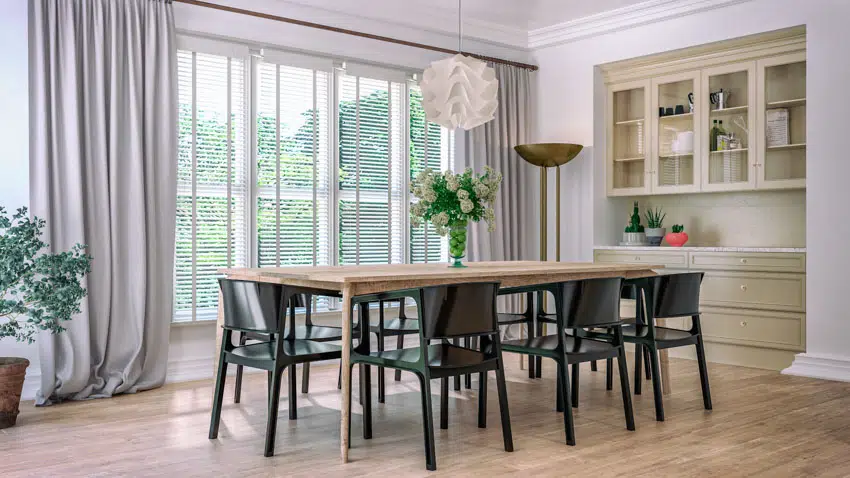 Glass, metal, plastic, and paper are some of the most frequent materials used to make pendant light bases. Each of these materials has its distinct look and feel.
While you may use any materials you like, some perform better in specific locations. For example, a glass pendant light material in a room with plenty of natural light is a terrific match.
Many different bases are available, ranging from simple globes to braided cages. If you can't locate the exact base you desire, you can have a bespoke design manufactured to your specifications.
Pendant light base materials are just as excellent as any, whether you are seeking something practical or artistic.
Types Of Light Finishes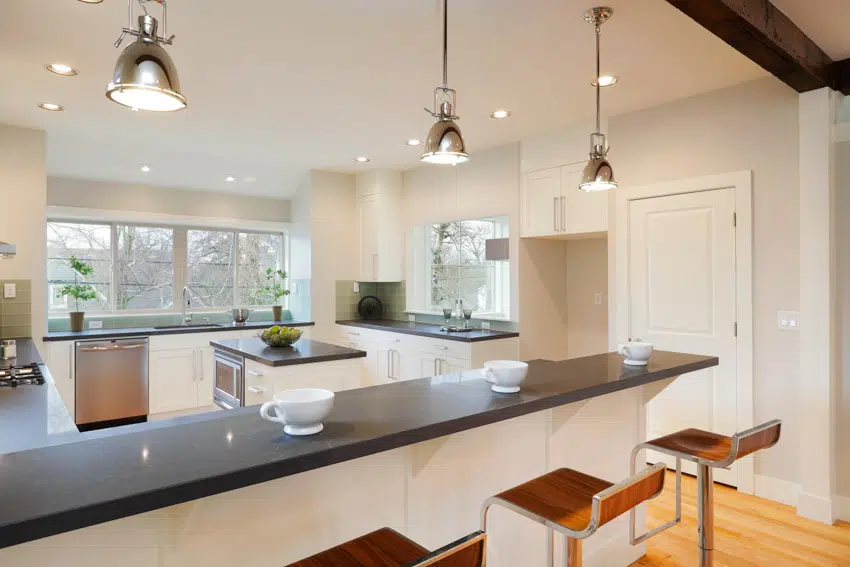 Pendant lights come in various colors and finishes that will complement or conflict with other furniture, fixtures, and elements in your house.
Choose lighting fixtures with comparable finishes – your door handles and cabinet hardware, for example.
The following are some of the most popular pendant lamp finishes:
• Oil-rubbed bronze
• Polished chrome
• Brushed nickel
• Polished nickel
• Black iron
Pendant Sizes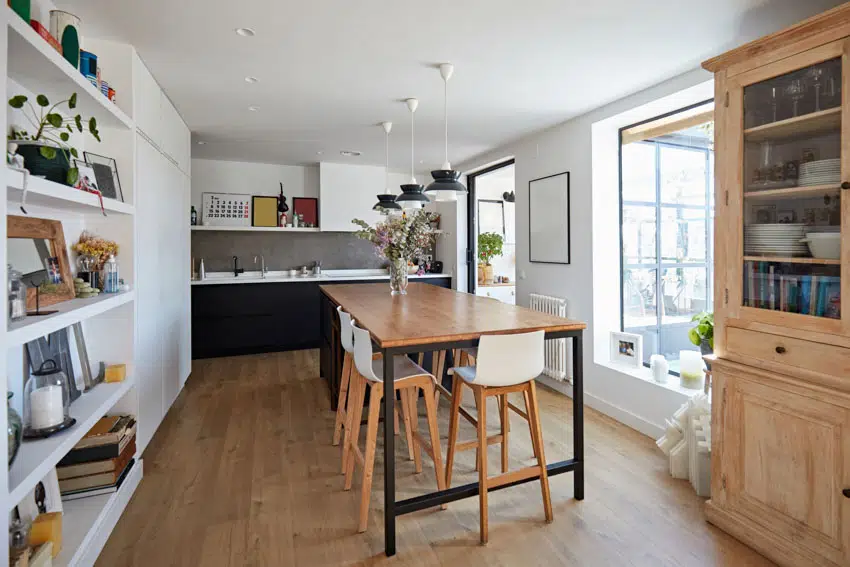 The size of the pendant light is determined mainly by the light's intended use and the location in your house. Having a pendant light that hangs either too high or too low may be pretty aggravating.
One that is too big or too little might be inconvenient and ineffective. You should decide if you wish to use a single colossal pendant light or multiple lights for an area.
Both solutions offer benefits, but a lot depends on your design and the overall aesthetic you want to achieve.
The standard hanging height for pendant lights put over a dining table or countertop is 24 and 30 inches. The hanging height of most pendant lights may be adjusted using extension rods or an adjustable chain.
Make sure the light doesn't impede people's views at the table or island and that it doesn't hang so low that it hits them. On the other hand, pendant shades generally have a width of 5 to 43 inches.
How High To Hang Lights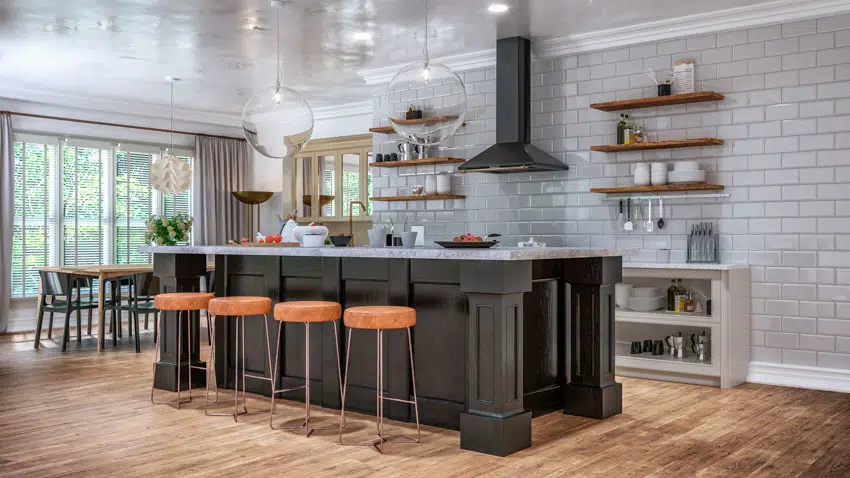 Pendant lights are ideal above fixed fixtures and furniture, such as islands and worktops. They are also great for hanging over a kitchen or dining room table, as well as stairwells.
Pendant lights are also sometimes hung over open sections in higher rooms. They may go anywhere they want as long as they don't run into anybody.
Pendant lights usually are 36 inches above the table surface. You may hang them at any height to function while serving as decoration on other ceilings.
A good rule of thumb is to hang them no less than 6-feet above the floor for safety reasons and to look across without the light getting in the way.
Where To Use Pendants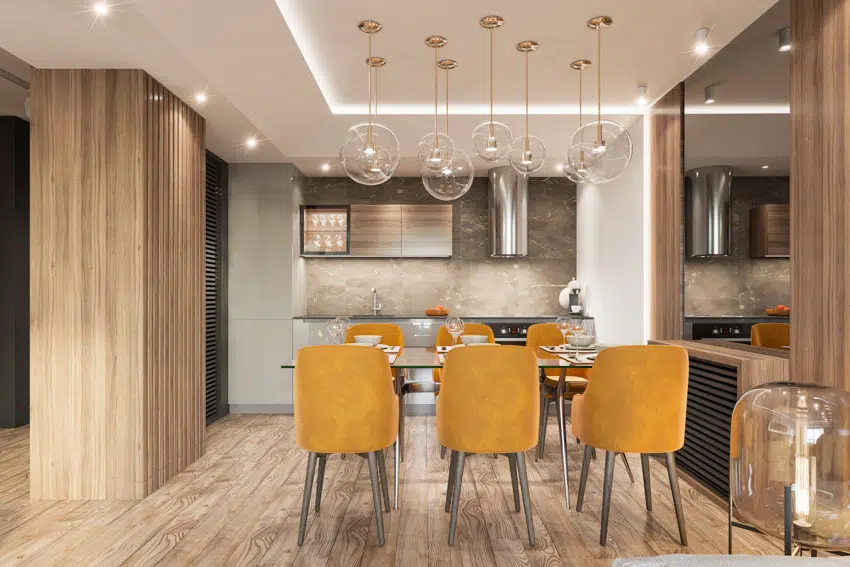 Pendant lights are for general illumination, area lighting, and task lighting.
You can achieve general illumination by hanging a pendant lamp in the middle of any room. It is ideal for lighting an ample space and working well above your couch or next to a bookcase. You can also use your pendant light as a spotlight for task illumination.
Task lighting is when you want your pendant light to concentrate exclusively on a work desk or table rather than lighting up a whole room or section of space.
Your pendant lights will look great hanging from any portion of your ceiling, regardless of where you put them.
What Type of Light Bulb for Kitchen Pendant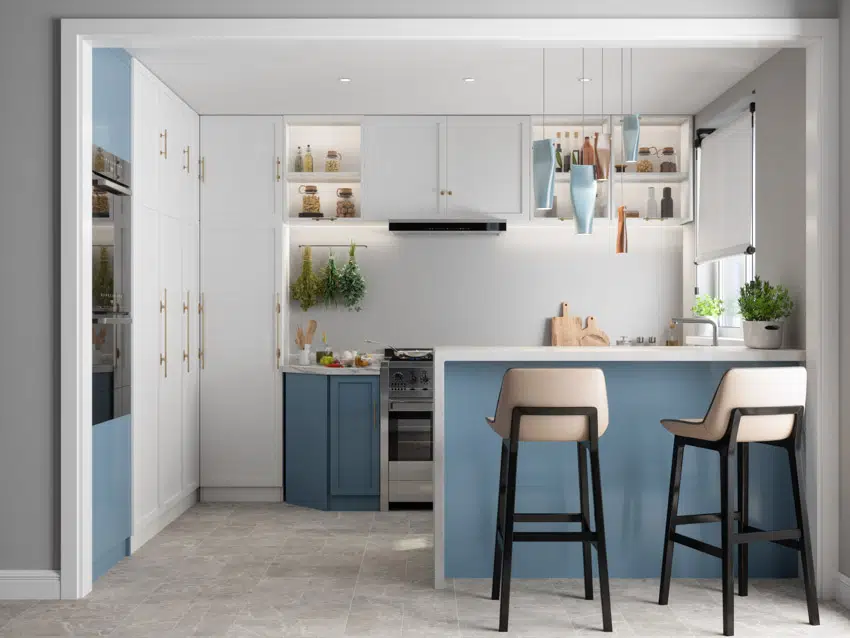 The kitchen is one of the most common places to utilize pendant lights. The most common style used in different types of kitchen islands is linear style lighting.
Getting measurements is especially important in the kitchen so that lighting isn't too low and difficult to work with and so that you can effectively cope with your space concerns.
It is also crucial to think about the type of light bulbs you will use in your pendant light. Before installation, be sure to read all of the wattage requirements.
You have a range of light bulbs to pick from:
• Incandescent bulbs are conventional light bulbs that provide a warm appearance. They are becoming less popular in current times as more individuals choose energy-saving choices.
• LED lights are extremely energy efficient and may last three times as long as compact fluorescent lighting. LEDs are energy-efficient, yet they create harsh light. However, some modern LEDs have a warmer tone.
• Halogen lamps provide an intense light range that is ideal for job lighting. These are more energy-efficient than incandescent bulbs but not as efficient as LEDs or compact fluorescent bulbs.
• Compact fluorescent bulbs are more energy-efficient and have a more even, quiet tone. There are, however, differences in brightness and temperature among them. Because these bulbs contain mercury, handle them with caution.
Pendant Vs Flush Mount Lights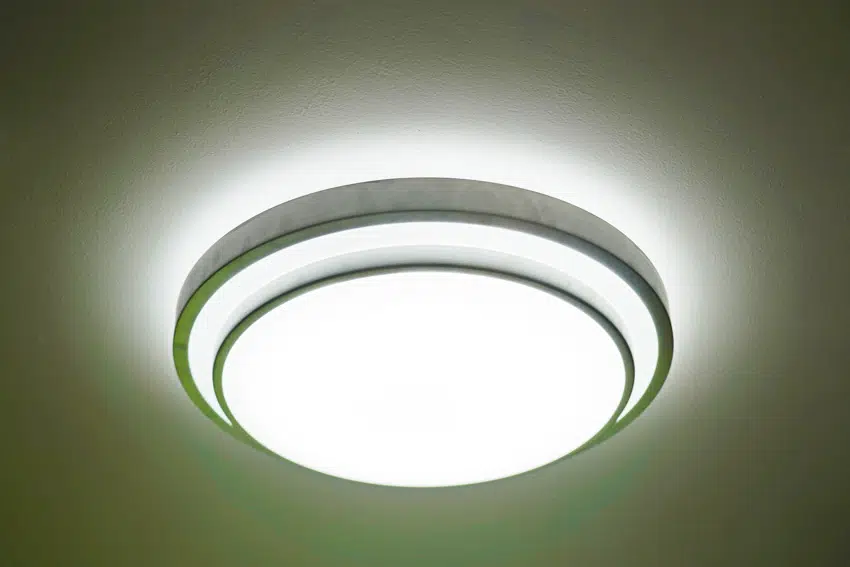 Pendant lights and flush mount lights are almost similar, yet they are two distinct kinds of lighting. Pendant lights are lights that dangle from the ceiling, while flush mount lights do not dangle down and remain inert and near the top.
There is no space between the fixture and the ceiling with a flush-mounted light fixture. A semi-flush mounted light fixture, on the other hand, has a little space between it.
Semi-flush mounted light fixtures are similar to pendant lights in appearance; however, they do not dangle as low. Flush mounts are perfect for low-ceiling areas since they occupy very little space.
What is the Difference Between a Pendant And a Chandelier?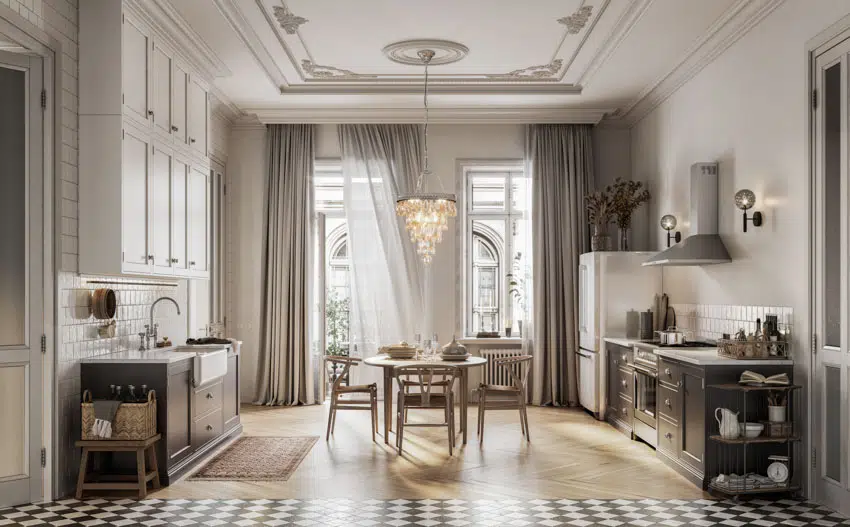 A chandelier is a light fixture hanging from the ceiling containing numerous light bulbs in a single unit, while a pendant light is a light fixture hanging from the top and includes a single light bulb.
It is the most basic description of these lights, but a few other crucial distinctions distinguish chandeliers from pendant lights.
First off, chandeliers are much more costly, and specific chandeliers are designed for business buildings and must be enormous and flashy. Their light placement is also one of the most apparent contrasts between a chandelier and a pendant light.
A simple cable or chain often hangs pendant lights with a single hanging light at the terminal end. The pendant lamp may have many lights, but the suspension remains the same.
Can You Put A Pendant In A Hallway?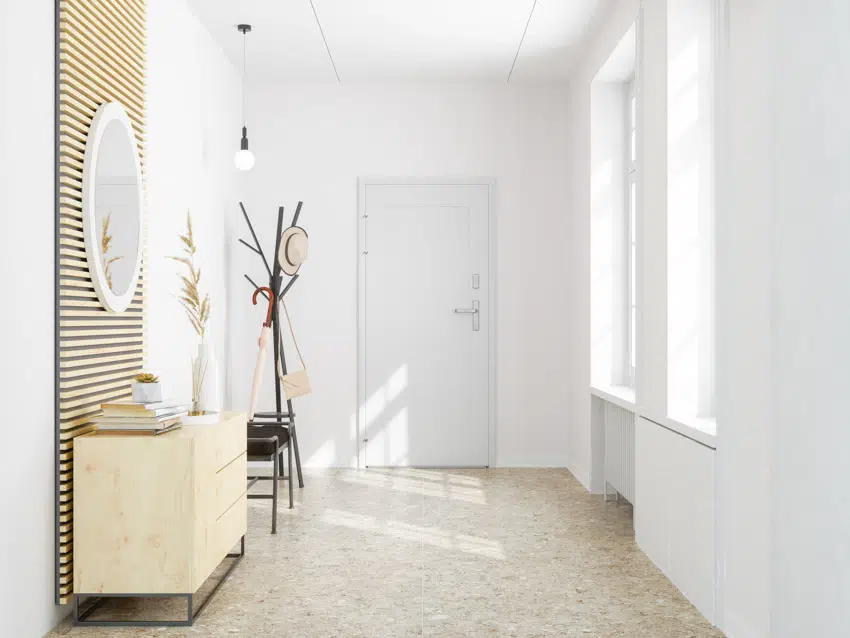 Hanging lights are convenient in hallways and stairwells since the cable may be reduced for lower room areas and left longer for sites where the ceiling height rises.
The distribution range of light is taken into account here. Downward-facing light is terrific for the lower levels, such as the entry hall or landing areas, but you may need a light that spreads from all sides in the stairway.
In a corridor, lighting is often selected for utility rather than aesthetics, although pendant lighting may serve both functions. Suspend the lighting fixture about seven feet above the floor for safety reasons.
Use the "rule of three," which prescribes an equitable distribution of three similar pendant lights around 30 inches apart if focusing on a limited segment of the corridor alone.
Choose bigger lights that provide light and place them farther apart but still in equal lengths for more vast halls.
Where Do You Put Pendants Over an Island?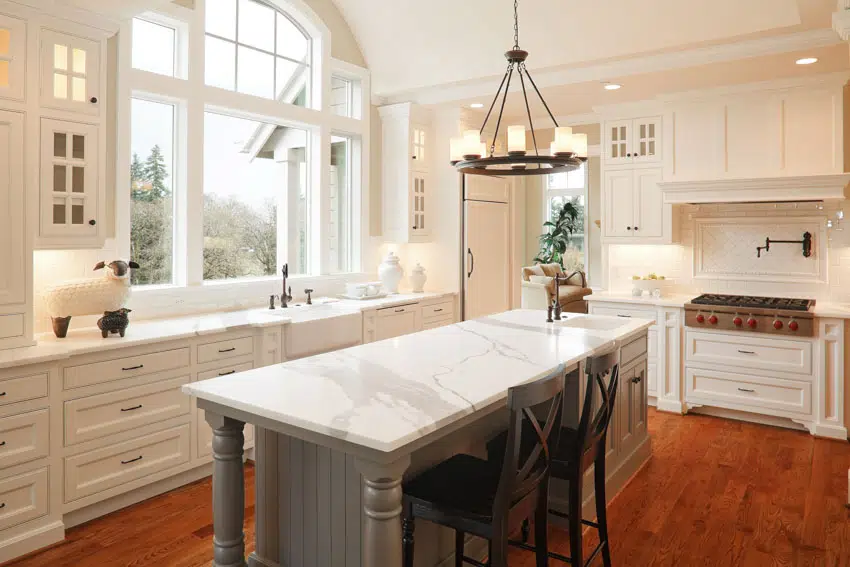 A kitchen island is the most crucial piece of furniture in your home: the hub around which everyday life revolves.
So lighting is vital – not just for practical reasons like cooking and eating, but also because the kitchen sets the tone for your kitchen's whole interior design approach.
Pendant lights are a traditional way to illuminate an island. They should dangle 30-36 inches from the top of a kitchen island and be placed around two feet apart as a general rule of thumb.
If your kitchen is big and your ceilings are high, you should consider larger pendant lights. However, if your kitchen is tiny and your ceilings are low, you should consider smaller-scale pendant lights.
Using Pendants to Decorate Your Home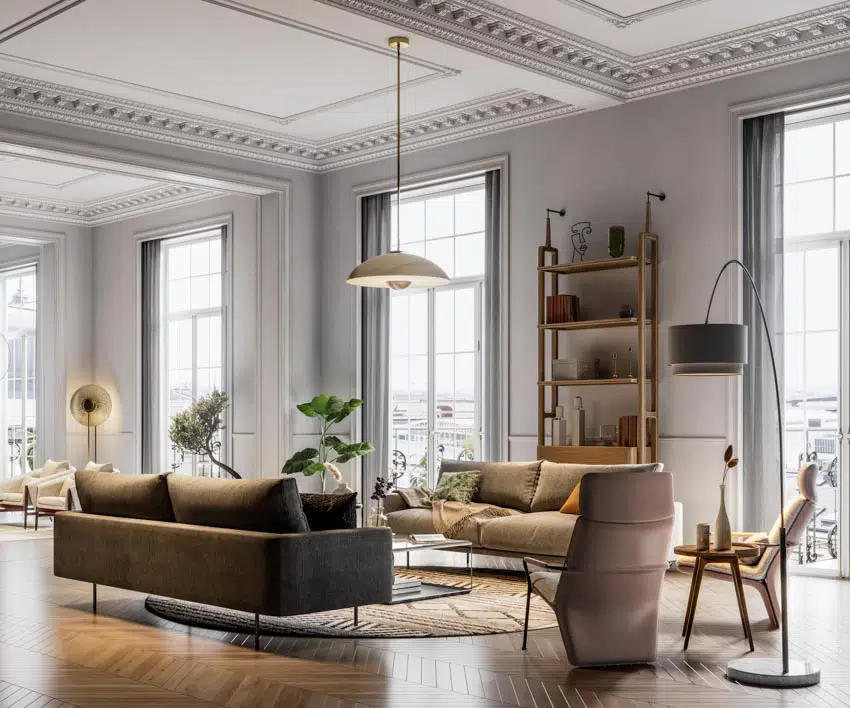 There is no shortage of creative ways to install pendant lights in your house.
Pendant shaped lights deliver the fashionable light accents to outfit your home creatively, from country kitchens to large converted barns. Great pendant lighting gives light, warmth from a comforting glow, and limitless delight to the house when done correctly.
Enjoy exploring the many options available with pendant lighting. See more related content in our article about the different types of bathroom pendant lights on this page.