See the best galley kitchen lighting ideas including light fixtures, ceiling lighting, and tips on how to brighten your galley kitchen design.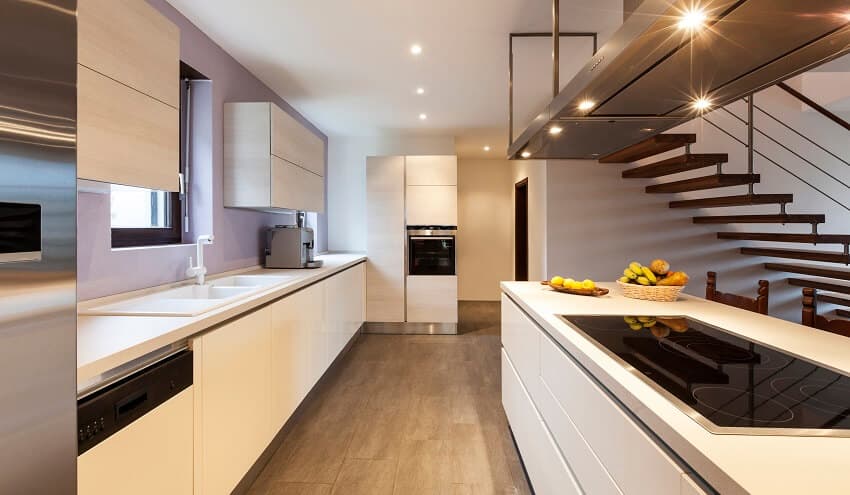 Galley kitchens, which are usually narrow, are often tight and poorly lighted. This is why anybody wishing to freshen up a galley kitchen should start with their lighting.
The lighting in a galley kitchen produces rays for a narrow room. A small kitchen does not require many lights or lighting because this would over illuminate and waste too much electricity.
Galley kitchens may be claustrophobic and confining. Luckily, homeowners can make small kitchens appear larger by employing various lighting fixtures.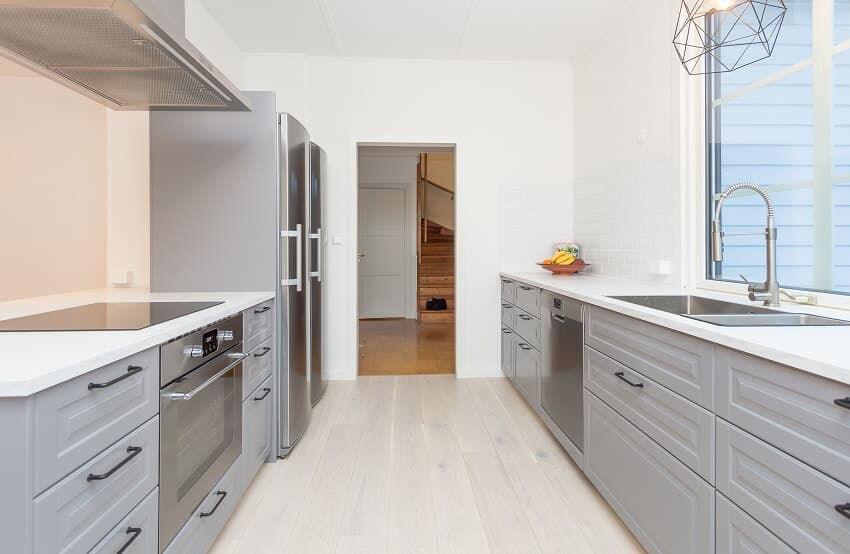 Therefore, you might believe that galley kitchen lighting is restricted to in-built or flush-mount lighting options. Below you'll see a variety of luxurious galley kitchen lighting options to help you break out from the ordinary kitchen lighting you're used to.
Galley Kitchen Light Fixtures
See different types of lighting fixtures below.
Under-Cabinet Light Fixture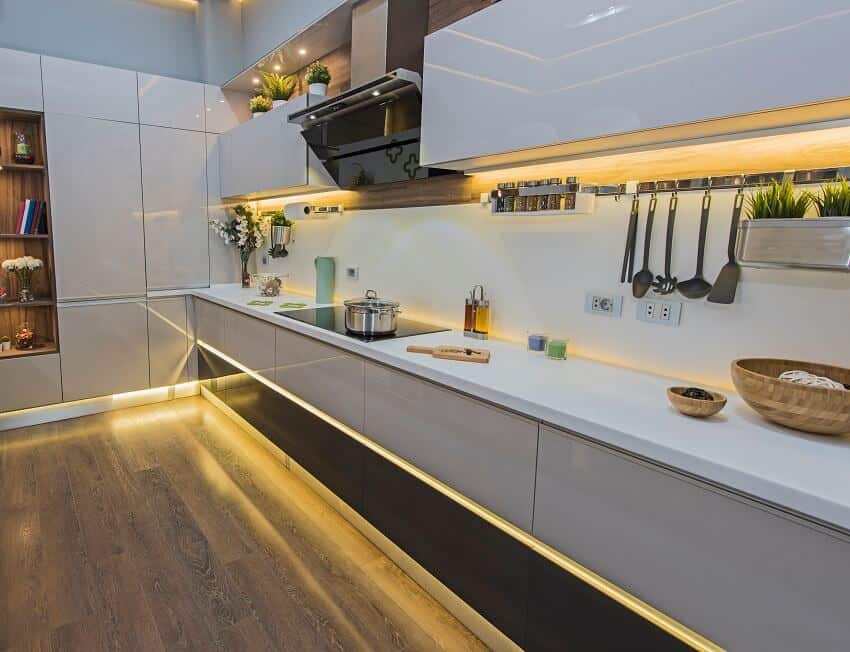 Use zones in the kitchen that are commonly disregarded for illumination when space is limited. Under-cabinet lighting is a brilliant method to provide your kitchen countertops with some essential lighting without taking up the valuable ceiling or floor space.
LED Flush Mount Ceiling Light Fixture
Search for light fixtures that complement the design of your galley kitchen. Sleek, rectangular LED flush mount ceiling light fixtures are appropriate to install since they blend in with the surroundings while delivering effective vivid lighting. Visit our guide on the pros and cons of LED lights to learn more.
Semi-Flush Mount Ceiling Light Fixture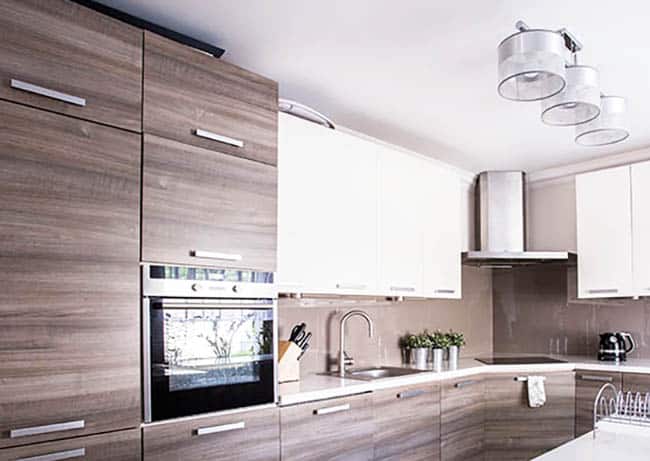 Because of their size, semi-flush mount ceiling light fixtures are ideal for galley kitchens. A semi-flush mount light fixture with four customizable heads would be better as it will allow you to appreciate multi-directional illumination in your galley kitchen.
Linear Light Fixture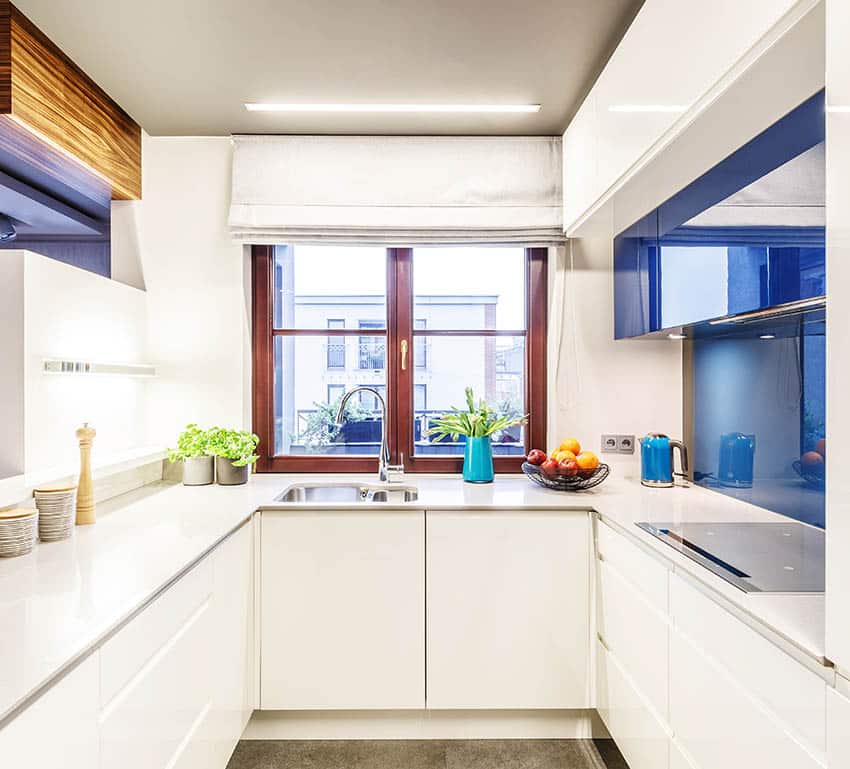 Another great choice for galley kitchens is linear kitchen lighting, particularly if your floor area or counters are long and narrow. A narrow light fixture will cover the whole surface area while lengthening the space's appearance and feel.
Galley Kitchen Ceiling Lighting Ideas
Here are some of the most popular galley kitchen lighting ideas.

Built-In Galley Kitchen Ceiling Lighting Using Two Recessed Lights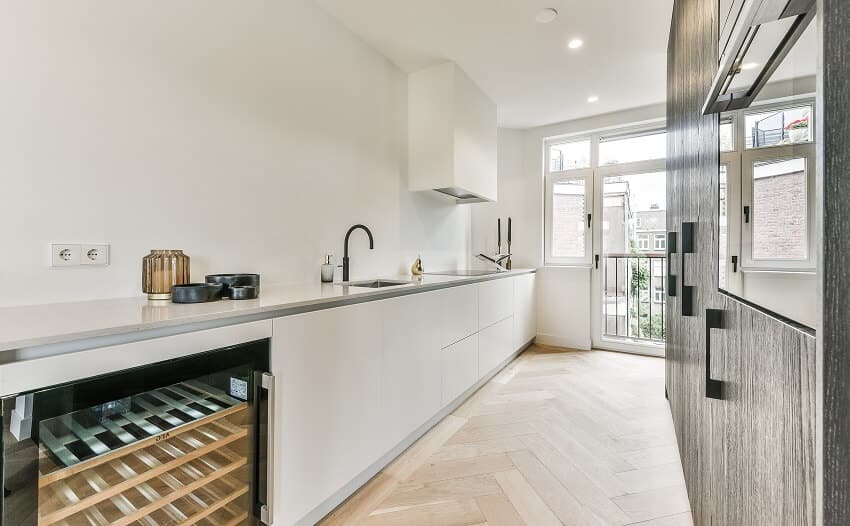 This galley kitchen's pathway is illuminated by two built-in circular recessed lights. This is probably the most popular lighting arrangement that most of us are familiar with. The recessed lights can distribute illumination to all parts of the kitchen with this setup.
In-built lighting, for your reference, is ideal for a simple kitchen. Due to the restricted area, the lighting style could maintain the kitchen's basic design. Built-in lighting, on the other hand, may provide insufficient illumination though.
Extra Bright Galley Kitchen Ceiling Lighting Using Pendant Lights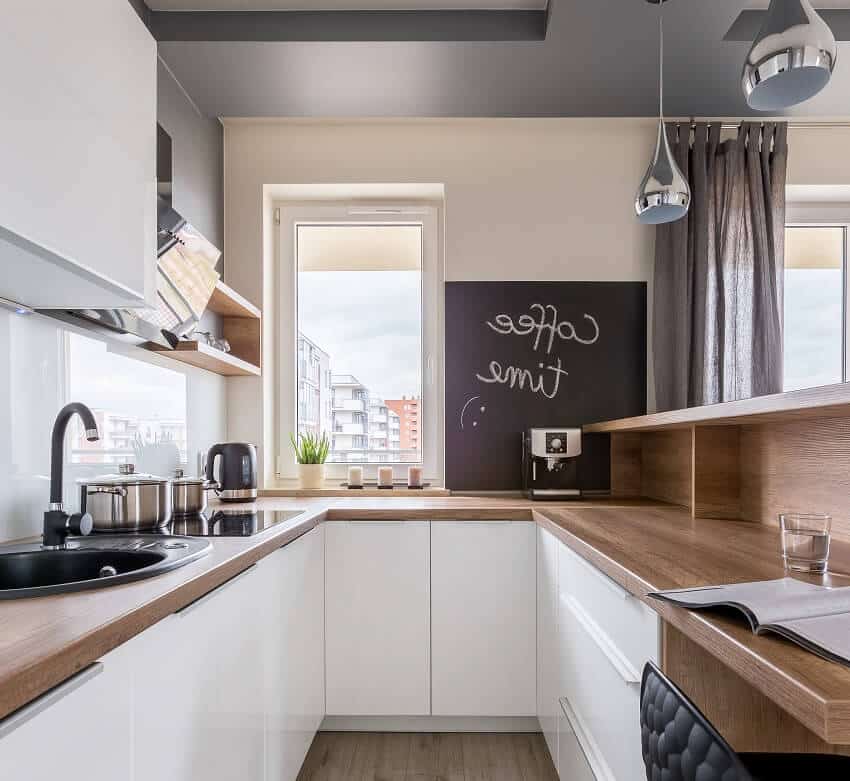 Ideally, a galley kitchen must be vivid and energetic. That is most likely the primary goal of a corridor kitchen. To accomplish that objective, the galley kitchen can use lovely pendant lighting that can be hung above the kitchen counter for added style and brightness as well.
The lighting creates a bright light that is sufficient for you to conduct a variety of tasks in a little kitchen. During the evening, the lighting becomes the only source of illumination for this kitchen. The bright light is sufficient for the kitchen, even if only one bulb is installed.
Inviting Galley Kitchen Ceiling Lighting Using Two Big Flush Mount Lamps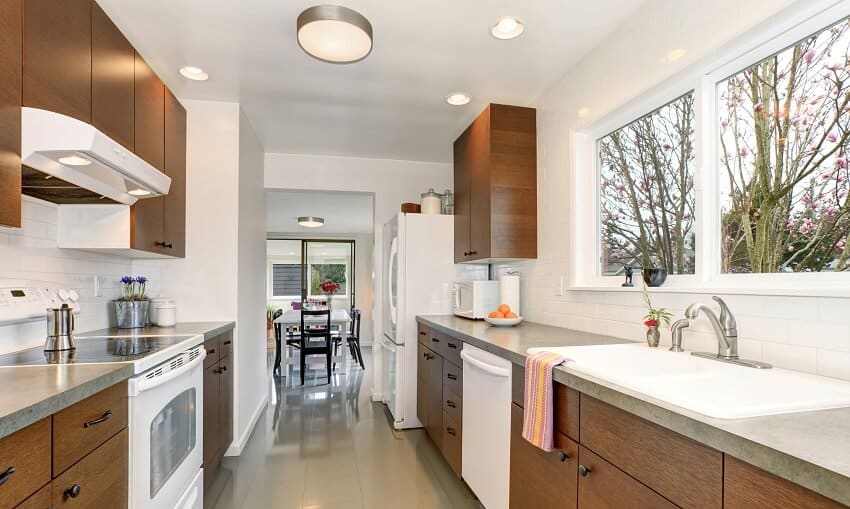 In a cramped kitchen, we can't help but go for a bold art style. A galley kitchen can be mounted with two large flush mount lighting to complement the décor. The lights provide enough light for the galley kitchen. Because of the great size of each bulb, the lighting would indeed be a fun thing to gaze up at.
Customized Galley Kitchen Ceiling Lighting Using a Chandelier-Inspired Light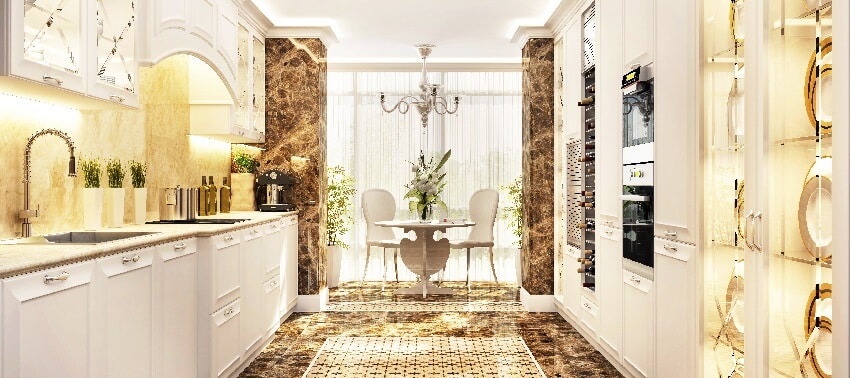 Dual lighting schemes are used in this galley kitchen. The primary emphasis is on chandelier lighting. Because it adapts the classic lighting style, the illumination appears to be one-of-a-kind. A chandelier, which serves as the focal point of the illumination, could provide that character.
This type of lighting generally has a bird nest covering to safeguard the chandelier. The robust metal is used for both the cover and the support. The lighting appears to be both solid and ancient as a result of this.
Sophisticated Galley Kitchen Ceiling Lighting Using Differently Sized Bulbs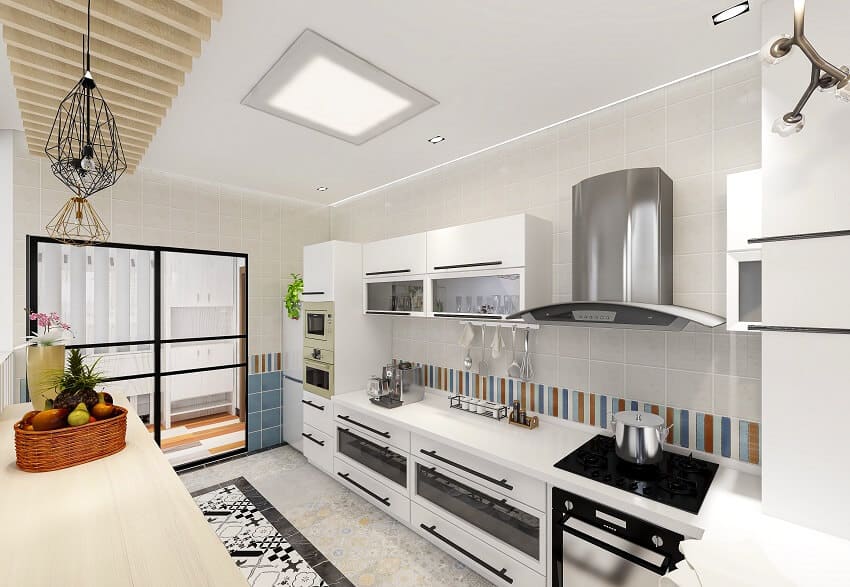 We are all accustomed to a single tiny bulb. However, you can apply some bulbs of varied sizes. Perhaps, this is the basic concept behind this galley kitchen lighting design.
The illumination is generally made up of five bulbs that come in a variety of sizes and shapes, ranging from little to big. The biggest bulb is placed in the center of the platform. Each bulb is connected by its own cable, which is then hung from the kitchen ceiling.
Best Lighting For A Galley Kitchen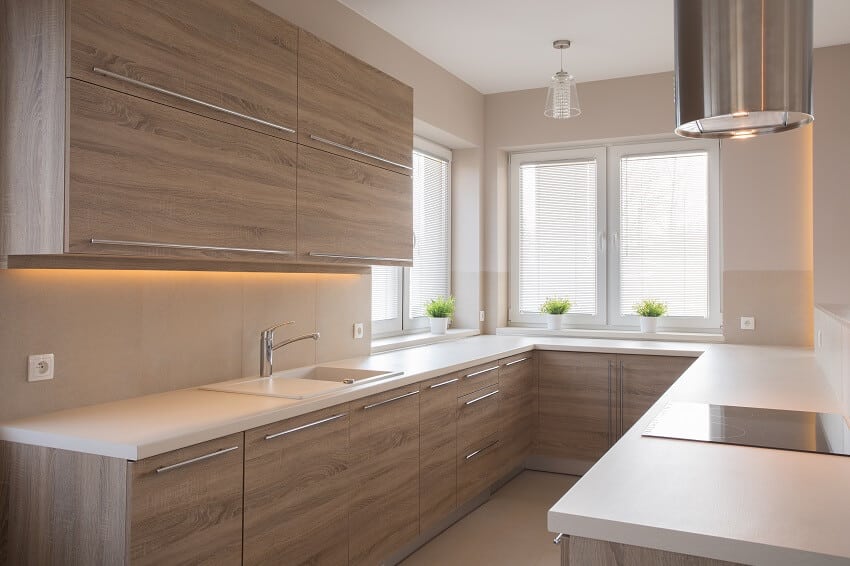 Built-in, recessed, pendant, and chandelier lights are the greatest lighting selections for a galley kitchen.
For illuminating minor activities, puck lights, under-cabinet lighting fixtures, and indented lighting can be very ideal.
However, if you intend to install lighting on the ceiling, the best option would be recessed cans or pendant lights, if we're talking about appropriate illumination and a pleasing aesthetic.
You can use decorative lighting sparingly, but be sure to use passive lighting approaches such as vivid paint colors.
How Do You Brighten A Galley Kitchen?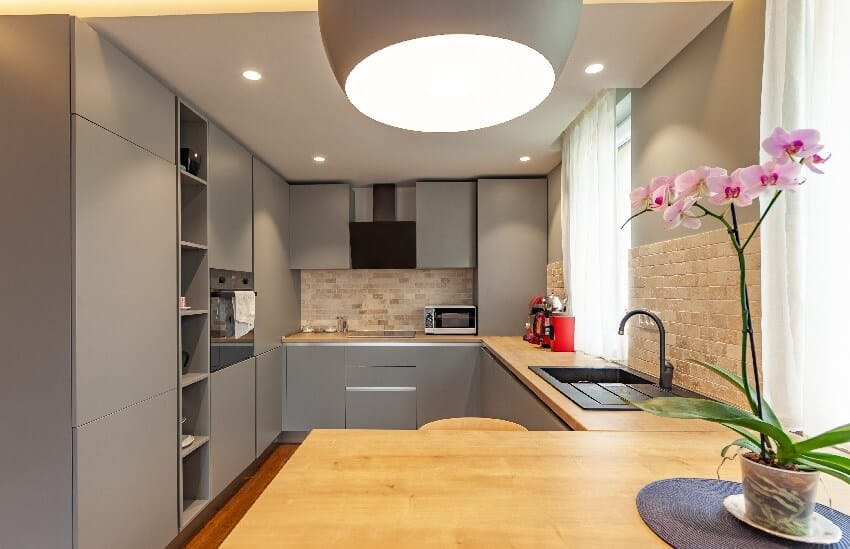 The major technique to open and brighten a galley kitchen without windows is to place lights across the whole kitchen space.
When natural light is not an option, concentrating on a lighting system that does not allow shadows to come in is essential for adding depth to narrow spaces, particularly galley kitchens.
You just have to select the right types of lighting fixtures that will give you much-needed illumination and ensure that it will complement your kitchen's overall design.
How Many Lumens Does A Galley Kitchen Need?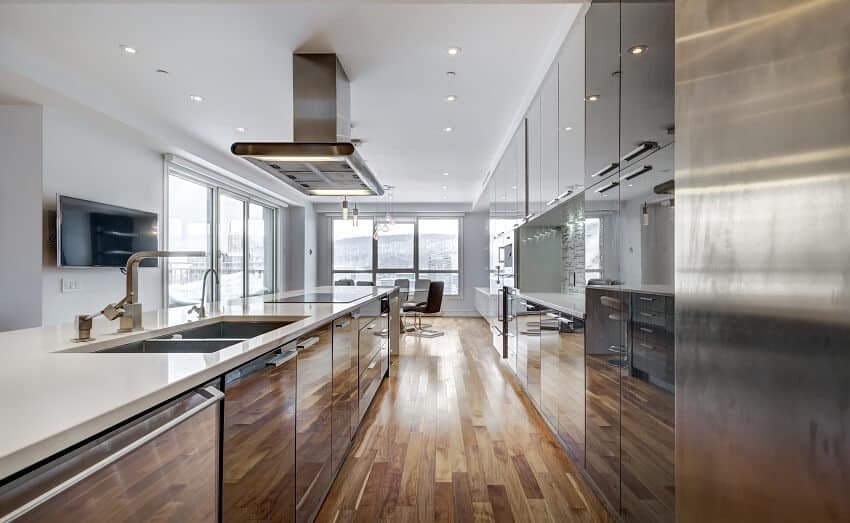 A kitchen, on the other hand, will require a higher degree of illumination, roughly 70-80 lumens per square foot. Just multiply the square footage of the space by this amount to calculate the lumens required.
However, since galley kitchens are much smaller compared to conventional kitchen spaces, they may only require around 10-20 lumens per square foot. But still, it will depend on how bright you want your galley kitchen to be.
Visit our favorite dining room lighting ideas for more related content.