These bedroom light fixtures feature the different types of interior lighting, ceiling, wall lights, floor lamps, finishes, what size to use, and creative bedroom design ideas.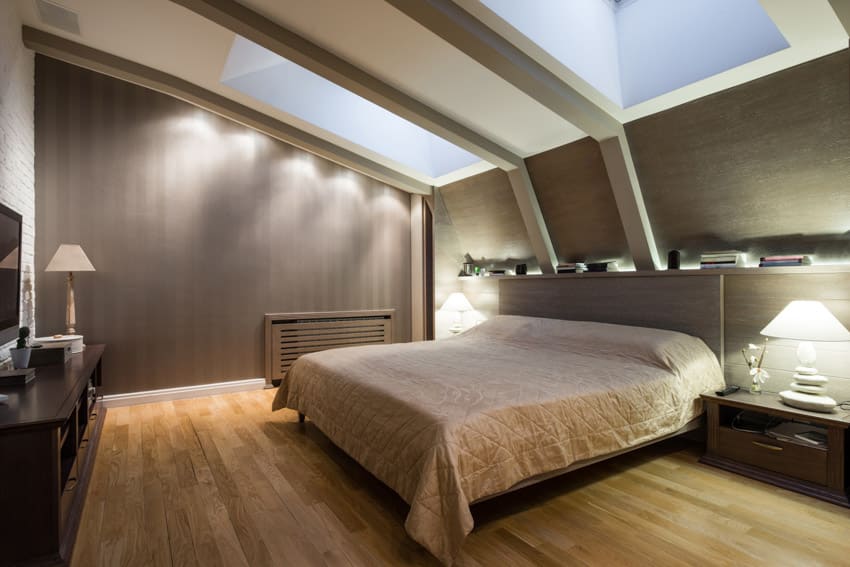 You start and close each day in your bedroom, hence it is deserving of well-thought treatment as it is essentially yours. In addition to sleeping, the bedroom is used for numerous activities that require appropriate lighting. Many individuals use it when they apply their makeup, wash their laundry, read a publication, or unwind at night.
Making sure your bedroom has adequate illumination helps elevate this space to a whole new level. Although some decorators believe that bedroom lighting is unimportant, professional interior designers know that it is vital.
The bedroom should be a soothing and inviting environment where you feel safe and the ambiance is calming and peaceful. It needs to be a relaxing location, a haven.
Choosing the proper light fixtures for your bedroom must not be overlooked. In this article, we will go through the various types of bedroom light fixtures that you can use to improve the quality of your bedroom.
Types Of Interior Lighting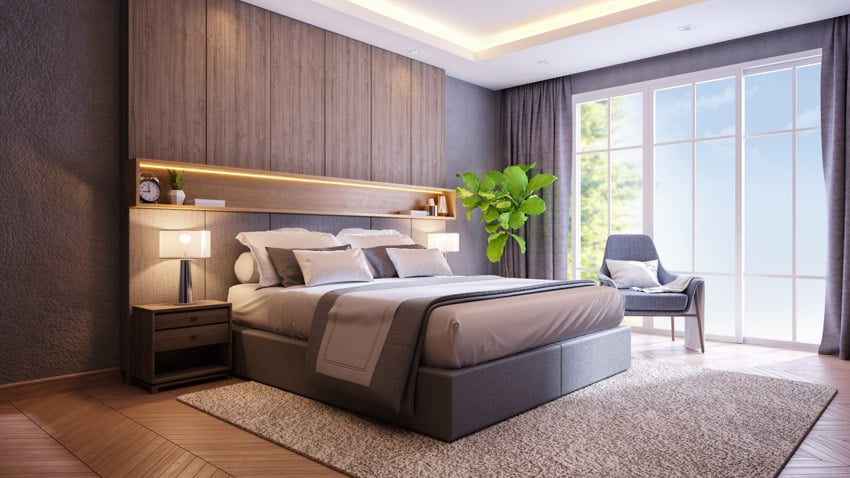 Here we share the different types of interior lighting for bedrooms.
Ambient Bedroom Lights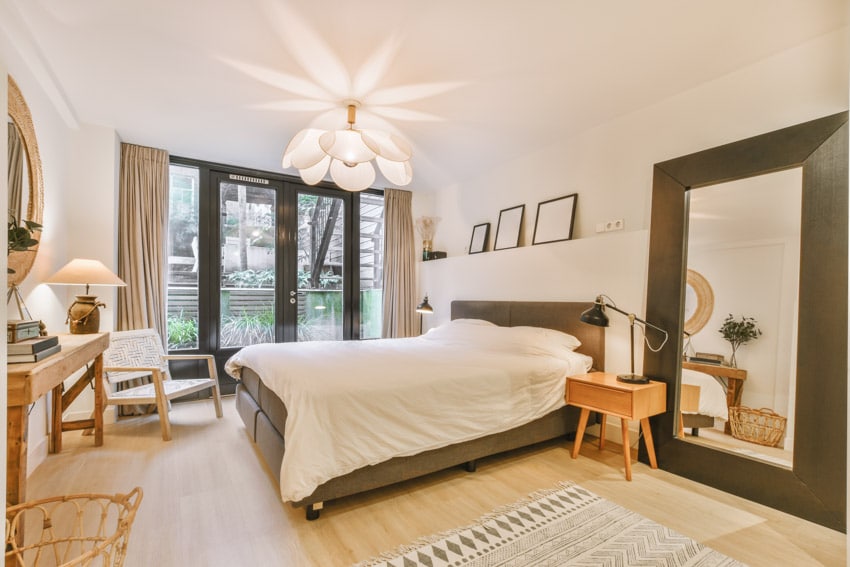 The predominant source of illumination in a room is provided by ambient lighting, also known as general lighting. It serves as the foundation for all of a room's illumination. Aside from essential lighting operation, ambient lighting enhances a room's or structure's sense of comfort and depth. It does not cast unsightly shadows.
Ambient lighting is designed to generate a coherent lighting level and provides general illumination for a bedroom. It is unlikely to be affected by any extra lighting that might be used in specific portions of a room. Whenever an individual enters a room and turns on a light switch, ambient lighting usually brightens the entire room.
Furthermore, ambient lighting comes in a variety of shapes and sizes, such as ceiling-mounted or recessed lamps that focus light downwards, as well as wall sconces. This type of interior lighting also includes floor lamp torchieres that bathe the walls with lighting, along with soffit and valance lighting that reflects light off the walls and ceilings.
Ambient lighting is typically linked to a dimmable system to manage the level of lighting inside the bedroom. Additionally, because ambient lighting is indirect, it is gentler than general illumination. This also allows you to comfortably navigate the entire space.
To establish an effective lighting arrangement, each room must have a central source of ambient lighting. However, an ideal source necessitates a plan for determining which lights to use and where to place them in the room.
Task Bedroom Lights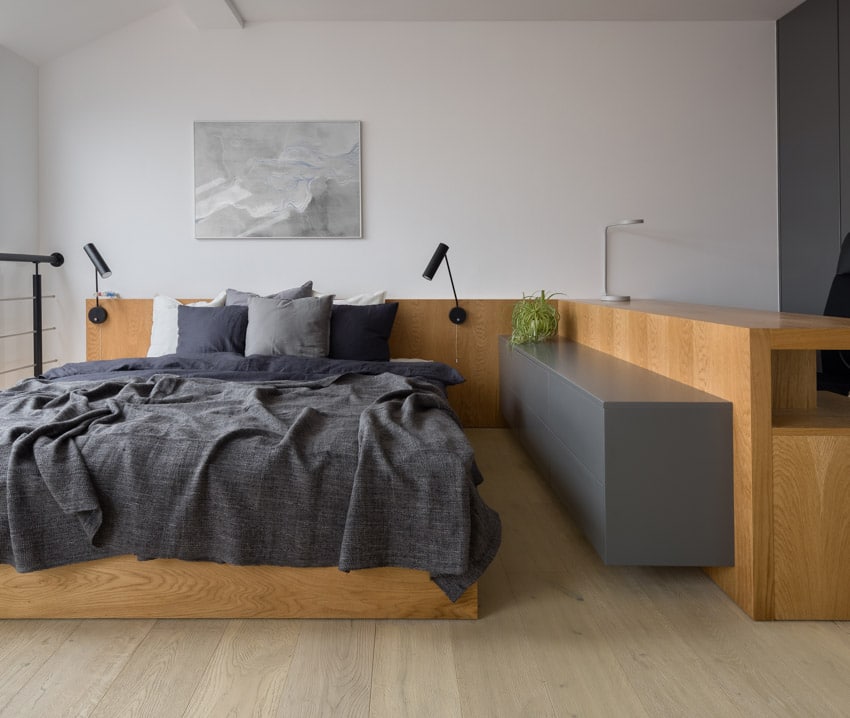 Task lighting illuminates' particular tasks in a space that may already contain considerable ambient light. This type of interior illumination is very practical for viewing little or low-contrast items. A person reading, for instance, would require certain types of lighting fixtures to recognize small details.
Furthermore, task lighting can also give additional illumination for activities that necessitate accuracy. For thorough visual tasks like studying and writing, desk lamps deliver adjustable task lighting that can be positioned in a specified direction. Plug-in tabletop and floor lamps are also very popular for providing task lighting while working.
Task light fixtures such as wall-mounted adjustable arm lights are frequently seen near the bedside in bedrooms and are generally applied as task lighting for nighttime reading. Such fixtures can be angled to direct lighting onto studying materials while minimizing glare.
Accent Bedroom Lights

Accent lighting is a type of lighting that is typically used to illuminate pathways with soft light. This type of lighting, on the other hand, can be utilized to highlight significant objects and key elements inside the home or any room.
Numerous people, for example, enjoy displaying specific artwork pieces or other valuable artifacts in their homes. When you add light to a certain object, you can help establish or set a mood in the space.
Accent lighting, also known as highlighting, draws attention to features by directing light directly at them. Excessive usage, on the other hand, might result in an environment that appears disorderly or cluttered. Accent lighting is created by strategically placing directional fixtures or bulbs. These fixtures must be placed near the object that they illuminate.
Mood Lighting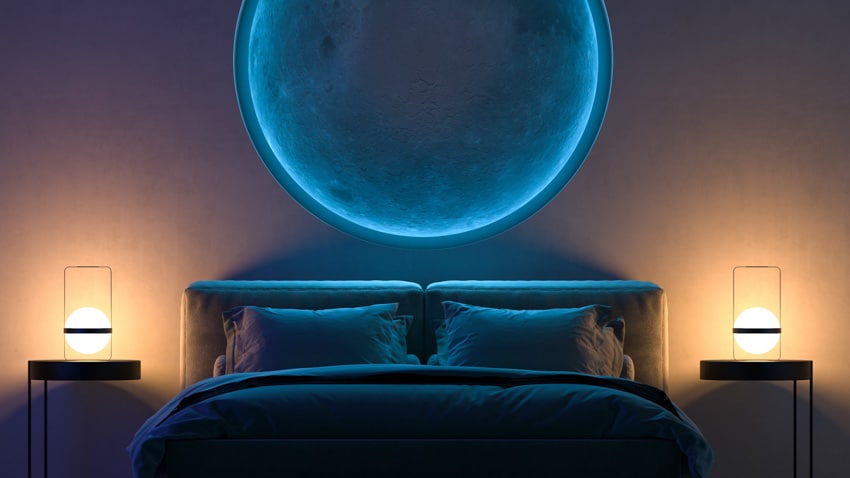 Mood lighting is a type of interior lighting that is used to produce a transient state of mind or sensation. It is the use of lighting to create ambiance within a space. Mood lighting is frequently soft lighting that softens the shadows generated by more functional task lighting.
It works in conjunction with task and ambient lighting to round out your overall lighting scheme. You can use mood lighting to lower or turn off the ambient light to create a gentler atmosphere whether hosting guests in the bedroom or relaxing.
Yes, it can also be used to produce mood lighting, particularly if you utilize a dimmer as the combination can deliver a customizable option. It may be utilized at maximum brightness for task lighting during the day and then reduced for mood lighting at nighttime.
Bedroom Ceiling Lights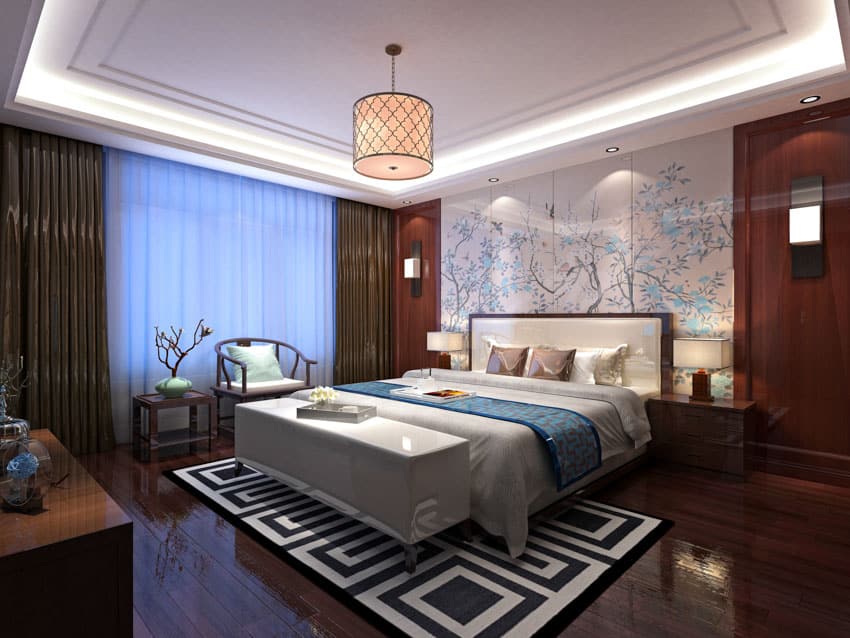 Here we share the different types of ceiling lights for bedrooms.
Recessed Lights
Recessed lighting in the bedroom might be difficult to operate, but if installed correctly, it can produce a genuinely cozy atmosphere. Recessed lighting in the bedroom can provide plenty of ambient light for general illumination.
In comparison to a floor lamp or chandelier lighting, recessed lighting provides a very subtle source of lighting, but the impact can be extremely dramatic since it creates wonderful shadows that are cozy and welcoming.
There is a formula to determine how many recessed can lights you will need for a bedroom. You take the total square footage of the room and multiply it by 1.5 to get the total wattage needed. Then divide the total by the light bulb wattage you want to use.
For instance, 320 total sq ft bedroom x 1.5 = 480 (total wattage). Then take 480 (total wattage) and divide by 60 (bulb wattage) = 8 recessed light fixtures.
Working with a professional interior designer to help you choose the accurate placement of your new lights is crucial to make sure that your recessed lighting enhances rather than detracts from the aesthetic of your area.
This will assist you in deciding where to set your lights so that they provide adequate illumination without generating intense shadows, which are unappealing and will cause you to feel uncomfortable.
Chandelier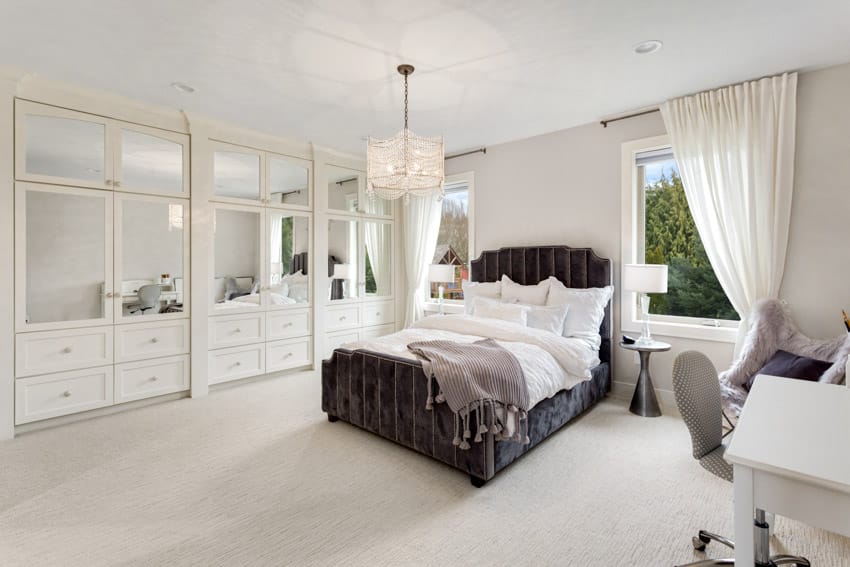 Although some individuals confuse chandeliers for pendant lighting, these lights are distinct enough to establish their distinct category. They are genuinely elegant and can end up making the bedroom appear even more luxurious.
Based on the form of chandelier you purchase, you can readily locate one that is glistening with gems or incorporates deer antlers into its structure. This implies you will not have to fret about whether or not your chandelier will complement the remainder of your room's or home's interior design.
Furthermore, since this type of bedroom lighting fixture is simple to install in a ceiling-mounted light framing, you can effortlessly replace it if you are dissatisfied with the aesthetic of your chandelier or want an item with a different design.
Flush Mount Light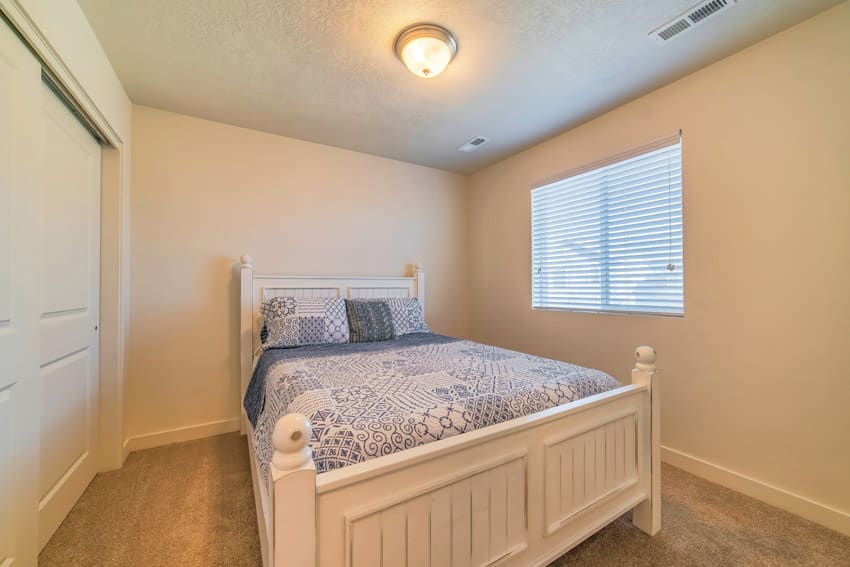 A flush-mount light would be your smartest pick if you are looking for a light that shines from the central core of your ceiling but is not interested in hanging lights, chandeliers, or ceiling fans.
These are firmly fastened to the ceiling, thus they produce abundant light in all directions while not hanging down in any way. If you possess a lower ceiling within your bedroom or are generally annoyed by fancier forms of lighting, this bedroom light fixture would be ideal for you.
Flush mount lights, which are ideal for extremely tall homeowners, are available in a variety of shapes and colors, allowing you to have some decorations in your bedroom even if you are not interested in enormous lights dangling in your room.
Semi-Flush Mount Light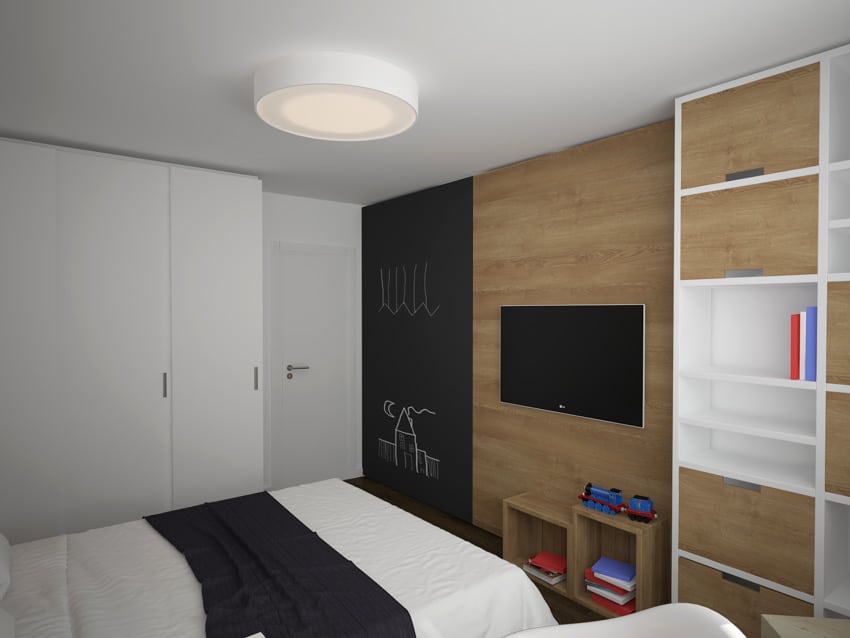 Semi-flush mount light fixtures are brighter than flush-mount fixtures. A semi-flush mount fixture is hanging, with a little gap between the lighting fixture as well as the ceiling.
This gap creates an up-lit illusion while also allowing strong downward lighting. These light fixtures create more ambient illumination than flush-mount lamps and are typically the more favored choice for bedrooms.
LED Downlights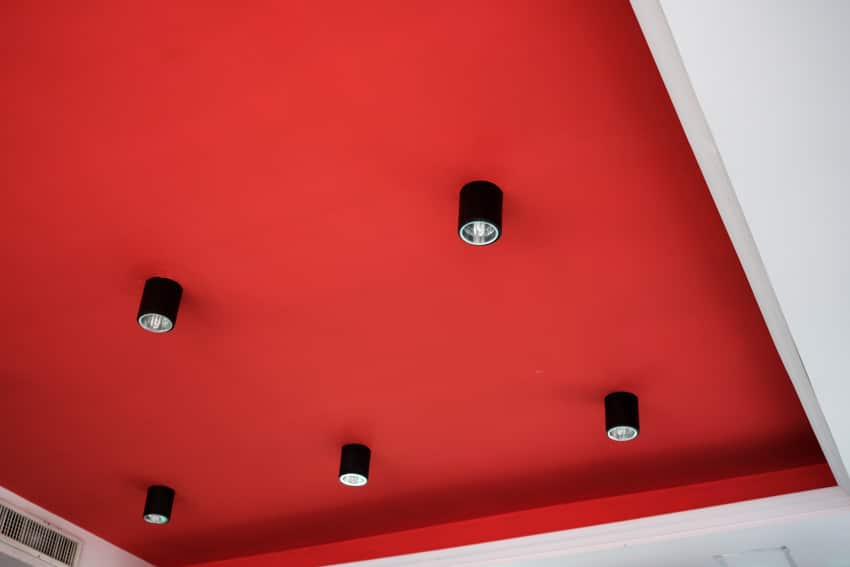 LED downlights are light fixtures that hang from the ceiling and illuminate down into the bedroom. The downlight trimming is often flush against the ceiling. Certain trims, including gimbals or eyeballs, protrude down underneath the ceiling to enable light-directing.
Furthermore, LED downlights distinguish themselves from other lighting types due to the wide range of trimmings, lenses, and reflectors available. Even though fixed recessed lighting is the most common form, you may also get LED downlights that rotate and perform numerous functions depending on the structure, trimming, and angle.
Due to their ability to be oriented in particular directions, the recessed downlighting designs known as "eyeballs" and "gimbals" are growing in popularity. LED downlights generate reduced heat, consume less energy, and are more efficient than other older light sources like incandescent in directing light to their desired target.
LEDs feature a longer life expectancy, thus you will save money on maintenance over time. Additionally, LED lights are obtainable in a larger range of colors and tones, while incandescent lighting fixtures are only supplied in a yellow, warm tone.
Widely known LED bulbs for residential downlights are often vivid, delicate, or warmer whites, but if you would like to be creative in your bedroom lighting, you can mount programmable bulbs that shift colors.
Track Lights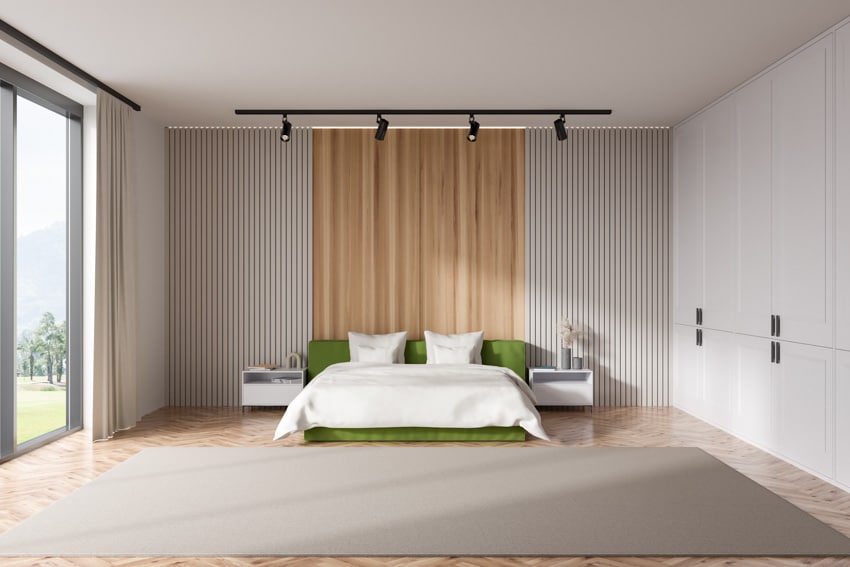 Any lighting design that uses a rail system or supporting track positioned on the ceiling to deliver power to multiple lighting fixtures is known as track lighting. Bedroom track lights are versatile in installation since they can be linked to the track wherever they are necessary instead of being attached to a single fixture.
The illumination of track lighting can be oriented to throw light in every direction along the rail system, or it can be moved to a different location along the route, with no additional wiring or electrical connectors needed.
The various track systems are intended to be entirely configurable, and they settle near the bedroom ceiling and away from visibility, yet giving more directional lighting than a ceiling fixture can.
They can give strong, bright illumination or gentle dimmable lighting to complement the bedroom's décor. Customized lighting fixtures can be fitted with a range of forms and sizes to mix in with any style, whether traditional or modern.
Cove Mounted Uplighting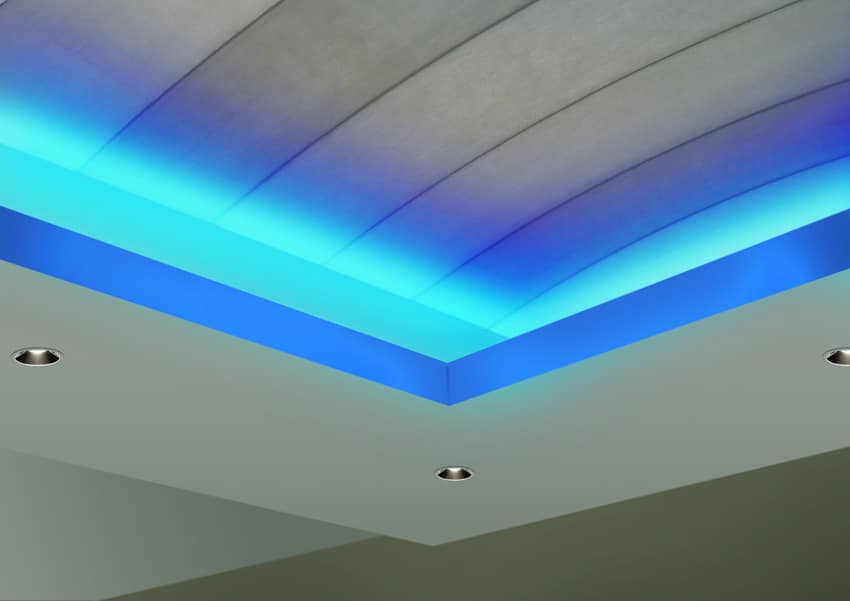 Cove-mounted uplighting sends illumination from a cove on one or even more sides of a room to the ceiling surface to generate broadly dispersed illumination. Cove uplighting is often attached to or built into a wall, although it can alternatively be installed within a ceiling lightbox.
This type of bedroom lighting can be installed in tray ceilings, nooks, recesses, ledges, or valences in a room's ceiling or on the upper part of the walls. It shines illumination up at the ceiling and toward neighboring walls.
It can be used as main or accent lighting, particularly to showcase beautiful ceilings. Cove lighting is popular because it conceals the fixtures and produces a highly uniform brightness.
Pendants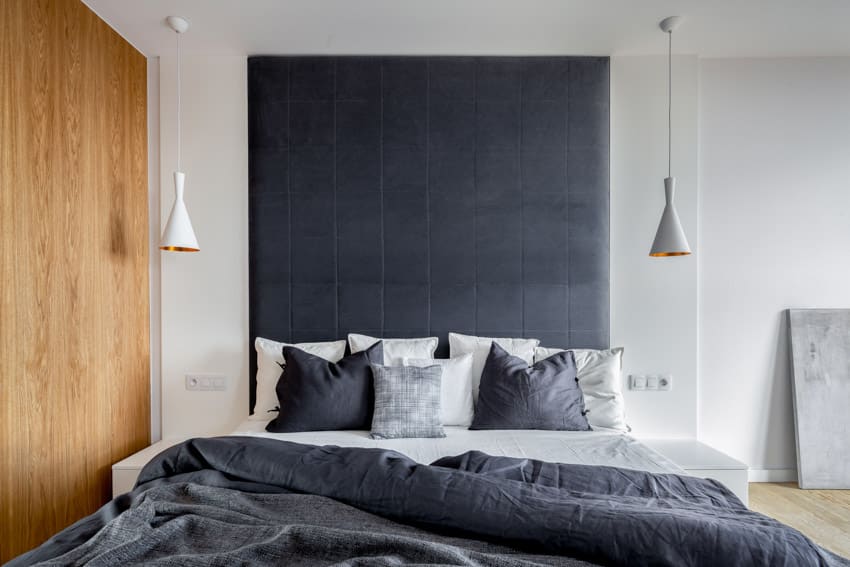 Pendant lights are a widely known selection in any bedroom since they are highly elegant and enable you to rapidly and conveniently convey your taste in terms of bedroom décor and personality. This style of light also adds a lot of excitement to your room, which is perfect if you want a stylish bedroom that will amaze.
Upgrading your bedroom pendant lights would be a terrific method to entirely transform the feel or ambiance of your area. You may use your lighting as either a source of brightness or decorative lighting in the home by picking between luxurious and complex lighting fixtures or minimalist ones.
Ceiling Fan Light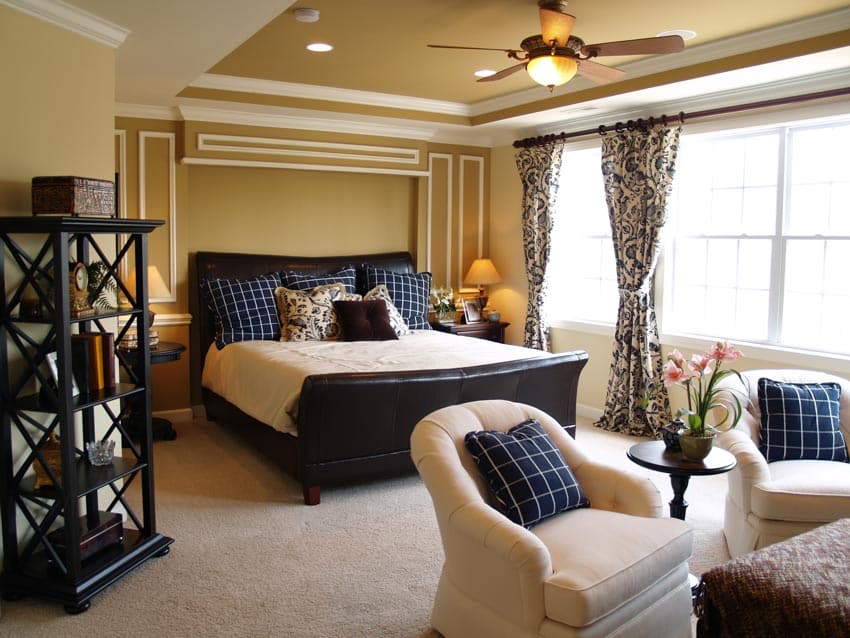 Although most people do not consider a ceiling fan light to be the primary lighting source inside the bedroom, it is common for many individuals to have one, particularly because they serve dual purposes. You can maintain the air circulating in your room to prevent it from becoming stagnant as well as make use of the light that is provided to you.
When looking to upgrade your bedroom with updated lighting, there are not as many various ceiling fan models to pick from, but it is still difficult to locate one that will complement the appearance of your space.
Bedroom Wall Lights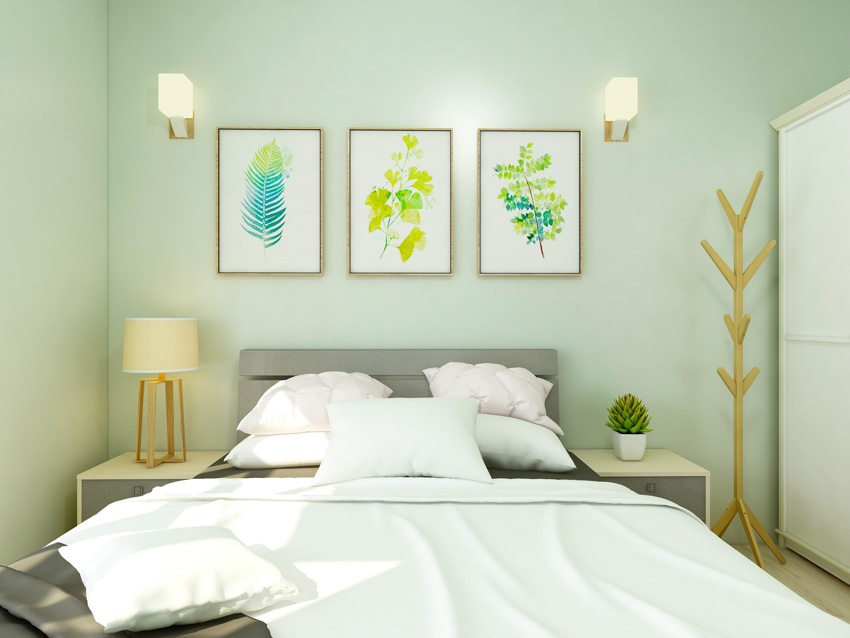 Here we share the different types of wall lights for bedrooms and their best uses.
Wall Sconces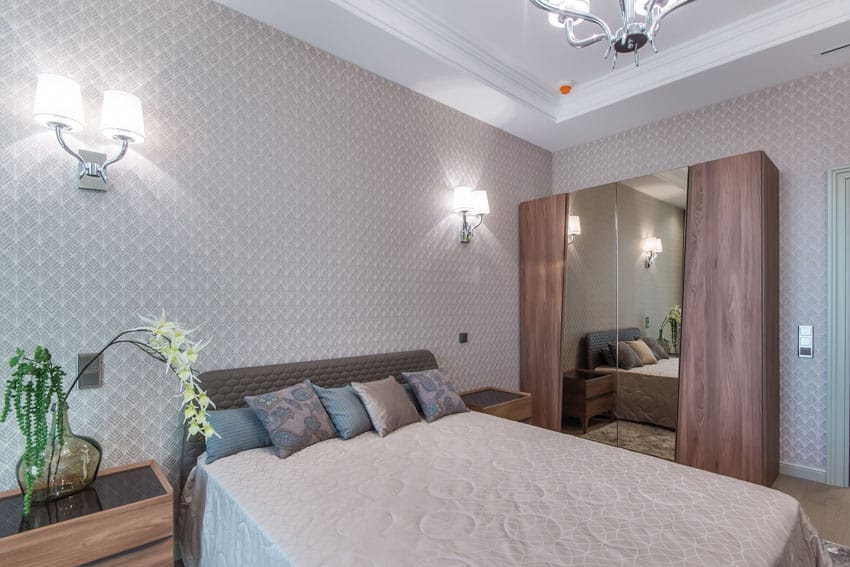 A wall sconce is a lighting fixture you can use in the bedroom, and it is fixed to the wall instead of being suspended from the ceiling. In contrast to pendants, chandeliers, but also recessed lighting, the illumination from a wall sconce is directed upward instead of downward.
Wall sconces can serve as bedside lamps in a bedroom, thereby leaving more room on the nightstand or allowing you to work if there is not sufficient room for a table next to the bed.
Wall sconces are an excellent lighting solution if you do not have sufficient area for a floor or desk lamp but still desire lots of light around the bed. They are fantastic for creating more space in your home while also bringing a sense of sophistication to your bedroom.
Although most people think of sconces in highly formal settings, like a dining room, they can also be utilized in the bedroom to make the space more presentable. Moreover, wall sconces can generate brightness to a dark spot in a bedroom and transform the room to look bigger.
Complementary wall sconces in a bedroom with a pendant can draw in illumination around the corners of the room and neutralize the brightness from the chandelier, which may otherwise appear stark.
Wall Mounted Uplighting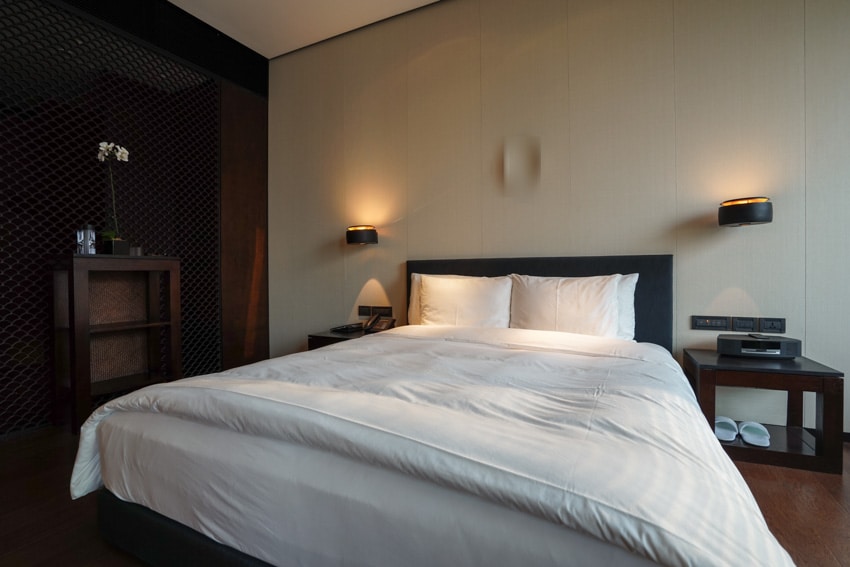 Wall-mounted uplighting is indeed an ideal complement to your bedroom, a terrific method of making a space feel more comfortable and cohesive, and an essential aspect of any layered lighting plan.
This bedroom wall light brightens and expands a room while providing a delightful ambiance. These fixtures balance overhanging light sources and offer a finishing touch to the décor.
Wall Mounted Task Lights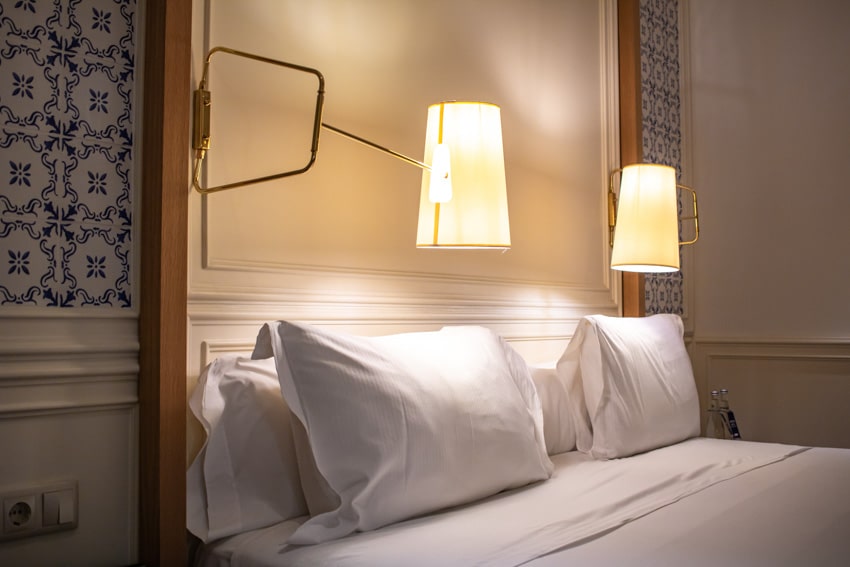 A wall-mounted task light, like a wall sconce, is affixed to the wall instead of dangling from the ceiling or resting independently on the floor or desk. They are, nevertheless, multifunctional lamps that will extend out from the wall whenever you need to use them and push back toward the wall when you turn them off.
You can search for a wall-mounted task light with a customizable reading light fixture so you can pull the light source out from the wall while you are lying in bed and read without bothering the bed occupant beside you.
Furthermore, you have to ensure that the foundation of your wall lighting is of a high standard so that it will connect safely and tightly to the wall; this way, you will not be concerned about the light fixture pulling away from the wall whenever you adjust it.
Nightlight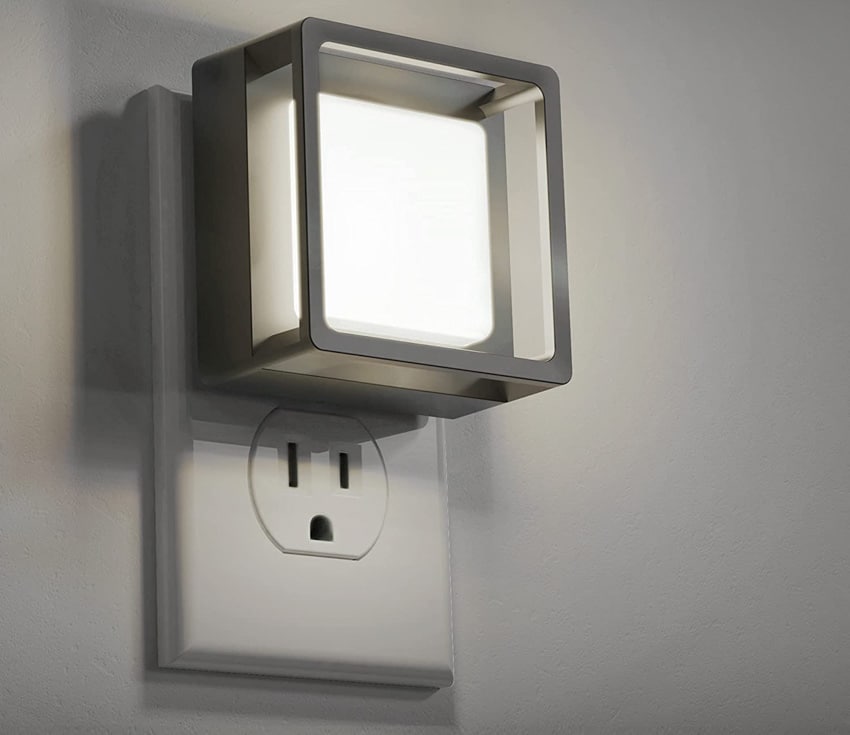 See this nightlight at Amazon [sponsored link]
A nightlight is typically placed in a children's bedroom to provide them with comfort and a feeling of security whenever they wake up during the nighttime. In contrast to the forms of light that are utilized during the day to significantly brighten up an area, nightlights normally just turn on whenever the room is completely dark.
You can select a nightlight with automatic detectors so that the nightlight turns on constantly, or one with a button so that the parent can manage it when the light turns on. Moreover, nightlights provide very little illumination in the room and necessitate the use of a special type of lightbulb.
Accent Lights For Bedroom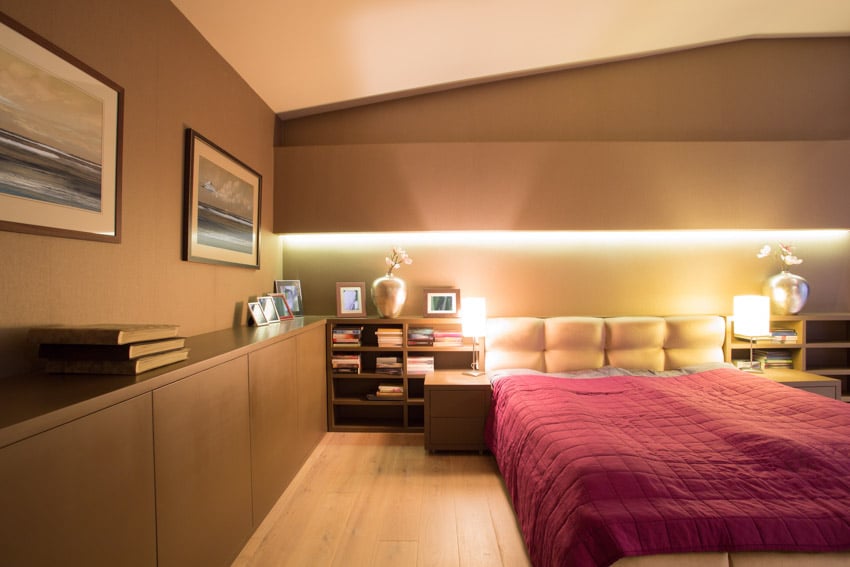 Here we share the different accent lights for bedrooms designs.

Furniture Mounted Lighting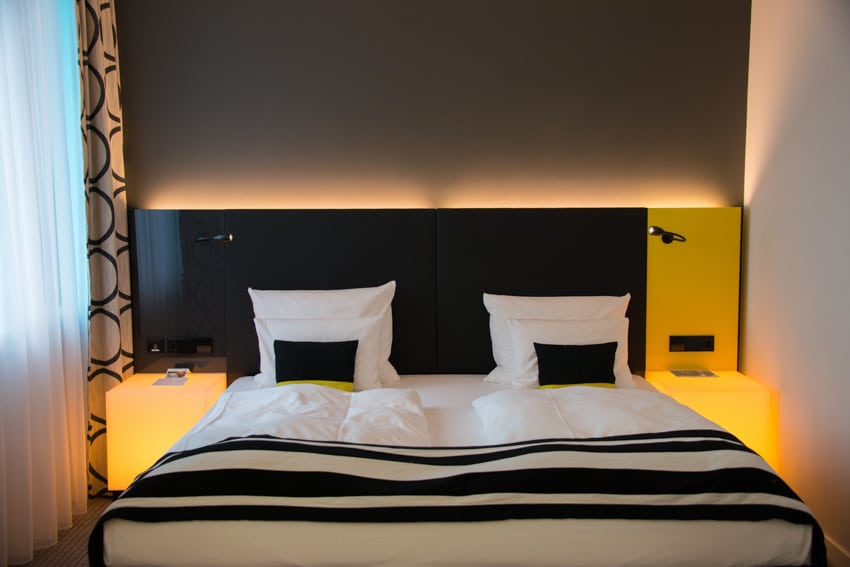 Furniture-mounted lights are attached to furniture rather than integrated into it. This form of bedroom lighting is available in a variety of shapes and sizes.
It is also suitable for bedrooms with minimal space between the main ceiling as well as the descending ceiling. Furthermore, furniture-mounted lights can be fitted with little modification to the surface on which they are installed.
Fairy Lights Bedroom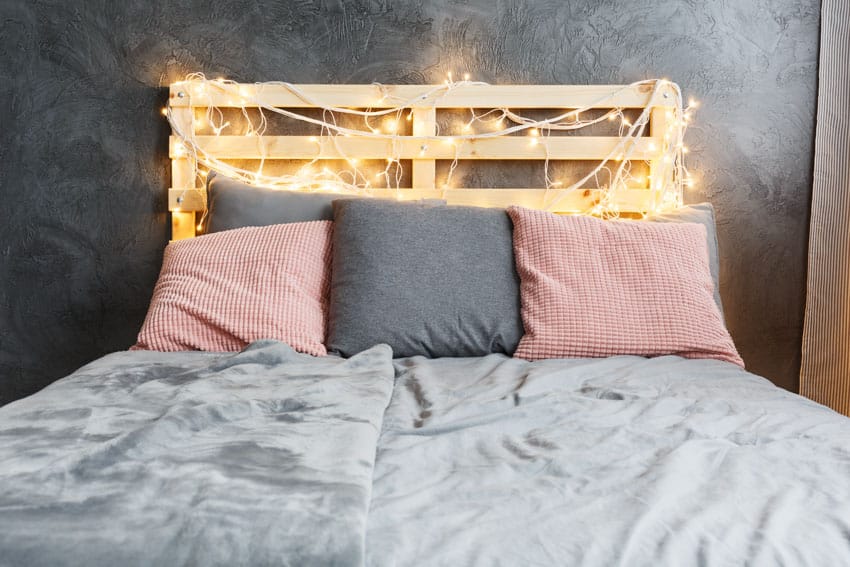 Fairy lights for bedrooms are very similar to the small lights used in Holiday decorations and other household decorations. They are composed of very small light fixtures placed close together.
There are several sizes and colors available based on the desired effect. Furthermore, because fairy lights are not extremely bright, they are considered more of a decorating element than a major lighting element.
String lights are, nevertheless, a quite versatile decorative lighting solution because they can be mounted quite quickly practically anywhere, including bedrooms. They can even be suspended from curtains or whatever else you can think of.
Bedroom Floor Lamps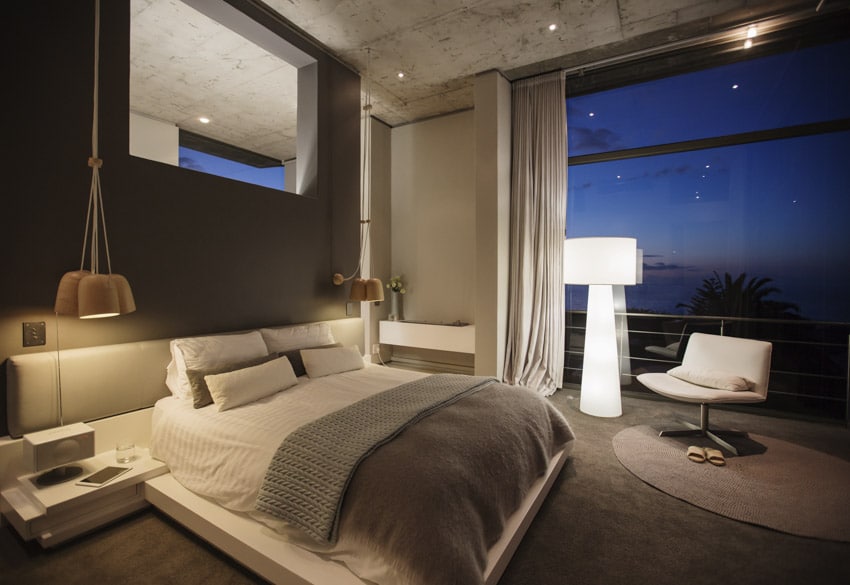 Here we share the different types of floor lamps for bedrooms.
Torchiere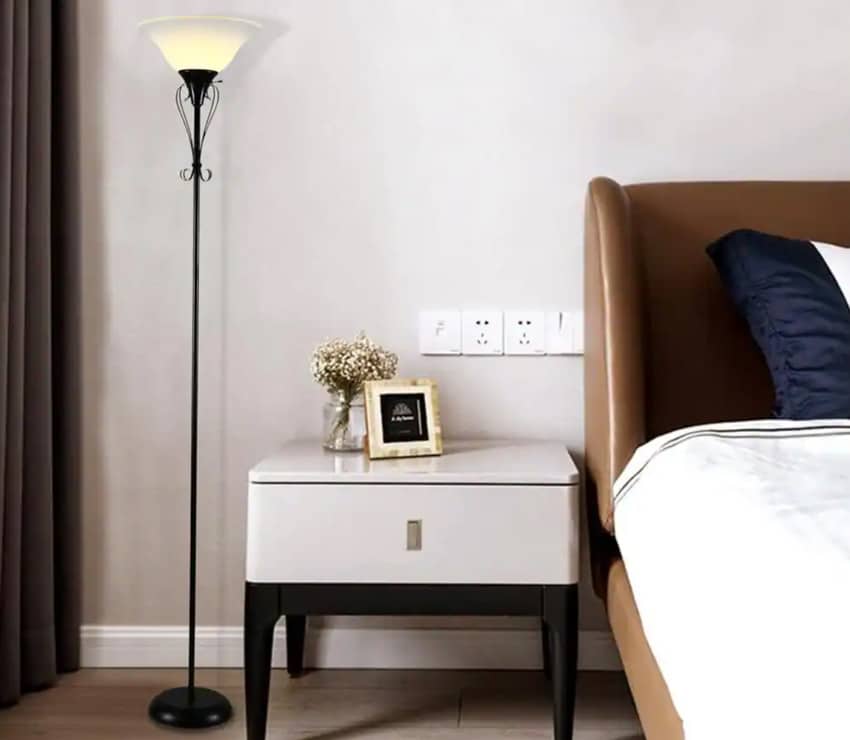 See this torchiere lamp at Home Depot [sponsored link]
A torchiere is a type of floor lamp that is easily identified by its upright, torch-like design with the lighting element pointing upward at the tip of a column. The name was inspired by the French word for "torch."
Torchieres take very little floor space and are adaptable and popular due to their discreet shape. Another benefit of torchieres is their capacity to offer wide illumination in bedrooms. The form directs light to the ceiling, where it works its way into a pleasant general light that illuminates the entire space.
A fixture with a dimmer switch and dimmer bulbs adds to the torchiere's adaptability, allowing you to soften or brighten the light whenever necessary. Because these light fixtures are available in a variety of styles spanning from classic to contemporary, you can select one that fits your style and budget.
Tray Lamp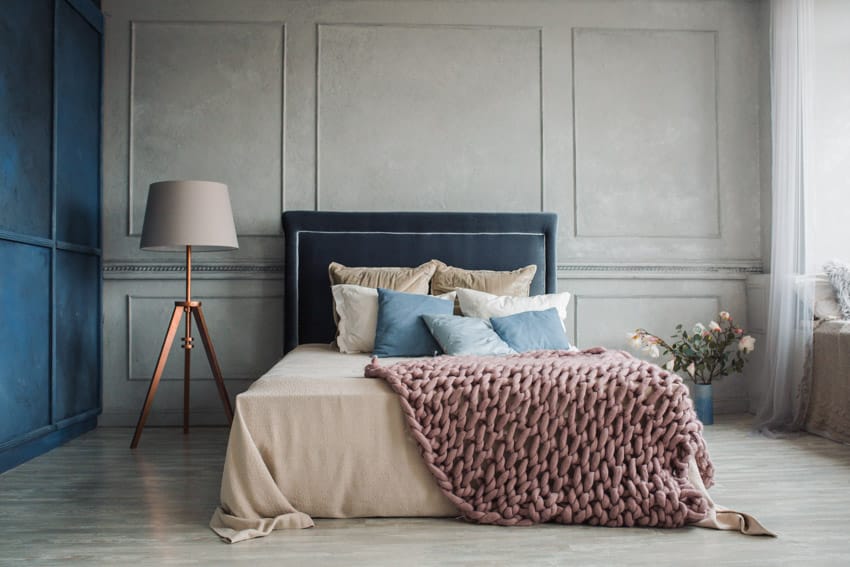 The tray lamp is also great for bedrooms. It is basically a floor light with a tray at table height installed. Numerous tray lamps have several legs to allow them to stay balanced without being adjusted. T
o satisfy different design trends, the trays of different lamps could be constructed of glass or other materials such as metal, marble, wood, plexiglass, etc.
This sort of floor lamp can be used for general lighting and can also function as an end table in compact spaces. The tray and foundation occupy less visual area than a table lamp on an end table. Tray lights are more expensive than standard floor lamps, but there are many low-cost choices available on the market.
Club Lamp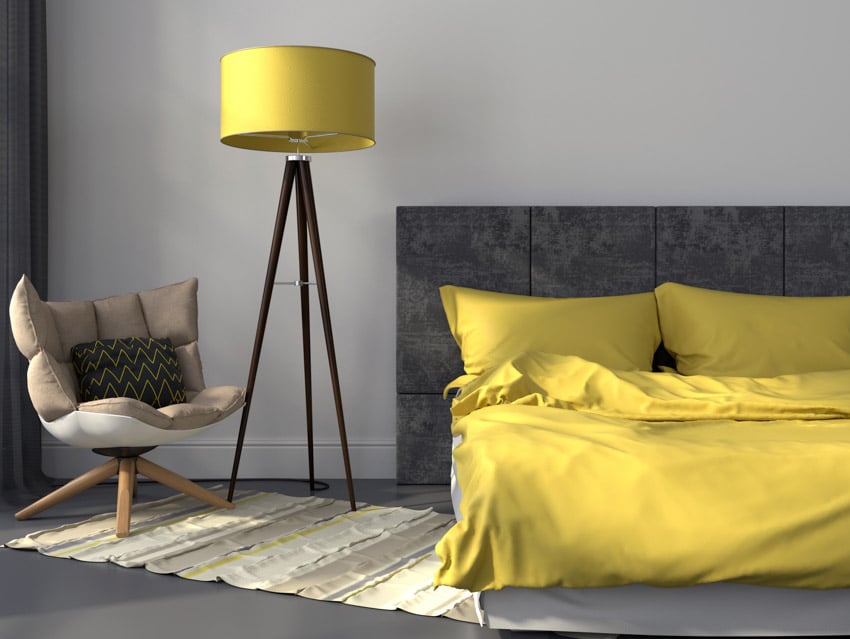 Another common style of bedroom floor lamp is the club lamp, which is a stick-like light source built for ambient lighting. Such lamps often have a three-way or dual socket controlled by a pulling chain.
A club lamp, like a torchiere, can be purchased in any design. A base, a pole, as well as a lampshade that lowers the light emitted from the sides are the elements of this bedroom floor lamp.
Club lamps are typically priced similarly to torch lamps, and can accommodate any budget, from cheap to expensive. Certain lamps of this type have big bottoms that allow them to stand upright, whereas others have less sturdy bases that must be leveled.
Tower Floor Lamp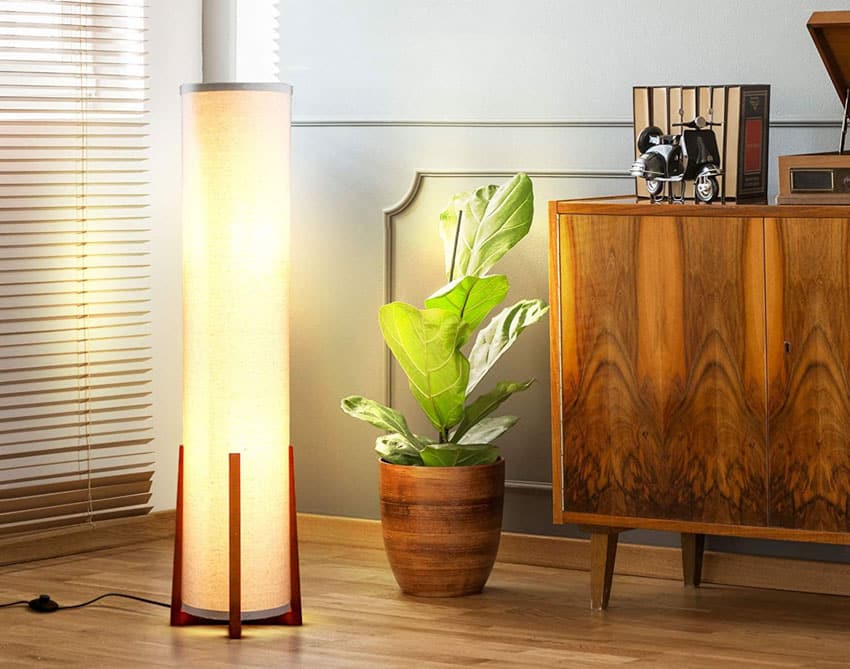 See this tower floor lamp at Amazon [sponsored link]
Tower floor lamps give ambient lighting in bedrooms while also appearing to be artworks or furniture during daylight hours. These lamps can be composed of a variety of materials, the most popular of which are soft materials that enable light to penetrate.
In addition, tower lamps come in a wide range of styles, from old-style lanterns to futuristic, architectural forms. These lights can also be used as design main elements in bedrooms or as storage when combined with an upright shelving unit.
Most of these are intended to emit a warm light. Tower lamps can be substantially more expensive than other types of lamps, and they frequently use specialized bulbs that necessitate a visit to the hardware shop to change.
Down Bridge Floor Lamp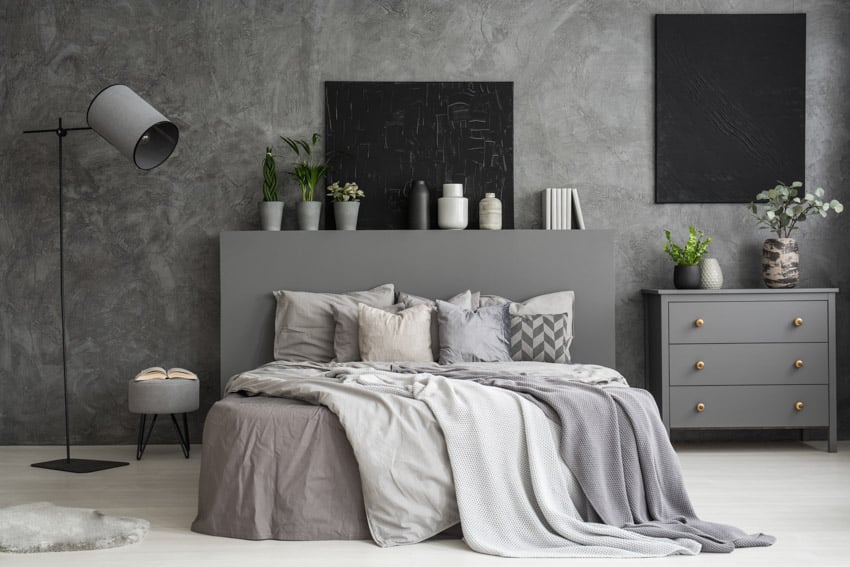 Down-bridge floor lamps distribute the light downward and are ideal for studying or task lighting in your bedroom. This structure is ideal for directing a flood of illumination onto your work, and it looks great next to a recliner. The socket and shade are angled, and the shade is frequently wrapped around the lightbulb socket.
Newer down-bridge floor lamps may be slightly more expensive than classic types, but on average, this type of floor lamp is fairly inexpensive. The majority of these lamps use regular light bulbs that can be obtained in most places, therefore the bulbs can usually be easily changed.
Bedroom Table Lamps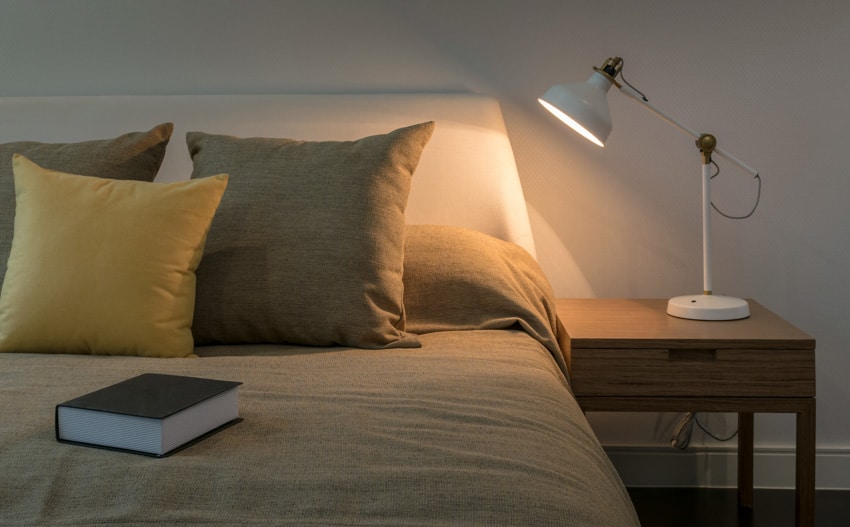 Traditional Bedroom Table Lamp: Table lamps are a traditional form of lighting for just about any bedroom decor or size. They are available in small sizes that complement bedside tables or bigger floor lamps that are ideal for placing in corners to provide more illumination.
Among the reasons why so many individuals appreciate getting a bedside table lamp in their bedroom is that it enables them to hop into bed and finish a task, enjoy a book, or communicate with their partner before just flipping over and switching off the lights.
Since you can access the table lamp from your bed, you are not required anymore to inconveniently get out of your bed to switch off the wall toggle. Table lamps are a terrific way to modernize your bedroom, and because the shade can be quickly switched out for a different trendy color, you can showcase your style and modify your décor whenever you want.
Portable Reading Lights: The vast majority of portable reading lights are battery-powered and rechargeable. This small-scale table lamp, driven by battery for maximum portability and versatility, can cast an appealing glow wherever you position it.
To facilitate mobility, most portable reading lamps are cordless. These are generally used as reading lights or to highlight gloomy places in a room, most commonly on side tables as well as end tables.
Bedroom Light Fixture Features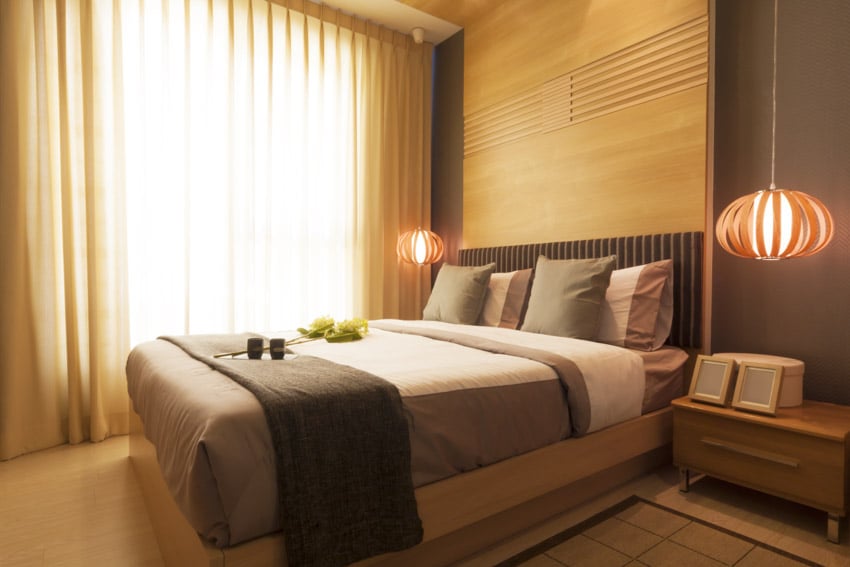 Smart Capable: Indeed, you can take into account smart-capable light fixtures to make regulating the level of illumination in your room as quick and straightforward as possible.
This innovation uses sensors and customized controls to help make sure that your space is as bright as needed while consuming minimal electricity. The motion sensor on the light will detect movement in the room and evaluate whether or not the light should be switched on.
In addition, if you choose a lamp with smart daylighting innovation, which reduces the intensity of light generated when the space is flooded with ambient daylight, you can experience significantly reduced monthly expenditures. Homeowners can normally make the lamp produce more lighting or switch off the entire lighting system by waving their hands near the detector.
Different Colors: A color-changing lamp is often a small gadget that plugs into an outlet and provides points of light around the room's floor area. It may generate a stream of colorful lights that are great for creating a joyful ambiance.
Bedrooms that are softly illuminated with these lamps and strategically placed close to the ground of the space may help to create an exceptional atmosphere for relaxation or meditation.
Aside from a fascinating and engaging display of different colors, the lamps also generate an ambient lighting impact that can be energizing or restful, depending on the colors chosen and the pace with which the colors move within the lamp's structure.
Portable: Portable lamps are ideal to be used as nightlights in a kids' bedroom if you do not prefer to use one that is connected into the wall at all occasions. When monitoring a baby, you may easily carry these lamps with you around your home, allowing them to be left in their bedroom or taken once they have calmed down.
Since portable lamps often require charging, it is critical to purchase a high-quality model so that you do not have to recharge it every evening that it is in operation. Otherwise, it will just contradict that the main purpose of the lamp is portable. These portable lamps also make it extremely simple for a child to get ready for the day.
Timer: Some bedroom light fixtures, particularly table or desk lamps, include a timer. Light fixtures that come with a timer feature are especially useful for homeowners who are always busy or not at home as they can adjust the light's schedule of automatically turning on and off.
USB/Charging Ports: Numerous individuals charge their phones at night when they sleep. When you choose a table lamp with charging ports, you will no longer be concerned about whether your phone is completely charged and fully set for use in the morning.
You can start looking for a lamp with several USB charging ports so that you may charge all of your valuable gadgets at night. This bedroom light feature will assist you in keeping track of each of your devices and keep them recharged in all instances. As a result, you will not have to fret about whether your cable will extend from the socket on your wall to your side table.
High Brightness Output/Dimmable Feature: Lamps with a high brightness output feature make it simple to light up different places in your bedroom or aim the illumination where it is needed.
You can manage different light outputs, allowing you to have either a significant amount or minimal light generated in your room, whichever fits you the most. However, the ability to reduce the level of light that your lamp produces allows you to effortlessly manage how dark or bright your bedroom would be.
Bedroom mood lighting can be particularly interesting to couples. If an individual stays up late or gets up early, a dimmable lamp would be a terrific method to obtain the light necessary to navigate the bedroom without accidentally disturbing the other bed occupant.
When selecting a dimmable light fixture, be certain that it provides a variety of settings as to how much light gets produced. This will guarantee that you can maintain the brightness or darkness of your room.
Bedroom Light Fixture Finishes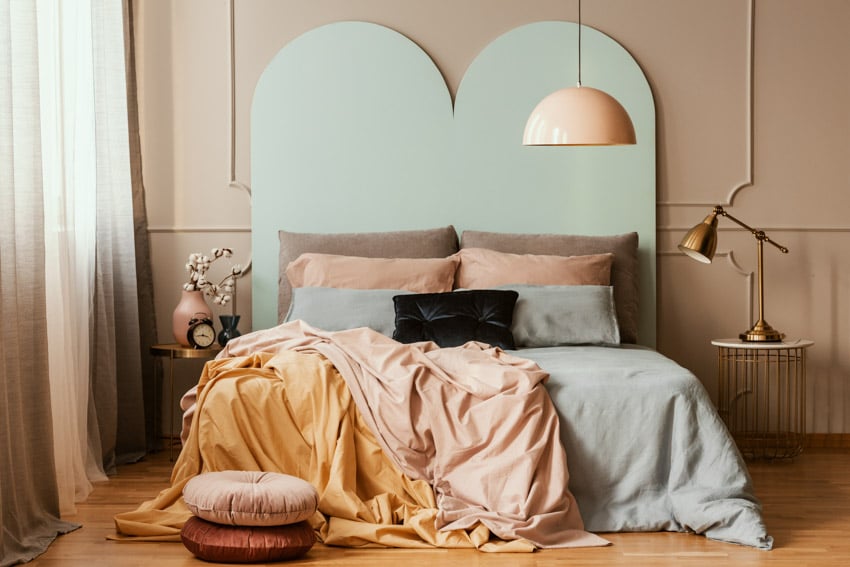 Here we share the different finishes of bedroom light fixtures.
Brass: Brass is a superb choice for a livelier bedroom, although it also functions well when accompanied by darker shades. If you wish to embellish your bedroom with a huge amount of white and tan.
If you want deep earth tones like green or brown, brass can maintain its natural and timeless elegance, making it a wonderful option for individuals who like to change their atmosphere regularly.
Nickel: Because of its rich hue and sparkle, nickel is a prevalent finish for bedroom lighting. Nickel is a phenomenal option if you have designed your bedroom using muted tones and pure white since it will add to the room's natural light and make sure that your bedroom is perfectly bright.
Unlike those lamps with darker finishing, which can stand out in a bright and open area, nickel can blend well with the majority of your neutral-colored bedroom while still adding a bit more sheen and brightness.
Bronze (Oil-Rubbed): Bronze-finished bedroom lamps, especially the oil-rubbed ones, are an easy selection if your bedroom is designed in rich and deeper colors. Lighting fixtures using this finish have a more melancholic appearance but are quite appealing.
One noticeable advantage of choosing this finish is that fingerprints will not appear in the same way they do on most finishes and surfaces. Thus, you might not need to clean your oil-rubbed bedroom lamps that frequently.
Natural Wood: When used right on a lighting fixture within your bedroom, genuine wood may be a fantastic alternative. Wood is quite cozy and welcoming, which can substantially increase your feeling of comfort while approaching your bedroom. You must select a wood that will complement the majority of your décor and color palette.
Certain types of wood such as oak are light enough to work beautifully in a neutral area without being overpowering, and they will lend a rich yet mellow tone to your bedroom that a metal finish will struggle to replicate.
What Size Light Fixture For Bedroom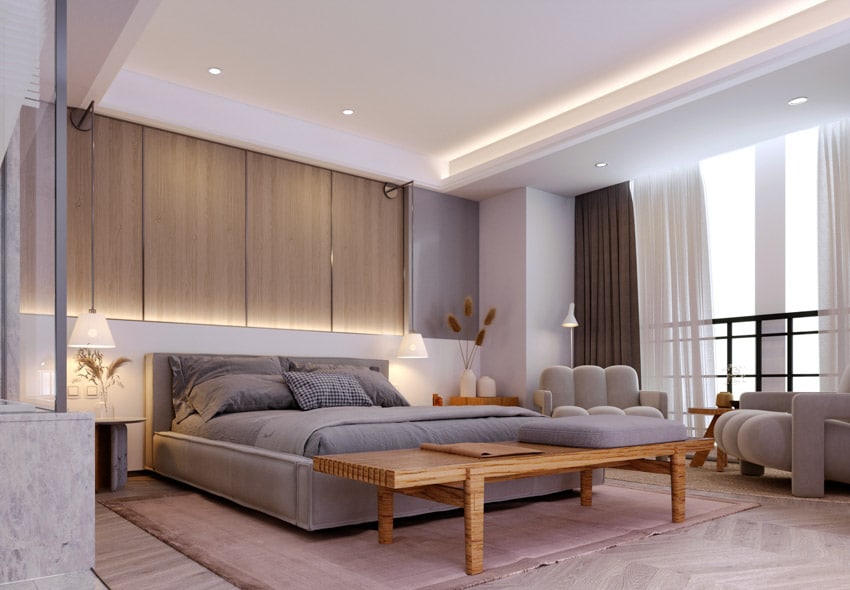 Here we share the different tips to determine the ideal light fixture size for bedrooms.
How To Determine The Size Of A Light Fixture For A Room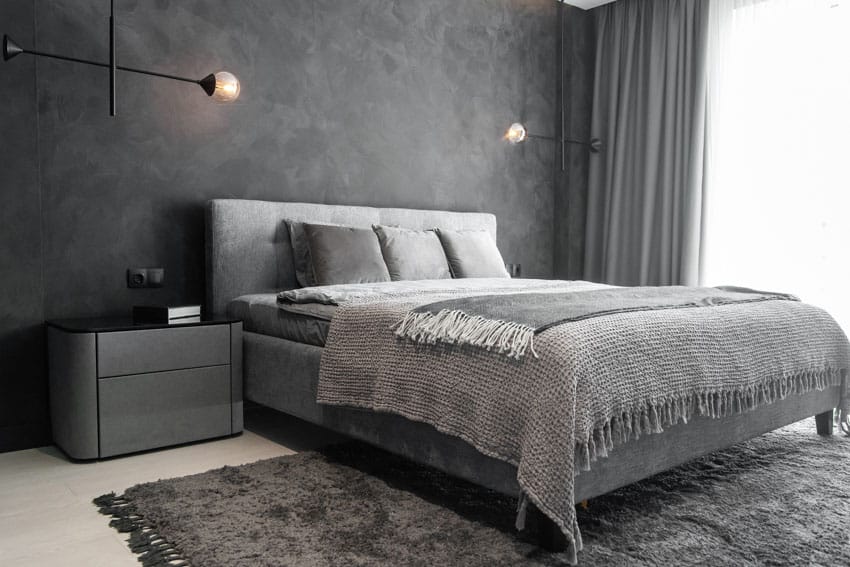 To assist you in determining the diameter of your bedroom light fixture, keep in mind that there is an established standard that you may use as a guide.
You must measure the width and length of your bedroom in feet and add them together. The resulting amount, given in inches this time, will serve as a starting point for determining what diameter would look good in your bedroom.
What Size Ceiling Light For Bedroom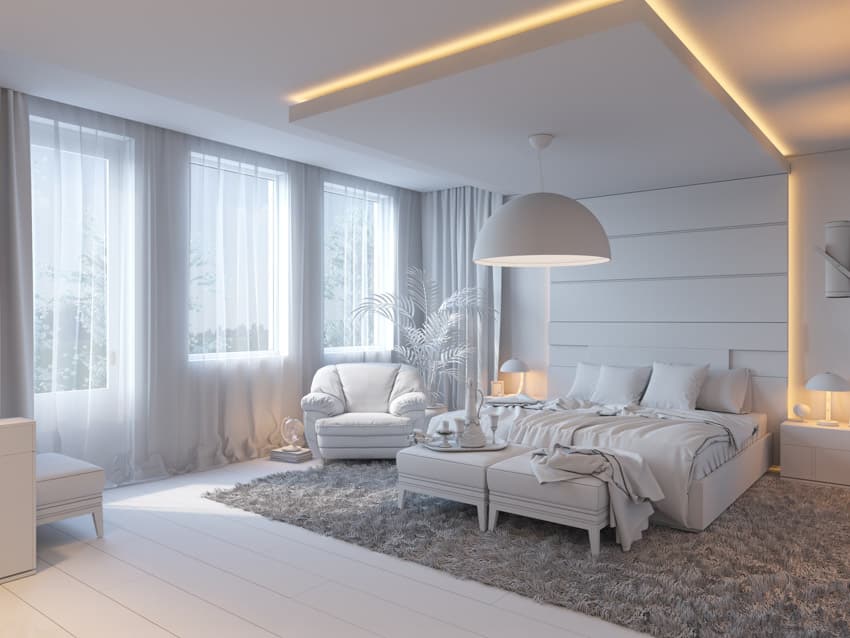 To get the correct size of the ceiling light fixture for your bedroom, you can add the length and width of your room in feet. Afterward, you can use the sum to obtain the diameter of the light fixture in inches.
A 22-inch diameter chandelier, for instance, will be ideal for a 10-by-12-foot bedroom. The hanging elevation should be at least 7 feet from the ground to the lower end of the shade.
Nevertheless, if your lamp hangs straight above the bottom of the bed, hanging it a little lower will provide a more romantic and warm effect.
What Size Flush Mount Light For Bedroom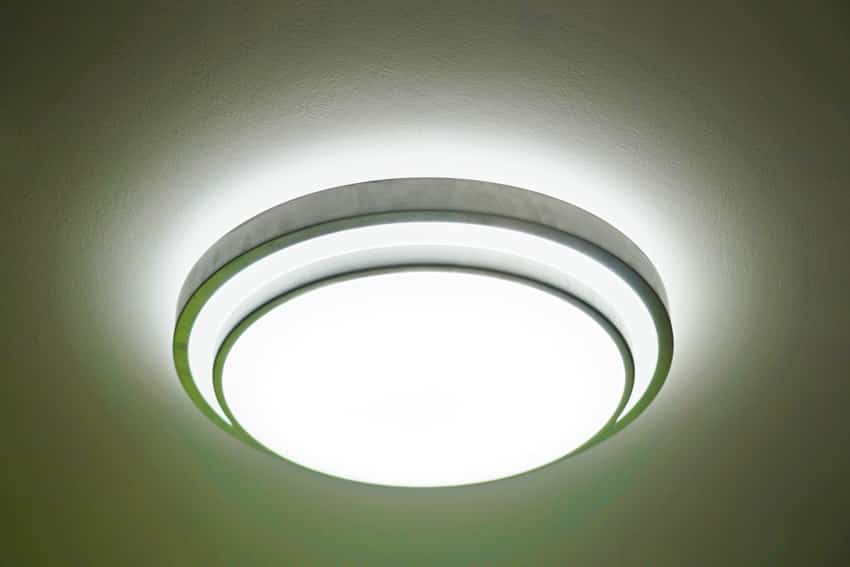 The size of the flush- or semi-flush mount light fixture you select is determined by the dimensions of your bedroom. Nonetheless, the standard flush-mount light fixture is usually 13 inches in width, with sizes ranging from 12 to 24 inches. Semi-flush mount lights, on the other hand, can range in width from 6.5 to 23 inches.
Best Placement For Can Lights In Bedroom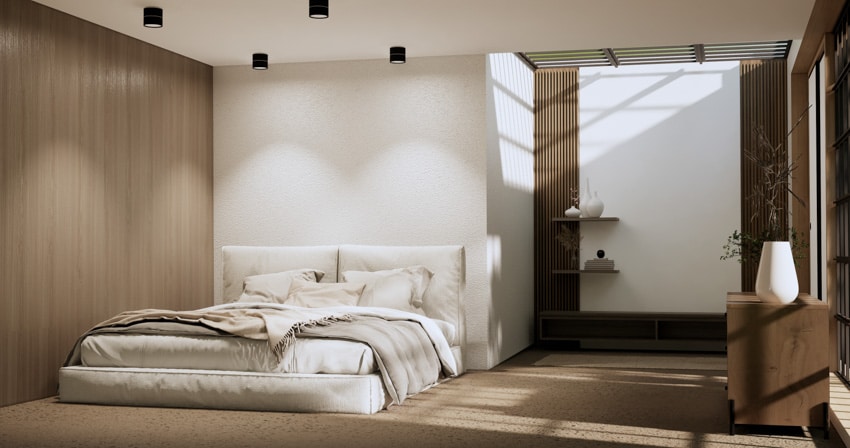 The general rule of thumb for placing can lights inside a bedroom is to divide the height of the ceiling by 2. As a result, the amount of space to allow between each can light will be determined.
Can lighting spacing, for instance, would be 4 feet between every fixture in a bedroom with an 8-foot-high ceiling. This will allow for adequate spacing for ambient bedroom illumination.
Aside from that, when placing can lights, you have to keep them at least 2.5 to 3 feet away from the walls of your bedroom. The can lights might cast an unsightly shadow if they are placed to close to the wall.
Best Color Light Bulb For Bedroom
Using a light bulb that is slightly orange or amber helps to simulate the impression of the setting sun. Orange and amber light fixtures are the best option for your bedroom since they promote productive sleep and healthy biological performance.
If you are a fan of white lights, then the most ideal lighting colors for bedrooms are warm white (2200 to 2700K) and standard warm white (3000K). Generally speaking, individuals dislike waking up in overly bright illumination.
As a result, many people may consider warm white illumination to be overly bright. However, since everyone's preference for bedroom lighting color varies, dimmable bedroom light fixtures may be a smart idea.
Best Light Bulb Wattage For Bedroom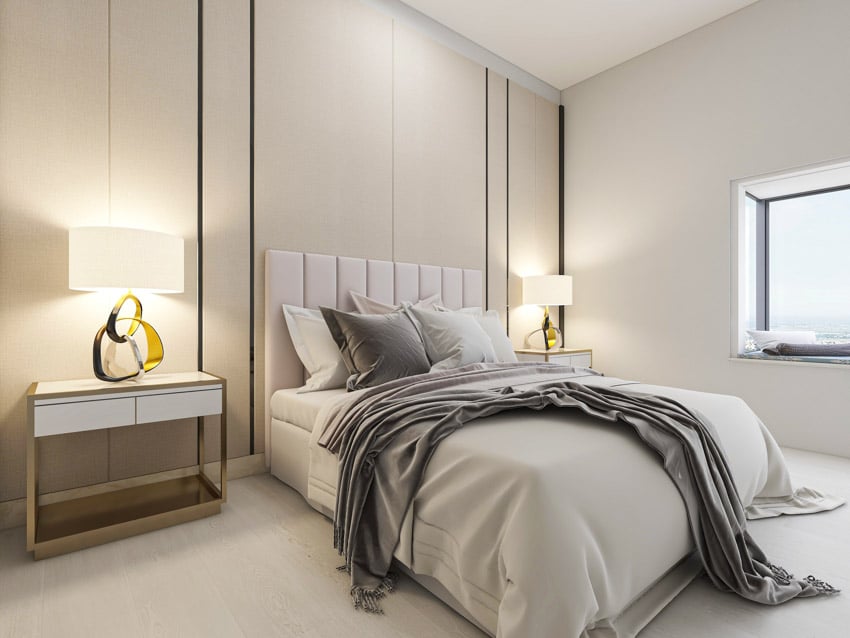 A light bulb with an approximate lumen rating of 800K would be appropriate for a bedroom. This is basically equivalent to a 60-watt incandescent light bulb or less. You will have adequate light to read with this brightness setting, but it will not cause you to feel awake whenever it is time to go to sleep.
See more related content in our article about romantic bedroom lighting on this page.