Find out what is a penny tile backsplash including its pros and cons, materials, sizes, bathroom & kitchen design options, and cleaning tips for penny tiles.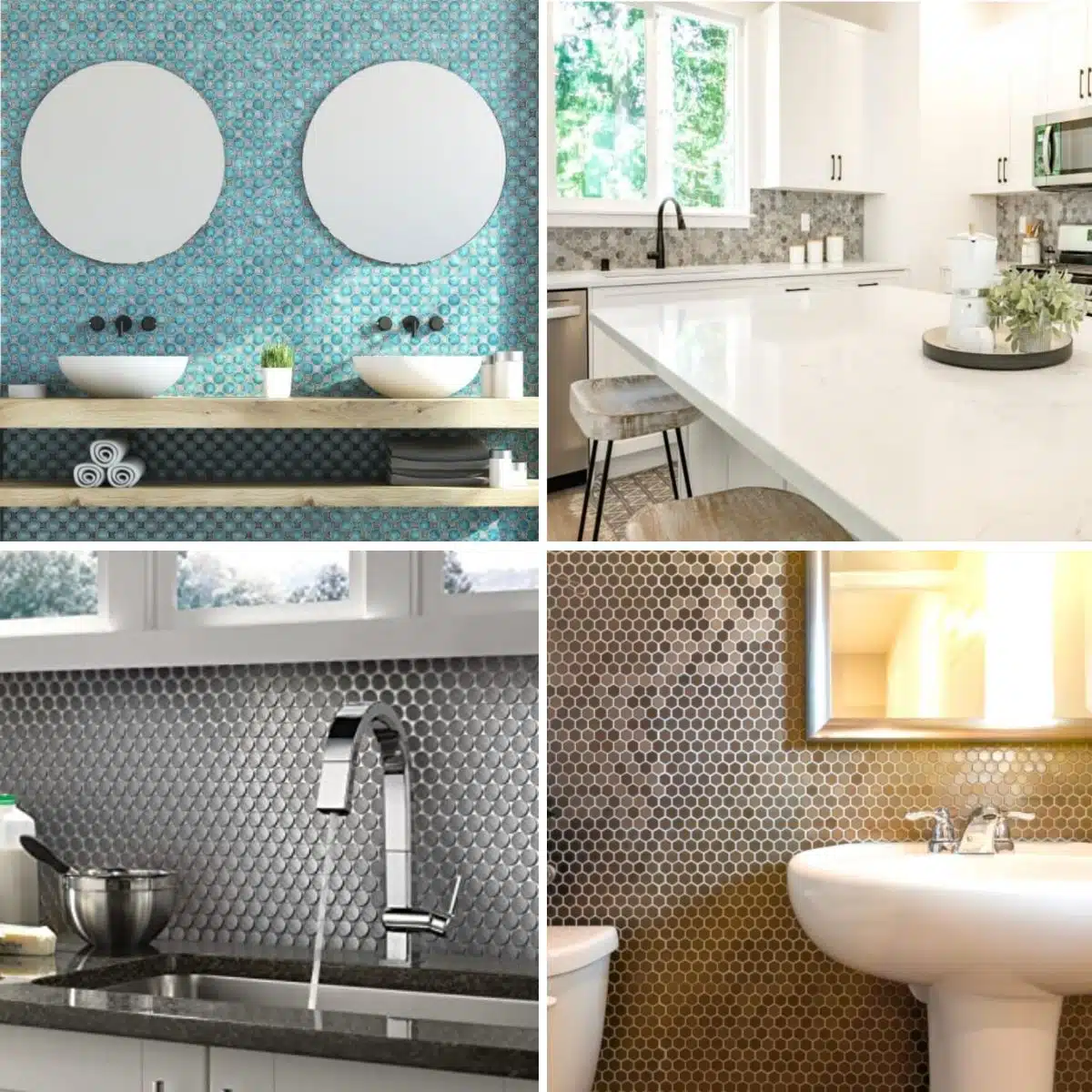 Penny tiles are very closely related to hexagon tiles and they have been around for quite a long time now. This is one of the more classic types of kitchen backsplash, and you are guaranteed that it isn't outdated or anything like that because they are dynamic and versatile.
There's a good reason why they've been around since the 1900s and they're still going strong to this day. They look great and can fit into both contemporary and traditionally styled kitchens. They can adjust accordingly depending on your décor preferences.
Penny Tile Backsplash Pros And Cons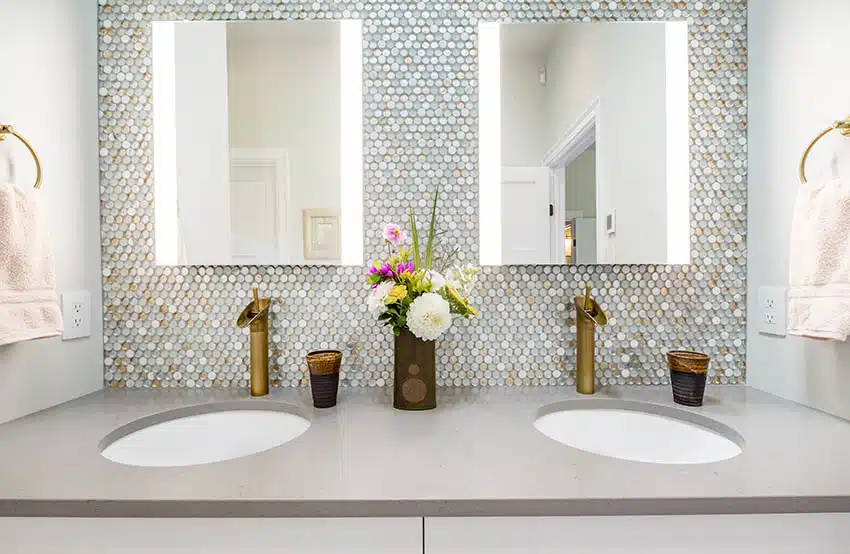 Now that you have a bit of an idea about penny tiles, let's get down to the details of why they're still popular even to this day.
Pros of Penny Tile Backsplash
High gloss tiles are easy to clean – You'll oftentimes get lots of kitchen grease and food splatters in the kitchen and although you want to be able to easily clean them off, you also want something that has high traction. This works for instances wherein you want to match your backsplash with your countertop texture.
They have a high traction nonslip surface. This can make penny tiles great for areas that tend to get wet or greasy a lot. The kitchen is one such space in the home.
Works for curved surfaces – On top of that, penny tiles are great if you have to deal with surfaces that aren't perfectly flat, such as curved ones. So if you want to go for a slightly curved or textured wall or backsplash, this shouldn't be that much of an issue with penny tiles.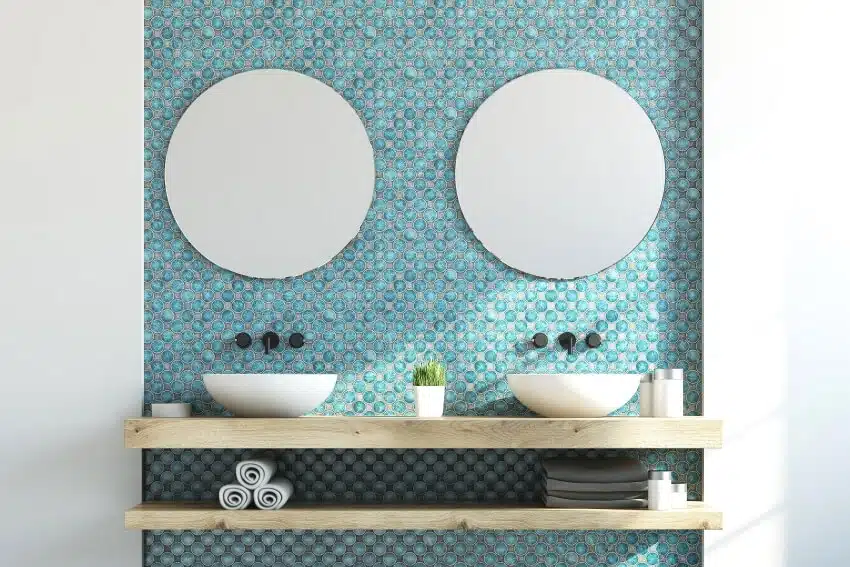 Many creative design choices – They come in a variety of design styles, are easy to source and install. They usually come with mesh sheets which means that you don't necessarily have to install your penny tiles individually. They can be sourced affordably and you get to source them out in different tile patterns, colors, designs, and even sizes.
Penny tiles are very durable – If you make sure that they are topped up with some epoxy or some type of sealer, once glued down to your backsplash wall, you can rest assured that they are going to be around for quite a long while and they're not going anywhere anytime soon.
DIY friendly backsplash – And the best part about penny tiles is that they are DIY-friendly. If you're an avid DIYer you'll want an easy project that you don't have to hire professionals for.
If the area you plan to tile is small, narrow, or unevenly shaped, penny tiles (round tiles an inch or less in diameter) or one-inch squares make cutting and laying easy. – Popular Science, September 1984.
Installing penny tile sheets for your backsplash is the perfect entry-level DIY project you can play around with. It will not only help you lower your cost, but it's also a great way to boost your creativity.
Cons of Penny Tile Backsplash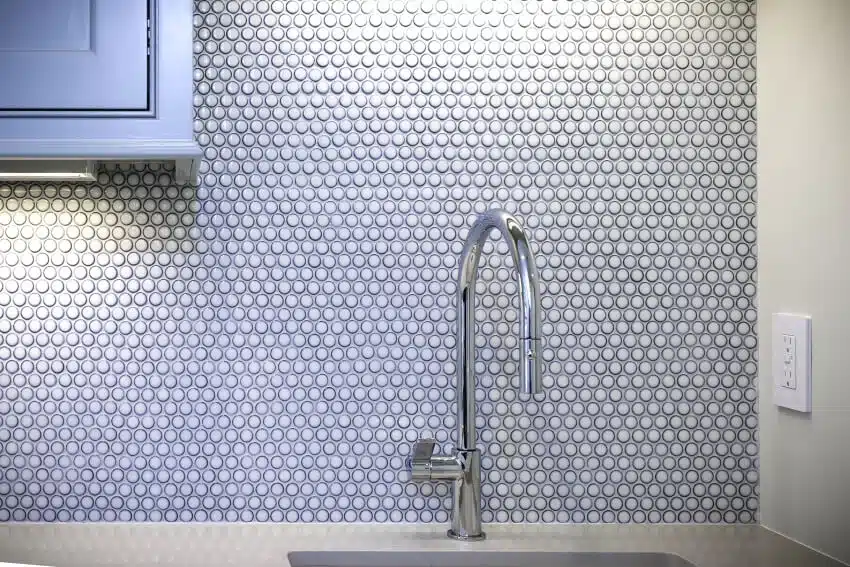 Cost – They can be expensive. Even if you're upcycling actual pennies for your kitchen backsplash, opting for penny tiles as a backsplash material will at some point still end up being costlier than regular tiles.
Can be labor intensive – Regular tiles don't require a lot of intensive labor and more than that, they don't require you to glue individual pennies against the backsplash. However, this can be countered by buying penny tiles that have been grouped with mesh backing.
Hard to Remove – The installation and removal can be complicated. The installation can be time-consuming and very meticulous and unless you're a very patient DIYer, there's a pretty good chance that you will want to hire pros to get this done.
If you want to attempt to get this done on your own, you need to make sure that you have the time and patience for it in the first place or you might never end up finishing it at the end of the day.
Hard to keep clean – It requires rigorous daily cleanup and maintenance. There are tons of grout lines to cover with penny tiles. It will take a lot of time to clean it. You also need to make sure that they are resealed now and then to make sure that they are in top condition all of the time.
Penny Round Tile Backsplash Materials
Penny tiles usually come in ¾" diameter, the size of a typical penny. However, over the years, this standard size has expanded and these days, it isn't uncommon to find penny tiles that are up to 1" in diameter or so.
The most popular material they're made out of is typically porcelain but they can come in a wide variety of materials such as ceramic, glass, metal, stone, and in some instances, even cork.
Glass penny tiles are highly glazed and have a high gloss appearance. They can make your backsplash look polished and sophisticated, but they also tend to crack and chip easily because of their brittle nature.
Metal penny tiles look very luxurious and are a little more durable. They can fit into any type of contemporary design for the kitchen.
Here's some more details about the popular types of materials used for penny tile backsplash.
Ceramic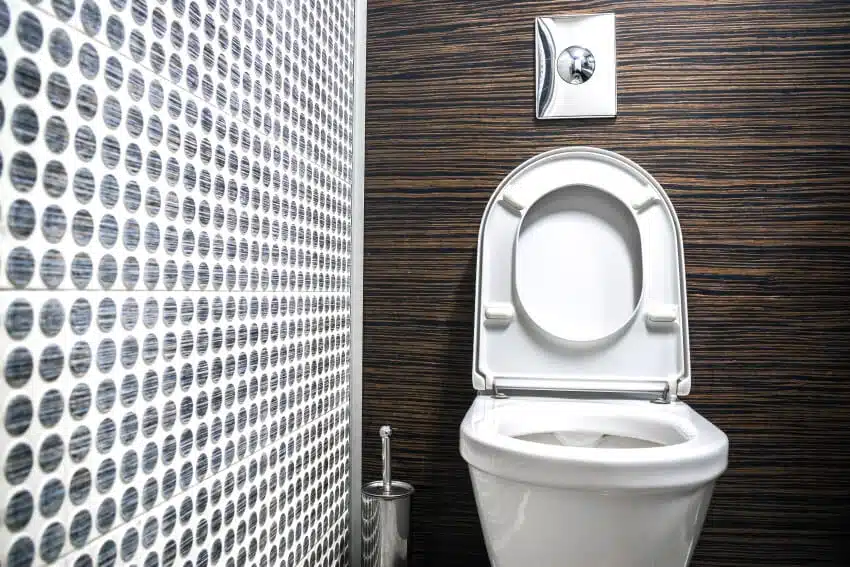 These are round or circular penny tiles that are oftentimes made out of ceramic. There is another variation wherein the material can be made out of porcelain.
The sizes can range anywhere from 3cm in diameter to 5cm in diameter. They can come in a lot of different textures from matte ones, to glossy ones, to metallic, ones, and even textured ones.
You can choose according to your kitchen décor and based on the type of look that you would like to create for the rest of the room in the first place.
Ceramic is also technically waterproof, stain-proof, and fireproof, which means that it's a great material to have as a backsplash given that it's an area that gets a lot of exposure to heat, stains, and moisture.
Glass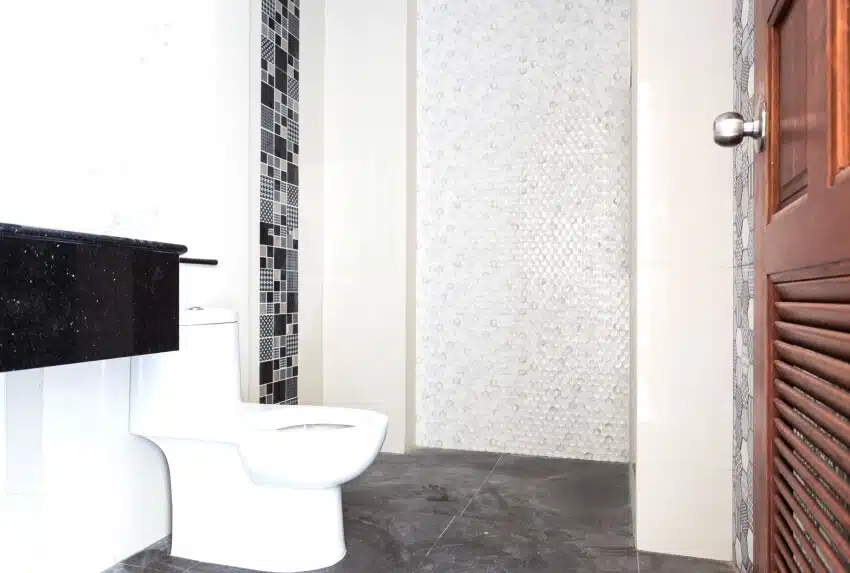 Glass penny tiles can be gorgeous, especially when used as a backsplash material. They aren't recommended as flooring material as they're glossy and have bright and reflective finishes.
This means that they can get pretty slippery especially when wet. Although this is a huge downside when you take a look at it as a flooring material, it can be a strength when you consider glass penny tiles as a backsplash.
You need materials that dirt and grime easily slide off of when you're thinking about backsplashes and glass penny tiles are technically perfect for that. Cleaning glass tiles requires nothing more than a basic wipe and your backsplash is already properly cleaned and maintained.
Marble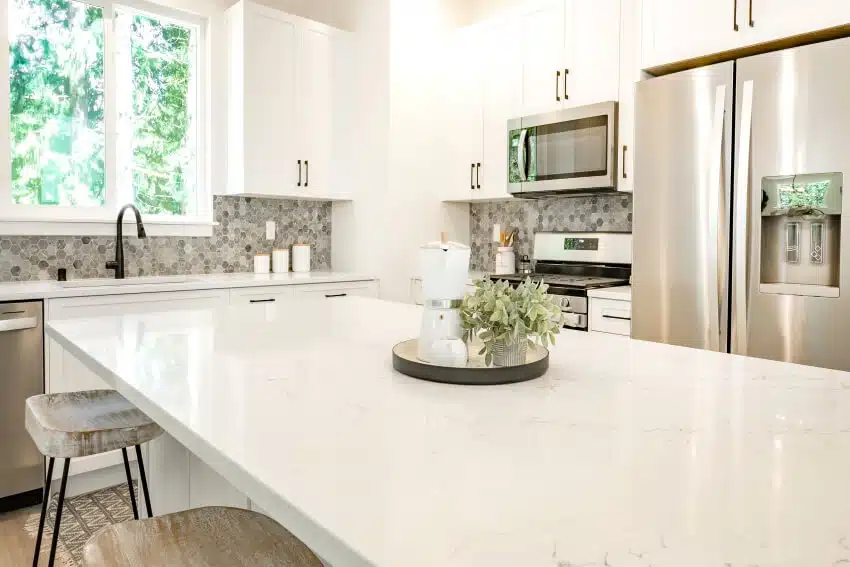 Marble is a durable natural stone material but at the same time, it's also one of the most luxurious ones out there. What's great about penny tiles that are made out of marble is that not one of them will ever be identical.
They each look different or have some sort of variation from the colors, to the veining, and even to the visual texture at times. If what you're after is a backsplash that's visually interesting and has a vibe of luxury to it, marble penny tiles should be your go-to as a backsplash material for your kitchen.
Take note though that marble is nonporous due to its organic nature. If you want it to last longer, you need to make sure that these penny tiles are sealed properly.
Backsplashes are notorious for getting a lot of exposure to heat, water, and even liquid food spillages. You need to make sure that your marble backsplash tiles won't stain easily by having a special layer or coating of protection.
Mother Of Pearl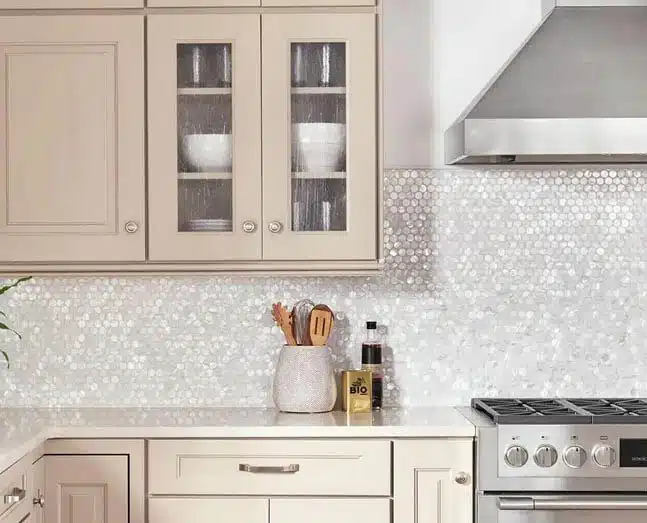 See this mother of pearl penny tile backsplash at Home Depot [Sponsored link]
Nothing quite brings in a visual of luxury and bliss as the appearance of pearls. This is exactly what mother of pearl penny tiles can bring to the table when they are used as backsplash materials for your kitchen at home. It has luminous tones of pearlescent white. It can make your kitchen area appear upscale and more high-end.
These penny tiles have a touch of brightness to them. They effectively reflect light and are reminiscent of the ocean. This is important as kitchens in general need to appear bright and sunny. They need to be the most cheerful area in the home as this is where a majority of home activity happens.
The ocean invokes a lot of core memories such as walking hand in hand with a loved one by the beach, on summer days or taking some time away from the humdrum of daily life. A mother of pearl backsplash material looks beautiful but at the same time, it creates a statement and can easily transform your backsplash into an accent wall for the kitchen.
Stainless Steel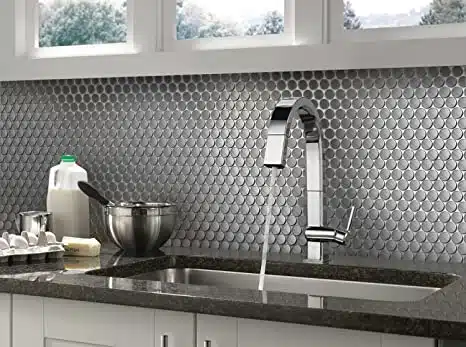 See this stainless steel penny tile backsplash at Amazon [Sponsored link]
Stainless steel penny tiles are timeless and they have an industrial metallic appeal to them that no other penny tile material can deliver. The silver shine coming from these penny tiles can produce a modern-looking kitchen backsplash. It's clean and gleaming and looks modern or at times even recreates the look of a commercial-looking kitchen.
If what you're after is an industrial-looking finish, stainless steel penny tiles can be the perfect material to experiment with. It can give your kitchen backsplash a futuristic design and a valuable modern touch.
Stainless steel backsplash surfaces are easy to clean and maintain. For an area that is prone to messes, splatters, and other types of spills, this can be quite valuable. Pair this with stainless steel kitchen appliances and you'll have a cohesive ultra modern design for your kitchen space.
Penny Shaped Tile Designs
Here a few of the most popular penny tile backsplash design options.
White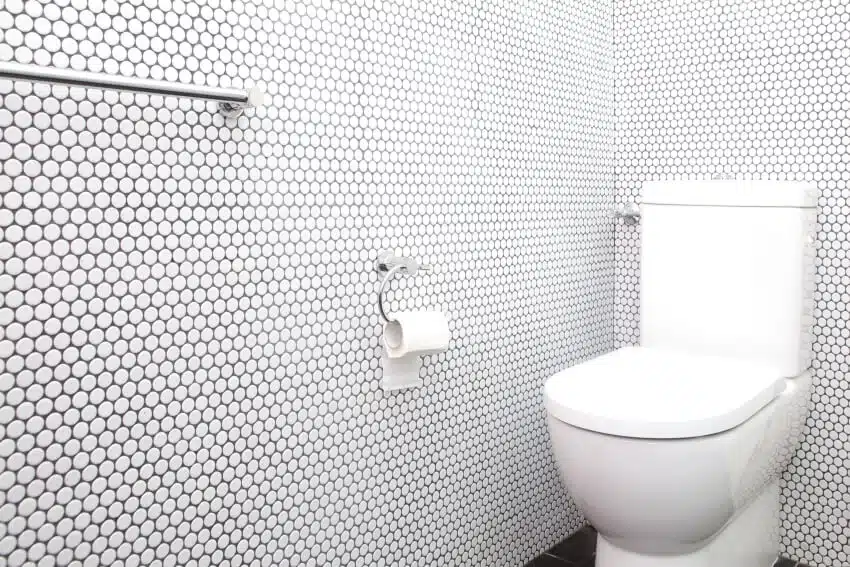 A white penny tile backsplash can create a classic and retro feel for your kitchen space. If what you're going for is a glossy finish, it can create a dramatic effect. You can amp this up even more by adding some contrasting grout, such as one in black. If you want a more cohesive and uniform feel to it, you can go with a grout of the same color.
It creates a really clean and airy-looking area. Your backsplash is usually right behind your kitchen stove. Creating something bright and airy can make all of a difference in the world. It can widen up your space and make it appear bigger and brighter than it is.
White is a classic color and that's for a really good reason. It doesn't clash with any colors. It can work with literally any design scheme or color palette you might have in mind. It's the perfect neutral to go with anything you can come up with.
Black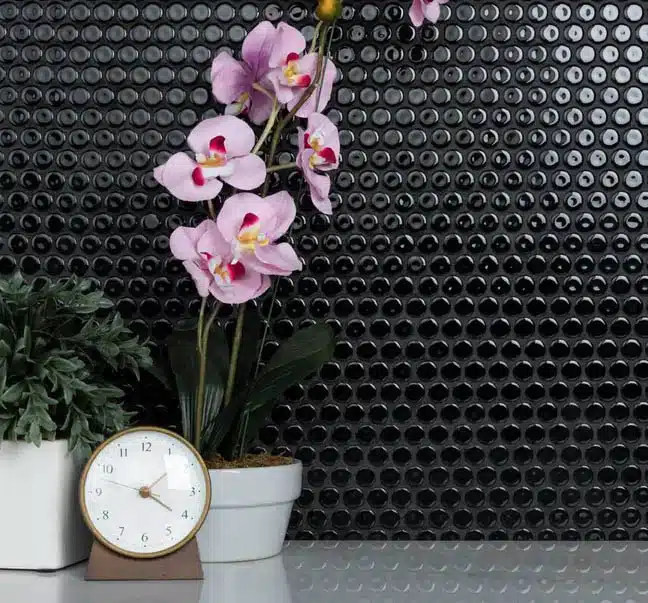 See this black penny tile backsplash at Home Depot [Sponsored link]
Black penny tiles are a major contrast from the white ones but they can also create a somewhat retro feel if used as a backsplash material for the kitchen. If what you're looking for is a bit different and a bit more dramatic, black penny tiles are the way to go.
This brings in bold contrast and any contrasting elements brought in can add a certain drama to any space. You need to be careful with getting a black penny tile backsplash installed though especially if you don't have that much space in the kitchen. Small kitchens can look and feel cramped with a darker backsplash.
However, this shouldn't be that much of an issue if you have a fairly spacious kitchen. It can make it a little cozier and look a little more together. Read more about potential kitchen backsplash mistakes here.

Copper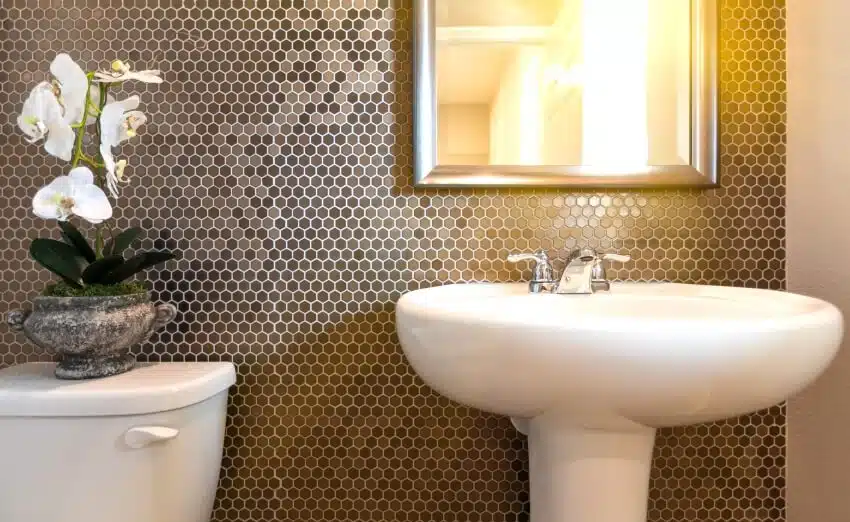 Copper penny tiles have become more and more popular as backsplash materials. It creates a unique look and feels for the kitchen area. What's interesting about copper penny tiles is that you can have two options to go with: maintain its original brilliance and color, or let its patina darken naturally over time.
People would initially think that copper is high maintenance and hard to work with but it isn't the case at all as long as you use all of the right techniques. Copper can turn green over time due to its reaction with air and water. There isn't anything wrong with letting this naturally occur.
It's either that or you can rigorously maintain the look and feel of shiny new copper. If you want to protect the appearance of copper, you need to make sure that it's properly sealed and protected.
Cleaning copper surfaces isn't complicated at all. You will usually only need some soap and water to clean your copper penny tile backsplash. If you want to take it up a notch and make the copper appear shinier and brighter though, you can always use the added layer of some copper cleaner.

Blue
Your kitchen backsplash can set the mood for the area. Opting for a blue penny tile backsplash can turn out to be a design statement or easily an accent wall.
Blue is a particularly popular color. It represents the sky and the sea and is typically associated with freedom, wide open spaces, peace, expansiveness, and general feelings of inspiration and good vibes.
Blue is also a particularly intelligent color and that's exactly something that you're bringing into the space when you're opting for a backsplash that's made out of blue penny tiles. It's cool hued and it can be the perfect shade for everyone in the house. It can make a really dramatic statement.
The bold-colored blue penny tiles in particular can complement brass hardware and faucets. It can easily turn your kitchen space into a resort-type area. If that's what you're going for, blue penny tiles are worth considering.
Hexagon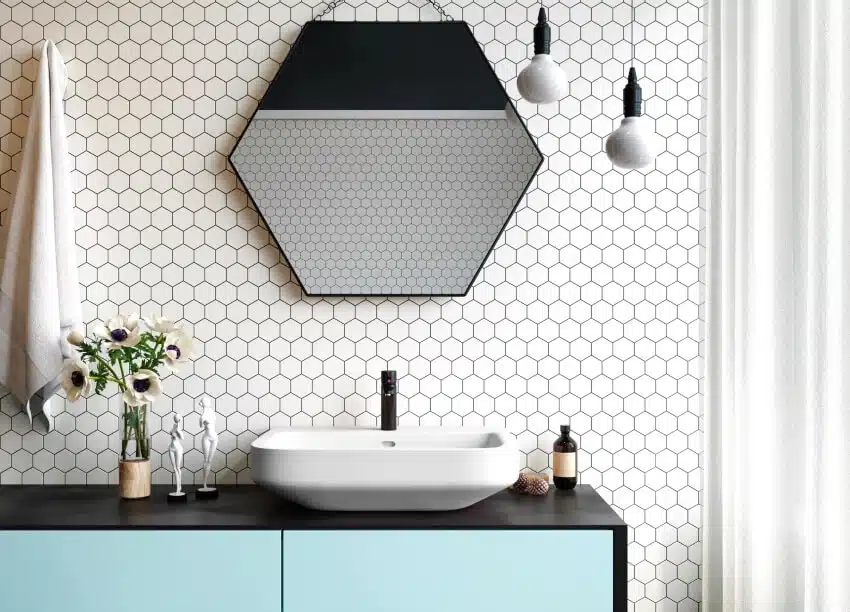 Hexagon penny tile backsplashes are trending right now. They have remained popular over the years and the general projection is that they are bound to remain stylish and popular for more years to come. It's a beautiful option and it gives a geometric appeal to the space.
A lot of contractors and property investors have had the habit of staying away from hexagonal penny tiles for fear of them being outdated further down the road but that hasn't been an issue so far. If you pick the right colors and even the right grout, you're bound to find something that's well worth it and something that will remain beautiful as a kitchen backsplash for more years to come.
You can play around with different materials, from ceramic to porcelain, to marble, and other types of natural stones. You can also play around with the finish.
There are matte ones, glossy ones, glass-like ones, and so much more. Hexagon tiles have become so popular that there are bound to be penny tiles in literally any material you can think of for your design needs.

Metallic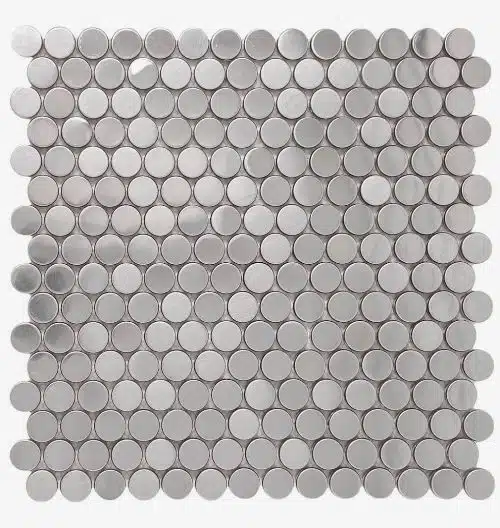 See this metallic penny tile backsplash at Amazon [Sponsored link]
A metallic penny tile backsplash can add character and depth to your kitchen space. It's one of the hottest interior design trends these days but when you say metallic, one thing to take note of is that your options aren't all that limited. For the most part, metallic penny tiles aren't all that different from any other tile material as far as installation is concerned.
However, if you are planning to approach this as a DIY project, there are certain things needed to get it done the right way. This will allow you to prevent any unpleasant accidents happening during and after the installation that might affect the quality and appearance of your metallic penny tile backsplash in the kitchen.
The major differentiator is usually the grout. In most cases, the grout for metal backsplash tile isn't even needed at all since you're going to have to cover and seal everything in. However, if you do decide to go with grout, make sure that you pick out and go with a non-sanded one. This is mainly because sanded grout can end up scratching your metallic penny tiles.
If you want to go with cement grout, make sure to add in some latex additives to make it kinder to your metallic penny tiles. For added convenience, it's also smart to go with metallic penny tiles that are pre-assembled with some type of mesh backing.
It makes for simple and quick installation. There will be instances wherein you will have to cut the tiles to fit exactly into the space you're working with.
Make sure that you have the right tools, such as a diamond or carbide tip installed on some type of band saw or tile cutter. Make sure that you're comfortable with such power tools. If you aren't, you can always opt to get this contracted out professionally.
Mosaic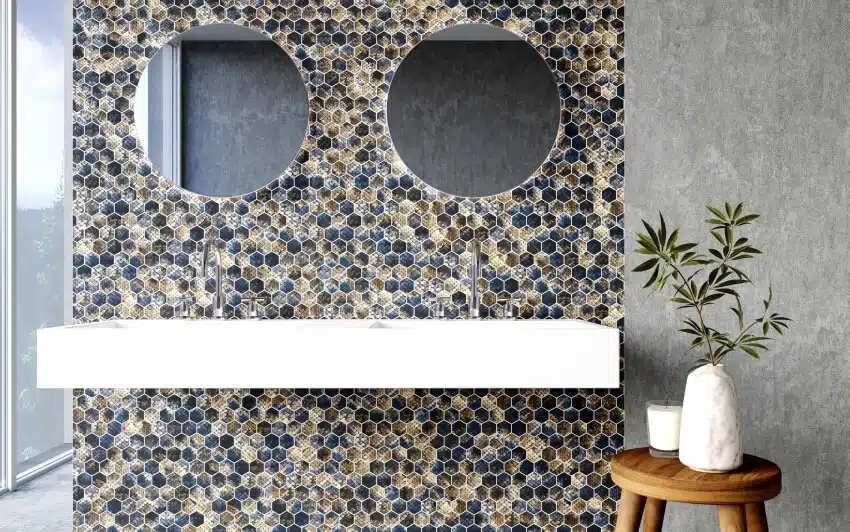 Penny mosaic tiles are typically sold in sheets. What's so great about them is that they can offer you countless styling options. They will allow you to create anything you would like to create. Penny tiles are infamous for how difficult it is to get them assembled.
They can take up a lot of time and effort to do, especially if you're going for something design-centric and particularly artistic. However, when sold in sheets, it makes installation quick and easy. You get to play around with designs without having to worry about the hassle of getting them installed. Even if you're a basic DIYer, you can get this done with no issues.
You just need to make sure that they're properly grouted and sealed right after for added structural integrity and durability. They can come in various tile shapes, materials, colors, finishes, and even glazes. Some may even have the added benefits of entire sceneries, similar to that of a painting.
Peel And Stick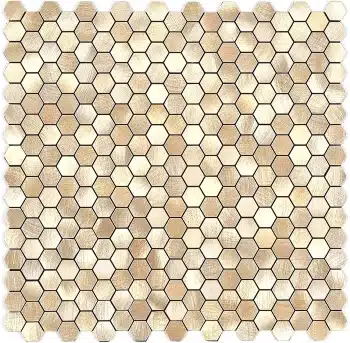 See this peel and stick penny tile backsplash at Amazon [sponsored link]
If you want to be able to save some time and money and still enjoy the aesthetics and benefits of getting penny tiles for your backsplash, you can go with peel-and-stick backsplash tiles.
They usually come in 10"x10" panels. Although the reality is that nothing can measure up to the value of real penny tiles or real tiles in general, the thing is that not all people have the luxury of opting for them.
If you are in a rental property and you want a quick update for your kitchen but you don't have the budget for a full-scale bathroom enhancement, you can go with peel-and-stick penny tiles. They might not be as durable as the real thing but they're a great option if what you're after is a quick makeover for your kitchen backsplash.
How to Clean Penny-Type Tiles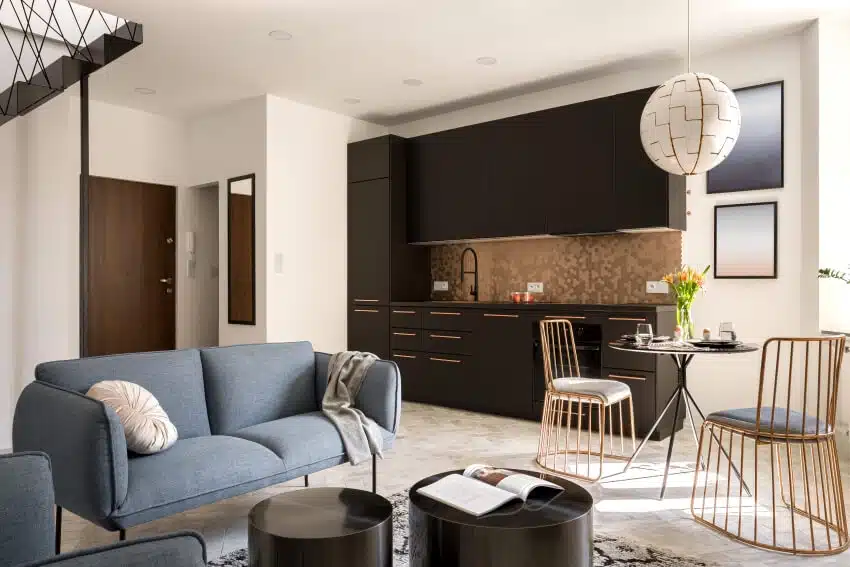 Keeping your penny tile backsplash clean is important. This is where you're preparing food for friends and family and it has to be hygienic all of the time.
1. Your first option is to go down the natural route and come up with an all-natural grout cleaner for your penny tile backsplash. Combine 1 tablespoon of dishwashing soap, ¼ cup of hydrogen peroxide, and ¾ cup of baking soda.
Make sure that you get the grout wet first, and then use an old toothbrush to apply the mixture. Scrub the grout clean, let the mixture sit in for about 10 minutes or so, and then wipe it down or rinse it off.
2. The second option is for removing basic stains. Combine 2 cups of water with around 2 tablespoons of oxygen bleach or any type of bleach that you may have with you there at home.
Apply this mixture onto the grout with a sponge or wet rag, and let it sit for a few minutes before you scrub it out and rinse it away. This is great and safe for natural grout and can be safe to use on natural stone penny tiles, even.
3. And the third option is for stubborn stains. Deeply stained grout along with penny tiles can be a bit problematic.
For this, make a mixture of equal parts of baking soda, hydrogen peroxide, and white vinegar that are undiluted. This will create a foam-like mixture that will not only get rid of any tough or stubborn stains but also get rid of mold and mildew that might have settled in for quite some time now.
Once you've applied it and the foaming has stopped, that's usually the sign that it's ready to be scrubbed off. Take note though that this method isn't safe if you have penny tiles that are made out of natural stone. It is safe for other materials though. If you have natural stone penny tiles, it would be best to just steam clean the grout lines in between your penny tiles.
Ultimately, because there are so many grout lines because the penny tiles are so small, they can be a challenge to clean. But with added attention to the grout lines, in particular, scrubbing them out and figuring out a periodic schedule for cleaning so that the dirt and grime don't accumulate too much; it can help you keep your penny tile backsplash looking great for more years to come.
For more ideas visit our gallery of subway tile kitchen backsplash designs here.