See our guide to copper countertops including the most popular types, bathroom and kitchen copper countertops, paint ideas, and tips on how to seal this material.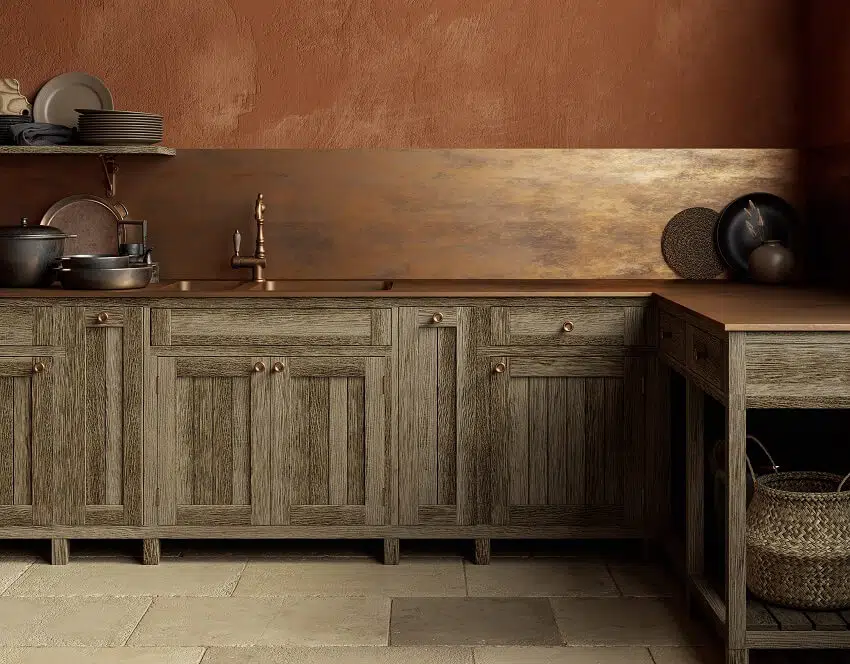 Remodeling your kitchen can be overwhelming. There is a wide range of options to choose from. You can't afford to make a mistake because the smallest detail can impact the whole design. The same goes when choosing your countertop material.
Would natural stone go well with the overall design of your kitchen? Or do you want something novel, like copper countertops?
Copper isn't as popular as marble or granite. But it's slowly gaining some popularity because of its warm tones and unique characteristics. Read on to find out more.
What Are Copper Countertops?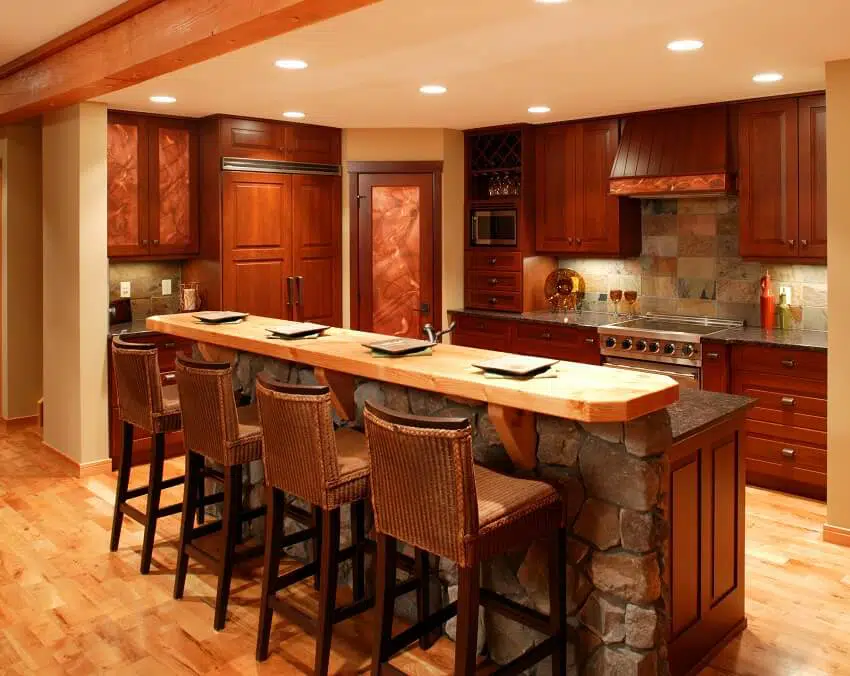 A copper countertop is called a living surface because it reacts to other substances like acid and oxygen. This kind of occurrence also happens in copper cookware and accessories.
Just like copper pots and pans, a copper countertop will oxidize and discolor as time goes by, resulting in an uneven patina with hints of green, red, and brown. Avoid this by sealing your countertop.
Copper can easily get dented or damaged, especially during the installation process. On the upside, you can easily clean copper countertops. All you need to do is wipe it with a wet rag with water and soap.
Types Of Copper Countertops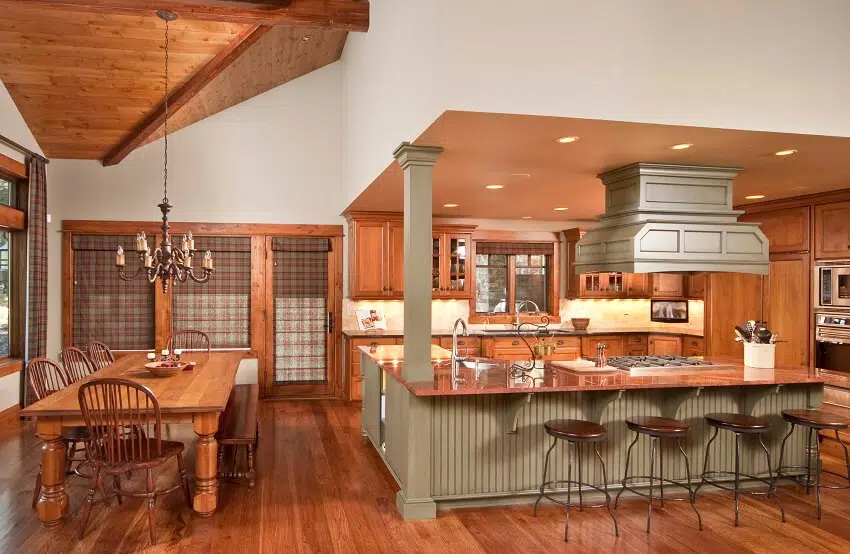 Copper has become a popular material choice in interior design. It gained popularity as an accent and accessory. Now, it is taking center stage as a statement piece in kitchen design.
There are many reasons for its rising popularity. Its rich and warm color shouts attention and glamor yet is very welcoming.
Copper also has anti-microbial properties. In other words, it prevents germs and bacteria from growing and spreading. For this reason this material is especially useful for areas like a copper tub, sink or countertop. Most of all, copper comes in different textures and appearances.
Here are different types of copper countertops based on the technique used:
Brushed Copper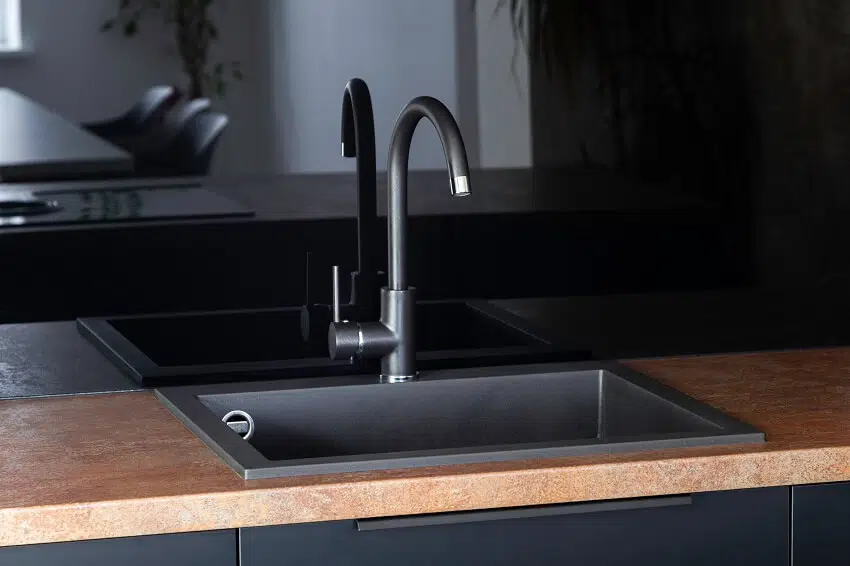 A brushed copper countertop looks softer because of its matte or muted finish. The appearance is achieved by brushing and sanding a grain pattern on the metal surface.
A brushed copper countertop attracts fewer fingerprints. Thus, it is easier to clean and maintain. It also gives your kitchen a warm and vintage vibe.
Polished Copper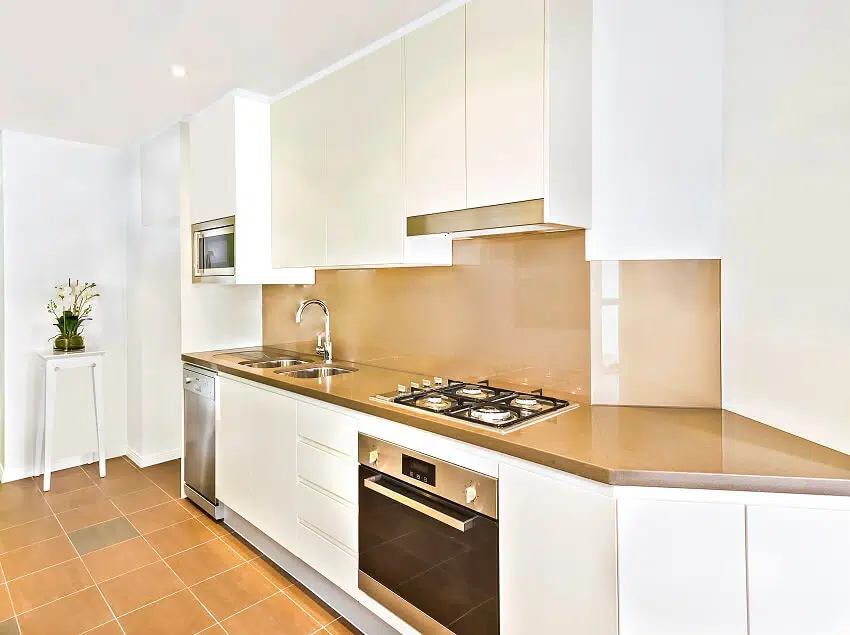 If you like a shiny countertop, go for polished copper. Often used in cookware, they've become popular as kitchen countertops.
Distressed Copper
Distressed copper is another term for oxidized copper because of the aging process it has undergone. The result is a unique patina of black, blue, and bronze. If you're looking for something unusual, choose distressed copper.
Copper Sheeting For Countertops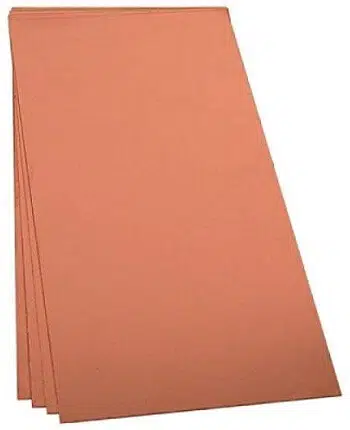 See this copper sheet at Amazon [sponsored link]
Copper sheeting is more expensive than tin and aluminum, but it works well in high temperatures. More so, copper sheets are very malleable and resistant to corrosion. They have high thermal and electrical conductivity as well. Because of these characteristics, copper sheeting is used as an exterior roofing material. With the rising popularity of copper, the interior design world began using it, too.
If you use copper sheets for countertops, get a thicker one to withstand impacts and are more resistant to dents. Experts recommend 26 gauge or higher copper sheets. These are usually 16 mm thick and can be bent to a 90-degree angle using tin snips.
Hammered Copper Countertop
Hammered copper countertops got their name because of the method employed in shaping the metal. Hammering is an ancient tactic used by metalsmiths to manipulate the metal's shape.
Aside from the shape, the hammering strengthens the metal. The dents produced by the process divide the weight of the metal over a wider area.
Hammered copper is malleable yet durable. It also resists scratches, dents, and corrosion. It makes the perfect material for countertops, especially if you want a low-maintenance material.
Patina Copper Countertops
The formation of patina on copper is a result of the metal's reaction to oxygen. That reaction forms a copper oxide that, later on, becomes the various colors of the patina. If sulfur touches the copper surface, the metal will react and form copper sulfide. It produces a black patina.
Aside from these chemical reactions, several factors affect the colors of the patina. A combination of dark green to blue indicates an abundance of brochantite and malachite. Azurite will produce blue to purple shades on the copper.
Because of the color variations, patina copper applications go beyond kitchen countertops. Choosing this as part of your interior can produce aesthetically pleasing visuals in your kitchen.
Aged Copper Countertops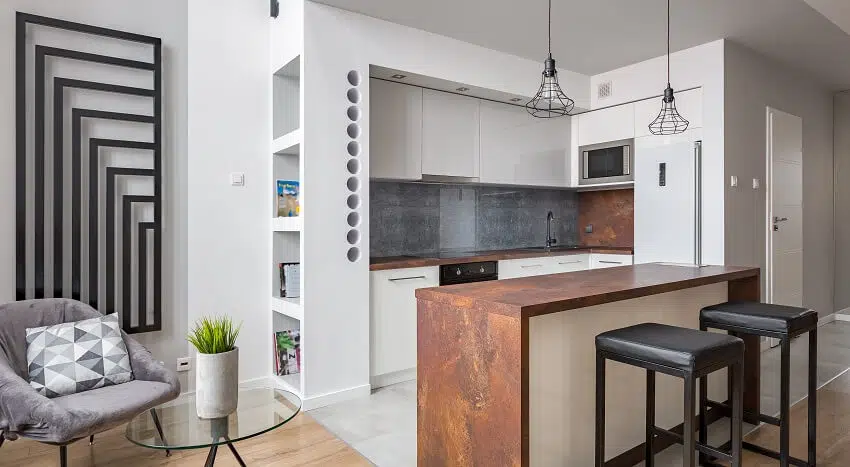 Aged copper has different colors depending on how long it has been exposed to the natural process. Originally, unexposed copper has a bright reddish-brown color. As it ages, it turns from burnished brown to darker browns, then blue, and green.
Using aged copper countertops as part of your kitchen design gives it a vintage vibe. It also blends well with an industrial-style interior. The aged copper countertop can serve as the centerpiece in your kitchen.
Copper Epoxy Countertops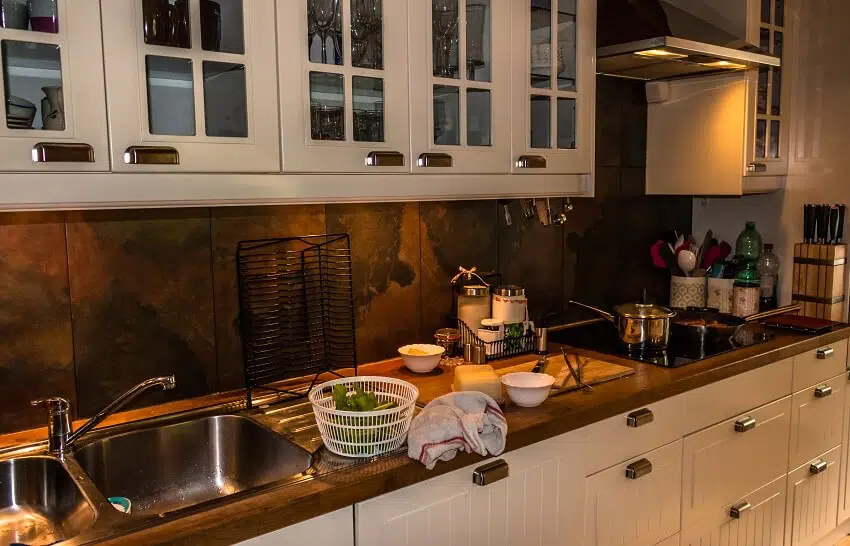 These types of countertops can be created by combining epoxy with copper metallic powder. The combination will give your countertop a copper metal finish. It's the ideal alternative if you want to achieve the metal look for a cheaper price.
The amount of epoxy depends on how big the countertop is. The rule is to use 3 ounces of epoxy per square foot. As for the mixture, mix epoxy and the copper metallic powder at a 1:1 ratio.
After it's thoroughly mixed, pour the epoxy into the center of the countertop and spread it using a trowel. Then, randomly chop the surface with a paintbrush to remove the trowel lines and give the surface a natural look. Finally, torch the surface to give it a glass-like appearance.
To add patina to the copper countertop, spraypaint it with a green color. Then, meld the colors using a chop brush and torch the surface once again. Let the countertop completely dry.
Faux Copper Countertops
Faux copper countertops are another cheap alternative to real copper. Instead of using copper sheets, you need faux copper paints and the right technique.
Before you start painting, clean the countertop surface thoroughly. The cleaning material you'll use depend on the type of countertop you have. If you have laminate countertops, soap and water are enough. If you have a natural stone or wood countertop, you might need some special cleaning solution. After cleaning, let the surface dry thoroughly.
After that, apply a primer but make sure it is intended for the surface you're using. Again, a primer designed for wood might not go well with stone. If you want to achieve a glossy, metallic finish, use a white primer.
If you want to achieve a textured look for your faux copper countertop, use brushed stainless steel when applying the paint. For a vintage look, apply a thin layer of green paint on top of the copper paint using crumpled newspaper.
To finish the look, apply three coats of clear urethane. Sand each layer before applying the next coat.
Copper Countertop Paint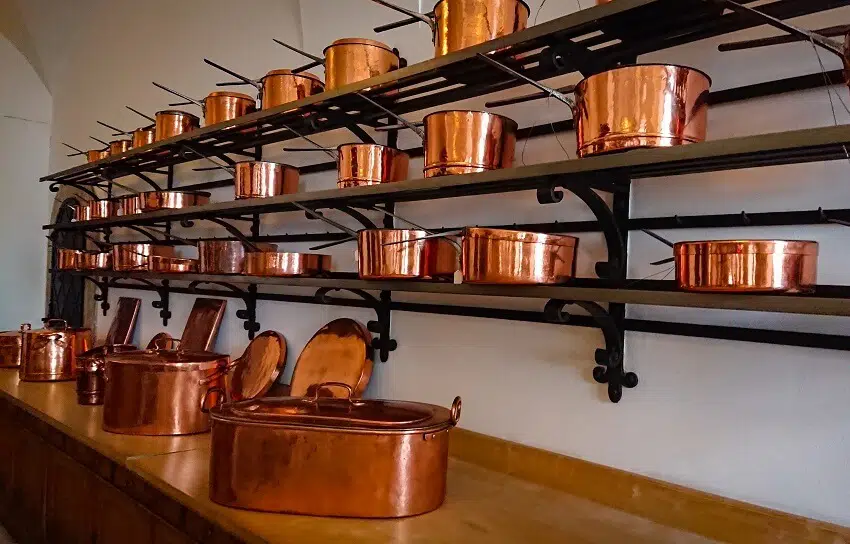 You can find a lot of good-quality copper paints in paint stores or on Amazon. The best copper paint should have the right tone, color, and finish.
Two of the best copper paint brands are Rust-Oleum and Krylon spray paints. Rust-Oleum Specialty Metallic Spray works well with wood. It has metal leafing flakes that provide an amazing finish to the surface.
Krylon Metallic Copper Spray Paint is a general-purpose paint that works on different types of surfaces. The finish gives any surface an authentic copper look.
Copper Kitchen Countertops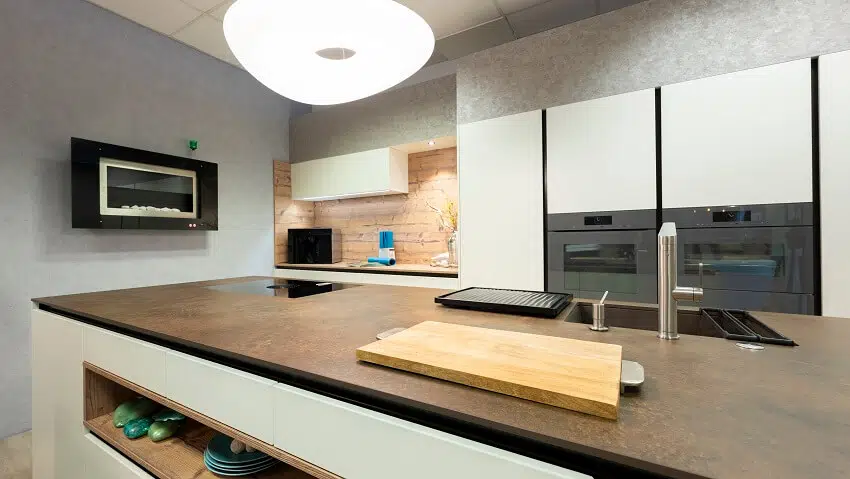 As mentioned earlier, a copper kitchen countertop makes the room look chic and stylish. It gives your kitchen a warm, natural glow and melds well with different colors. So whether you want a vintage or industrial type kitchen, copper countertops can get away with different colors.
Copper is also flexible so no matter how big or small your countertop is, you can adjust its size to fit all the other elements in your kitchen
If you're using real copper sheets, it has antimicrobial and antibacterial properties. So you won't have to worry about germs and bacteria contaminating your food.
Most of all, copper is eco-friendly. It's sustainable and will last long. If you maintain it properly, it will have the same luxurious look for many years. If you don't want your countertop anymore, you can recycle it.
Copper Bathroom Countertops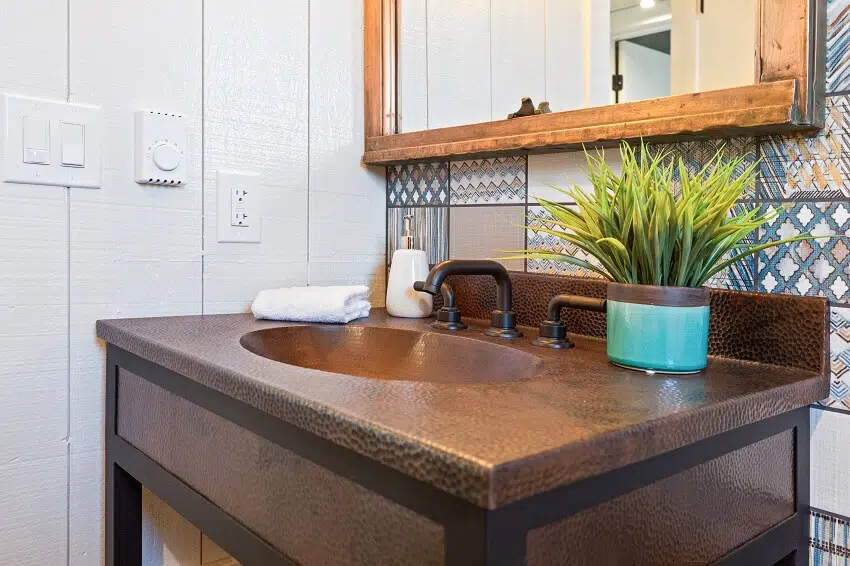 Copper countertops are not only for kitchens but bathrooms as well. You can pair it with a copper sink and wood cabinets. It also works well with marble. Here are other colors that go well with your copper bathroom countertop.
White
If your bathroom walls are white, a copper sink and countertop will provide a striking balance. You can also add some copper lining to your lights for a warmer feel.
Blue
Blue is another color that works well with copper. Use a copper countertop with a glossy finish on top of a blue-colored cabinet. Or you can add a blue rug or small plants in blue pots.
Gray
Gray-painted walls and copper countertops create a strong statement for your bathroom. A mirror with copper-lined edges hanging against a gray backdrop looks cool. See our guide to the best bathroom countertops to get more ideas.
Sealing Copper Countertops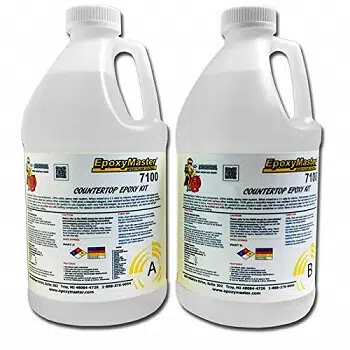 See this copper sheet at Amazon [sponsored link]
Sealing your copper countertop can slow its aging process. If you want a high gloss finish, use an acrylic topcoat. Just make sure it doesn't have a yellowing component to it.
If you're looking for a nice, high sheen, use lacquer or resin. Make sure to wear a respirator while working because the resin has a toxic odor.
Conclusion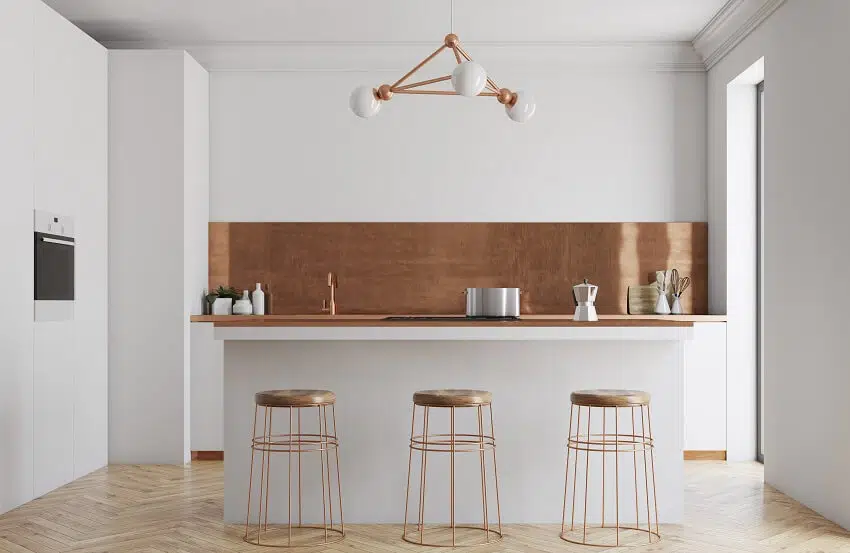 Copper countertops work well in the kitchen and in the bathroom. They complement a lot of colors and they come in different textures. Real copper, however, is a little pricey. If you want a cheaper alternative, go for faux copper countertops using metallic paint. You'll achieve the same look without spending a lot.
Visit our copper kitchen countertops pros and cons guide for more related content.