Welcome to our copper tub buying guide where we cover the most popular types of copper tubs, common questions and their pros & cons.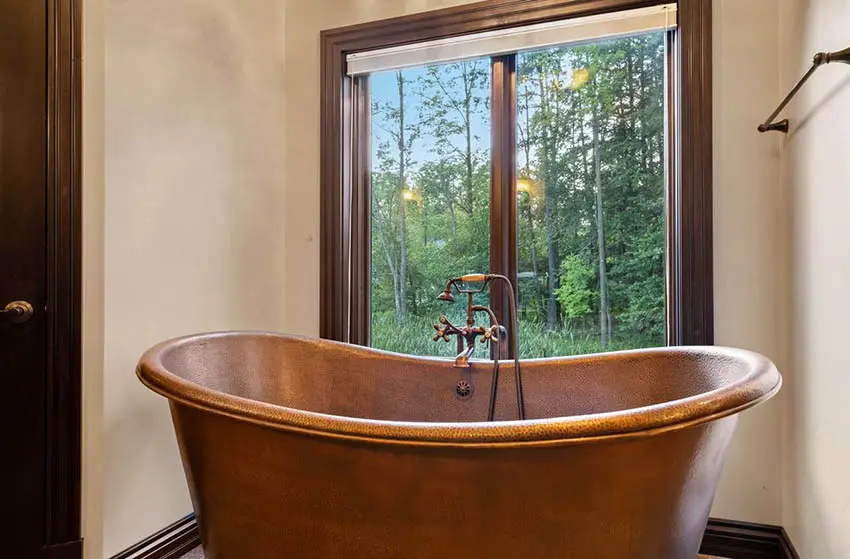 Copper tubs are a great addition to a bathroom. They can be relaxing and comfortable. The appearance is refined and timeless. Below are some selections that can be made to get the ideal copper tub for your bathroom design.
What Is a Copper Bathtub?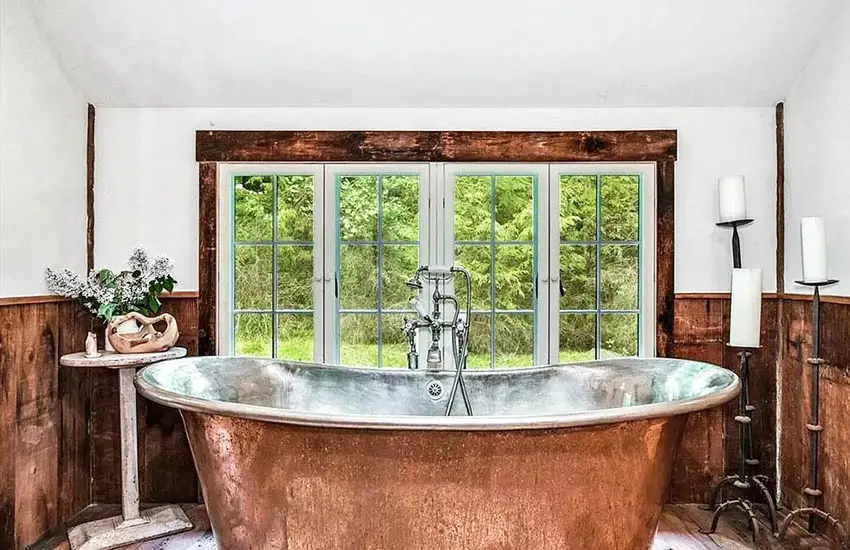 Simply, a copper bathtub is a bathtub made of the material copper. Copper is a durable, metal. Copper is also very easily bent as shaped without cracking or breaking. Copper is a an environmentally friendly material as well as it possess rust resistant, antibacterial, and mold resistant qualities.
Copper Tub Pros & Cons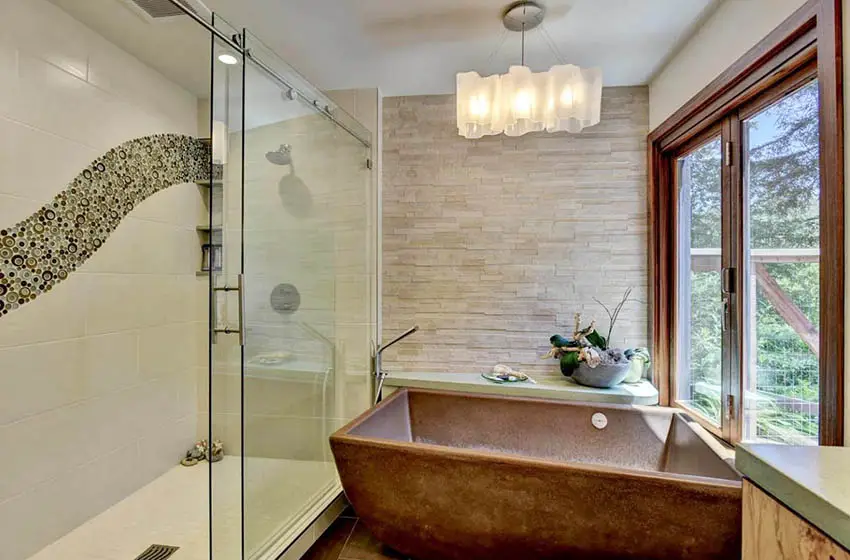 As mentioned above copper is super durable as well as malleable. The appearance of copper tubs is beautiful and the material gives a timeless appearance. Copper is resistant to mold and is antibacterial. Additionally, these types of tubs retain heat, keeping a warm tub longer. The life span of copper is extremely long and at the end of it the material can be recycled.
Unfortunately, due to all these pros, copper tubs are pretty expensive and are often found in luxury bathrooms. Copper, while being rust and corrosion proof, it is still susceptible to acids and other abrasive materials. Copper also requires some maintenance to keep all of its good qualities.
How to Choose a Copper Tub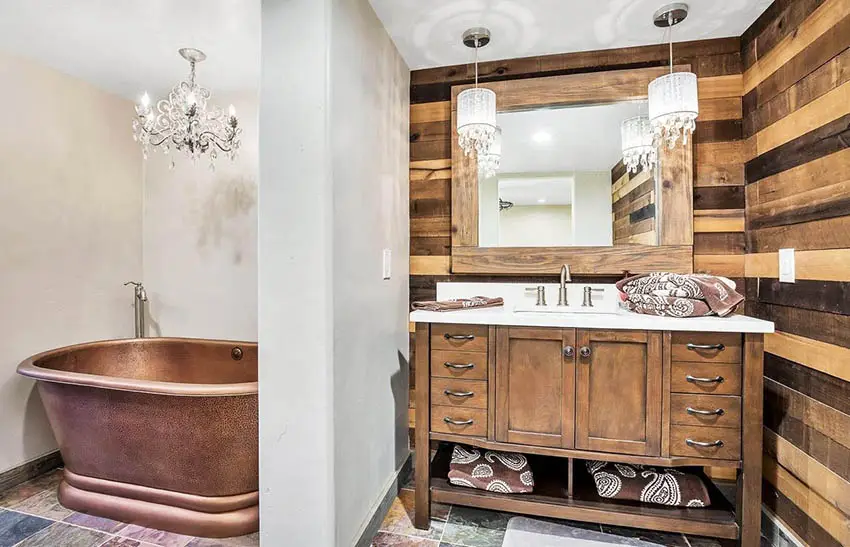 There are a few features that should be looked at when it comes to choosing the correct copper tub, and when spending this much money they will want to be taken under careful consideration.
Quality – One of the best qualities to look for is the seams. It is best to look for welded seams, as they hold better. Solders seams are weaker and could break over longer periods of time.
Gauge – The gauge is the thickness of the metal. Typically you would think that the higher the better, but in this case you want a lower gauge, because that will mean a thicker material. 14 to 16 gauge is the typical thickness when it comes to copper tubs, but any lower gauge is also acceptable. Any higher gauge can be susceptible to more damage.
Cost – The cost of the tub greatly depends on both the gauge and the quality discussed above. Based on the budget you have set can determine the above choices. Typically copper bathtubs can cost anywhere from $3,000 to $35,000. Not only does this depend on the quality and gauge, but also the size, shape, brand, extra features, or finishes.
Types of Copper Tubs
Choosing the type of copper tub is a big choice. There are shapes, sizes, and finishes that can help determine the exact sort of tub that you should purchase.
Copper Freestanding Tub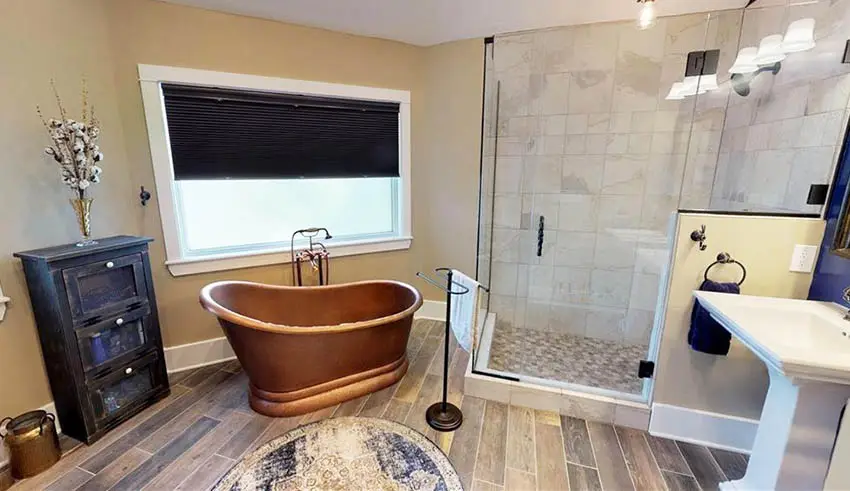 There are multiple types of freestanding tubs, some of these include- double ended, double slipper, Japanese soaking and many more.
The freestanding double ended tub is rounded at both ends to allow the user to sit on either side of the tub. This can also allow for two individuals to sit in the tubs at the same time if they are large enough. The drains are commonly in the center to accommodate this option.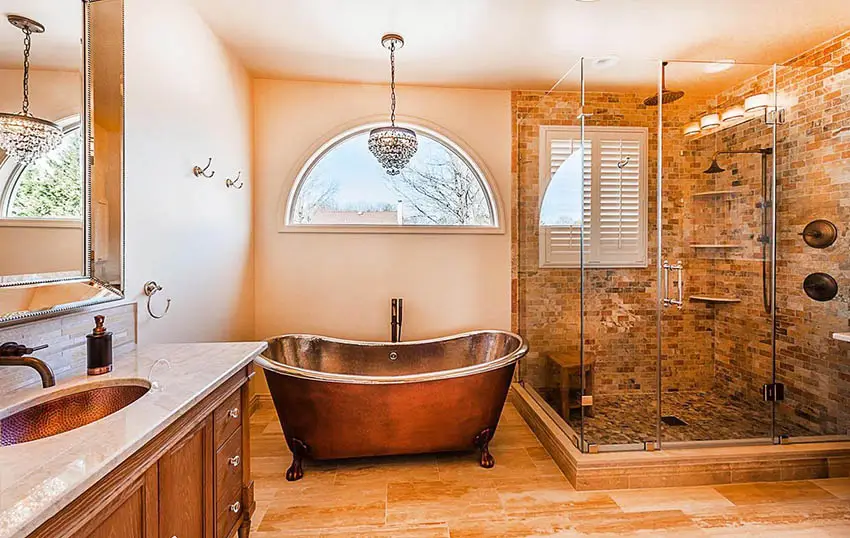 The freestanding double slipper tub is named after the appearance, which is meant to resemble a slipper. The double slipper tub is similar to the double ended tub mentioned above, but each end is raised and recliner for added comfort.
As with the double ended the drain is on the center and typically large enough for two people. This type is a great deal more ergonomically friendly, as well as comfortable to relax in for long periods of time.
Copper Clawfoot Tub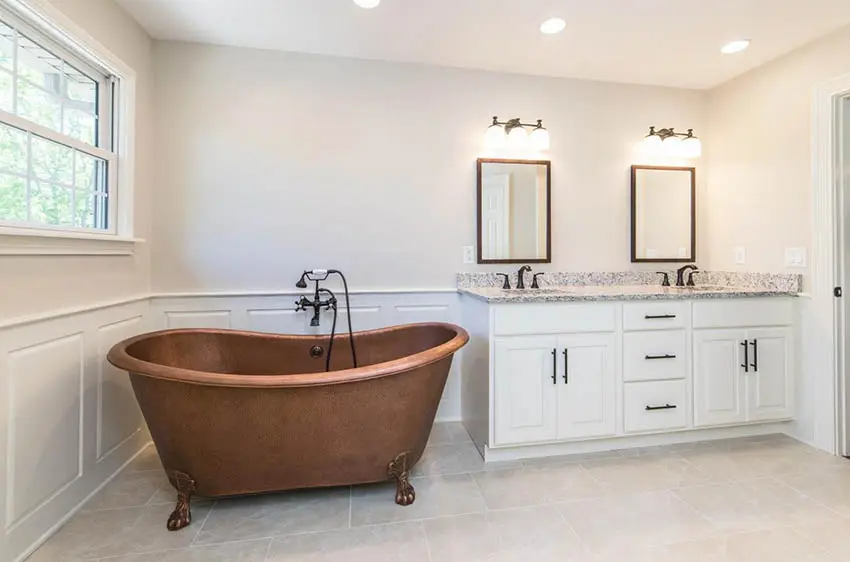 A copper clawfoot tub is a freestanding tub that gives an extremely traditional aesthetic. The legs of the copper tub are raised and have a claw shaped foot, reflecting the name.
Hammered Copper Tub
A hammered copper tub refers to the finish of the tub. Hammered is a rough finish that is made by using a hammer to create indentations of a desired size to the surface. If a tub is not hammered, it typically has a smooth finish.
Copper Japanese Soaking Tub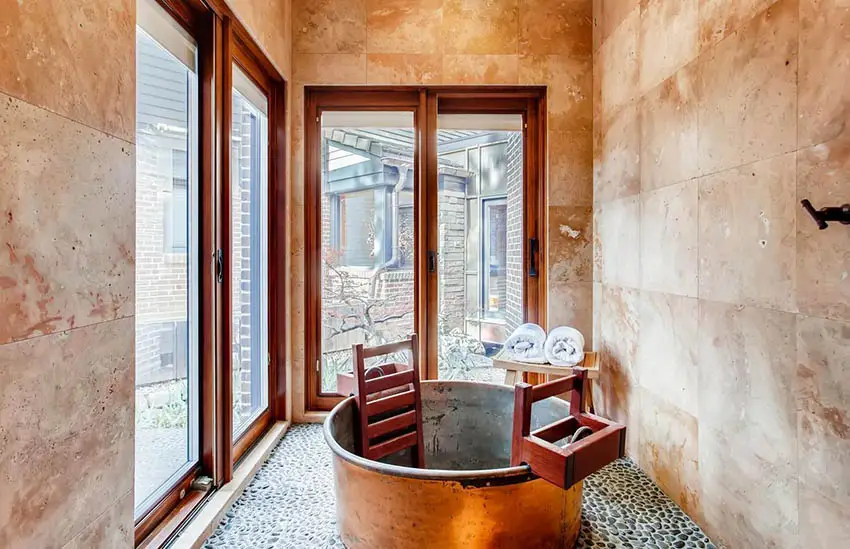 Copper Japanese soaking tubs are typically in the shape of rectangles or ovals, and are particularly large. They are not typically large around, they are smaller and deeper, to give the larger footprint. This gives the ability to have almost the entire body submerged in water. There is often a seat placed in the tub to allow the user to sit up and the water to be above the shoulders.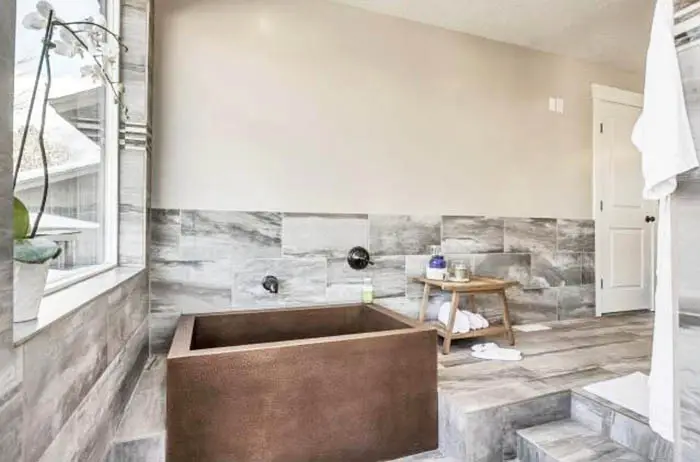 Rather than a rounded design this Japanese copper tub features a rectangular shape.
Copper Soaking Tub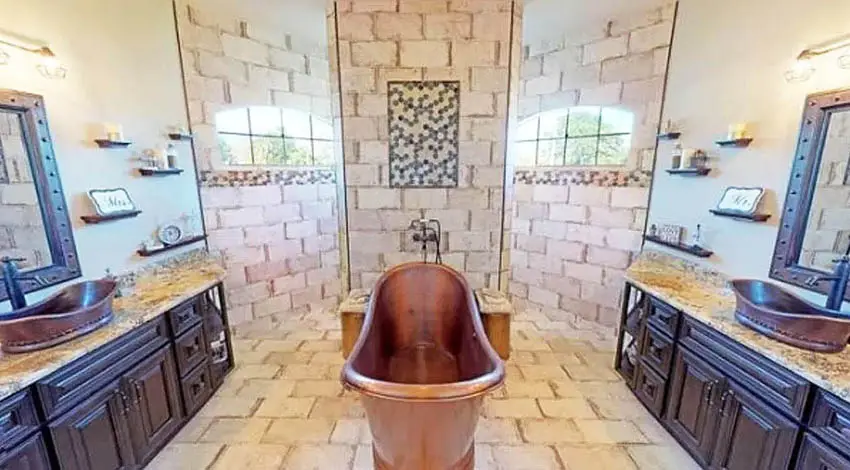 A copper soaking tub is not typically large around, they are smaller and deeper, to give more water volume but not take much space in the room. This gives the user to sit up and the water to be above the shoulders, this submerges almost the entire body. To do this the soaking tubs usually contain a seat, which adds comfort to the user as well.
Copper Drop In Tub
A copper drop in tub is inserted into a frame called the 'surround'. This is typically tiled or part of a larger unit. The surround allows for a place to place soaps, candles, plants or other items you wish to place for the ultimate relaxing bath. Drop in tubs are often installed in the open but can also be put in to a bathroom alcove.
Faux Copper Tub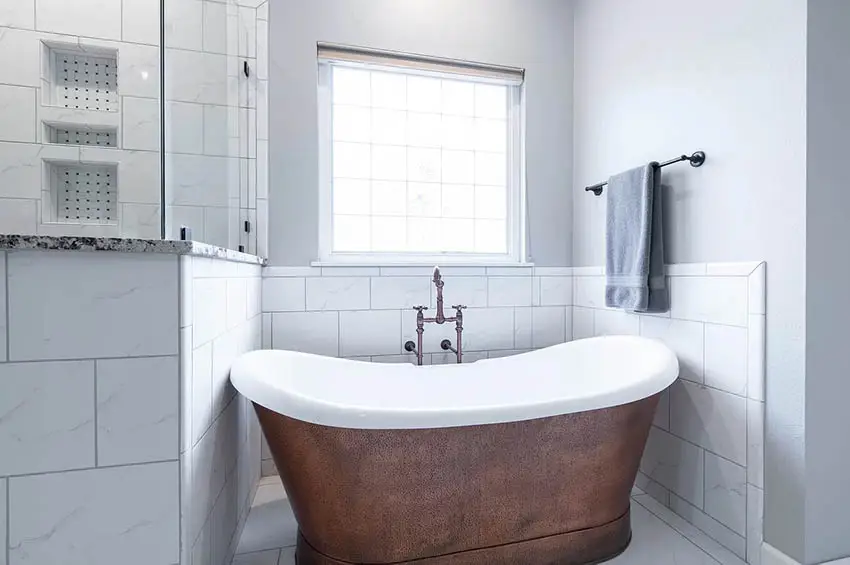 A faux copper tub design has gained popularity that provides a comparable look as a real copper tub at a fraction of the price. Faux copper tubs use an acrylic liner with a painted finish to get the look.
Copper Tub Questions & Answers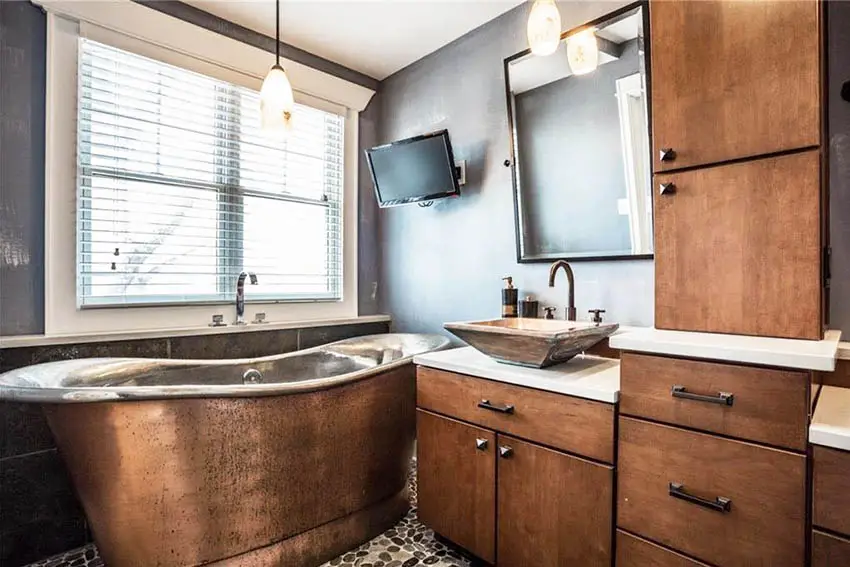 Here are some of the most common questions asked before and after buying a copper tub.
Are copper bathtubs healthy?
Copper tubs are safe if they are made from pure copper. Anything other than pure copper could be unsafe as they could contain mercury or lead. Check the composition to be sure. As long as the tub is pure copper it is actually a very healthy choice! The antibacterial properties are great for log cleaning soaks.
Are copper tubs antibacterial?
Copper tubs are antibacterial. This gives a clean surface and makes for easy maintenance, it typically only needs a quick rinse and pat dry to keep the tub clean. This also makes for cleaner bathwater.
Can you use bath salts in a copper tub?
Bath salts are not recommended for copper tubs. The salt negatively reacts with the copper materials up for the tub. This can cause the copper tub green, sort of like untreated metal jewelry reacting with sweat.
Are copper tubs comfortable?
Some copper tubs are more comfortable than others. Slipper tubs are the most ergonomically friendly as well as comfortable for longer use. There can even be added jets for added comfort.
What is Patina?
Patina is a chemical reaction that happens to untreated metals. This can happen to copper tubs if left untreated. The patina can change the color of the metal tub – sometimes this is a desirable change. If it is, when the color wears to the desired state it can be waxed or polished to keep it in that state. Darker finishes' patina usually are less noticeable compared to brighter copper colors. To strip this patina, using a polishing cream will help, but it is important to only polish once or twice a year, as more could damage the surface.
How to Clean a Copper Tub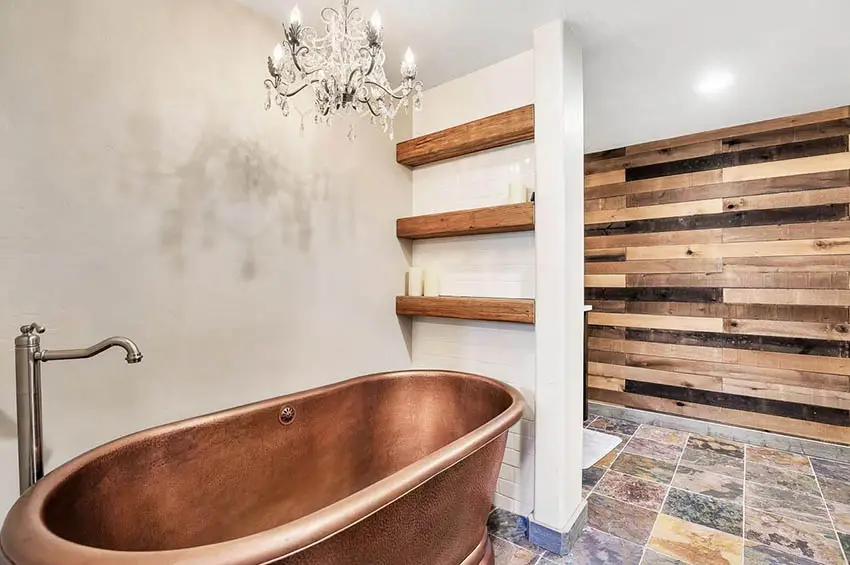 While copper tubs are antibacterial as well as resistant to rusting and corroding, they still need to be cleaned. Luckily it does keep them in the low maintenance category. Some tips are listed below to keep the copper tub in the best possible condition.
After every use of the tub, a quick rinse and towel dry is sufficient. Using anything abrasive or any strong or acidic cleaning products is not recommended. Bath salts are also harmful for the copper tub material. Waxing and polishing the tub can prevent scratches, mineral build up and stripping staining or color changing.
For more related content check out our article on how to choose a bathtub.