Here's our gallery of built in breakfast nook ideas with a variety of design styles.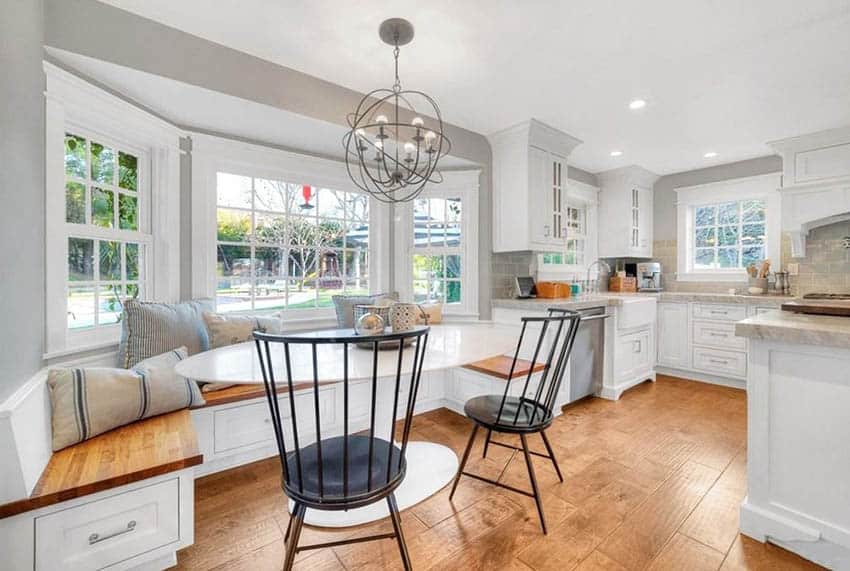 Breakfast nooks are basically a small, casual dining space, usually located in the kitchen or near the kitchen area. Compared to the dining area, breakfast nooks give a more casual dining atmosphere, making a it a nice spot for breakfast, snacks and any quick meals.
A breakfast nook will usually be composed of a bench (can be freestanding or built-in), a dining table, and if space allows, dining chairs or stools as well.
Built-in breakfast nooks are common in classic style homes, especially those with bay windows. Because bay windows often have a unique size and shape, breakfast nooks installed by the bay windows often have built-in benches / seating that goes along the shape of the window/wall.
The semi-enclosed space of breakfast nooks provides privacy and cozy space to enjoy your time. But bay windows are not always necessary for breakfast nooks – some are simply placed by the window in the corner of the room, or in any corner or space near the kitchen that allows space for casual dining or lounging.
Built In Breakfast Nook Dimensions
The sizes of breakfast nooks widely depends on the space you have available, often depending on the bay window area size. Built-in benches will typically be around 17.5 to 20 inches deep for them to be comfortable, and dining table sizes will vary according to size and shape of bay window.
A standard breakfast nook size is 8ft by 8ft and able to seat 6 to 8 people very tightly.
To avoid accidents and to ensure ease of entry/exit to the bench area, it is recommended to use round, oval, oblong or any dining table with rounded edges.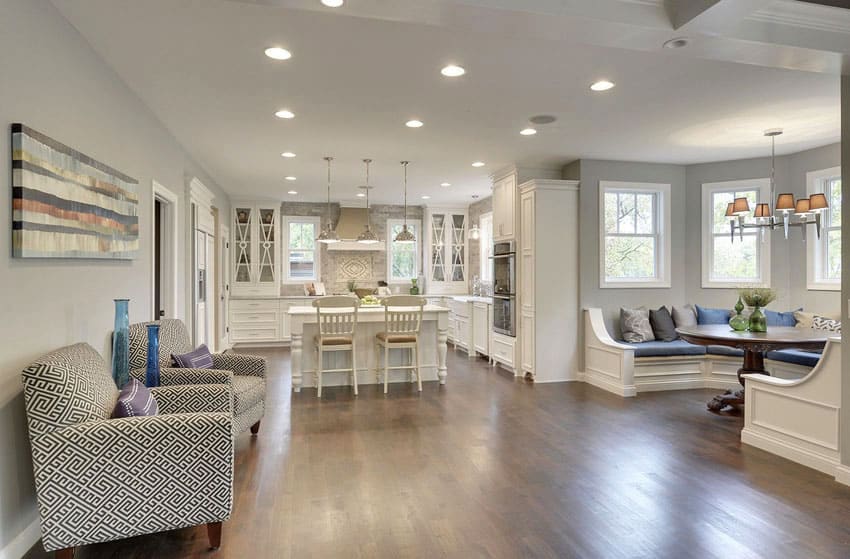 Classic European motifs abound in this white and gray themed kitchen area. Off to the side by the kitchen is a spacious bay window area with a built-in bench and solid Walnut pedestal table that adds a bit of contrast to the light-colored surfaces. The large area provides accommodations for 5 or more diners.
Here we have built in breakfast nook ideas you can take inspiration from:
Built In Breakfast Nook with Bench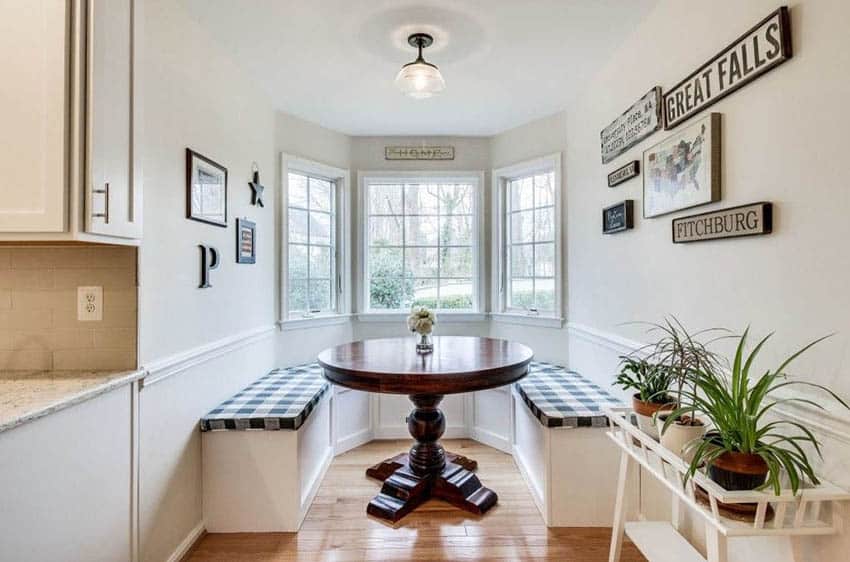 This off kitchen bay window design is a little narrow, hence the built-in bench used is a little bit smaller, armless for ease of entry, and paired with a smaller solid wood pedestal table to add a bit of contrast to the white theme of the space.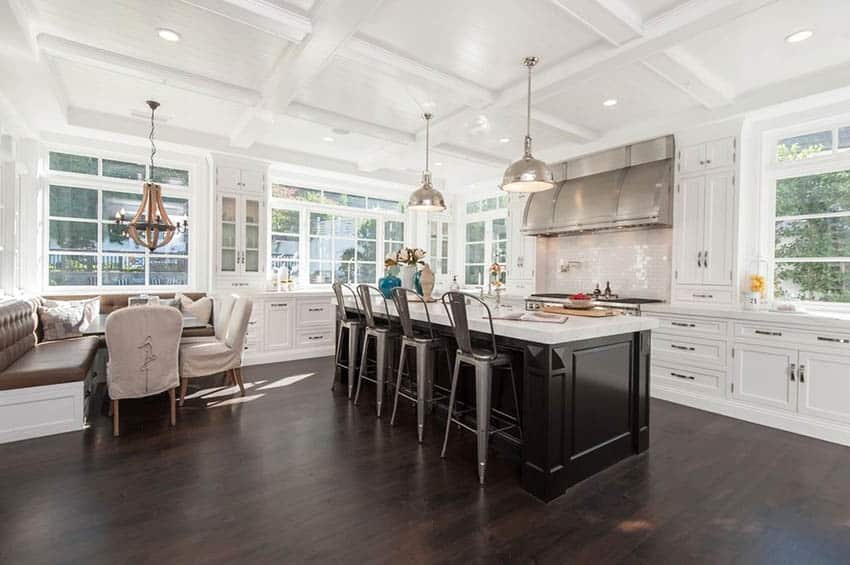 Dining nooks doesn't always have to be in a bay window – this example shows a dining nook with an L-shaped built-in bench and a rectangular dining table to match. Similar to typical bay window breakfast nooks, this is also placed right by large windows, giving it that similar warm and cozy atmosphere.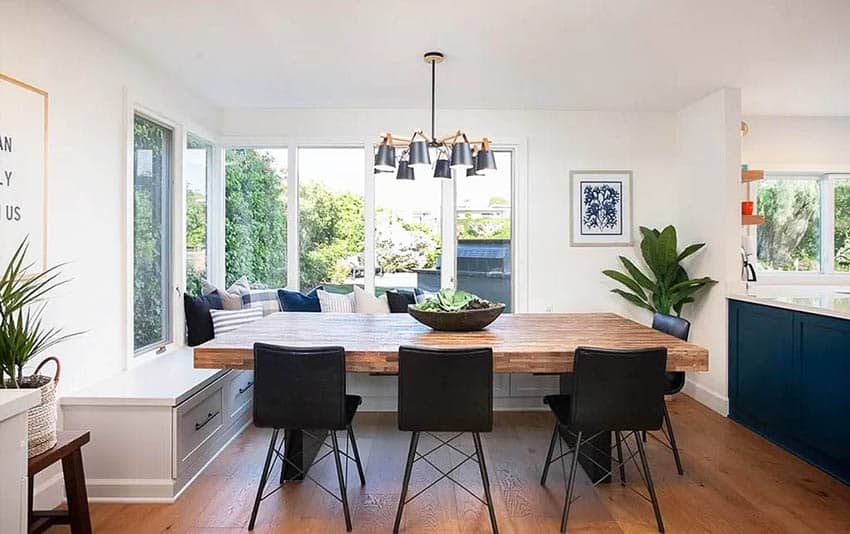 Contemporary spaces can also have a built-in breakfast nook. In this example, a large L-shaped built-in bench placed by the corner of the room was used, and paired with contemporary wood dining table and modern dining chairs, giving it a fresh and youthful vibe. The built-in bench here does not have seat cushions, however, the bottom of the bench doubles as a drawer storage.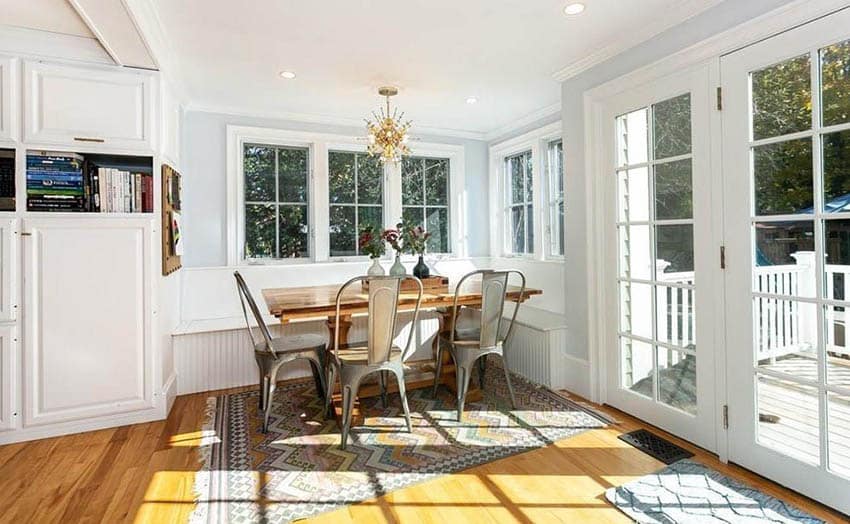 With a contemporary rustic vibe, this small corner of the kitchen was transformed into a breakfast nook. Because the space is a bit small, the built-in bench is a bit narrow to allow space for a rectangular solid wood table.
The colorful area rug adds a fun element to the space, giving it a more homey casual fee. The storage area close to the nook was also converted into a book storage area, making this a perfect space to read books, work or study.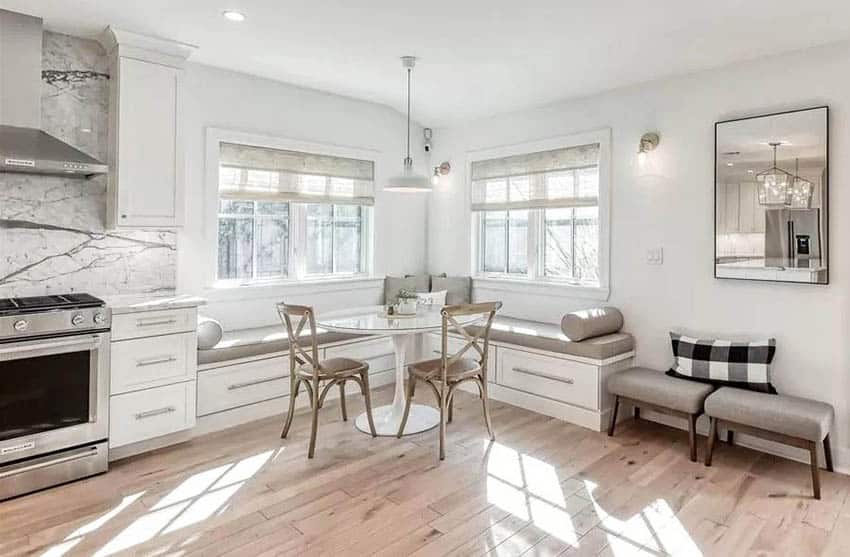 Continuing the motif of the kitchen, the built-in bench of this breakfast nook blends in with the rest of the kitchen. It has drawer storage underneath, and comfortable seat cushions on top. It was paired with white modern poly carbonate dining table and classic wooden dining chairs, the mix of styles giving it a more laid-back feel.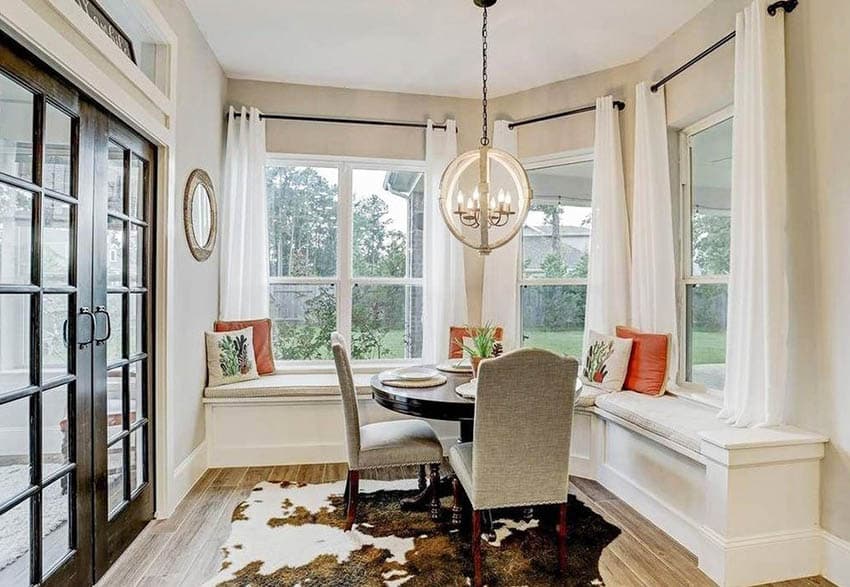 With a modern farmhouse design this built-in window seat with dining table makes cozy use of this corner sun room.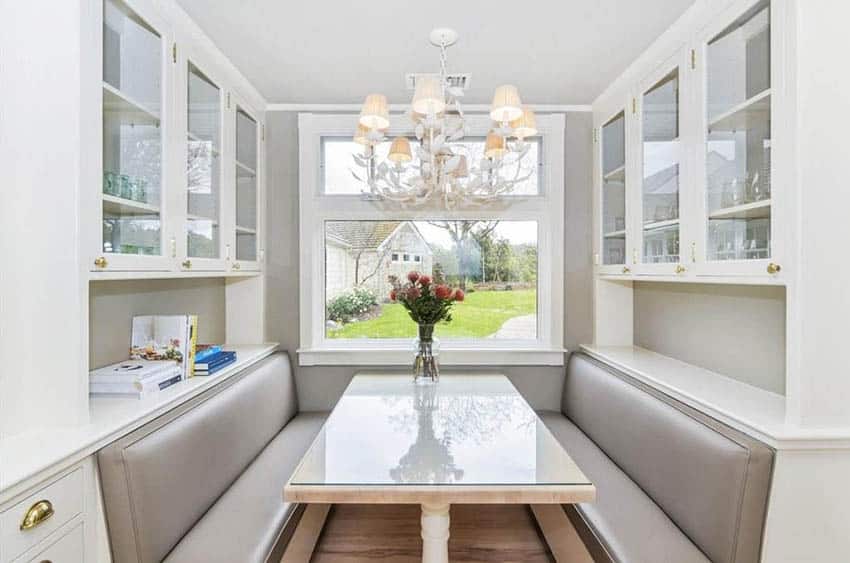 To utilize the hallway end of this galley kitchen, a built-in kitchen nook was installed to maximize the space. A dining table is placed against the window wall, while two parallel built-in benches with leather-upholstered seat and back cushions were installed. Existing overhead cabinets were retained behind the benches, adding additional ledge space for display and storage.
Built In Corner Breakfast Nook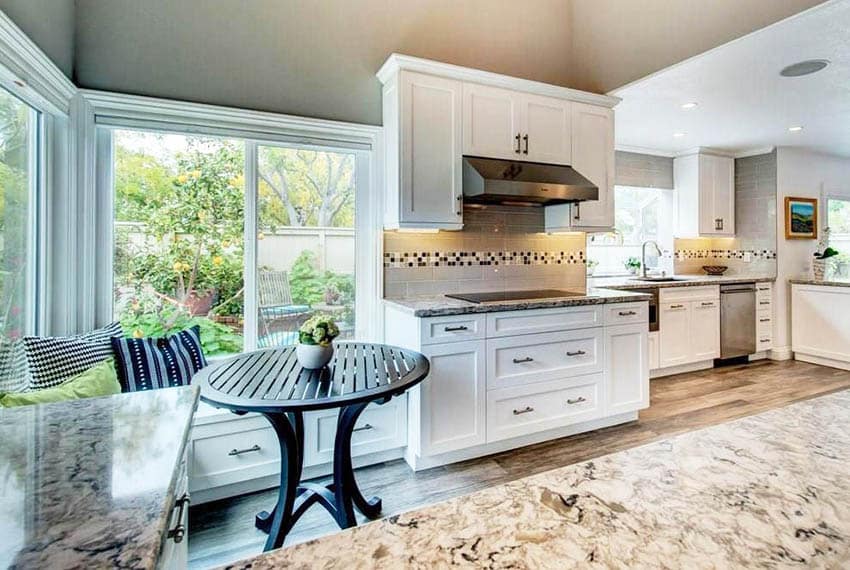 Sometimes, we simple want a small corner in the kitchen where we can relax and rest a bit. This corner breakfast nook is the perfect spot for multi-tasking. It was built on the corner with large windows so it has a good amount of sunlight a good view of the yard. It also was strategically placed so that you can still see what's going on in the kitchen, and can easily attend to the food you're cooking while relaxing in the corner.
If you have no windows by your kitchen nook, you can still recreate a cozy atmosphere by adding artwork on the walls and adding fun / bright-colored cushions to the bench. Finish it off with a unique lamp to give you corner a cozy atmosphere.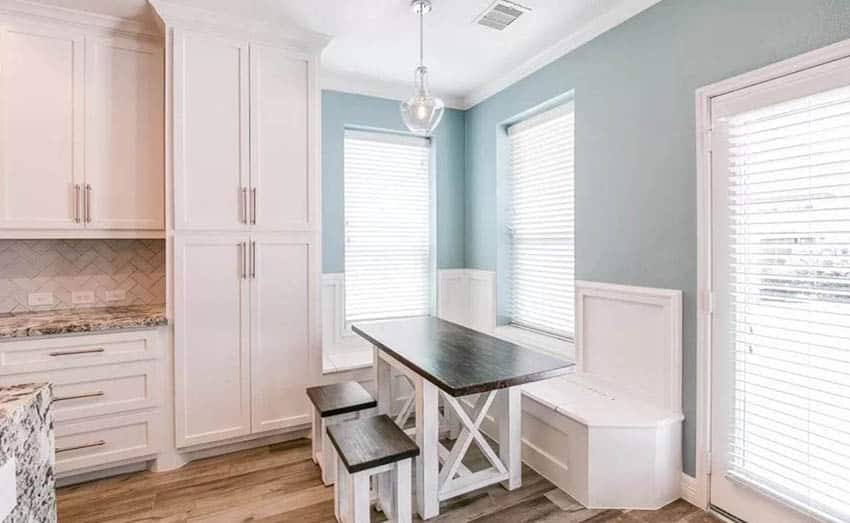 The combination of white and powder blue paint adds a refreshing atmosphere to the small breakfast nook at the kitchen's corner. The built-in bench was used storage with a flip up closure to add more storage space, and a matching set of trestle table and stools were paired with the white bench.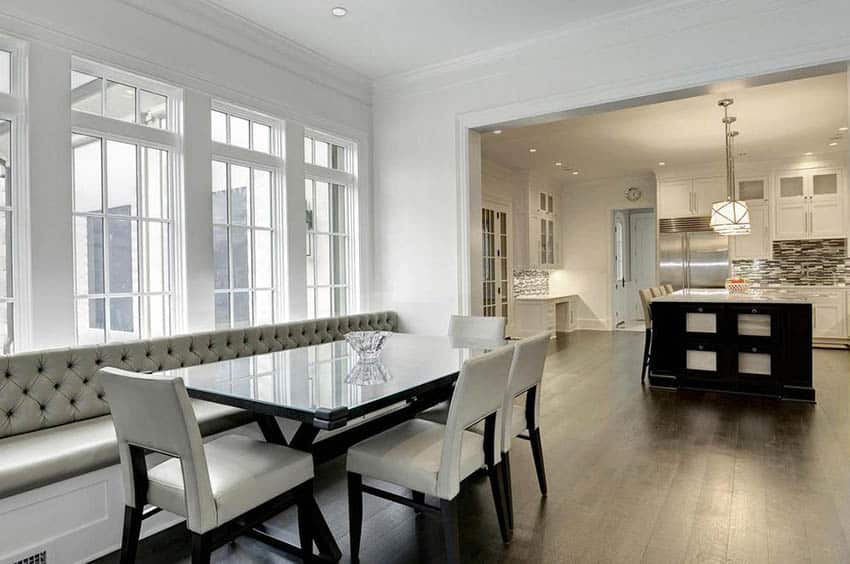 Because the kitchen has a spacious window are, this kitchen nook enjoys a full-sized rectangular dining table paired with 4 matching dining chairs. The built in bench also has upholstered seat and a tufted back cushion to give it a more luxurious vibe.
Kitchen Built In Breakfast Nook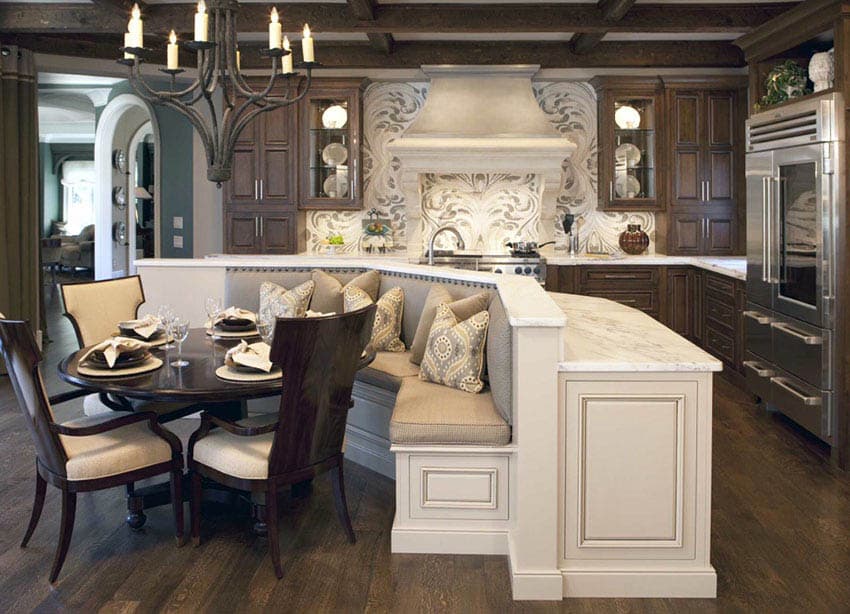 The back of the L-shape kitchen island was used to create a built-in breakfast nook, instead of the usual counter or bar stools. The addition of the cozy nook helps balance and soften the dark woods of this classic style kitchen. Built in breakfast nook ideas that use kitchen island benches can be functional, save space and are great for conversations and those with families.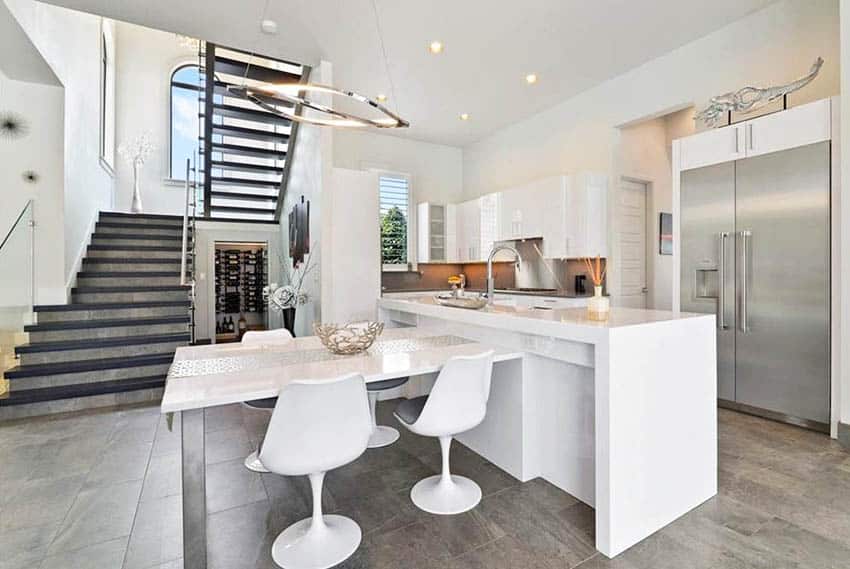 For this contemporary kitchen, instead of building a bench built on or against the kitchen island, this instead adds a built-in dining table placed perpendicular to the center of the kitchen island. The small breakfast nook is furnished with four tulip chairs to match the modern look of the kitchen.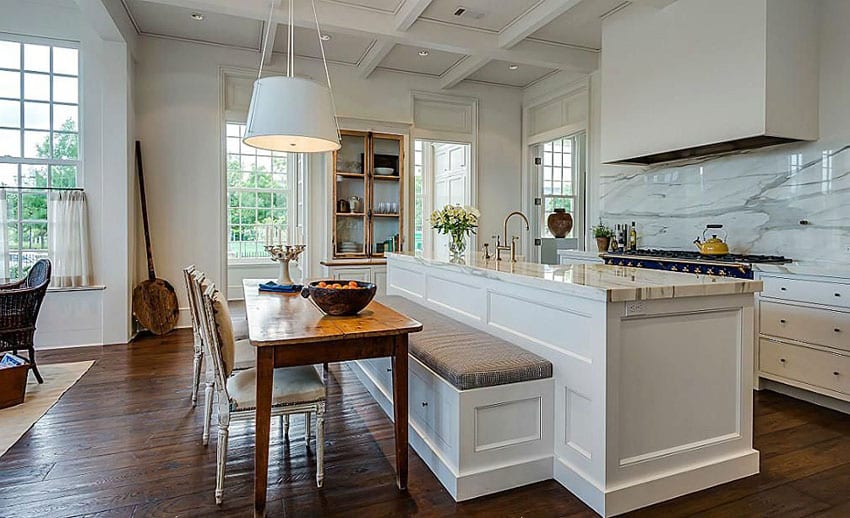 What's unique about this breakfast nook is that it was not placed against the wall, not on the corner or the window area because the kitchen is situated in the middle of the open plan living and kitchen space. To save space, however, a built-in bench was integrated into the kitchen island, which also doubles as the bench's backrest. Paired with a long & narrow vintage dining table and dining chairs, it gives the modern kitchen space a more homey warmth.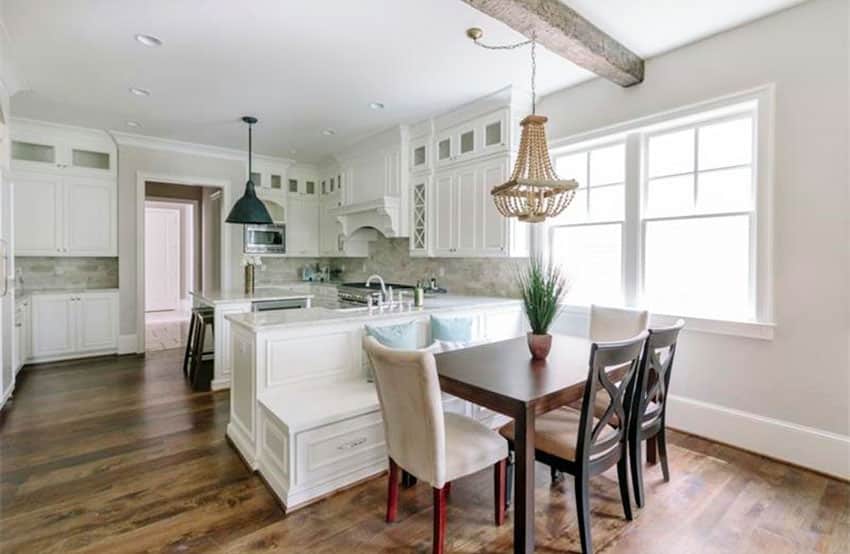 Because the window is located right after the U-shape kitchen counter, the sunlight is maximized by installing a built-in bench attached to the counter, using it as a small breakfast nook. The bench is paired with a wooden dining table and mismatched dining chairs, giving it a casual, shabby-chic feel.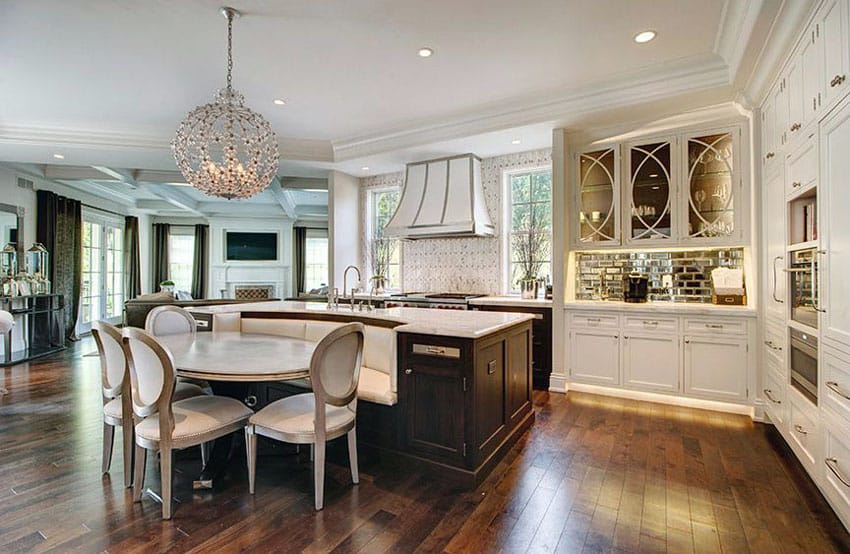 With the charming classic French furniture pieces and motifs, this kitchen definitely exudes elegance. Classic French style interiors to feel a little formal and intimidating, but the addition of the small cozy breakfast nook attached to the kitchen island adds a casual space to the area.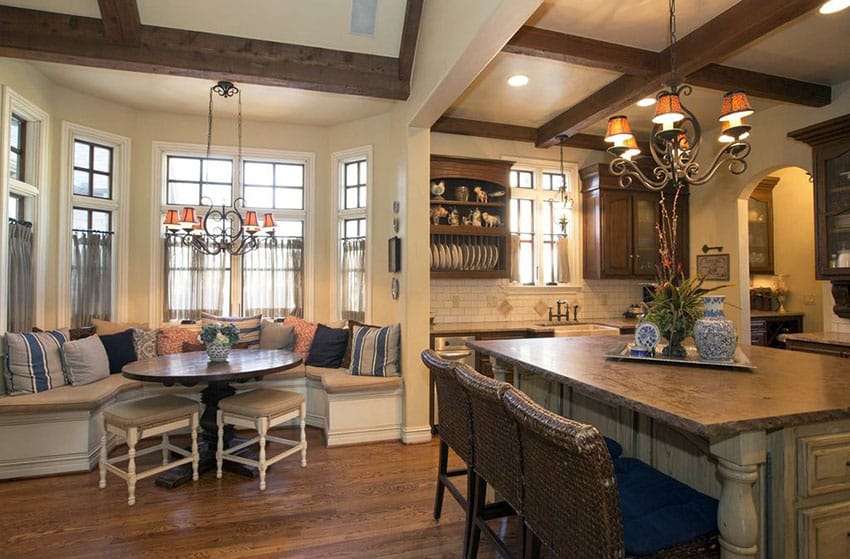 Matching the cozy, rustic vibe of the kitchen, this bay window breakfast nook adds curtains to filter the outdoor light and give it more privacy. Various sizes and patterns of pillows were also added to give it a more relaxed atmosphere. A kitchen island breakfast bar provides more opportunity for eat-in dining.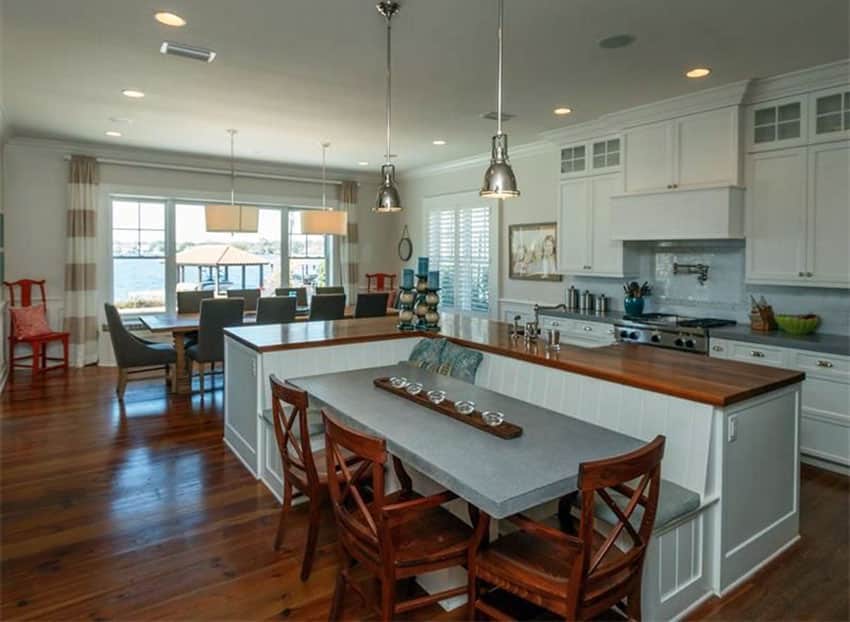 A small L-shaped built-in bench was cut out into the large kitchen island to create a small breakfast nook instead of a counter dining area. The breakfast nook not only provides more space, but it is also more comfortable and gives a more laid-back feel.
DIY Built In Breakfast Nook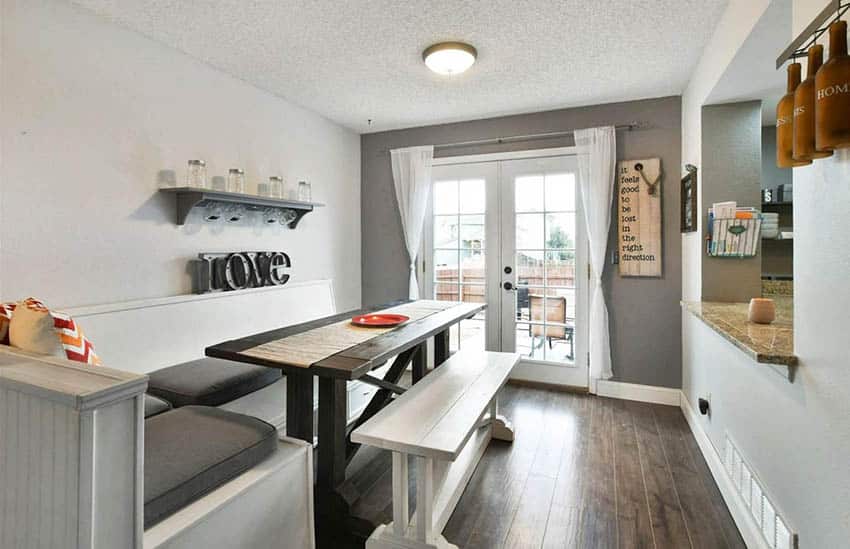 What's unique about this DIY breakfast nook is that it doesn't have a nearby window, so it was only installed near the large glass French door to bring in light to the area. The bench is also not built-in, but a movable L-shape bench with backrest and removable seat cushions. It was paired with a solid wood trestle table and white painted trestle bench to add a rustic element to the space.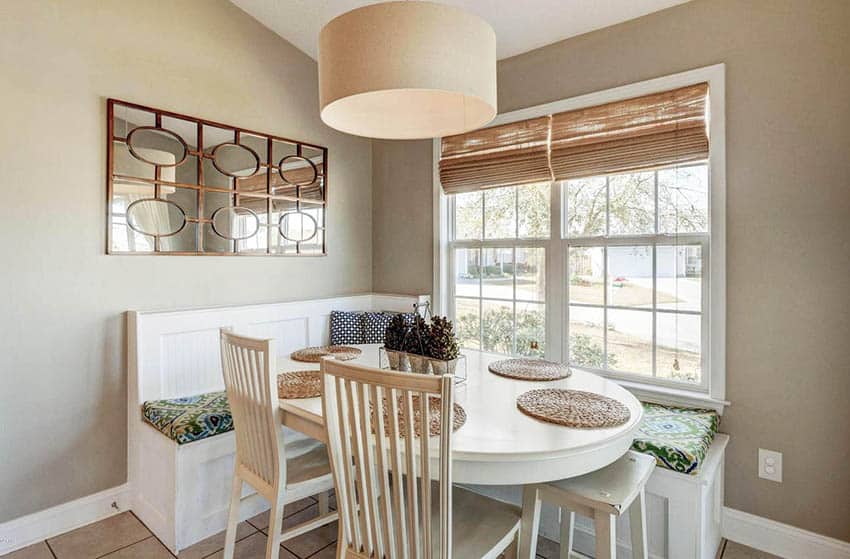 The outdoor view provide a very relaxed and casual atmosphere to this classic style breakfast nook. The built-in bench is a mixture of backed and back-less, with a printed seat cushion provided for comfort. The white bench was paired with vintage oblong dining table and classic white wood chairs and a small white wood stool to complete the shabby chic look of the space.
For this contemporary kitchen, a small kitchen DIY breakfast nook was created with a movable straight bench ins the same white color as the kitchen counters, paired with a modern white pedestal table and stackable metal stools. Throw pillows as seat cushion were added to balance the rough texture of the brick wall and add a little color to the space.
Breakfast Nook with Built In Seating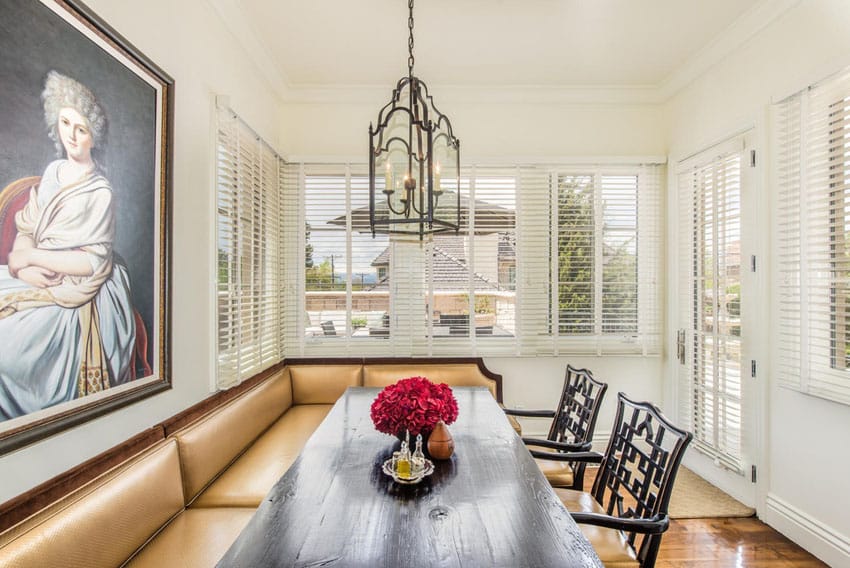 To match the classic Chippendale chairs and the classic art hung on the walls, the built-in bench adapts the same style, and even uses leather upholstery matching the armchairs. Since the walls are plain white, the whole look is still balanced and harmonious. Built-in breakfast nook ideas with bench seating often have chairs with matching upholstery to give a cohesive design.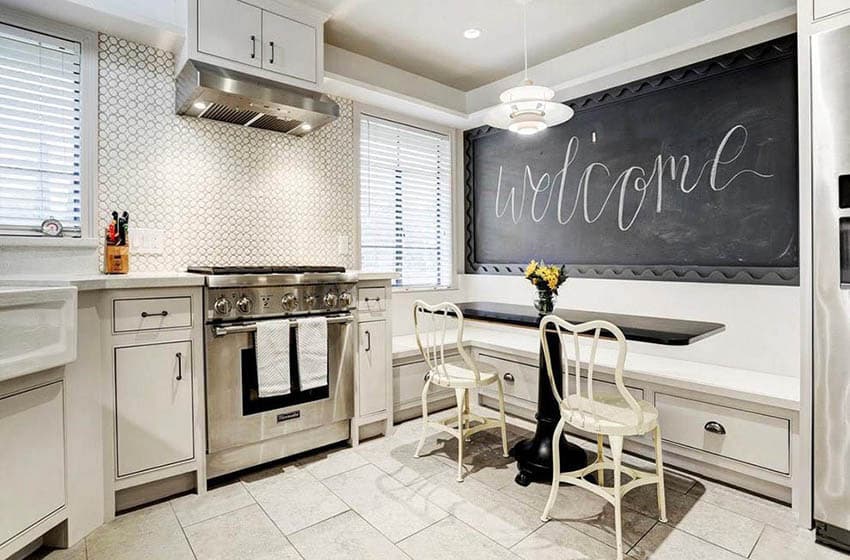 Since the kitchen is small, a compact design was used for this breakfast nook. Space is maximized by utilizing the bench as a drawer/storage space, and the additional dining chairs has a slim & light design. For contrast, the dining table used is black, and a framed blackboard was also added behind the bench.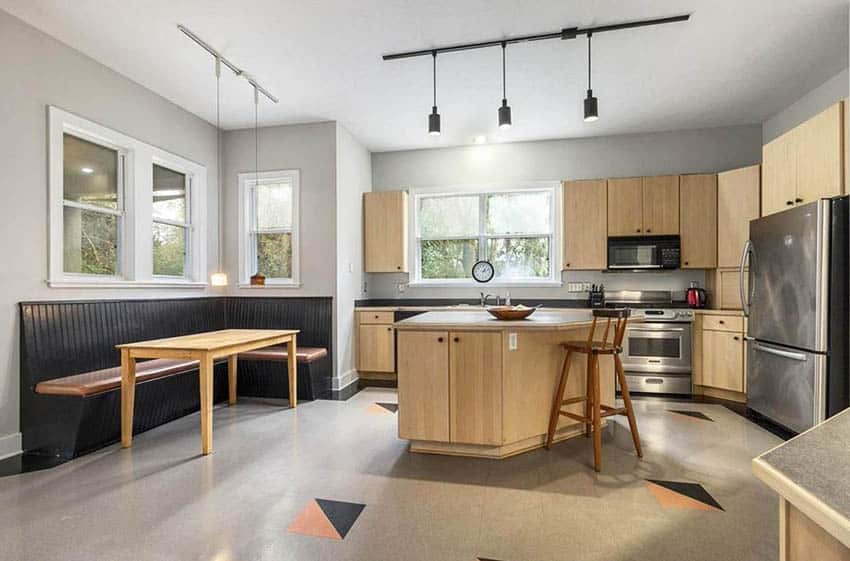 The use of beadboard panels for the built-in bench in the breakfast nook adds a nice contrast and additional texture to the contemporary style kitchen. The stark difference in color/finish visually separates it from the kitchen, while the matching wood finish of the dining table helps bring it all together.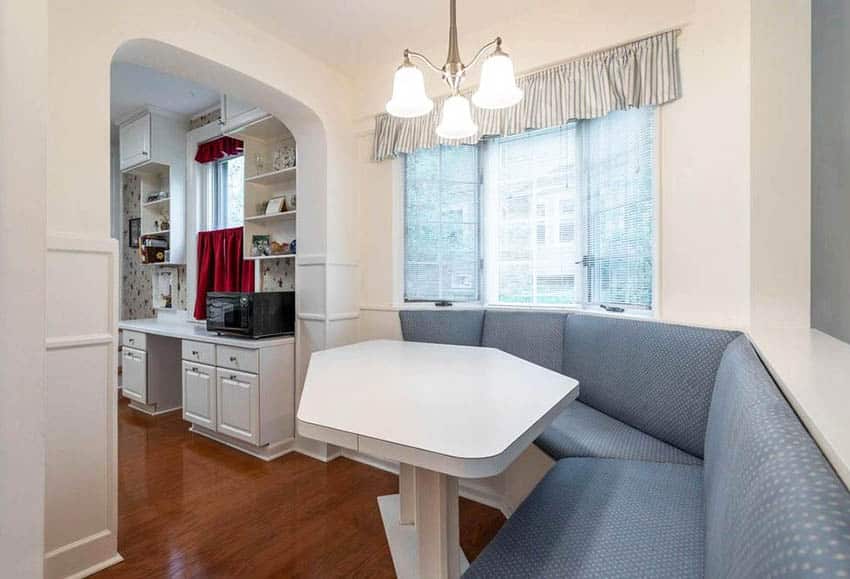 Some nooks and bay windows have non-standard shapes, so built-in benches really come in handy to maximize the seating space in such areas. This breakfast nook is in a semi-private space with only an archway dividing it form the kitchen, giving it a more private and cozy ambiance.
Small Built In Breakfast Nook
Small built in breakfast nook ideas often feature a corner bench with a portable dining table and matching chairs. With this type of setup the table and chairs can be positioned separately to accommodate different amounts of guests.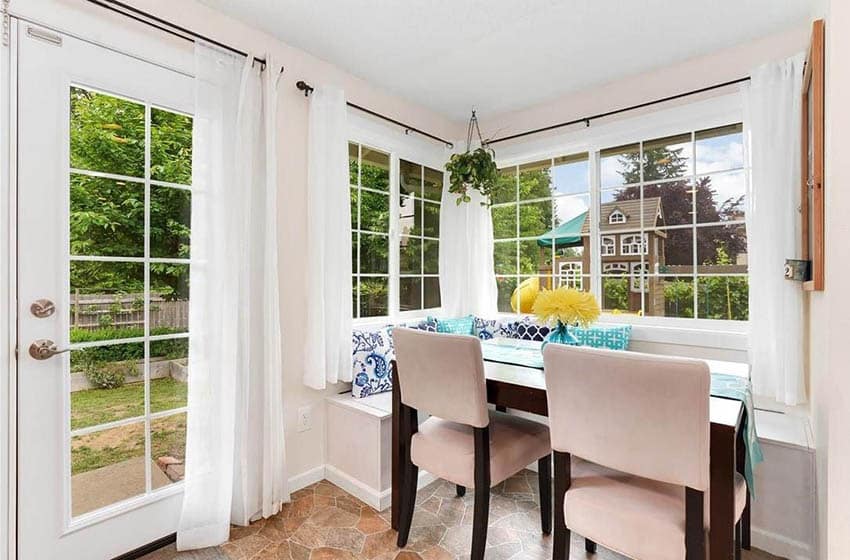 This is an excellent example of a small built-in kitchen nook. This one features a narrow built-in wood bench that doubles as extra storage space, paired with a small rectangular dining table and two matching upholstered dining chairs. Teal and blue pillows were added to add color and provide back support for the users.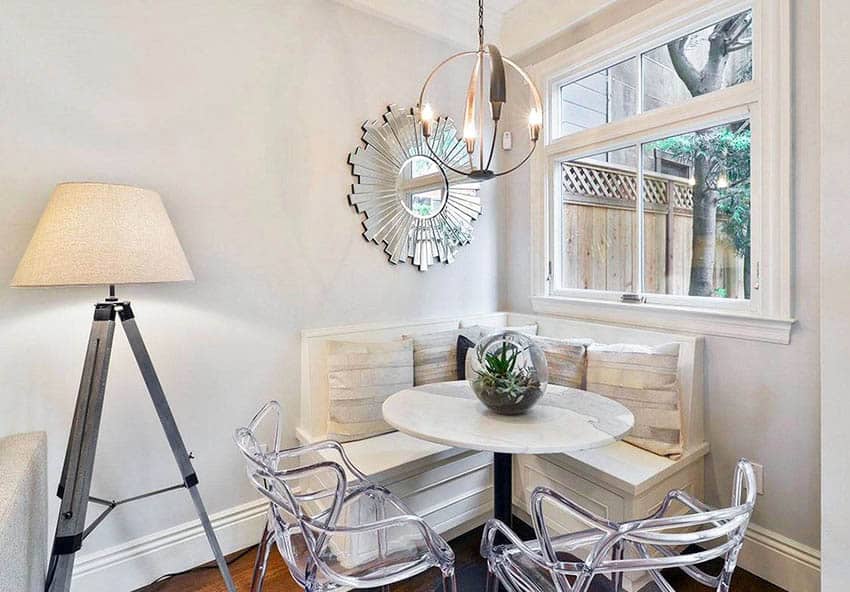 You don't always need a big space for a breakfast nook. This breakfast nook is placed on a small, tight corner of the room. It has a small L-shaped bench with a wooden backrest. To save space, a modern marble pedestal table was used, and the additional dining chairs used were clear acrylic so that the space doesn't look too crowded.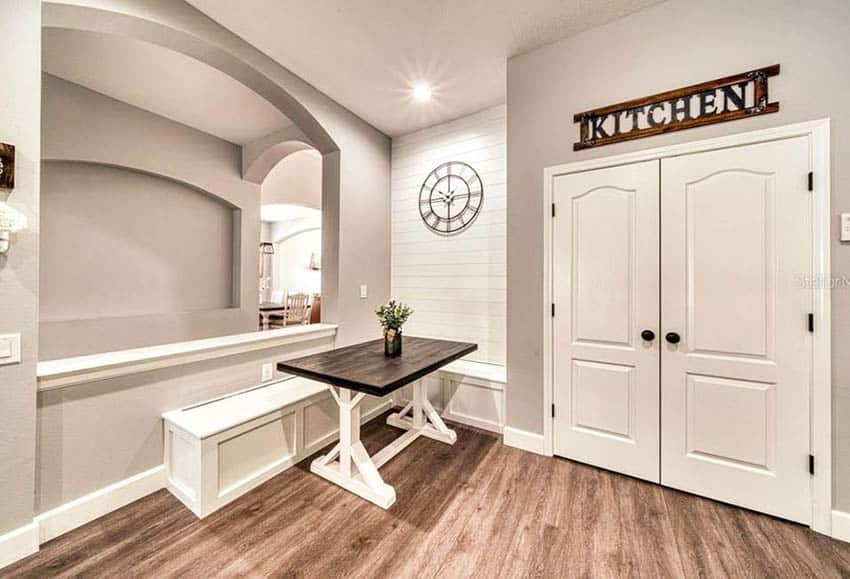 Since this breakfast nook is situated near a door, no additional dining chairs were added to avoid accidents. The built-in bench is made from simple wood contraction that matches the overall motif of the space, and matched with a wood trestle table with a dark walnut top for added contrast. Small built in breakfast nook ideas with benches and portable tables can benefit from flexibility for use near doors or in smaller spaces.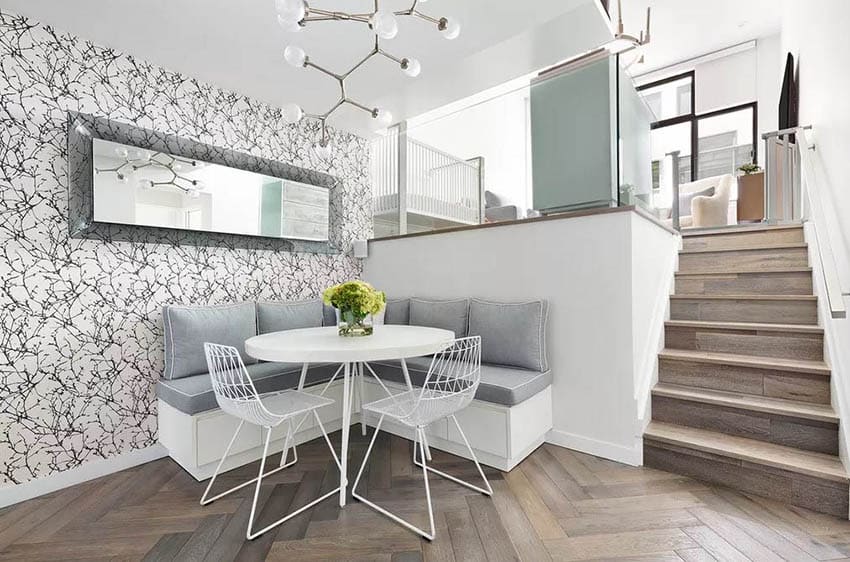 Although located in a semi-basement space, this small breakfast nook still receives a lot of natural light because the glass railings and the large windows allows the light to reach the area. Because of a limited ceiling height, the bench itself is kept simple and low with drawer storage, and removable seat & back cushions. White metal sled chairs were also added to match the white dining table, and a unique ceiling lamp was also added to keep the atmosphere cozy.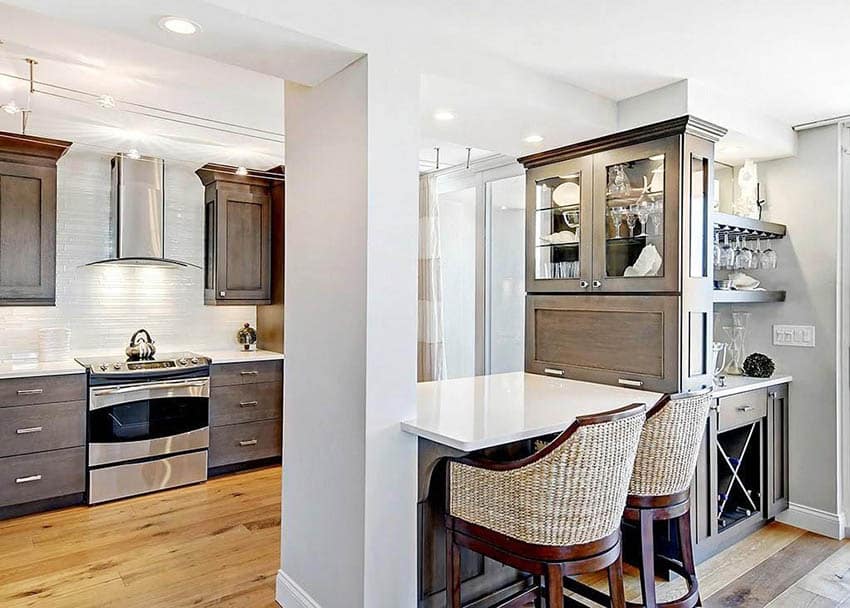 This breakfast nook was built into the space between the column and the bar cabinet, allowing the utilization of the unused space. The rush-back chairs add a laid-back vibe to the small space, and adds a textural element that still matches the overall motif of the space. A small home bar is situated next to the kitchen peninsula providing a stylish place for wine storage and easy access for entertaining guests.