Welcome to our gallery of beautiful kitchen islands with bench seating. A kitchen is a great place for family and friends to hang out and socialize. These high end kitchens offer open floor plans with large islands with space for eat in dining from custom built in benches. Below you'll see a variety of kitchen island ideas for using bench seating to create an inviting dining space.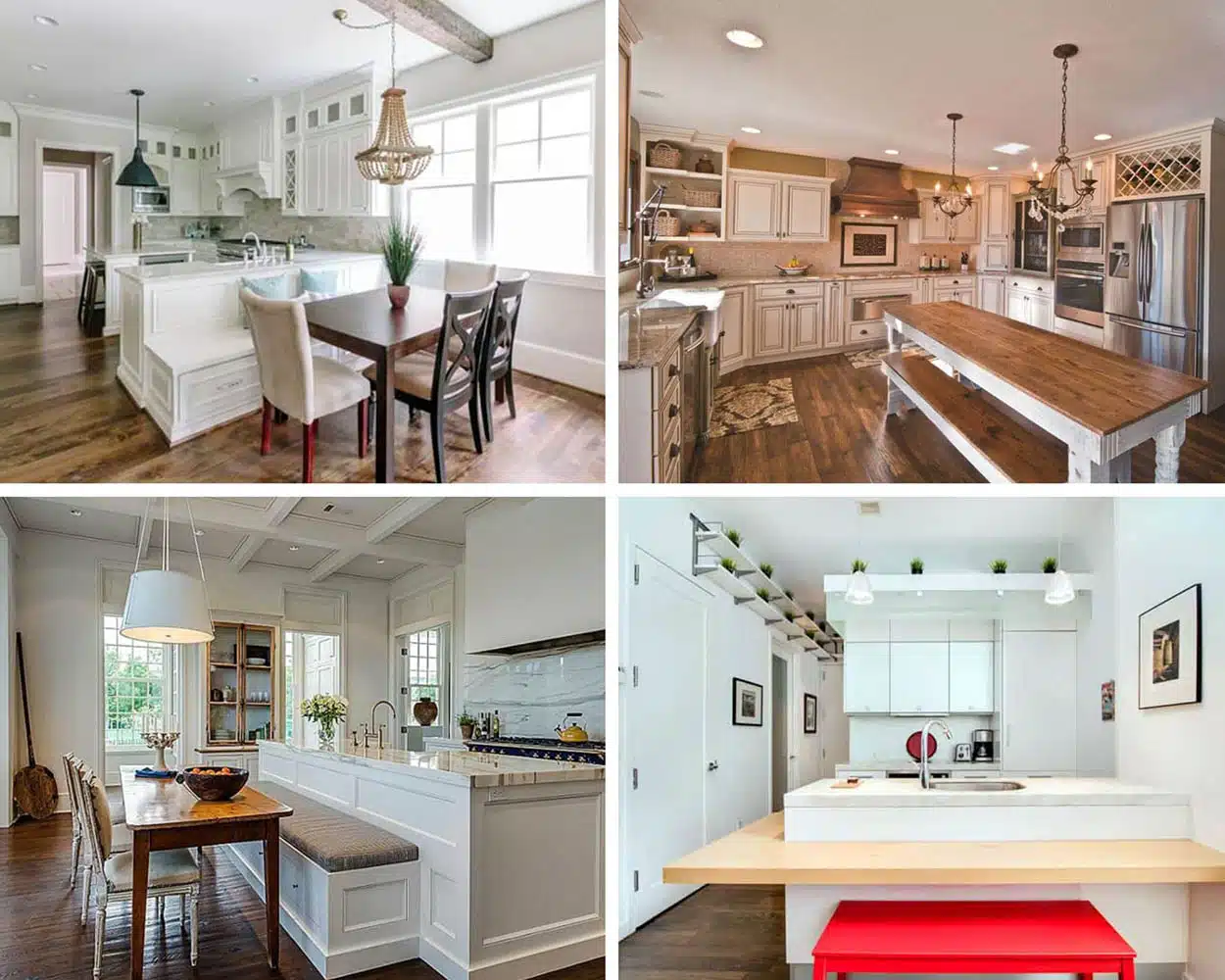 As real estate prices continue to climb, builders and families are looking for more and more creative ways to integrate spaces. They have placed a premium on multi-use rooms and areas including open plan & transitional layouts that have a cohesive design.
One of a home's most highly utilized spaces is the kitchen and dining table. Guaranteed to be used at least seven times in a week, the space is more than a place for preparing and consuming meals, it is a space for work, play and family and guest interaction.
The key to a great kitchen-dining integration is the preparation of an open plan for the two spaces. This scheme will not work if the kitchen is separated from the dining area via solid walls.
The point in integrating the two spaces are to create connections and integration that merge the two and give way to a more efficient means of using the space.
Here are four ways of integrating a dining space into a home kitchen:
Kitchen Island Seating
Whether large or small, a kitchen island stands solitary and apart from the rest of the cabinetry and counters. This gives designers and homeowners more freedom to explore with its possibilities without disrupting flow, symmetry or function.
A large custom kitchen island can be surrounded by seats —preferably bar stools or a bench to make the passage ways in between island and kitchen countertops easier to navigate. A smaller island might not even need any seating, especially if it is meant for a quick snack or coffee break.
The best thing about islands is the bottom part below the counter can be utilized for additional shelf, cabinet or drawer space. It is also a good aesthetic touch to add under counter lighting to further draw attention to the island.
When purchasing a seating bench careful consideration should be made to the height of the bench seats and the height of the bottom of the island countertop. Ensure that there is enough clearance to sit without being too low or high.
12″ from seat to countertop is about the right amount of clearance for island benches. In addition you'll want it to be wide enough to provide 24″ in between eat person.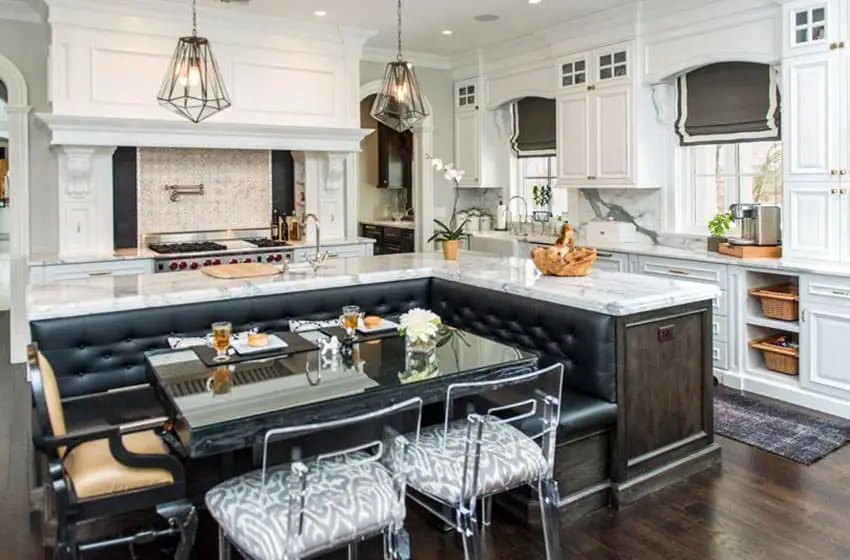 The luxury kitchen in the image above features white painted wood cabinets and matching marble countertop with a highly versatile L-shaped kitchen island. Black leather upholstery is used on the bench seating, tucked neatly into the inner side of the L-shaped preparation counter.
The L-shaped bench faces a glass dining table which features additional seats. The use of mismatched acrylic and metal seats with upholstery gives this setup a more industrial setting, a good combination to the bronzed kitchen fixtures and the pair of geometric hanging lamps over the kitchen bench.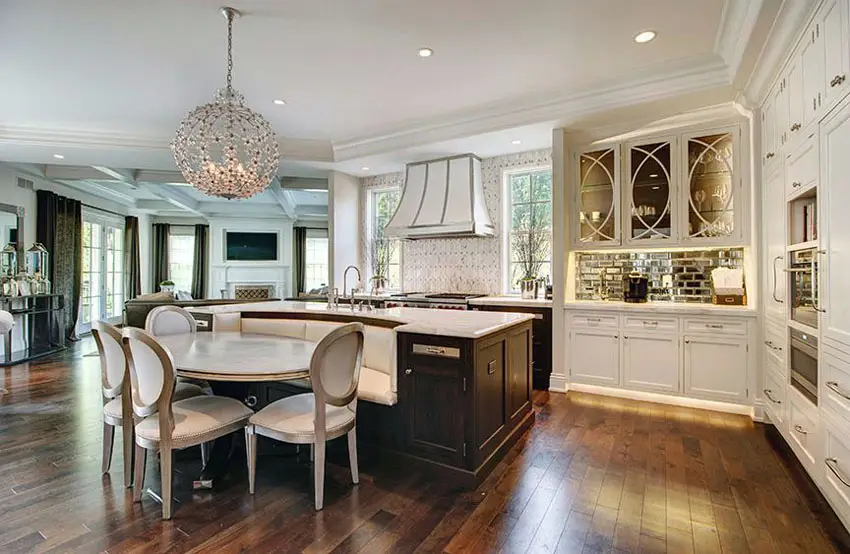 This Art Nouveau style kitchen starts with very geometric features, starting with the diagonally oriented kitchen counters flushed against the angled walls.
These recessed panel cabinets and drawers and semi-circular motif glass cabinets are in good contrast with the reflective subway tiles used for the backsplash, as well as the pair of vertical windows on either side of the range hood.
The large island with working sink, albeit in a dark wood casework, also features geometric themes. A half-moon cut out is made into the kitchen island, and a white leather upholstered bench recessed into it.
This curved bench seating space opens up to a circular table on the outside of the kitchen island, surrounded by four more dining chairs – silver-painted wood seats with white studded upholstery.
Kitchen Peninsula Seating
A peninsula almost automatically means that the kitchen setup will be galley-style or double loaded. This is perfect for kitchens with limited space, as only a single passage way is needed to service both counter tops.
In addition, the bar stools for a peninsula can be placed on either the inside or outside of the counter, depending on what look or function the homeowner or designer wants to go for. A peninsula is also a great way to create space to stow bar stools under the counter or create additional shelf or storage space.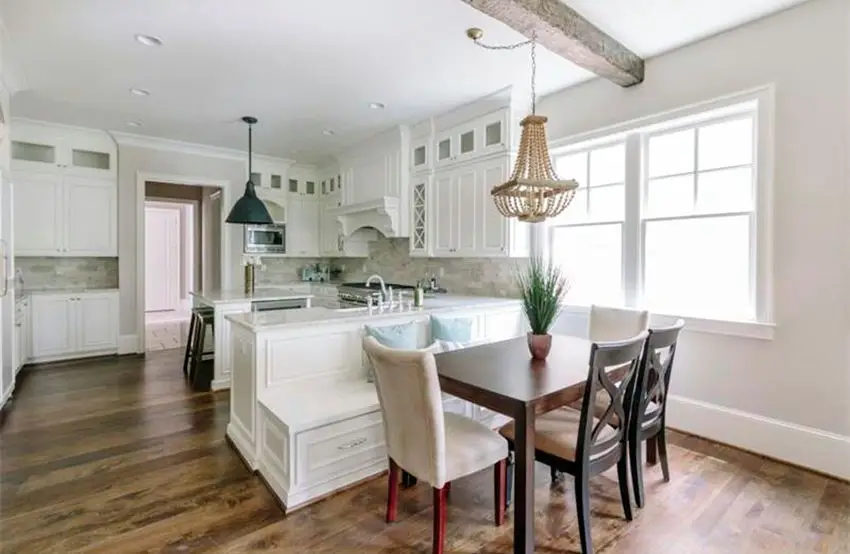 This classic style kitchen features a peninsula with built-in bench seating. Beautiful white raised panel cabinets and drawers and a Neoclassically carved architrave over the range hood provide plenty of elegance to the design.
Matched with stone subway tile backsplash and center island, the kitchen is a good example of traditional cottage-style kitchen. A relatively new addition is present on the outer edge of the kitchen peninsula with a low bench done in the same white raised panel with under bench drawers.
As a contrast to its clean white lines, a square dark wooden dining table is placed with mismatched chairs surrounding it, and is topped by a shell beach-style chandelier.
Dining Table Integrated into Kitchen
Also usable for pre-existing kitchens, there are three ways of integrating a new dining table to an existing kitchen setup. The first method is valuable for U-shaped kitchens, where a dining table is added to the center of the kitchen. This is a good way to achieve a certain look, but might produce circulation problems later on.
The second way of integrating a dining table is to situate it adjacent to a kitchen island or peninsula. This creates better circulation and is a good opportunity to use contrasting materials, as both the table and counter will be in close contact.
A third way to integrate a dining space is to extend the island or peninsula into a dual-height countertop. This is similar to the second way but is a more economic means space-wise, as little floor space is needed and simple bar stools or kitchen island bench seating can be integrated into the newly created counter level.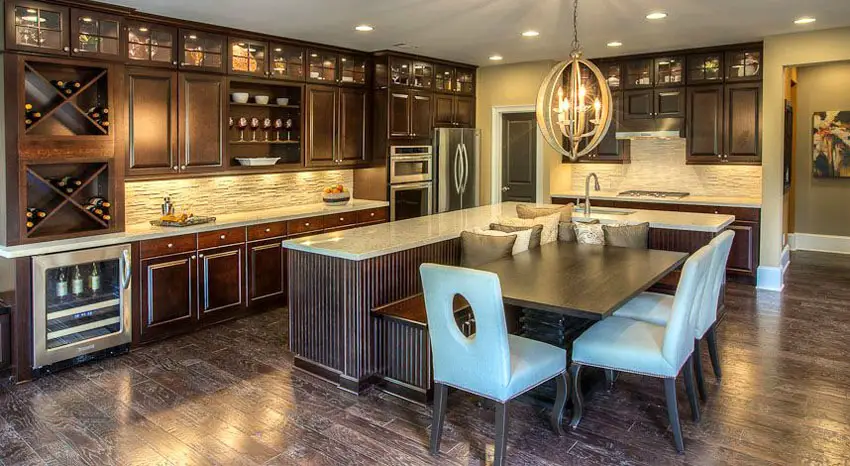 This Contemporary Italian style kitchen features an integrated dining table with bench seating. The design offers light colored slim-cut stone tiles on its backsplash, illuminated by pelmet lighting and contrasting freely with the dark colored wood used for the raised panel cabinets and X-shaped wine storage.
The wall-mounted kitchen bar is laid out in an L-shape, with a smaller L-shaped beadboard kitchen island at its center. The kitchen island also has an even smaller L-shaped low bench integrated into its structure.
Decorated with throw pillows in earth tones, the bench faces a dark-colored dining table surrounded by Contemporary style powder blue leather upholstered dining chairs.
Portable Rolling Island
There are two great opportunities to use a portable rolling island. First, a portable island is a quick and easy addition to a kitchen that needs a makeover or more preparation or dining space. The portable island can either match the existing kitchen's material or find finishes that contrast the older setting.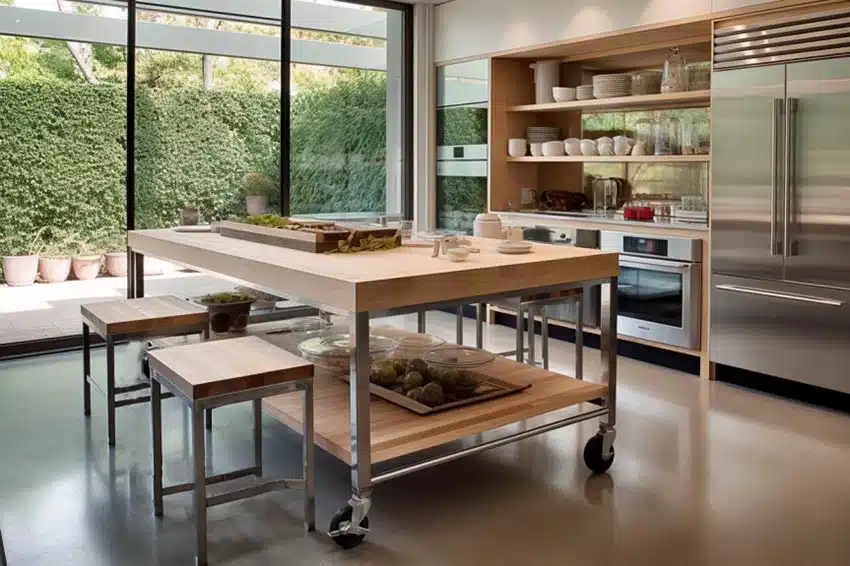 You can use these for seating if they can a long enough countertop overhang. Some models have a flip up countertop to facilitate storing them away when not in use.
Another great way of using portable islands is for busier kitchens that might need additional preparation space, particularly if more than one person is going to be cooking in the kitchen at the same time. When not in use, the island can easily be rolled off and stowed under one of the counter tops.
You can roll these next to appliances such as the refrigerator, microwave, stove, oven, or dishwasher as an extra surface to use for any cleaning or food preparation tasks you're working on.
Kitchen Ideas With Island Bench Seating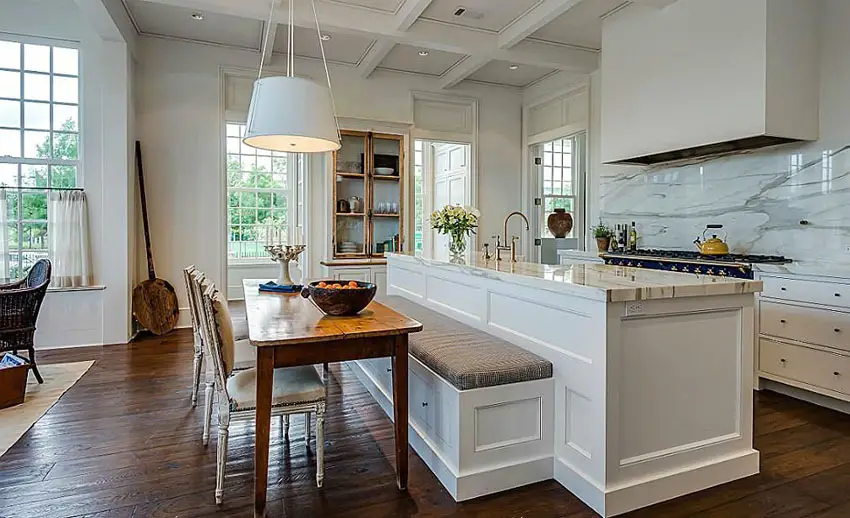 This elegant classic style kitchen features heavy-grained floor planks all over the space. Light white painted recessed panel cabinetry and Calacatta marble slabs used for the countertop and backsplash are a good contrast to the dark flooring.
The long kitchen island with sink features a low bench on its outer side with fabric upholstery and under bench cabinets. This bench faces a long vintage style wooden dining table, illuminated by a Contemporary style drum pendant lamp. The long table also features a pair of rusticated wooden chairs for extra seating space.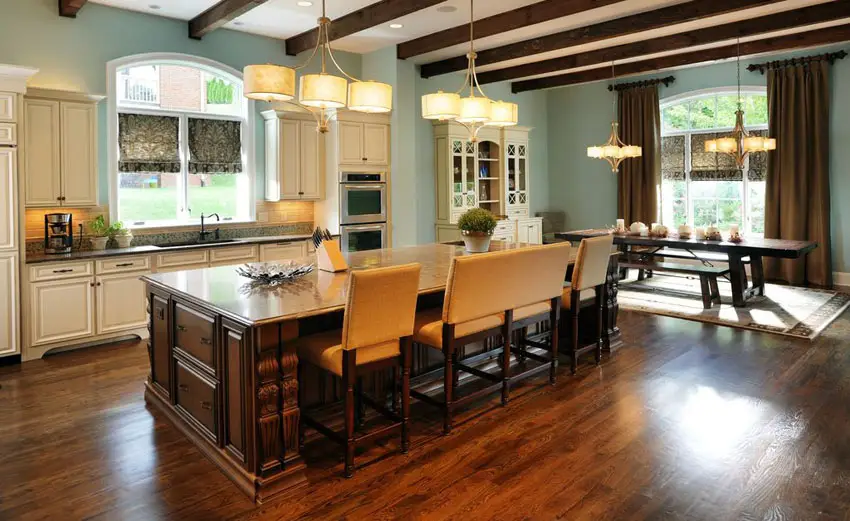 This antique style kitchen features a large central craftsman island with its large stone slab countertop supported by ornate dark wood posts and joinery.
High chairs and a high bench done in the same dark wood are granted some white upholstery and are a good match to the main dining table on the other side, both sets being lit by a pair of Classic-style trio lamps.
The rustic setup is in good contrast with the other cabinetry in the kitchen—done in salt and pepper stone countertop and backsplash and cream-colored raised panel cabinets.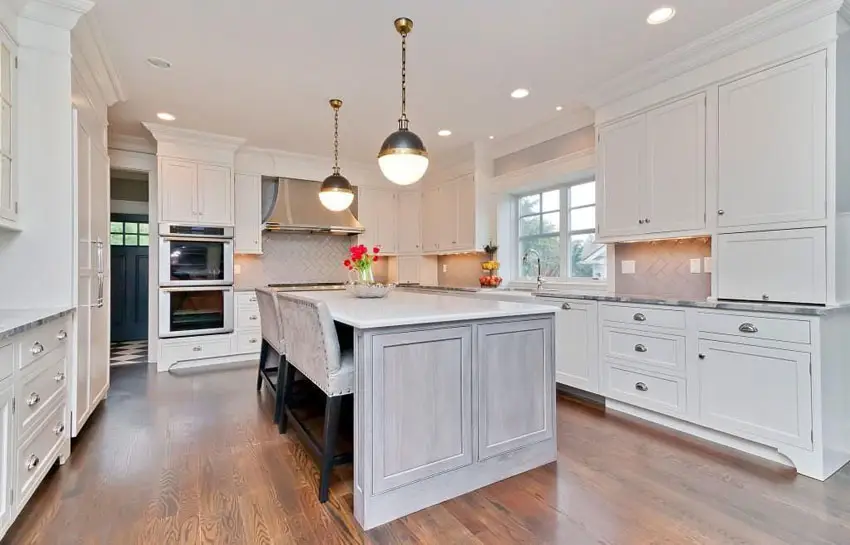 A pair of vintage spherical lamps hang low over the two-bench breakfast bar island in this Contemporary kitchen.
Light wood planks with heavy grain run all around this kitchen, contrasted by the large horizontal cuts of the clean white cabinets and drawers and its herringbone tile backsplash.
The small kitchen island is in a paler light grey wood, topped with a white quartz countertop with studs on its grey upholstered bar stools with backing.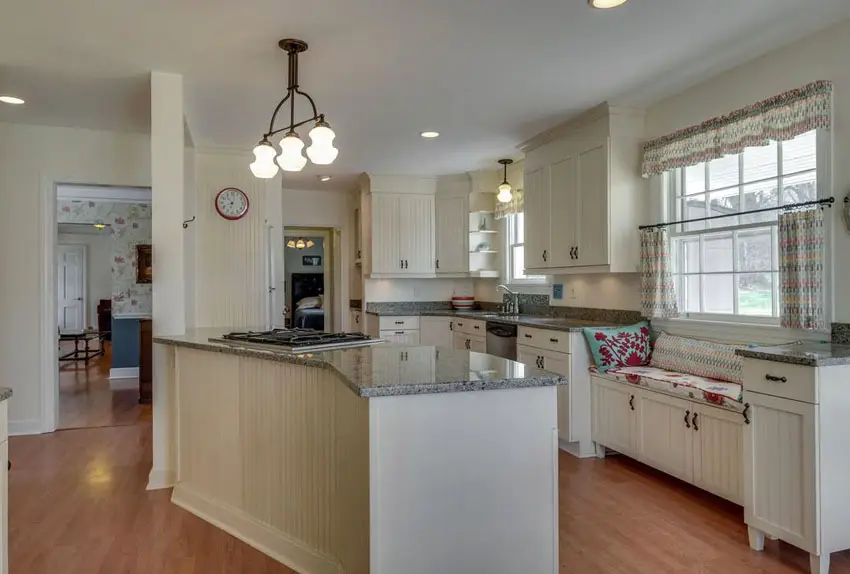 This window seat kitchen bench, recessed into the corner and illuminated by a quaint white mullioned window, is less a dining space than a space for snacks, afternoon coffee and quiet reading.
Bright colored cushions, curtains and pillows are a vibrant touch to the all-white beadboard cabinets. Cabinet space is also provided under the bench for more space-saving quality.
A vintage trio lamp is installed right in front of the bench seating, situated atop the main kitchen peninsula which is slightly angled to fit the room's layout.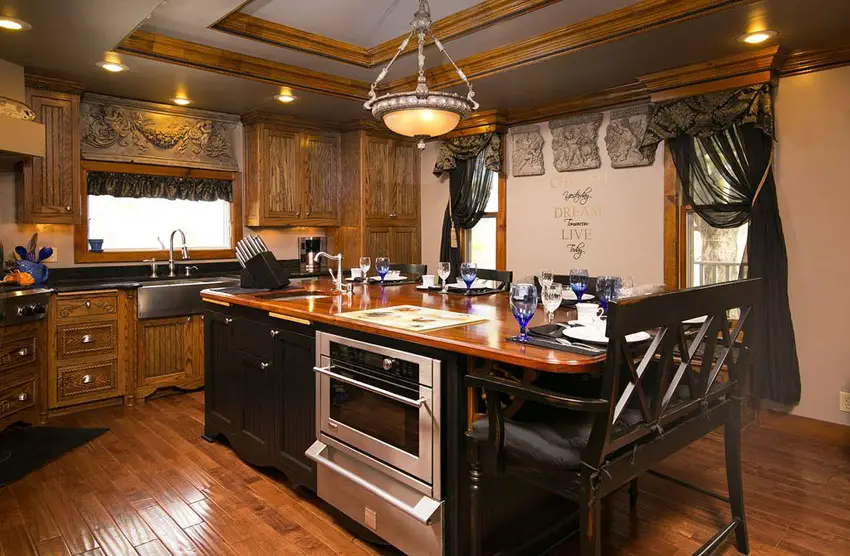 This almost Gothic style Southern kitchen features light wood cornices, floors and cabinetry amidst heavy plaster works and moldings matched with black countertop and backsplash.
A farmhouse sink adds to the dark and edgy look, as does the retro vintage pendant lamp. The large kitchen island with seating features a polished wooden surface held aloft by cabinetry painted a deep black.
The outer end of the island features a high bench and elevated chairs in a dark wood profile and black cushioning.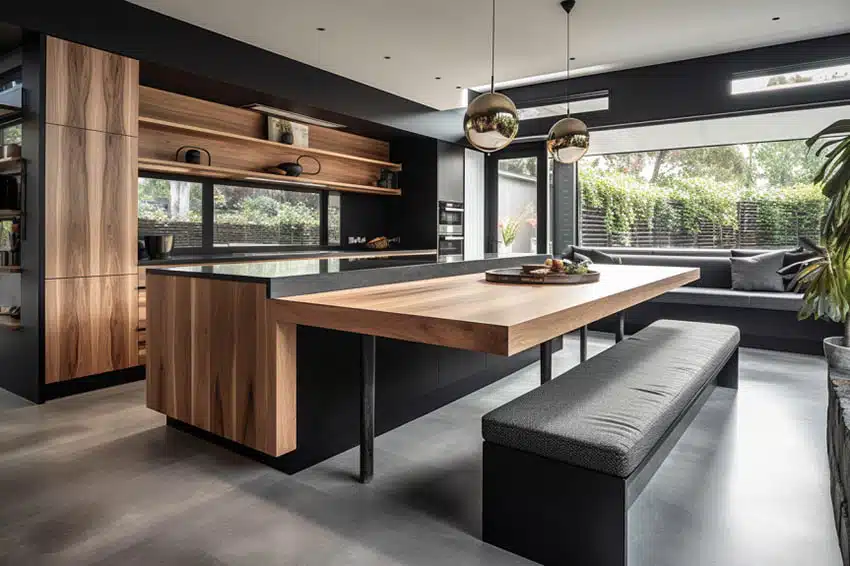 This stylish modern wood veneer kitchen offers ample banquette seating with additional booth seating near the picture window. Comfy fabric upholstery provides an excellent spot for eat-in dining or entertaining guests.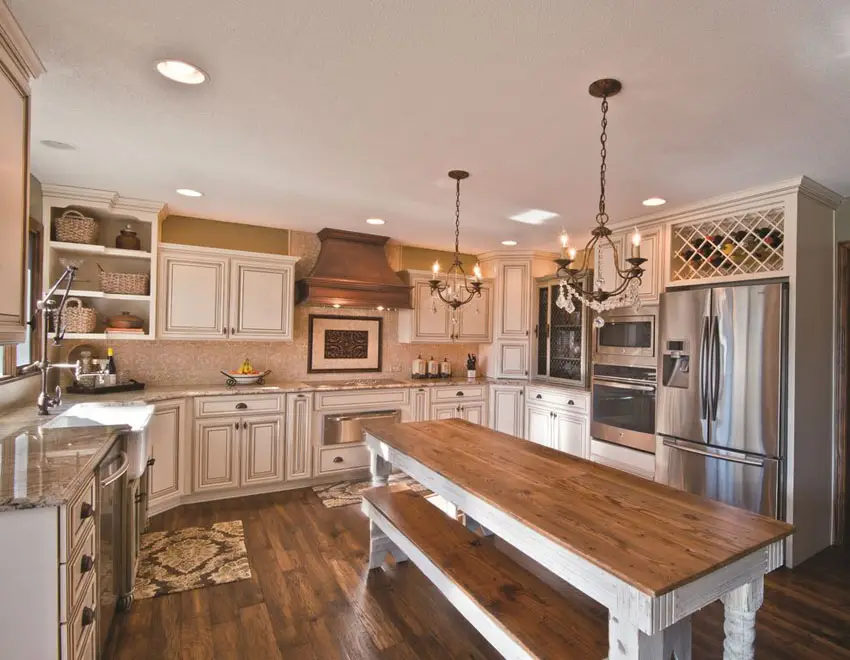 Despite being a relatively new addition to this pre-existing antique kitchen, the Classical style and profile of the Contemporary rustic wood island matches with the aged surroundings. Made of a light but rich wood grain, the tops of the kitchen table and benches go well with the distressed white painted wood of the bench's frame.
A pair of candelabras hanging over the dining bench also give this Contemporary fixture a more old school feel. The initial kitchen features rusticated white painted raised panel cabinets, Classic wallpaper for its backsplash and an aged brass range hood.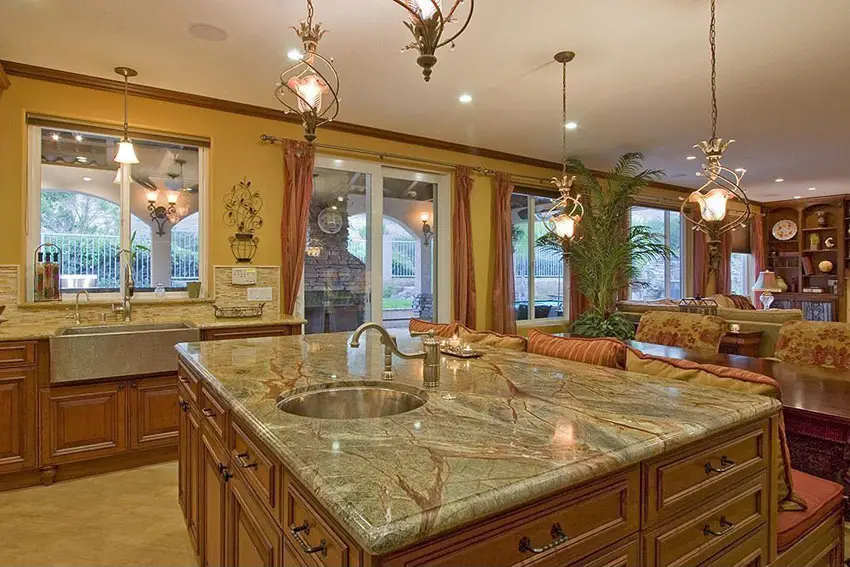 This high luxury Gatsby-style kitchen features intricately-shaped metal pendants lamps with glass on its center. These lamps hang over a kitchen with heavy-grained cabinetry and stark lines on its brown and green stone countertops.
Pushed against the massive kitchen island is low-bench seating upholstered in burgundy textile and matched with classic style dining chairs over a heavy warm wood dining table.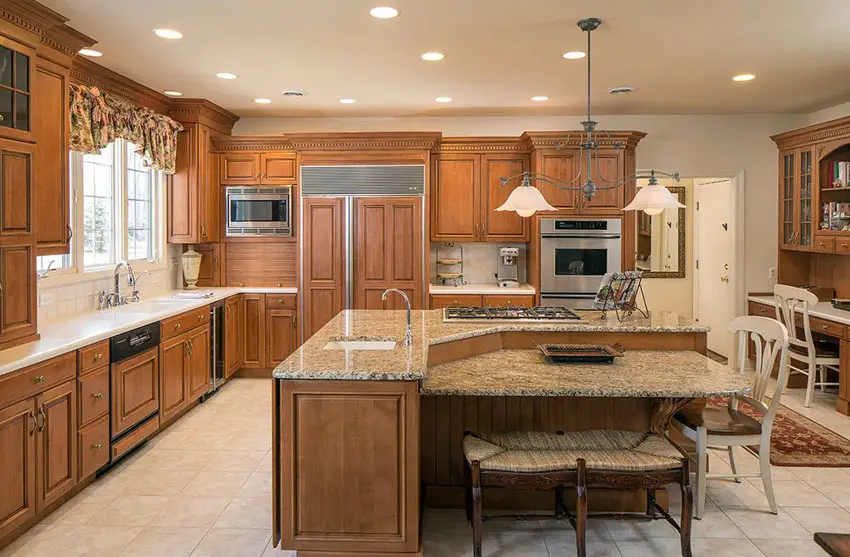 This traditional family kitchen is built in an L-shape with a matching work space on the opposite wall, filling the room with different nooks for activity.
The warm wood used for all the general cabinetry is a good base color, as are the cream-colored floor tiles. The center island has an L-shaped high countertop for food preparation.
A smaller angled countertop is sunken lower than the regular counter height but features the same salt and pepper granite stone countertop that features vintage furniture for its low bench and dining seat. The whole set up is lit by a lithe vintage style dual-head hanging pendant lamp.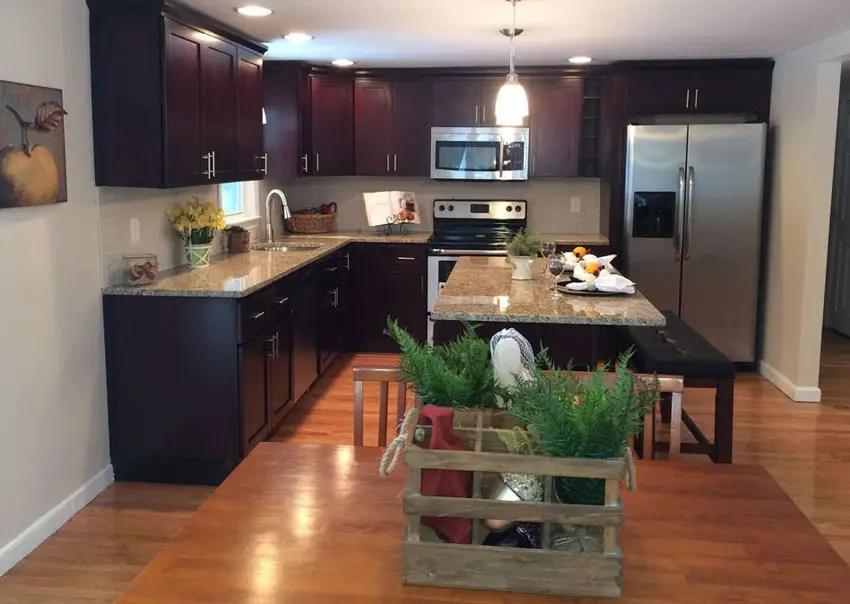 This traditional style kitchen features more Contemporary colors with the use of dark cherry wood for its recessed panel cabinets and drawers, matched with cream-colored mosaic tile backsplash.
The countertops are in a heavy-grained stone slab, also featured for the center island, lit by a trio of hanging pendants. The center island also features a breakfast nook with low bench in dark wood and black upholstery, additional seating space to the warm wood dining table adjacent to it.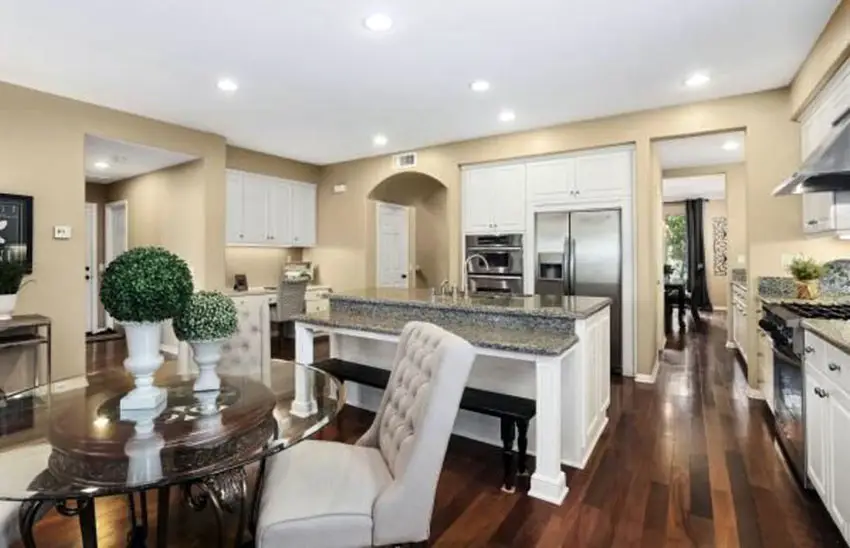 This traditional mansion style kitchen features a more staggered arrangement, with counter spaces dispersed all around the room. A uniform scheme has been created for the counters, however, with its grey salt and pepper stone countertops, clean white raised panel cabinetry and base, and coffee-colored walls.
At the center, a dual level island serves as sink and prep space on its upper part and breakfast bar on its lower part when mixed with the thin black painted wood bench. Dark and light colored wood floor tiles run all around the room and unites the whole look seamlessly.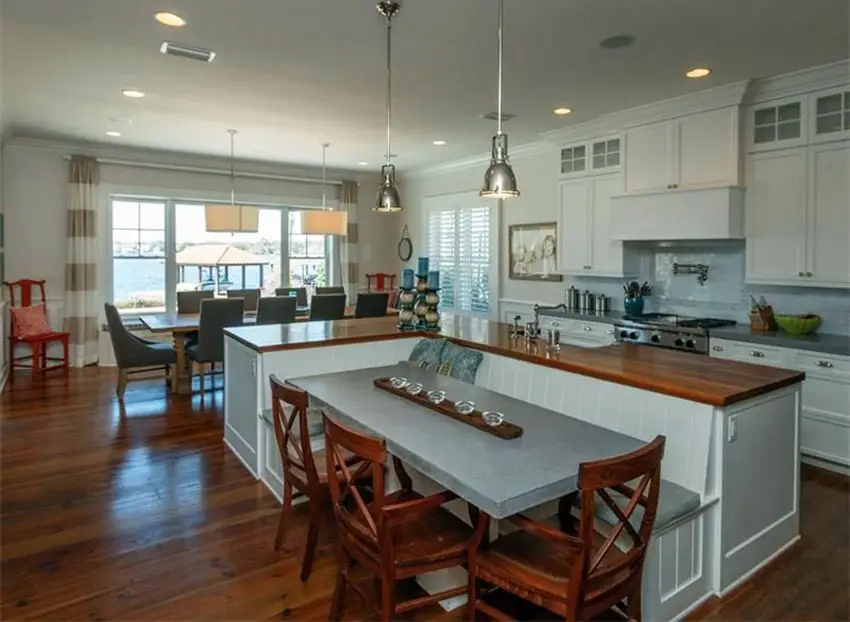 This traditional Hampton-style kitchen features quaint kitchen cabinets and drawers on its wall-mounted cabinetry. This is a good combination with the main dining table facing out into the dock through a large picture window.
The kitchen island is L-shaped and features a white painted wood base with a rich wood texture for the countertop, lit by a pair of metallic industrial pendants. The crook of the L-shaped island features low booth seating decorated with a grey cushions and blue throw pillows.
The bench seating faces a dark grey dining table, surrounded on its other side by warm wood chairs in a more traditional profile.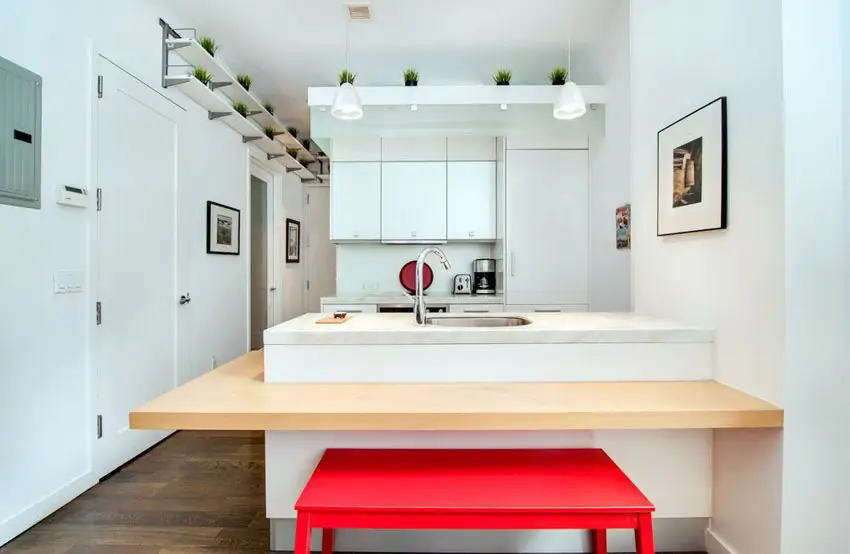 The clean Minimalist look of this kitchen is thanks mainly to the white tones used for all its walls and simple flushed cabinets, high open shelves, and drawers.
The clean white lines are complemented with a light-grained stone countertop on the kitchen peninsula and an accompanying L-shaped hanging wooden ledge.
The ledge acts as a quick breakfast bar, and features the only pop of color in the entire room—the bright red low bench at the forefront of the entire kitchen setup.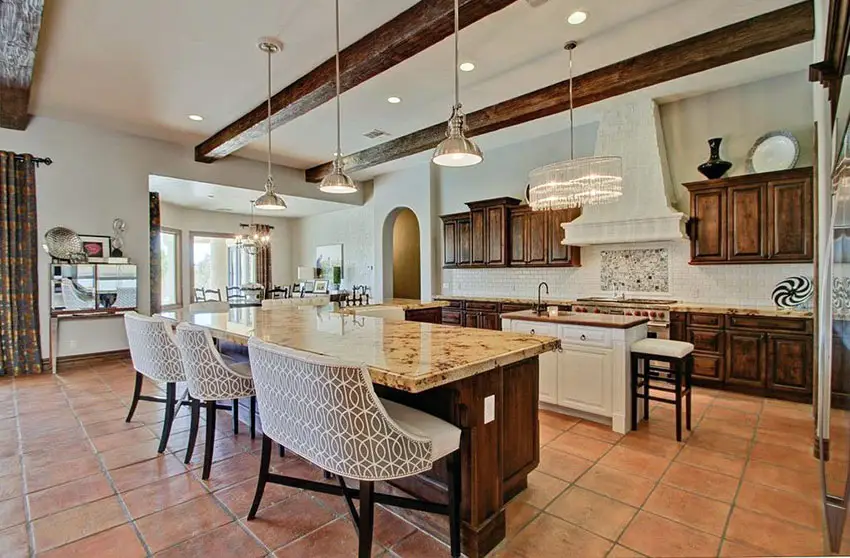 This large double island kitchen with a craftsman design features exposed timber beams on an all-white ceiling which matches the edgy wood finish used for the cabinets and drawers.
More nature-honed elements include the square terracotta floor tiles, and beige polished stone countertops. Cleaner, more Contemporary elements were also added in the form of white subway tiles on the backsplash and oval-shaped glass chandelier over the small kitchen island.
A trio of industrial metallic pendants hang over the larger L-shaped outcropping. The L-shaped bench also doubles as dining area with wide bar benches on its outer side. The benches are done with a Contemporary geometric upholstery, but maintain a Classic profile to its wooden framework.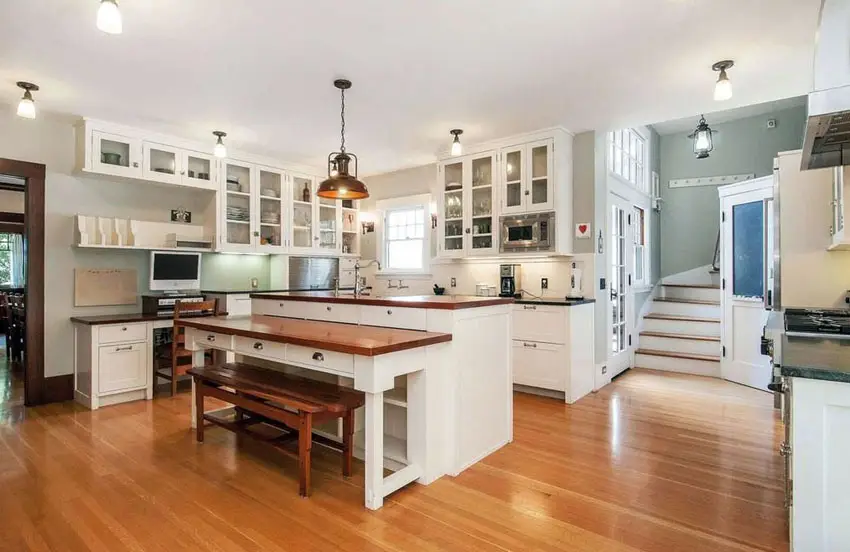 This clean and Contemporary kitchen features at its center a dual level kitchen island with breakfast bar bench. The kitchen island, done in white painted wood, is topped with a vibrant wood countertop and lit by a vintage style hanging pendant lamp.
A lower wood surface in the same wood framing is attached on the island's outer part and matched with long low wooden banquette seating which can be easily stowed under the counter.
This long outcropping, fitted with sleek drawers acts as a quick breakfast bar with ample storage space under the table and close proximity to the L-shaped kitchen done in white painted wood and glass display cabinets. One side of the kitchen even features a work station with a desktop computer and wooden desk seat.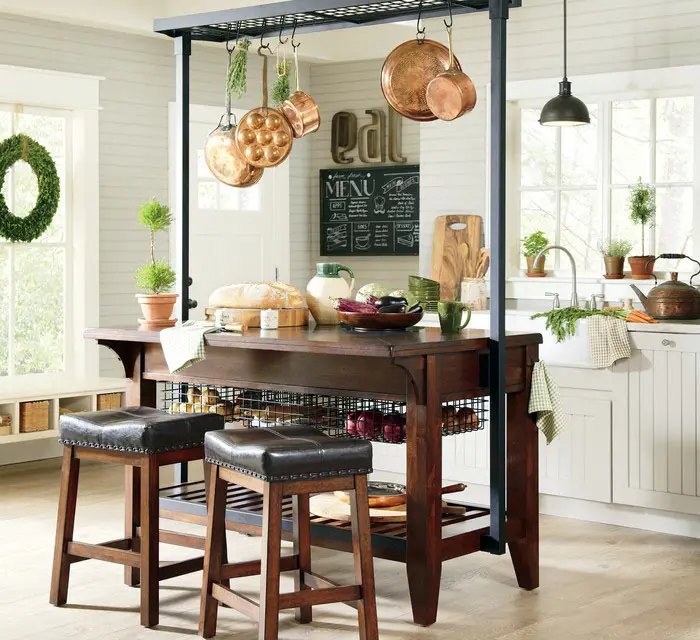 This kitchen island with pot rack is available from Wayfair. This nifty easy to assemble kitchen island is a great solution to a previously-constructed kitchen needing an upgrade in both space and style.
Made of dark wood, the set even includes the black metal pot rack over the counter. The rustic feel of this small island nook is a good addition to any kitchen. In this case, it provides a spot of color to an all-white kitchen with large corniced windows.