The guide to the pros and cons of granite sinks including what it is, how to clean, if they are worth it and advantages over stainless steel and quartz sinks.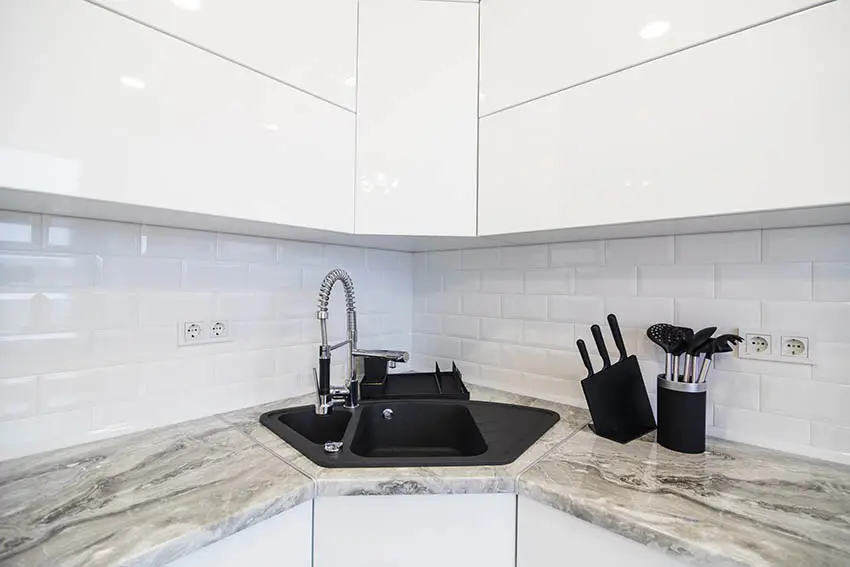 Granite might not be as popular as before but they are still not obsolete as well. There's no doubt that granite is one of the sturdiest and long-lasting materials to use for a sink.
Read on to find out the pros and cons of granite sinks and see if it's a worthy addition to your kitchen.
What Is A Granite Sink?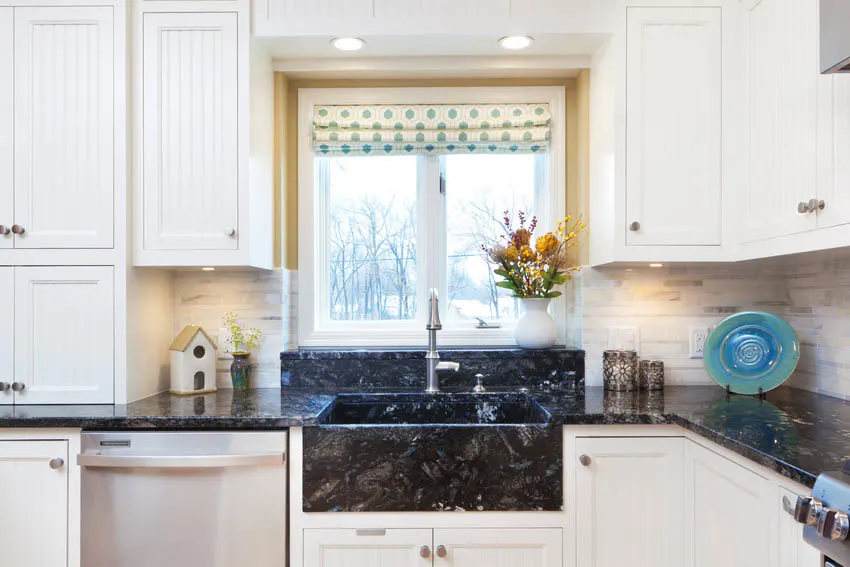 Granite sinks that are sold on the market are not totally 100 percent granite. Rather, they are made of composite material—specifically 80 percent granite and 20 percent acrylic resin.
That's because pure granite is very rare and expensive. There are very few pure granite sinks that are commercially available on the market. So those that are sold on the market are actually granite composite.
They might not be pure but they are still elegant and look just like the real thing. They are also affordable and come in varying shapes, sizes, and colors.
Granite Sinks Pros And Cons
When it comes to sinks, durability, strength, and attractiveness are a granite sink's three must-haves qualities. Aside from these three, here are the rest of the pros and cons of granite sinks:
Granite Sinks Pros
Durable — Granite sinks are made up of 80 percent pure granite. Even if it is not 100% pure, it can still withstand extreme pressure. It is also scratch- and heat-resistant, making it a perfect addition to a busy kitchen bustling with activity.
Attractive — There's no doubt that a granite sink looks luxurious. Installing one in your kitchen can help create a classy and elegant vibe.
Acid and Heat-resistant — The kitchen sometimes looks like an alchemist's workshop. You use different materials and ingredients that may possibly damage your sink in the long run.
A granite sink is a perfect choice for busy kitchens because it is resistant to acid and other chemical substances.
Granite sinks are also heat-resistant. In fact, it can withstand heat up to 280 degrees Celsius.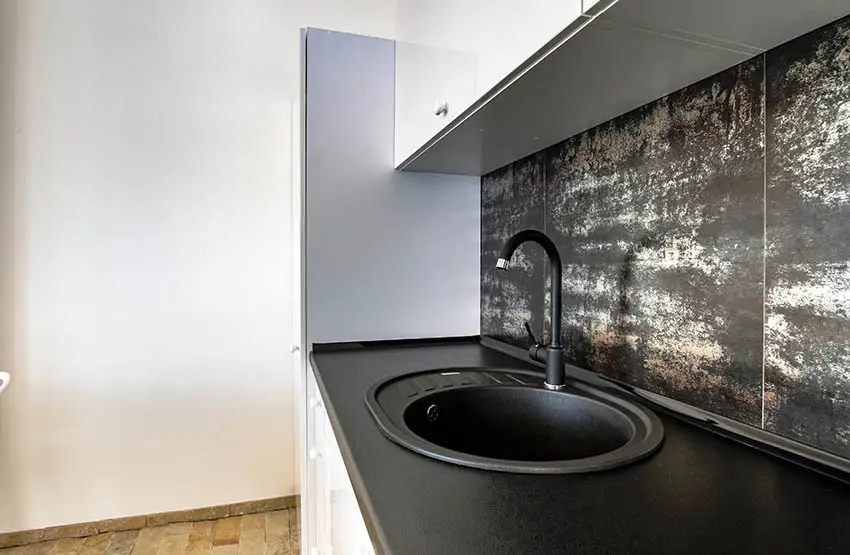 Easy maintenance — Granite sinks do not require any special cleaning agents. And since they are stain-resistant, they are quite easy to clean as well.
Affordable — Granite looks luxurious without the high price tag. Because they are not made from pure granite, they cost less. So you can have the opulence of granite even without spending a lot of money.
Granite Sinks Cons
Hard — Some sinks, like stainless steel, can be a little forgiving to your dinnerware. Granite sinks, on the other hand, are not as gentle. When a glass or a plate slips from your hands, it will break into pieces when it hits your granite sink.
Heavy — Granites are essentially a natural stone so it's no surprise that it's heavy. Installation might prove to be quite difficult because of its weight. You can expect a higher labor cost because of this.
Extra Expense — Granite sinks are quite affordable but they are still generally more expensive compared to stainless steel or porcelain sinks. See more porcelain kitchen countertops here.
Prone to Stains — Lighter colors are more prone to stains. That's because the resin used in lighter-colored granite sinks is more absorbent to acid and other staining materials. So if you want to remove the stain, you'd need to chip off the resin and replace it with a new one.
Granite vs Stainless Steel Sink
Granite and stainless steel couldn't be more different from each other. Like many other types of sinks, they both have their upsides and downsides.
Stainless steel sinks are still popular. They are commonly used in restaurants because of their durability and ease of maintenance.
Their look has also evolved over the years, with a wide selection of styles, shapes, and sizes to can choose from. They look especially great with chrome appliances, creating a cohesive look in your kitchen.
Most importantly, stainless steel is 100 percent recyclable, making it an eco-friendly option.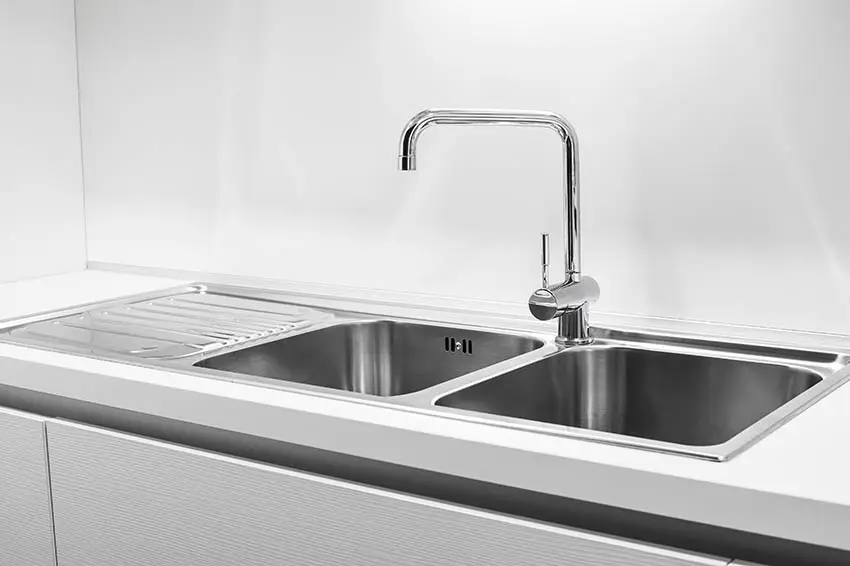 On the downside, stainless steel sinks are prone to scratches and tend to look dull over time. The thickness of the steel also affects its durability—the thinner it is, the more susceptible it is to dents and damages.
Lastly, the sound of cutlery against the stainless steel sink can be quite annoying for some.
Meanwhile, granite sinks are durable. Moreover, they are resistant to scratches, heat, and stains. Not to mention, they are also easy to clean and maintain.
Design-wise, there's a wide variety of colors and designs to choose from depending on the brand. You can't also deny that granite adds a touch of luxury to a space.
However, granite has more limitations to configuration choices compared to stainless steel. Dark granite sinks are not suitable in areas with "hard water" as they can cause a build-up of white residue on the surface. You can avoid this by wiping the surface dry immediately after use.
Granite and stainless steel are both durable and functional. There is also a wide range of styles to choose from for both materials.
Still, your choice ultimately depends on your preference and the overall style of your kitchen. Look at your kitchen and ask yourself which will look good in it—a granite or a stainless steel sink?
Which Is Better: Granite Or Quartz Sinks?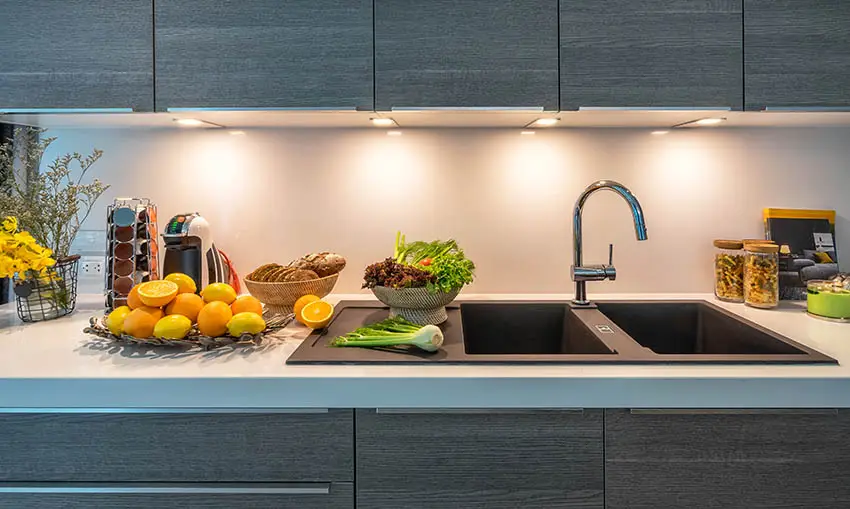 When it comes to the aesthetic factor, quartz and granite are both visually pleasing. Not to mention, they added a touch of luxury to your kitchen. See more quartz backsplash kitchen ideas here.
Since both are stones, they are durable and can last a long time, especially with proper care and maintenance. Both are also heat- and stain-resistant. You can place pots on either sink directly from the stove and they won't sustain any damage at all.
However, granite is scratch-resistant while quartz isn't. If you use knives or any sharp objects on them, you'll definitely mar your quartz sink. On the upside, you can use any type of cleaning material on quartz so maintenance is not a big deal.
Granite sinks are denser and harder than quartz. It can potentially damage fragile glassware easily if you're not careful. Granites are also heavier so installation can be quite difficult as well. But like quartz sinks, granite is also easy to maintain.
So which is better—granite or quartz sink? Again the choice would ultimately depend on your taste and budget.
Are Granite Sinks Hard To Keep Clean?
Granite might not be on trend but they are still a popular choice for sinks, thanks to the remarkable elegance it gives to your kitchen.
Aside from the aesthetics it provides, granite sinks are popular because they are easy to maintain and clean. But that doesn't mean that they are completely stain-resistant.
Just like any other materials, granite sinks are still subject to normal wear and tear. So if you want to maintain the beauty of your granite sink, cleaning it regularly is a must.
How To Clean Granite Sink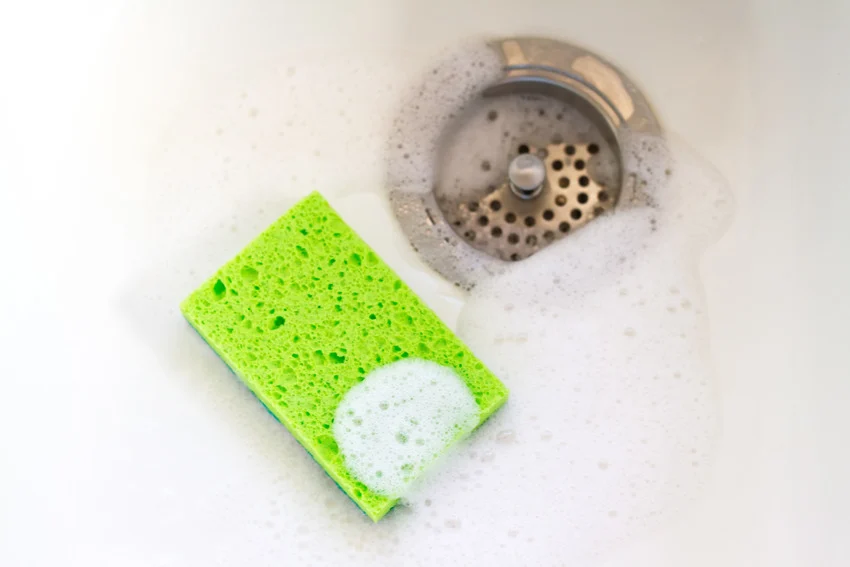 There are different materials or chemicals that can ruin your granite sink, including hard water, rust, and food.
When cleaning your granite sink, carefully check the materials you will use because some cleaning agents can damage the resin and remove the luster of your granite sink.
The mildest but most effective cleaning agents are:
Vinegar

Baking soda

Mineral oil
A word of caution—do not let the vinegar and baking soda solution sit for a long time on your granite sink. Vinegar is still acidic and leaving it on the sink surface for too long can significantly affect the sink's luster.
Here's how to use the vinegar, baking soda, and mineral oil solution in cleaning your sink:
Empty and Clean the Sink. Before you start cleaning your sink, remove all the stuff in and around it. Make sure that there aren't any food scraps or debris on it.
After that, pour hot water and scrub the whole sink with soap. Use a soft cleaning rag or bristle brush when scrubbing the sink. Never use wire or steel wool brushes as they can scratch and damage your granite sink.
Sprinkle Baking Soda. Sprinkle some baking soda on heavily stained or discolored areas. You can also pour baking soda over the rest of the kitchen sink area if you want to do a thorough cleaning.
Let it stand for a couple of minutes. Baking soda is mildly abrasive but it won't damage your sink surface at all.
Pour Vinegar. Use white vinegar when cleaning your granite sink. It has no coloring agent that might stain your sink. Distilled vinegar, on the other hand, has a higher acidity level so it might affect the luster of the granite sink.
Pour a small amount of white vinegar over the baking soda and mix them together. You can also use less vinegar by diluting a cup of vinegar with one cup of water. Place the solution in a spray bottle then spray it on the sink's surface.
Scrub the surface especially the heavily stained areas using a soft bristle brush or cleaning rag. Repeat the same process on hard-to-reach surfaces where hard water usually stagnates or dries up, leaving stains on the sink and around the drain.
After scrubbing, rinse with warm water and dry with a paper towel or soft dry cloth.
Wipe with Mineral Oil. When the sink is completely dry, pour a tablespoon of mineral oil on a dry rug. Then, buff the surface of the granite sink in a circular motion.
The oil will restore some shine to your sink. You can also add more oil as needed; just don't overdo it.
Are Granite Sinks Worth It?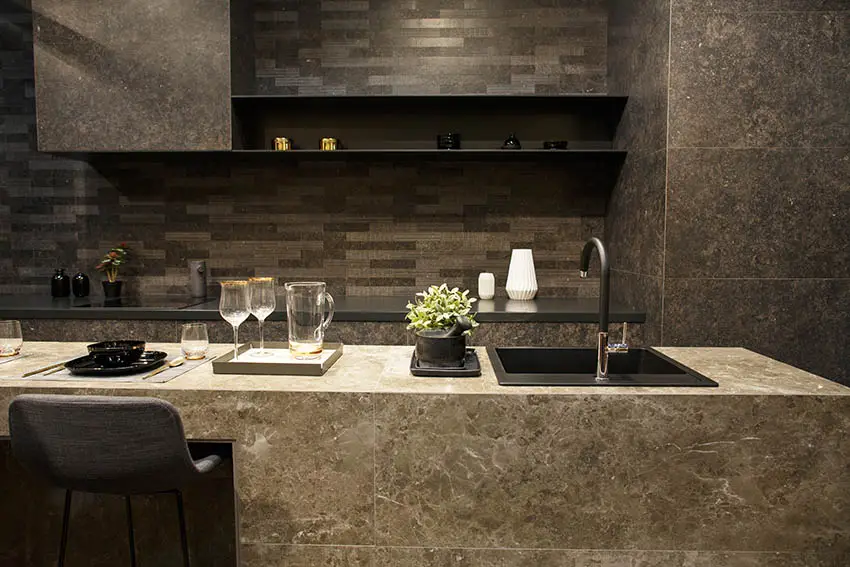 Considering the pros and cons as well as the comparison with other materials, is a granite sink a worthy investment?
Yes, but as mentioned, you'd still have to consider your budget and the overall design of your kitchen before ultimately deciding whether to go with a granite sink or not.
Meanwhile, granite sinks are durable and can withstand almost everything. But like any other sink material, it will also sustain damages when not maintained properly.
Certain foods like wine and coffee can stain your sink. Hard water can also stain and dull the surface of the granite.
Proper care and maintenance, however, ensures that your sink remains in pristine condition and withstands normal wear and tear.
For more related content about granite sinks pros and cons, check out our guide to the pros and cons of silgranit sink for more related content.