Here's our ultimate guide to stainless steel kitchen countertops including pros and cons, cost, popular types and installation tips.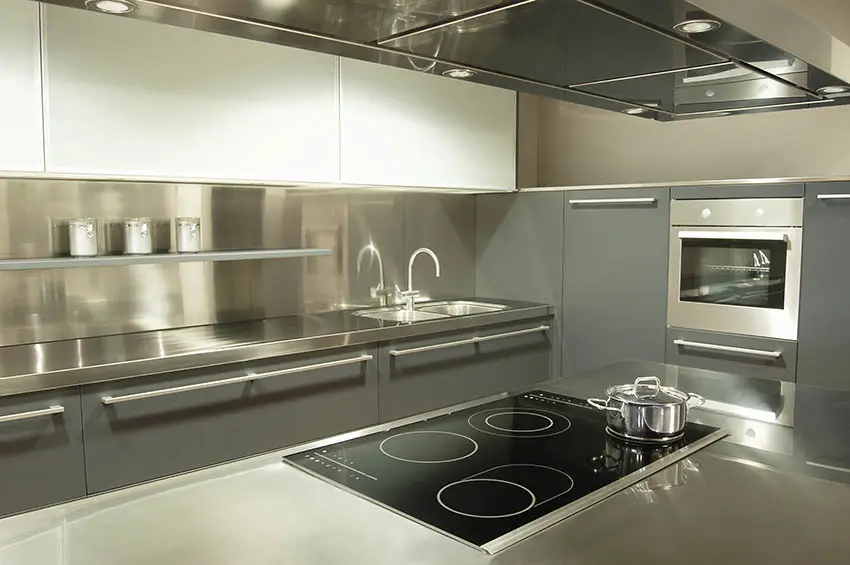 Stainless steel has a lot of uses in the kitchen. Usually ones first thought when they think of stainless steel are appliances, but there are actually many other uses. Stainless steel is a great countertop material, and if you have stainless steel appliances then you can have them match perfectly.
There are a wide variety of types of stainless steel kitchen countertops to choose from. In addition, stainless steel counters have different pros and cons to consider which we will explore below. The type you eventually choose is determined by the individual project, based on the budget, style, experience level, and time frame.
Pros and Cons of Stainless Steel Kitchen Countertops
There are a ton of things to brag about when it comes to stainless steel countertops. Stainless steel's best characteristic is that it is extremely durable and resilient to almost anything (hence stainless).
This includes but is not limited to: water, heat, stains, etc. This is a product often used in commercial kitchens due to its non porous surface that means nothing can really penetrate it – which makes cleanliness a taken care of factor.
Not only is it strong as can be, but it also will fit right into your home, the material is easy to work with and is custom made to your kitchen. This can include built in backsplashes or sinks that will give an even more sanitary area (because no seams!) and a sleek looks without any unsightly edges or caulking.
With the color and material itself the stainless steel countertops give a contemporary or industrial look with its sleek and shiny surface. Even in small spaces a countertop would work since it is reflective and will give the appearance of a brighter, bigger space if lighted correctly. This is also affected by how shiny of a stainless steel finish you buy.
As described later there are different levels of shine and how you can polish the surface for a shinier surface, or brush the surface for something a little duller, based on each individual space and desires.
Unfortunately with all those good things, there are a few downsides to stainless steel countertops. First off, though we mentioned that stainless steel is durable and resistant, the surface is susceptible for scratching and the occasional denting if you are rough on the countertops. Denting is kept to a minimum due to wood being placed beneath it. However, be especially careful in sections like the sink and backsplash that do not have that luxury.
As for the scratching it looks scary at first but after there gets to be quite a few and the metal oxidizes it begins to look more natural. Sometimes this is even a desired quality. There are some stainless steel counters that are purposely scratched, hammered or dented prior to installation as a decorative quality. To help lessen the appearance of scratches you may consider brushed stainless steel counters which don't show scratches as easily.
As mentioned in the pros these are usually used in commercial situations and one of the reasons is that stainless steel countertops do look pretty industrial, and while that is a look that some people want in their homes nowadays, it can often be perceived as cold or commercial. For those looking for a warmer feel, selecting durable granite countertops may be a solid choice.
Another minor downfall is that it is a hard material so it can be noisy compared to some of the other materials usually used in residential kitchens. There are ways that the noise factor can be offset though, with other materials in the space and maybe there is not a lot of counter space to begin with. Or you can use that to your advantage to wake up sleepy teenagers for school by bumping around pots and pans on the stainless steel counters.
Non-Corrosive Steel Countertop Cost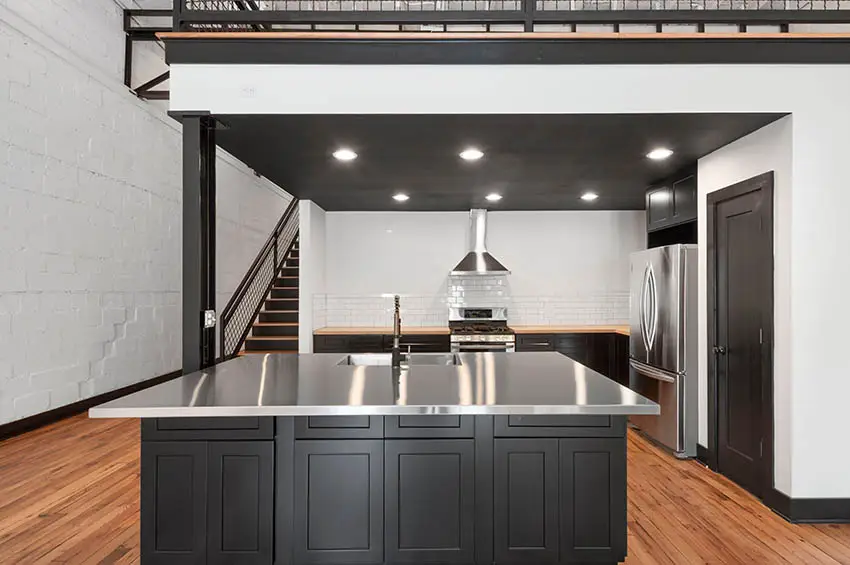 Stainless steel will not be the cheapest product you can get when choosing the material for countertops but as mentioned before there are a lot of pros to having stainless steel. With good things come a larger price tag, but it is worth it due to the durability and resiliency. This is why most commercial kitchens go with stainless steel for the entire kitchen.
Stainless steel costs about $75 to $150 per square foot installed. There are some factors that can raise or lower the price. A big price addition is the gauge of the stainless steel, which is basically the thickness of it, this will affect how easy the material is to dent or bend.
Typical gauges for stainless steel countertops in the residential setting range from 14 to 16 gauge steel. This translates to about .0625 to .0781 inches thick, making the higher the gauge the higher the price since it requires more stainless steel.
Since stainless steel is usually made custom any and all oddities will cause the price to fluctuate. For example the more turns or cutouts will cause it to be more expensive, or if there are kitchen sinks that need to be part of the counter or installed into it, the prices are hard to estimate without knowing the specific project at hand.
Most places will give customs quotes beforehand so you can decide whether you need to dial down the project a little or you can add some extra features.
One way to cut costs but still utilize stainless steel is looking into getting prefabricated work tables or counters, these will be less custom to your space, but if they can work in the space that can save some money to put into other aspects of the project.
Types of Corrosion Resistant Steel Countertops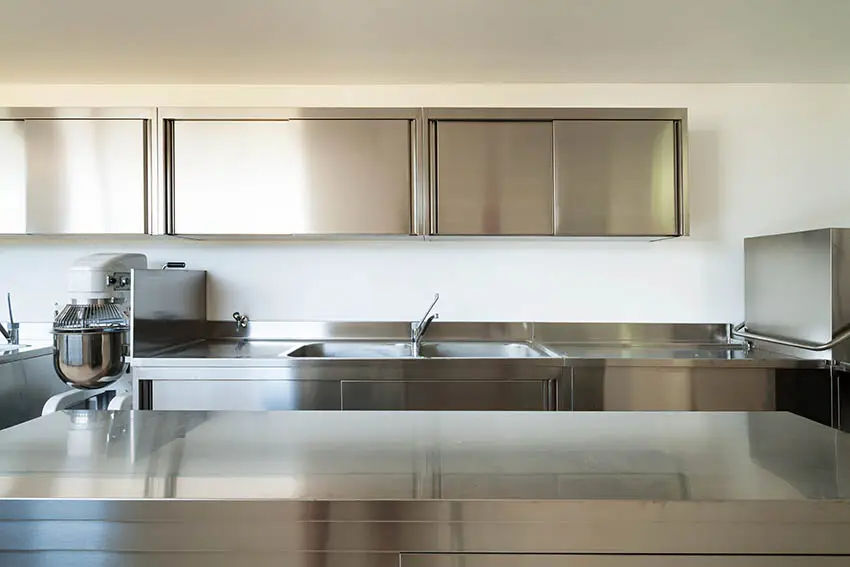 Stainless steel can be used in a number of different styles and functions, and can be custom made if the budget and time limit is right. Some of the common types of stainless steel applications are as follows.
Stainless Steel Kitchen Countertops – Stainless steel kitchen countertops are used a lot in the commercial sector as they are extremely resilient, which keeps them very cleanly. These countertops are sleek and can have backsplashes if it is needed.
Stainless Steel Countertop with Sink– Stainless steel countertops can have an addition of a sink, and there are multiple option for that. The sink can be made of separate stainless steel where it is place into and attached to the stainless steel countertop, or it can be made in one fluid piece. Being made in one piece avoids having any seams making everything easier to clean as well as gives a better clean.
Custom Stainless Steel Countertops – Most of the countertops that are bought for residential spaces are custom made. This is because each is a different size, shape, and thickness. Custom stainless steel countertops offer the options of adding seamless sinks and backsplashes, which can make for one quick installation and less need for other projects.
Stainless Steel Island Countertop – Stainless steel kitchen island countertops are where something that is prefabricated could come in and save a few dollars. For commercial spaces there are freestanding tables that are prefabricated and used as islands. This can be also be custom made again with different sorts of edges, whether they have small lips to contain any spills, or go straight down for a sleek look.
Hammered Stainless Steel Countertops – Hammered stainless steel countertops are a unique type of stainless steel that is essentially pre dented. It is like how the kids nowadays wear jeans that are ripped on purpose, it brings texture and is something different and cool! Hammered stainless steel countertops can have the same options of sinks, backsplashes and edges as regular stainless steel.
Brushed Stainless Steel – Brushed stainless steel is another unique type that is like buying jeans with holes in them on purpose. Brushed stainless steel is basically pre worn all in the same direction. This means that it is polished under an ungreased abrasive belt and scratch in the same direction.
Brushed stainless steel will make the wear look better than scratches that inevitably appear in any which way and direction. This also offsets too much reflection if in a space that gets a lot of sun or other light sources.
Quilted Stainless Steel – Quilted stainless steel is high quality, but typically not used on countertops, but more for the surrounding areas and as backsplashes or wall covering. This type of stainless steel has a diamond (quilt like) pattern that is usually about 2.75 inches on each side. This is an extremely sanitary and corrosive resistant material so has limitless uses.
What Type of Chromium Steel Material is Used for Countertops?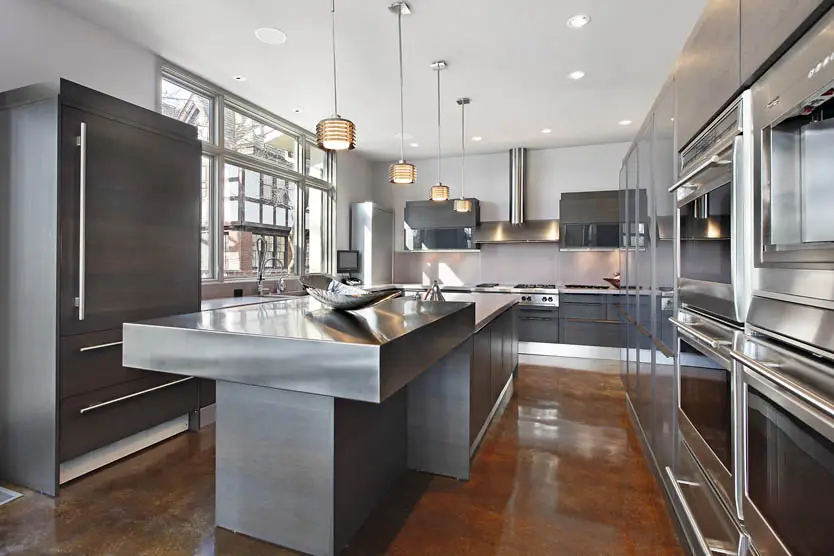 When it comes to stainless steel it is not just a one and done selection, there are a ton of types of stainless steel, all of which are used for different purposes. There are 100 series, 200 series, 300 series, 400 series, 500 series, and 600 series, all broken up into smaller categories within those.
The most common type of stainless steel used for countertops is type 304. This means that it is in the 300 series which is 'austenitic chromium nickel alloys'. It contains a minimum of 18% chromium and 8% nickel and has a maximum of .08% carbon.
This type of stainless steel will commonly be labeled with the number 18/8. This type of stainless steel is known for how well it can be shapes and welded together, its ease of cleaning, its beauty, and how resistant it is to corrosion and oxidation (thanks to the high level of chromium).
Some of the common uses of this type of stainless steel are in the food processing industry. This includes equipment used for brewing beer, wine making, and a lot of dairy equipment. Citrus and fruit juice companies use this type of stainless steel due to its resistance to acids.
Stainless Countertop Edging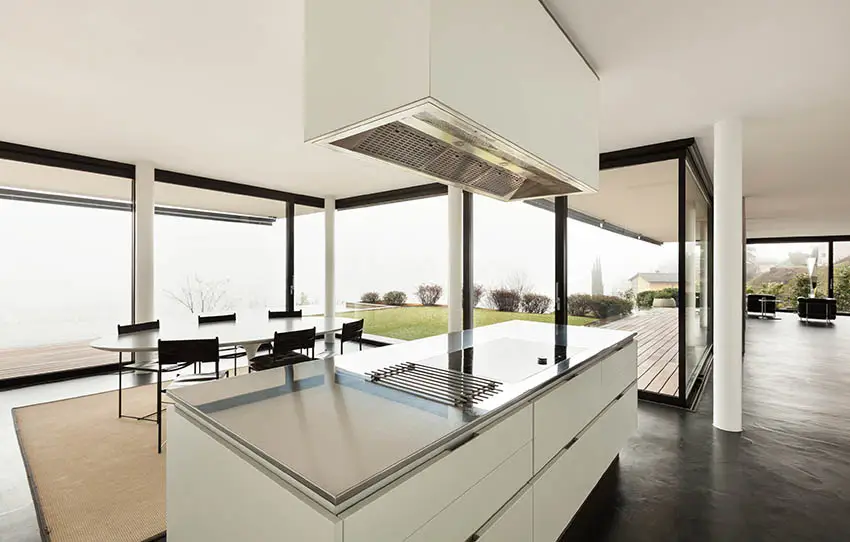 As mentioned previously stainless steel is known for its durability as well as its resilience, but also noted is that it is not the most cost effective material. To get the best of both worlds there is a stainless steel countertop edging that can be added to other countertops.
This product is used to protect the edges, (typically the most beat up areas) or even add an accent to the existing counters. This is commonly used at bar tops where the chairs or stools often bump into the edges of the counters.
As for edging included on the countertop itself it is attached just as a backsplash is. This is all in one piece of stainless steel, the piece is just bent in multiple directions. There are a few different edging profiles that can be chosen from some of the most common are as follows:
Bullnose – A bullnose edge will have a rounded corner as it connects the edge of the counter and the top of the counter.
Beveled – A beveled edge (sometimes known as a chamfered edge) is an edge that is not perpendicular to either of the connecting pieces. Instead there will be a, say, 45 degree angle connecting the two pieces. This gives the corner a less sharp edge while not being a curve.
Unwrapped – Some of the stainless steel countertops will not have any edging at all. This type of countertop will have an exposed corner of the counter and will exude minimalism.
How to Install Countertops Made of Non-Rust Yourself
The self installation of a stainless steel countertop is actually not as difficult as it may sound. The best thing about countertops in general is that they typically come in one or two pieces. The hardest part is that they are heavy and sometimes awkward in shape.
A good thing about stainless steel countertops is that it is almost always just one piece, and they often have a built in (seamless) sink, meaning you drop all the steps of having to put the sink in and just skip to the plumbing if needed.
The first step is to create a plywood template of the counter top, this becomes the base of the counter – an added thickness to help avoid dents if at all possible. This is the most important step because if the template does not fit, nothing does.
Using plywood is one of the cheaper options, and not always the best quality. This can also be done with a hardwood or can even be done by the metal company if you are not comfortable working with hardwood.
Next you have to get the stainless steel countertop made. This is done by going to the local home improvement store or working with a local metal vendor to get the custom countertop that fits the template you made for the counter. They will make the countertop around the template – which is why it needs to be perfect.
After the countertop is made and attached to the plywood template the pieces are then simply put on top of the cabinets where they belong. This is where the pieces could get heavy or awkward to lift, it is recommended that this not be a one man job.
Then complete any finishing touches such as sealing and seams or adding and any extras. And then there you go, a new stainless steel countertop all ready to go!
Where to Buy Standard Stainless Grade Steel Countertops
Stainless steel kitchen countertops can be purchased in an assortment of different places – depending on the type you need as well as how much assistance you need. Simply going to the nearest Home Depot, Lowes, or Menards (any home improvement store really) will give you the basics when it comes to stainless steel countertops.
They offer various widths and pickup or delivery, some places even install for you – for an additional cost of course. Based on your location there are local vendors that you can work with that can get a more custom to your home countertop which is a better option when it comes to more complicated projects.
Home improvement stores will typically just have in stock items and certain lengths and will not have edge features or extra sink cutouts.
Local vendors are able to custom make the piece to the size of the kitchen, whether it has turns, pre existing sinks, a backsplash, etc. These vendors commonly offer installation for an added price as well – or are available for pickup or delivery.
Best Way to Clean Steel Countertops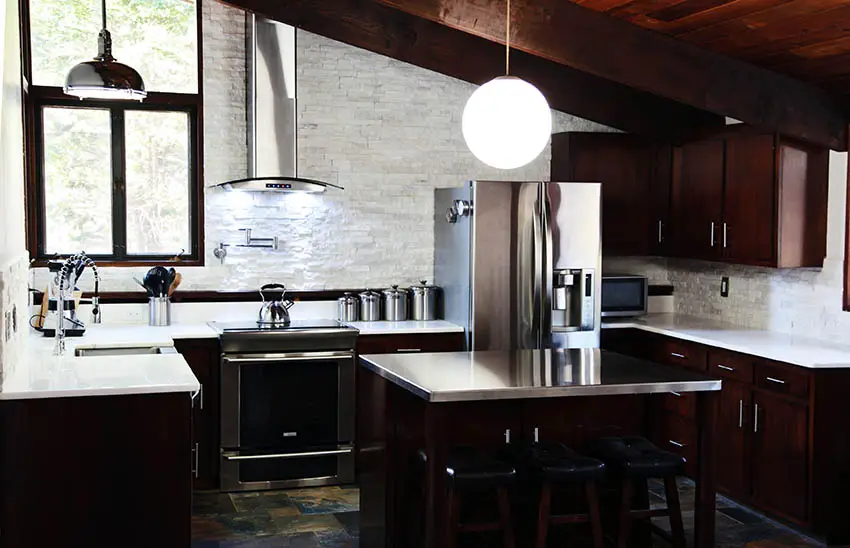 Stainless steel countertops are not something that are super common in residential places so there are probably many who are not aware the proper and best practices for cleaning them.
The nice thing about stainless steel countertops is they do not require heavy duty cleaners, or even too much work to clean, since they are so resilient to stains, acids and other things like that.
While over time the countertops will experience some wear and tear and frequently fingerprints are noticeable on the surface, they stay extremely sanitary with just a quick wiping down. There are not any special cleaners or sponges you need, most of the time a quick damp washcloth does the trick.
If you are doing some heavy duty cleaning on the counters you need to make sure you are equipped with a few cleaning cloths and a soft scrubbing brush. First you use dish soap to do an initial clean of the surface with warm water.
Next, use a little bit of baking powder sprinkled on the counter with vinegar and gently scrub the surfaces in circular motions, there is not a need to use too much pressure, but a little elbow grease never hurt.
After that, rinse the countertops thoroughly with a clean cloth. For a streak free dry, hand dry the countertop with a microfiber cloth with the grain. Then polish if needed. Instructions for polishing are below.
How to Polish a Countertop Which Is Made of Steel
While it has been discussed that stainless steel kitchen countertops are resilient and durable, they can still use a little TLC here and there. Polishing will keep them in tip top shape and help reduce any dullness of the surface. Here are a few steps to get you started on polishing the surface of stainless steel countertops.
It is important to remember that this will make the surface shiny, which can be a good or bad thing depending on the amount of light in the room, if there is too much direct sunlight you could be making for afternoon blinding if you put too much work into polishing the surfaces. In smaller kitchens though reflective surfaces are a great thing as they portray a larger, brighter room.
First, start by cleaning the stainless steel countertops is the instructions say above, just removing and dirt or grime that may have built up on the surface. After that is complete find some olive oil, put it on a towel, and spread a light layer over the entire surface of the countertop.
Once it is covered in oil, get a clean cloth and 'buff' the surface. This means that you will use some pressure and make small circles, really rubbing the oil in. It is important to make sure you do not leave and excess oil on the counter.
Now, if the surface is up to your standards of shine, the job is complete. If the outcome is not exactly where you want it to be yet, there are a few more steps that can be taken for a better shine.
After the oil buffing, dig out the flour and spread a thin layer over the countertop and repeat the buffing process as you did with the oil. Still not enough shine? There is one other thing you can do for the ultimate shine. This is where you need a handheld power buffer and some commercial polishing products.
Use a slightly abrasive pad for the buffer and follow the instructions on the buffer that you get. Begin the process in one corner and slowly work your way in small circles across the countertop. After you complete the entire surface take a dry cloth and run it over the surface to remove any excess polish. After you complete that final clean you will have a super shiny stainless steel surface.
For more related ideas check out our articles on marble countertops or quartz countertops here.