Below we discuss the best kitchen colors with gray cabinets including shades for paint, flooring, finishes, backsplash & countertop designs.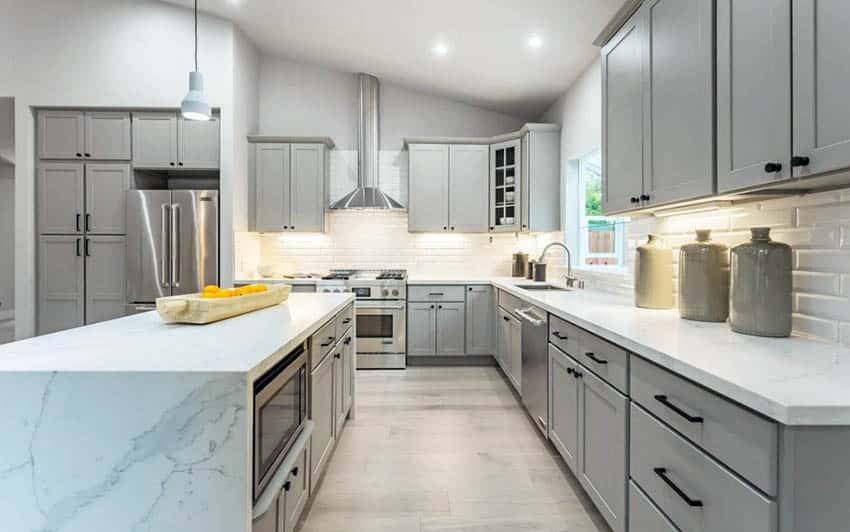 Gray cabinets give an open slate when it comes to a kitchen, it mean there is not too much restriction on the woods or colors you can use, besides the temperature of the grays used. Not only that, but having gray cabinets is becoming quite trendy! It was once thought that gray was somewhat dull and boring, but with the right accent colors it becomes a base for beauty.
The color has gone from boring and depressing, to high end and stylish. On top of that, there are so many colors and textures for the gray cabinets that there is no way the end product will be anywhere near dull. Below are some suggestions for what you can use to incorporate gray cabinets into your kitchen.
Paint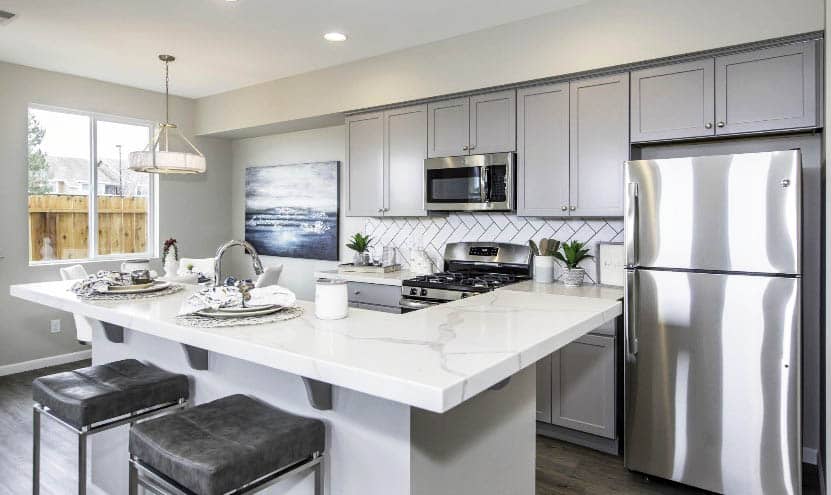 When is comes to color matching kitchen colors with gray cabinets there is no equal to gray and white kitchen designs. This color combo is found more often than not in any home with gray cabinets.
White paint is frequently used with gray cabinets to provide plenty of contrast and keep the design from feeling too dark. If not white you'll often see gray being offset with a light color paint such as another shade of gray, greige, or beige to keep the design bright.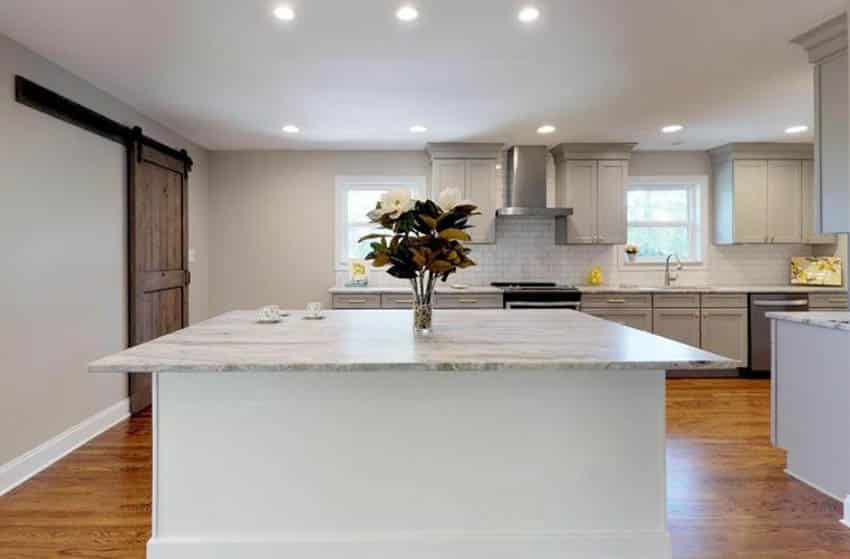 For a change of pace from a more neutral color palette, cool gray cabinets are best paired with blue or a green paint when used in the kitchen.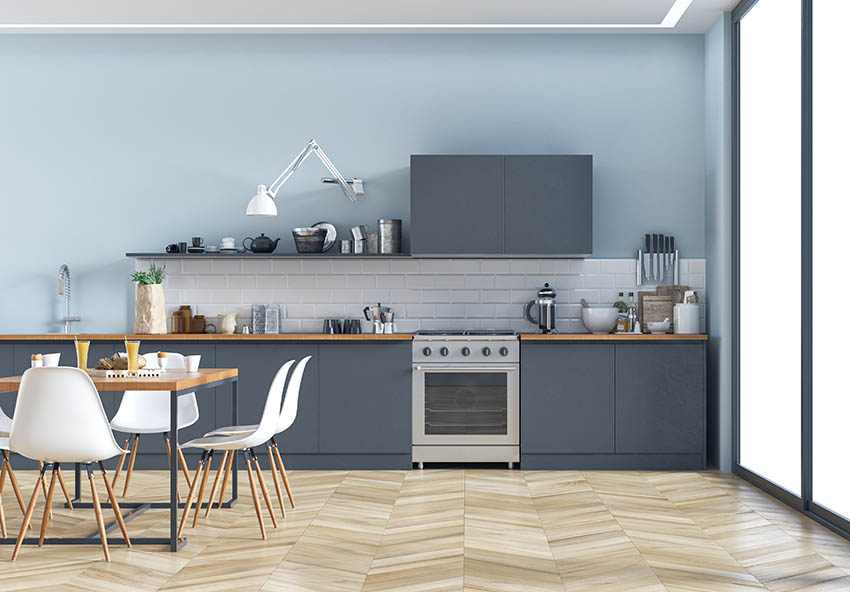 Blue can easily become overwhelming if using a dark shade, it is recommended that a lighter shade be used to create a crisp and clean environment.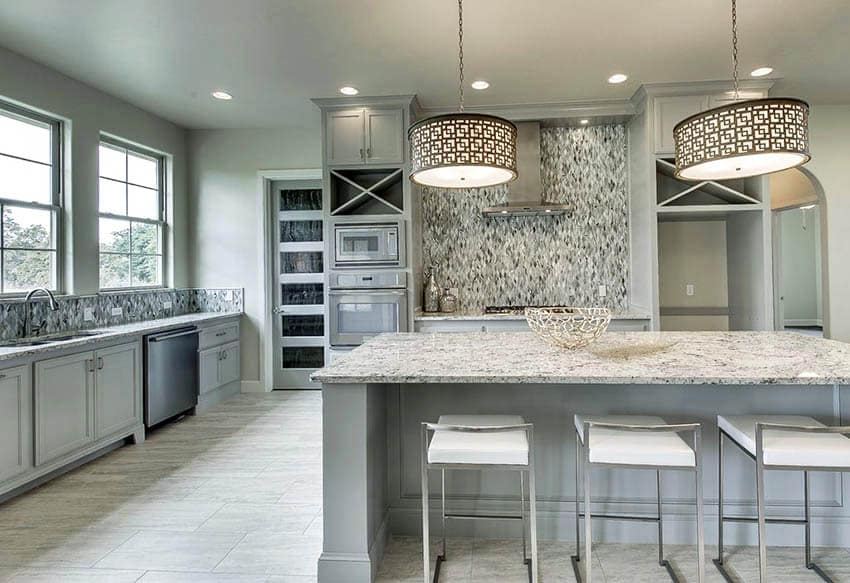 Light green is another good color due to the energy it can give and it goes well with a wood flooring selection as well as cool gray cabinets.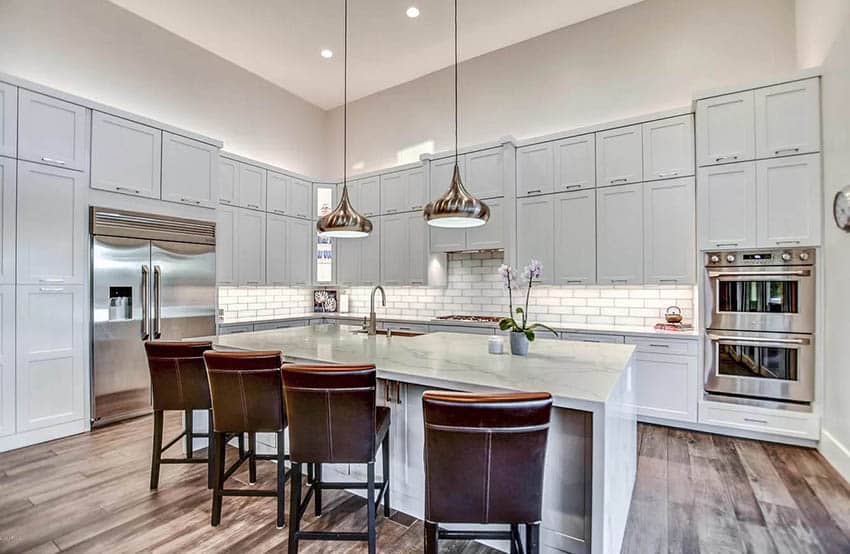 Warm gray is another type of gray commonly used in kitchens because it allows the use of warmer colors such as red or yellow. Warmer colors are believed to stimulate ones appetite, which in a kitchen can promote cooking and eating.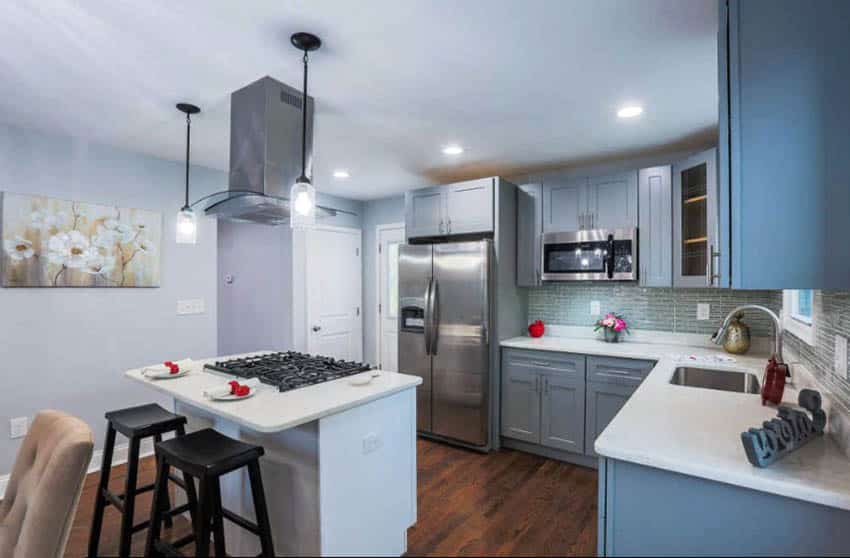 A warm light gray cabinet paired with a dark red accented wall makes for a sophisticated kitchen, while a brighter red can make it more of a playful space. Red can stir up powerful emotions so its a good plan to use the color sparingly. Many will opt to bring in red decor pieces to get a similar result.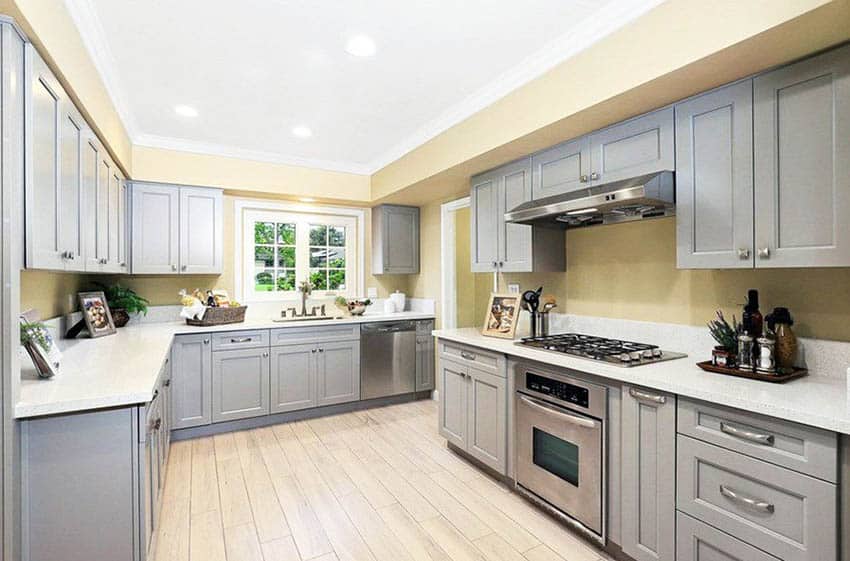 As a lighter color, yellow works well with darker gray cabinets which can be soothing as well as brighten up the space. Yellow paint is also great for small kitchen as it can make the space appear larger and less cramped. Read more about gray kitchen cabinet color psychology here.
Flooring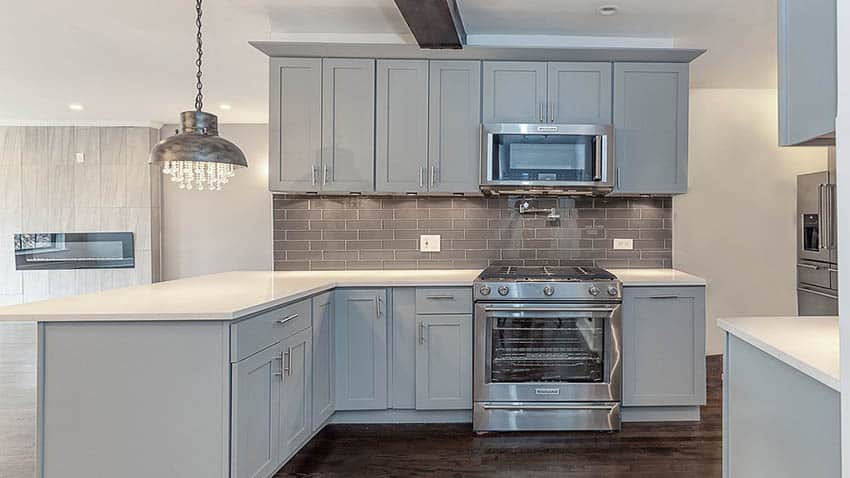 Sometimes pairing wood cabinets and wood flooring can be difficult; you do not want too much of the same color, but also do not want the woods to clash. One of the best things about having gray cabinets is that (depending on the shade or gray) it can match almost any wood tone you have in mind.
One of the best woods to pair with gray cabinets is espresso wood. The deep brown this wood has brings a modern look when used with gray cabinets and a unique backsplash.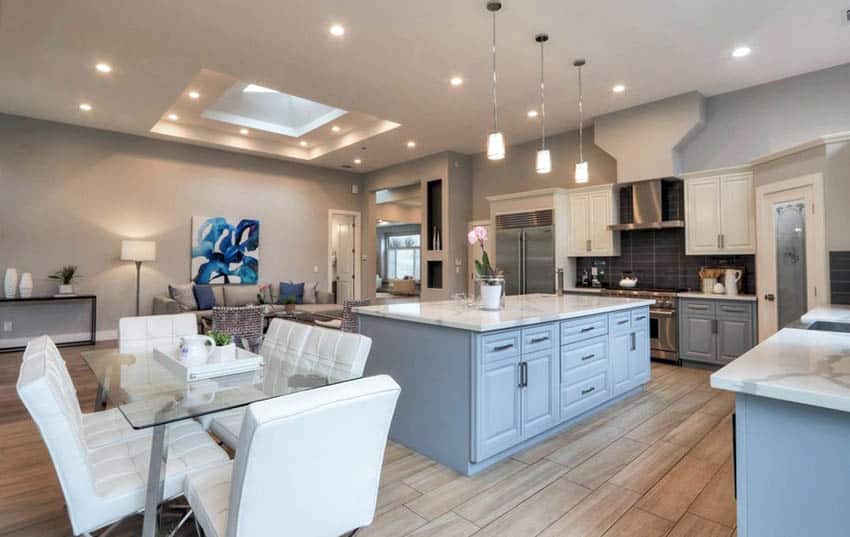 Tile flooring can also be used, in a coordinating gray color, or even a black or white to keep with the neutrals to let the paint and accessories do the heavy talking. Tiles can also be laid out in different patterns that can add a bit more of a focal point white still keeping a neutral color.
Backsplash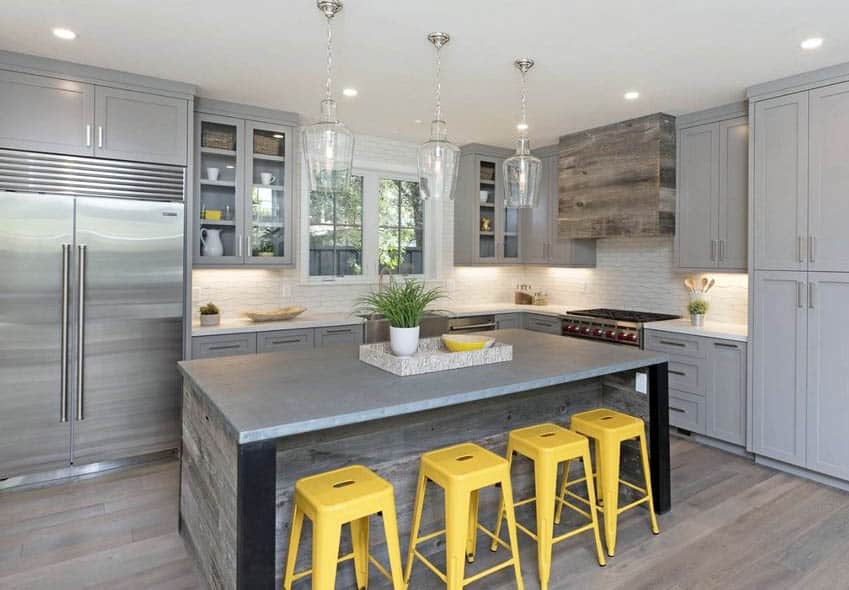 With dark gray cabinets a lovely white or pale colored tile is a great addition to the contemporary or modern kitchen. Backsplashes adding unique qualities to the kitchen is extremely trendy right now.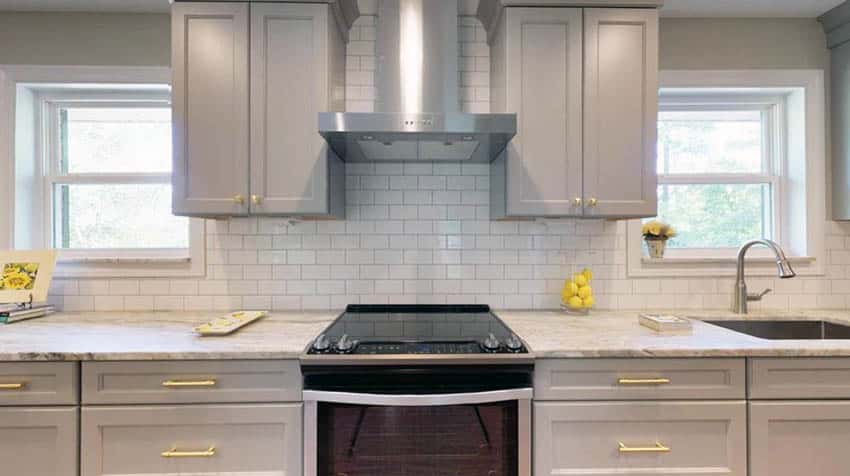 Subway tiles are a unique way to create a look that does not go out of style. The contrast between dark gray cabinets and a light subway tile or a cool light gray cabinet with something like dark blue tiles adds a contrast that is sure to be an eye catcher.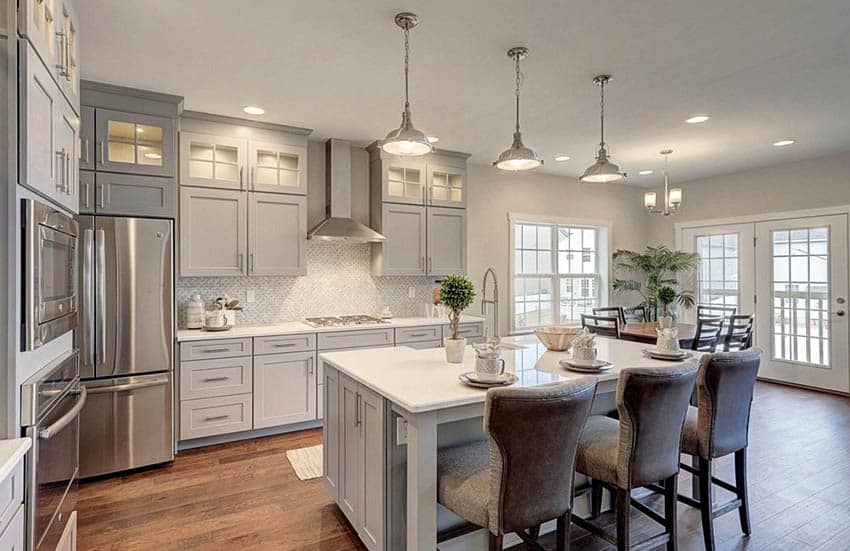 A light color mosaic backsplash tile provides plenty of visual interest and contrast as a backdrop for gray kitchen cabinets.
Finishes
The finishes you select for your kitchen can have a big impact on the overall feel of the space and conveying the type of design you desire. Gold finishes are back in style and when combined with gray cabinets they can inject a lot of style and sophistication to the room.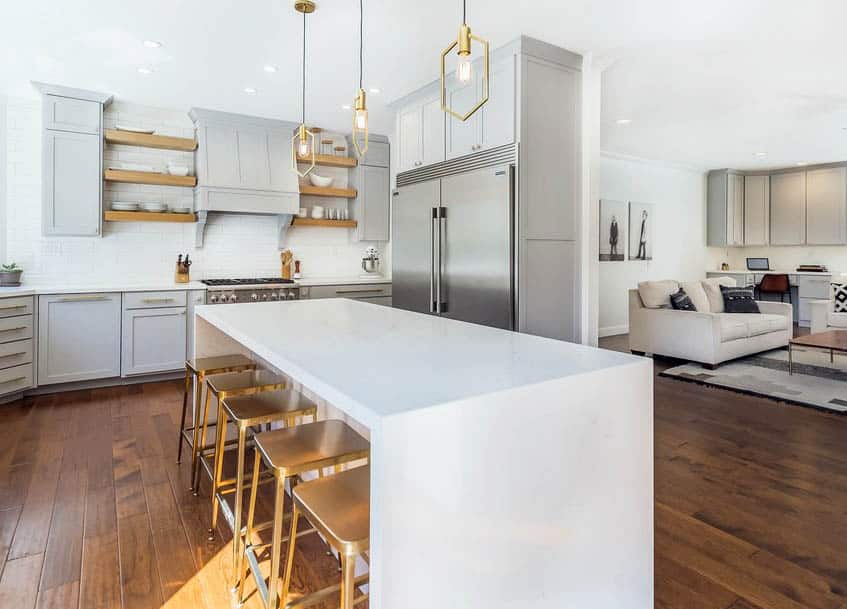 Gold and brass hardware can be utilized for the lighting fixtures, cabinet hardware, bar stools and even appliance knobs to get the look you want.
Countertops
The vast majority of kitchens with gray cabinets combine them with white countertops with great results. There's a timeless allure when white and gray are used to contrast each other. White countertops can come in quartz, marble, granite and man made laminates.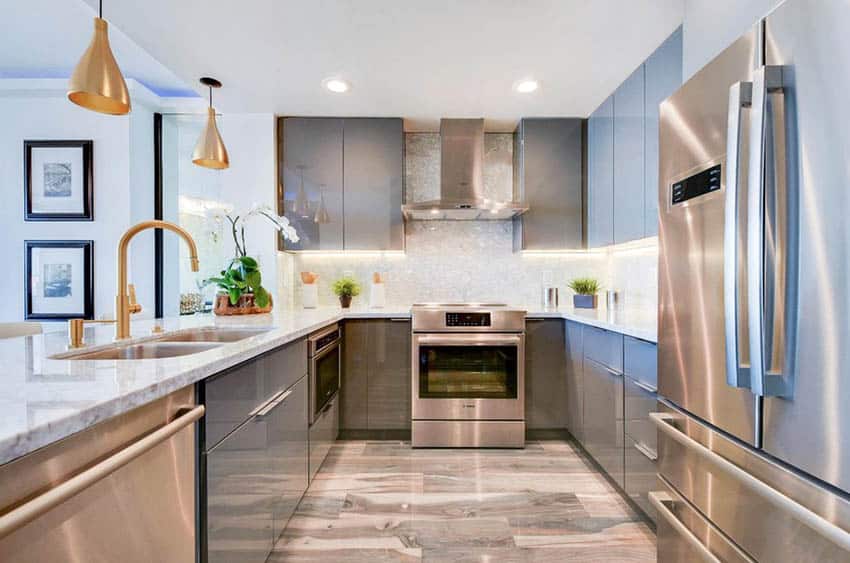 If you're in the mood to try adding color to your countertops they are a great place to add some spice to the kitchen. While keeping things like the cabinets, flooring and possibly even the backsplash a relatively neutral color, the countertops can be where things get exciting.
If going the cool gray route and choosing a blue paint, incorporating a dark color such as a blue countertop can make a kitchen look like its straight out of a magazine.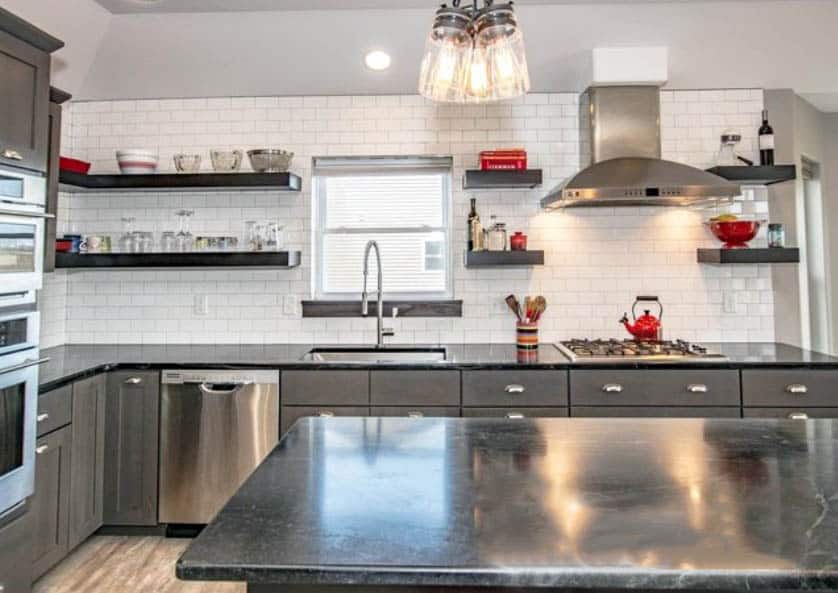 Now maybe the accent color is going to be elsewhere –backsplash, floors, and accessories – and the counter is meant to be neutral. The cool thing about countertops is they are usually not just one color, some have streaks, or spots in them with differing shades. This can bring the entire kitchen together if you plan it together.
Imagine you have light gray cabinets, espresso wood flooring, stainless steel appliances, white backsplash tile, and paint and accessories. The countertop can be a coordinating gray color, with white, dark gray and even blue veins or flecks in it, bringing all the colors together.
Adding a few accents on the countertop will bring out the colors in the countertop. Even keeping the primary color out of the counters and keeping it neutral will let the paint colors and accessories in the space really shine.
---
Coordinating Color with Gray Cabinets
Ask the Designer: For this section we asked interior designer Danielle Porter her best techniques for matching and coordinating colors with gray kitchen cabinets and here's her response:
As design trends ebb and flow, there are always a few aesthetics, details, or palettes that tend to come along and have a lasting effect. When it comes to kitchen design – gray cabinets are one of those design elements. Because of their versatility and modern appeal, they've become increasingly popular with homeowners and designers.
The beauty is that going with a gray cabinet doesn't lock you into a singular specific design aesthetic or vibe – there is a multitude of ways to integrate gray kitchen cabinets while creating a unique experience that is tailored to your style.
The first thing to consider is if you're going with a dark, light, or mid-tone gray. This decision will absolutely make a difference in determining which colors you'll pair with the cabinets. Second, you'll want to consider which part of the kitchen you want to feature.
Whether it's the paint, flooring, cabinets, backsplash, appliances, or counter – there is always a way to integrate gray cabinets seamlessly.
We'll first review one of the most popular approaches – the classic and timeless color pairing of white and gray. This color combo works in a variety of design styles, hence its popularity across the board.
Depending on your gray tone, you can bring in a warm white or off-white shade that complements the undertones of your cabinet. Bringing in a bright white, especially on the counters and backsplash, will always create a crisp and clean environment.
If you're looking for something more bold or dramatic – consider pairing black, charcoal or even a deep jewel tone to add punch to your space.
This can be done through a patterned backsplash tile, black hardware, or accent paint throughout the kitchen. Bring in a white or light gray countertop for a high-impact, contrasting effect. As always – look at the space as a whole and create balance with your finishes.
For those who like a more subtle design, earth tones are a great option to pair with gray cabinets. Bringing in beige, brown, and green can make your kitchen feel natural and organic and work best with a warm white.
Earth tones work great with natural stone options for the countertop that have different shades of your colors integrated (think granite, soapstone, marble, and even wood).
If cooking is your respite and you'd like your kitchen to feel more calming and tranquil – opt to pair shades of blue or green with your gray cabinets. This color combination creates a relaxing and cool atmosphere and fits right in with homes that are near the water or are coastal/beach inspired.
Bringing in a backsplash that has blue, green, and cream glass can add a soft pop of color to any kitchen. Adding more natural tones, like wood accents will help balance out all of the cooler colors as well.
Lastly – think bold, bright, and playful! Gray, after all, is a neutral tone and you can play up your kitchen to be a lively entertaining space with bright colors.
Some ways to do this are through materiality – like a red brick wall or a bright yellow backsplash to add color and personality. Because design is all about balance – bringing in some supporting neutral colors (whites, creams, light grays) will help make the space cohesive.
When it comes to designing a kitchen with gray cabinets – the palette and design options are truly endless. No matter which scheme or palette you prefer, we always recommend looking at the space as a whole and finding the balance between the colors and tones.
By considering the entirety of your kitchen, you're bound to create a space that is functional, beautiful, and reflects your unique style.
For more related ideas check out our gallery of white kitchens with gray islands.