Welcome to our gallery of dark gray kitchen cabinets showcasing a variety of design ideas for inspiration.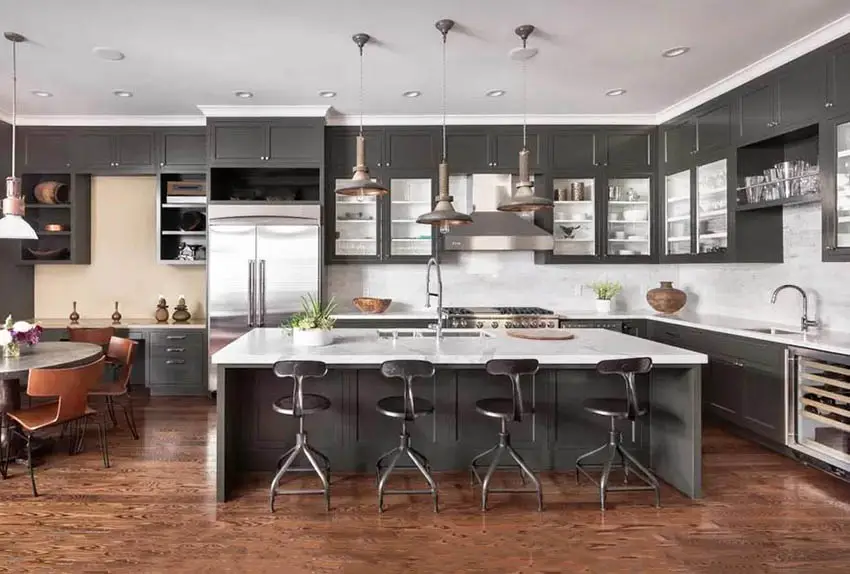 While exuding timeless sophistication and soft elegance, gorgeous dark gray kitchen cabinets offers versatility and the perfect color to match any kitchen theme. With an array of design possibilities, the gray kitchen is the coolest trend today.
Whether you're aiming for that vintage appeal or if you want to go for an updated modern look, the neutral color is the perfect backdrop for both the bold and light palettes. Not as stark as the white kitchen or as bold as the black color scheme, gray shades are perfect for your kitchen cabinets.
Dark Gray Kitchen Cabinets with Gold Hardware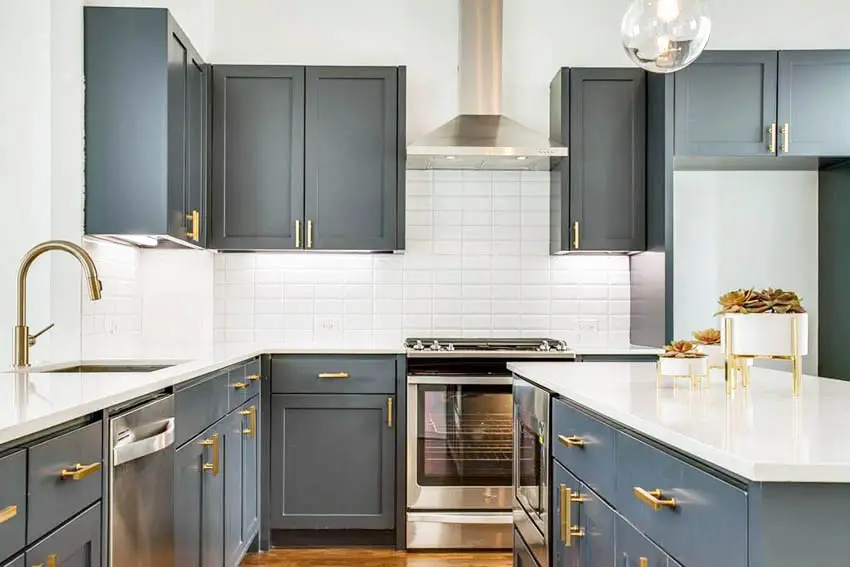 A sprinkle of sheen to the conservative color can add warmth and a rustic air to any gray kitchen interior. Gold or brass and other metallic accents go well with any shade of gray, and with a matte finish, the luxury color will surely standout.
Gold accents are great options to add a warm tinge to your neutral interior. You can choose gold with a brushed finish for your cabinet handles, knobs, and faucets that can look stunning against the dark matte color.
The gold pull handles and faucet adds luxury in this three-tone kitchen interior, creating a crisp contemporary appeal. To add visual depth, the gray kitchen cabinets are a perfect contrast against the white subway tiles and countertops.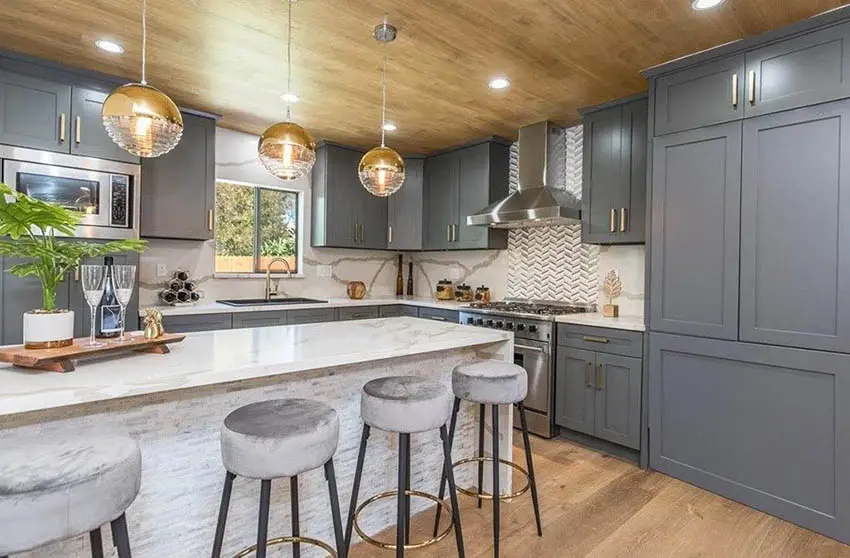 The luxurious gold accents and warm wood floors are a perfect match to any shade of gray as highlighted in this beautiful modern kitchen.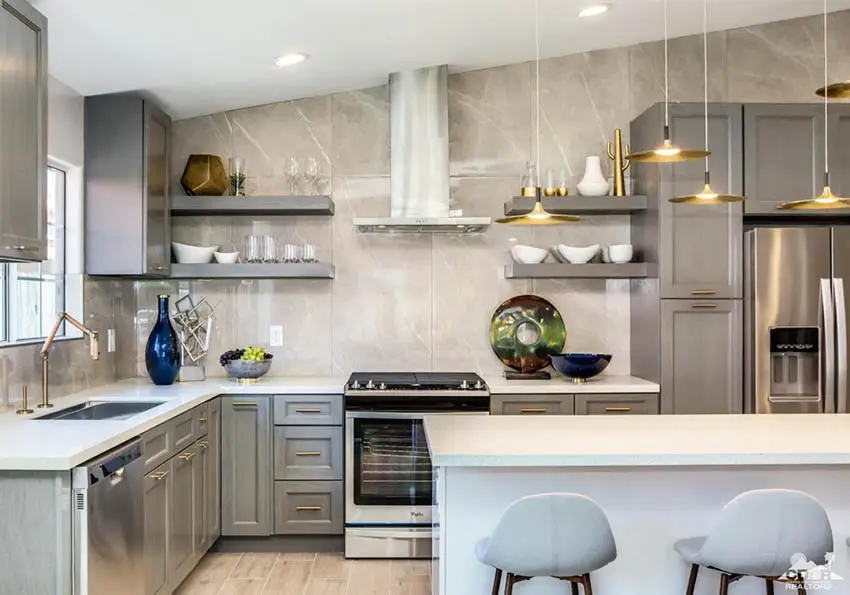 To wrap up the look, add gold and glass luminaires to your gray kitchen, similar to this beautifully crafted globe pendant lights.
Gray Kitchen Cabinets with Dark Floors
The great thing about gray kitchen cabinets is that it won't make a space look heavy or dark. Typically, kitchens use a darker shade against the light-colored walls, to achieve a balanced look.
Although dark colors are practical for kitchens as it won't show dents or stains easily, dark hues in a kitchen can look stark and dry. With strategic placement of gray hues in your kitchen, you can have the neutral color as much as you want without making your kitchen appear dreary and grim.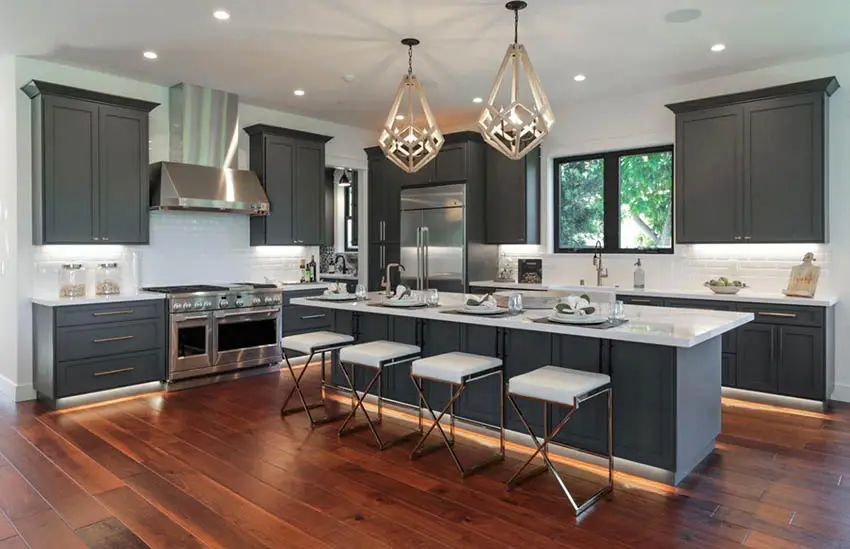 This beautifully designed island kitchen boasts luscious cherry wood planks that creates a warm touch against the neutral colors.
With the cozy feel of the organic material, the interior can afford to have an extensive use of cooler colors and textures. Gray cabinets, white subway tiles and metallic finishes are evident of the complementary effect.
Kitchen with Dark Gray Island and Light Gray Cabinets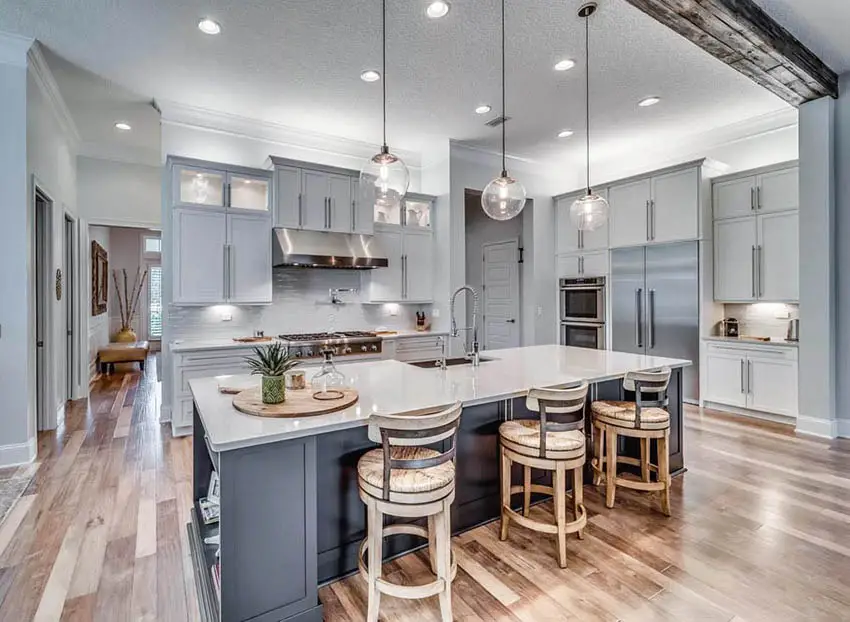 What sets gray apart from other colors is its ability to add depth but with a subtle touch, and most of all it works well with any other color without losing its prominence.
A combination of a dark gray island with a backdrop of lighter color gray cabinets and white quartz countertops gives this design its refreshing look.
Adding visual depth through the different shades of gray can make a space more airy and larger. Just like this simple island kitchen that lets light and shadow add dimension to the different gray hues.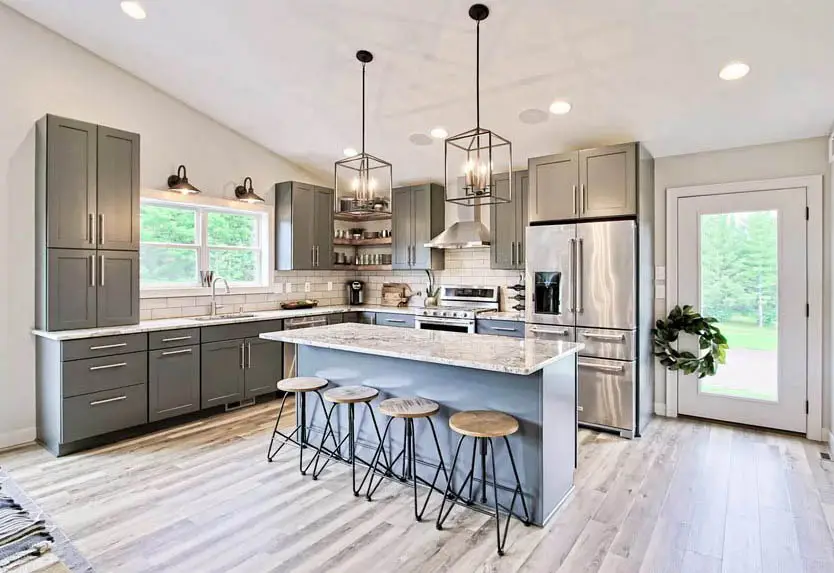 Scandinavian-inspired interiors are popular today and it showcases white or almost pastel colored walls with crafted yet toned-down décor.
The dark gray cabinets in this Scandinavian kitchen interior is just the perfect add-to color that won't overshadow the lighter-toned design elements. This design showcases dark gray cabinets with lighter gray island topped with a white granite countertop.
Dark Gray Shaker Kitchen Cabinets
Shaker cabinets have a timeless design that had worked with different types of kitchen interior themes. What we love about gray is that there are different shades to choose from and one of the more popular color tones are the darker hues. Shadow, ash, charcoal and taupe gray are among the most popular color schemes.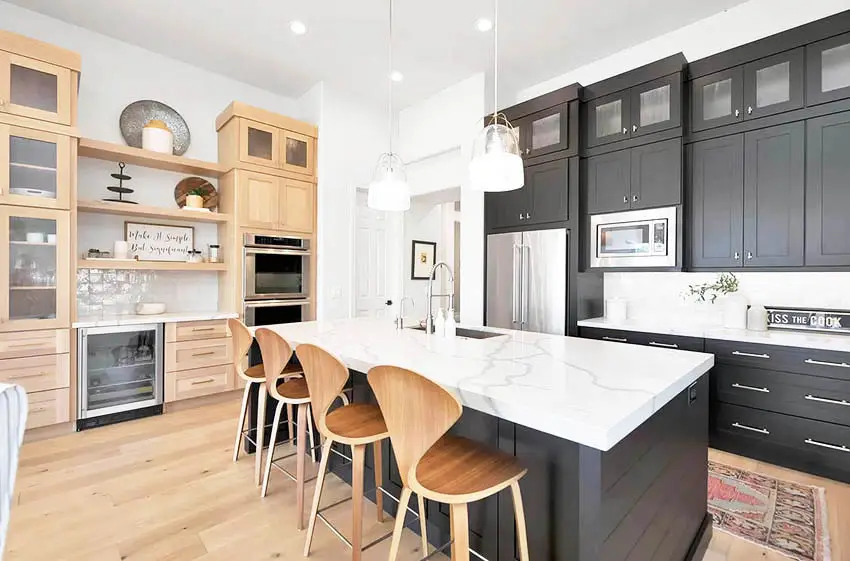 A lovely juxtaposition of texture and color, this exquisite kitchen design showcases superb craftsmanship by settling with a neutral color palette. Dark charcoal gray cabinets are combined with beautiful Calacatta quartz countertops and light wood cabinets and flooring with great results.
Dark Gray Kitchen Island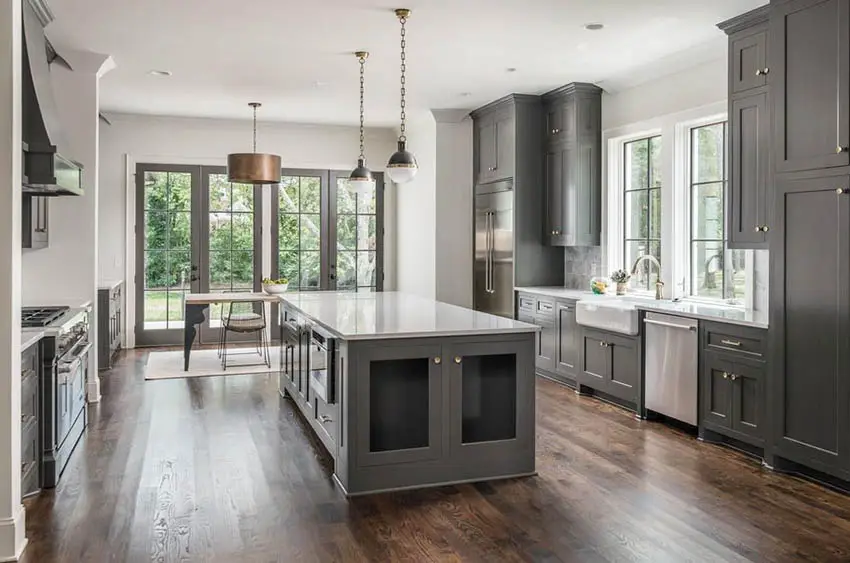 The kitchen island is one of the busiest areas as most of the preparing and cooking takes place. Depending on the design, kitchen islands are also areas where family and friends gather around the area for prepare a quick nice quick meal, or an alternative area to do some arts and crafts with the kids. Thus, with a dark kitchen island, any stains, dents or scratches due to heavy use won't easily show.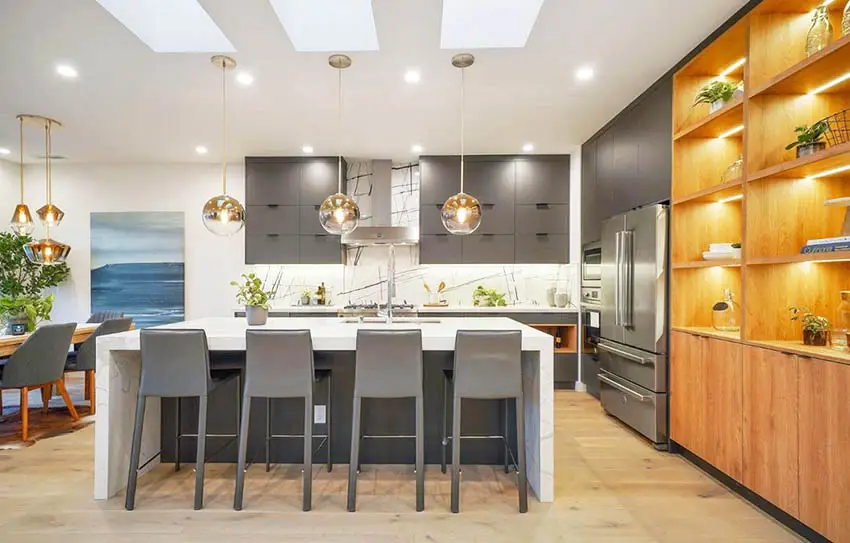 This modern kitchen design features dark gray cabinetry and island with a white quartz waterfall countertops that provides contract to the darker elements. Multiple skylights, under cabinet lighting and recessed and pendant lights also help brighten the space.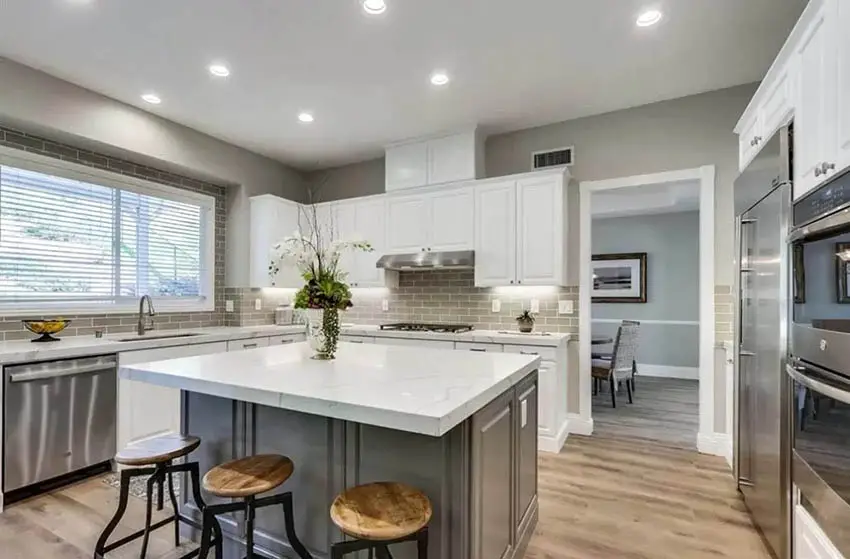 This traditional kitchen adopts the gray color scheme that conveys a subtle air of elegance. The dark gray kitchen island unifies all the elements and though a large presence in the room does not overpower other elements because of its neutral shade.
Having the lower areas of your kitchen colored with darker shades is not only practical but creates a warmer and cozier atmosphere to your kitchen area. Reserve the lighter tones on your upper walls and ceilings so natural and ambient illumination can be distributed all through out the room.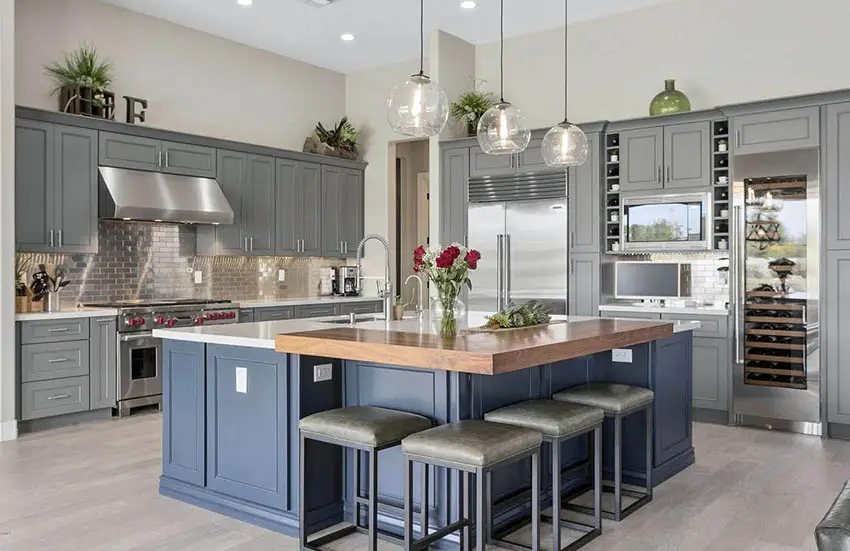 Dark gray can have marine undertones creating an almost dark metallic color tone. With a bluish gray hue, this kitchen island is further highlighted as the focal point making it a diversion to the surrounding light gray color scheme.
Dark Gray Painted Kitchen Cabinets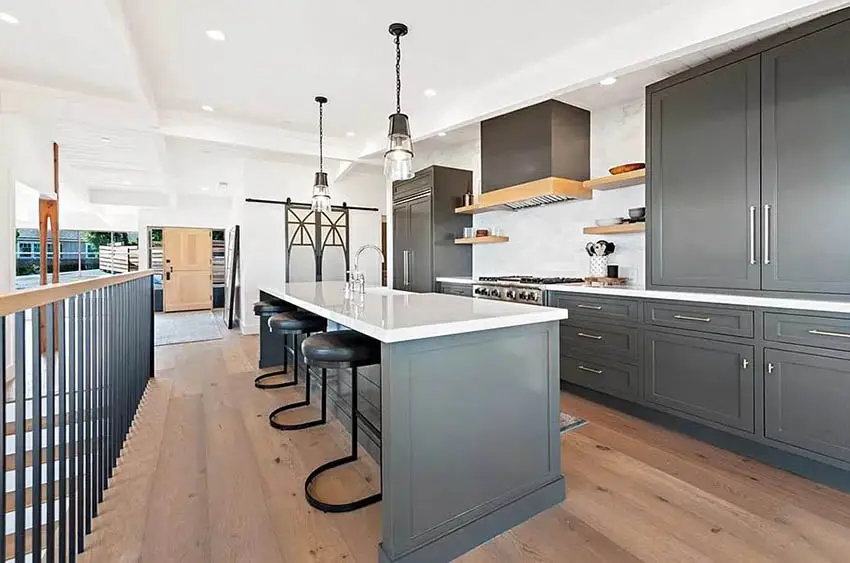 With various shades to choose from, painting with gray can be exciting endeavor as you can achieve different types of mood with the versatile hue.
With its darker hue, you can create a cool color scheme with blue undertones a perfect match to white or almost pale color palettes.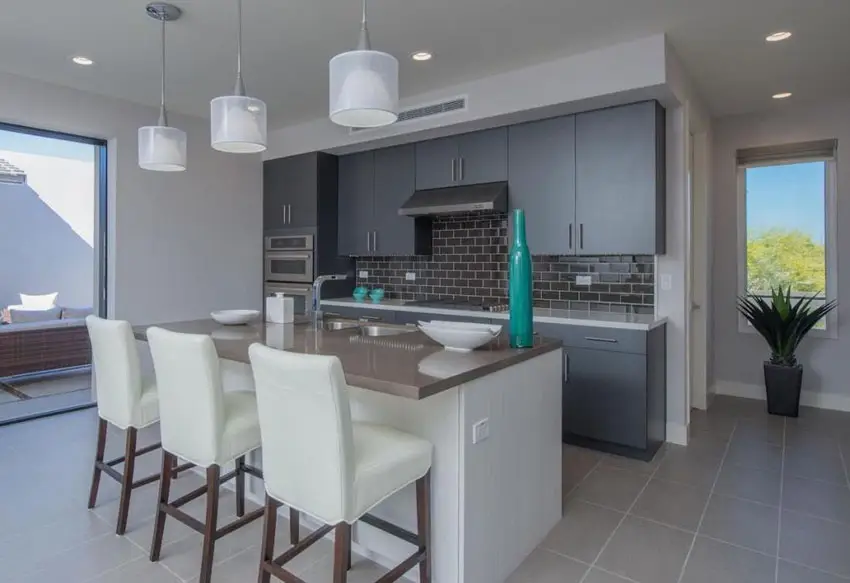 Another advantage of having gray cabinets is that you can have much as you want, as it does not overshadow other elements in the interior. Like this contemporary kitchen that boasts a floor to ceiling kitchen cabinet which sits very well against the lighter surrounding color scheme.
With a small kitchen, striking contrasts can make it standout despite the limited design elements. This charcoal gray cabinets with modern paneling creates a stylish backdrop for the island kitchen area.
Gray Kitchen Walls with Dark Cabinets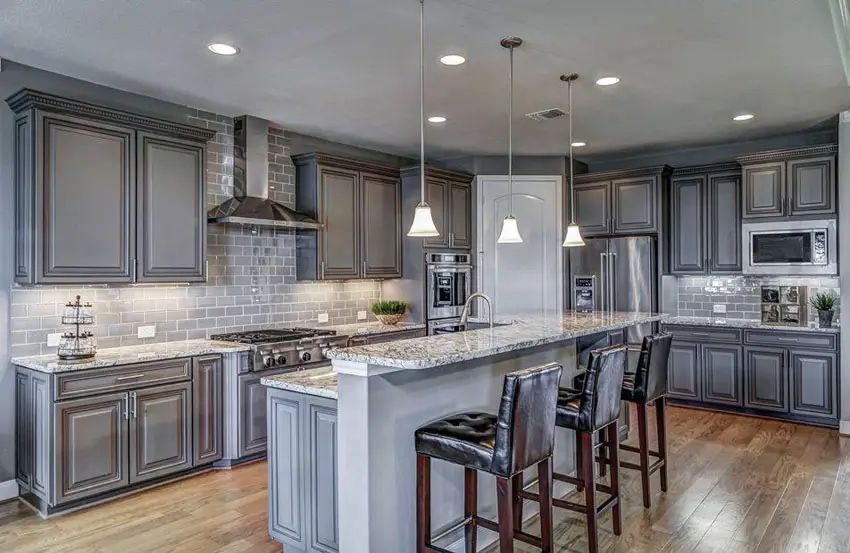 If you're planning to have dark shades for your kitchen cabinets, gray hues are great alternatives to match any dark color you choose. You can incorporate dove gray, abalone, Coventry gray or any other light gray hues to complement the dark kitchen cabinets.
Not only are dark cabinets luxurious they also add dimension and a cozy feel to large kitchens. When paired with gray walls, the dark cabinets won't look overbearing all the while keeping the interior's overall visual depth.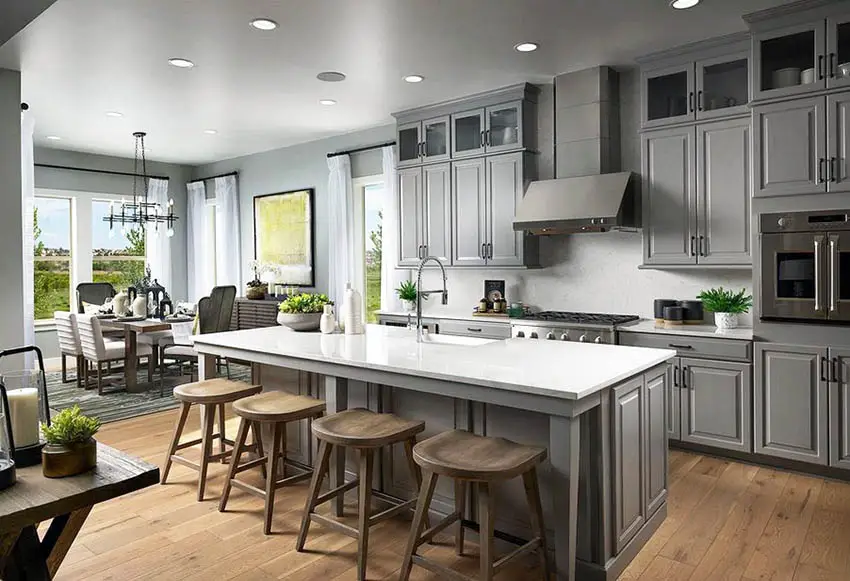 When you want to add details and textures on your kitchen, gray is the best colors scheme to choose. Excessive color and ornamentation can break your overall design but with the neutral color you can layer textures while still keeping your overall look aesthetically pleasing.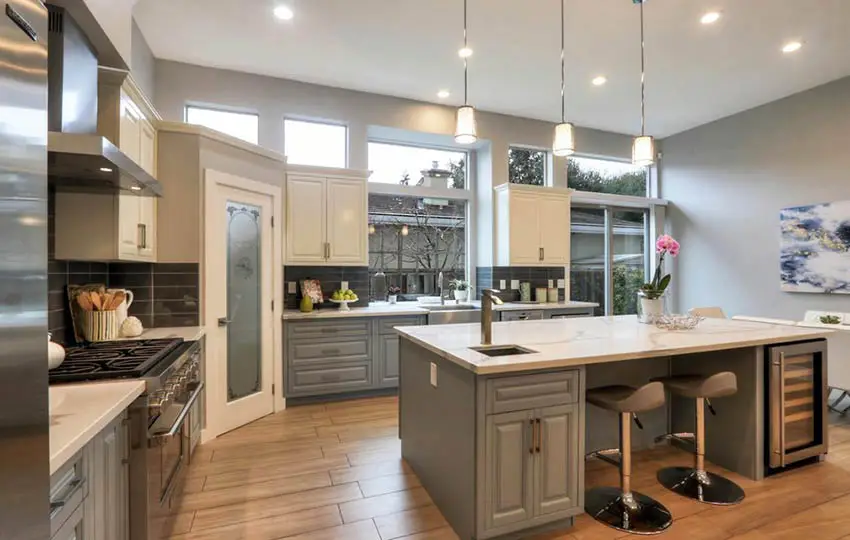 This kitchen with two tone cabinets offers uppers in white with lowers in gray and a gray island with Silestone quartz countertops.
Dark Gray Kitchen Cabinets with Light Gray Walls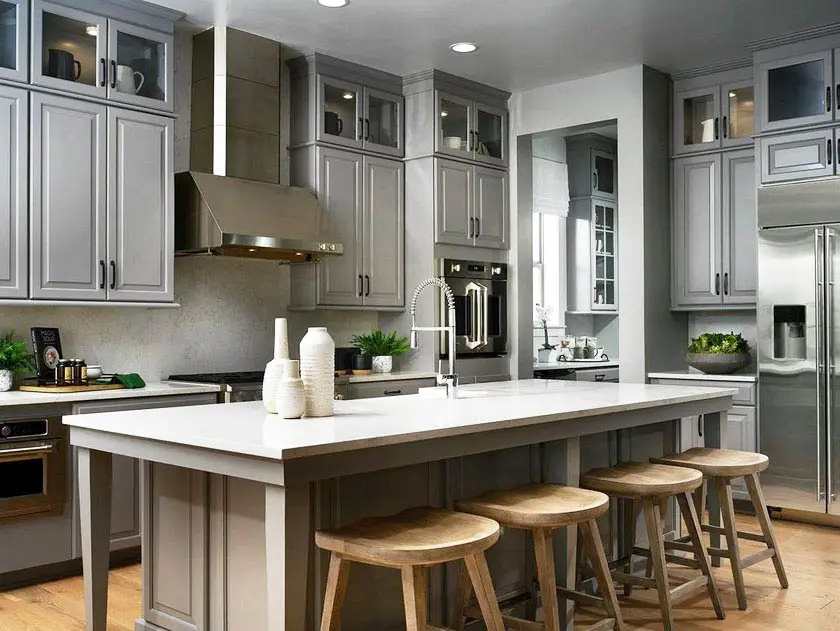 Combining dark hues is never a problem with the gray color, with the different shades of gray you can mix and match them with your desired visual take on your kitchen interior. You'll also love the different plays of gray shades and undertones with the neutral color.
The combinations of gray achieve the rustic appeal that this industrial-inspired kitchen is aiming for. Natural and artificial illumination work together to further highlight the beautiful shades of gray. To accentuate, brass, gold, and other wood warms up the neutral color.
When you want to achieve a modern kitchen interior gray on gray color tones is an effective way to create sleek and clean overall look. Pair it with white coffered or cove lighting and you'll have an interesting play of lights and shadows that can make your small kitchen look larger. Incorporate organic or metallic accents to add a tinge of warmness to the modern look.
Kitchen with Gray Cabinets and Dark Countertops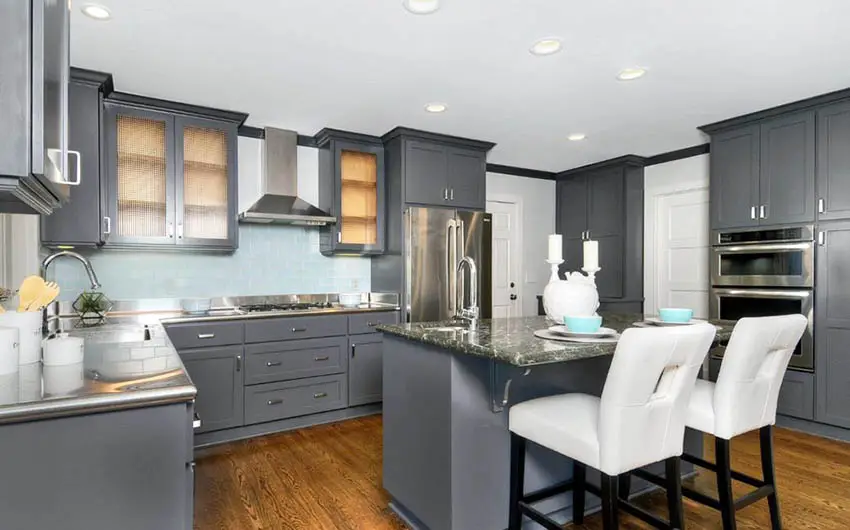 If you've been longing for that dark granite countertop with beautiful graining but unsure if it will look good on your kitchen, then go with the gray cabinets. You can add darker shades for your other design elements without worrying too much of it being overbearing to the overall look.
Dark countertops are practical as it won't show surface imperfections easily. With dark cabinets to match, it creates a cohesive design that can be further highlighted with a white accent and a light-colored backdrop.
Dark Gray Distressed Kitchen Cabinets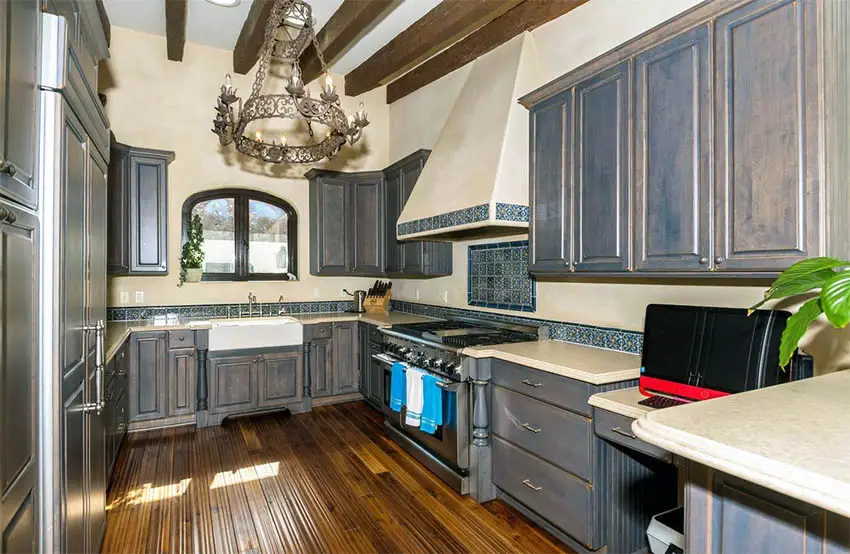 You may think modern interiors when it comes to the gray color scheme, but the achromatic hue also works well with the vintage style. With its formality and subtle elegance, it is a beautiful color to match the nostalgic classical cabinets.
Vintage themes are all about the finer details, and this gorgeous traditional kitchen has all its elements perfectly attune to the classical style. With patina-like finish, these gorgeous hand-crafted distressed kitchen cabinets are undeniably the highlights of this interior design. The bluish undertones of the gray cabinets flawlessly complement with the artful mosaic tiling.
Modern Kitchen with Dark Gray Cabinets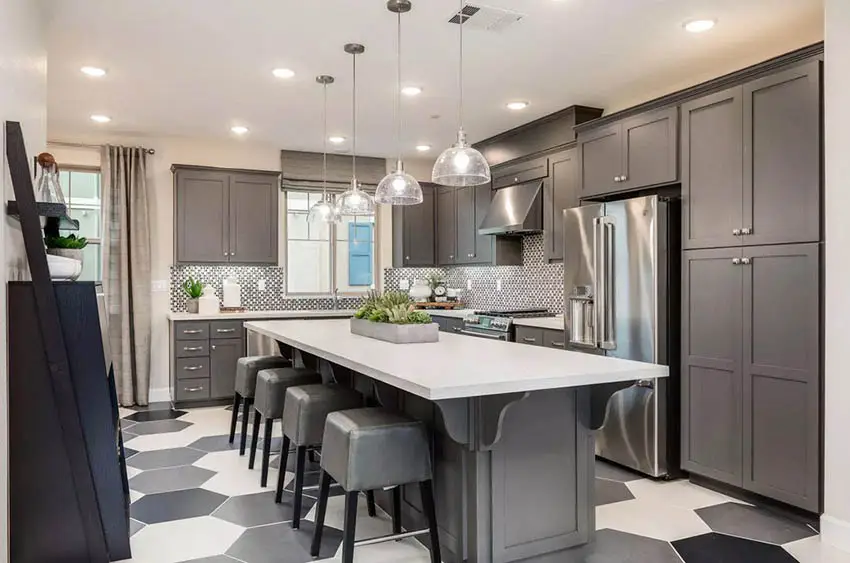 With modern gray cabinets, it's easy to create a clean and simple kitchen interior design that's easy on the eyes. Dark and other gray shades work well with white and beige colors which are typical hues for the modern style.
This modern gray kitchen incorporates floor to ceiling dark gray cabinets that works well with the beige and white backdrops. The hints of black makes the overall look even more well-put-together.
These large hexagonal tiles are a rave in modern interiors and with its gray, white and black combinations it makes the kitchen space seem larger. Large tiles can be hard to integrate especially when using bold colors is it might overwhelm with the look. But, with neutral elements such as gray cabinets, you'll have a cohesive design.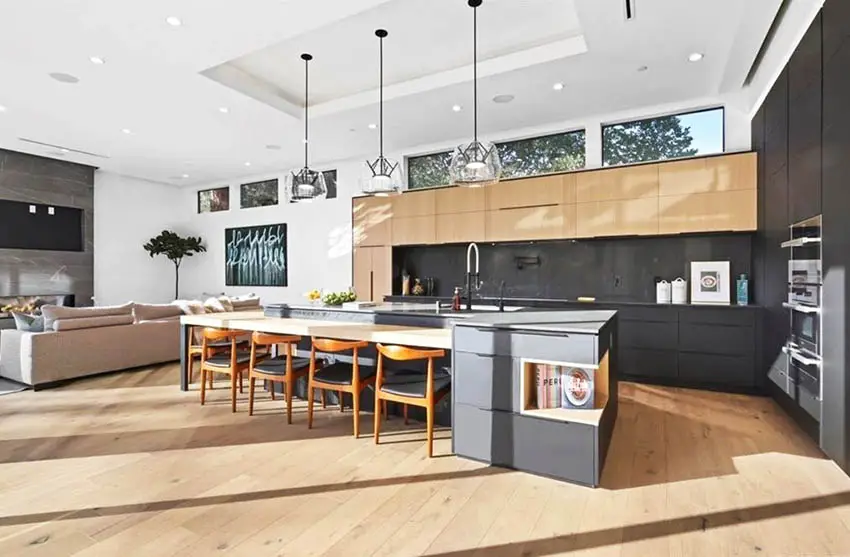 Dark colors can create a dapper sophisticated air to an interior. With a spacious kitchen, dark gray cabinet is the way to go as it fills in the void creating depth and presence in the overall look. With a punch of light brown wood cabinets to soften the darker parts, it's a perfect juxtaposition to showcase in this modern interior.
Dark Gray Kitchen Cabinet Paint
If you've finally decided to paint your cabinets with the elegant color, then it's now time for you to know more about the types of paints and the colors that's available in the market.
With dark gray kitchen cabinets, you'll encounter a lot of types and color variations that's offered from different paint brands. The trendiest dark gray kitchen cabinet colors are
Top Dark Gray Colors for Cabinets:
Iron Gray – With green undertones, it has a similar hue of a freshly cut or broken iron. The dark gray color works well with pure white kitchen walls.
RGB: 115 100 96
HEX/HTML: #736460
Charcoal Gray – This shade is a favorite choice among the many shades of gray. With almost close to black hue, it is a great alternative to the strong dominant color.Its a suitable color tone if you want to have a hue that's close to black but with a lighter shade. It is as mystique as the black color and has much the strength and feel of the darker color. To create a decadent, bold and highly sophisticated appeal the fashion-forward color, pair ti with midnight black to create a strong presence. This color works well with contemporary, minimalist and other modern styles.
RGB: 54 69 79
HEX/HTML: #36454F
Ebony – With olive undertones and dominant brown hues it is a classic color palette that's associated with elegance and prestige. The color is popular for kitchen interiors that has a tropical theme or characteristics.
RGB: 85 93 80
HEX/HTML: #555D50
Scorpion Gray – Somewhat lighter than charcoal and ebony, the scorpion gray is a cool color that can work well with design elements that has white or bluish undertones. It is not as dark as charcoal which you can use generously even to floor to ceiling kitchen cabinets.
RGB: 96 96 96
HEX/HTML: #606060
Popular Color Paint Brands
Benjamin Moore Chelsea Gray – This a warmer version but still comes with a dark and strong appearance. It works well with pastel colored undertones and will standout with white or beige kitchen walls. A mellower version than charcoal gray, it is a chic color perfect for pairing it with brass and other metallic accents.
RGB: 134 131 123
HEX/HTML: 86837B
Sherwin Williams Cyberspace – It's a striking color with bluish undertones that works well when you have a generous amount of natural light in your kitchen interior. When light strikes your gray kitchen cabinets it brings out the navy blue tinge creating an opulent sheen. Stands out with a pure white backdrop but can also do well with yellowish whites. Silvers accents is also complements the bold color.
RGB: 68 72 77
HEX/HTML: #44484d
Behr Carbon – Works well as a matte finish and can create a soft dark look that's not only perfect for contemporary kitchen cabinets but also as a wall color. Suitable as a secondary hue and can be paired by stronger gray tones.
RGB: 61 62 62
HEX/HTML: #3d3e3e
Benjamin Moore Witching Hour – A popular dark gray color tone in 2020 and has become a favorite color choice for ktichen cabinets. The deep gray with traces of black hue makes a suitable color if you have large kitchen to create an illusion of depth. With gold or brass hardware it's a great color choice for kitchen cabinets for industrial-inspired or rustic themes.
RGB: 61 62 62
HEX/HTML: #3d3e3e
What Color Pulls for Dark Gray Cabinets?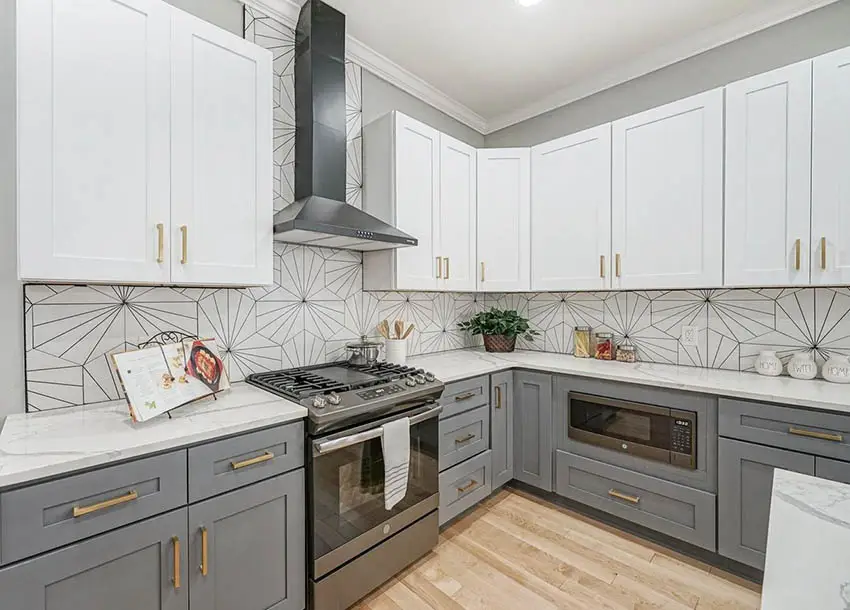 Kitchen cabinet pulls are not only functional but can be decorative hardware that can add value to your kitchen interior. Small as they may be, cabinet pulls are trinkets of design elements that can easily stand out. Even more so, your hardware can tie up the look, even more so if you have dark gray cabinets. But choosing the best make and brand can be tricky as there are a myriad of colors, styles, and materials to choose from.
To guide you in your search, we've listed the most popular hardware materials and color that can make your help your dark gray cabinets standout.
Whitish to Natural Yellow- Brushed Nickel Cabinet Hardware
With a warm and bright color, this type of material looks good on neutral colors but with its more traditional and antique appearance it's a favored material for vintage themed interiors. The brushed nickel works well with cabinets that have tinges of brown, white, beige, and slate gray.
Whitish to Bluish Undertone – Chrome Finish
For this cool hardware color, it is best to match it with gray cabinets that have olive or silver undertones. These combinations of glossy sheen from the different design elements create a sleek and clean modern interior. Generally, more expensive than nickel.
Chocolate and Copper Tones – Oil Rubbed Bronze
The chemically darkened finish has color tones that include chocolate brown, gray and green hues that both range from a light to dark, but generally have a warmer appearance compared to chrome and nickel. The oil rubbed bronze adds a contrasting effect to any gray kitchen cabinet and is typically used for vintage or transitional themes.
Brass Gold Finish
The latest trend in pull finishes today, these are cabinet pulls that are made from solid zinc alloy with brass gold finish. As gold is associated with opulence and luxury, this hardware finish is a great complement for the neutral dark gray cabinets.
Takeaway: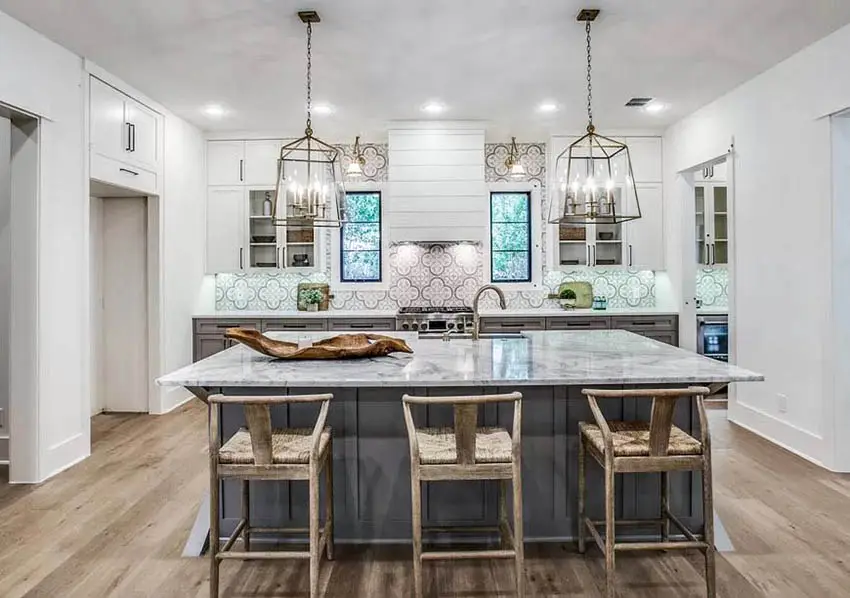 Aside from color, when choosing your hardware for your dark gray kitchen cabinets, also consider the shape of your pulls. Some can be sleek, rounded, or geometric in design, as the shape can affect how the light bounces off your cabinet pulls.
Another good way to add visual interest for your hardware is to incorporate different designs of knobs and pulls together. Just make sure they have the same color and finish which is a great idea when you have a classic or transitional themed kitchen interior.
For more related designs visit our gallery of kitchen colors with gray cabinets.
Disclosure: DesigningIdea.com participates in the Amazon Services LLC Associates Program, an affiliate advertising program designed to provide publishers the ability to earn fees by linking to Amazon.com and affiliated sites.