Here's our mixed color kitchen cabinets design guide including the benefits, tips, how to match wood, paint, and different door styles.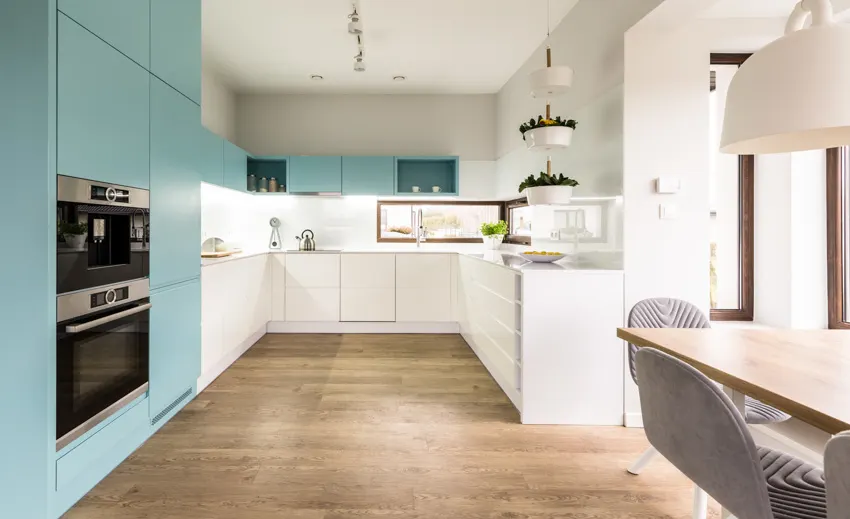 The common practice when designing kitchen cabinets is to use one single color all throughout the design. A lot of homeowners favor the timeless all-white kitchen cabinet look because of its strong staying power.
Others are geared towards the natural warmth of wood finishes, while some opt for bursts of colors that liven up the space. However, there's another trend that combines different finishes to produce a one-of-a-kind look for your kitchen — mismatched colors.
Below, we give you a complete guide on how you can effectively mix your kitchen cabinet colors, finishes, and styles without having to worry about the space looking out of sync.

Read on to know more about the most frequently asked questions about mismatched kitchen cabinets, along with some design tips and guidelines on how you can pull off this unique trend.
Can You Mix And Match Kitchen Cabinets?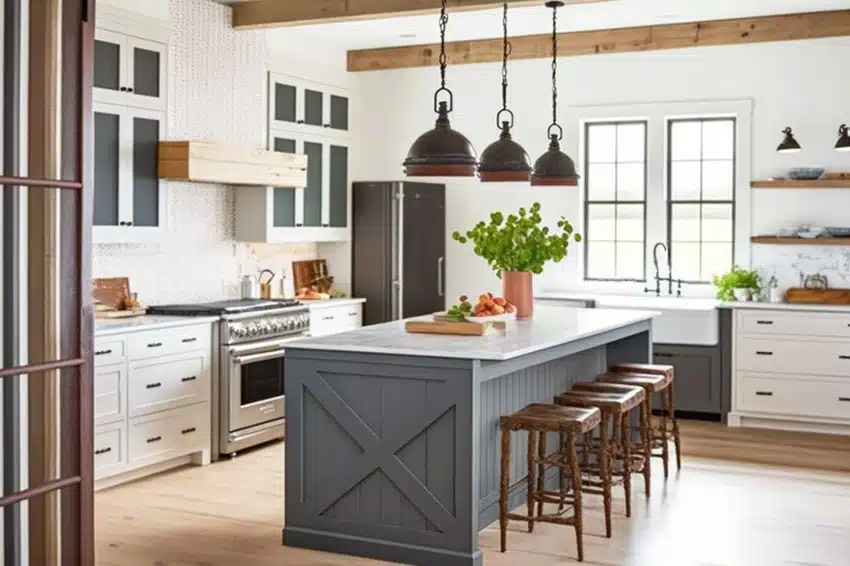 The simple answer to this question is YES, you can definitely mix and match your kitchen cabinets.
Walls, floors, accessories, furnishings, and every piece of a space do not always need to match and the same design guidelines apply to kitchen cabinets.
Interior design is all about tailoring a space according to one's personal needs, lifestyle, taste, and style, and this encompasses all aspects, including kitchen design.

Your kitchen cabinets can look however you want them to look — if you want them to match, they can match. Alternatively, if you prefer some variety, you can try mixing their colors, style, and finishes. It all comes down to the overall look you want to achieve for your home.

There are several ways to mix and match your kitchen cabinets. You can add variety through mixing and matching colors, cabinet door styles, or finishes.
Here are some of the benefits of mixing and matching kitchen cabinets :
• Instantly livens up a space: Mixing and matching kitchen cabinets whether through style or color adds diversity and can instantly make a space more interesting.
Symmetry or monotony has the tendency to become a bit dull and boring, but with this refreshing design approach, you can achieve variety.
• Creates visual interest: A two tone color schme kitchen cabinets improves the overall aesthetic of the space and can significantly change the character of your home.
This draws the eyes to various angles of the room and adds depth and dimension to the space.
• Fits any house style: Mixed and matched kitchen cabinets, whether through their color or style, can adapt well to any kitchen design.
• Increases resale value: Since mixing and matching kitchen cabinets gives added visual interest, it can leave a lasting first impression to potential buyers.
This has more advantages compared to traditional kitchen design because mixed and matched cabinets are the thing right now.
How Do You Mix Kitchen Cabinet Colors?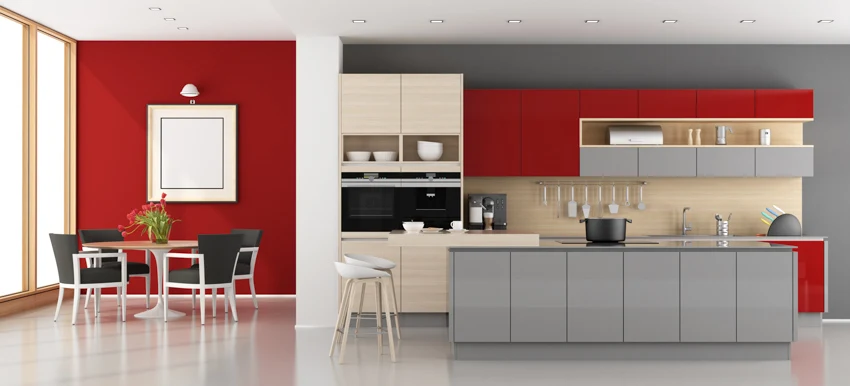 If you find an "all-white" kitchen too sterile but are not ready to commit to colors the perfect compromise is to mix and match your kitchen cabinet finishes.
Mixing kitchen cabinet colors can be done using different approaches — one is to use a contrasting island and the other method is to use two-toned cabinets. See contrasting kitchen island designs on this page.
Another option is to just paint the drawer facings to give the space an accent.

There are several advantages to trying out these design approaches in mixing kitchen cabinet colors.
For starters, this offers a timeless look. Second, a kitchen with contrasting shades will give an impression of a large space.
If you paint your top cabinets a lighter color than the bottom cabinets, this will draw the eyes to a brighter color, will reflect light better, and give an illusion of a bigger space.

Having mismatched cabinet colors is also beneficial for those who have small kitchens. A large span of cabinets can sometimes make a space feel too cramped and one way to lessen the visual weight is to break the color.
Painting your upper cabinets a lighter color than the lower cabinets will make the top part of your kitchen appear lighter and brighter, which in turn creates an illusion of a much bigger space.

Additionally, painting your kitchen cabinets in two different colors offers the perfect compromise. Some homeowners want an all-white kitchen, some prefer all wood, while others love colors.
With mixed colors and finishes, you can enjoy the classic sophisticated look of white kitchen cabinets and at the same time, introduce a splash of color to the space.

Here are some ways you can mix timeless kitchen cabinet colors:

Two-Toned Cabinets: You can achieve this look by painting your overhead cabinets and your under cabinets a different color.
The downside to this approach is choosing the wrong colors and using the wrong type of paint to finish your kitchen cabinets.
Contrasting Island: Another popular way to mix and match your kitchen cabinets is to paint the kitchen island in a color that contrasts completely with the rest of the kitchen cabinets.
Painting a contrasting color for your kitchen island introduces diversity and helps you put an emphasis on the island, making it the main focus of attention in your kitchen. You can also use a different counter from the island than the main countertops to create visual interest.

Painting Drawer Facings: If you only want a splash of color or a bit of accent in the space, you can consider painting only the drawer facings.
The way you paint your drawer faces will ultimately depend on your taste, you can paint it using a single color or you may use two shades. You can paint all of the drawer faces or apply only the accent to alternating pieces.
Color combinations that you can try on your mixed color kitchen cabinets: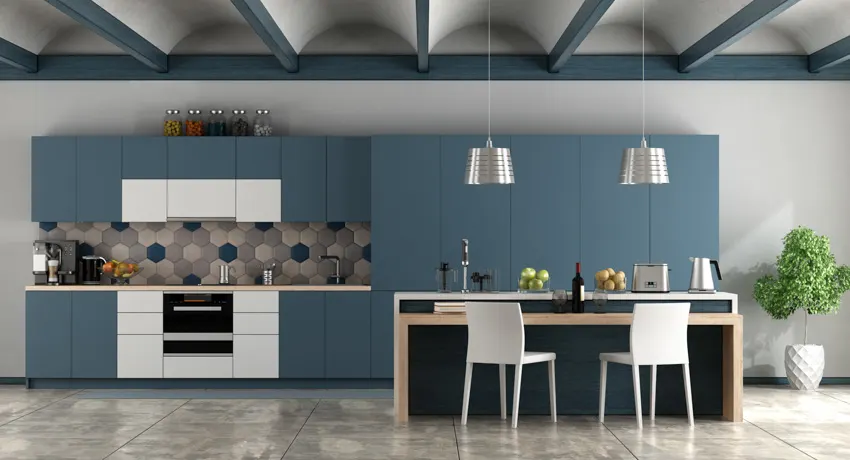 There is no hard rule which you need to follow in mixing kitchen cabinet colors. However, with hundreds of paint options and finishing choices available in the market, finalizing a color scheme can be quite challenging.
Below is a guideline for the best color combinations which you can try out when mixing kitchen cabinet colors:
• Combine shades that belong to the same color family: When mixing kitchen cabinet colors, you can combine two shades that belong to the same color family. You can either tone it down to a lighter shade or intensify it to a darker shade.
This way, the color palette looks more cohesive and tied together. In addition, painting your bottom cabinets a shade lighter or darker than your top cabinets can maintain a more grounded overall look.
For example, your upper kitchen cabinets are mocha, opt for dark chocolate brown for the bottom cabinets. Alternatively, if you have medium brown cabinets, paint your kitchen island in dark brown.
• Use a muted contrasting color: If you want to add a splash of color to your kitchen, you can try finishing your cabinets in two colors that contrast with each other.
Naturally, warm hues like red, orange and yellow, contrast with cool colors like blue, purple, and green.
If your upper cabinets have a warm undertone, try colors that have cool undertones for your bottom cabinets. When picking the right shade, opt for muted or mellow versions instead of vivid and bright tints because they will keep the space from looking too overwhelming.
• Use a complementary color scheme: The color wheel is a good guide to use when formulating an effective color palette for a space. You can easily draw attention to mismatched kitchens cabinets by using a complementary scheme from the color wheel.

By definition, complementary colors are those found opposite each other in the color wheel. Yellow, for example, is the complementary color of purple, green is the complementary color of red, and so on and so forth.
• You can paint your top cabinets a complementary color to the bottom cabinets. A sample application of this would be pairing dark cherry red cabinets with a sage green contrasting island.

Alternatively, you can choose a simpler color combination like black and white if true complementary colors are too vivid for your taste.
You can also adjust the shade and opt for a more subtle combination of color using the complementary hues.
• For all white cabinets, choose a second color depending on the vibe you want to achieve: The beauty of having white kitchen cabinets is that they can match really well with any other color.
And since almost any color can go with it, you can pick your second color based on the mood you want to achieve in the space. Warm hues add warmth to a space and make them feel more inviting, while cool hues help introduce a refreshing vibe.
So for example, if you want to add a calming feel to your kitchen cabinets, consider pairing it with a soft blue or mellow green kitchen island or bottom cabinets.

As for this approach, you can adjust the intensity of the color depending on the style of the space. Vivid and bright accents like fire truck red or canary yellow are more commonly used for modern interiors.
You can also take appliances such as the fridge, dishwasher and microwave and color coordinate with black appliances of all stainless and match the colors in your hardware finishes.
For a traditional kitchen, it is best to pair white cabinets with deep and rich tones, while for a farmhouse kitchen, a neutral color like brown can be combined with white.
Mix Wood And Painted Cabinets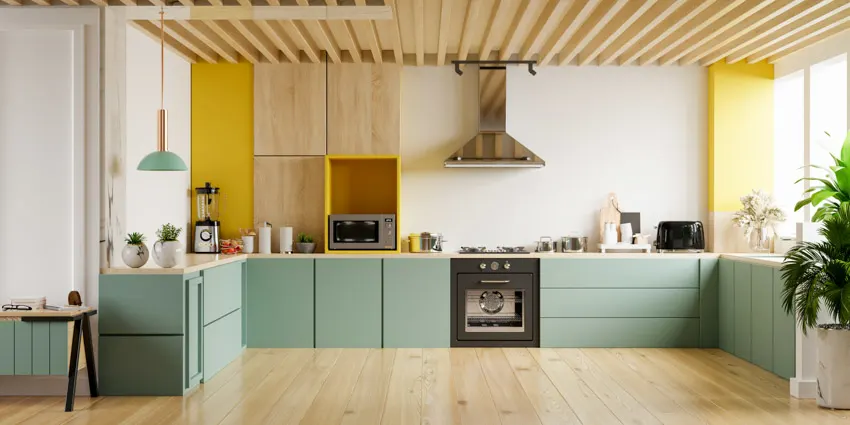 Mixing wood and paint is another effective way to achieve an interesting mismatched cabinet look.

Wood cabinets are naturally inviting, warm and welcoming, but a full expanse of it has the tendency to make a space feel cramped.
Creating a mismatched look with stain and paint will help lessen the "heaviness" of wood, especially if it is medium to dark-toned.
By introducing color or paint, the space can look more refreshing, light, and even updated.
Color combinations you can try on your mixed color kitchen cabinets: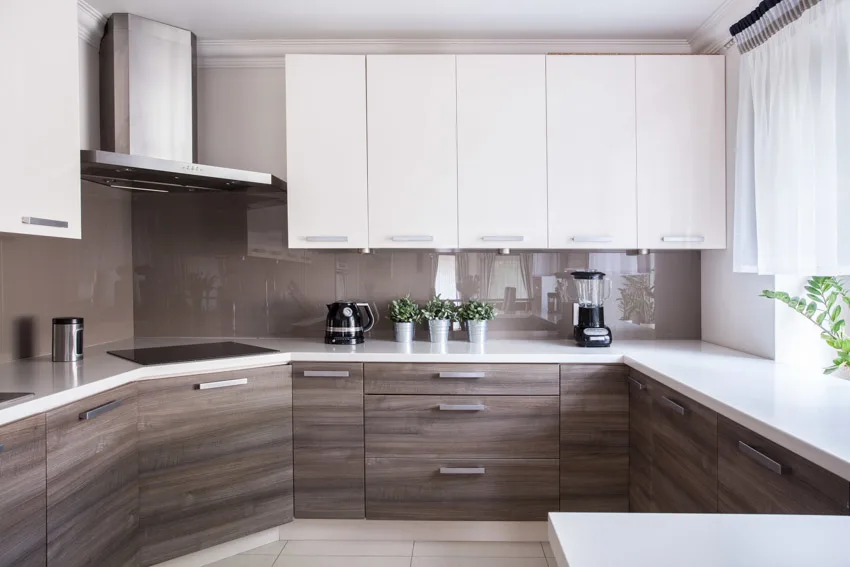 Here are some of the best options you can try to mix with wood kitchen cabinets:
• White and wood cabinets: White and shades of brown are one of the most classic color combinations in interior design.
This is used for a variety of design styles — from traditional to transitional and contemporary. When mixing this for kitchen cabinets, try using white paint for the overhead cabinets and stick with wood for the bottom cabinets.
This will help draw the eyes to the top and create a brighter look for your kitchen.
• Neutrals and wood cabinets: Neutrals are the best colors to use if you want to balance out the look of wooden cabinets. This includes grays, greige, other versions of white, and shades of brown.
Depending on the undertone present in the wood and the color temperature of the neutral, these colors can either help tone down or accentuate the natural wood grains present in wood.
• Muted shades and wood cabinets: If you want to introduce some color to your space while sticking with wood finishes, you can try out muted shades.
Muted shades are colors that are toned down with gray — like sage green, a dull purple, or slate blue. These shades are perfect because the transition from wood to color is not overwhelming and shocking.
The way you use this for your upper and lower cabinets will depend greatly on your taste and style.
Mixing Kitchen Cabinet With Wood Colors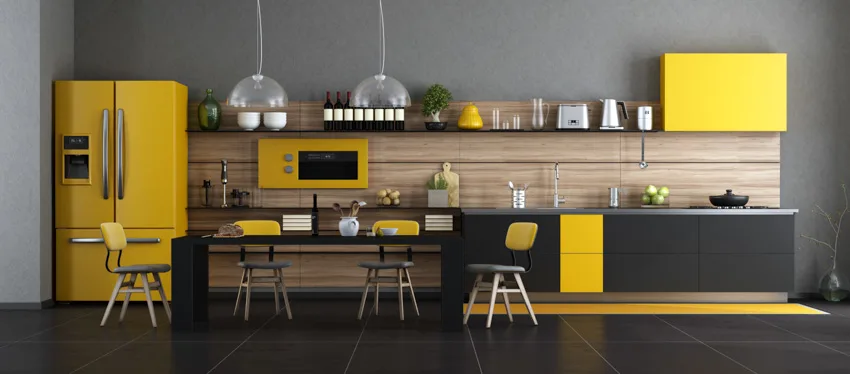 What about combining two or more different tones of wood for your mixed color kitchen cabinets?
It is best to maintain the same wood type for all your kitchen cabinets because using varying wood finishes has the tendency to make a space feel disorganized and look incompatible.
However, you can still mix them, provided that you follow the limitations.
Using two colors of wood for the kitchen cabinets is a bit more tricky to pull off and works best if the graining pattern of your wood matches. If the wood grains crisscross, the transition between the colors and finishes will not be smooth.
Regardless of their color, two hardwoods that are paired together will always highlight each other, so it is also best to stick with woods that do not have a busy graining pattern.

Matching different wood colors also works best when applied to contrasting islands. Let's say your perimeter cabinets are medium-toned brown, while your kitchen island is dark chocolate brown.
Can You Mix Cabinet Styles?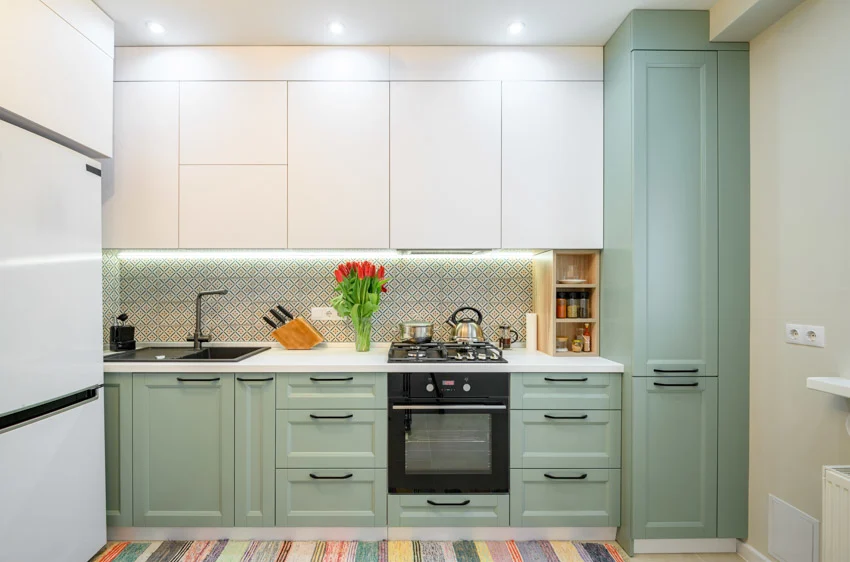 Aside from mixing and matching the colors and finishes of your kitchen cabinets, you can also combine different door styles. This gives your kitchen a more personalized look and a one-of-a-kind appeal.

The key to pulling off mixed kitchen cabinet styles is to select two door designs that share a common trait. They must complement each other. If you have a modern kitchen design or transitional, opt for two door styles that are clean, simple, and unornamented.
If your kitchen has a more traditional look, select door styles that have ornate details and moldings. Choosing two styles from the same family will break the design in a subtle way.

Cabinet door design combinations which you can try when mixing kitchen cabinet styles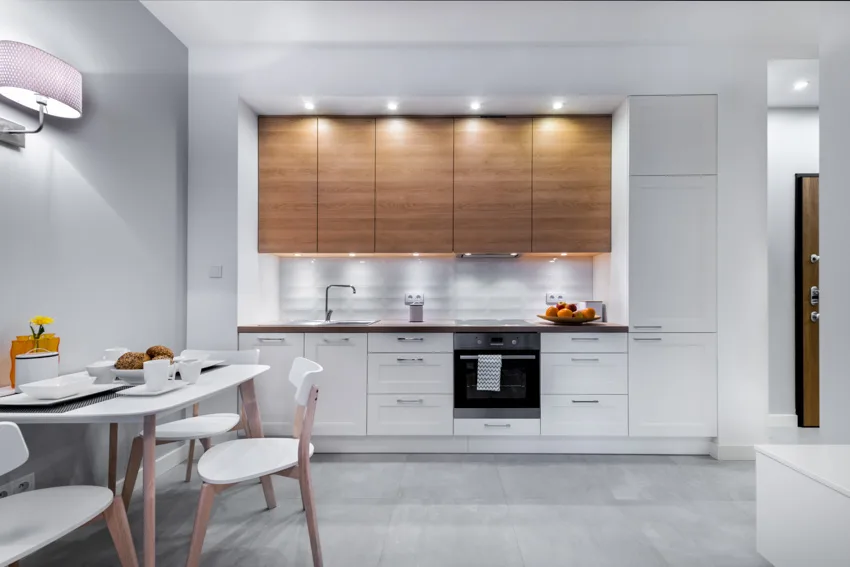 Here are some common cabinet door styles which you can mix to create a well pulled off look for your kitchen:
Raised panel and flat panel doors: This combination is one of the most commonly used in mixed kitchen cabinet styles. Raised panel cabinet doors and flat panel doors have similar outside frames, but their center panels differ.
This mixed cabinet style can be used in a variety of ways — you can use flat panel doors for the base cabinets and raised panel doors for the wall cabinets.
If you have a kitchen island, you can use raised panel doors for the perimeter cabinets and flat panel doors for the island or vice versa.
In addition, you can use this for a lot of kitchen design styles including transitional, contemporary classic, and farmhouse.
Shaker-style cabinets and slab-style doors: To give an overview, Shaker-style cabinet doors are a type of recessed panel cabinet doors, characterized by a simple raised frame design.
While slab-style doors are solid, flat panel doors have no ornamentation. This combination is perfect for contemporary and transitional kitchens.
The way you use this will also ultimately depend on your taste — uniformed Shaker-style doors for the wall cabinets and slab style doors for the lower cabinets.
Another way is to use Shaker doors for all the cabinets and a use slab style design for the drawer faces. Drawers with a slab front have no profile edging to give a contrast in style to the layout.

See more related content in our article about handleless kitchen cabinets on this page.