Welcome to our guide to farmhouse kitchen paint colors including matching paint with materials, accents & finishes and the best colors to use for your design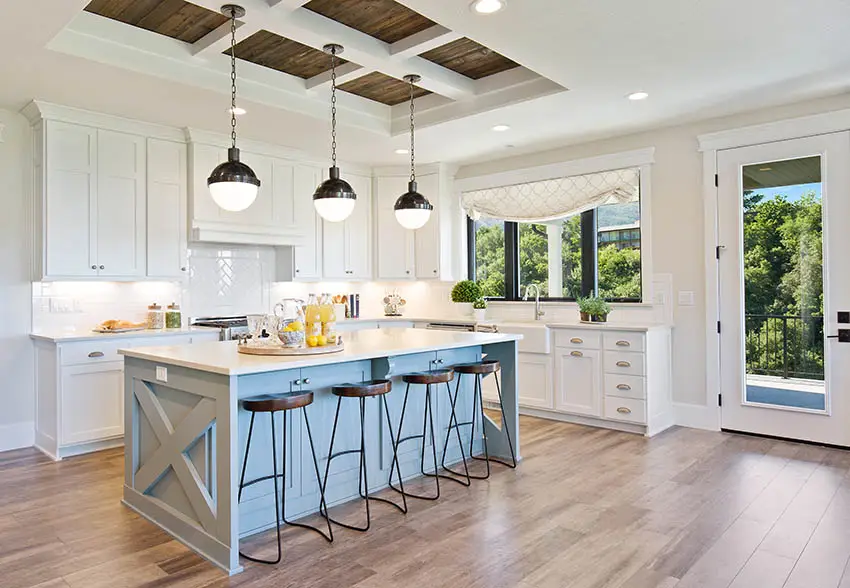 The beauty of farmhouse kitchen is its simplicity which has become synonymous with "classic kitchen style". Its rustic touches, crisp white walls, open shelving, painted cabinetry, exposed beams and apron-front sink are making a huge influence and growing in popularity on kitchens styles nowadays.
We have outlined some guidelines on how you can bring in your own creative style, personalize your own color palette and adding colorful accents into your farmhouse kitchen.
Using Neutral Colors For a Farmhouse Kitchen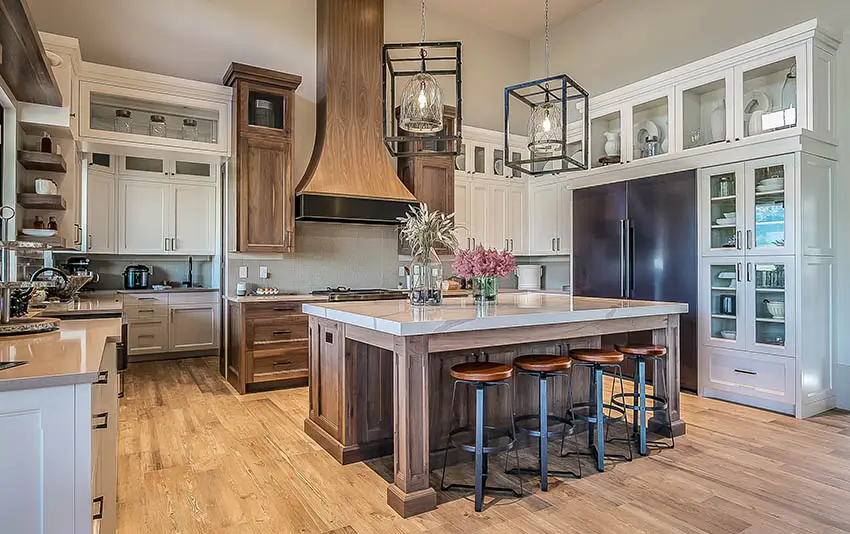 Neutral in terms of interior designing refers to a balanced or unbiased style and so, it becomes a perfect strategy of using neutral colors in designing a room.
Neutral colors are sometimes called muted earth tones such as beige, ivory, taupe, brown, black, gray, and white. Keep in mind that these neutral colors have gradation and often have undertones.
Using neutral color pallets can have a light, airy, happy, and whimsical feel for a farmhouse kitchen.
For a classic and timeless look, an all-white kitchen combined with wood-toned cabinetry and wood flooring is a simple, elegant, and perfect choice for a farmhouse style paint color scheme.
Also, try to layer different neutral tints or gradation of the same color for a classy and sophisticated look. Use your choice of neutral colors as background such as the walls of your farmhouse kitchen.
For a small kitchen space, a light neutral color would be a better choice. Incorporating a dark neutral color will help add dimension while still maintaining a calm and welcoming color palette.
Matching Your Farmhouse Kitchen Materials & Finishes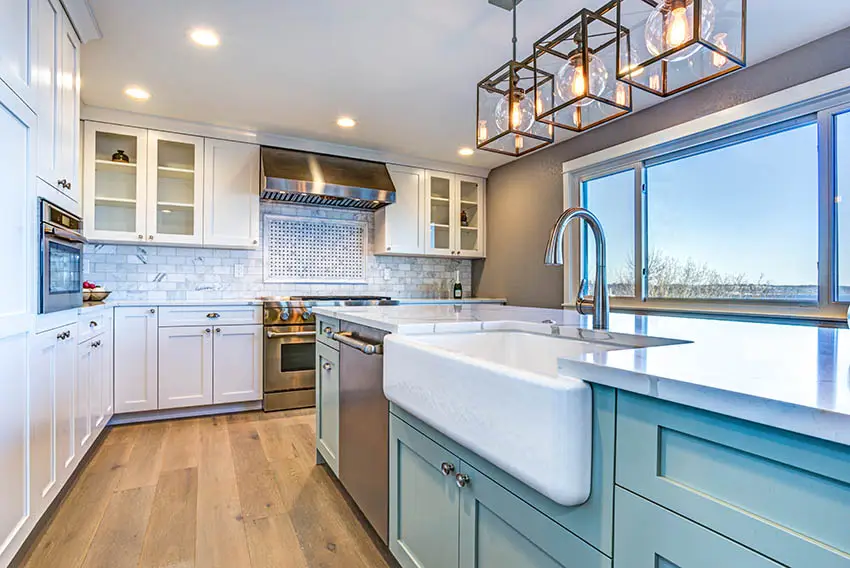 There are a lot of design features that goes into designing a farmhouse kitchen to create a cozy, rustic and country feel that is a perfect fit for your home.
There is so much versatility and flexibility in style when creating a farmhouse kitchen, such as mixing the old classic style with the new and modern design elements.
Here are some must-have materials and finishes to create your perfect dream farmhouse kitchen.
• Rustic architectural features such as exposed beams, hardwood floors will make your farmhouse kitchen have that natural classic look.
• Farmhouse sinks which is also called apron-front sink is an essential feature of any farmhouse kitchen. This beautiful porcelain sink which appears to drape over the base cabinets, also comes in different varieties such as dark or metal type to suit your design style.
• Farmhouse kitchen cabinets often feature solid wood for the main cabinetry or island and is an ideal element for this style.
Opt for simple cabinetry, stay away from cabinets with ornate door designs. A Shaker-style cabinet painted in white or neutral color such as cream, gray and beige create a perfect classic farmhouse look.
• Mix simple wood cabinetry with open or exposed shelving. A simple floating shelf or a hutch is both functional and stunning elements that will give your farmhouse kitchen a beautiful and rustic feel.
• Countertops materials should have a clean, smooth, subtle and simple look such as white marble and gray or black quartz. Another idea is to use reclaimed wood countertops to further enhance its rustic look.
Soapstone is one of the popular materials for a farmhouse kitchen because of its smooth, resistant and hard-wearing characteristics. It also gives a great contrast with the white and light shaded kitchen cabinetry.
A butcherblock countertop is a perfect material to use for a rustic-contemporary farmhouse kitchen due to its practical and durable qualities. It incorporates the natural wood material essential for a farmhouse kitchen design style.
• Another classic must-have features for a farmhouse kitchen design style are the beadboard and paneling. The crisp, simple and striped pattern of the wood paneling create a rich, charming and texture-filled farmhouse kitchen finish.
• By incorporating natural wood in farmhouse kitchen, for the floor, ceiling and backsplash; it adds traditional warmth to your kitchen.
For flooring, dark, rich hardwood is the best choice; you may also use engineered hardwood, vinyl or laminate. Ceiling beams or decorative beams can also be installed to give that farm or barn feel to your kitchen. Exposed wood or bricks for backsplash can offer a different rustic twist.
• Kitchen island is one of the essential furniture to use for a farmhouse kitchen – it can be a free-standing table turned island which can serve a double purpose of a worktop and dining table. Using wooden bar stools as seating for your kitchen island can also give a rustic charm to your farmhouse kitchen.
• Black matte hardware, copper and bronze on cabinets and drawers adds to the character of your modern farmhouse design theme.
• Stainless steel, oil-rubbed bronze, brushed nickel and gold finishes for hardware, faucet and other fixture finishes are the best to go with the farmhouse kitchen colors.
• Satin or semi-gloss paint are the commonly used paint finish for farmhouse kitchen since this two type of paint finish can withstand heavy-traffic area like the kitchen.
• Go for Vintage – for a classic farmhouse kitchen, incorporate some vintage accessories or vintage finds such as displaying ball jars, mason jars, glass canisters, antique vases, galvanized metals or large wooden bowls for a unique look.
On the wall, you can install wooden racks to store or display dinnerware, dishes, farmhouse vignettes, aprons or some period accessories collected over time.
• Adding natural textures to your kitchen such as covering windows with bamboo shades or use an alternative for the cabinet doors such as using a piece of linen or any fabric as skirt to cover the sink's base cabinet. These materials give variation of texture and creates a casual feel for your farmhouse kitchen.
Best Farmhouse Kitchen Colors
Designing a farmhouse kitchen requires that the tone, style and colors coordinate perfectly to translate that welcoming, relaxed country feel of farmhouse kitchen to every homes.
Choosing the best colors for your farmhouse kitchen means finding the right balance and it is the perfect starting point. Colors are one of the essential elements that brings inspiration when designing your own farmhouse style kitchen.
Back in the old days of Colonial period in America, mixing paint with milk is used on furnishings and walls in order to achieve a unique, soft matte finish. This muted, soft, matte color finish became an integral element of the farmhouse style kitchen colors.
While white is the top choice for the farmhouse kitchen cabinetry, natural, neutral and muted colors will make the kitchen feel brighter, lighter and creates a warm and welcoming feel. These colors can provide a solid foundation and excellent background to any other color you would choose for your farmhouse kitchen.
This means incorporating ample amount of wood tone colors, beige, gray, and muted shades of blue, yellow and green will work well with wood and metal finishes.
Consider other elements and surfaces in your kitchen such as matching kitchen countertops with cabinets before you make the final choice in picking the paint color for your farmhouse kitchen.
Look for hues in the same group – cool colors and warm colors so that the tones of your new paint color will compliment with the other elements and surfaces in your kitchen.
Using Accent Colors and Textures for a Farmhouse Kitchen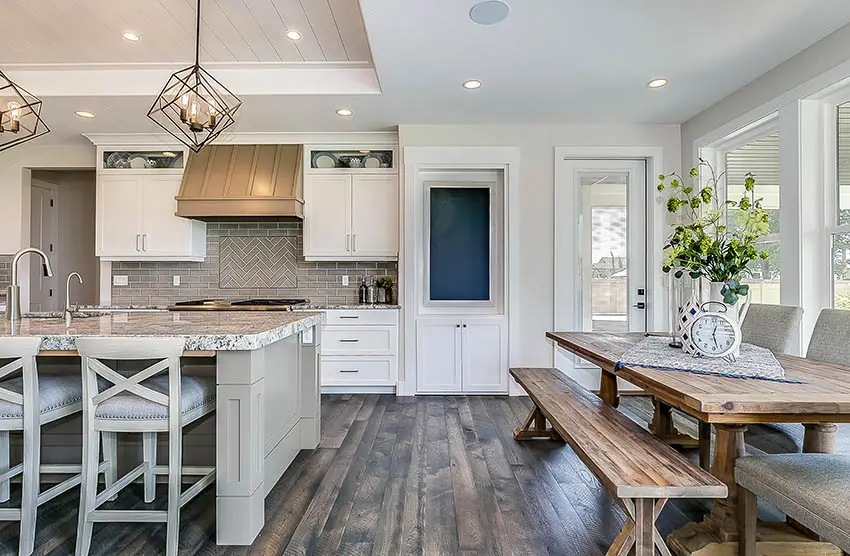 The key to creating a cozy, chic and welcoming ambiance for your farmhouse kitchen is to add some accent colors and natural textures compatible to the farmhouse style design scheme.
• Accent colors can be incorporated in small portion of the wall paint for an accent wall or can be integrated in the accessories such as area rugs, bar stool for kitchen island seating.
It can also be applied on kitchen cabinetry either as a two-tone paint finish or feature an accent color on cabinets or other free-standing furniture.
• Colorful patterns in floor tiles or colored tile backsplash add colors into the kitchen.
• Wall art is one element to easily add to the neutral walls and gives a vintage character and charm to your farmhouse kitchen.
• Farmhouse kitchen ceiling can also be used as an accent feature by adding color such as muted pastels without darkening the room.
• For textures, incorporating metals such as copper, brushed nickel, antique brass or stainless steel is a perfect combination to the rustic and reclaimed charm of farmhouse style kitchen.
These metals can be featured in the form of kitchen appliances, faucets, hardware, lighting fixtures and furniture. Combining glass cabinet doors with a plain or shaker door allows colors to see through from the glass doors.
Enhancing Light
One of the signature element of farmhouse style kitchen is a fresh, light and airy atmosphere; and lighting sets the tone.
By incorporating doors and large enough windows which allows lots of natural light to come in, will help make the kitchen brighter and appear more spacious.
For dominant surfaces, consider using hues which are more lively colors and would give that positive and cheerful vibe. Backsplash with glossy finish will help reflect light as well.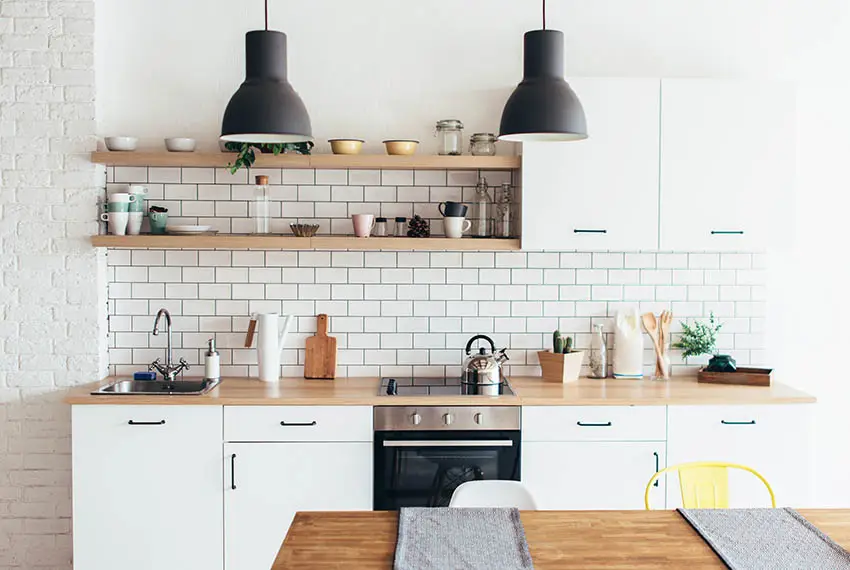 For lighting fixtures, installing a lantern pendant lights or iron chandelier will give an antique and rustic look that feels elegant.
Pendant lighting type of fixtures offer more light in the cooking and dining area. It is also important to position lighting fixtures at the right spot since the direction in which the light shines is very important.
We hope that we have once again shared with you some very important and useful designing ideas on how to style and incorporate your own unique personality to your dream farmhouse kitchen.
At the end of the day, the best thing about farmhouse style kitchen is that it's a warm, charming and welcoming place where all family members and friends love to gather and share wonderful memories together.
Paint Colors to Use for Farmhouse Kitchen
Farmhouse style kitchen color schemes tends to have neutral and earthy tones as the primary elements. These colors provide versatility and can go with anything. Neutral and earthy tones are excellent backgrounds to any other accent color and provide a solid foundation to any color scheme.
Here are some of our fresh take of paint colors to use for a farmhouse style kitchen for you to consider for your farmhouse kitchen project.
Rhine River by Benjamin Moore
This color is part of the Benjamin Moore Classic Color Collection, also known as Homestead Green AC-19.
Rhine River is a timeless and elegant hue which is a perfect choice for your farmhouse style kitchen. Use it best on your island cabinetry or accent wall, for just the right dose of accent color.
Stormy Monday 2112-50 by Benjamin Moore
This saturated warm gray neutral tone color gives out a bold and extraordinary feel that will excite and inspire designers and homeowners to create a striking farmhouse style kitchen.
Copper cookware and other accents in copper finish pairs well with this warm gray hue.
White Dove OC-17 by Benjamin Moore
This is a classic favorite paint color for farmhouse style kitchen due to its soft shaded white hue without the yellow undertone.
White Dove has a light and luminous effect which is an excellent choice for cabinetry molding, trim, doors and interior walls.
Mohegan Sage 2138-30 by Benjamin Moore
Perfect for a rustic farmhouse style kitchen this earthy forest green Mohegan Sage paint is like bringing nature in your farmhouse kitchen creating a moodier hue with its soft and muted tone.
A great choice for accent color for an island cabinet or for wall and base kitchen cabinetry paint color.
Swiss Coffee 12 by Behr
A very popular and favorite paint color for a farmhouse style inspired kitchen design.
When applied to the cabinetry, Swiss Coffee 12 has an off-white hue which gives a weathered and warm appeal especially when combined with wood flooring.
Dutch Tulip by Magnolia Home Paint
If you prefer a blushed color for your farmhouse kitchen cabinetry, Dutch Tulip is a good choice because of its warm soft peach tone which goes beautifully with brass finish hardware and other vintage design elements.
Maiden Hair PPG1106-1 by PPG
A joyful and welcoming paint color is courtesy of this muted, pale yellow color with a sunflower undertone.
This Maiden Hair yellow paint goes well with matte black fixtures creating a vibrant farmhouse style look for your kitchen.
Alabaster White by Sherwin Williams
This well-liked neutral paint color is a common background color in farmhouse style kitchen.
Alabaster white is an excellent choice for walls and interior trims since it gives the area a bright, clean, and crisp feel.
Sea Salt SW 6204 by Sherwin Williams
Becoming a popular choice of paint color, Sea Salt gives that cool and welcoming appeal for a farmhouse inspired kitchen.
While the color is cool it provide slightly warm undertones for a blue/gray paint that will look differently in each room depending on its lighting and decor.
Waterloo SW 9141 by Sherwin Williams

Looking for an earthy blue paint color? Try Waterloo by Sherwin Williams – this blue color has gray undertones which gives a soft and neutral tone and is a perfect choice for a farmhouse kitchen color scheme.
There are endless of neutral and accent colors to choose and to mix-and-match from different paint suppliers which can give your farmhouse style kitchen its unique and elegant color scheme.
For those looking for a lighter blue options there is Hinting Blue or Dockside Blue by Sherwin Williams.
We are just glad that we have share with you some of our best picks and hope that we have inspired you in finding paint colors that is perfect for your own farmhouse kitchen.
See more farmhouse kitchen ideas on our gallery page.