Here's our reclaimed wood countertops buying guide including pros and cons, its strength as a surface material and cost.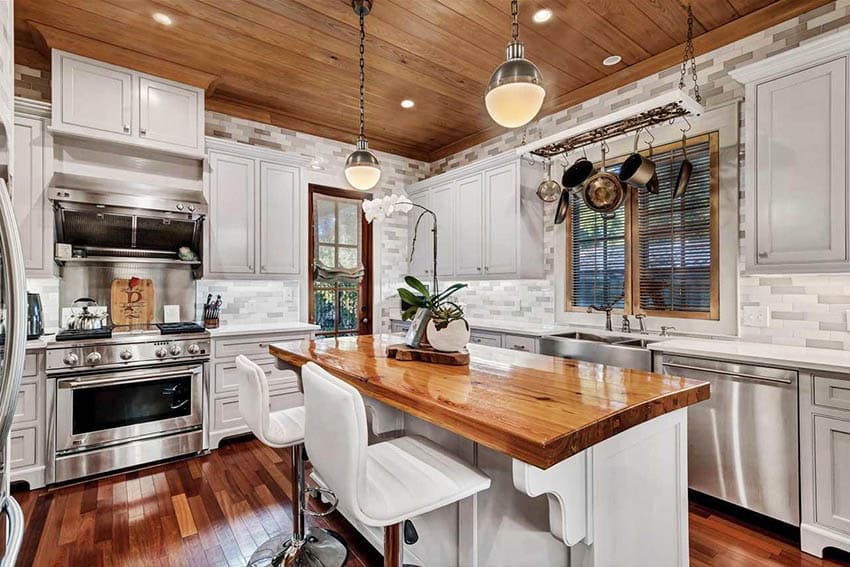 Wood countertops remain a popular option for kitchens by adding natural beauty to inside spaces. Wood adds an organic and earthy feel to any style kitchen whether Old World, European, traditional, or contemporary, and presents a wide choice of species to match your interior colors. Cherrywood offers a light, reddish-brown color, cedarwood is a darker red-brown, hickory wood has a grayish tone, and walnut provides a rich, dark brown tone.
One wood choice that's a great option, but not always considered, is using reclaimed wood for countertops. Historically, homes and buildings were built using timber available in the surrounding forest and chosen for the application whether it be a cabin, a storage building, or a factory. The abundance of wood allowed loggers to choose the best trees and varieties. A kitchen with wood countertops has always been a popular way to use reclaimed wood with attractive results.
For people or business owners who couldn't afford the premier wood, a mixture of wood was used as it was available. Some settlers were able to build their own sawmills and cut their lumber themselves. Next, we'll cover what reclaimed wood is, where it's sourced from, and how it's used for wood countertops.
What Does Reclaimed Wood Mean?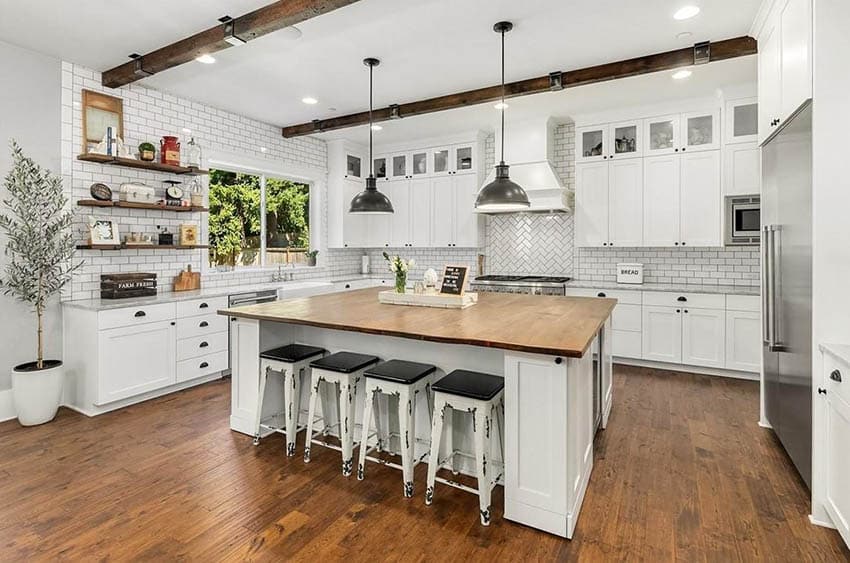 As old homes, historical buildings, and other structures are demolished, the wood is salvaged and sold as reclaimed wood. This gives the wood a second life to be repurposed to be used for furniture, flooring, decks, or anything made from lumber. This reclaimed wood is a valuable asset to the environment as it provides an eco-friendly option for materials salvaged from tear-downs. This adds much less waste to landfills. Innovative companies, concerned about the environment, envisioned marketing reclaimed wood as an appealing new take on wood products.
Countertops made from reclaimed wood are considered "green" and can still be recycled when they need to be replaced. Another benefit comes in the knowledge that the wood resided on the hull of a ship, the walls of a landmark barn, an old grange building, or even crates and railroad tracks. Distributors can sometimes let you know where the reclaimed wood used for kitchen countertops came from.
Why is Reclaimed Wood Better?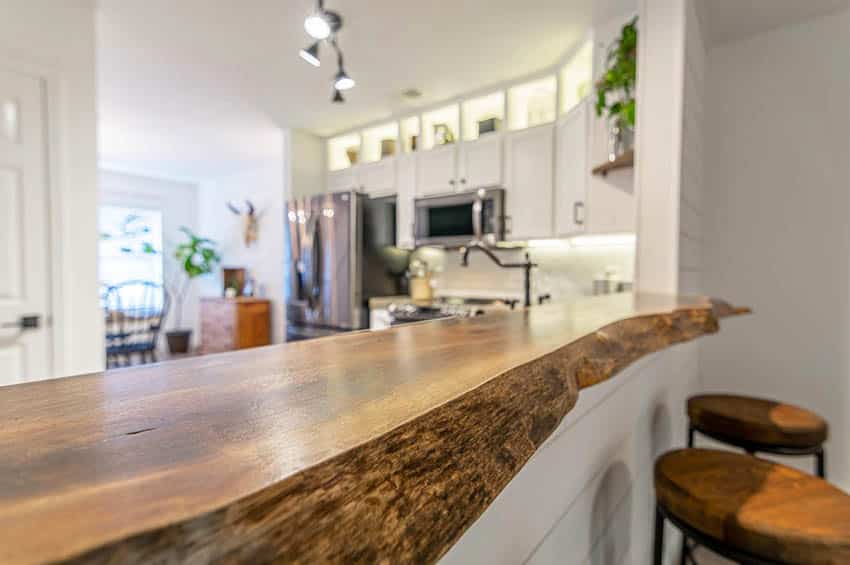 Kitchen with reclaimed wood countertop with live edge.
Reclaimed wood is, of course, great for the environment and by choosing reclaimed wood countertops you're decreasing the need for new lumber, lessening deforestation. The carbon footprint is also being decreased because the hazardous waste created from using petroleum-based plastics for countertops is greatly reduced.
Reclaimed wood has aged in the elements, and the wood itself retains its grain lines but takes on unique patterns, colors, and patina for a nature-made artistic look. Wood boards can be stacked for a thick countertop and the colors and patterns can be one hue, or a mixed pattern of different woods to add visual appeal.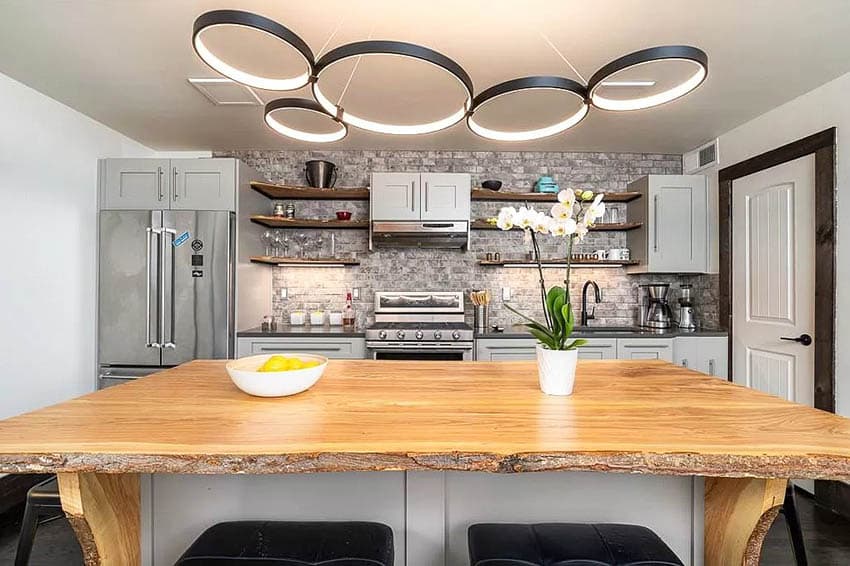 There are species of trees no longer available for timber and lumber such as the American chestnut tree and longleaf pine. These trees are scarce and can only be found by choosing reclaimed wood products. Other timber such as old-growth Douglas fir was abundant 100 to 200 years ago, but difficult to find in modern-day. Finding reclaimed wood like Douglas fir can, at times, mean finding boards that are up to 12 inches wide; a dimension not typically cut by today's lumber mills.
Is Reclaimed Wood Strong?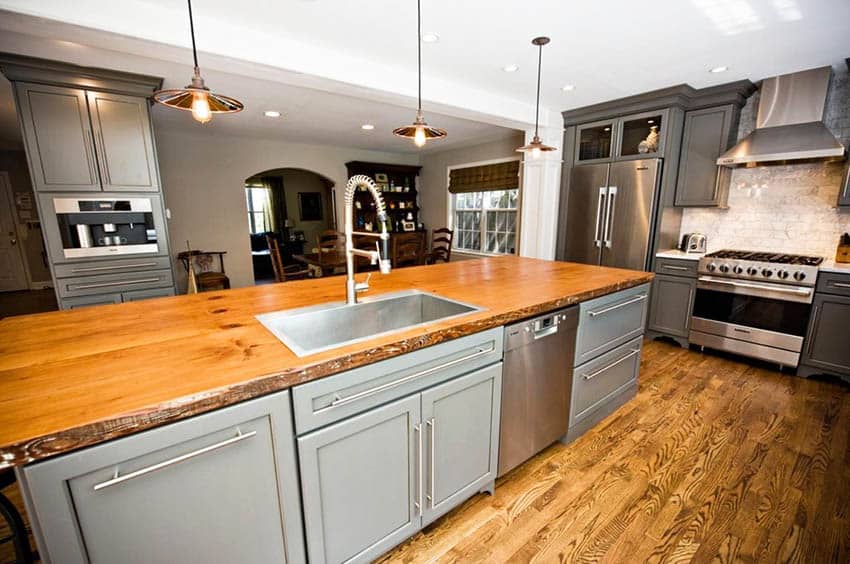 The strength of wood is measured with the Janka hardness scale. This scale was created by testing each type of wood and measuring the force it took to drive a .444 inch steel ball bearing into the wood, reaching half the wood's diameter. Douglas fir is deemed hard at a Janka scale number of 660, and Brazilian cherry is considered the hardest at 2350.
This scale is important to gauge the ability of the wood to resist denting and wear. When using reclaimed wood for kitchen countertops, water may seem like a problem. Most manufacturers use a mixture of boiled linseed oil, wax, and catalytic driers to seal the wood.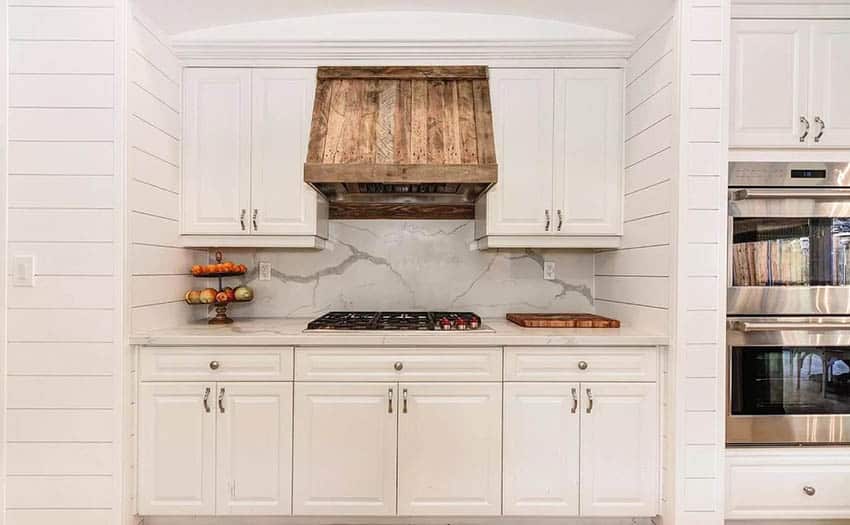 This kitchen features a reclaimed wood oven hood that adds some contrast to the beautiful white cabinets. Adding a small wood cutting board is another way to bring this style in to any type of kitchen design.
With reclaimed wood, whatever species it is will have a Janka hardness scale 40 points higher than new wood, due to being harvested from old-growth wood. And this kind of wood is a great choice for kitchen countertops because of it being stable.
After decades of being out in the elements, the wood expanded and contracted many times and created a stable wood. This attribute also allows reclaimed wood to withstand the rigors of kitchen use. Maple and bamboo are frequently used for reclaimed wood countertops due to their durability where pine is a softer wood and not preferred for kitchen counters.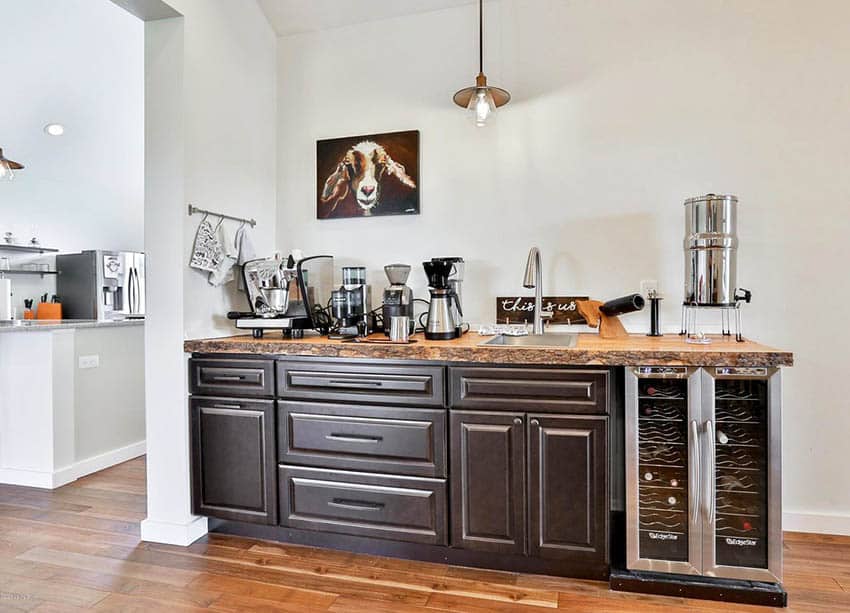 This coffee station has a reclaimed wood counter with live edge design.
Reclaimed Wood Countertops Cost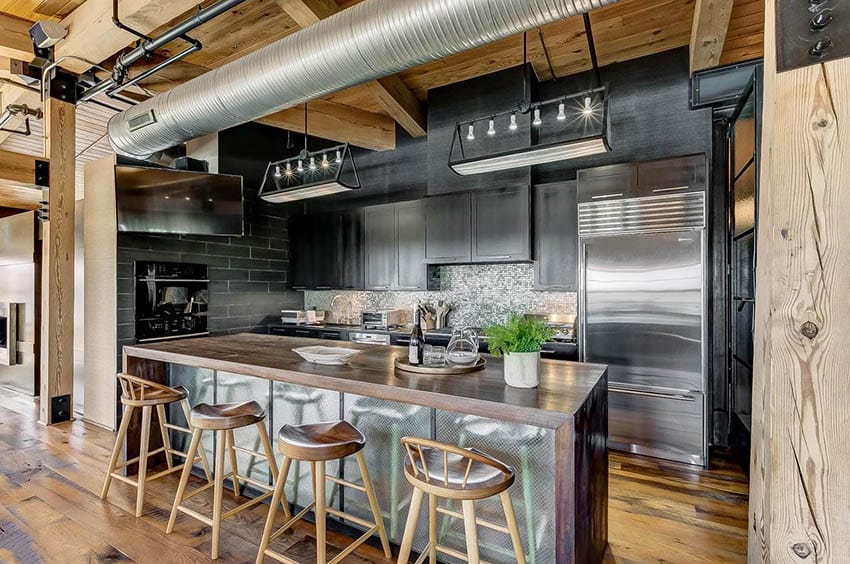 This large kitchen island with seating offers a wood waterfall countertop that compliments its industrial style.
Using reclaimed wood for countertops may end up being more expensive than new wood because of processing old wood. Distributors and dealers sort the raw supply of wood and check for nails, chemicals, signs of invasive pest infestations, and then they have to sort the wood by type of lumber. Identifying the species can be challenging after the wood has endured years of use, wear, and weather.
The average cost for reclaimed wood countertops is anywhere from $65 per square foot for lighter wood with less detail, $85 per square foot for certain species, thicknesses, and sizes, and $125 per square foot for unique or rare lumber such as Douglas fir.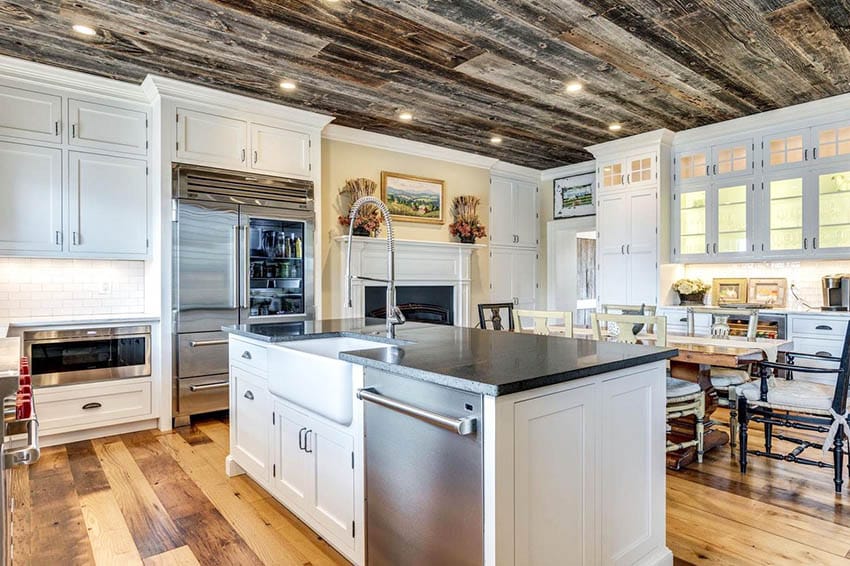 Reclaimed wood is often used for wood kitchen ceiling designs to bring in character and personality to the space.
Reclaimed Wood Pros and Cons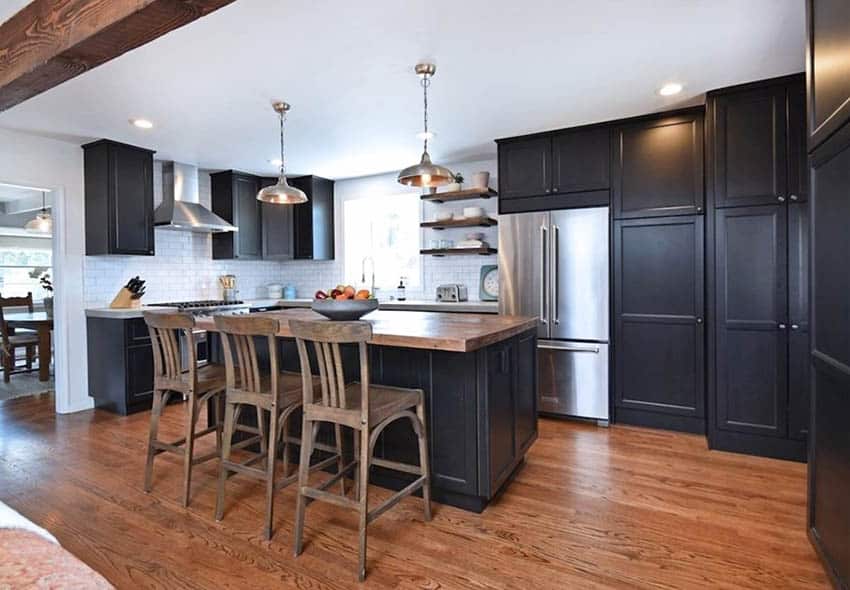 Pros
• Reclaimed wood is environmentally friendly.
• The use of this wood reduces chemicals and toxins from manufacturing plastic or other materials used for countertops.
• Being aged and weathered allows reclaimed wood unique and artistic colors and patterns. The character of this wood for countertops ensures attractive grain patterns, lots of growth rings, and textures not found on new wood boards.
• Wood no longer available for lumber can be found as reclaimed wood and in larger sizes used many years ago.
• Reclaimed wood has weathered storms for countless years so it's stable and durable when used for kitchen countertops.
• Reclaimed wood will not dull knives.
• It also works great as reclaimed wood accent walls, oven hoods, ceilings, sliding barn doors and flooring to bring a natural finish and old world charm to your interior designs.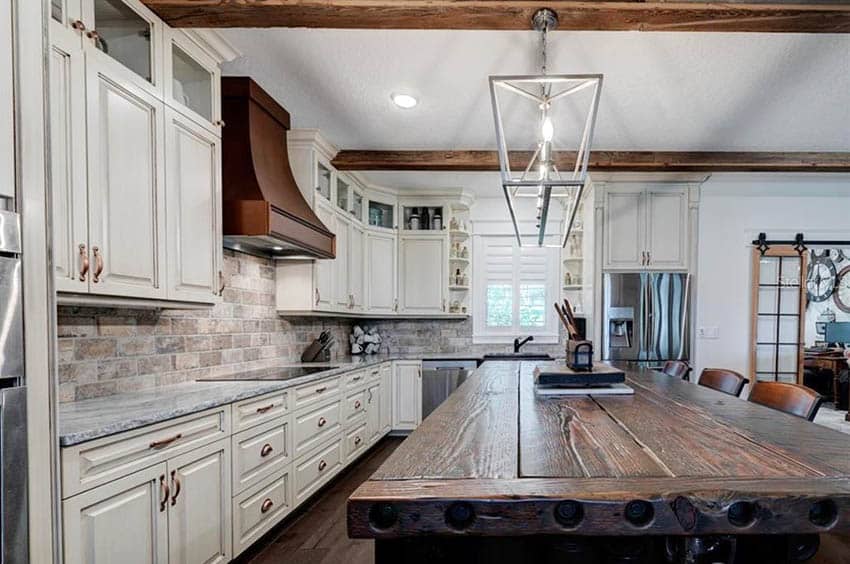 Cons
• Some distributors source fake reclaimed wood to make more profit so it's preferred to purchase reclaimed wood from dealers with a good reputation and certifications from groups such as the Forest Stewardship Council or the Rainforest Alliance.
• Some lumber may have been treated with chemicals, painted, or sprayed with insecticides. Check where the reclaimed wood came from and inquire about any treatments applied.
• With old-growth wood may have pests that like to nest in old wood. Reclaimed wood should be inspected for asymmetrical holes or spots that crumble. Kiln drying will eliminate pests.
• Nails, metal staples, or screws may have been left in the wood. Check for signs of inorganic matter.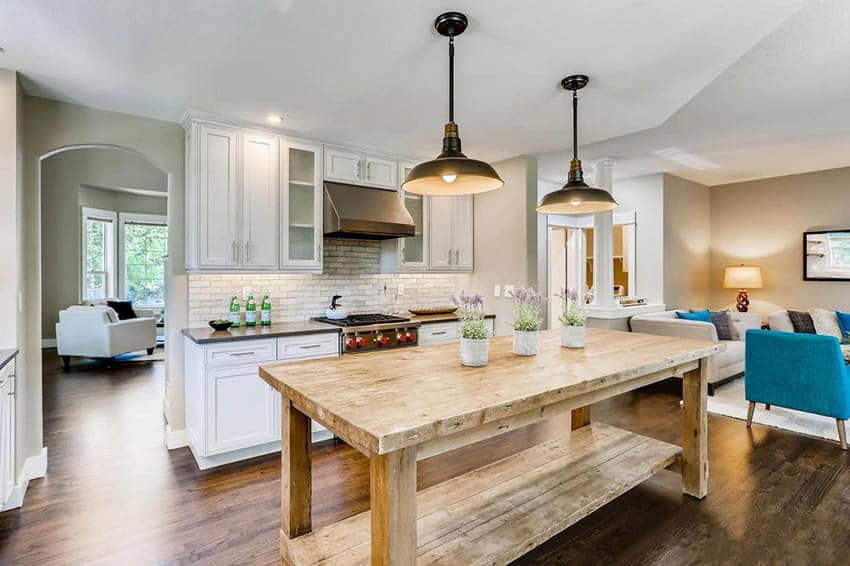 This kitchen features a rustic reclaimed wood table island. A portable island is especially useful for those who like to move an island closer depending on the type of cooking activity needed. They are also great for those who want to save money on remodeling. See more kitchen island ideas here.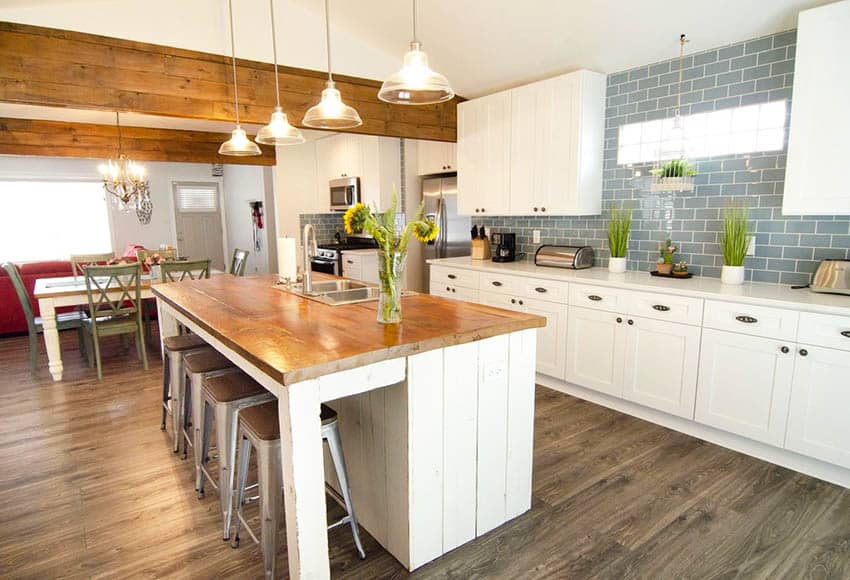 This kitchen has an assortment of wood accents from the island countertop to the wood beam ceiling and flooring.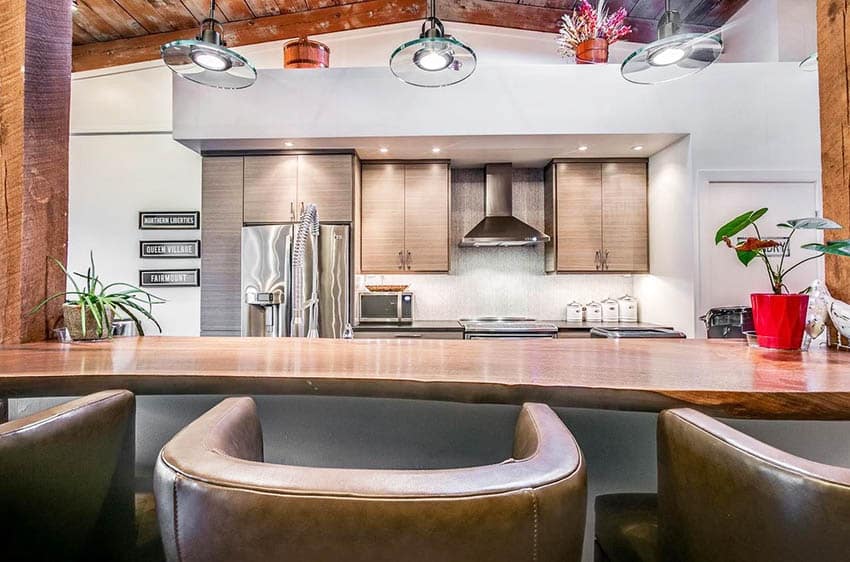 Beautiful reclaimed wood slabs can be repurposed as a breakfast bar kitchen island with great results.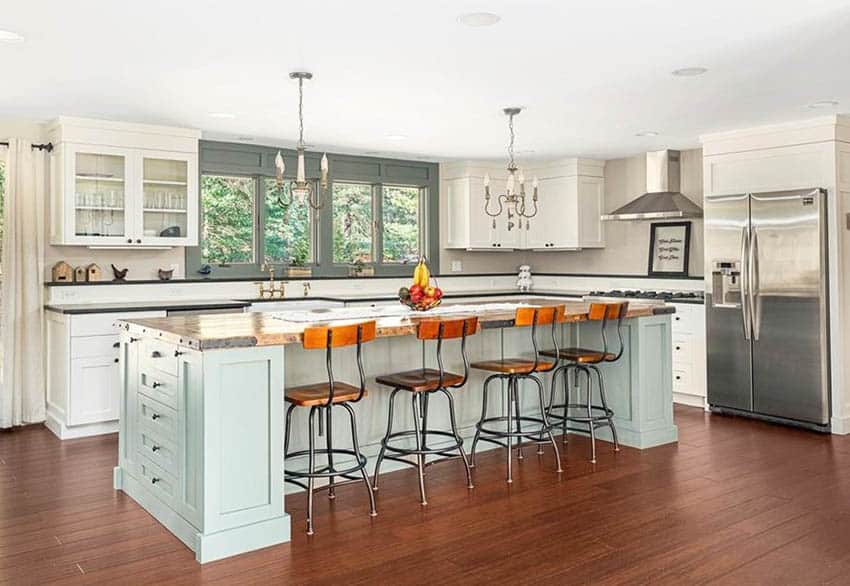 A reclaimed wood countertop brings a lot of character to this traditional kitchen design.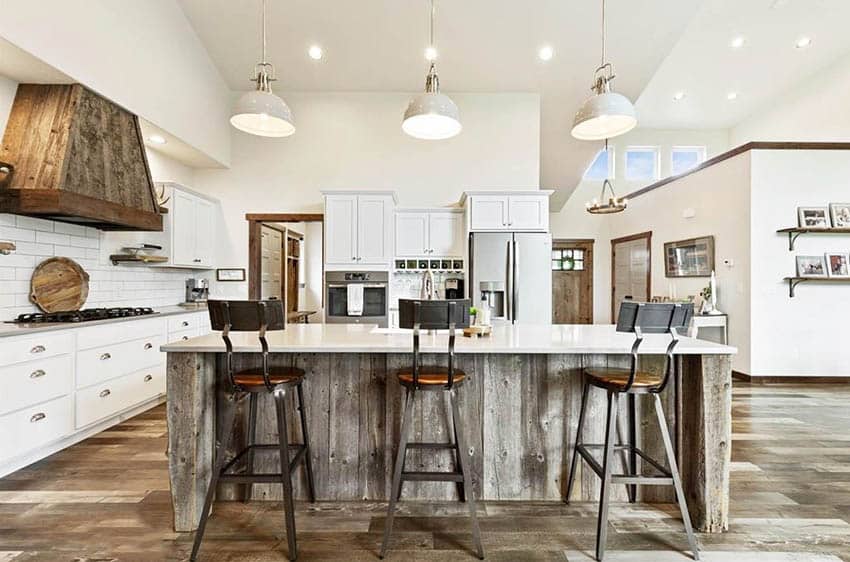 This design features a reclaimed wood kitchen island with siding rather than a countertop, wood flooring and oven hood
We hope you enjoyed our reclaimed wood countertops guide. Please let us know in the comments what you think about this material for use in a kitchen design.