Here's our guide to the best kitchen wall colors with dark cabinets together with some color schemes tips and paint brands recommendations that best match your cabinet color and material.

Are you looking for the best kitchen wall colors for your dark cabinets? These are tasteful color schemes and paint brands that best match your cabinet color and material.
Transform your kitchen's overall look with these tasteful wall colors that best match your dark kitchen cabinets. Whether you're looking for an upgrade or just had a new kitchen install, our comprehensive guide will help bring the best out of your dark kitchen cabinets.
Sometimes it just takes just a few coats of paint to shake up those worn-out walls and moody cabinets into a great-looking ensemble. But before picking up that paintbrush, consider the material, color, number of cabinets, and style you're going before.
Kitchen Wall Colors with Dark Finish Cabinets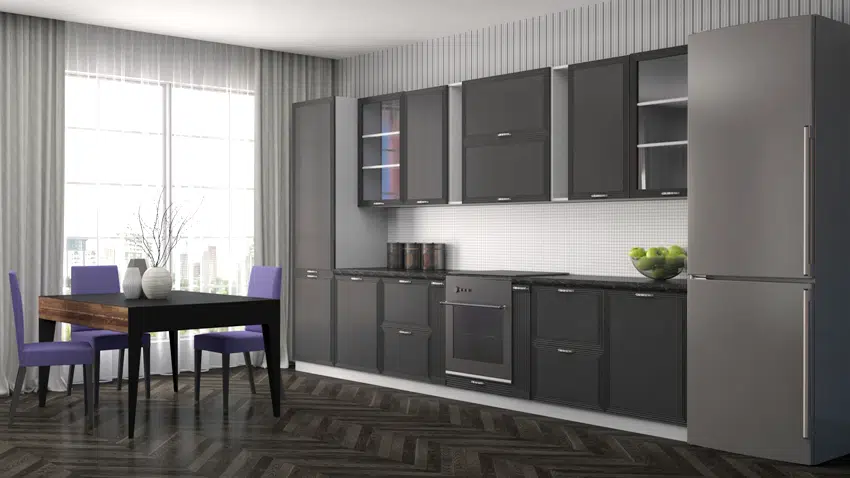 Below are the best options for kitchen wall colors with dark finish cabinets.
Gray and Black Metal Cabinets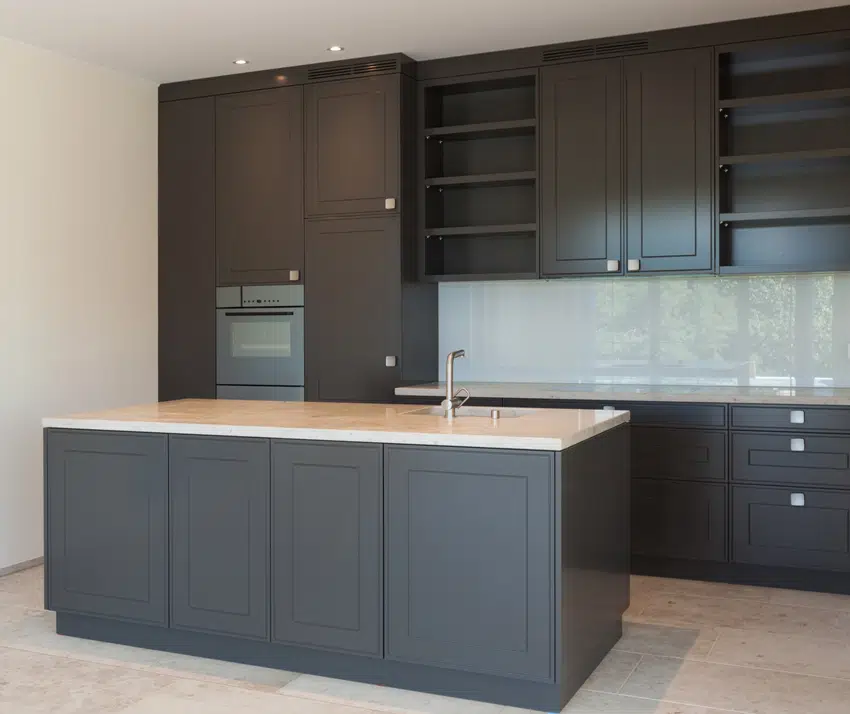 The safest bet for gray metal cabinets is white, as it provides contrast while not clashing with your metallic hue. But pure white can make your kitchen look cold and commercial-looking. See our guide of the best kitchen colors with gray cabinets.
Cozy it up with whites that have olive or gold undertones. For a vibrant alternative, use citron colors.
Citron Color for An Electric Vibe Paint Color #D5C757 | Dunn-Edwards Paints. Metallic Gray cabinets can be visually depressing and cold; with a citron paint, you'll add zest to your kitchen area while it lets your cabinets stand out. The citron color is a mixture of yellow, green, and gray hues to create a vibrant tone.
Olive Color for Spring Feel Sherwin-Williams Infinity Flat Ancient Olive 6001-3a Interior Paint. Enjoy Spring all year round with this fresh and serene color that can complement any shade of gray or black.
You can also opt for a darker shade of green, such as Benjamin Moore's Palace Green CW 520, which has the same undertones of gray, which creates a gray-on-gray effect. Use white countertops and black accents to create a contemporary look.
White Dove for Warm and Lite Benjamin Moore White Dove OC-17. The all-time-favorite white in yellow undertones creates a bright contrast to your gray and black metals. The savory white opens up your kitchen space and highlights your darker colors.
Black and Black for Industrial Look

Behr Marquee Interior Matte No. 1450. When you're not afraid of going all-out black, this is your best color paint choice as the matte color gives contrast to your glossy metallic sheen. Add highlights to your moody kitchen with antique brass or polished copper. Don't forget to layer your lighting.
Blue or Blue-Green Metal Cabinets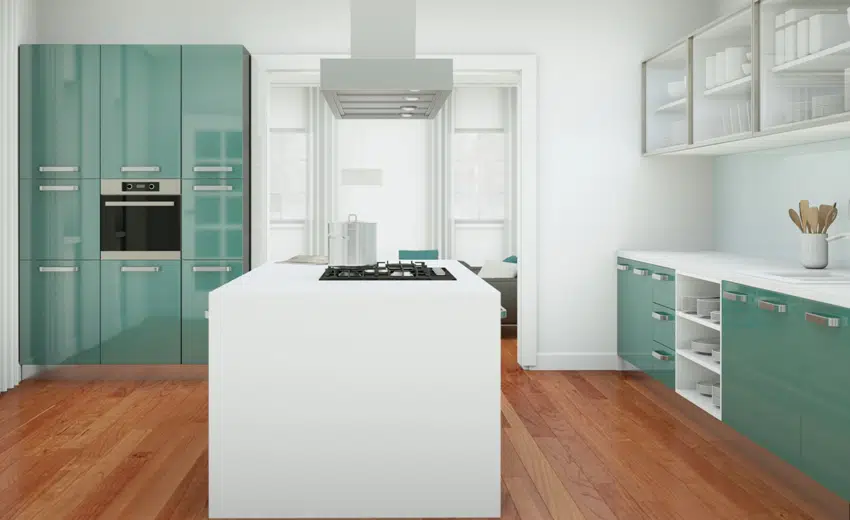 Blues are a fresh alternative to the conventional gray metallic cabinets, match them with a white or black surround, and you've got a youthful and updated look.
Chic and Fresh

Benjamin Moore – Daiquiri Ice. The mint green color gives you a stylish and lively contrast to your darker blue, green color, and since it's an excellent color, you can add distressed gold and black accents to enhance the space.
Sunset Safari Inspired HGTV HOME by Sherwin-Williams Bronwyn Rust Interior. Take colors from nature with a rust color background. With strategic lighting, your kitchen can create the perfect upbeat mood even during the night.
A Hint of Sunshine

Glidden Premium Paint Combed Cotton. When you love the fresh white color with your blue or blue-green cabinets but want it in a warmer tone, this is your perfect paint color option.
And the great thing about Glidden Premium is that it's mold and mildew-resistant, making it great for your kitchen walls.
Best Wall Colors with Painted Cabinets
Here are the best wall paint colors for your kitchen with painted cabinets.
Navy Blue to Jet Black Painted Cabinets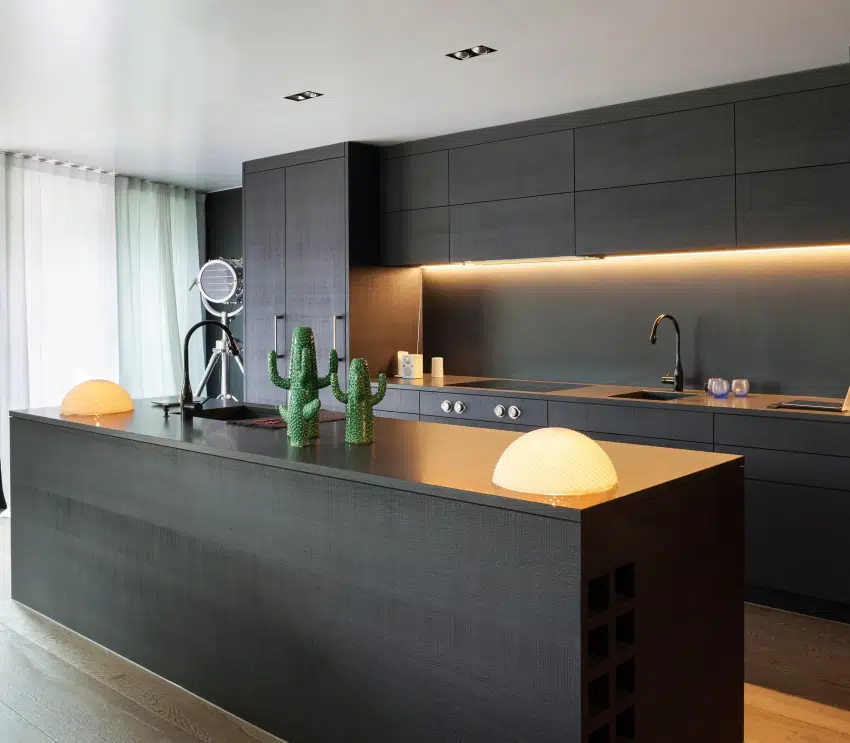 Neutrals are your safest option for these dark tones, such as gray and white. Black on black is a great option but opt for a degree or two lighters than your black painted cabinets.
For a chic urban vibe, try different shades of pink such as Classic Rose (hex# fbcce7) or Salmon colors (hex#f2c19f)
Rodda Martica Vista Paint No. 0811 Yellow and blue is an upbeat color scheme that works on all kitchen styles, but the combination works amazingly with French-inspired kitchens.
Sweet and Young Dulux # e9c6de

It works well with charcoal to black cabinets that give it a feminine touch. The juxtaposition of black hues with the lighter pink is striking and works well in traditional and modern aesthetics.
The Boho-chic Feel Farrow & Ball Cinder Rose No.246. A grown-up version of your young pink hue, the lovely color employs tangerine undertones that add a more serious air to your kitchen theme. You'll find it loving black and gray tones.
Red Painted Cabinets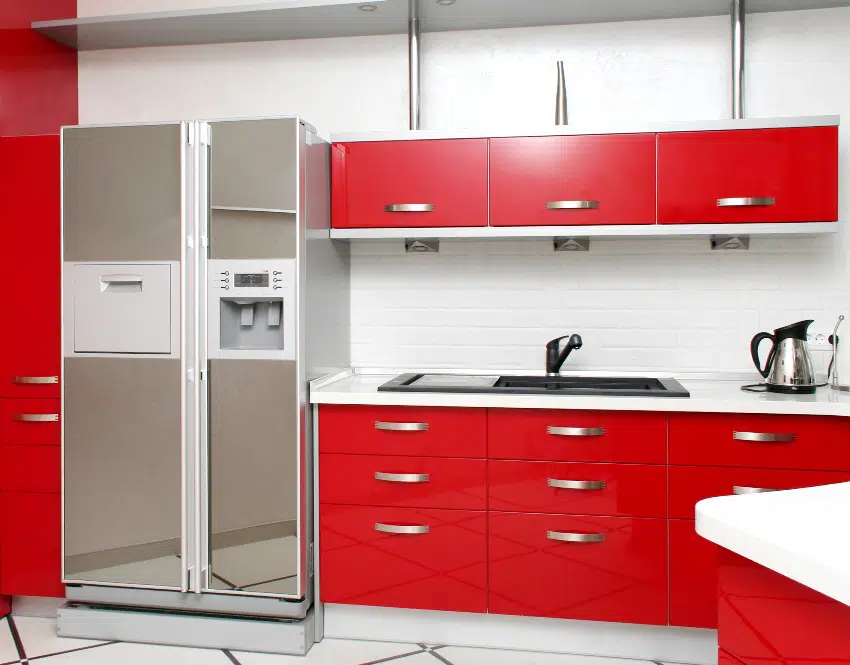 The bold color may not be as popular as its neutral counterparts but is an exciting option if you want a lively kitchen 24-7, especially if you live in a gloomy location.
Smooth White Swiss Coffee by Benjamin Moore. White is the best mellowing hue to match your vibrant color, and you'll find the smooth white has a tinge of beige undertones that will add a cozy atmosphere to your kitchen space. Read more about beige kitchen ideas here.
Cool and Crisp Paper White OC-55, Benjamin Moore. This is an excellent choice for that crisp contrast to your red-painted cabinets. The elegant color is incredibly soothing, which makes it more perfect for your vibrant-colored cabinets.
Cozy Traditional. Decorator White by Sherwin Williams 7559. If you aim for a more vintage color scheme to go with your red-painted cabinets, the ash white hue is your perfect partner. Use a matte finish to go with glossy red.
Best Wall Colors with Wood Cabinets
See the best wall paint colors for your kitchen with wood cabinets.
Cherry Red toned.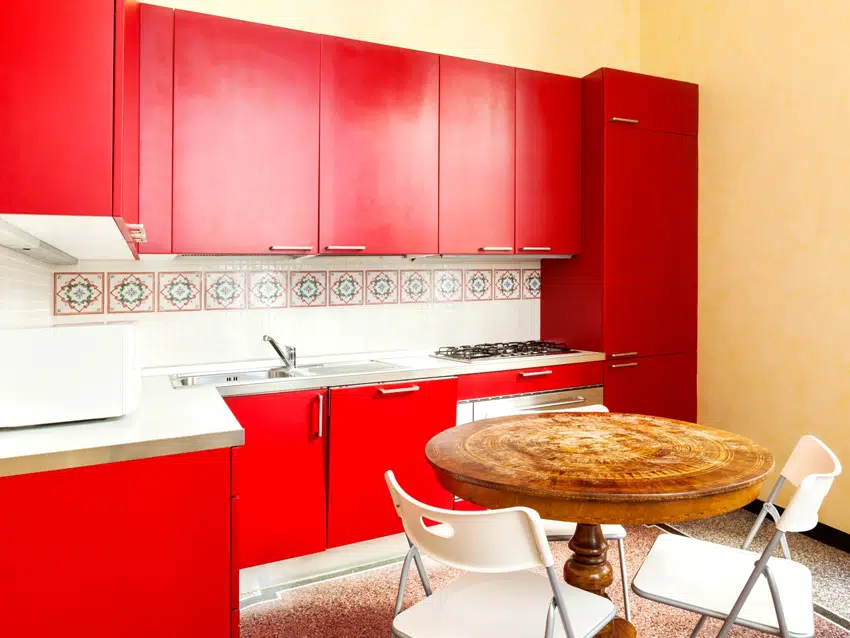 Cherry cabinets have a richness to them that adds warmth to any kitchen. The homogeneous texture also features random marks with a smooth, close-grained appearance.
As cherry wood is generally a warm color, you can tone down the hue with cooler neutrals but instead of leaning towards your yellow undertones, find nude shades such as flesh hues.
Soft and Flattering Tissue Pink by Benjamin Moore 1163. It is a soft and subtle hue that beautifully complements your cherry cabinets. Similar to your ivory color but with a tinge of reddish undertones.
Timeless Greige Magnolia Soft Linen JG-108. If you have a darker cherry wood cabinet, choose a wall color leaning more towards the beige spectrum. This soft white is a match for the cherry wood.
Walnut Gray toned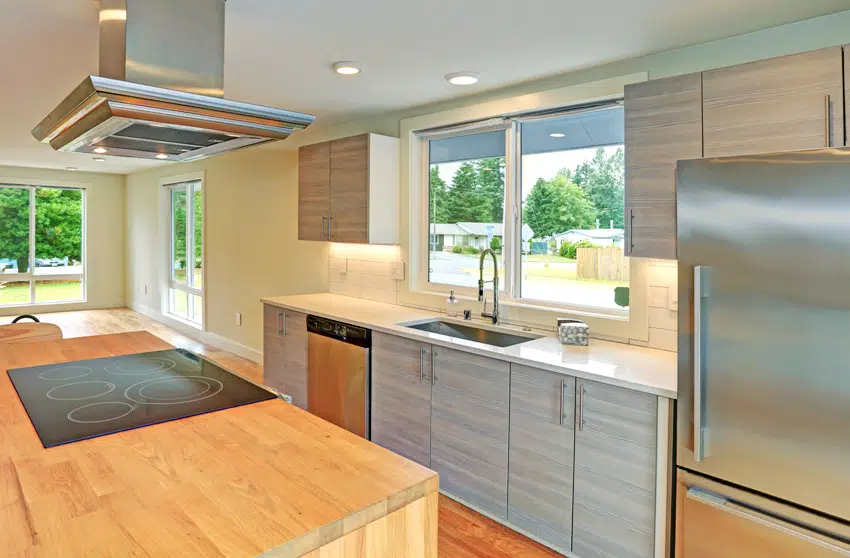 Walnut cabinets have a fine, straight wood grain with colors ranging from deep chocolate to light reddish-gray brown. Sapwood regions that are pale yellow or light brown may also be present. Walnut has a wide range of warm, rich tones that take a variety of treatments nicely.
Relaxed and Timeless Nuance SW 7049 by Sherwin Williams. Inspired by an earthly palette, the gray and yellow undertones ties with the calming Walnut gray tone.
Classic White Vivid White SW1G1 by Dulux. For a contemporary air, the classic color white of Dulux is a classic color that will go well with your walnut cabinet. It's a practical choice if you have a lot of kitchen cabinets which opens up the space.
Choosing Kitchen Wall Paint Colors With Dark Cabinets
When looking at lighter tints, we can't always identify what a color's undertones are. Then, when we chose that color for our walls, the outcome is far from what we anticipated.
For example, if you despise the color brown, you'll be disappointed to learn that your wall paint contains brown undertones. Read more about the best kitchen paint colors here.
Tips for Choosing Colors for Dark Cabinets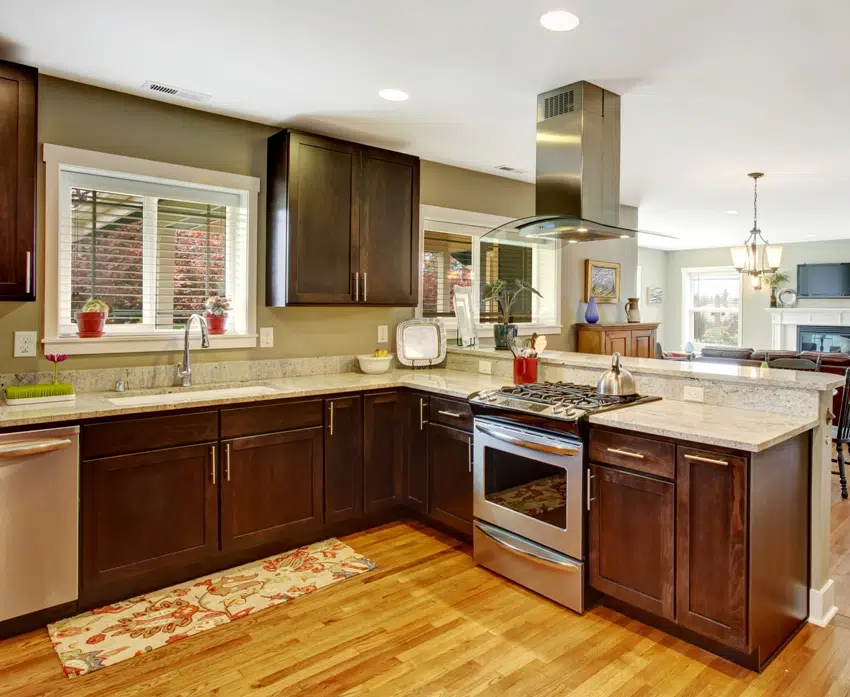 Check your paint swatch. When you're unsure of the paint's undertone, check the darkest shade in the paint swatch, this is the true color of your paint without undertones.
Be inspired. Nothing beats tried-and-tested color schemes. Look for working kitchens that have great color schemes to serve as your inspiration. You'll also find local showrooms that give you a chance to see the color yourself up close.
Remember the Basics. Use the 60-30-10 as your guide, where 60% is your backdrop (walls, ceilings, flooring), 30% on your furniture (cabinets), and 10% is your accents (hardware, trimmings). This is a great way to balance the color you use and keep a landscaped look.
You can always stay with a two-color scheme wherein you only use two colors for your kitchen, which is great for small to medium-sized spaces.
Create a Mood Board. Creating a mood board is a practical first step so you can have all your inspiring pieces on one board. Mood boards are great in presenting the possible colors that can work well with your style goal and immediately purge elements.
Pantones of the Year. Every year, paint companies release each of their color of the year, including trendy and relevant color schemes. This year, for instance, Benjamin Moore's Aegean Teal 2136-40 was an instant favorite for the kitchen, and Sherwin Williams released their Urbane Bronze SW 7048. Both colors are serene and relaxed hues, just the perfect color to be surrounded in if you're homebound. Urbane Bronze SW 7048 by Sherwin Williams
For more related ideas visit our kitchen paint colors with oak cabinets page.