Here we share our green marble countertops guide, including what it is, the different types, and what colors go well with a green marble countertop design.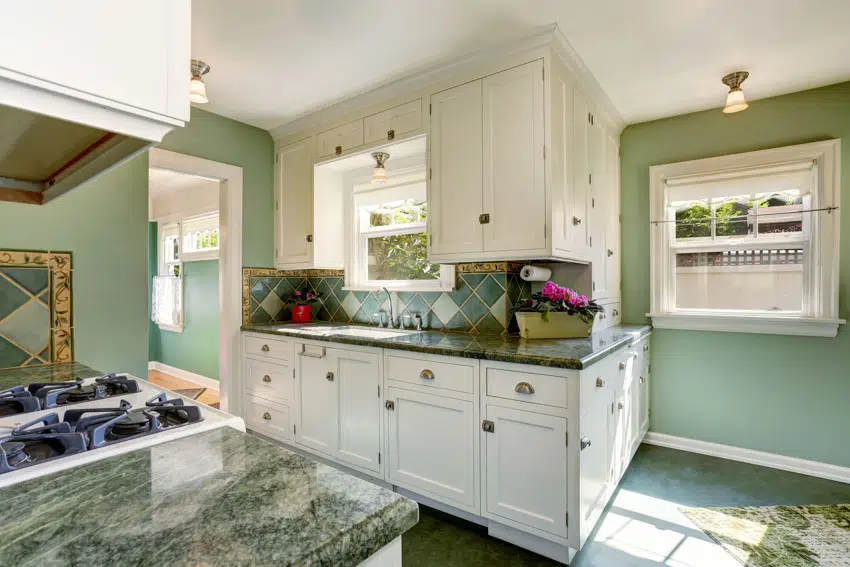 Marble is a classic material homeowners like to have installed in their homes and with its durability and wonderful aesthetics, this is not surprising. Normally, green marble comes with neutral colors such as white, black, beige, and grey.
And green marble, while not impossible, is not common too. And yes, you can use this green marble for your kitchen or bathroom if you want a green accent for those areas.
Green marble countertops feature a color that transports your indoors to feel like you're outdoors. Besides feeling close to nature, there are also other benefits you can definitely enjoy if you choose green marble countertops.
Green marble countertops are guaranteed to be durable, especially since they are made of natural stone that's non-porous and non-toxic that require sealing only at most twice a year. Green marble has this elegant high-end aesthetics that many owners look for.
More than their durability and versatility, the material is pretty rare that it would take 1,000 to 2,500 years to produce them. And green marble is even rarer because of its uncommon color.
What Is Green Marble Called?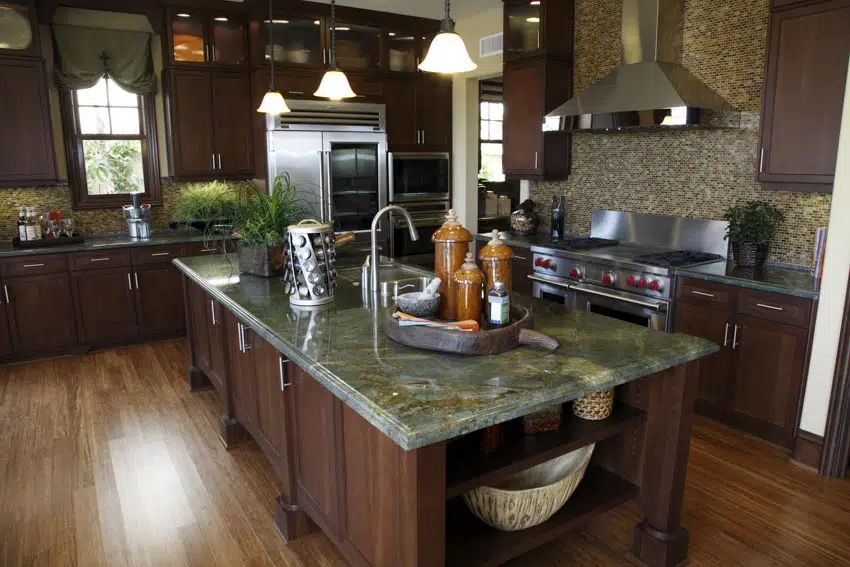 Green marble is also popularly known as serpentine. There are 38 countries where you can quarry this elegant marble. One of the specific locations where this metamorphic rock is known to be quarried is in the foothills of the Apennines near the medieval village of Figline.
The marble's aesthetics and elegant green color make it popular for sacred uses, including in the facades of Basilica di Santa Maria Delle Carceri and San Domenico and San Francisco churches.
Green marble serpentine delivers an ambiance fit for nobility, with its decorative color features ranging from light green to dark green that almost looks black.
There are even serpentines that have yellow and green streaks. And serpentines quarried from the United Kingdom have this rare reddish-brown hue integrated into the white-green stone and dark green veins.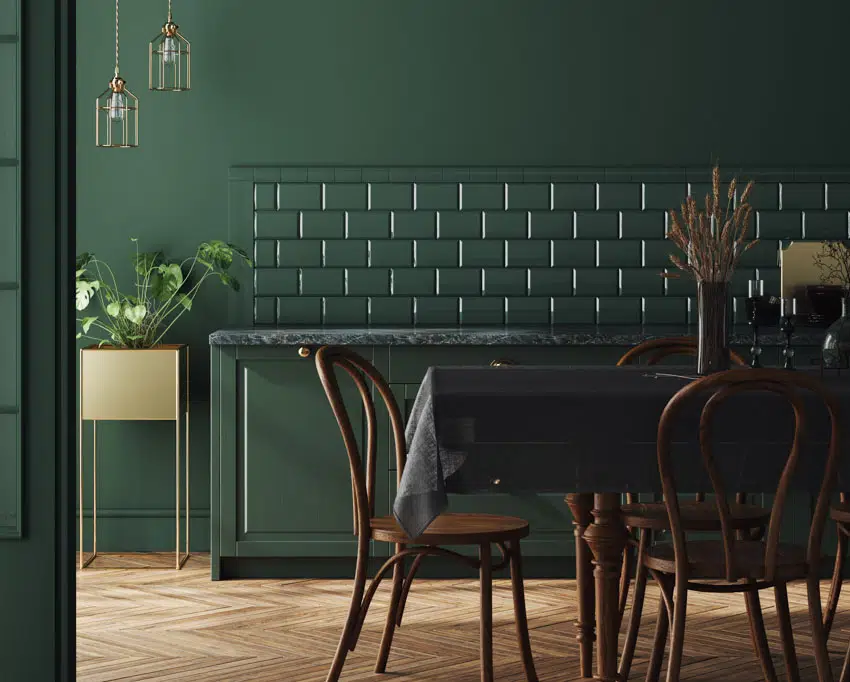 Serpentines have a hardness that measures 3 to 4 on the Mohr's scale. The stone is made of silica, magnesium oxide, alumina, iron oxides, and calcium oxide. Weather-resistant and has low porosity, the marble has less than 1% water absorption and a density of 2.6 to 2.65 kg/m3.
The green marble can be used in a variety of ways at home, particularly in the home's wall, flooring, backsplash, and countertops. You can also use the material for pool and wall capping, window sills, and stairs.
And when it comes to finishes and coating, it can range from polished, honed, and aged to sanded, sawn cut, tumbled, and bushhammered.
Types Of Green Marble Countertops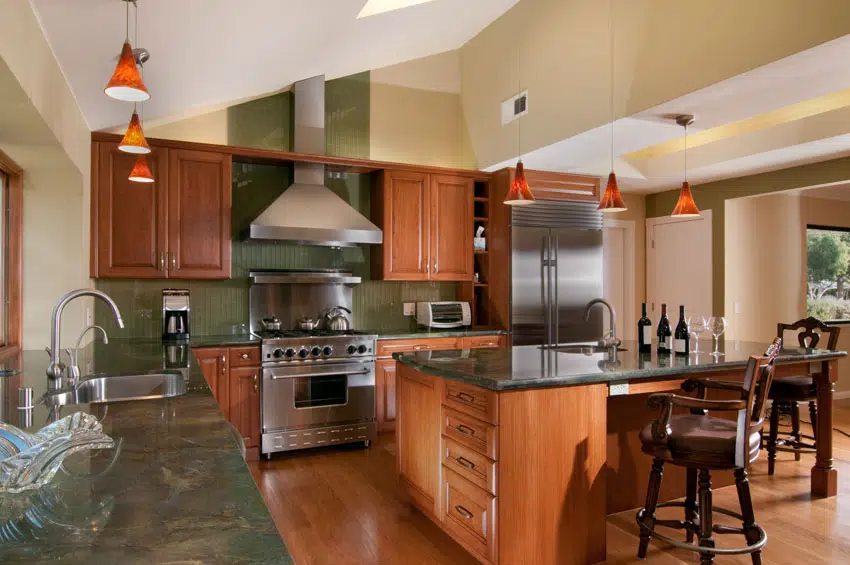 Green marble serpentines are flexible and versatile in application. And when it comes to using the material for countertops, there are different types to consider.
Mint Green Marble
With mint green marble types of kitchen countertops, you will have a cool aesthetic for your kitchen, adding to its established style, whether it is traditional or modern. The texture of the countertops can either be textured or rough, depending on what looks better.
Verde Tropical Marble (Dark Green Marble)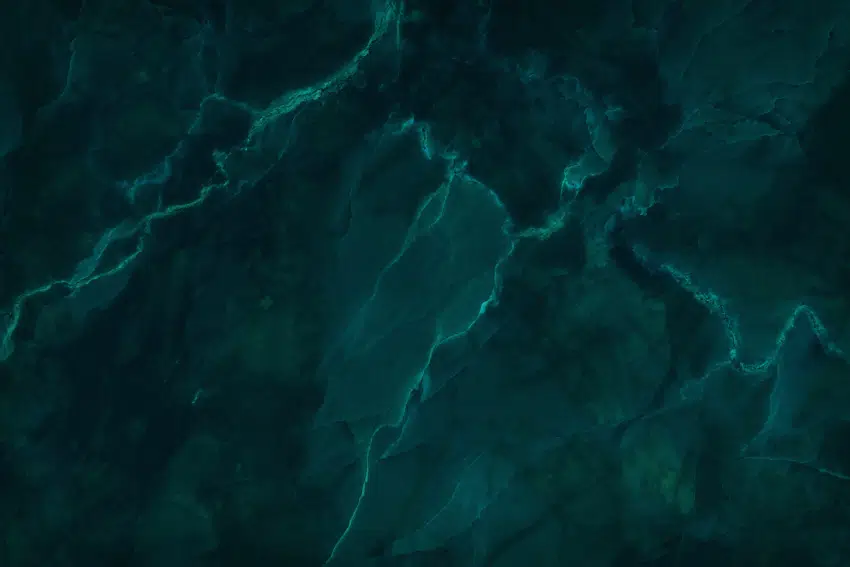 If you choose Verde tropical marble countertops, expect a dark green stone with spots and flakes of brown, grey, and yellow. The marble is considered "tropical" because of its origin, which is how it was quarried near Rio de Janeiro in Brazil.
It is highly durable, which is why it allows rigorous polishing and is a perfect option for countertops, where knives and kitchen tools can scratch the surface of the stone.
Verde Indio Marble (Light Green Marble)
Verde indio marble countertops have a clear light green to medium green stone with occasional flakes and veins of black and white.
These veins are very few and the clear surface is more dominant in the stone. Ideal for bathroom surfaces and countertops, these light green marble countertops are heat-resistant and have a low water absorption rate.
Galaxy Jade Marble
If you consider galaxy jade marble kitchen countertops, you are choosing an exquisite and rare type of serpentine marble that is popularly quarried from the Thailand mountains.
The range of colors that this particular type of green marble offers is wide, from a white-leaning stone to a beautiful color of a night sky. There are even gray tones in the mix of elegant green hues.
Guatemala Green Marble (Forest Green Marble)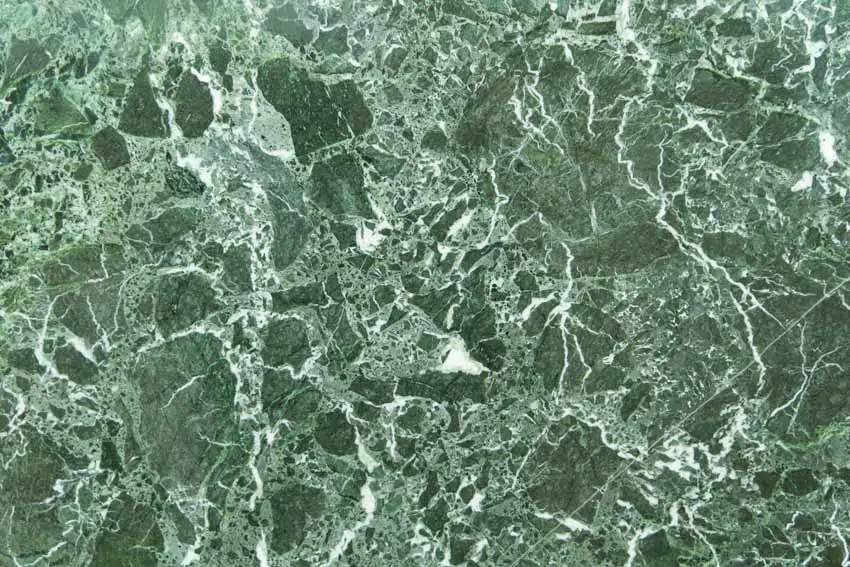 The Guatemala green marble is considered the most popular serpentine marble in the market, offering a medium green base with different widths and lengths of veins and boxes. This Guatemala green marble has this highly-dense forest pattern that makes it beautiful to look at and unique in is appearance.
This forest green marble can match perfectly with both traditional and modern styles, sporting a smooth surface and glossy finish. Resistant to scratching, it is a good consideration for your countertops and bathrooms, along with their durability and versatility.
Empress Green Marble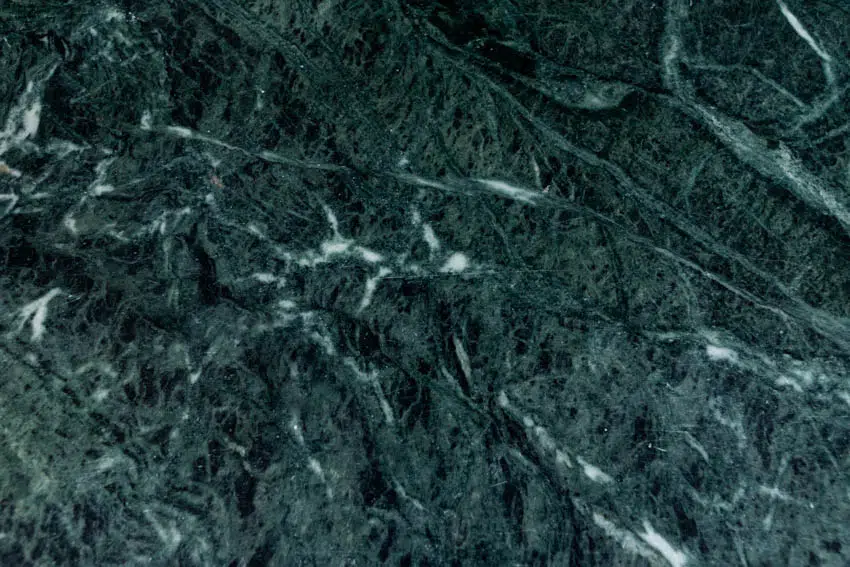 Empress green marble countertops have a very dark green (nearly black) base with thin white veins in a web pattern. The veins are barely visible and contrast well with the dark base.
The material is also known as web green marble or green spider marble. This marble is also a great consideration for the bathroom's wall cladding and flooring, as well as kitchen countertops.
Verde Oasis Marble (Rainforest Green Marble)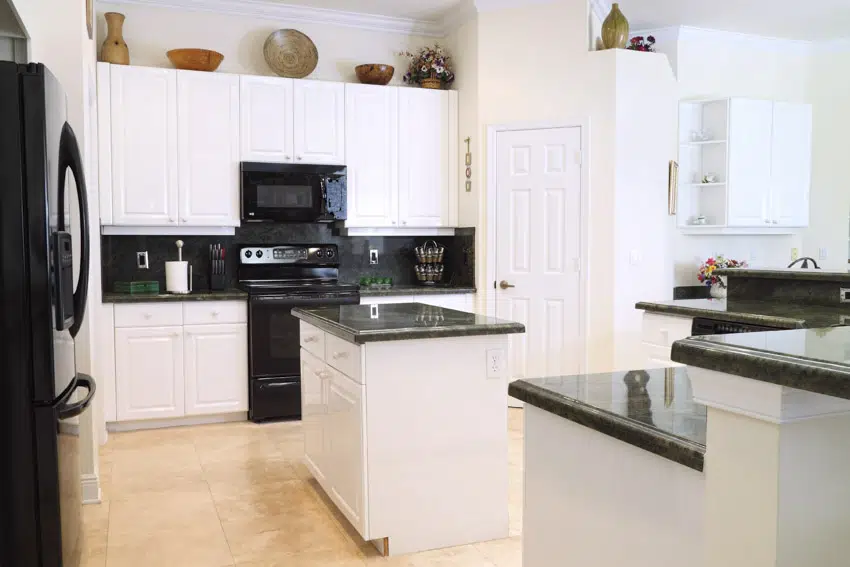 The Verde oasis marble, also known as a rainforest green marble, offers a non-foliated green base with gold and gray hues. And with its availability in different grades, you can use it for exterior curbing, fireplaces, and different types of furniture styles.
The rainforest green marble offers this ambiance of elegance and mystery that makes anyone look and stare. A famous option for its elegance and unique look, these specific green marble countertops are also sought-after.
What Colors Will Go With Green Marble Countertops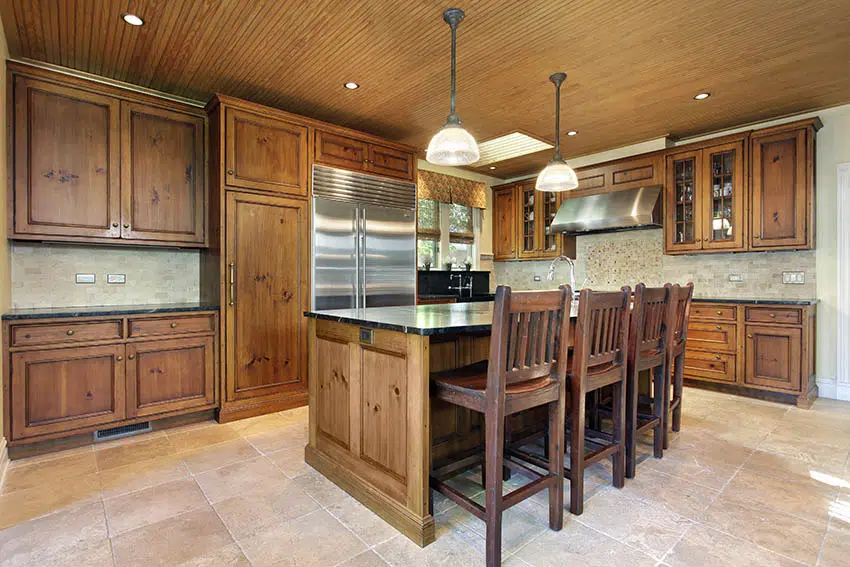 If there's one thing that adds a fresh vibe to a room, it's the color green. And green marble countertops add a natural feel to your kitchen but can also be easily matched with other colors.
Veins come in a variety of colors, including white, gray, black, and even gold. And depending on the feel you want your kitchen to have, you can match it with light and dark gray, red, yellow, white, and pink.
See more related content in our gallery of white marble kitchen countertops on this page.