Here we share our gallery of butcher block backsplash ideas including the different methods you can use, wood tiles, panels, and the best kitchen backsplash design options to consider.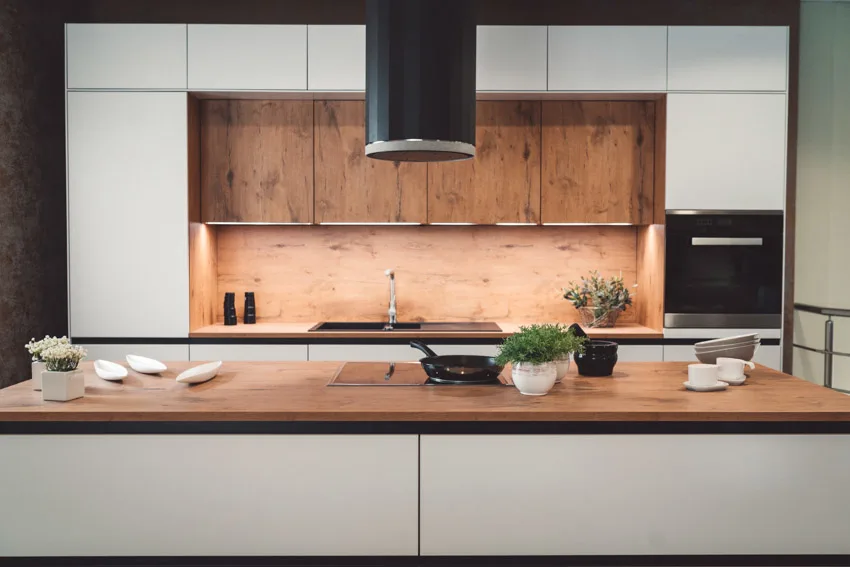 Thinking about installing a butcher block backsplash in your home? The good news is that working with wood is simpler compared to working with other kinds of materials.
This makes wood an excellent option to use for your home, in different elements from floorboards to countertops. It is also a great consideration for your backsplash and a butcher block can be a wonderful option for it.
A butcher block refers to individual wooden strips combined together to form a sleek slab. This timeless design and style of building this material is affordable and looks chic and cool.
With the open option of a DIY installation, it becomes a great choice if you have a limited budget for your project. You even hold the decision on how you want the butcher block to look, from patterns and shades of colors, and what hardwood and grain to use.
Types of Wood for Butcher Block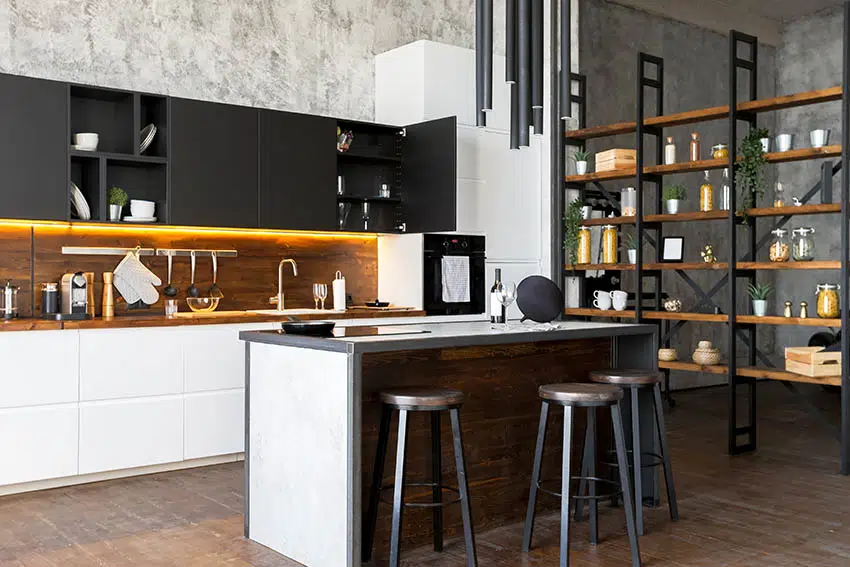 Some types of wood you can use for butcher block countertops normally have a thickness of 1.5 to 6 inches. And the thickness would influence the cost of the butcher blocks.
Here are the types of wood that can be used for butcher block backsplash:
• Acacia
• Appalachian Red Oak
• Birch
• Cherry
• Hard Rock Maple
• Hickory
• Walnut
• Teak
• Wood Alternatives – Porcelain or Ceramic Tile (These can be used to mimic the look of real wood)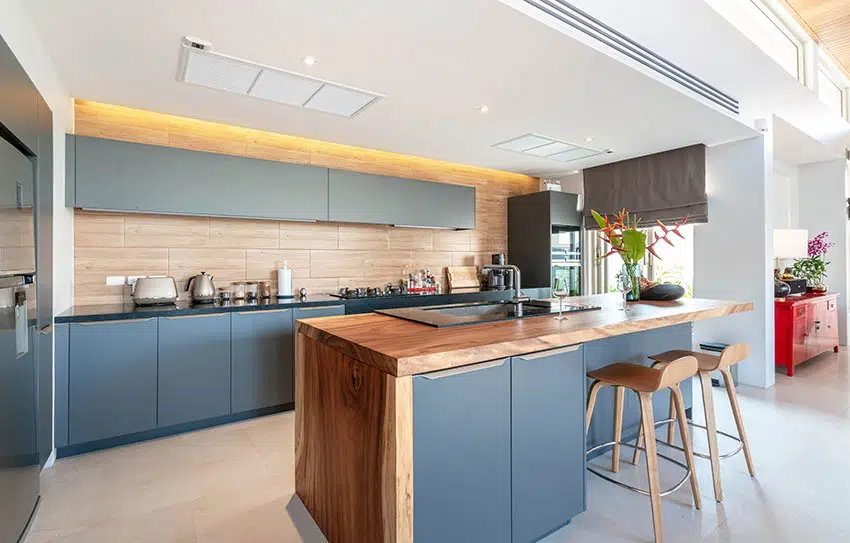 If you feel like butcher block can be the best option for you, here are some butcher block backsplash ideas you can try out.
• Dark-hued reclaimed pine butcher block with white solid tile countertops and white cabinets (A classic look!)
• Red oak butcher block and green countertops with brown leather chairs
• Lighter-colored and stained wood butcher block and black marbled countertops with dark grey and light grey cabinets (Light-colored wood with stains offers a rustic and welcoming vibe)
• Refinished walnut butcher block backsplash and black open shelves with greenery plants to add a refreshing look
Painted Wood Paneling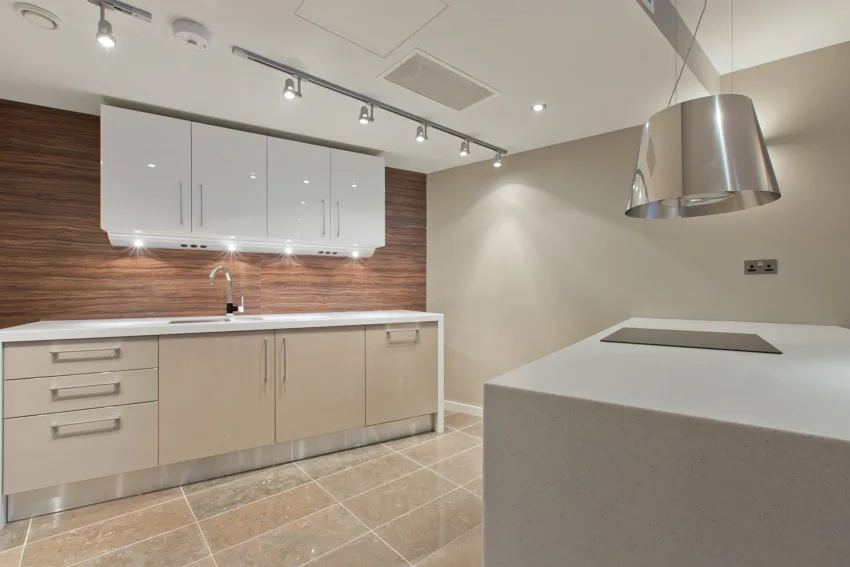 Painted wood paneling is a traditional material that can be used to give the look of butcher blocks. This style for butcher blocks provides a modern farmhouse design that can make your kitchen look better.
Painted wood paneling can also be used for the following materials:
• Butt board
• Shiplap
• Tongue and groove
• Beadboard
And when they are used in the kitchen, painted wood paneling as cabinets and drawers use oversized wooden pulls to tie everything into the countertops.
Some of the wood options you can try out are the following:
• Light Wood Paneling: shows a beautiful yet subtle beauty with a light palette (mostly white) applied on the wood, which may be ideal for cabin style or a clean Scandinavian style
• Matching Wood: you can try out a coordinating cherry wood backsplash and match the wood with another material you have for your kitchen
Tile Backsplash With Wood Countertop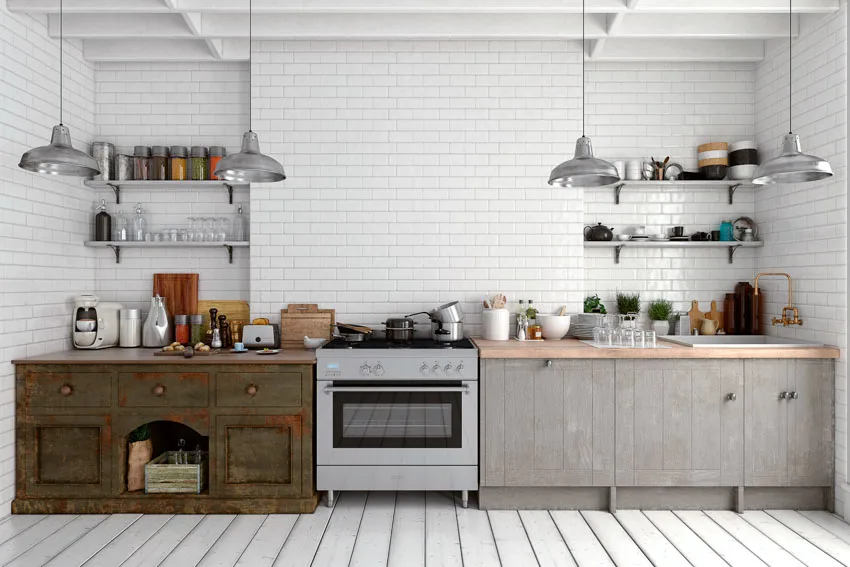 If these options are not what you have in mind, you can try the combination of tile backsplashes with wood kitchen countertops.
A subway tile is a good choice for a backsplash, especially if there's a wood counter to pair it with. And this works even without considering the style and design of the room.
These subway tiles can come in a variety of colors and arrangements. And they can easily match with wood countertops, especially if you're going for a rustic and more aged look.
Wood countertops are perfect for traditional homes, showcasing a warm and more welcoming look, even for modern and contemporary-looking kitchens. These countertops can be ideally matched with stainless steel appliances and white solid cabinets.
Matching wood countertops with wonderfully looking backsplash like subway tiles provides a simple yet sleek style. See more pros and cons of butcher block countertops here.
If this is what you want for your kitchen, you have a wide variety of choices for the type of wood, as well as how you integrate these materials in your kitchen. Your creativity (and budget!) is your limit!
Creative Butcher Block Backsplash Materials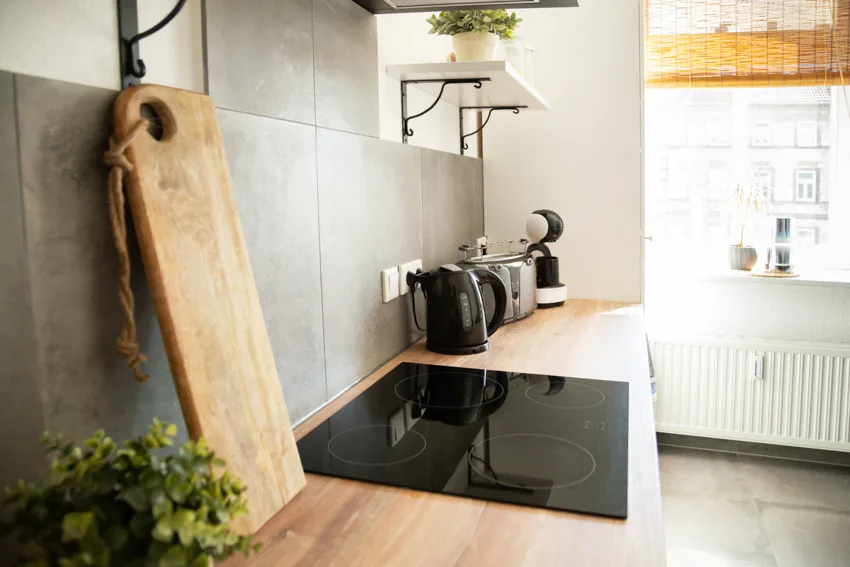 There are many types of kitchen backsplash materials that can be used to compliment for butcher block. Everything will depend on your preferences and the design and general vibe you want your kitchen to have.
There are different materials you can use to produce different design styles. For a humble and rustic traditional look, here are some materials you can use:
• Painted brick
• Hand-painted tile
• Beadboard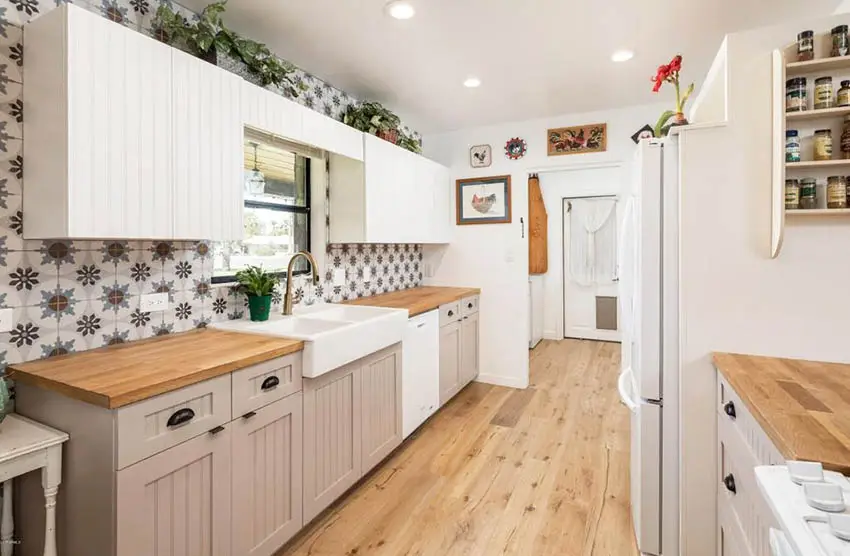 And for specific designs, here are the materials you can guarantee to bring the best out of that style and look.
• Transitional: colored tiles & stacked stones
• Eclectic: antique tile, colorful penny rounds, & tin tiles
• Industrial: stainless steel & subway tile
• Scandinavian: colored mosaic tiles
• Modern/Contemporary: back-painted glass & subway tile with a twist
• Updated Midcentury Modern: back-painted glass & Calacatta quartz
• Modern Mediterranean: stainless steel
Best Backsplash For Butcher Block Countertops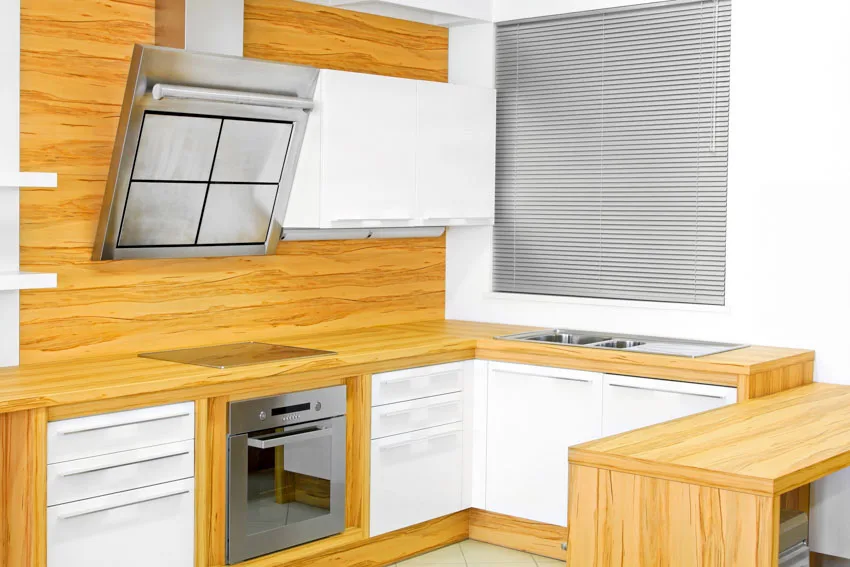 Don't know what backsplash to use with your butcher block countertops? What you can do is to check out what most people can consider as the best backsplash for this specific countertop.
Butcher block countertops are an affordable and cost-effective element so when it comes to the backsplash, you may have more freedom with your budget.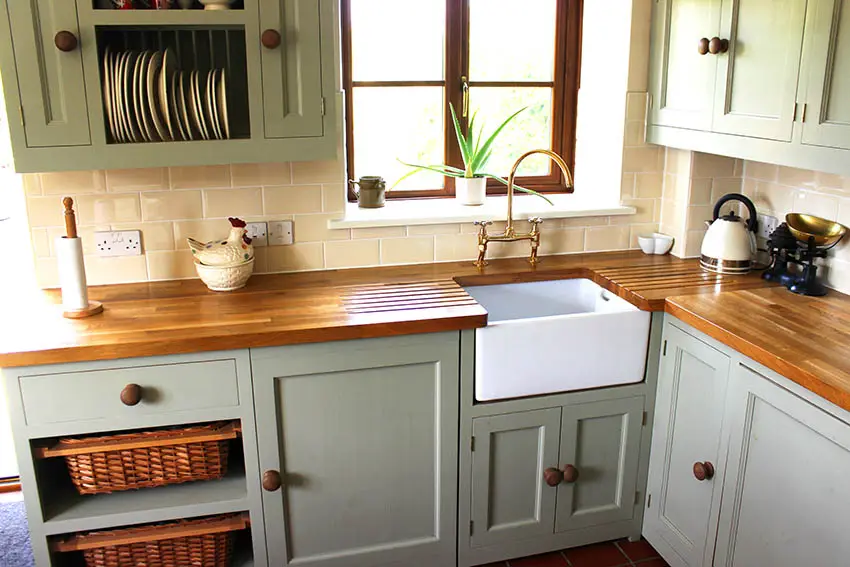 The best match considered for butcher block countertops by professionals is a subway tile backsplash. This backsplash is guaranteed to be versatile, which is ideal for the kitchen setup. When it is installed up to the ceiling, the room will feel and look bigger than it really is.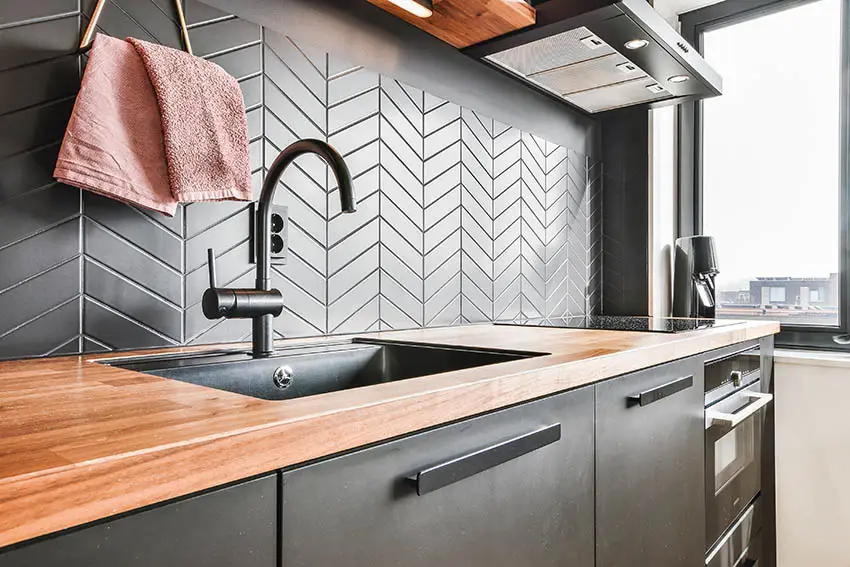 Here are some gorgeous combinations to try:
• Maple wood countertops & white subway tile backsplash
• Reclaimed oak counter & white subway tile backsplash
• Reclaimed chestnut kitchen countertop & white subway tile backsplash
• Large walnut countertop & colored subway tile backsplash
• Wenge butcher block countertop & dark blue or gray subway tile backsplash
• Distressed sapele mahogany countertop & tan subway tile backsplash
These are only a few of the choices you have. For best results, match the wood you choose for butcher block countertops to a complementing color of the subway tiles used for the backsplash.
How to Clean Butcher Block Wood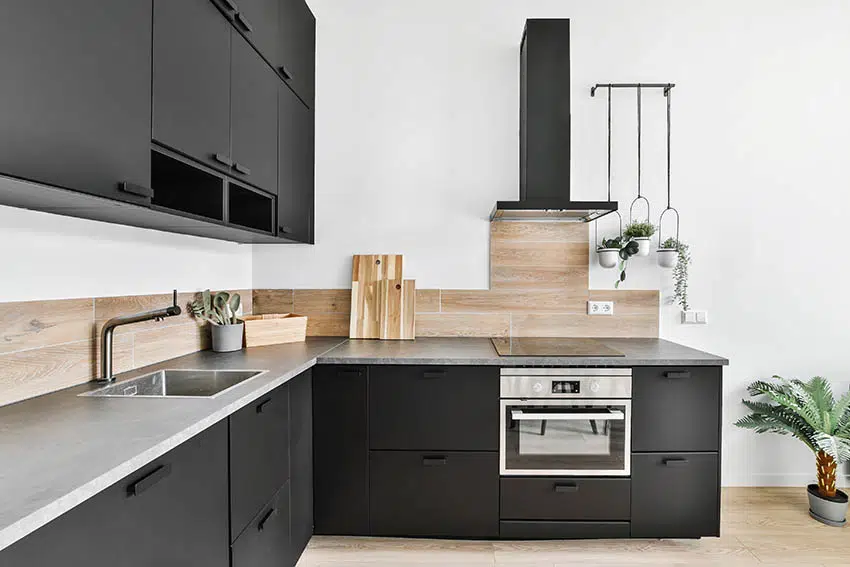 To find out if this is the ideal material for you, you should also be able to think about its maintenance.
Here are some things you can use to clean butcher block wood.
• Scraping dirt with a plastic spatula
• Warm water and dish soap solution
• Vinegar solution
• Table salt and lemon
• Sandpaper and oil (Every after 10 years)
See more related content in our article about herringbone backsplash tile on this page.