Here we share our garage floor sealer guide including the different types, cost, how to seal, tips on uneven garage floors, and the ideal sealing option that gives the best result.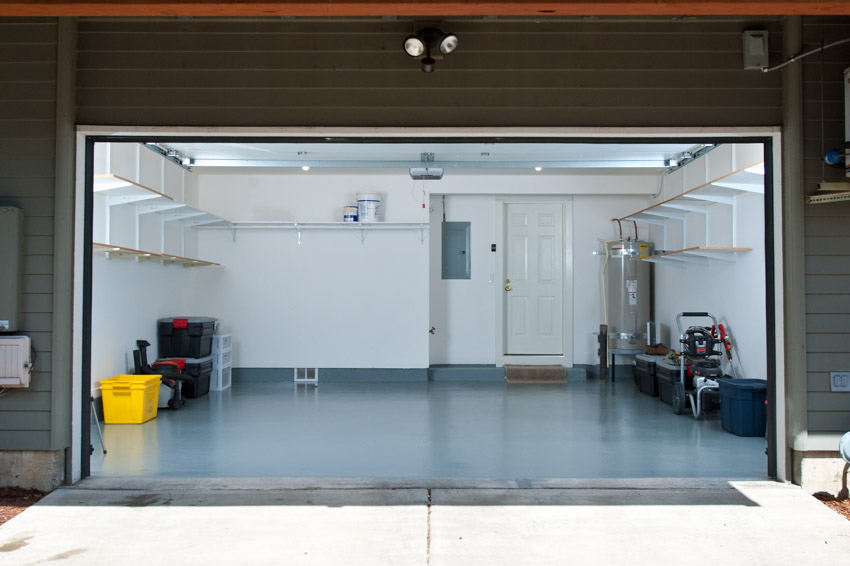 When dealing with all DIY works in your home, it is absolutely necessary to learn everything you know about the materials you can use along the way. One of these materials that you might encounter is a garage floor sealer.
A garage floor sealer is simply the material you use to seal and protect the concrete in your garage. And there is a variety to choose from that it can be overwhelming to decide which one to use.
From acrylics to epoxy, what factors should you consider to be able to provide an informed decision?
One thing you can do instead is to compare the types of garage floor sealers. There are economical sealers and decorative sealers.
This means that besides protection for the concrete in your garage, there are other functions that sealers have. Choose the function you want to make the most of.
Types Of Garage Floor Sealer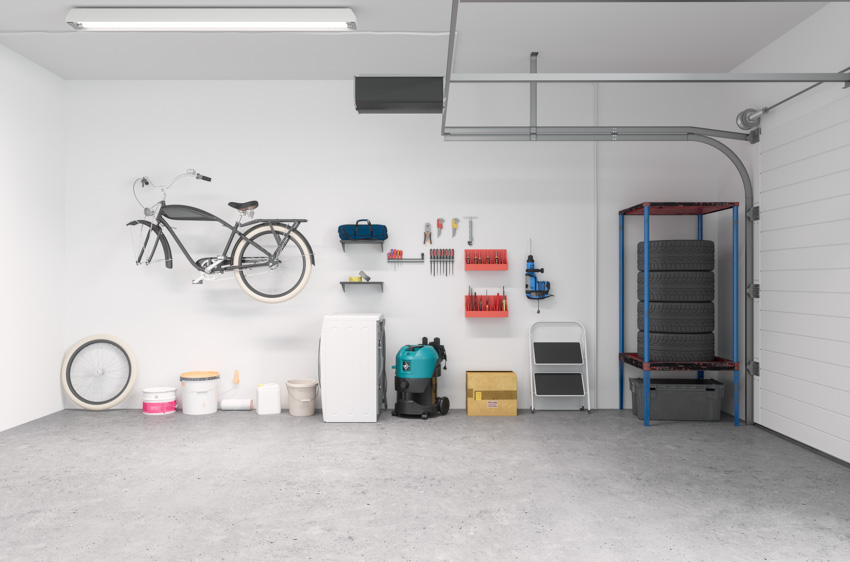 When it comes to the types of garage floor sealer, you can go for topical sealers and there is a variety of options to choose from. For starters, here are some of the types available in the market:
• Acrylic
• Epoxy
• Polyaspartis
• Polyurea
• Polyurethane
Some of these garage floor sealers are also different based on their coats. Here are a few of these types:
• Clear coating
• Colored coat
• 2-part coatings
• Single-part moisture-cured coatings
With many options to choose from, finding out more about these choices is relevant to be able to end up with an effective and informed decision. There are also many false marketing campaigns that can confuse you more.
First, decide on what you want to achieve in using a garage floor sealer. Next, research every information you can gather about the different garage floor sealers available.
Match what you found in your research with your own preference and need. To help you with your research, here is an analysis of the difference between acrylic concrete sealer with epoxy sealer.
Factors/Elements
Acrylic Concrete Sealer
Epoxy Sealer

Appearance

Clear but can be tinted (Wet and glossy look)

Thicker than acrylics

Can come in a clear or colored coat

Durability

More durable with its glossy finish (Depends on the type of acrylic sealer used)

Superior strength and durability (Vary depending on application and coating)

Chemicals

Depends on the type of acrylic sealer

2-part thermosetting resin

Performance Characteristics

Protection against water & chloride intrusion

Light to moderate protection against oil, hot tire pick up, road salts, & vehicle fluids

Non-breathable (Protection against water & chemical intrusion)

Resistant to oil, hot tire pick up, road salts, & vehicle fluids

Application Process

Fairly easy to apply (Reapplication may be required every 18 to 36 months depending on the sealer)

More involved and time-consuming (time-sensitive)

Stains/Abuse They Withstand

Chemical & stain resistant

Wears longer

Abrasion-resistant

Other Characteristics

U.V.-stable

Not U.V. resistant
Concrete Garage Floor Sealer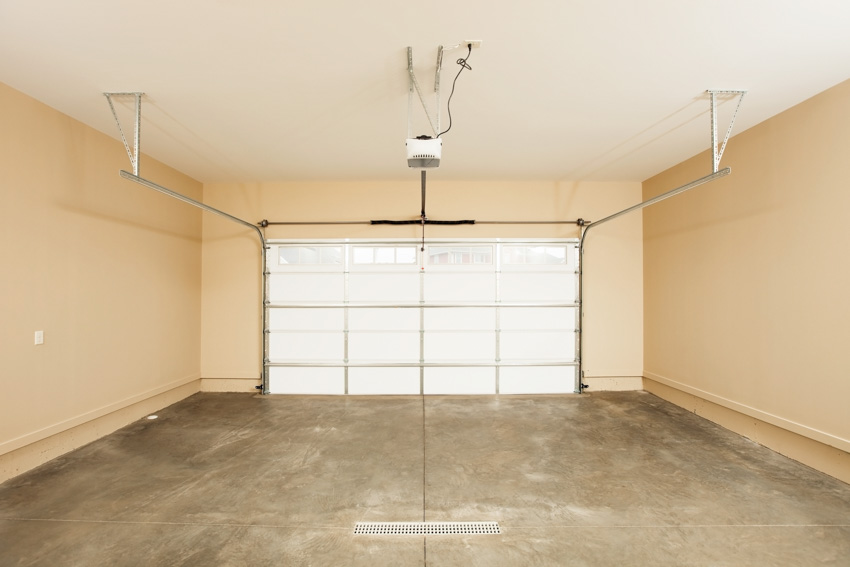 If you feel like you're leaning towards using concrete garage floor sealer, you need to learn more about it.
With this sealer, there are two types to consider; (1) acrylic concrete sealer and (2) concrete polyurethane sealer.
It is important to start differentiating these two in order to choose the ideal one for your needs.
Acrylic Concrete Sealer
When you use an acrylic concrete sealer, a thin and clear protective layer is applied to the concrete, which is around 1 to 1.5 mils in thickness. The layer helps protect the concrete from elements such as water and harmful chemicals.
An acrylic concrete sealer can improve the aesthetic of the garage floor, making it a bit darker in color and glossy in its finish, making it more durable than a less flashy matte finish. And U.V.-stable, this glossy finish is guaranteed not to turn yellowish even when exposed to direct sunlight.
The two kinds of acrylic sealers are water-based and solvent-based, where the former is less durable and easy to scratch while the latter is highly durable and resistant to scratches and chemicals.
To apply acrylic sealer, you can use one of the following:
• Low-pressure pump-up sprayer
• Paintbrush
• Rollers
Prepare the concrete by cleaning, de-greasing, and drying it out. Then, apply a thin coating on the surface. Complete two coats for best result and protection.
Concrete Polyurethane Sealer
Concrete polyurethane sealer is considered a high-quality coating, which is resistant to abrasion and scratches, as well as stains and chemical intrusion.
The highest quality sealer of this type is actually more resistant than epoxy. U.V.-stable like the acrylic sealer, it will not turn yellowish despite exposure to the sunlight.
The downside of using concrete polyurethane sealer is that it has bonding issues with concrete. The introduction of moisture-cured concrete polyurethane sealer solves this issue though.
For installation, you would need to give it a bit of time with this type of sealer since the successful application is only activated after minutes of exposure to the air's moisture. Make sure that the concrete is cleaned, de-greased, and dried.
Epoxy Seal Garage Floor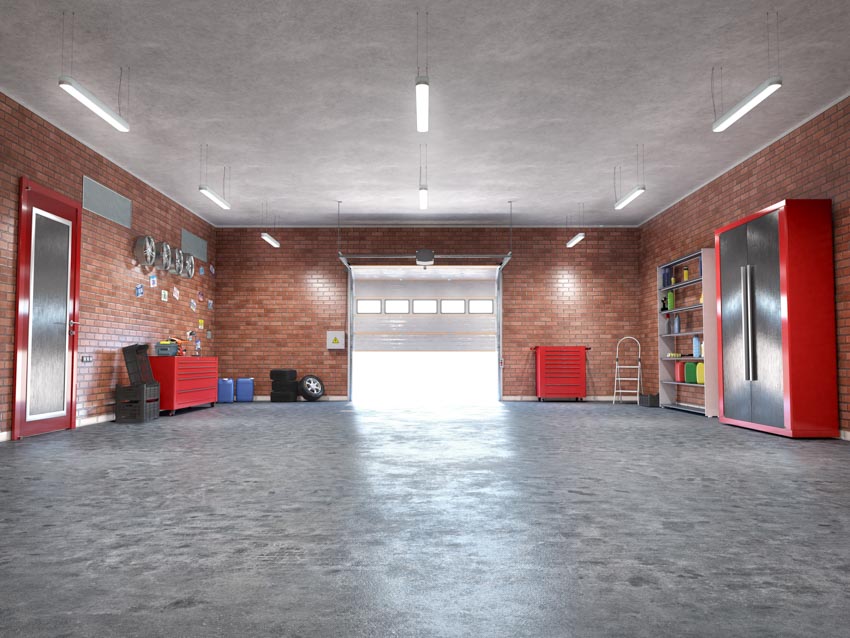 Epoxy sealer is the most popular kind offered in the market. This is because of its premium durability and strength, made possible due to its thermosetting resin that helps create closely cross-linked polymer structures in an epoxy floor.
They are thicker compared to acrylic sealers, with 2.5 to 12 or higher mils dry film thickness. And its durability is guaranteed, considering it is resistant to abrasion and can take heavy traffic.
It is also resistant to water and most chemicals, preventing liquid intrusion in the concrete.
Epoxy sealers come in bare coats, clear coats, and solid colors. Their surface finishes can be satin to a high gloss, depending on your budget and what you need.
Since it is not U.V.-resistant though, too much exposure to direct sunlight can lead to the color turning yellowish over a period of time.
Application of epoxy sealer can be time-consuming, especially if you DIY the entire project. But it's possible as it is very common too, using paint rollers and paintbrushes.
You will need 30 to 40 minutes to allow the epoxy to harden. And proper concrete preparation, such as etching, might be required, depending on the concrete.
Cost Of Sealing Garage Floor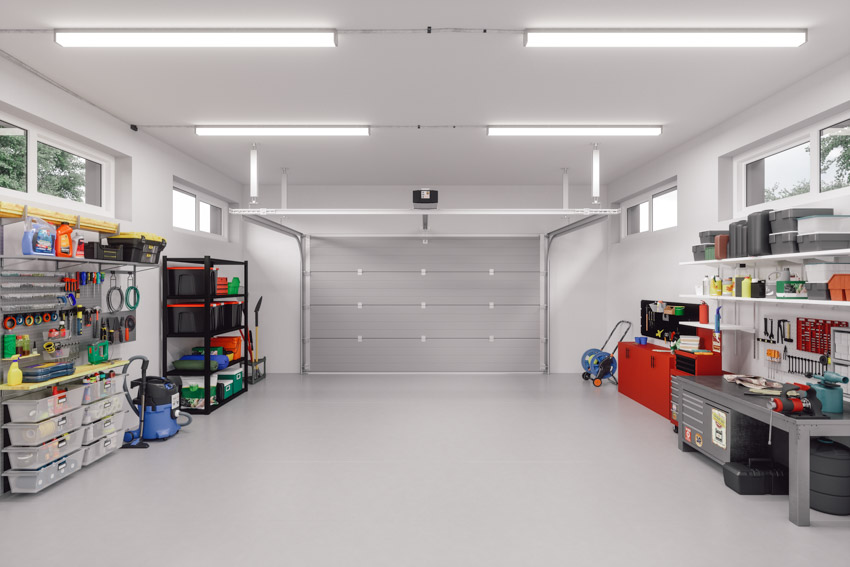 The cost of sealing your garage floor will depend on what kind of sealer you will use on it and if you will hire a pro to do it for you and just DIY the entire thing.
Supposing you chose epoxy sealer for your garage floor. The cost most homeowners cover for using epoxy in their garage floor is between $1,475 and $3,133 for the entire project.
This means it costs approximately $3 to $12 per square foot of the garage floor. And your project will fall low or high on that range depending on the size of the project, the quality of epoxy you will be using, and if you will hire a labor hand to complete the project for you.
When considering the quality of the epoxy, bear in mind that solid epoxy is twice as expensive as its water-based version. The former lasts longer and will require less maintenance to prolong its life.
A large garage floor might force you to choose water-based epoxy for the entire project to be affordable but you can use solid epoxy if your garage has a small area. If you work on a garage floor that can fit 1 car (at most 250 square feet), you may need a budget of approximately $750 to $3,000.
If you're working on a garage floor that fits 2 cars (around 400 to 500 square feet), you need around $1,200 to $6,000 to complete your project.
How To Seal Garage Floor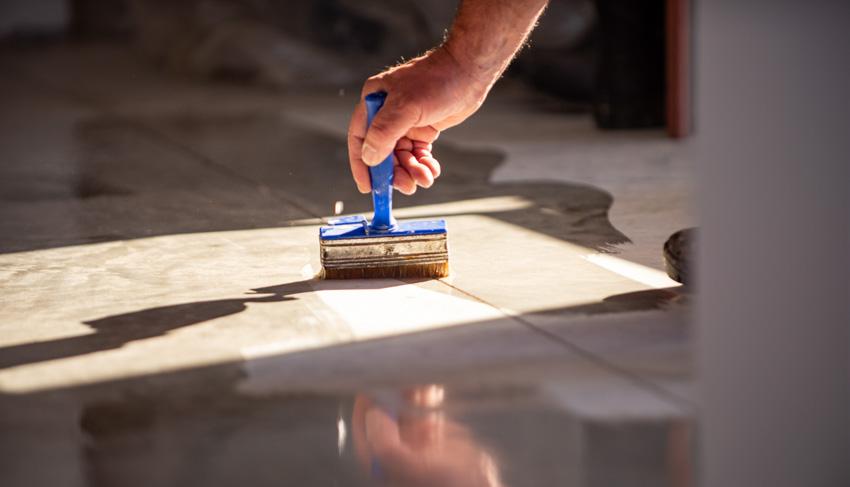 Sealing your garage floor can qualify for a DIY project. Let's face it, labor is expensive so if you can do it on your own, it might be the ideal option to choose.
If you don't know how to start the project, here are the simple step-by-step instructions you can follow.
1. Prepare all the materials you need. Make sure you choose the best sealant for your garage floor (The most popular choices are epoxy, acrylic, polyurethane, and silane/siloxane)
2. Clear and clean the garage
• Remove and clear the garage of everything within it
• Sweep the garage floor and make sure you get all debris and dirt out (You can do it with a leaf blower instead!)
• Power wash the garage floor but if you don't have one, intensely scrub the floor with a cleaner (Check and make sure that the floor is thoroughly cleaned, especially oil and grease)
• Remove excess moisture and residue of the cleaner using paper towels (or dry cleaner if you can afford it)
Make sure that the floor is completely dry (Tip: to make sure that the floor is completely dry, wait for 24 hours before moving on to the next steps)
• Mix and apply your sealant. Read the instructions that come with the sealant you bought especially since different products have their own respective techniques to optimize the result
• Re-apply your sealant. Do the second layer the next day or after a couple of days (Depends on the manufacturer's instructions)
• Leave the coat to fully dry and ventilate your garage properly
Garage Door Seal For Uneven Floor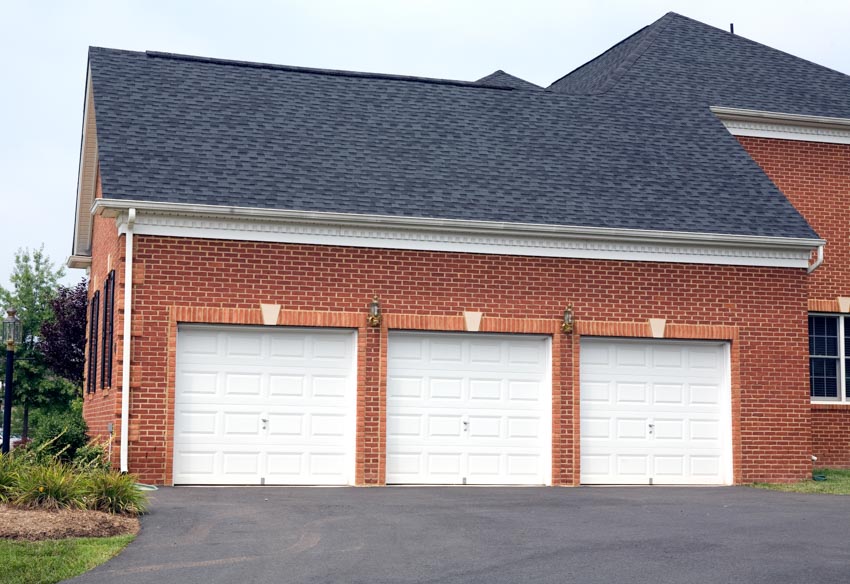 Having uneven floors, from a slope in front of the garage to a downward hill outside of it, results in difficulty sealing the garage door.
It might be due to the years of the settling of the concrete. In dealing with an uneven floor, here are the options you can look at:
• Re-level the garage floor by pouring concrete on it
• Use special products to lift the concrete up
• Use an oversized bottom seal
• Install garage door threshold – works on less than 1-inch gaps
• Increase the closing limits of the garage door opener: depends on the different types of garage door openers. It is advised to read the door opener instructions (Better to be combined with another method to completely accomplish the job)
Best Garage Floor Sealer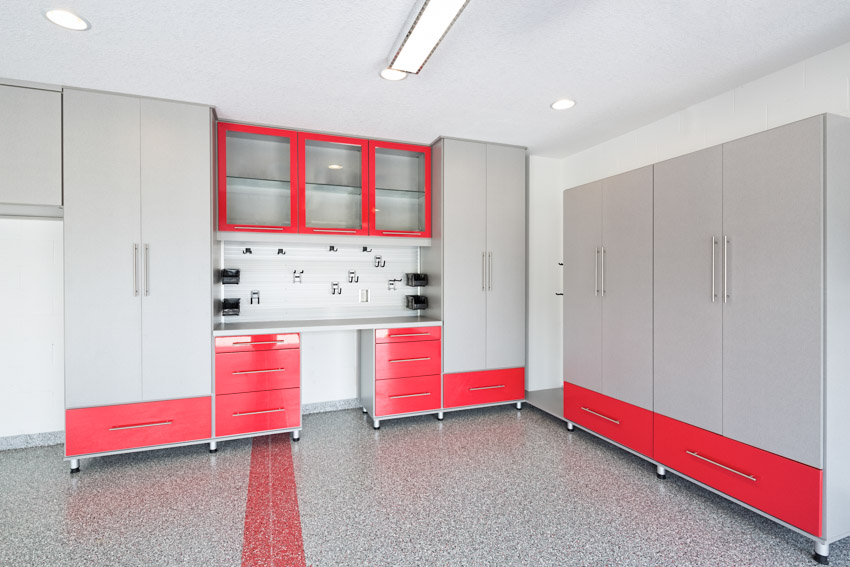 With all of these details, what can be considered as the best garage floor sealer? The best may not be the floor sealer with the highest quality but the most ideal one to offer what you need under the budget you have.
There are different factors you can consider for comparison and come up with the best sealer for floors used in the common types of garages. In general though, here are the best garage floor sealers based on specific factors:
• Multi-coat Epoxy and Polyurethane Systems: appearance, durability, and quality
• Polyaspartic Garage Floor Systems: fast installation
• Epoxy Paint Kits: easy purchasing process (online), easy application, & cost-effective
• Acrylic Sealer: excellent glossy aesthetics & less effort in concrete preparation
• Penetrating Garage Floor Sealer: long lifespan (last for years before re-coating is needed)
• Concrete Densifiers: excellent durability & easy application
With these different sealers, you only need to figure out the factors you prioritize above else to make an informed decision.
Is It Worth Sealing Garage Floor?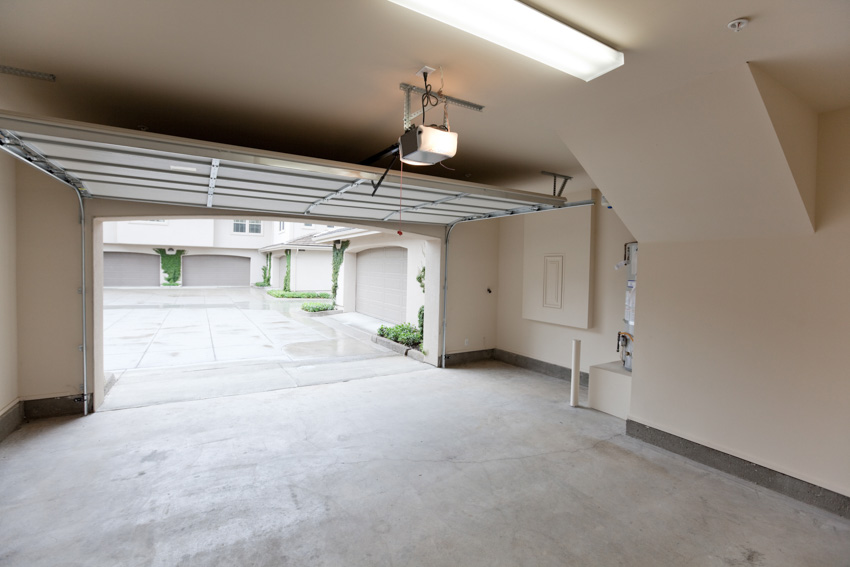 When considering the worth that sealing your garage floor can offer you, it is important to take note of the kind of sealer you will use in the process.
Is it worth sealing the garage floor using a sealant that you would need to re-apply every now and then? Probably not. But it might be worth it to consider a sealer that can protect your garage floor for a long time.
If you're considering using an epoxy sealer for your garage floor, it is highly durable and easy to clean up, which may be factors that can appeal to you to call it worth it.
To figure out if it's worth it for you, decide on the factors you want to prioritize and choose the sealer that can accommodate your specific needs and preferences.
Should I Seal Or Epoxy Garage Floor?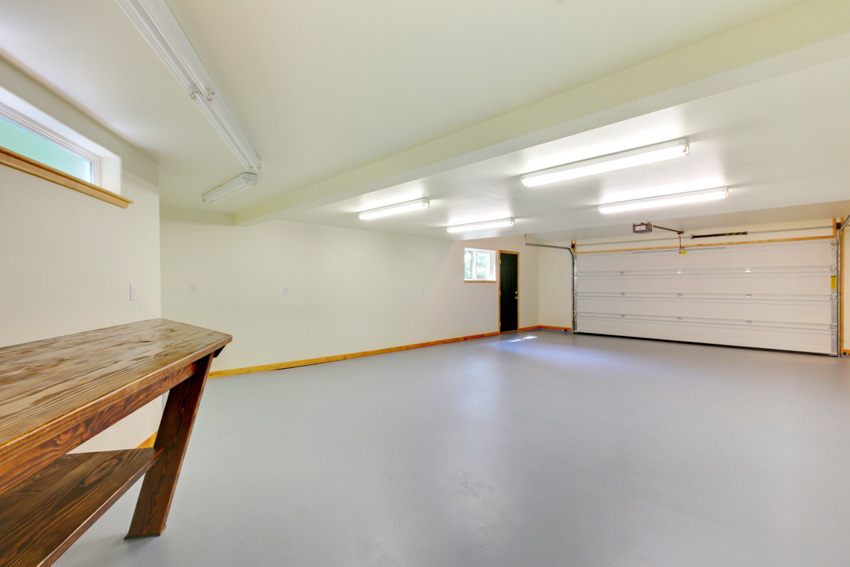 A concrete garage floor is tough but it can deteriorate after a period of time because it is prone to damages from chemicals, dust, salt, and water. Sealing the concrete will help avoid the possibility of these damages and increase the lifespan of your garage floor.
You can seal your garage floor using epoxy sealer or you can choose other kinds of sealer to accomplish this job. You can even use water-based sealants if this is what you prefer for your concrete garage floor. Compare the different sealants and decide what to use to seal your garage floor.
See more related content in our article about garage floor ideas on this page.