Here's our bamboo kitchen cabinets guide including its most popular finishes, styles, pros and cons, costs, durability, and ideas on where to buy them.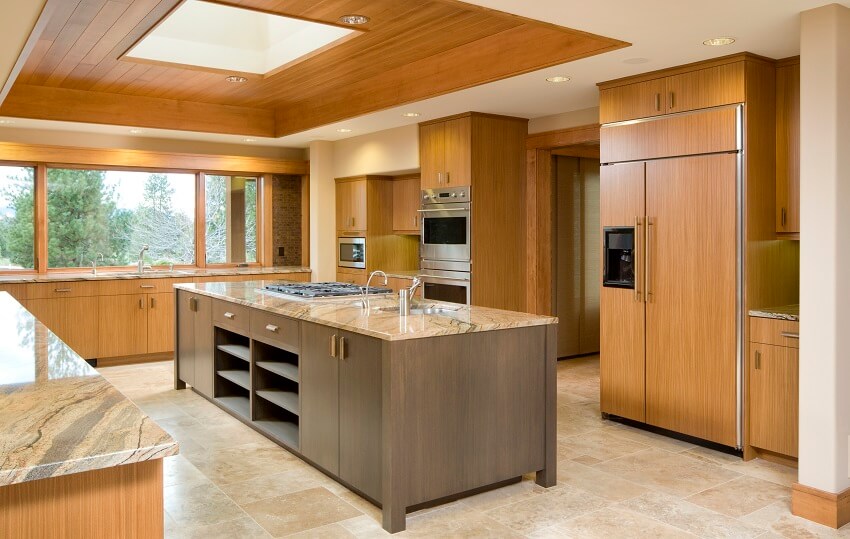 While it is not yet a frequently used material for kitchen cabinets, bamboo is becoming increasingly well-known as it is far more minimalist, eco-friendly, and modern-style than conventional kitchen cabinet materials.
Bamboo, which is sometimes misidentified as a type of wood, is rather an extremely durable grass type that has several advantages when utilized for kitchen cabinets. Another amazing thing about bamboo is that it blooms expeditiously and could be harvested every 3 to 5 years, contrasting to most hardwood trees, which take years to develop.
In contrast to hardwood trees, which die after harvesting, bamboo renews itself every 3 years, making it a genuinely ecological solution for cabinets, furniture, and floors. If you are thinking about getting bamboo kitchen cabinets, continue reading for a full description of their qualities, pricing, design suggestions, pros and cons, and many more.
Bamboo Cabinet Wood Grain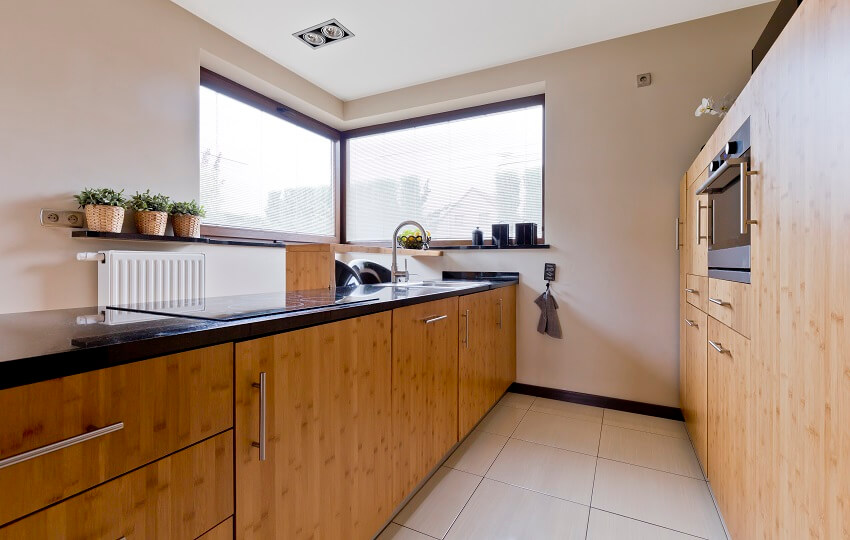 Bamboo timber boasts a distinct straight grain and typically displays the stalks' unique nodes or knuckles. Bamboo grain is noticeably linear and can be positioned horizontally or vertically.
Bamboo kitchen cabinets with their straight grain and light hue could be precisely what you are looking for to remodel or enhance your house, specifically your kitchen.
Although it is softer and lighter than other hardwood materials, it is extremely resistant to chipping, dents, and cracks. These types of kitchen cabinets offer a naturally warm and neutral tint, giving your kitchen a refreshing and welcoming vibe.
Bamboo Cabinet Finishes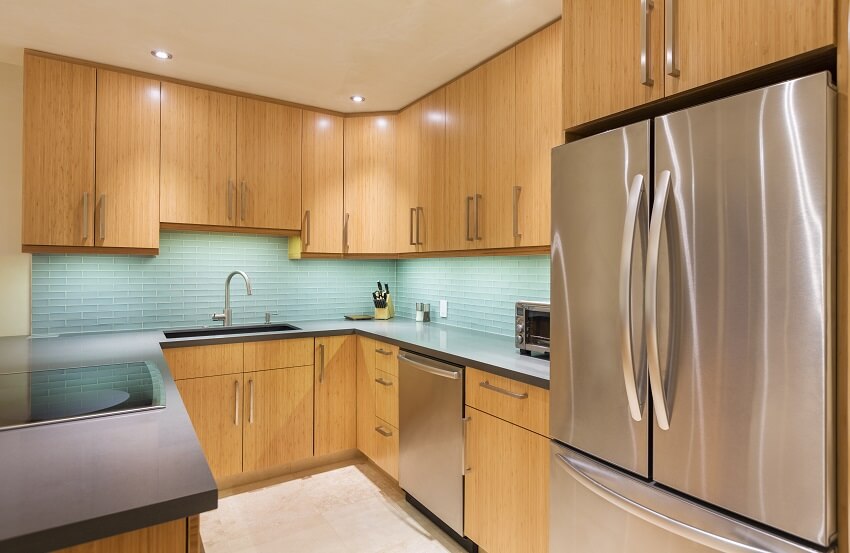 The most popular organic bamboo kitchen cabinet tones are honey and blonde. Bamboo cabinets with a naturalistic or water-based finish are suitable for a modern and minimalist kitchen.
Furthermore, bamboo generally stains beautifully, hence if you want a warmer-ambiance kitchen, a rich cherry or chocolate staining will highlight its linear grain. Here are the two types of bamboo finishes that you might like:
• Waterborne Finish. The majority of natural bamboo kitchen cabinets possess a waterborne finish. Waterborne-finished bamboo cabinets are scratch-resistant and eco-friendly due to the finish's minimal volatile organic compound (VOC) content and absence of formaldehyde hazards.
• Stained Finish. Rich stains appear magnificent on these types of cabinets because they effectively highlight the natural patterns in the bamboo grain and create a very unique kitchen ambiance. Please remember that depending on the stain, your cabinets could appear dual-toned or perhaps tri-toned.
Bamboo Kitchen Cabinets Pros And Cons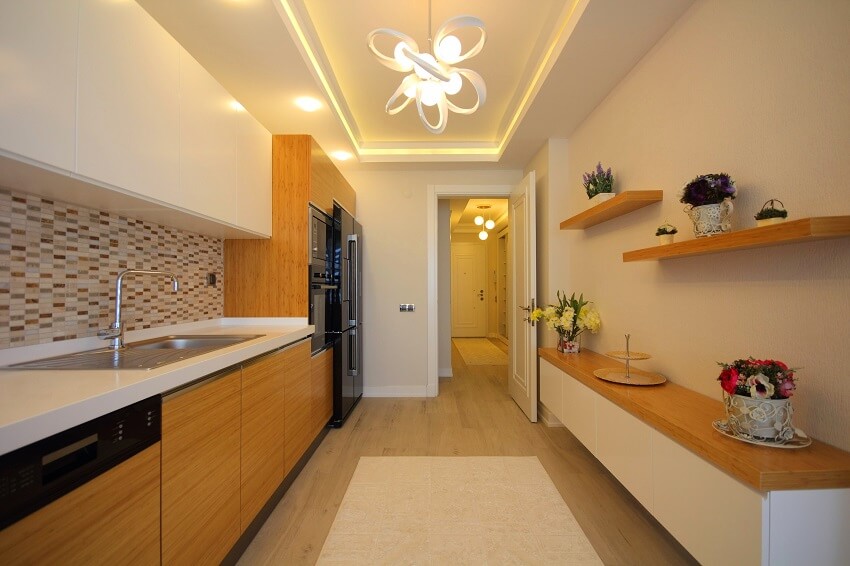 Before deciding on the ideal bamboo cabinet for your preferences, you should be aware of some of its capabilities and benefits. Bamboo kitchen cabinets are both beautiful and stylish.
There is no greater method for increasing the architectural value of your kitchen than by installing the right cabinets. The most noticeable pros of this kitchen cabinet type comprise the following:
Pros
• Versatile design – Bamboo kitchen cabinets are indeed suitable for modern homes and provide limitless interior décor options for your well-loved kitchen.
• Attractive cabinet choice – Bamboo kitchens raise the visual appeal of your property while also increasing its pecuniary value.
• Easy to repair – These types of cabinets are significantly easier to repair and maintain than other hardwood materials.
• Eco-friendly – Bamboo is environmentally friendly and provides the beauty of the wood while having a low environmental effect.
• Durable – It is as durable as or relatively tougher than maple or oak hardwoods, making it an excellent choice for cabinets.
• Absorbs wood stains – Darker finishes and stains absorb quite nicely in bamboo cabinets.
• Easy to clean – Warm, soapy water and a soft towel are all that are needed to tidy bamboo cabinets.
• Light weight – Due to its higher strength, bamboo is less in weight and more durable.
Nothing, unfortunately, can be completely perfect. In the following part, we will discuss the cons of using bamboo kitchen cabinets. You may consider these possibilities and determine if this is the right kitchen cabinet option for your home.
Cons
• Expensive – Transportation expenses highly impact its environmental efficiency and affordability. That is why it is rather costly.
• Can be scratched easily – Bamboo surfaces, like any hardwood cabinets, can be scratched if handled roughly and carelessly.
• Not as many cabinet options as many other types – Due to low demand, there may be fewer options in terms of size, style, and delivery.
Bamboo Kitchen Cabinet Styles
Modern Bamboo Kitchen Cabinet
If you want to increase the aesthetic appeal of your kitchen, here is the solution. A trendy bamboo kitchen cabinet could be used to modernize your kitchen as well as its cabinetry.
Contemporary bamboo is the current trend for making cabinets more attractive. It also is employed for corner racks and slim drawers, which transform your kitchen into a brand-new space in your house.
Furthermore, real estate agents claim that trendy bamboo kitchen cabinets increase the value of a home.
Natural Bamboo Kitchen Cabinet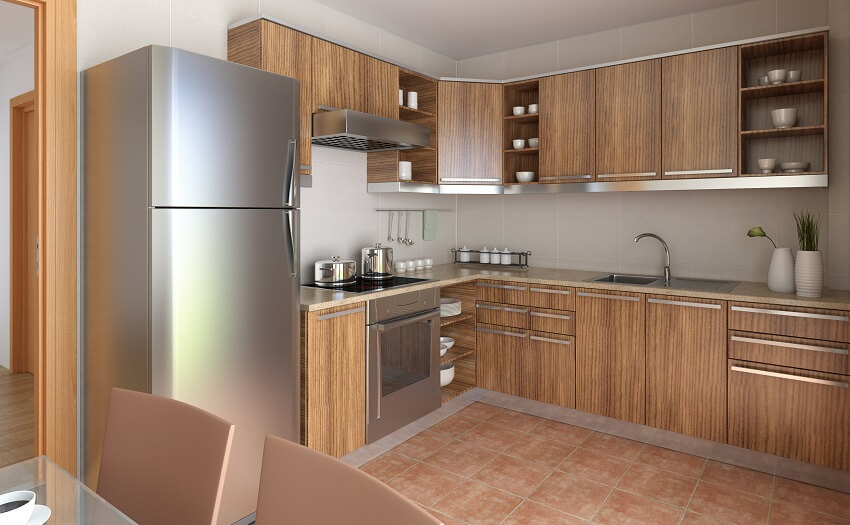 Bamboo kitchen cabinets are becoming popular in a multitude of states and countries due to their inherent beauty and grandeur.
If you want to improve your kitchen in a more efficient and timely manner, consider picking genuinely natural bamboo cabinets. Should you use different materials for your kitchen, it will seem more antique and earthy.
Dark Bamboo Shaker Kitchen Cabinet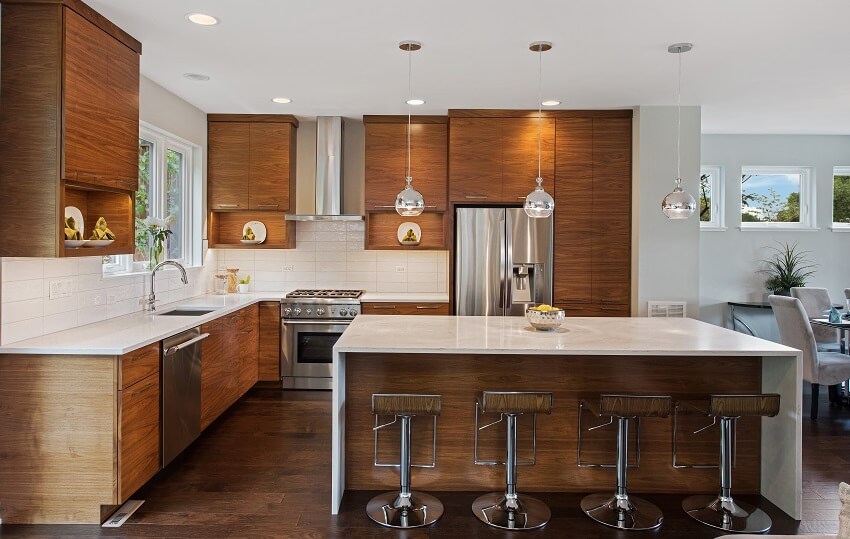 Dark bamboo shaker kitchen cabinets are indeed well-known in several places because of their attractive appearance, construction strength, and environmental advantages. Aside from that, bamboo kitchen cabinets are said to be more ecologically friendly than other types of wood.
This is due to bamboo's rapid development rate. Thus, if you want to save the environment, consider switching to bamboo kitchen cabinets.
Bamboo Plywood-Made Kitchen Cabinet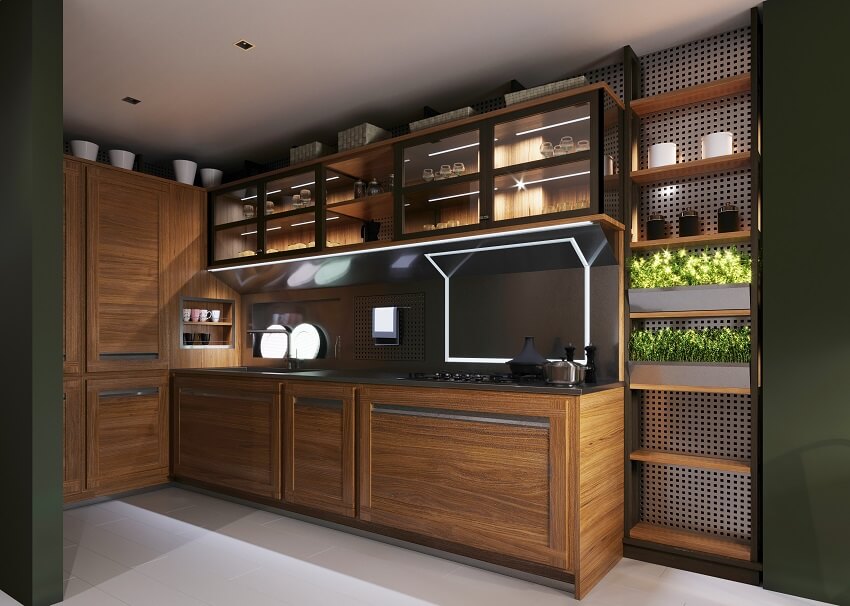 A lot of bamboo kitchen cabinets are made out of bamboo plywood. Plywood is just natural bamboo that has been processed via the procedures of cutting, milling, fabricating, and finishing.
Because it is in a manufactured state, bamboo plywood-made kitchen cabinets could come in a variety of hues and finishes. Plywood bamboo kitchen cabinets are indeed a great option if you prefer adaptability.
Kitchen Cabinet in White Bamboo
Bamboo wood may be treated into a variety of hues, making it ideal for use in household interior décor. White bamboo kitchen cabinets are only among the many diverse styles available. Check out more kitchen cabinet styles here.
White is recommended because it has a shiny appearance when washed. Furthermore, bamboo kitchen cabinets are simpler to maintain than any other cabinet material.
Bamboo Kitchen Cabinets Cost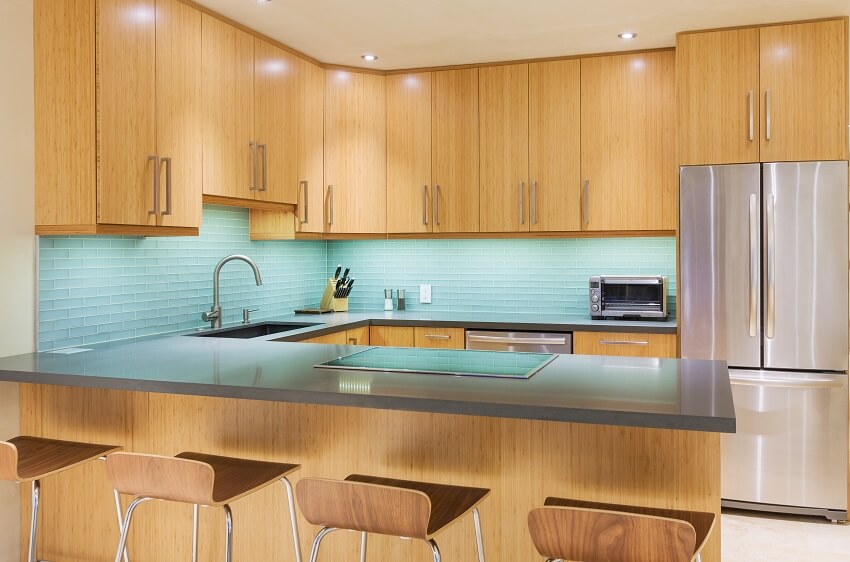 Since bamboo is still a fairly unique material for kitchen cabinets, you may probably spend more for it than for typical hardwood. Bamboo is also substantially heavier, which might affect the shipping expenses.
You can expect to spend around $12,000 to $20,000 for a standard kitchen. For top-grade bamboo kitchen cabinets, you can get them for around $30,000 to $35,000.
The price of a bamboo kitchen cabinet differs based on the type and finish you select for your home. Completely genuine natural bamboo kitchen cabinets, for example, are more costly than plywood bamboo kitchen cabinets. This is because bamboo plywood is easily laid over the hardwood.
Bamboo kitchen cabinets might be expensive since they are not as popular as regular hardwood cabinets. Because bamboo kitchen cabinets are not mass-produced, thus they might be more expensive to order. However, the benefits of doing so are vast.
Here is quick advice for choosing a bamboo cabinet. If you want to get the look of bamboo cabinets even if you are on a tight budget, you can choose bamboo plywood that is then laid over standard hardwood. And when you get lucky someday, upgrade to solid bamboo.
Factors To Consider When Buying Bamboo Kitchen Cabinets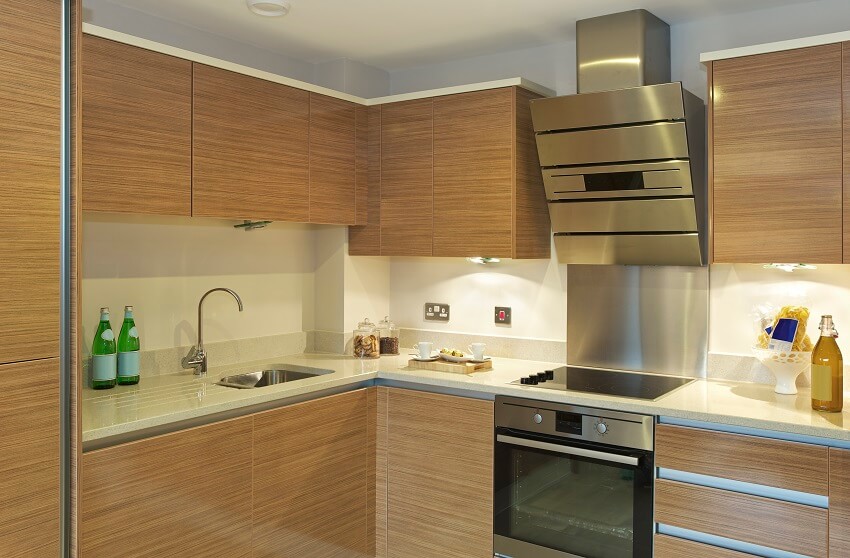 • Determine the Floor Layout. If you want to find the ideal bamboo kitchen cabinet to fit, you must first evaluate the floor layout. Your design ideas are also influenced by the layout and size.
• Take Into Account Your Estimated Budget and Expected Function of Cabinet. The bamboo kitchen cabinet design that you choose will be determined by your budget. The prices of various styles vary. The type of kitchen cabinet you choose is determined by what you want to use it for.
• Identify the Materials You Want and Request for Quotes. Determine the type of material you prefer for your bamboo kitchen cabinet. The amount of material required may be determined by the floor layout. Hence, you may obtain an exact price that you can match to your budget.
• Confirm the Layout. After you have provided all of the requirements, ask your provider to evaluate the layout. This is where you can still make changes if considered necessary.
Is Bamboo Good For Cabinets?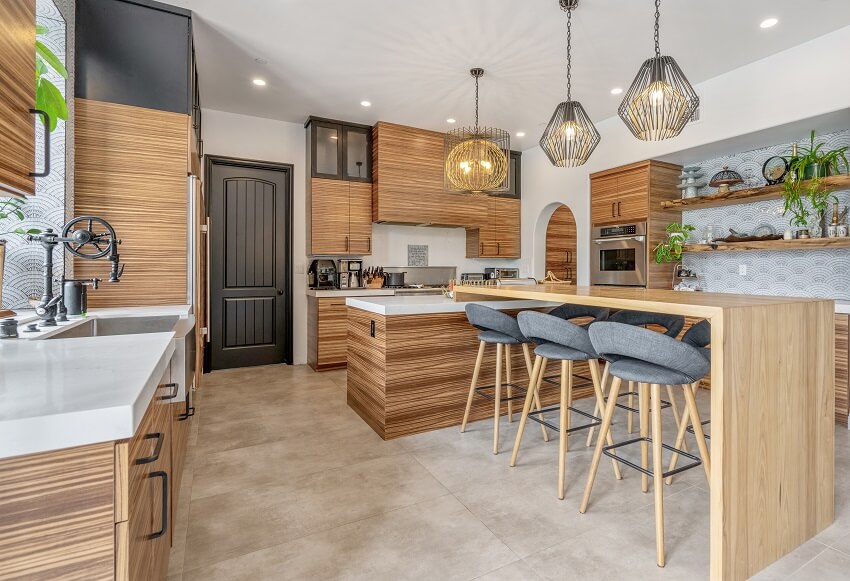 Yes. When you choose bamboo as a kitchen cabinet material, you are making a more eco-friendly choice while also selecting a highly strong material that requires little maintenance. Furthermore, bamboo has a lovely appearance.
Bamboo wood has an amazing straight grain and usually displays the specific clusters or knuckles of the stalks, which could astonish you.
With that said, it has a finer grain than other hardwoods while still being extremely resistant to chips, dents, and fractures. Bamboo kitchen cabinets have a distinctively warm or neutral color that provides your kitchen with a fresh and pleasant vibe.
Are Bamboo Cabinets Durable?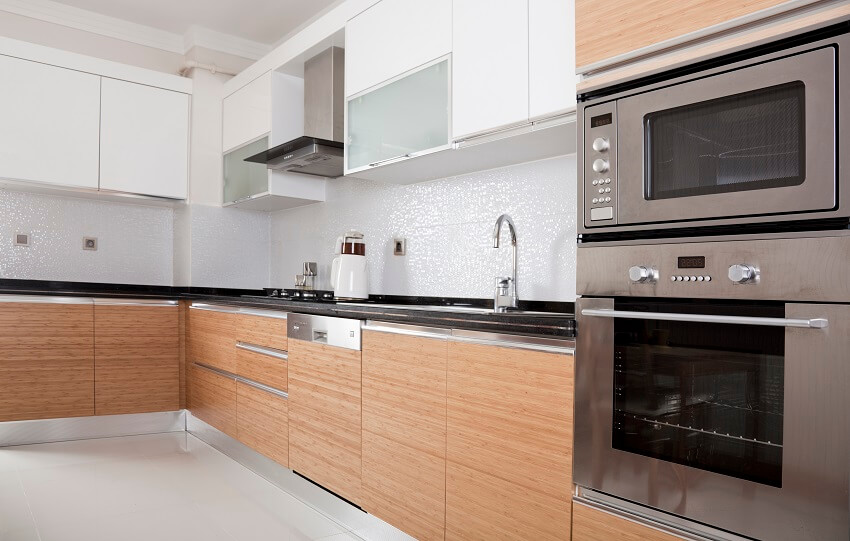 Bamboo trees are not categorized as hardwood trees in the botanical sense. Nevertheless, bamboo timber has such incredible tenacity that its creations outlast those of typical hardwoods utilized for kitchen cabinets.
Bamboo timber has a high resistance to enlargement and contraction, making it excellent for the construction of kitchen cabinets as well as other types of furniture.
In actuality, interior designers strongly advise using bamboo in high-traffic spaces within the kitchen. A bamboo-made product is also wear-resistant.
As a result, its durability is undeniable. Bamboo countertops and cabinets are an appealing, durable, and sustainable complement to any kitchen design or aesthetic since they are as robust as or stronger than some other hardwoods yet resistant to chipping and cracks.
How To Clean Bamboo Cabinets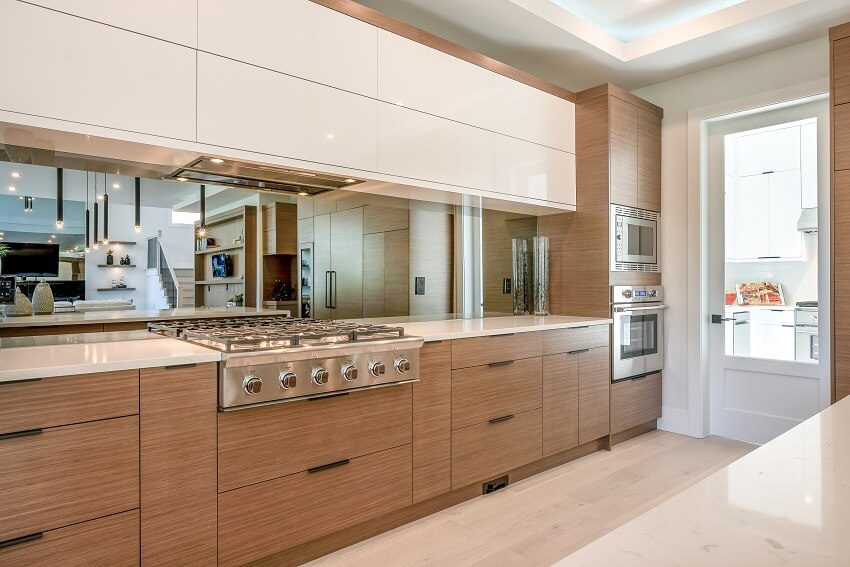 Here are some of the safest methods you can follow to clean your bamboo cabinets and maintain their luster:
Clean Up the Dirt Regularly with a Duster, Brush, or Vacuum
As a rule of thumb, before using soap and water, sweep, brush, or vacuum collected surface debris. Scrub the furniture using a rag or sponge once the noticeable dirt has been eradicated.
Apply Organic Soap to Clean Your Bamboo Cabinets Without Damaging Their Finish
Use a gentle cloth or sponge and gentle soapy water to clean unpainted or varnished bamboo. Squeeze off any extra water and carefully clean the wood. Instead of strong detergent, use organic or mild soap, which will not harm or discolor the delicate luster of the bamboo cabinet.
Keep the Stains Away Immediately
If you find a stain or liquid spilled on the bamboo cabinet, clean it right away to limit the possibility of the stain setting and becoming permanent.
Routinely Apply Linseed Oil to Maintain the Luster of your Bamboo Cabinets
Bamboo cabinets are exceptionally simple to clean since they do not necessitate oil treatment like other conventional hardwoods. However, if you want to make your bamboo cabinets shinier and cleaner-looking, you can still apply linseed oil.
Indeed, to keep the sheen of the bamboo, it is not a bad idea to treat it with linseed or bamboo-specific furniture oil once or twice a month. Because extremely low humidity might cause the bamboo to break, adding a minimal quantity of linseed oil regularly can be quite advantageous for indoor furniture.
Every Time You Notice Mold, Remove It Immediately
If mold grows on your furniture, deeply scrub the area with soapy water. To eliminate any traces of mold development, use the abrasive back of a sponge or an old toothbrush. To prevent future mold and mildew growth, fully dry the area every after cleanup.
Where To Buy Bamboo Kitchen Cabinets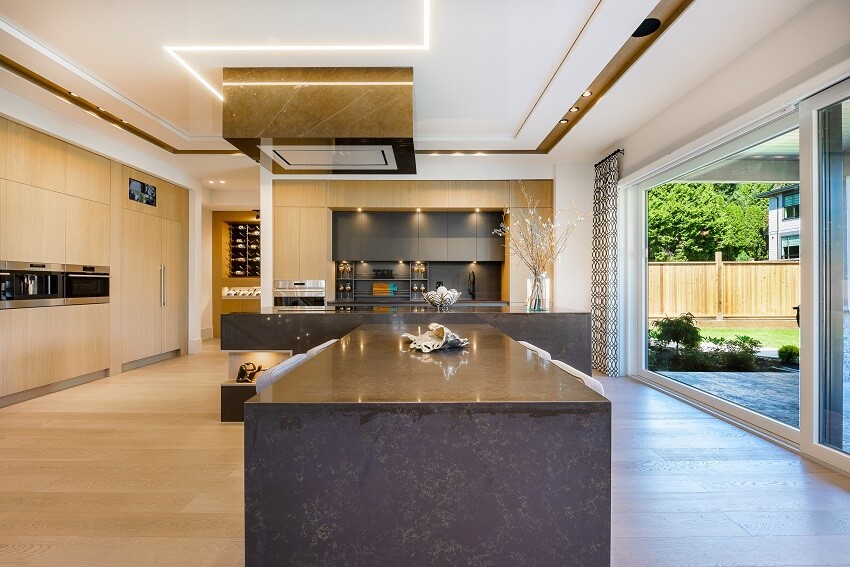 Depending on the location you are living in, finding these contemporary bamboo kitchen cabinets that match your demands could be tough.
There are several designers and merchants in various regions of the world that can provide you with good-quality bamboo kitchen cabinets. All you have to do is look for more affordable alternatives.
With so many kitchen cabinet manufacturers to choose from, you might find yourself perplexed as to which manufacturer offers the most valuable option for you, which ones provide high-quality products, and which produce the most inexpensive.
Here are some of the companies (as well as their main headquarters) that manufacture top-quality bamboo cabinets:
• Schmidt – Guangzhou, China
• Oppein – Guangzhou, China
• BORCCI – Zhejiang, China
• OULIN – Zhejiang, China
• George Buildings – Foshan, China
• GoldenHome – Xiamen, China
• Boloni – Beijing, China
• Omega Cabinetry – Indiana, United States of America
• MasterBrand – Indiana, United States of America
• PA Kitchen – Foshan, China
• OLO – Nanjing, China
• Zbom – Anhui, China
• AlterECO – Sausalito, California
Visit our guide to bamboo flooring for more related content.