Here's our double stacked kitchen cabinets design guide including their pros and cons, height requirements, and several tips on how to extend your kitchen cabinets.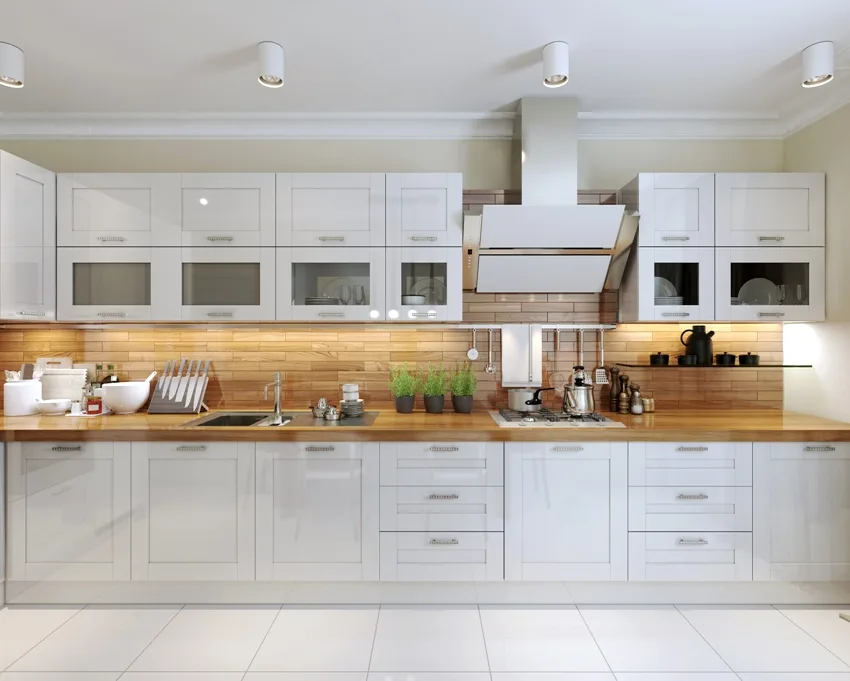 One of the most overlooked aspects of interior design is the potential of vertical space. This is especially true in kitchens, where all the work seems to happen at waist level. Until double stacked kitchen cabinets were introduced, that is.
Double-stack cabinets are the answer to the ever-growing storage needs in the kitchen by creating more room to store your dishes, cups, pots, pans, and supplies. They optimize kitchen spaces, especially those with notable tall ceilings. Find out below if it's time you jump in this kitchen cabinet design trend, too!
What Are Double Stacked Kitchen Cabinets?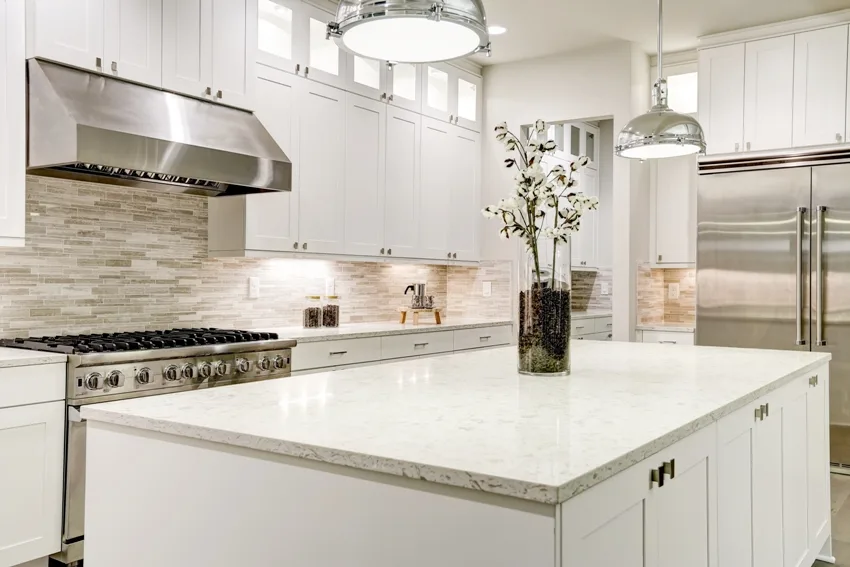 Most kitchens have an extra space between the ceiling and the top of the hanging cabinets. You can still store a variety of things in these areas. But in other cases, they are simply unused or "dead" spaces that collect dust.
Now, imagine adding another layer of cabinets to fill this vacant space.
Having this upper row cabinetry is called double stacked kitchen cabinets. They sit directly over your hanging cabinets and go all the way up to touch the ceiling.
The Pros And Cons Of Double Stacked Kitchen Cabinets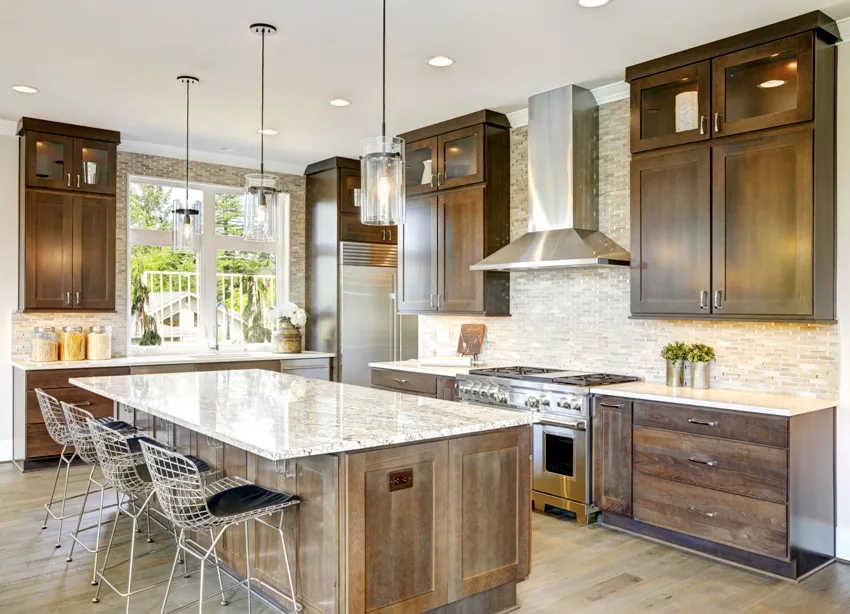 Appealing as they are, double stacked kitchen cabinets can make or break your kitchen. Utility, beauty, access, cost, and maintenance – these and many other factors may influence whether or not you should invest in them.
Here's a run-down of the pros and cons of double-stacked cabinets starting with the pros:
More Storage Space, Of Course!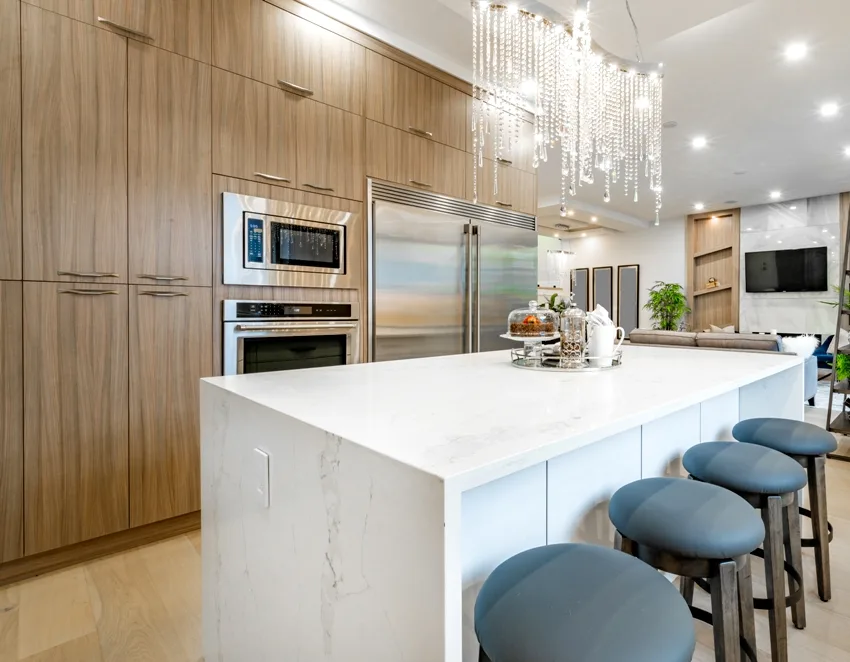 Double stacked kitchen cabinets make use of previously disregarded space. So almost like a hack, they surprisingly provide lots of extra square feet of usable space!
Gaps between hanging cabinets and ceilings are anywhere from one to two feet, and even more for homes specially designed to have tall walls.
That's enough space to keep seasonal cookware, large bowls, themed mugs, small appliances, and collections of utensils only brought out for special occasions.
Space for Decorative Display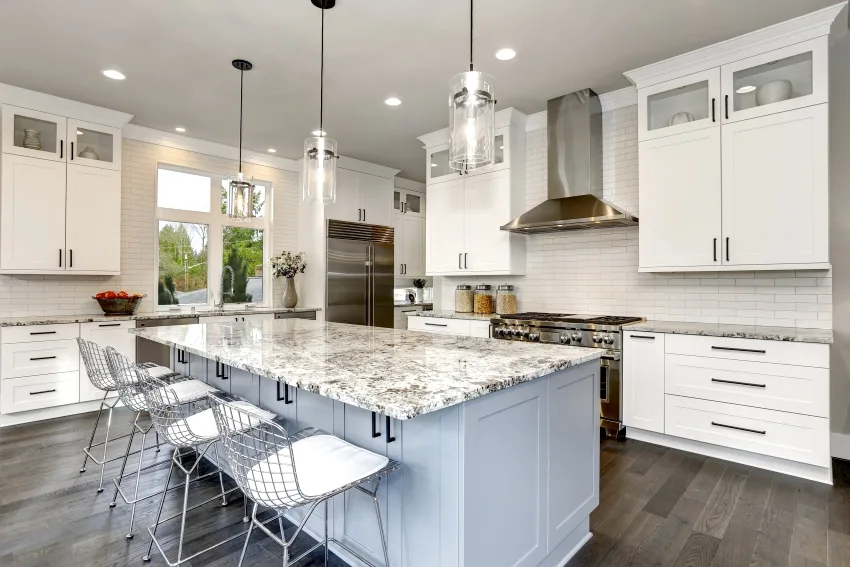 Speaking of collections, you can install glass-front upper cabinets instead of solid or open-shelving to create a gallery in the kitchen. You can display anything from decoratives to prized silverware, and have a much more interesting kitchen.
A Matching and Completed Look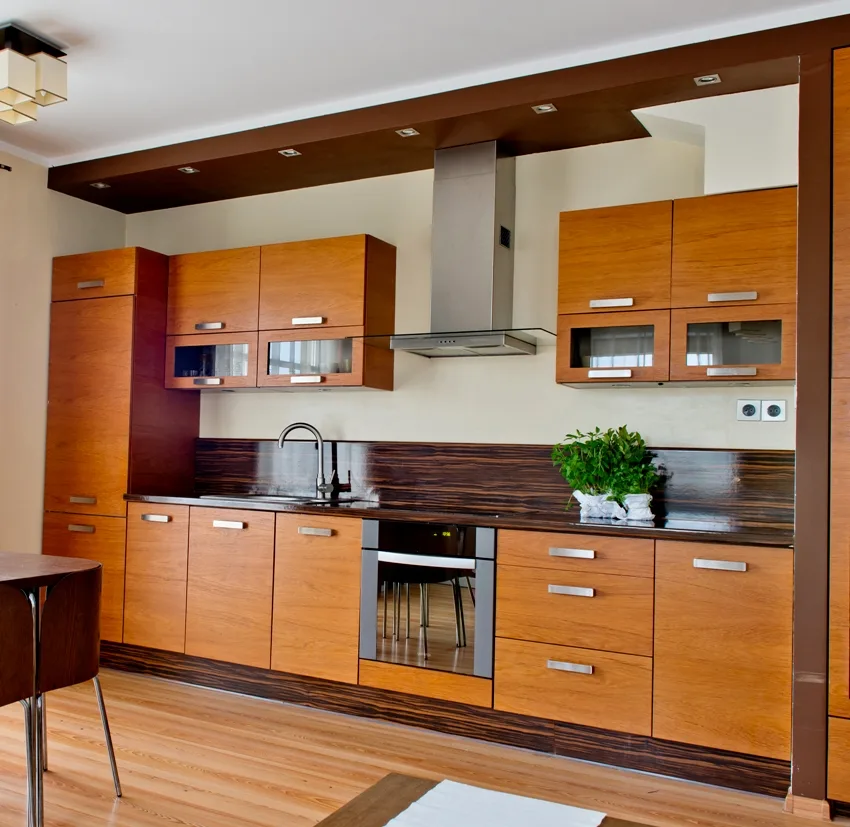 Many homeowners just want to eliminate the extra space below the ceiling for easier cleaning. But a lot of them like the balanced and continuous effect that double-stack kitchen cabinets give when they reach the ceiling.
Taller cupboards add a sense of consistency and completeness to your kitchen space. Design-wise, a gap often suggests that something is lacking, and double stacked kitchen cabinets solve this issue perfectly.
On the other hand, it's impractical to install cabinets in lofty rooms (or those higher than 10 ft).
Cons: Now let's discuss some of the cons or disadvantages of double stacked kitchen cabinets.
More Cabinets Equals More Cost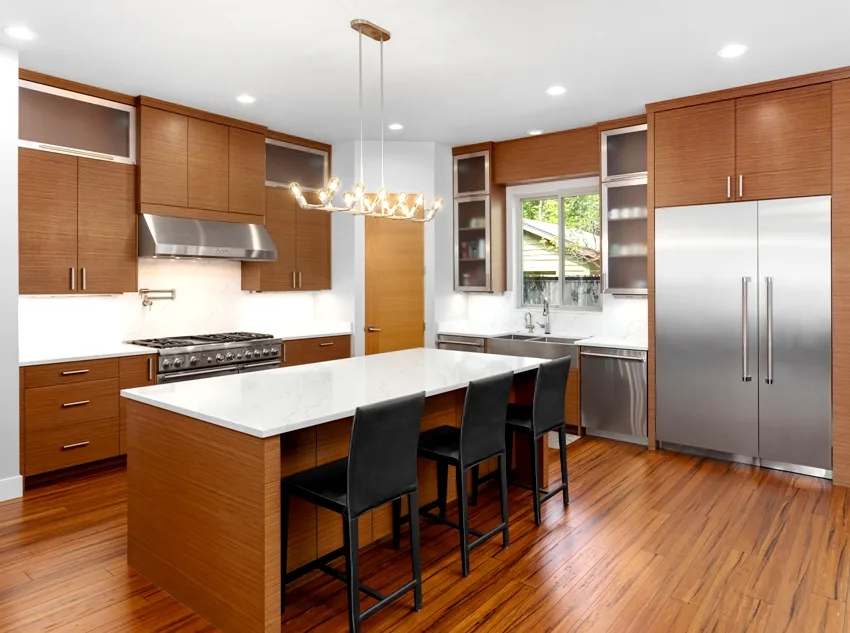 Basic cabinetry already takes up a significant amount of your home renovation budget. Typical kitchen cabinets cost between $4000 and $13,000, and an additional layer clearly means additional cost.
But if your budget allows it and you think you really need that extra space, then double-stack kitchen cabinets are ideal investments.
Not Easy To Access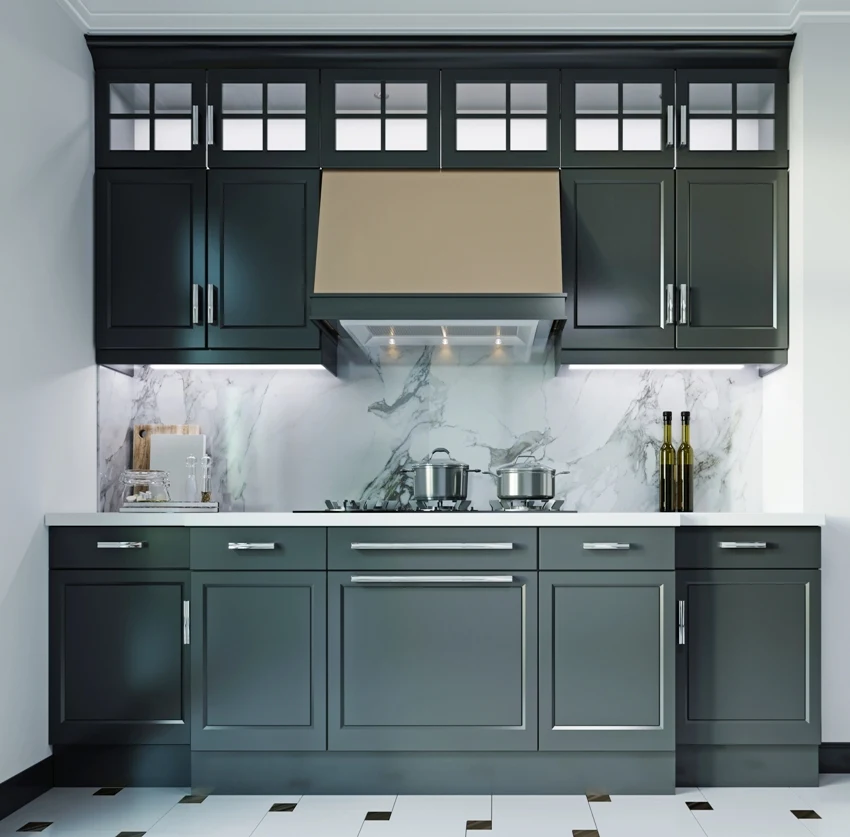 One of the drawbacks of stacked cabinets is that they are hard to reach. You have to keep a short step-ladder or a stage stool for every time you want to access your upper cupboards.
It will take more effort to retrieve things unless you're intentionally keeping items out of reach for safety and security purposes.
Can Make Some Kitchens Feel Cramped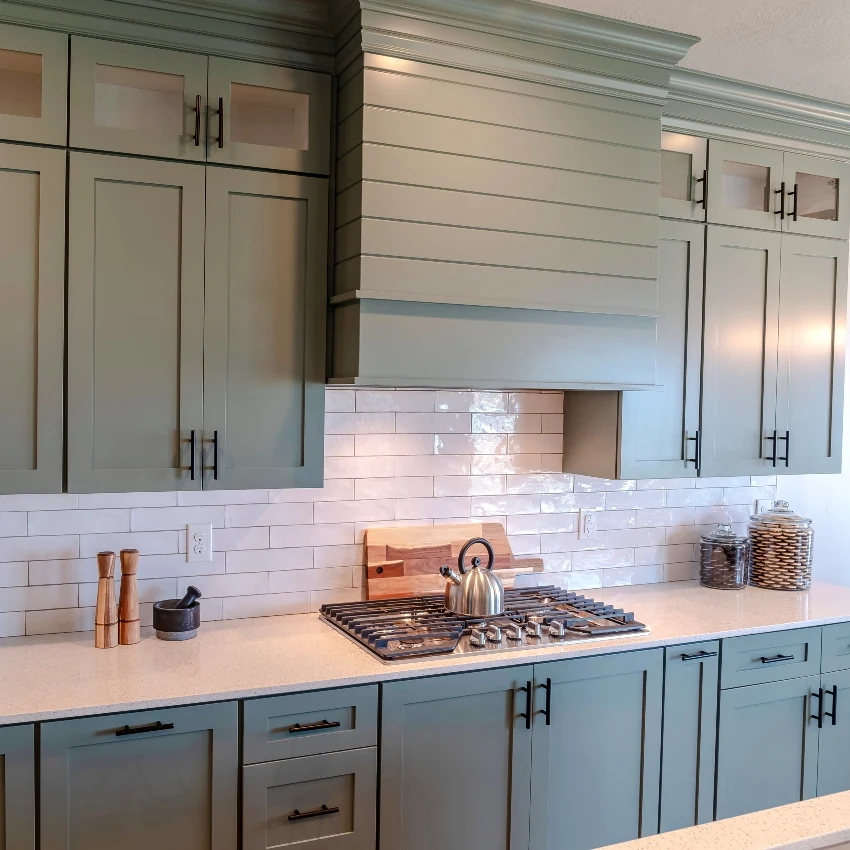 In smaller kitchens, however, double stacked cupboards can feel a little too much. The same is true for kitchens with complicated ceilings, such as coffered ceilings, ornate moldings, or beams that may not align with the rest of the cabinetry.
You have to choose which feature is more necessary in these cases because having a lot at the same time will end up cramping the space.
Can You Stack Base Cabinets On Top Of Each Other?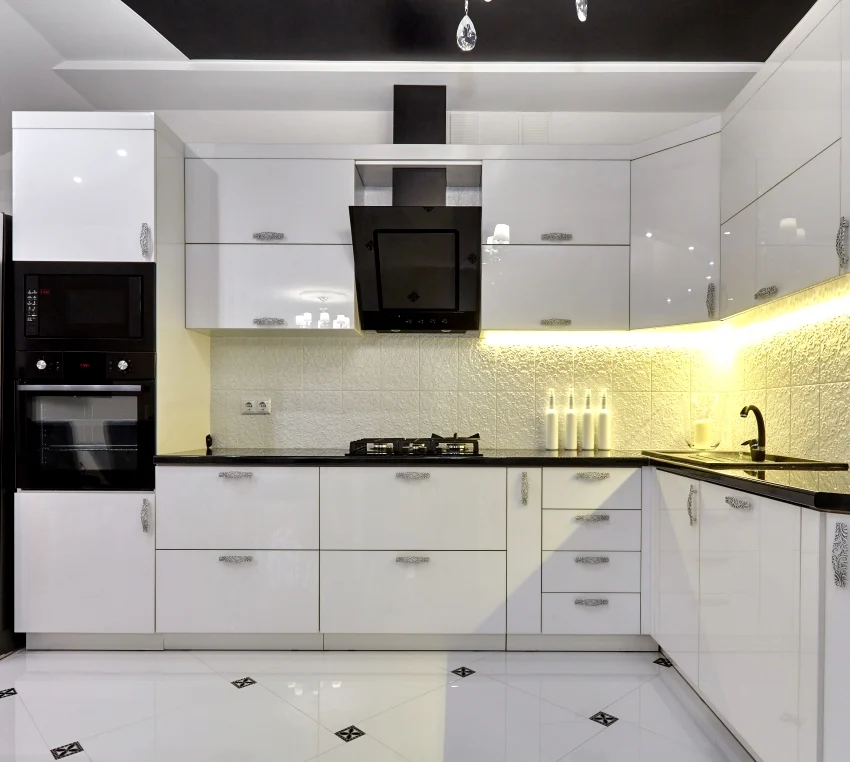 Some base cabinets are made to be stackable. As long as they do not come with a top panel, they will be easy to install on top of another. Check out the best ways to update kitchen cabinets here.
How High Should Cabinets Be On The Wall?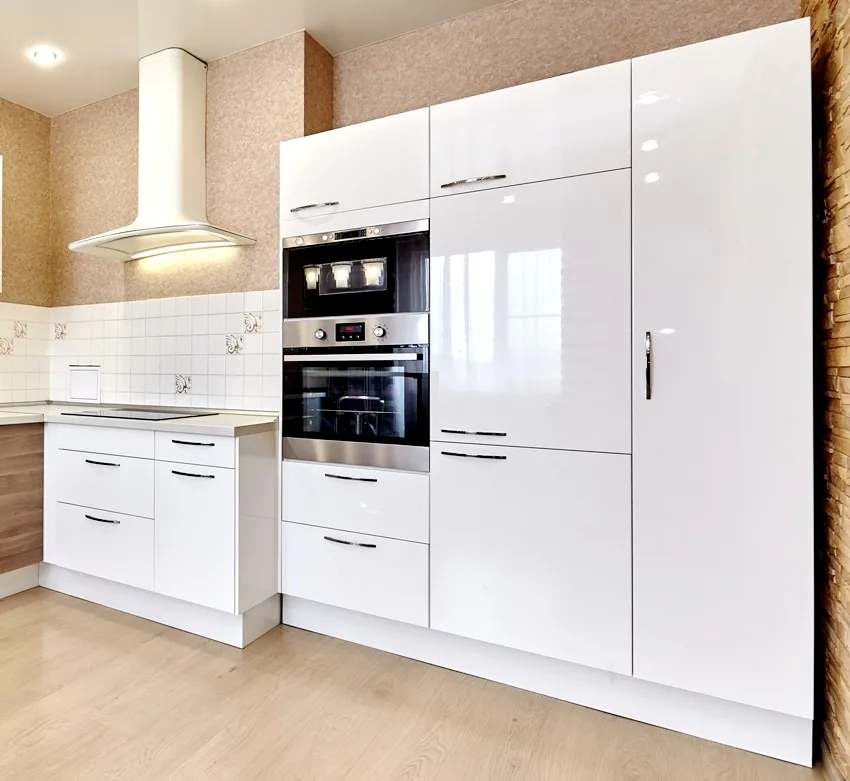 Generally, kitchen wall cabinets are installed in such a way that the bottom edge is 54 inches from the floor. This height is ergonomically ideal.
The exact dimensions of double-stacked cabinets will depend on the height of your room. For instance, the usual 9-foot tall room will fit 36-inch-tall hanging cabinets and 18-inch-tall cabinets over it.
You can also try one level of 43-inch-tall cupboards and 12-inch-tall upper cabinets. Read more about kitchen cabinet dimensions and sizing here.
Can You Add Cabinets Above Existing Cabinets?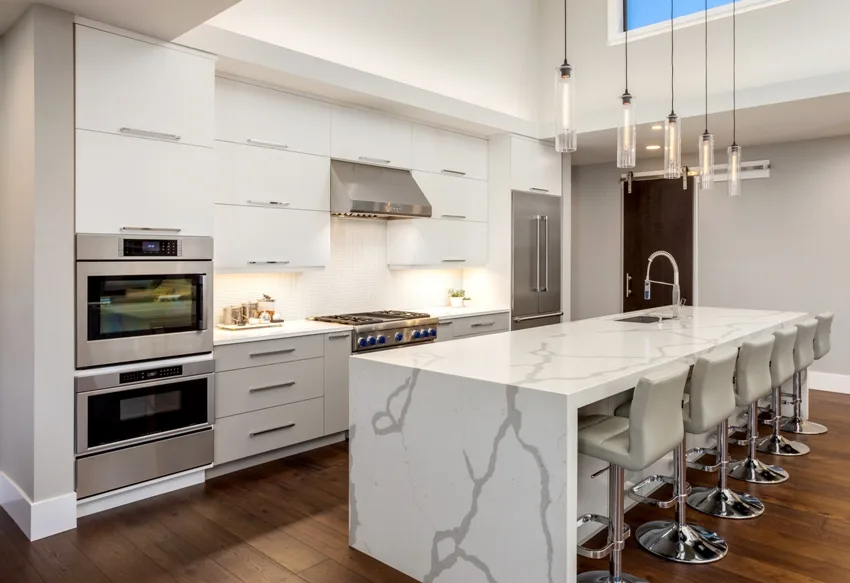 If you've decided to remodel your kitchen, you don't have to replace your cabinetry to have double stacked kitchen cabinets. It makes sense to just add a new row with separate doors and dividers.
You can find a lot of kitchen contractors that can help you add a new layer to the cupboard without damaging your existing ones. If you are skilled in carpentry and DIY, you can even do it yourself.
Adding more custom cabinets above appliances like the fridge, stove, freezer or dishwasher can help maximize storage space. Make sure that there is adequate minimum clearance and that the opening of doors will not interfere with the operation of the appliances or cooking food.
How To Extend Kitchen Cabinets to the Ceiling
You can follow these guidelines to extend your cabinets. However, it is best to have a professional work with you.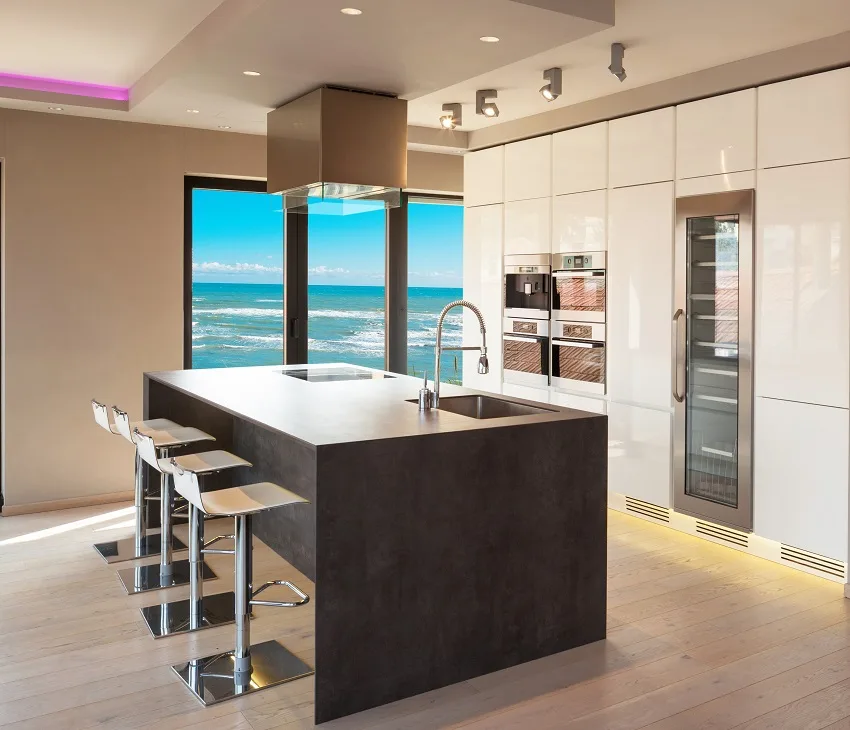 1. If there are any moldings or trim, decide whether to remove them or just cover them with a header. The former is usually easier and will make larger upper cabinet space.
2. Measure the height, length, and depth of the space above your hanging cabinets.
3. Following these dimensions, create your cubby base, dividers, and doors (if not open shelving) with plywood, or hire someone to pre-make them for you. It's good to follow the same divider dimensions from the cabinets below it for a coherent result.
4. Lift the cubby on top of the hanging cabinets and install them using wood glue.
5. Paint your new upper cabinets the same color as your existing cabinetry. See the best white paint colors for kitchen cabinets here.
Are Stacked Cabinets Worth It?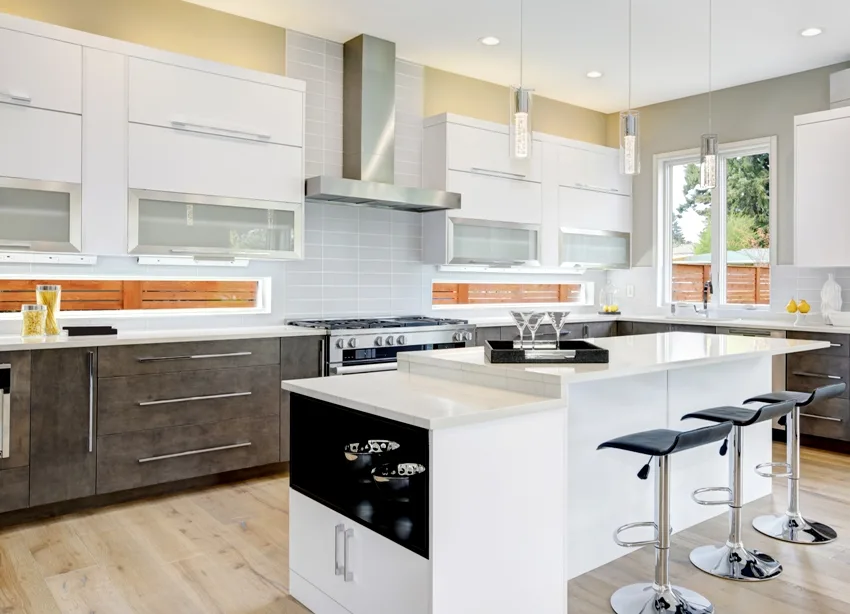 Stacked cabinets definitely bring more value to your kitchen. Do you need extra space for a large number of kitchen items?
Do you want more organization in your kitchen? Does the cohesive look of stacked cabinetry align with your design preference?
If your answers are yes, then stacked cabinets should definitely be "on top" of your kitchen remodeling list. You may also visit our gallery featuring beautiful traditional kitchen cabinets for more ideas.