Here's our types of dressers buying guide including the material options, design styles, and sizes to help you choose the perfect dresser for your home interior.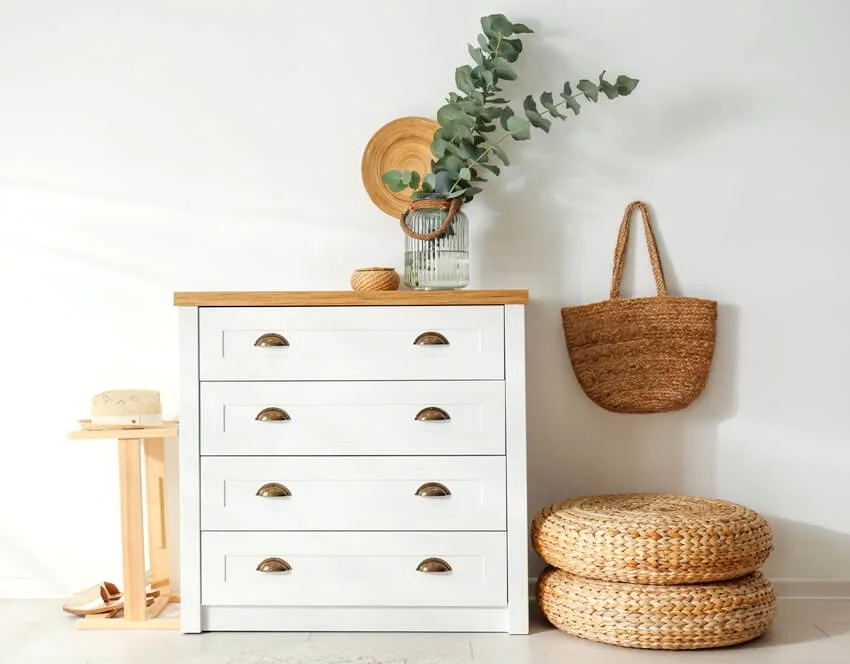 There are so many different types of dressers available and there is definitely one that perfectly fits your style. Starting by selecting the type of dresser, then the material and then the style.
Even starting with those categories can send you through a ton of customizable choices down the road.
What Is A Dresser?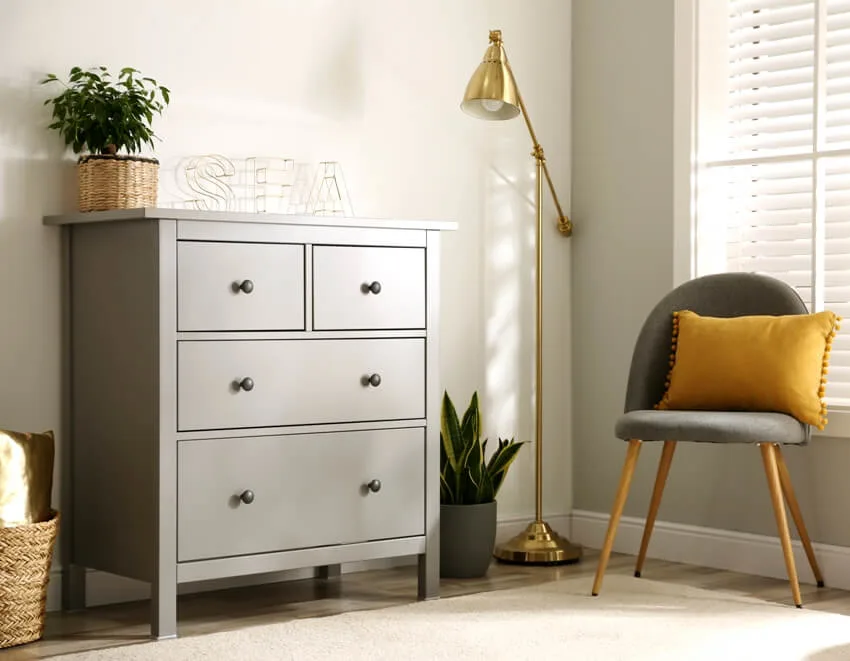 A dresser is a piece of furniture that is used to store items, specifically clothing. When created, they were meant to have multiple columns with about six or more drawers in total.
They are traditionally longer and shorter, but as variations have come out they have morphed to cover taller and skinnier pieces that were once referred to as chests.
Horizontal Dresser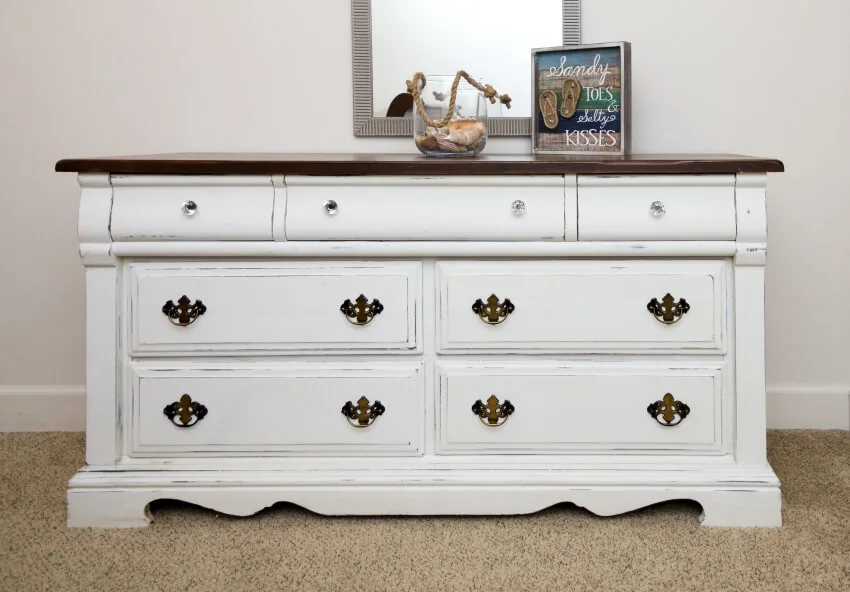 A horizontal dresser is the traditional long and short dresser. This type of dresser has many columns with just a few rows of drawers.
Horizontal dressers leave a lot of surface space to display jewelry, photos, and other trinkets as desired. These dressers also commonly come in a set with a large mirror behind it.
Vertical Dresser [Tallboy]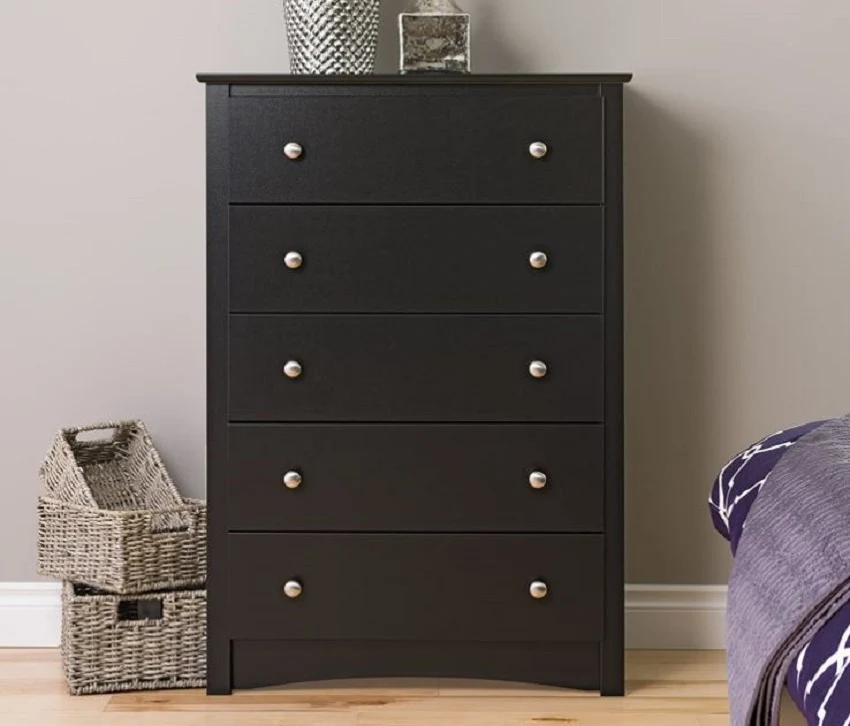 See this black Sonoma 5 drawer chest at Amazon [sponsored link]
A vertical Dresser is commonly one or two columns with at least 6 rows of drawers. Traditionally these are referred to as a 'chest of drawers' but in simpler terms can be called a vertical dresser as it serves the same purpose. It is also called a tallboy, referring to the height compared to a standard dresser.
Double Dresser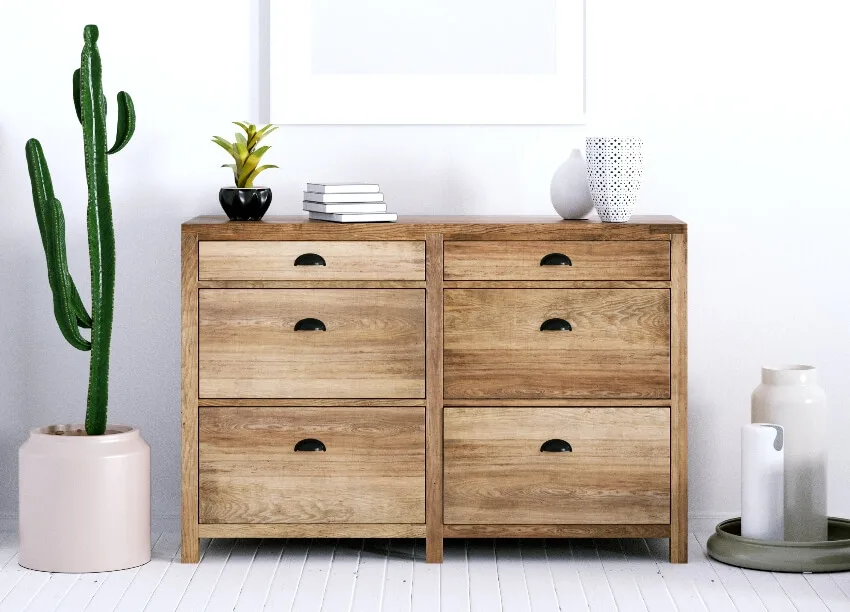 A double dresser is typically double the size of your standard horizontal dresser. This type of dresser is commonly used with couples so they each have a separate space for their items.
Double dressers often have a little more definition in their columns to make it obvious that there are two separate sides to it.
Combination dresser
As the name suggests a combination dresser combines two different pieces of furniture. This is great for small or shared spaces. Some of the most common combinations are described below.
• Bed with dresser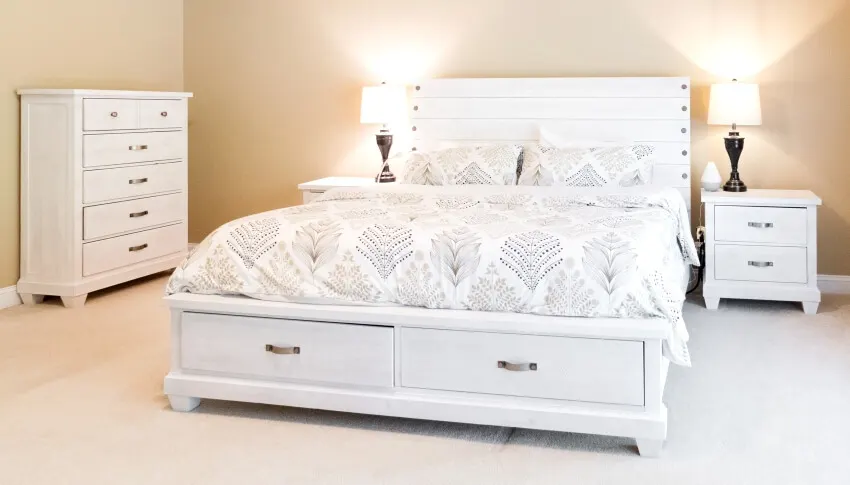 A common combination is the bed and the dresser in one. This can be done in a few different ways. One way is the headboard of the bed being used as a dresser as well.
This is usually done by having extra room on the sides of the headboard to make room for drawers. Another, non-traditional way to combine the dresser and the bed is with the platform of a bed doubling as dresser drawers.
The drawers can pull out from either side of the bed and fit underneath the framing. When using this combination it is important to make sure there is enough airflow through the mattress to avoid any moisture from collecting.
• Dresser changing table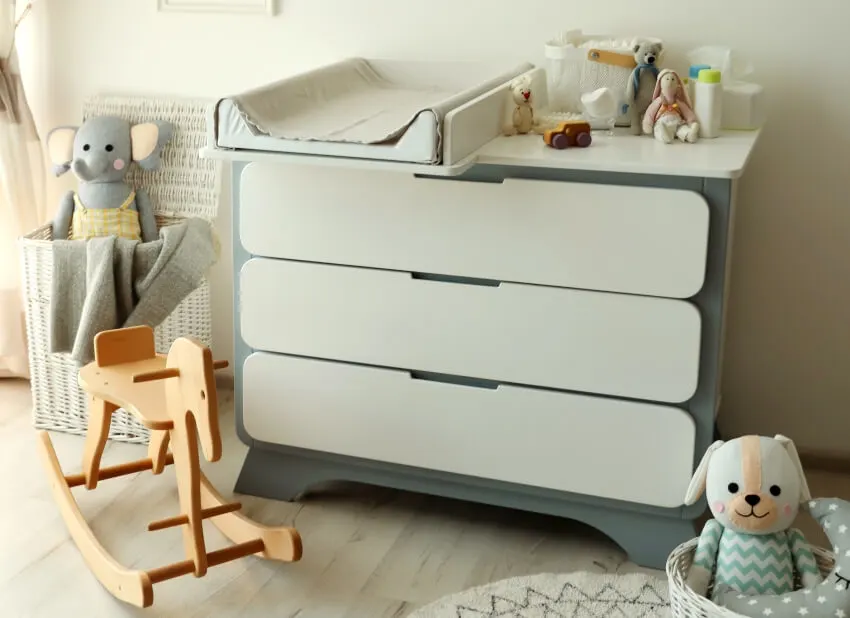 Another way to combine dressers with another piece of furniture is the dresser and changing table combo. This is essential with children since it keeps all the needed functions all in one location.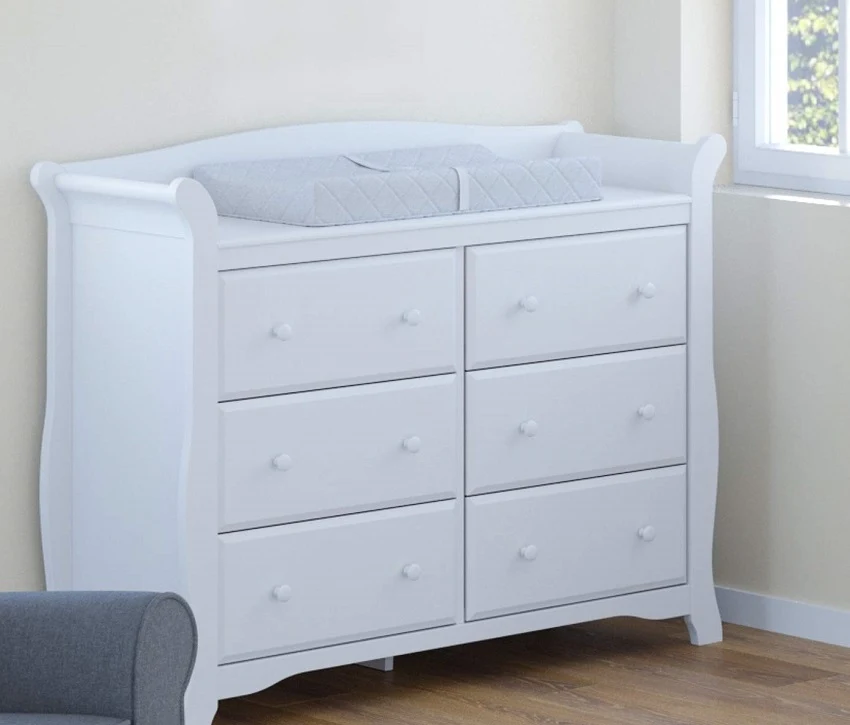 See this Storkcraft avalon 6 drawer universal dresser at Amazon [sponsored link]
This is typically done with a standard horizontal dresser with a changing table installed on the top. They are usually at about a standing height so that it is comfortable to use the changing portion of it as well as the storage functions.
Bachelor's Chest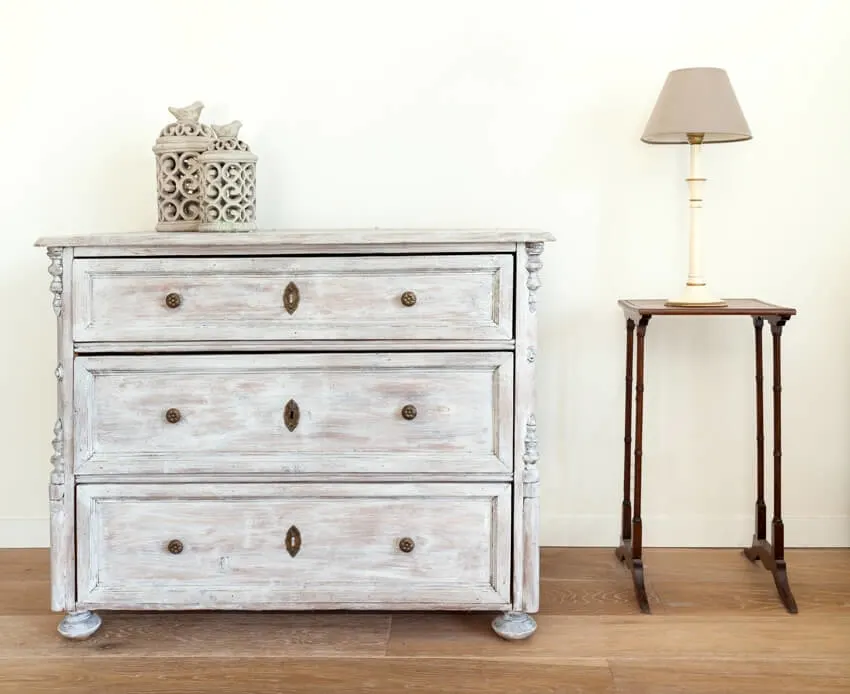 Another type of dresser is known as the bachelor's chest. This is an extremely basic type of dresser; they typically only have one column and up to four drawers instead of the traditional 6.
These were often made to double as a nightstand. The idea behind this creation was that as a bachelor one may live in a small apartment and may not have a high need to store things. Check out storage ideas for small bedrooms on a budget for more ideas.
Gentlemen's Chest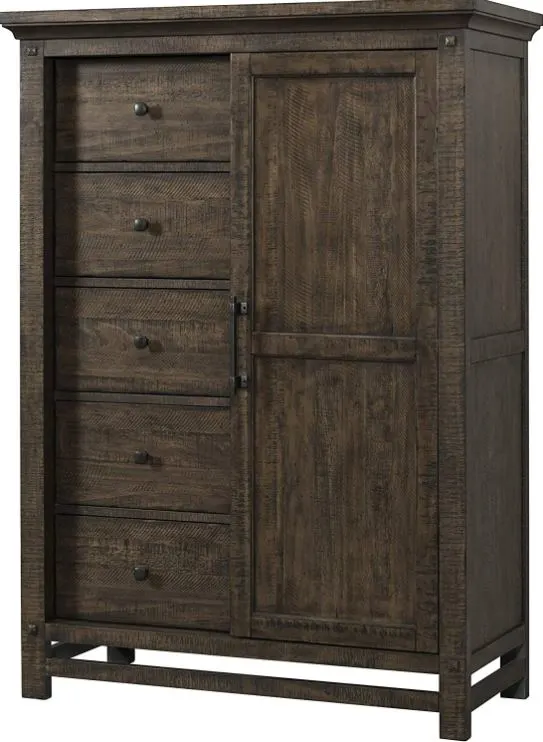 See this Lane home furnishings gentleman's chest brown at Amazon [sponsored link]
A gentleman's chest is just a little upgrade to the bachelor's chest described above. As a gentleman you need a space to hang suit jackets, so the gentleman's chest provides a location for just that.
This is laid out like a standard dresser with an additional open section on one side with a rod inside to hang items that could be easily wrinkled. There are some of these that have additional features such as a shelf for shoes or a mini interior drawers for ties, watches or other accessories.
Lingerie Dresser
Next up is the Lingerie Dresser, the safest place to store that expensive set you purchased because you just could not resist. This is also referred to as the semainier.
Overall it is just a very small vertical dresser, as it is meant to store very small pieces of clothing. When creating these pieces the idea was that there would be seven drawers (one for each day of the week) and you could plan your entire week's worth of undergarments.
Types Of Dresser Materials
Once you select the type of dresser that best fits your needs it is time to move onto the stage of selecting the materials and finishes. Some of the options are described below.
Wood
Wood is one of the best materials that can be used for dressers. Wood is extremely long lasting and can outlive its maker if care is given.
Wood furniture is the items that you see at estate sales that have been passed down for generations, or that people restain and DIY constantly nowadays!
• Softwood is an option for dressers, but it is not quite as great as the hardwood choice, while the price tag is lower, so is the overall lifespan of the piece.
• Hardwood is more expensive and heavier, but it will last long lifetimes if properly taken care of.
Laminate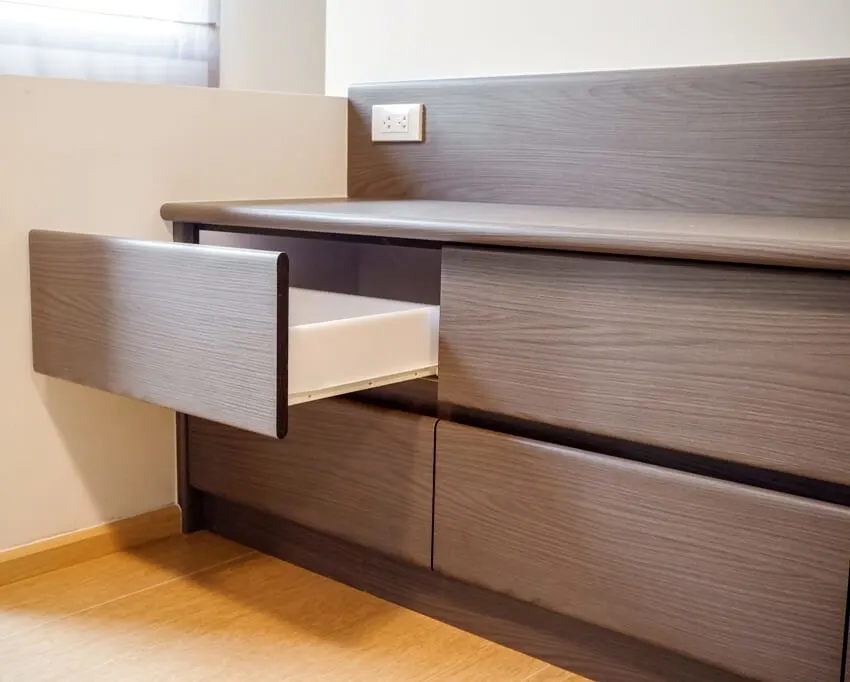 Laminate is a synthetic wood, meaning it is all manufactured and none of it is a natural material. Similar to the below-mentioned, veneer laminate is often used as a wrapping for other more cost effective materials.
Laminate is typically made to be heat resistant as well as non susceptible to scratches. See more laminated wood furniture designs here.
Veneer
A veneer is a thin slice of actual wood, this slice is typically placed on top of another (typically inexpensive and unattractive) material to up the appearance of the piece.
This gives the illusion that the piece is wood, when in reality it is made from something like particle board. You cannot make a dresser fully out of veneer.
Particle board
Particle board is the material you see on most of the cheap dressers. Particle boards are not durable and can break with too many clothes in one drawer or even from moving the dresser too many times.
Particle Board is best used when the cost must be kept extremely low. Oftentimes this product is used in combination with the above-mentioned veneer.
Metal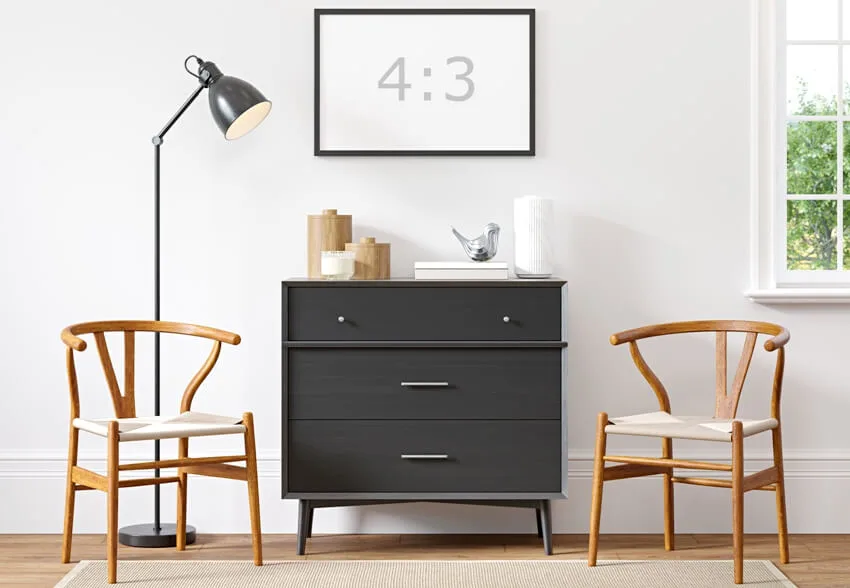 Metal dressers are not as common as some of the wood and wood like materials listed above, but they sure do make a statement. Metal dressers are extremely durable and can be a great deal lighter than wood, which makes moving much easier.
Metal dressers can even have multiple materials incorporated into them, for example, the base can be metal and there can be a laminate or wood surface. They can also come in a ton of colors and even be sprayed a new color when it is time for a refresher.
Mirrored
Mirrored dressers are an extremely elegant piece. They can make a space look larger than it is and add a level of sophistication.
As that stands it is recommended to be used sparingly, if too many pieces are mirrored it can create an extremely bright room or give off a few too many reflections. On top of that these types of dressers can be a bit delicate, they are not recommended for children's spaces or high traffic areas.
Leather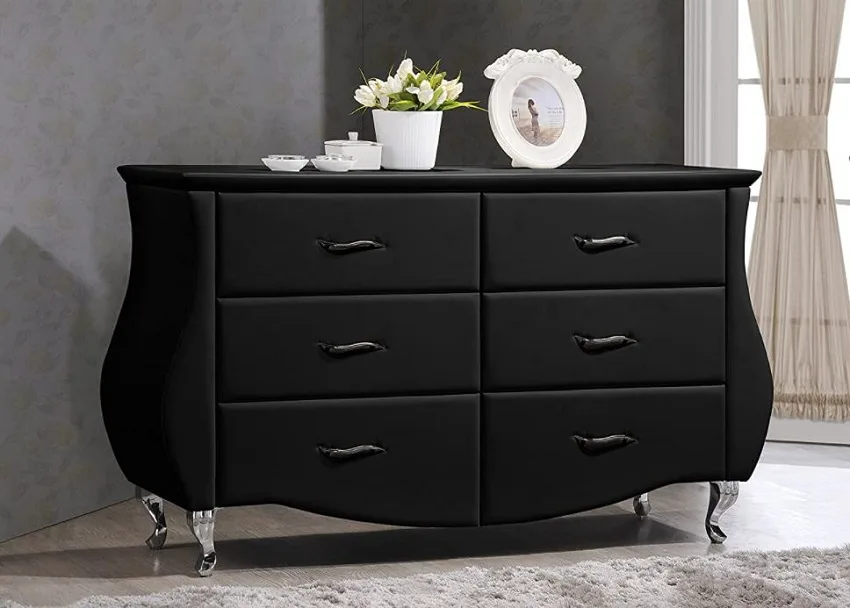 See this Baxton studio bbt2039 black leather dresser at Amazon [sponsored link]
While the first that that comes to your mind when you think dresser material probably is not leather, it can be a great addition to your space. Leather is more of the fabric versus the entire material of the dresser but it really sets it apart from its contenders.
Leather dressers are usually built from wood and then padded down and covered in leather. This can be real leather or faux leather, the former being longer lasting. Leather dressers add a softer feel to the space.
Wicker/Rattan
Wicker and rattan is woven, which gives it a texture and appearance that is unique to the other types of materials that are used for dressers. This can be made out of different types of plastics, woods, or other natural elements, which can cause a variety in the product's reliability.
Typically wicker and rattan is known for being water resistant and well as relatively durable due to the weaving that is done to create the piece.
Dresser Styles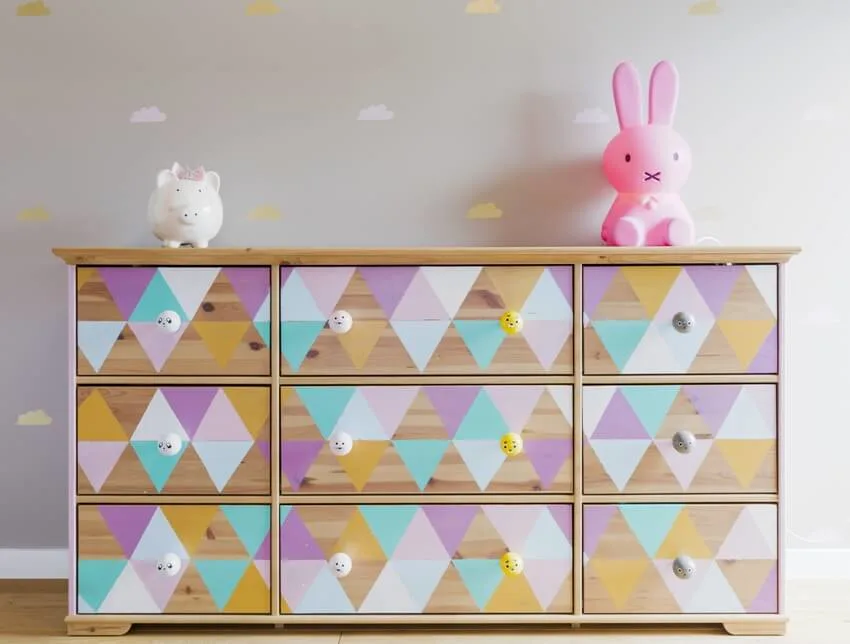 Now that we have covered type and material we can look into the styles of dressers so that the details of the dresser can fit the aesthetics of your home as well as the functions. Some of the most common styles are described below.
Traditional: A traditional dresser is typically made of wood, and has a great deal of decor, wood trim and even carvings. Traditional dressers are timeless pieces which is why wood is a great material since they can last for generations.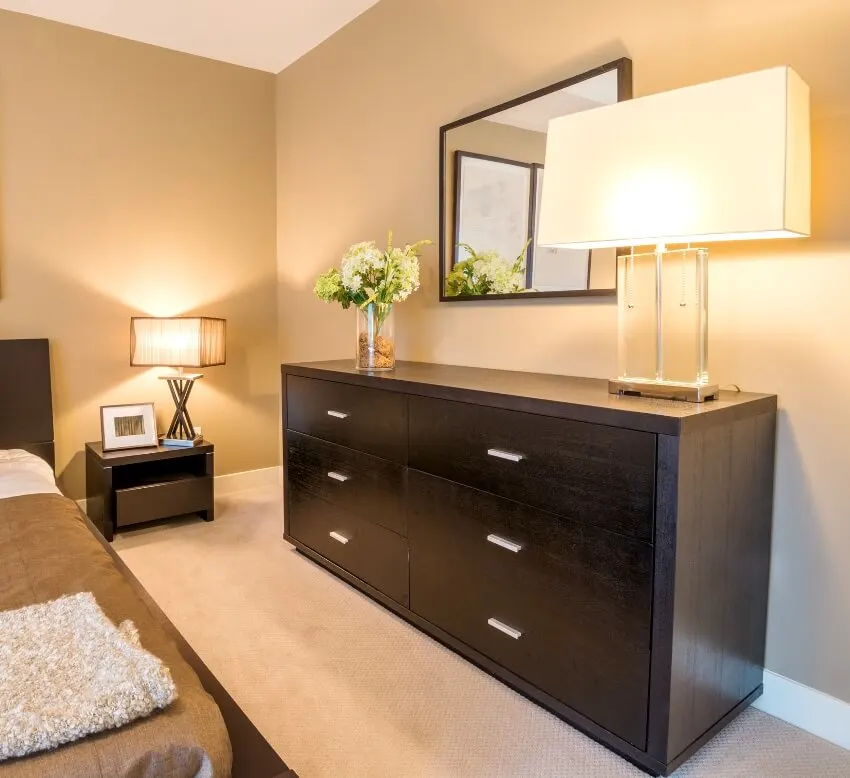 Contemporary: Contemporary design is just basically the current design. Currently that style is right up the alley of modernism. Contemporary dressers are often trendy and a hot item, but quickly become tacky or outdated as contemporary dressers change.
Modern: Modern dressers are extremely minimalistic, they have clean lines and typically no added embellishments. The modern design can be any color but is commonly only one or two.
Unfortunately modern design is made from some of the lower quality materials, and can become outdated quicker than a traditional option.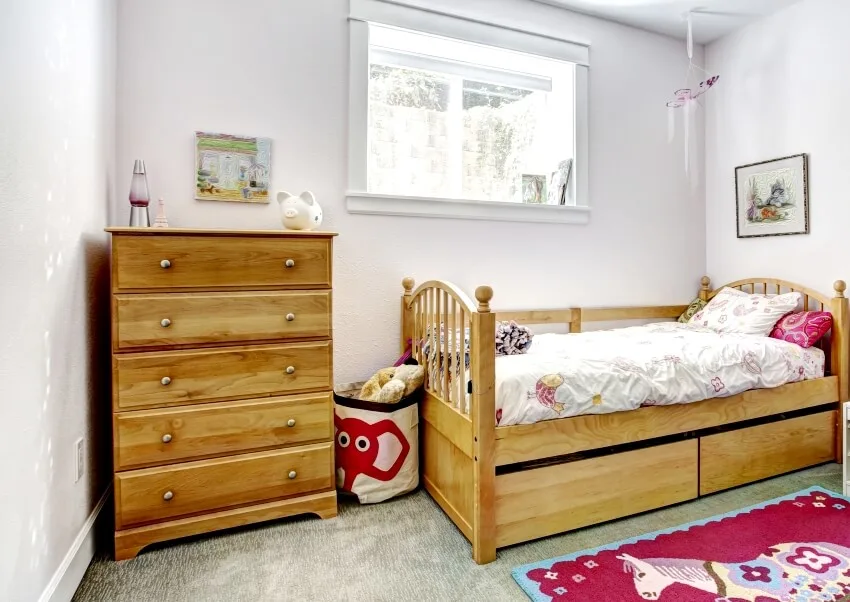 Rustic: Rustic dressers are all about the natural elements. Like most of the other dressers the preferred material is wood, but to make it easier rustic dressers do not even need to be stained or painted, leaving them as the natural wood is the best case scenario for the rustic style dresser.
Glam: Glam style dressers are extravagant while still functional. While one may automatically think gam to mean the tacky bright pinks and everything covered in glitter, the opposite is true.
Glam embodies sophistication and elegance. Glam style is the perfect place to bring in a mirrored dresser.
Antique: Antique dressers are somewhat petite and delicate. These dressers are often in pale colors and various whites, creams and woods.
Antique dressers are often treasured heirlooms and are passed down from generation to generation so must be made up from quality materials. This is typically wood, which is extremely durable.
To make the antiques extra unique they often include a few extra materials such as leather or stone.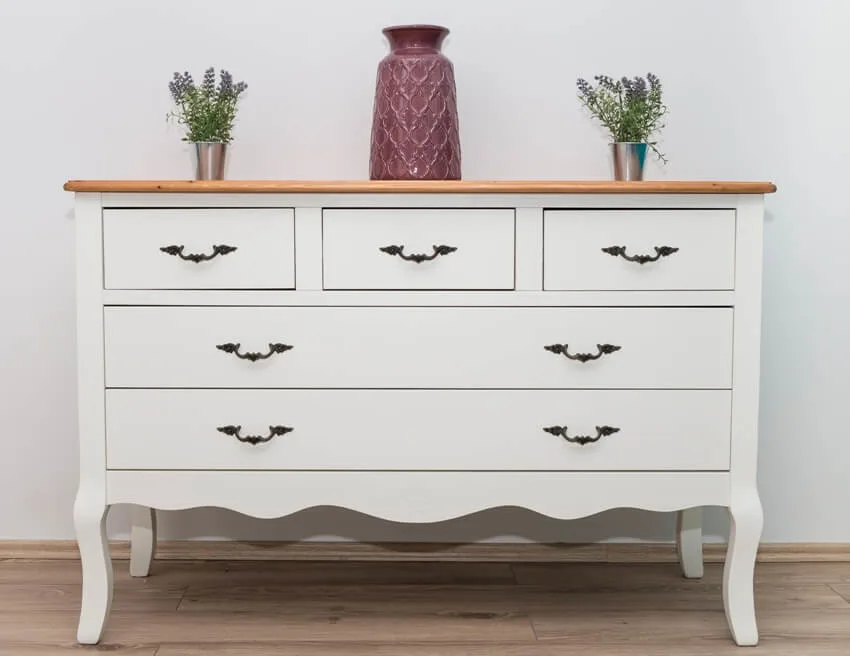 Shabby chic: Shabby chic dressers are what can commonly be referred to as cottagecore and have become somewhat popular in recent times. The main highlight is the distressed painted wood finish.
Dresser Sizes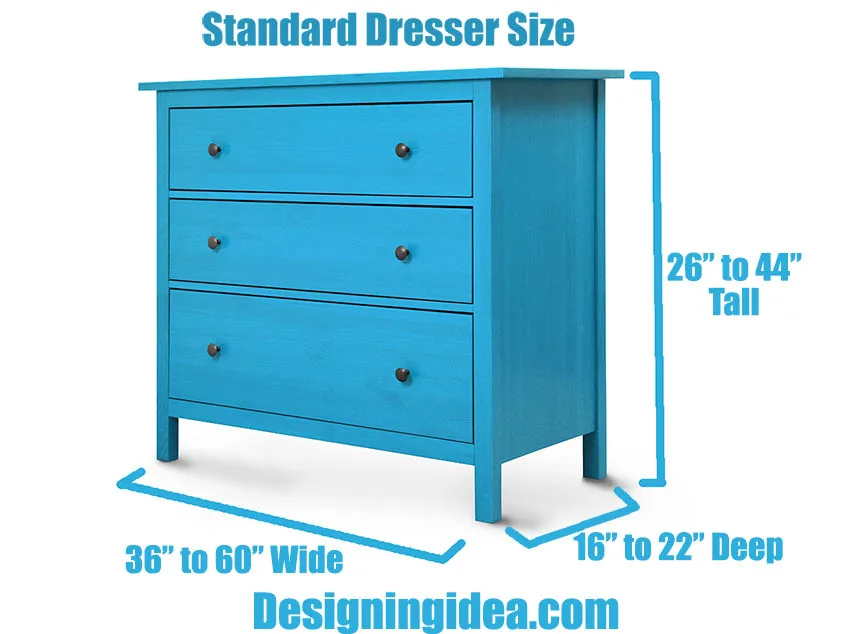 Dresser sizes are usually noted by the amount of drawers there are. Each drawer is about 5 to 12 inches. Multiply that by the amount of rows of drawers and you can get the height.
There are typically about 3 drawers in a standard dresser but the types and styles can vary. The standard width of those drawers are about 24 – 36 inches.
Standard Dresser Size
The standard dresser size ranges from 26″ to 44″ inches tall, 36″ to 60″ wide and 16″ to 22″ deep. When pulled out drawers extend about 10″ to 12″ from the dresser.
The wider and deeper the dresser is the more stability it will have. This is especially important for rooms with small children to avoid tipping over.
What's a Dresser with Doors Called?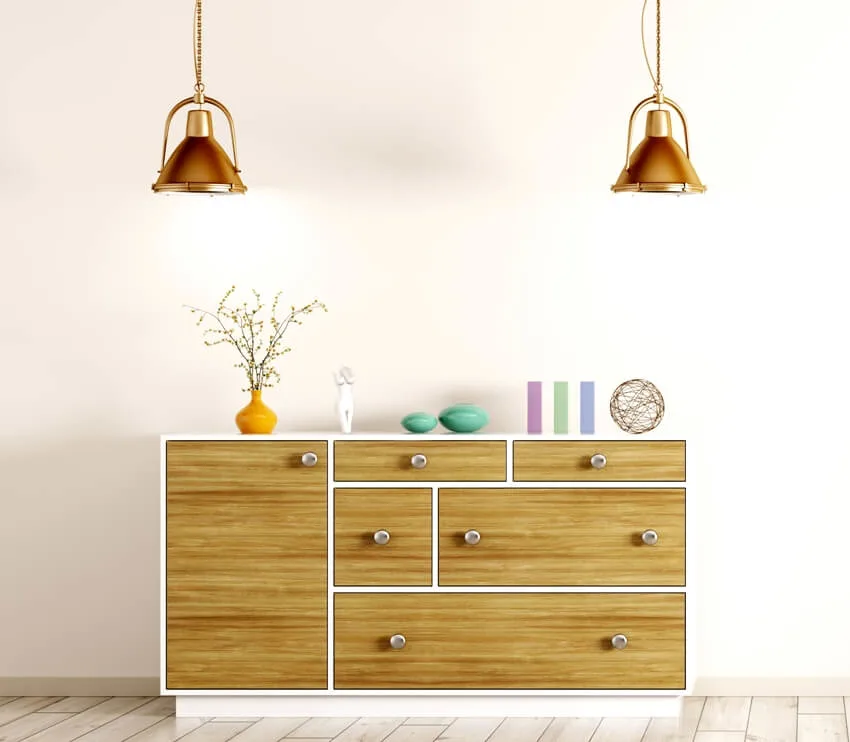 A dresser with a door is called a wardrobe, this can also be used in combination with differing types of dressers. Read more about bedroom wardrobe designs here.
What is the top of a dresser called?
The top of a dresser refers to the surface or top surface of the dresser.
If the dresser has two parts stacked on top of each other this is referred to as a highboy. Another variation of this can have a cabinet on top with drawers for the bottom portion.

In a baby nursery the top of a dresser is often used as a changing table.
What is a dresser with a mirror called?
A dresser with a mirror on top is called a bureau.
Difference between a dresser and a chest?
A dresser is typically horizontal and short with over six drawers. A chest is commonly smaller and more vertical. Both are generally used to store clothing.

Difference between a bureau and a dresser?
A bureau has a mirror attached to the top of the dresser, while a standard dresser does not.
Difference between an armoire and a dresser?
An armoire is typically a great deal larger and taller than a standard dresser. An armoire also typically tends to have an added section for hanging clothes.
For more related articles visit our gallery of the types of bookcases.