Here we discuss what is a buffet table including how it's used, standard sizes, designs, and comparison to a credenza, sideboard and console table.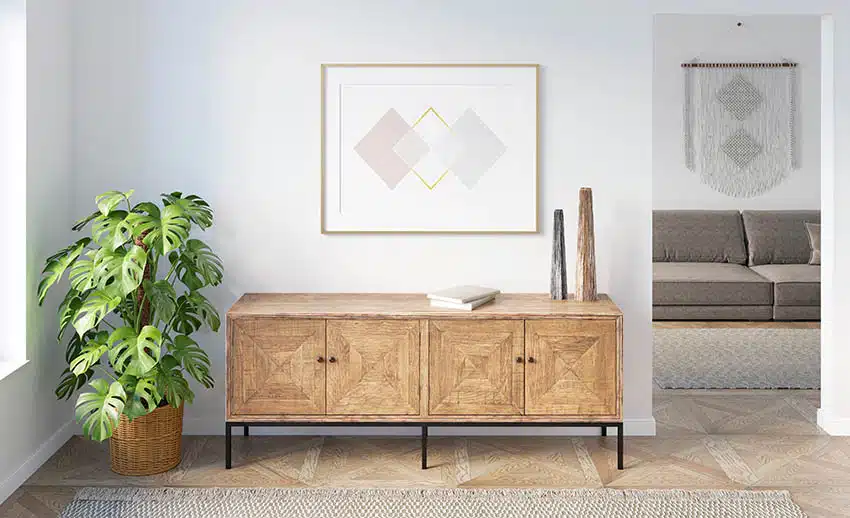 In the 18th century, Sweden's smorgasbord introduced a buffet-style serving to the rest of Europe. A buffet table's flat top is ideal to use for arranging all of your serving dishes. Everyone can enjoy themselves comfortably from the buffet table at large parties and family gatherings.
The drinks, appetizers, or desserts are on the buffet, leaving the main course in the center of the table. But what exactly is the primary purpose of a buffet table, and what size is ideal for your home?
What is A Buffet Table Used For?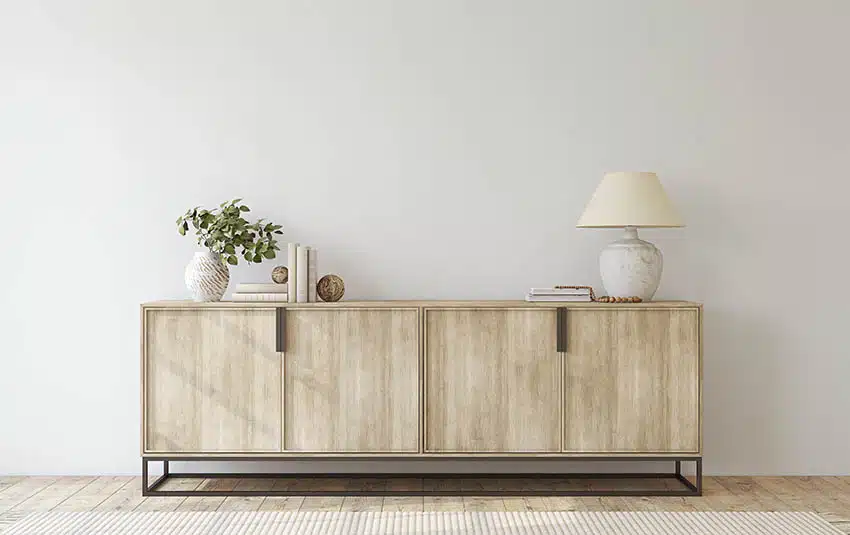 A buffet table, also known shortly as the buffet, is a lengthy, low piece of furniture used to organize and display food and items in a dining room. You can also use it as an additional surface for serving food.
Buffet tables are flexible enough to be used as storage and display in a living room and a hallway. You could even repurpose a console table with a drawer into a sideboard or buffet in your dining room. Nowadays, people use a buffet table in various ways as its uses become more diverse.
Serving Surface – Traditionally, you can use a buffet table for precisely what its name suggests – a buffet. People would place serving dishes of food on it and fill their plates.
These types of tables are an excellent option if you need to entertain a large group of people at get-togethers. It also intends to provide adequate storage for your formal occasion dishes, kitchenware, and linens that you typically find in a dining room.
Having your food displayed in this manner also provides the benefit of crowd control. People form lines rather than congregating in one place. You see everything as you go through the food and sit down.
Another great way to use the buffet is to serve drinks to guests by placing a serving tray with a refreshment or coffee set-up on top. It can also be used to decant spirits or as a cocktail bar.
A Showcase Area – This furniture is excellent for displaying finger foods at a party, but it can also display other items. You can elegantly arrange your desserts to impress everyone. You can make a chocolate tower or show off your fantastic cake.
You can also use it to show the guests where to place their gifts and join the party. The buffet table is the way to go if you want to show off something for the occasion. When not used, the top surface can display a symmetrical arrangement of decorative accents such as candles, lamps, and artwork.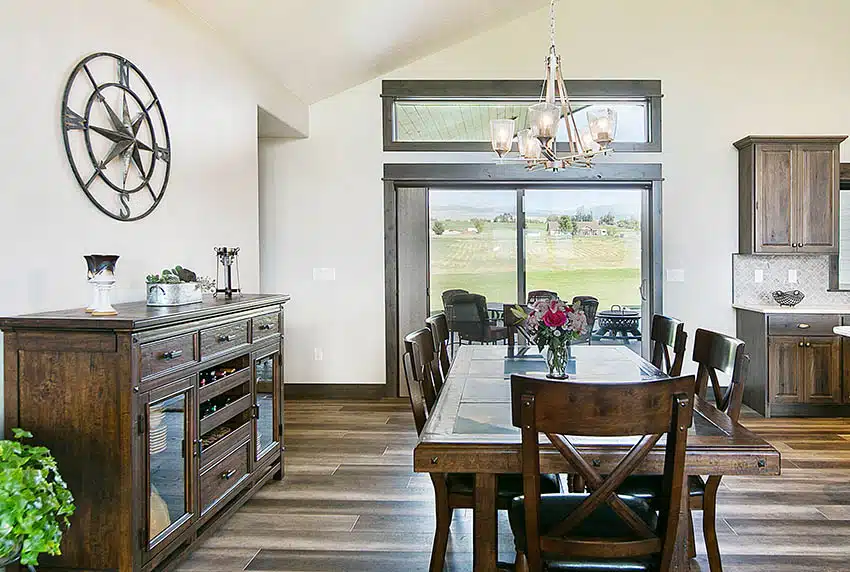 As A Decor Piece – With today's designs and options, you can find a buffet table that complements your space. You can use it as storage and a decorative piece in your dining room. There are numerous styles to choose from, whether antique or modern.
You can also decorate its surface to make it the focal point of your room. It is perfect for holiday decorating or accenting whatever you want to put on its surface. It can be the ideal place to display your favorite holiday scenes to your guests.
For Extra Storage – A buffet table is ideal for storing extra silverware, dinnerware, and napkins. Some people even use it to store their fine china when they want to be more formal.
In contrast to a standard dresser or cabinet, it might have fewer drawers because it intends to house smaller objects rather than bulky clothing.
Furniture Replacement – You can use buffet tables in place of other pieces of furniture, like a dresser in a guest room or your bedroom. It also provides excellent storage and is an excellent addition to any home office.
It all depends on your imagination and creativity on how this piece of furniture will assist you in expanding and changing your room.
What is The Standard Size of A Buffet Table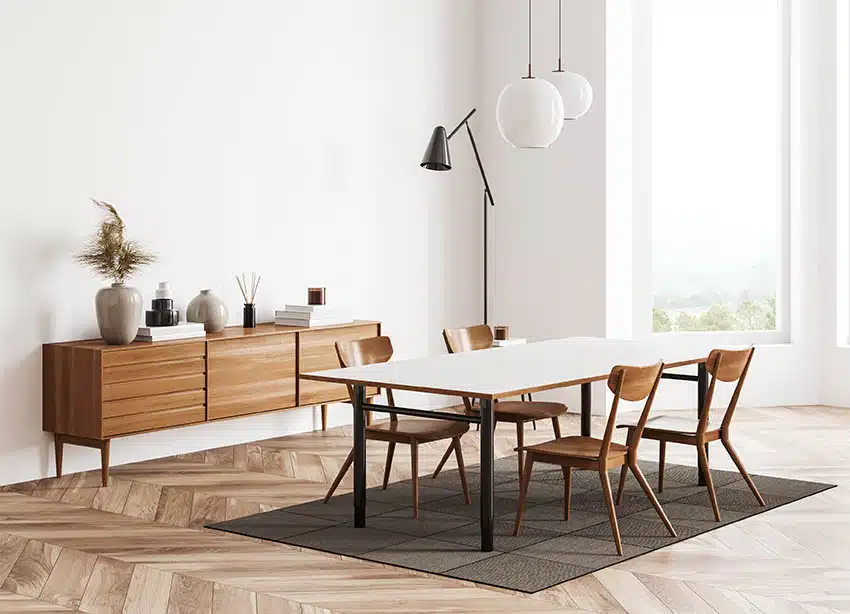 Though buffet tables are typically long and low, you want them to be the appropriate size to suit your dining room and look proportionate to your table. Here are some guidelines to consider:
1. A buffet's average depth ranges from 20 to 25 inches. Ensure your sideboard is just a little deep because comfortable circulation requires at least 24 inches of space between pieces of furniture.
2. A buffet is 60 inches long on average (side to side). That is appropriate for a dining room table of the same length or longer. A 60-inch-long sideboard, on the other hand, could dwarf a smaller 48-inch-long table that seats four.
A buffet should also be the right height to serve food from the top conveniently. Consider the standard height of your kitchen counter: 36 inches. That is approximately the correct height for your buffet. However, some buffets range in height from 34 to 40 inches.
Buffet Table vs. Credenza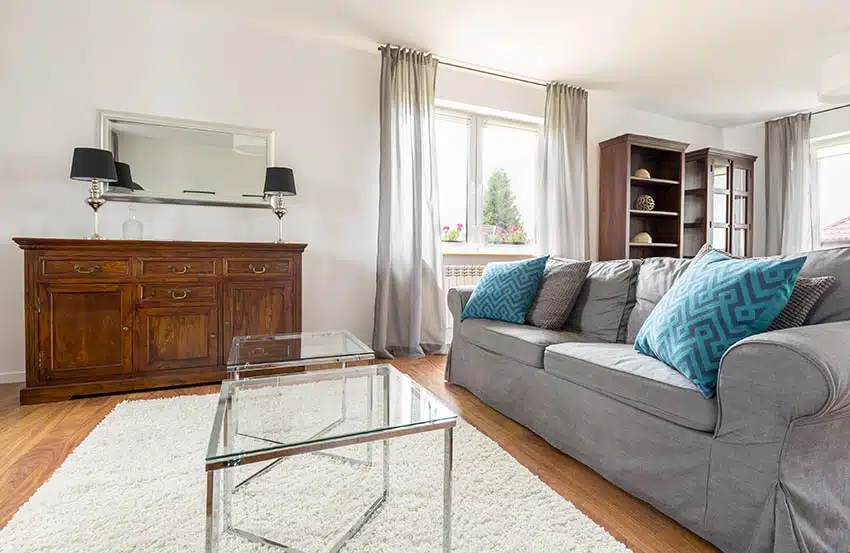 Buffets and credenzas are almost the same in construction and function, but they are distinct types of furniture. A buffet table has longer types of legs and serves as storage, whereas credenzas are longer than buffets and shorter, with no or short legs.
A buffet includes a cupboard and cabinets and a designated area for table linens and other dining items. They are frequently from beautiful hardwoods such as mahogany, oak, walnut, and pine.
Modern credenzas are frequently built-in and used to store china or glassware. It also serves multiple functions, including extra counter space for food and beverage preparation and serving.
If you intend to serve from your credenza frequently, look for one with a heat-resistant top. Credenza is typically wood, but the ones used in restaurants are stainless steel.
Buffet Table vs. Sideboard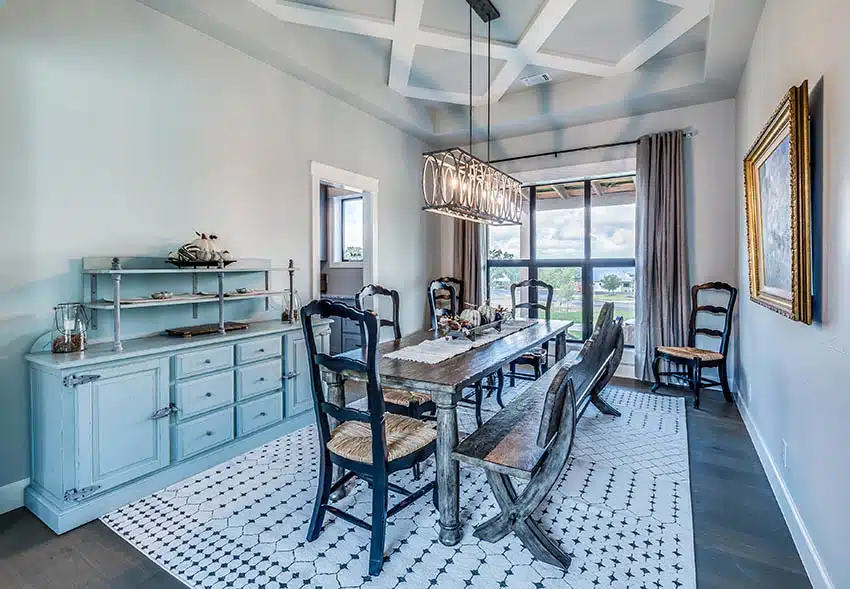 Sideboards and buffet tables are nearly the same piece of furniture today, but they are used in different rooms and for different purposes. A sideboard is a buffet table used in a dining room to display kitchenware and serve food. It refers to a sideboard when used elsewhere.
The sideboard name is a play on the word "side table," but it refers typically to side tables used to keep and showcase fancy utensils and cookware. It started as a display table with two pedestals holding it together before adding drawers.
Modern sideboards can add a luxurious touch of storage to a dining room or living room while also allowing you to display more decor artfully. On top of it, you can showcase decorations and niceties or use them as a serving table for dishes and food.
The last main distinction between a buffet table and a sideboard is that buffets are more extensive. They have bigger cabinets, sit lower to the ground, and have shorter legs. Read about standard sideboard sizes here.
Buffet Table vs. Console Table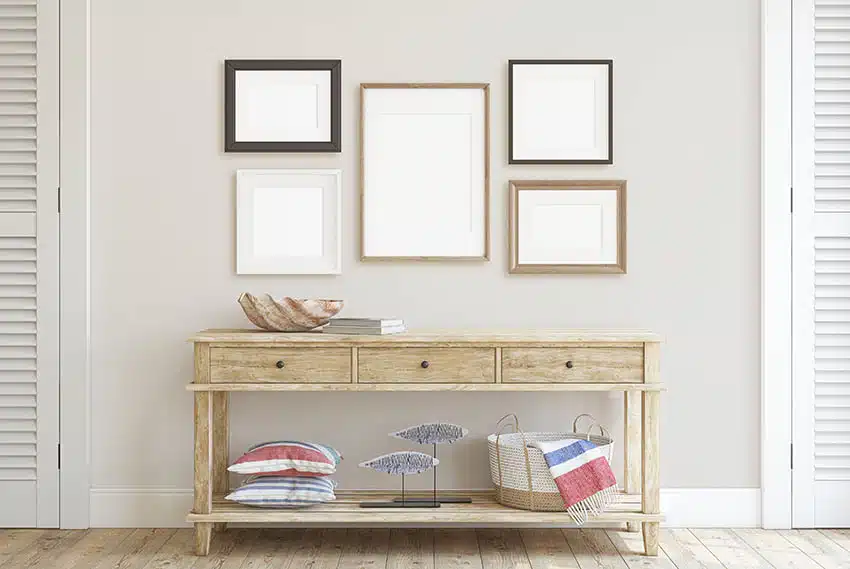 While a buffet table is a piece of dining room furniture that you can use to serve food and provide storage, a console table is a kind of dining room furniture that you can use alone or in conjunction with another console table.
Its intention is to support the weight of a mirror atop the console table, but it has since evolved into a table purely for decorative purposes. It's design is typically open underneath rather than having cabinets. Read more about console table sizes on this page.
A console table is usually against a wall opposite another two and does not have drawers. It was an alternative to the mirror once hung above console tables due to its inability to support its weight. They are now exclusive decorative pieces frequently used in entryways, hallways and dining rooms.
On the other hand, a buffet console table is a multi-purpose piece of furniture that can serve food, display serving dishes, and provide storage.
When not used to serving food, they have an open shelf underneath the countertop or tabletop area to store large serving dishes. Buffet tables come in various styles, but there is no distinction between them and sideboards.
For a related article visit our gallery of sofa table ideas on this page.