This gallery of sofa table ideas includes its purpose, different designs, styles, materials, sizes, decorating, and tips on how to choose sofa tables.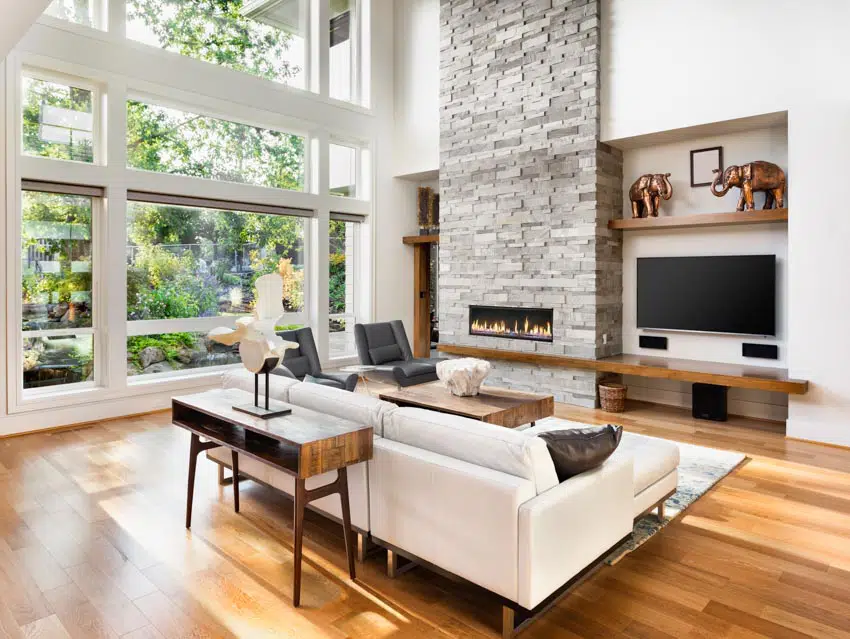 Are you thinking about what furniture to put in your living room? Well, there are many options to consider from sofas to ottomans and console tables. You may also want to explore sofa tables and if they are compatible with your home. And no, these sofa tables are different from coffee tables and console tables.
You probably haven't heard of sofa tables that much compared to other pieces of furniture but if you want all your Ts crossed and Is dotted, this is an option worth exploring. These pieces are actually excellent partners to your sofa and would look chic and stunning as a pair.
Sofa tables are flexible and can be installed in different locations, including against the wall and behind the sofa. And there are different purposes that the table can act, which will help you decide if this piece of furniture is something you would want to include in your living room.
Sofa Table Designs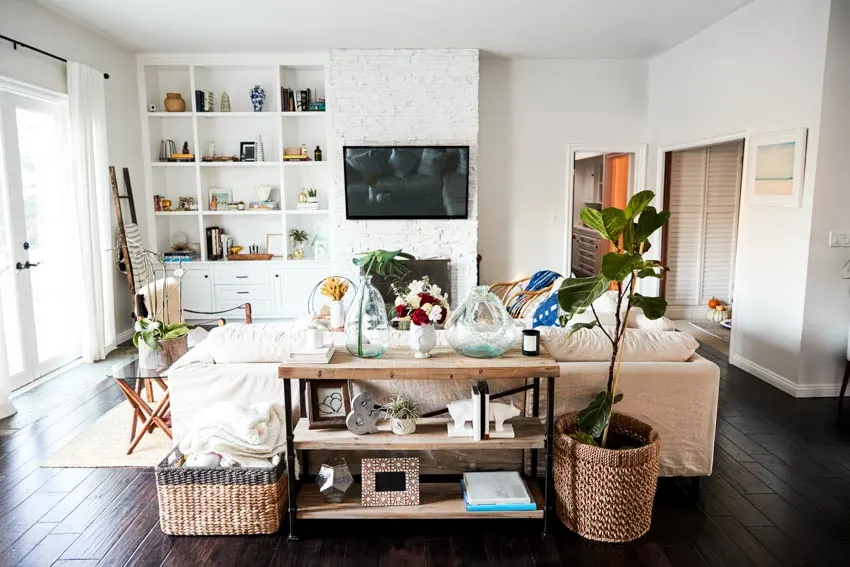 Sofa tables can come in different forms, styles, and designs, and you will need to decide which one can contribute to your purpose. The chosen design of your sofa table can help you with the vibe you want your living room to have.
These sofa table designs have different sizes and structures that can contribute to a particular style or vibe. And you only need to match it with what you have going in your living room. And this additional aesthetic value is just one of the benefits you can make the most of.
There are other functions embedded in the designs that you can take advantage of. Finding the ideal sofa table for your living room can turn your area's vibe around. You only have to know what to look for and here are some options to check out, which is always a good place to start.
Slim Type Table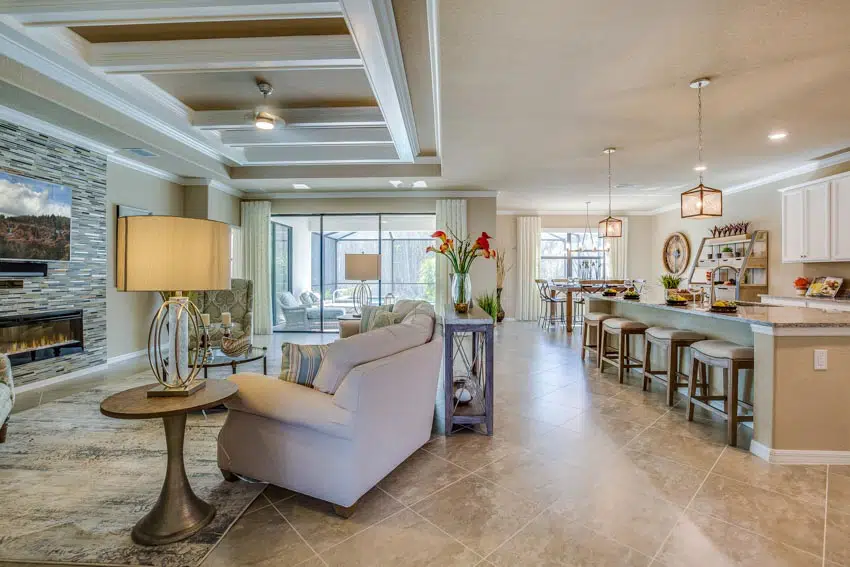 A narrow sofa table is popular for its slim look that's perfect to be installed behind your sofa or in a confined hallway in your living room. One of the functions that sofa tables refer to maximizing space and filling out empty ones.
You can turn the empty spaces into a whole new area in your living room, from additional storage space to a stunning display space featuring picture frames of your entire family.
Narrow sofa tables are created to fit slim spaces in your home and maximize the available tight spaces in the living room. More than just filling up space, this table is a versatile piece of furniture that can also have other functions. It is guaranteed an ideal option though if you have a small living room with limited space.
Most narrow sofa tables showcase this minimalist look that offers an open space for displaying items on top of the table or just to have essentials easily within reach. But the ideas and designs are endless and can be subjected to customization.
Table with Storage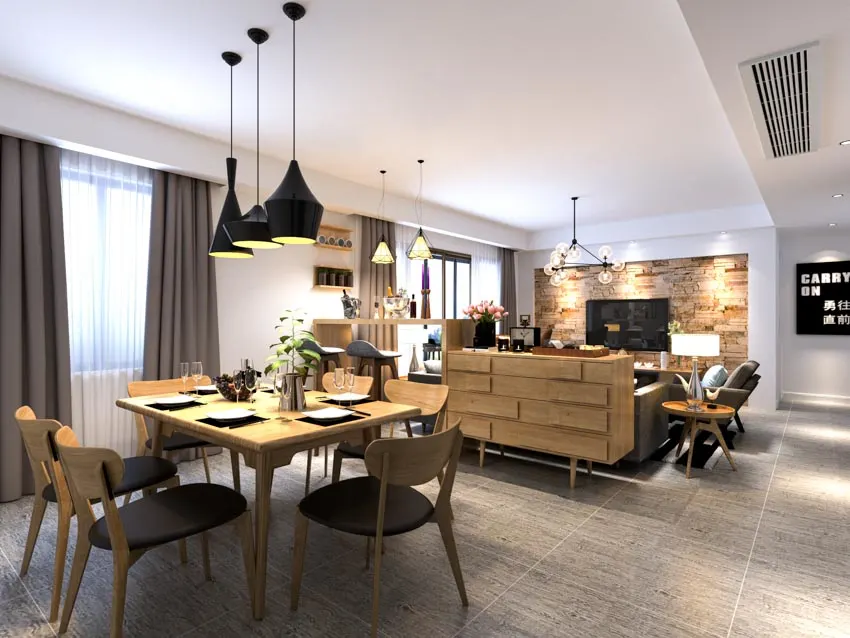 Sofa tables with storage showcase that transforms this decorative piece of furniture into a highly functional one that can hold a number of household items and possessions in. And this storage can come in different forms, including a shelf underneath the table, drawers, and trendy baskets and boxes.
For drawers, your mail and keys can be safely kept where you can check them out easily. With the desk, baskets, and boxes under the table, you can store common items like books and magazines, journals, candles, and lamps, as well as toys if you have children at home.
The main difference though is that putting them on the shelf will put these items on display and may be used for decorative purposes but if you want to keep the living room clean and free from possible clutter, putting them in decorative boxes and baskets can do the trick.
A sofa table with storage can come in different sizes, colors, and designs as long as they fit your living room's ambiance and style. And whether you go for drawers, shelves, or baskets, additional storage is a smart choice to consider for your sofa table.
Sofa C Table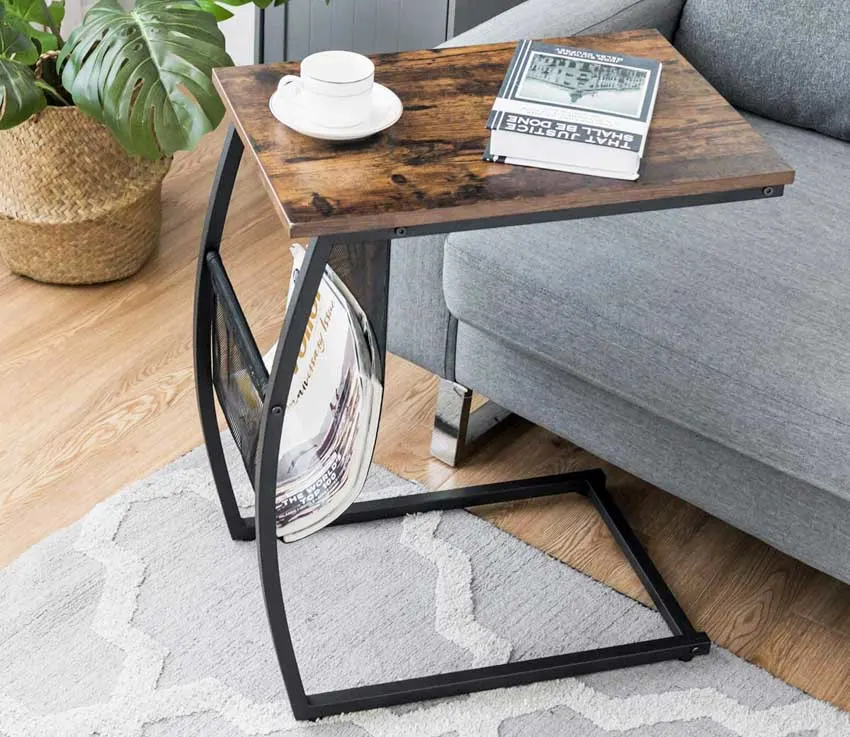 See this sofa C table at Amazon [sponsored link]
A sofa C table is considered one of the more modern designs that cater to people's change in lifestyle as they adapt to the rise of technology and its relevance to everyday life. It is the perfect table you can use whenever you want to use a laptop or similar gadget while in the living room.
As its name suggests, this particular sofa table sports a C (or reverse C) shape where your legs will fit nicely and comfortably inside the letter's curve when you use the computer.
It's an upgrade from the 1950s tray table and focuses on the comfort it offers by bringing relevant items within reach like food, drink, or a laptop. This table is usually placed in front of the sofa to meet this purpose.
Long Table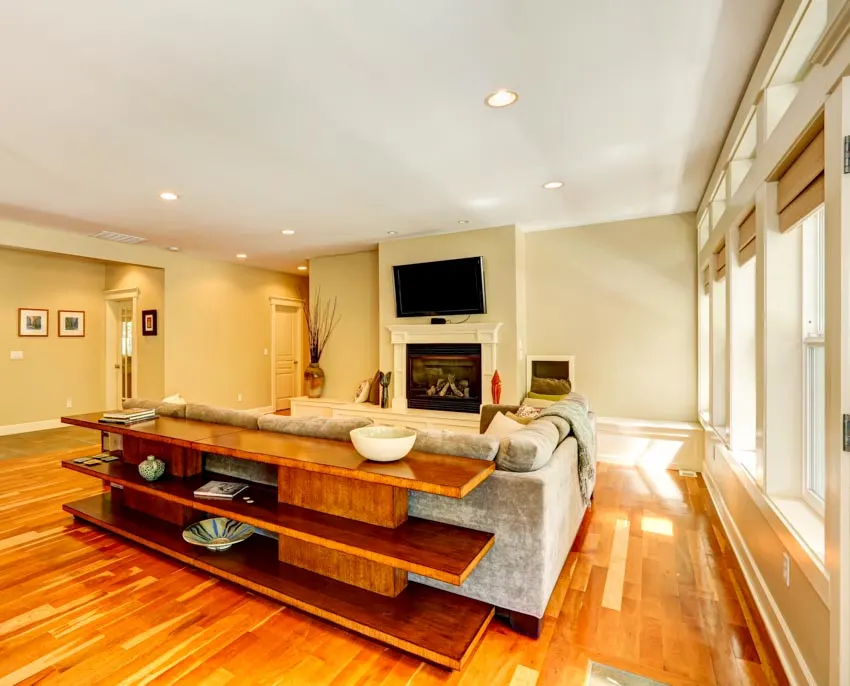 A long sofa table is normally structured with the same length as your sofa. It can also be longer if that's what you prefer to have. This type of sofa table works fantastically as a divider in the living room, whether to separate it from the dining area if you have a living room and dining area combo or to section a specific area in your open-space living room and delineate the space.
These sofa tables may be long but they usually stick with the same height measurement as the sofa or shorter to create some sort of symmetry between the two pieces of furniture. And in terms of length, a long sofa table measures around 60 to 100 inches, depending on the maker and the customization you want to do with it.
Small Table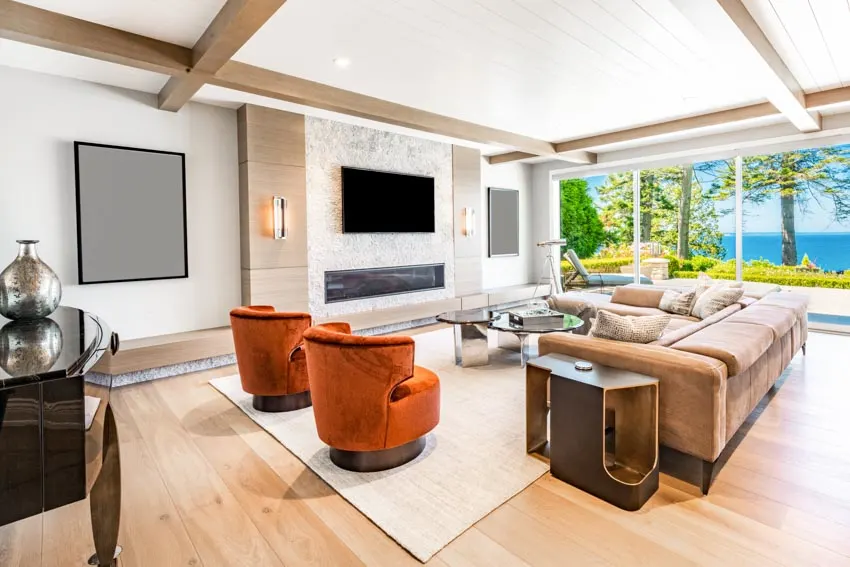 A small sofa table usually measures less than the length of your sofa and can come in around 30 to 60 inches, depending on the design and the manufacturer.
While a long sofa table may pair well with the sofa in your living room, this type is short in length and sometimes may not seem like a good match to your sofa. You can place it on one side of your sofa to seem more balanced compared to the usual location behind it.
One thing you can do with a small sofa table is to pair it with either a medium-sized plant or a large basket to visually make up for the remaining space beside it.
Tall Table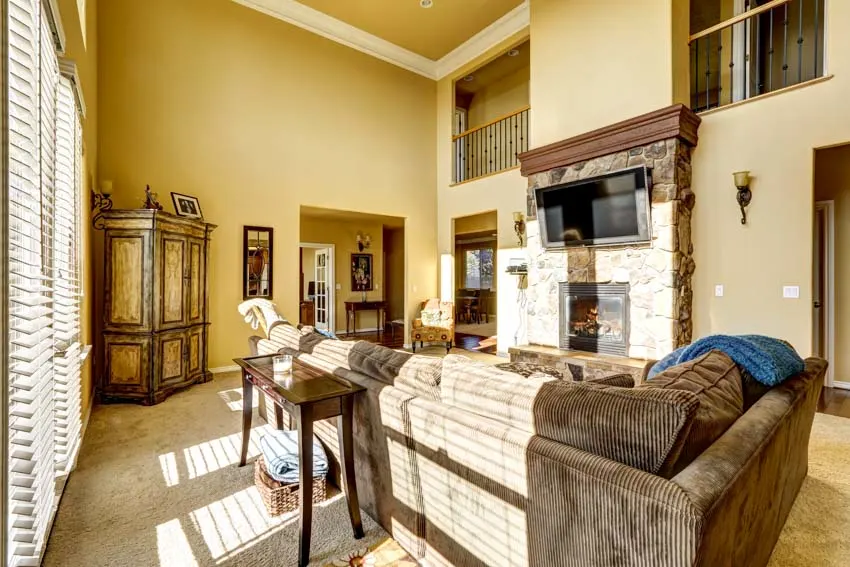 The standard height of a sofa table should fall at the same measurement as the sofa, in order to match perfectly with it. If you want to use a sofa table though, you can choose a counter-height one and place it as a standalone table and featured as an accent in the living room.
You can also pair a tall sofa table with stools, making it more functional and a pretty little corner in your living room to enjoy a few drinks or some snacks. A tall sofa table will look wonderful in something rustic and industrial so you can use something metallic or distressed-finished wood.
DIY Table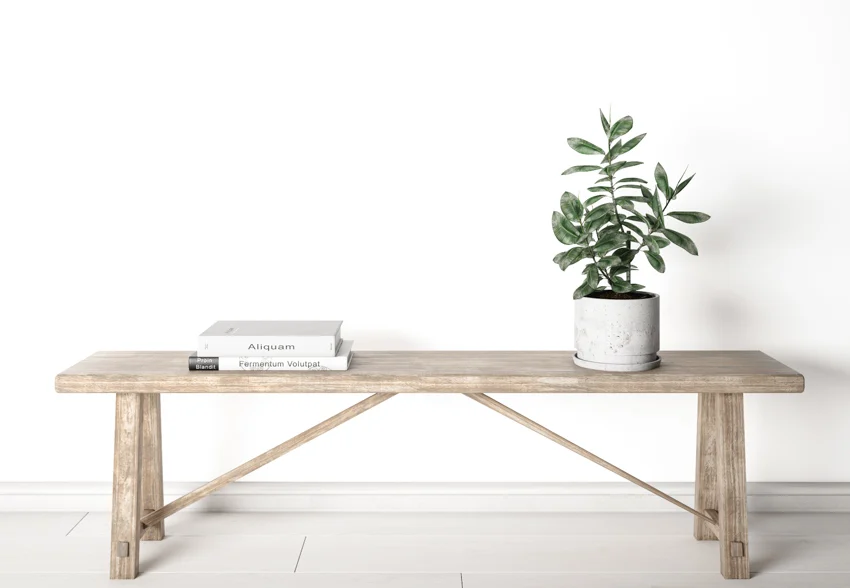 One of the best ways to get exactly what you want with your sofa table is to do it yourself. If you have the right skills and tools at hand to work on it, you can create a stunning DIY sofa table that can spruce up your living room.
A DIY sofa table can be handcrafted to fit whatever ambiance you have in your home. And since it's DIY, you have the say and option to choose the material, size, colors, and style you need to work with. One of the best materials to use is wood because it's easier to work with but you can customize it however way you want.
Slide Under Table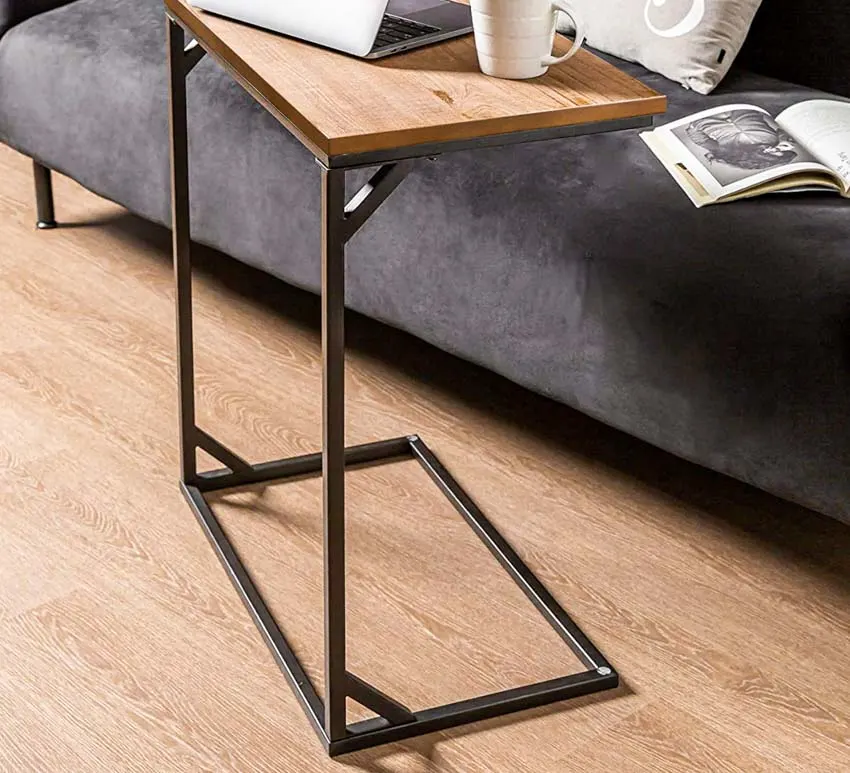 See this slide under sofa table at Amazon [sponsored link]
Similar to a sofa C table in terms of shape and structure, a slide under sofa table prioritizes functionality and convenience. This table is versatile enough that it can easily slide through your sofa to place the furniture near you to do the tasks you want comfortably.
It is the perfect surface to place your books, TV remote control, a bowl of popcorn or a can of beer. Whatever you decide to choose it for, it will help guarantee convenience and functionality. And that's on top of the aesthetic value it can contribute to your living room.
Outdoor Table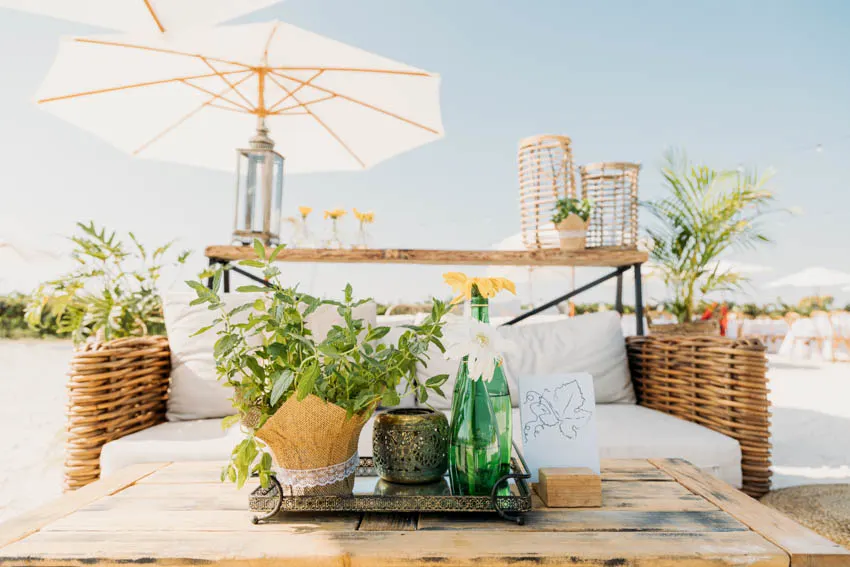 An outdoor safe table is a versatile piece of furniture that you can use both indoors and outdoors. This is mostly made of durable material in order to take the wear and tear from outdoor and weathering elements. Some outdoor sofa tables though are not portable enough to be used indoors too but are incredibly durable to make up for it.
One of the most popular outdoor sofa tables is the concrete outdoor sofa table. This type is durable with a rugged and industrial charm to boost. It is also an affordable option but makes sure that the vibe you have outdoors can match its raw charm and ambiance.
Mirrored Table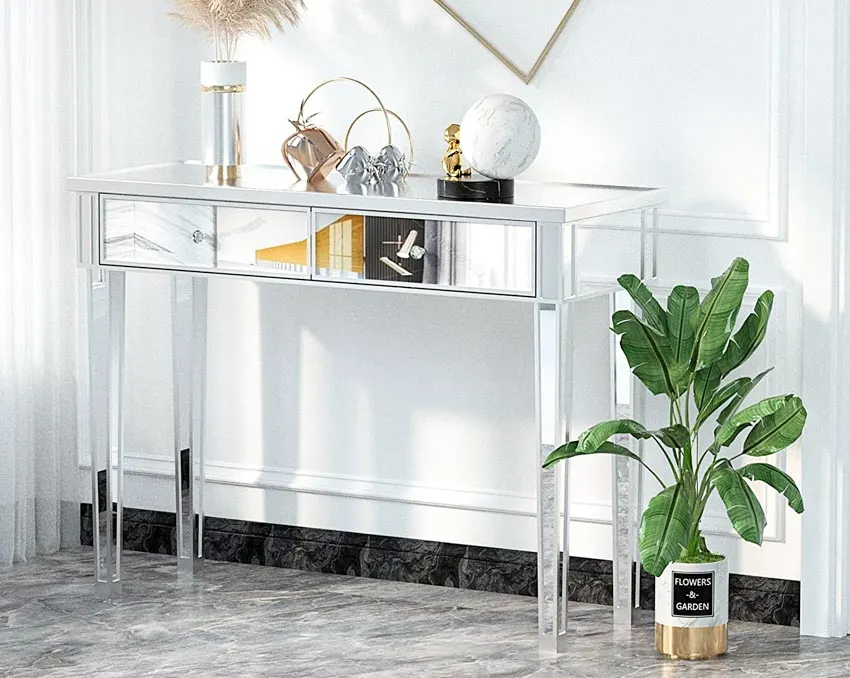 See this mirrored sofa table at Amazon [sponsored link]
A mirrored sofa table is sought-after because of its stunning aesthetics. If you're looking for something that can add glamour and glitz to your living room, a mirrored sofa table can do the trick for you. You can go for a cleaner and more traditional profile or you can choose a more unique and quirky design.
This particular sofa table is crafted with mirrors that offer a shiny and sleek look. Rhinestones can also be added to serve as an accent for this luxurious sofa table, whether in its base or the sides of the panel. Its legs can also be gracefully structured, with curves or additional glitz.
Table with Outlet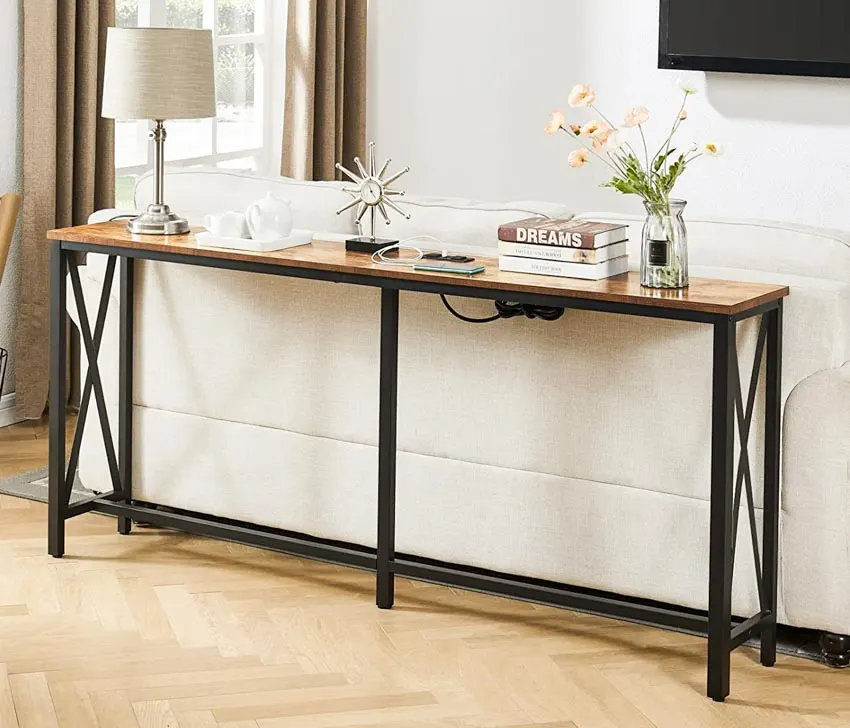 See this sofa table with outlet at Amazon [sponsored link]
If you want something highly functional that goes beyond just how a normal table works, you can choose a sofa table with an outlet. This type of sofa table is ideal for those who are usually on their laptops working.
It will also be highly convenient since you can charge your phone while watching the television or having a snack in the living room. And yes, this means you won't need a 20-foot extension cord just to make this possible!
A sofa table with an outlet is not easy to come by and you may end up having one customized if this is what you're looking for. It is designed with an outlet integrated into the table's panel with the cord running the inside of its leg for a clean look. Most outlets installed in the table include 2 USB outlets and 2 electrical outlets.
Curved Table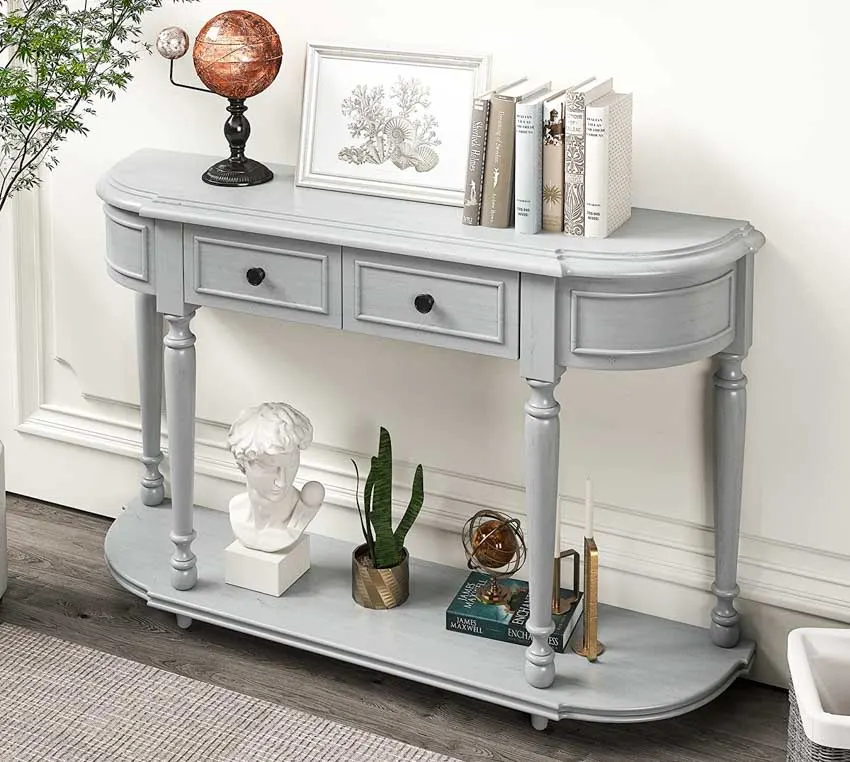 See this curved sofa table at Amazon [sponsored link]
A curved sofa table literally looks just as it is named, which is with a curved look that will only be compatible with a sofa that has a similarly shaped back. This can be a good option if you have a curved sofa in the first place.
At the same time, it will look particularly out of place and space-wasting if you pair it with an ordinary-looking sofa. One thing you can include is a pair of columns at the ends of the curved table, giving it a smoother and more elegant look.
Table with Bar Stools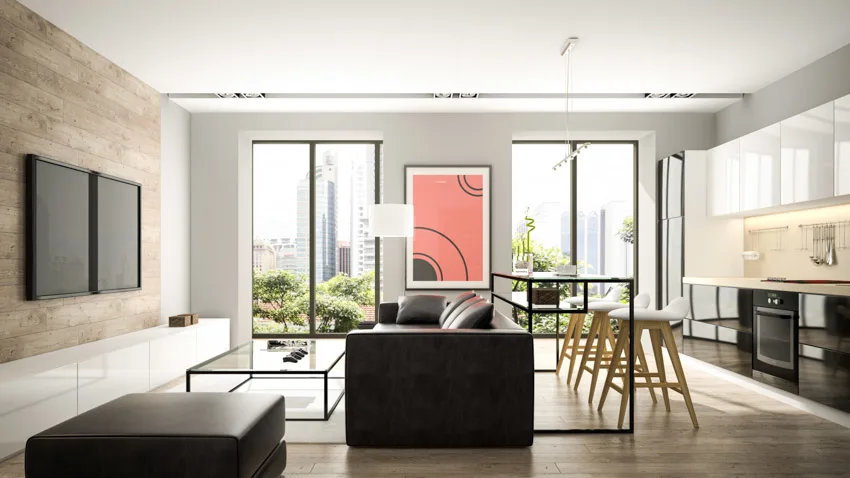 Sofa tables can also come with bar stools and this is if you decide to improve the functionality of the table to deliver extra seating in the living room. You can even place an entire bar, complete with glasses and drinks, underneath it and just keep the bar stools beside the table.
You can also set the sofa table behind the sofa and then place bar stools underneath it. You will have two rows of seating you can allot for your friends and family when they come over. This is one reason why sofa tables are incredibly versatile and worth considering for your living room.
Styles Used for Tables Behind Sofa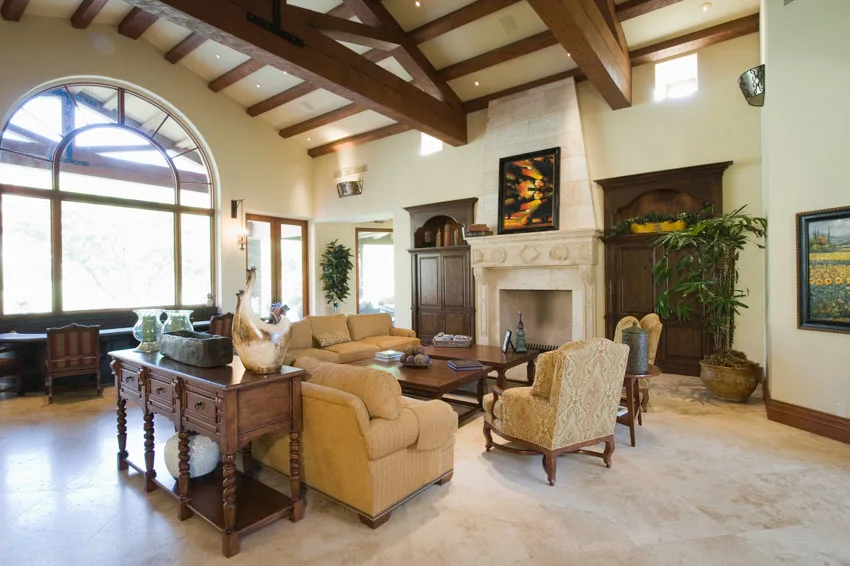 Besides the structure and design of a sofa table, another factor you need to consider is its general style or the ambiance that it delivers. This will immediately tell you if the piece of furniture will be compatible with your living room or will simply loom out of place.
While highly functional, sofa tables are decorative pieces that can increase the aesthetic value of your living room and home, adding a unique element to them.
And while this piece of furniture may definitely give your living room a refreshing look, make sure that it stands out while at the same time working with the current vibe of the area. Explore the different sofa table styles and check out the one that may fit your home.
Farmhouse Table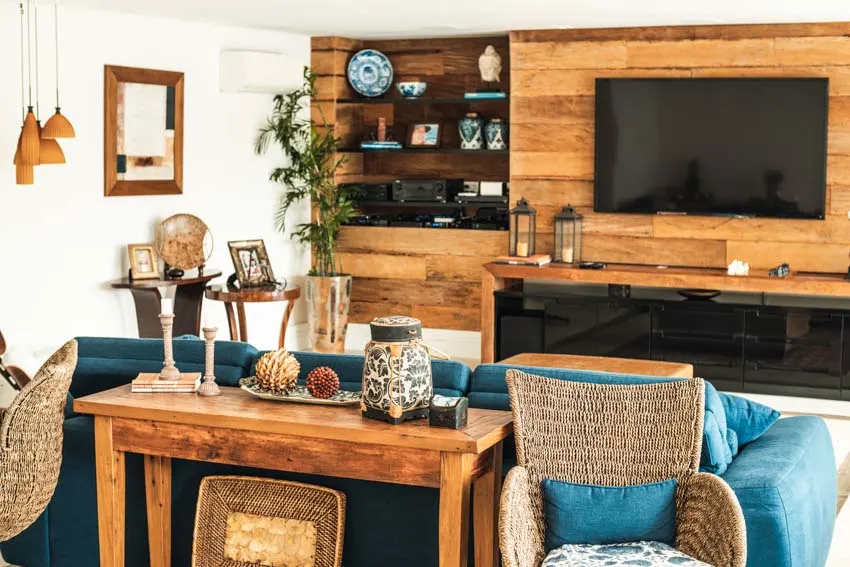 Farmhouse sofa tables deliver a natural look that you could associate with something provincial. If you're going for something casual and comfortable for your living room then this could be a good option. This natural vibe is charming to look at that can be related to something relaxing and peaceful to experience.
A farmhouse sofa table offers a country feel to it, which is why if you match it with stools they should also have a natural and cozy feel to them. And to anchor it to a provincial lifestyle, the table is usually made of wood with a bit of metal.
Rustic Table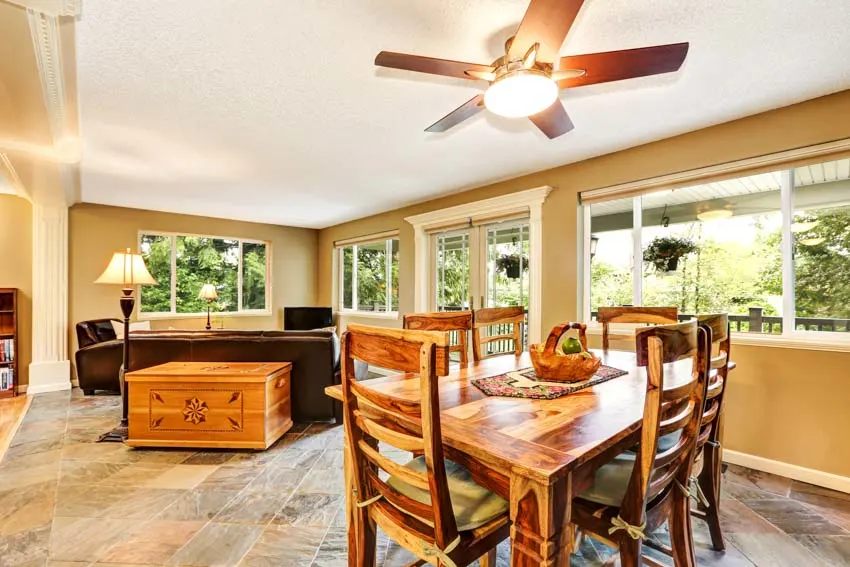 A bit similar to a farmhouse sofa table, a rustic sofa table features this ambiance of home and nostalgia. With added texture, this type of sofa table has a vintage touch to it and screams stunning aesthetics that remind you of home.
Swirls and knots of a wood's grain can showcase this rustic style, expressing a vintage artful appearance in the process. You can include this type of sofa table if you have a rustic theme in the interior of your living room or if you want an element that can add warmth and counterbalance your modern-themed home.
Contemporary Table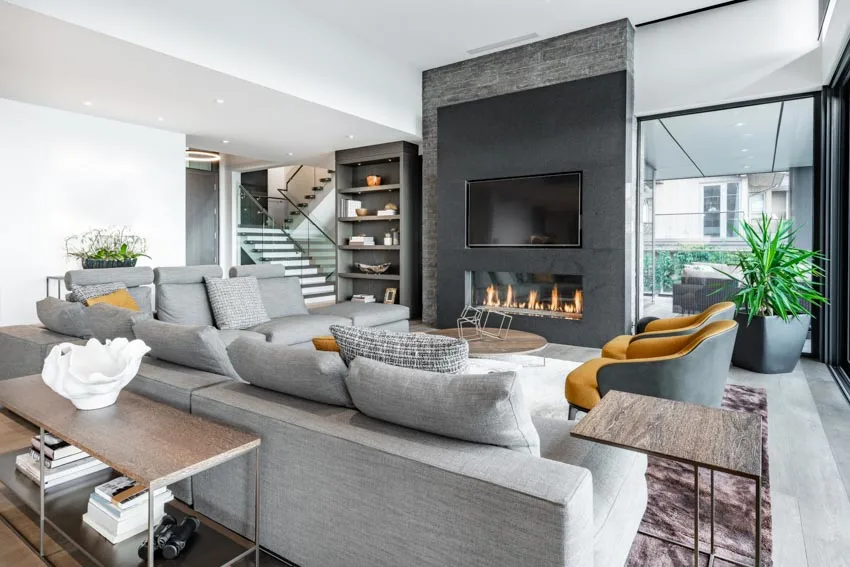 Contemporary sofa styles feature the colors and shades of white, beige, and gray delivered in minimalistic elements and showcasing sleek and clean aesthetics. And when this style is applied to a sofa table, what you get is a sharp piece of furniture with rich contrast and a smooth appearance to look at.
With a contemporary sofa table, you can partner this with a clean-cut sofa in minimalist colors. You can also add extra storage to the table or use it as a table to display additional decor, from picture frames to your favorite books.
Modern Table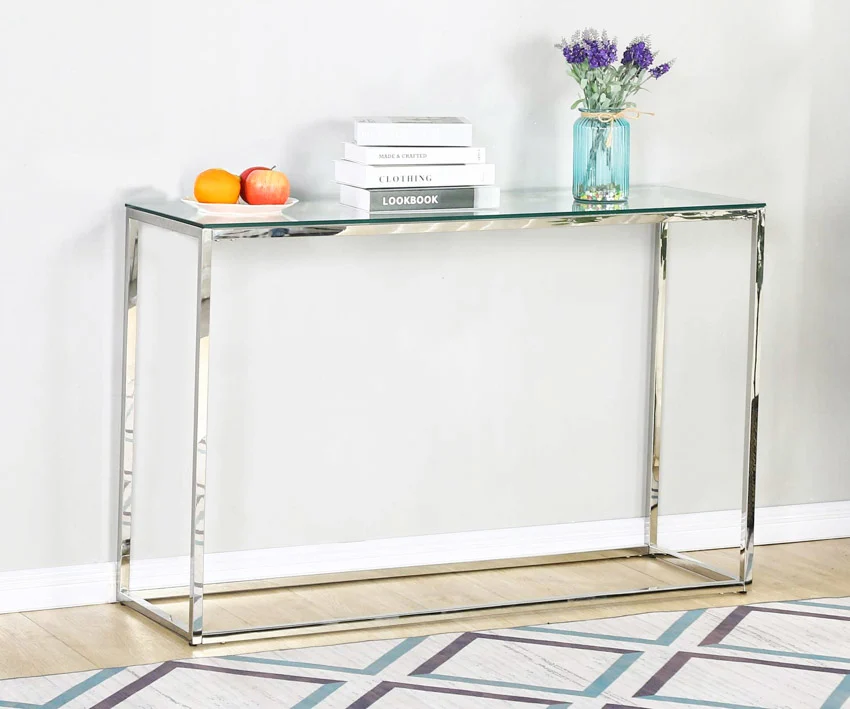 See this modern sofa table at Amazon [sponsored link]
A modern sofa table features several modern elements, from unique patterns like geometric prints to trendy color matches and new curves. If you choose a modern sofa table, there is a wide range of looks and vibes you can consider, from a minimalistic approach to new patterns to a catchy and dramatic impression that stands out.
A minimalistic modern sofa table can come in a sleek white sofa oak table with splayed legs and a conservative geometric pattern with a glossy lacquer finish.
Meanwhile, if you're going for something dramatic, a modern brass sofa table, with its sturdy metal frame, has a more luxurious and elegant feel to it, along with trendy zigzag lines and an artistic modern vibe to it.
Mid Century Modern Table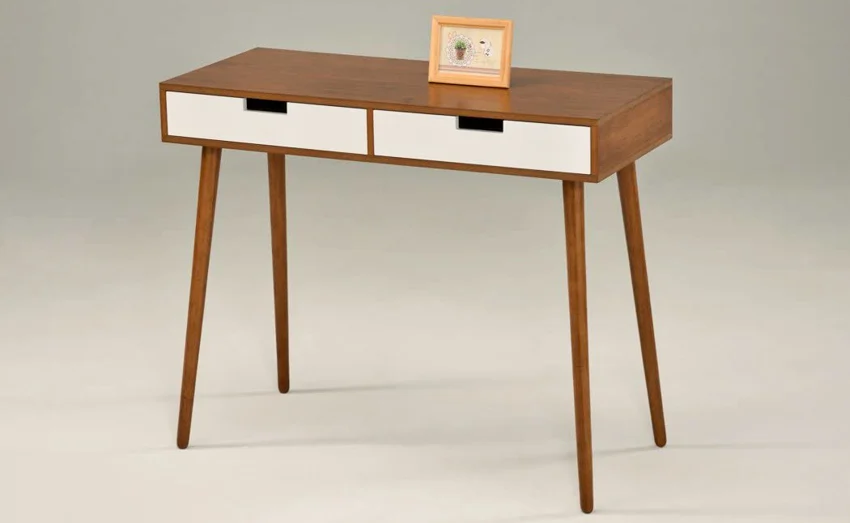 See this mid-century modern sofa table at Amazon [sponsored link]
Choosing a mid-century modern sofa table showcases minimalist elements, with sleek lines and straightforward functionality but with clean mixing of materials, delivering a very different aesthetics than the contemporary style.
Man-made materials like fiberglass and plastic are combined with natural materials like wood and metal to create one hybrid piece of furniture. Your mid-century modern sofa can have a fiberglass panel as its surface and metallic legs for support and foundation.
Mid-century modern sofa table is also known for the combination of neutral colors with pops of hues. This means you get black, white, and wooden hues combined with bright yellow, deep clay red, bright orange, and sea blue-greens.
Industrial Table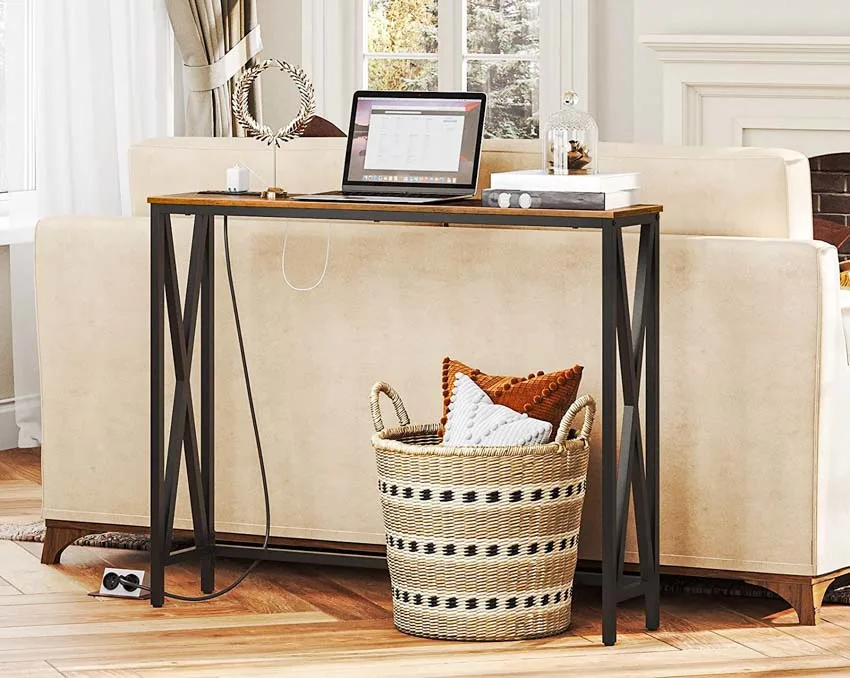 See this industrial sofa table at Amazon [sponsored link]
If you choose an industrial sofa table you are choosing a trendy piece of furniture integrated with elements of industrial style like parts from old factories and similar components.
Some of these components include concrete, exposed brick, weathered wood, pipes, industrial lighting fixtures, and other unexpected building materials. The gist of the style is to have that rugged, raw, and unfinished look.
While this style became popular from the late 2000s to the 2010s, it is still a style you can get on board with especially if your home follows the same style and vibe. Your industrial sofa table can be a combination of weathered wood and glass for its surface and iron legs for its support.
Table Materials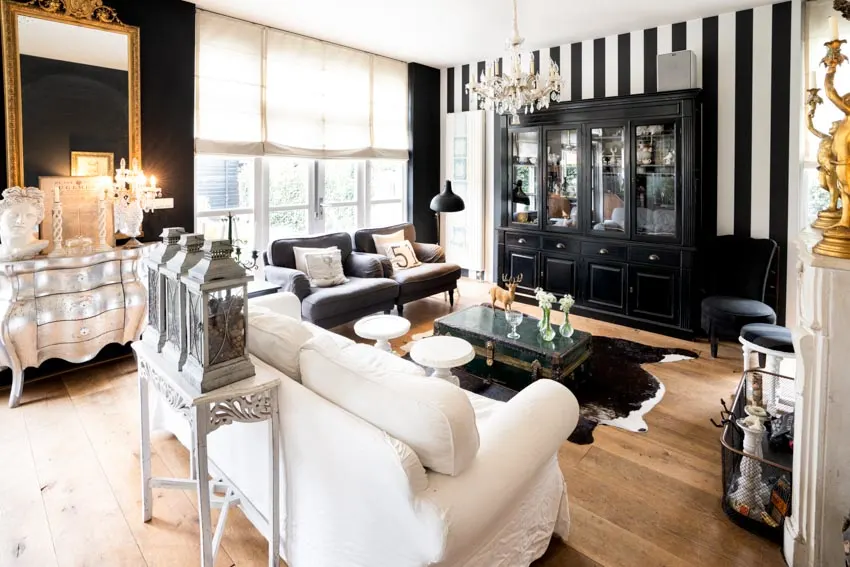 A sofa table can be made from different materials and you can choose which is ideal for your purpose and at the same time your home's aesthetics. Both the top or surface and legs of the table can be made from one material or two or more materials.
Here are some popular materials you can consider for your sofa table:
• Wood: Your sofa table can be purely made from wood or be mixed with other materials. Both hardwood and softwood work well with a sofa table, as well as reclaimed and engineered wood if that's what you prefer.
• Glass: An elegant and trendy material, you can make use of this material to be the surface of your table to bring additional warmth and airiness to the room.
• Metal: This material is a good consideration for your sofa table, especially with its durability and industrial aesthetics. It is one of the most often combined materials with other items and it's also mostly used for sofa table legs, particularly stainless steel.
• Marble: A natural material, this is a good option for a table and a counter but it can be too heavy that most would settle with a faux skinny version rather than an authentic one.
• Concrete: This is an industrial material that looks rugged but charmingly rustic and can be easily combined with other materials to counterbalance its raw look and integrate a smoother element in the mix.
What Is the Purpose of a Table at the Back of the Sofa Set?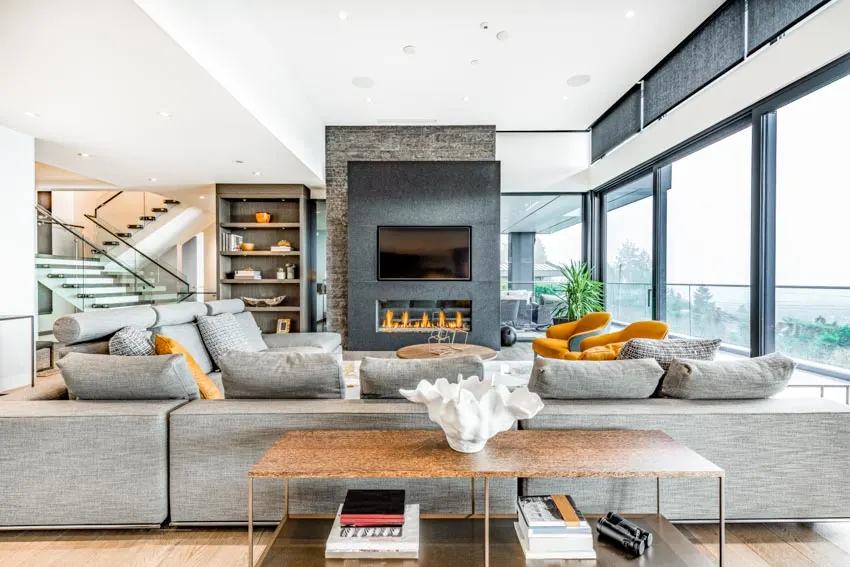 A sofa table is a piece of furniture that matches your sofa and is installed tightly up against it. It can be made from different materials, including wood and steel, whatever your preference may be and what's available in the market.
It is a perfect opportunity to maximize the space in your living room and can also be an excellent aesthetic addition that can contribute to the current style you have going in the room, especially with the individual style notes that the furniture can deliver.
If you're considering adding a sofa table to your home, one of the factors to take into account is the purpose of the piece of furniture. It will complete the interior ensemble you might have at home. These tables can have the following functions/purposes:
• A decorative piece of furniture: These sofa tables can revitalize the look you have in your living room, giving the space a new and fresh look.
• Storage space: To serve as extra storage, you can include baskets under the table where you can store different materials from throws and extra pillows to books and magazines. Just make sure that you consider the width and height of your table in choosing the size of the baskets to put under it.
• Increases the home's value: You can add value to your home by installing a sofa table in the living room and giving a new kind of depth and texture to your home. It adds visual and decorative value to your home that can be unique compared to other homes.
• Offers more display space: Besides storage space, sofa tables also offer more display space, where you can put on view picture frames, favorite books, lamps, and candles. You can place two matching lamps at the ends of the table to create stunning symmetry.
• Features as a divider: More than just an additional piece of furniture, a sofa table can act as a divider, especially if you have an open-space living room or a combo living and dining room.
• Easily accessible table: Like a coffee table, you can use this piece of furniture to place items that you want to remain accessible, like remote control, a book you're currently reading, and a drink.
• Welcoming ambiance: Sofa types of tables table can add a welcoming vibe to your living room, especially considering the fact that you usually entertain guests in this area. You can position the sofa table in a way that the living room won't seem sectioned off.
• Additional seating: If you're going for something that can add seating in your living room, you can set some tools under this sofa table.
• Maximizes space: Sofa tables also function as a piece of furniture that can fill in the empty space you might have in your living room. There are narrow spaces in your living room that can only be filled by a narrow sofa table. And more than just filling up empty space, it can also work as a storage or display space at the same time.
Whatever your purpose may be in choosing a sofa table for your living room, it is worth considering. And the next step you need to take is to explore the different designs and styles a soft table can have and which specific one will be ideal for your home.
What Size Should a Table Be?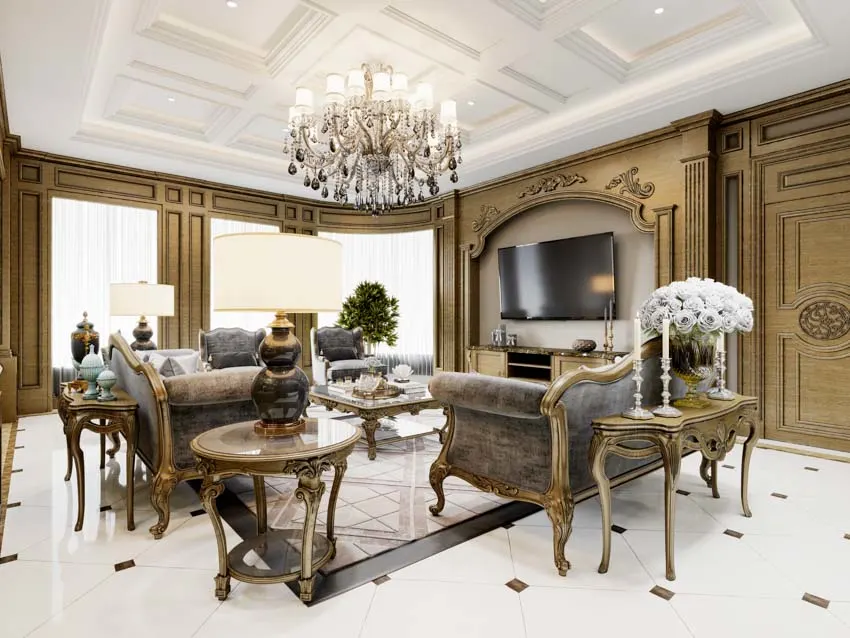 Sofa tables need to be designed in the same size as your sofa's backrest but a bit shorter in order to have a more seamless look between the two. They are usually smaller than dining tables but bigger than coffee tables.
So in considering the sofa table dimensions, look at the size of your room and sofa, and adjust accordingly. The sofa table should be close in size to the sofa but shorter in height and length. The length can be around half the length of the sofa for small sofa tables and a full-length sofa for long sofa tables.
Table Height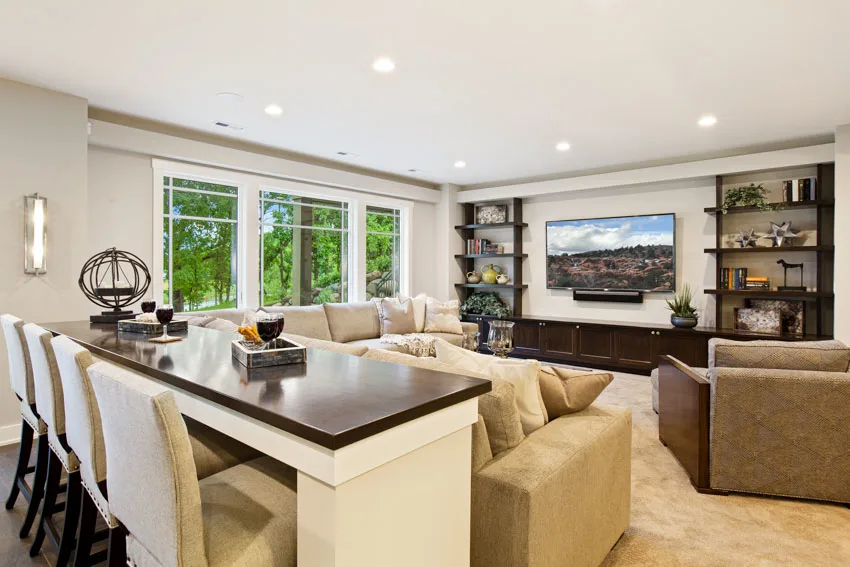 The height of your sofa table needs to be a bit shorter than the backrest of your sofa. But to decide the ideal height, take into account what you will use the table for. If you're using it for additional storage, pushing it to match the backrest of the sofa to have more storage space is a good option.
If you are using it as a divider, you can go over that and choose a tall sofa table. And if you are using it as a table paired with chairs and for entertaining guests, the sofa table needs to be as tall as the counter.
Counter Height for Tables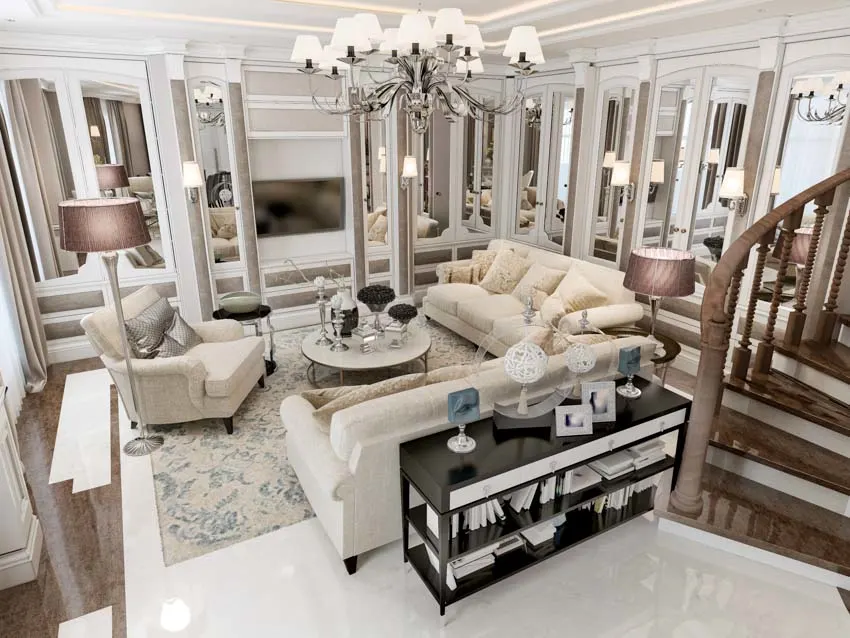 The counter height for a sofa table is recommended if you are going to use it to place food and beverage on it and paired with stools to sit on.
The standard height of this type of sofa table measures around 36 inches but you can also settle for a 24-inch sofa table if what you're considering is a bar counter and not the kitchen counter.
Should a Sofa Tables Be Taller Than the Sofa?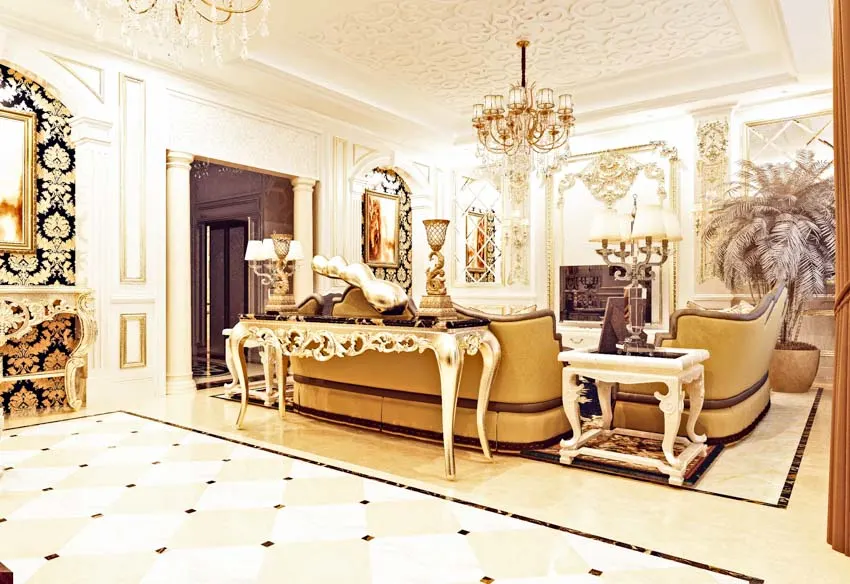 While a sofa table can be taller than the sofa, especially if you are using it as a divider, it is recommended that you keep your sofa table a little shorter than the backrest of the sofa.
This standard height allows enough open space that the addition of this piece of furniture won't crowd your living room. It will also have enough space for storage or stools under the table and leveled enough as a table to house items within your reach.
Can Table Be Wider Than the Sofa?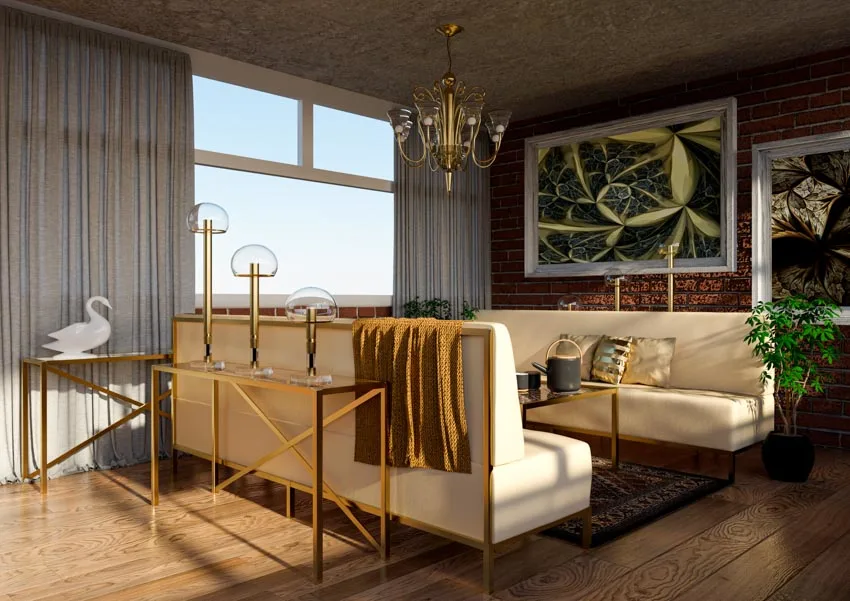 Yes, a sofa table can be wider than the sofa but it's not recommended and you need to keep the width smaller than the sofa just like you need to keep it a bit shorter than the backrest so that it won't look weird and would look seamless together. Read more about measuring a sofa here.

How Do I Choose Tables for the Living Room?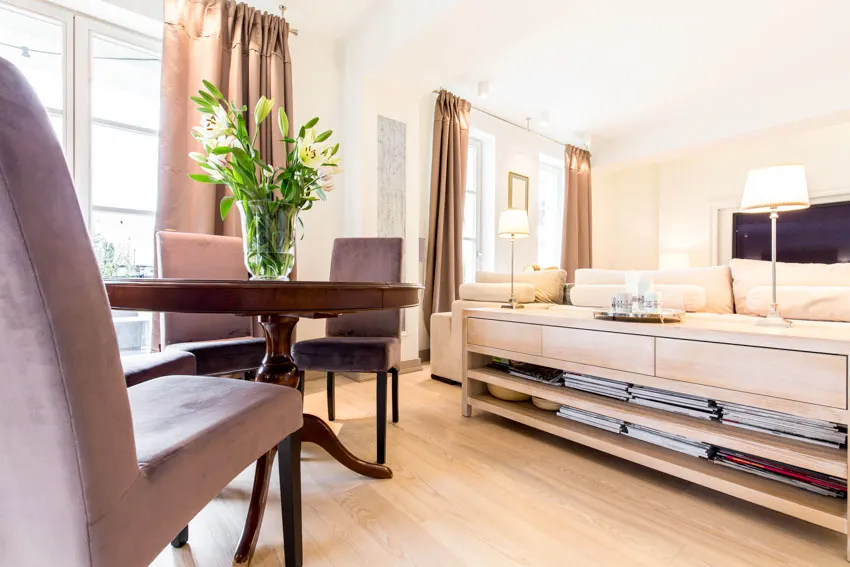 There are many factors to consider when choosing a sofa table and some of the ones worth looking into are the following:
• Purpose of the sofa table: Choose a sofa C table, slide under sofa table, or a sofa table with an outlet if you want something you can use for work while you're in the living room. But if you want more storage space, choose a sofa table with storage space that has enough space for baskets under it or has drawers and cabinets you can use.
• Ambiance and style of your living room: You can go for a rustic sofa table if you want a more welcoming and nostalgic vibe but if your living room has more of an cutting-edge vibe, go for a modern sofa table instead. See our guide to sofa styles on this page.

• Allotted budget for the sofa table: Money plays an important role in choosing a sofa table since you can only get what you can afford. If you have a limited budget, go for an affordable sofa table made from cheap materials.
What Do You Put on a Console Table?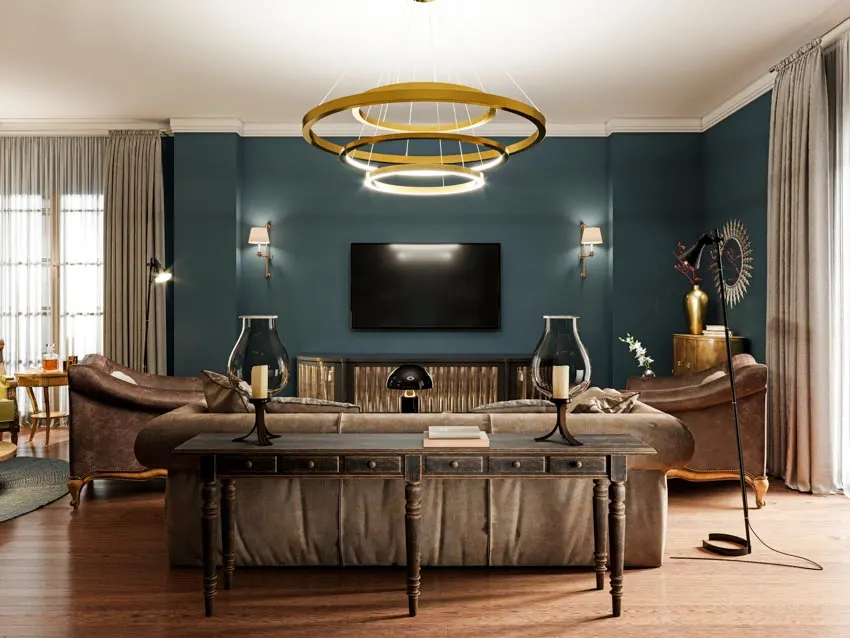 On top of the sofa bed, you can place your lamps, candles, favorite books and picture frames on display but you can also place your phone, remote control, current drink, and snack so that they remain within your reach while sitting on the sofa.
For a sofa table with storage, you can store magazines, extra pillows, and your children's toys so that they can be hidden and have your living room look uncluttered.
​​See more related content in our article about two different sofas in living room on this page.