This sofa table dimensions guide includes the standard sofa end table size and measuring tips to match your table and sofa for the best interior design results.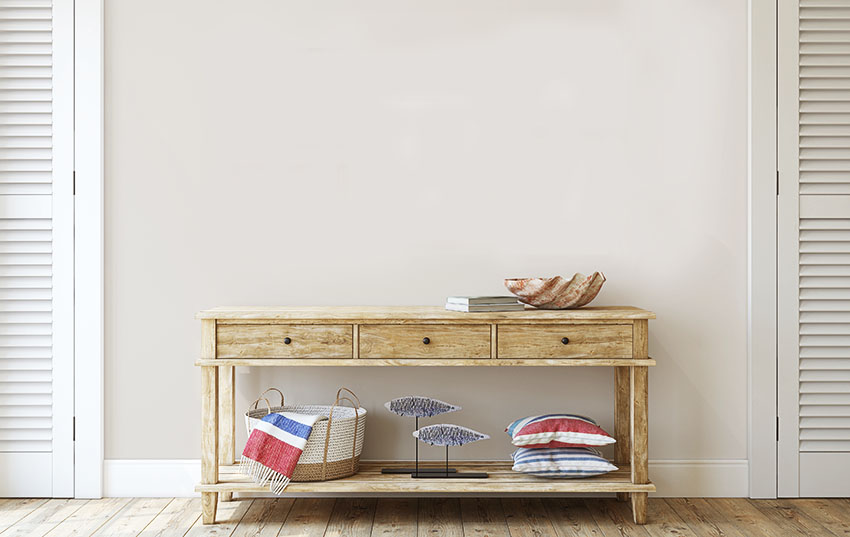 If you are searching for an elegant but understated piece of furniture to complete your living room, a sofa table, generally known as a console table, is a great option no matter the décor.
Sofa or console tables are typically placed behind sofas and are used for added storage and also as a display space for frames, flowers, and other trinkets. Here, we talk about what you need to know to decide on the perfect size of a sofa table for your home.
Standard Sofa Table Size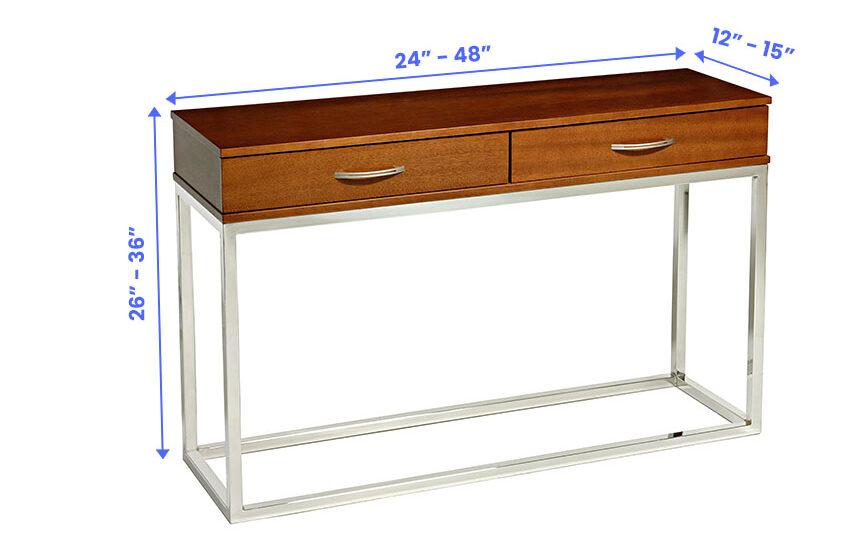 Because of their small footprint, sofa tables are also used as an entry table for your foyer or entryway to house your keys and other decorations.
The standard size for a sofa table typically ranges from 24 to 48 inches or 61 to 122 centimeters long.
A standard sofa table is 26 to 36 inches or 66 to 91 centimeters tall and has a depth from top to bottom of 12 to 15 inches or 30 to 38 centimeters.
Standard Sofa Table Length
In terms of materials, sofa or console tables can be made from a variety of materials to fit your décor theme, from over-the-top intricate baroque pieces to more minimal acrylic ones.
If you are thinking about the sofa length, it would depend on where you plan to place them. If you are planning to put them on the back of sofas, sofa tables could run the half or the full length of your couch.
There is more leeway when choosing sofa tables that are shorter in length, and since the standard length of a sofa is 86 inches, a console table with half that length of 40 inches or 102 centimeters would be perfect.
However, for more extended sofa tables, the rule is to make sure that there is at least 6 inches or 15 centimeters to a foot of free space on both ends to avoid injury.
Sofa Table Height
What is the standard height of a sofa or a console table? There is no agreed-upon table height followed by homeowners and interior decorators; however, what they do is measure their sofa height from the floor up to the highest point on the backrest. Go to our guide on how to measure a sofa here.
A sofa table that best fits your couch should be at least an inch shorter than your sofa height. Sofa or console tables come in various sizes, although the tallest often do not reach 30 inches or 76 inches.
The standard height of a sofa is 35 inches or 89 centimeters, so any sofa table lower than this size would be perfect for placing on the back of it.
How Tall Should a Sofa Table Be?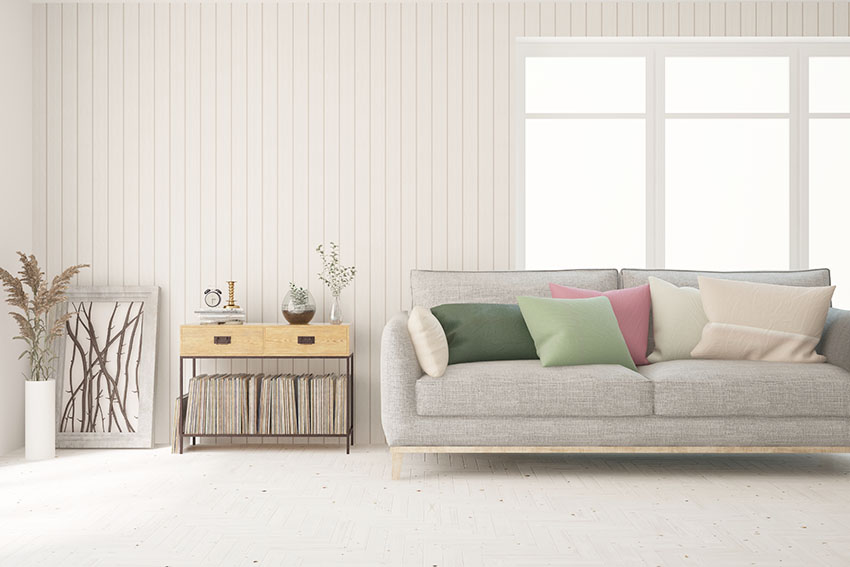 There are a bunch of things to consider in the account of how tall a sofa table should be. The first is deciding whether to follow the height of the sofa frame itself or the size of the cushion on the sofa, which is higher than the frame.
For example, if a long sofa with a chaise has a height of 28 1/4 inches or 72 centimeters and at the same time, it has a cushion that is higher than the frame itself by 7 inches 18 centimeters.
The sofa table height should be somewhere between the height of the sofa's structure and half the size of the sofa cushions.
The most visually appealing height of a console table is a foot shorter than the back of a sofa. If you want a taller sofa or console table paired with a shorter sofa, switch up the placement against the wall.
However, the perfect sofa or console table height is 6 inches or 15 centimeters shorter than your sofa structure; this size is the best scale when chosen to place in the middle of the room.
How Wide Are Most Sofa Tables?
Besides how tall and how long a sofa or a console table should be, the depth or the size of a sofa table from top to bottom is also an important aspect. If we are talking about the average depth, the standard is 10 inches or 25 centimeters.
This size is enough to support various things such as lamps, small sculptural or art pieces, plants, figurines, and many others. What we do is add a large bowl in the foyer console table to house our keys, some change, and wallets.
The depth is also critical for the stability of the sofa or console table. An unstable and wobbling console table or a sofa table that could barely hold anything is not ideal if practicality and functionality are paramount in your decision.
Although if we are thinking about adding a sofa or console table for decorative options, the decision is up to you.
Sofa End Table Dimensions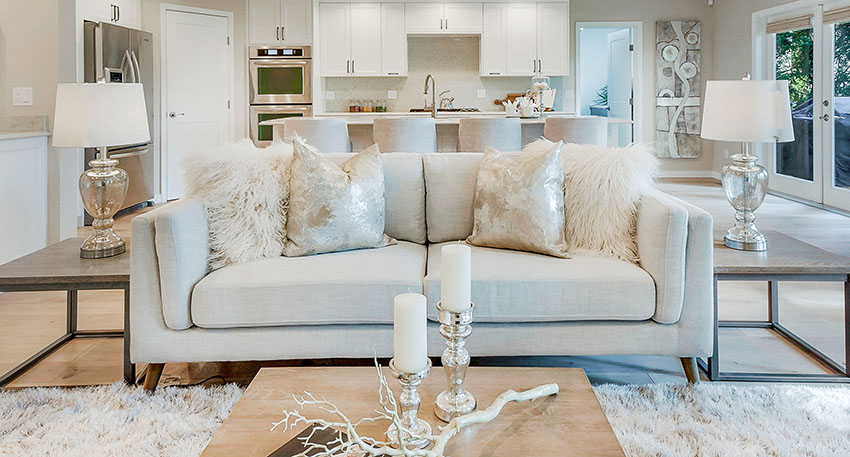 Sofa end tables are found on one or both sides of a couch in a living room. The size of end tables you should have is determined by your sofa's dimensions from the length, width, and depth.
The height and width of the couch are vital in making a decision, so best be sure that you know them, and the depth can be decided later on.
The general rule in determining your sofa end table height is it should be at least a couple inches or 5 centimeters shorter than the arms of your sofa.
Say, for example, that the size of your sofa's arm is 20 inches or 51 centimeters, the best end table height is 18 inches or 46 centimeters.
There is no strict rule in deciding the width of your end table. Ultimately it would count on what you are planning to utilize it for. Wider end tables sizes would be able to hold bigger items such as lamps or coffee table books, while a smaller one would carry a limited amount of things.
The most important aspect of a sofa end table is the depth. The depth of your sofa would determine the depth of the end table.
Anything in the middle of that size would fit perfectly. The depth of end tables could range from 22 to 24 inches or 56 to 61 centimeters.
For more related content visit our coffee table dimensions here.