Here's all the latest on bean bag chair options including the different design types, their features, uses, materials, covers, fillers, and bean bag cleaning tips.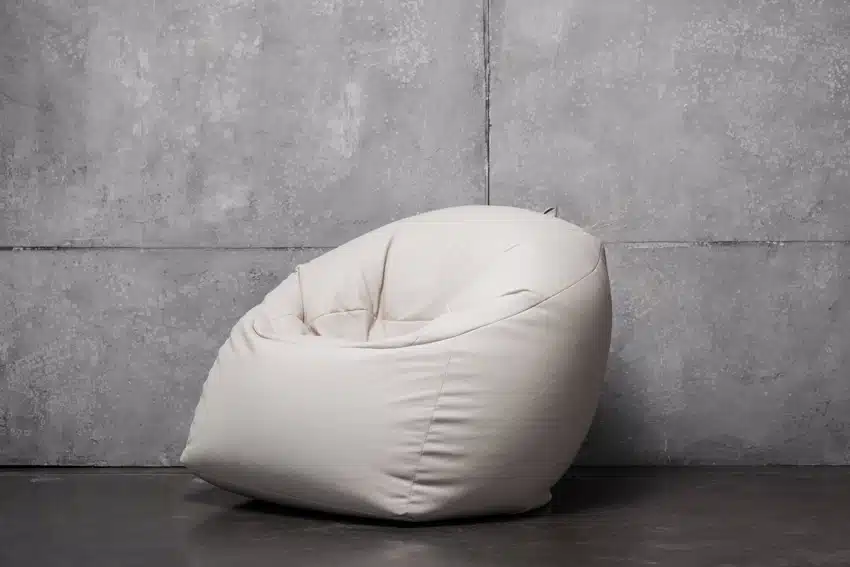 A bean bag chair, while not technically a need, is a piece of furniture featuring a simple design. The concept comes in a large bag of beans you can use for a chair, as clearly depicted by its name. In the past, the large fabric bag is either filled with dried beans or beads, depending on the preference.
Today, more options are available in terms both of the large bag and the filler. These chairs may not be a priority furniture pick but they are often underrated.
Why Choose a Bean Bag Chair?
Besides the wide selection of types to consider, here are some reasons why these unique chairs are worth exploring:
• Incredibly comfortable and free from muscle/joint pain: Sitting on this kind of chair, especially when made with shredded memory foam, has the foam conform to the body, offering postural support in the process. The support helps deal with shoulder and neck tension, as well as headaches.
• Environmentally friendly option: These chairs usually don't use wood in their construction, which means that trees won't need to get cut down. If you want to help the environment in some way, choosing this furniture can do that.
• Versatility: These chairs come in a variety of sizes, shapes, and designs you can get one for your living room or one to use as a floater on the pool.
• Fun and aesthetically stylish: When it comes to appearance, these chairs offer a unique and stylish look you won't see from a traditional chair. These chairs look cozy and comfortable to use compared to a standard chair or even a couch.
• Excellent durability: While these chairs may not look durable, they actually are and you won't have to worry about your kids scratching them or destroying them. They can be moved around and you can play on them without the fear of damaging them.
Now that you're set on getting a bean bag chair, you need to know next what your options are. And there are actually many types you can consider.

Types Oof Beanbag Chairs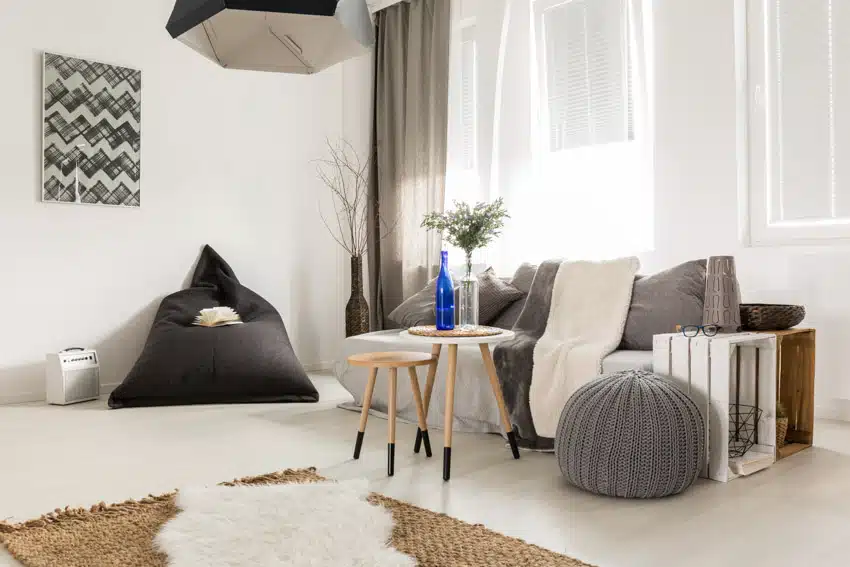 Deciding on the type to add to your home can be both fun and overwhelming but you can lessen the stress of this process by being clear on the different factors you can consider in your pick.
Bean bag chairs come in many forms and here are some of the factors you can look into:
• Size and shape
• Design and functionality
• Filling
• Covering
• Openings and zippers
• Ergonomic support
With many materials and designs you can use and match together, you will definitely find the ideal type for you. No matter what you're looking for, whether it's basic aesthetics, or the specific style you want to achieve, you can create the look with a simple addition of this chair. Explore these types to settle on your favorite.
Adult Size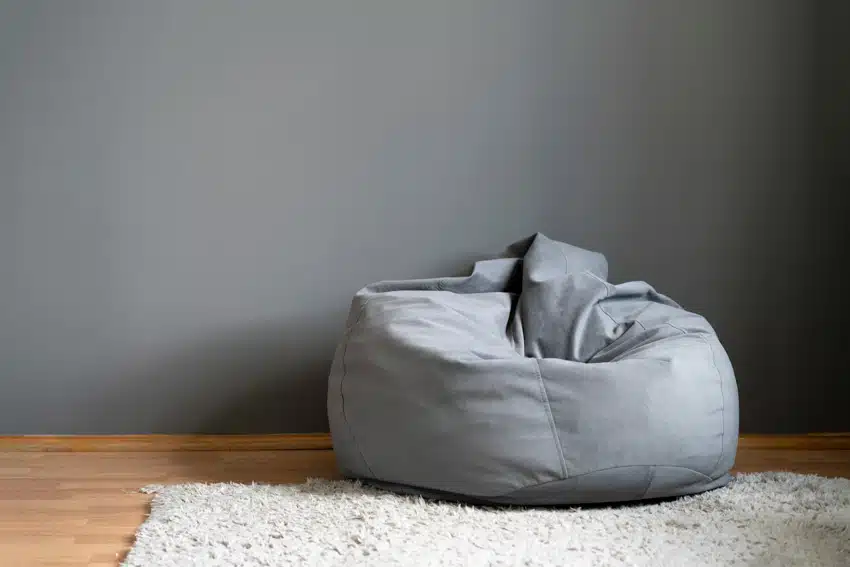 Designed for full-grown adults and older teens, adult bean bag chairs measure around 140 to 150 inches in circumference and can accommodate individuals who are 6 feet in height and below.
If you want to comfortably settle on a bean bag chair then this type will make sure that you can sit comfortably on it without having to squeeze in and force your body on the bag. If you're taller than 6 feet though, you might need to choose a bigger and oversized one.
Kid Size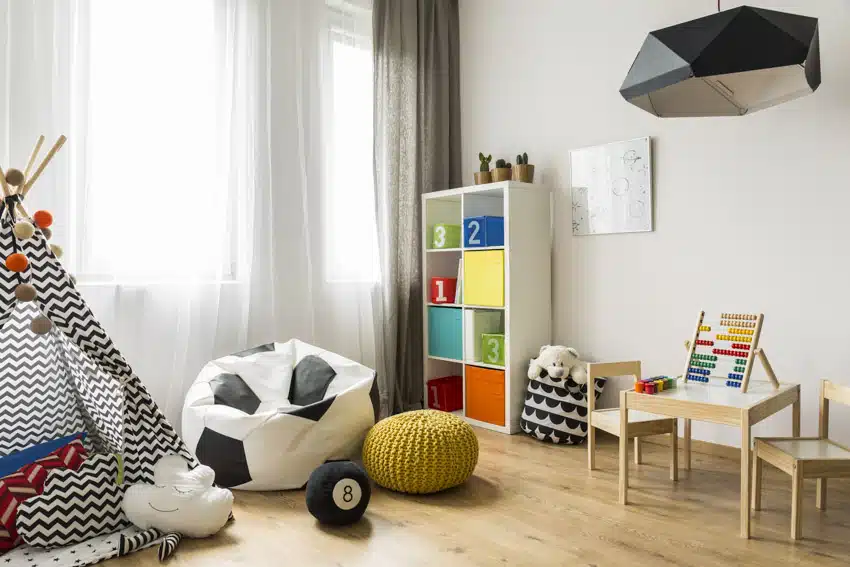 If you shopping for your kids, there are two main choices you can look into in terms of sizes, including the following:
• Kid size: This measures between 110 to 120 inches in circumference and can accommodate small children who are at most 4 feet and 6 inches in height
• Teen size: This chair measures approximately 130 to 140 inches in circumference and can easily accommodate teens and young adults who stand at most 5 feet and 2 inches in height.
Besides these chairs in different sizes, there are also those with novelty designs that can fit the theme of your kid's bedroom. They can come in the form of a football, a turtle, and even an airplane.
Toddler Size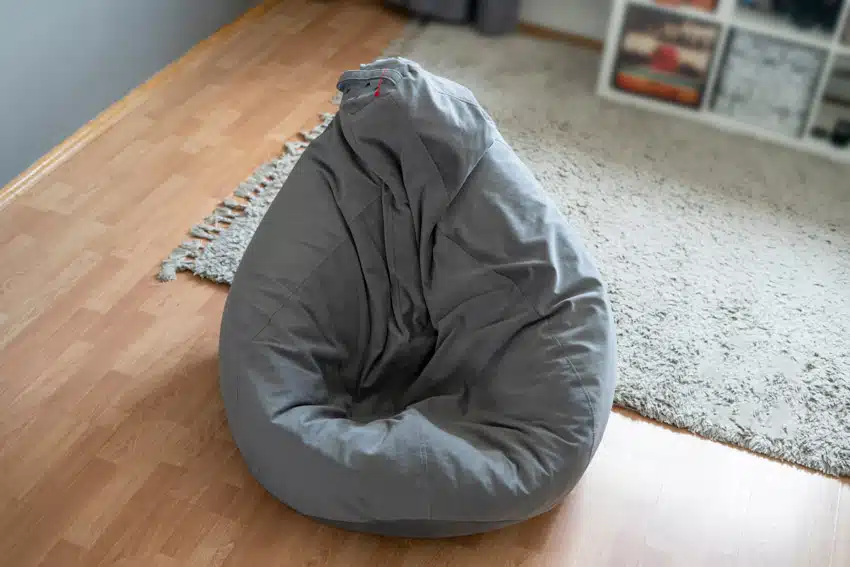 Getting your toddler a bean bag chair may not have been recommended in the past, primarily due to safety issues. Today though, these chairs have been designed to specifically cater to toddlers.
Depending on the age of the toddler, there were some chairs with belts designed into them, to act like a seatbelt and safeguard the toddler.
Some types of chairs designed for older toddlers are structured to be more durable, lightweight, and fluffy to cater to the toddler's tendency to move around.
Gaming Type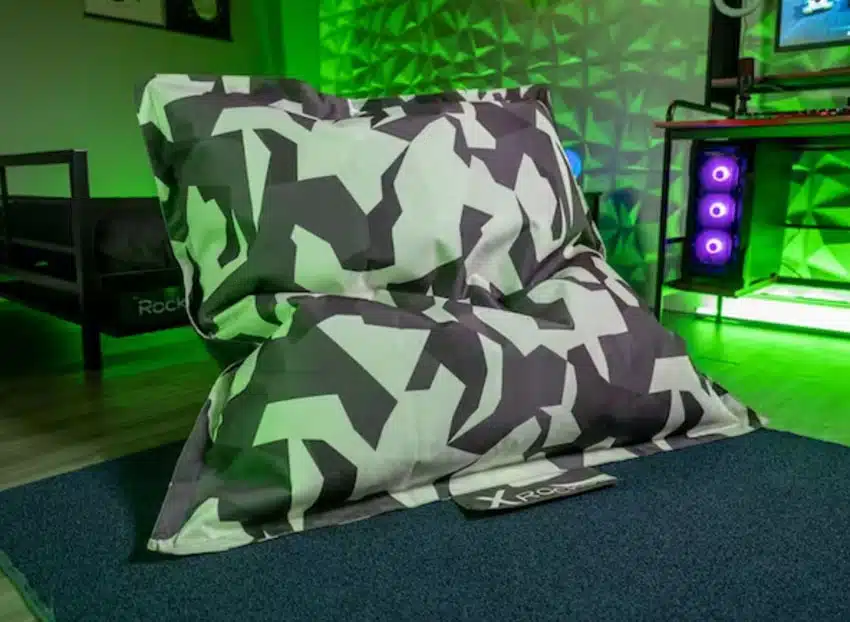 See this gaming bean bag chair at Home Depot [sponsored link]
Another popular type to consider is the gaming one, which is a favorite by many. Compared to standard gaming chairs, a gaming variant is much more comfortable but at the same time offers enough support for the neck and arms.
For more techy design, some chairs are equipped with speakers that can be connected to the television or the computer. Some even have pockets on the side, where the controllers or snacks can be placed, and a hanger to place the precious headphone off the floor.
Giant Size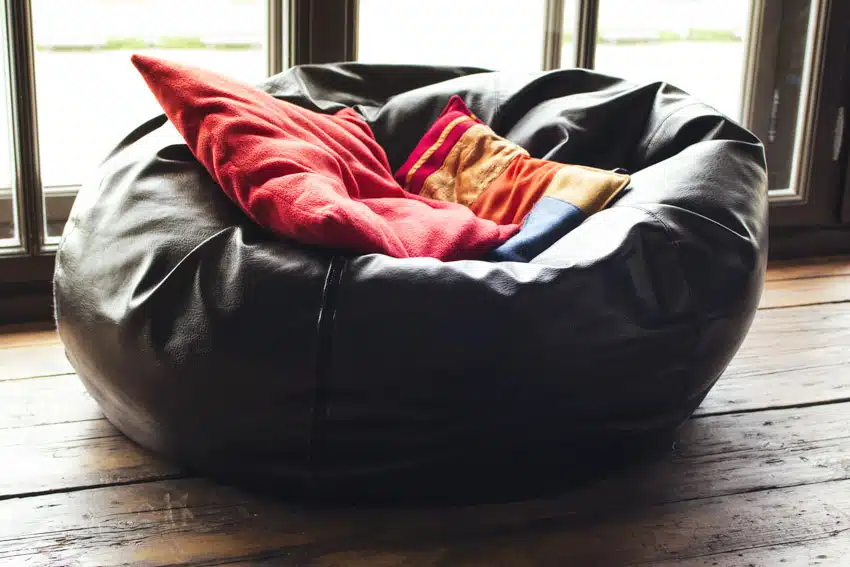 If you're a bit on the bigger side and the standard adult-size bean bag chair seems small for you, there's actually an oversized and giant-sized alternative you can get. These massive chairs usually measure over 180 inches in circumference and so can accommodate taller and bigger individuals.
The size can also look impressive and catchy in a room so it can also be a great addition to your living room. Many of these giant chairs are filled with shredded soft memory foam, making sure that it offers comfortable seating despite the massive size. It can easily accommodate 2 people if you want to share the chair.
Small Size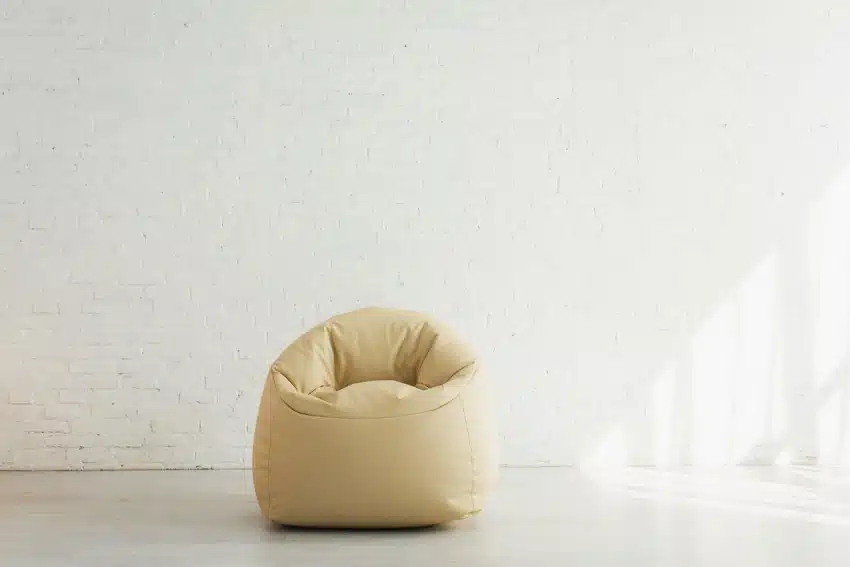 If you have a smaller living room though and need to save up space but you still want to add this kind of chair in the room, a small one can do.
The typical size of a small bean bag chair is about 49 inches or 125cm long and 39 inches or 100cm wide. A small variant is normally more lightweight and so easier to move around and to get out of the way whenever you need the space for something else. This makes them ideal for kids playrooms or bedrooms.

Outdoor Type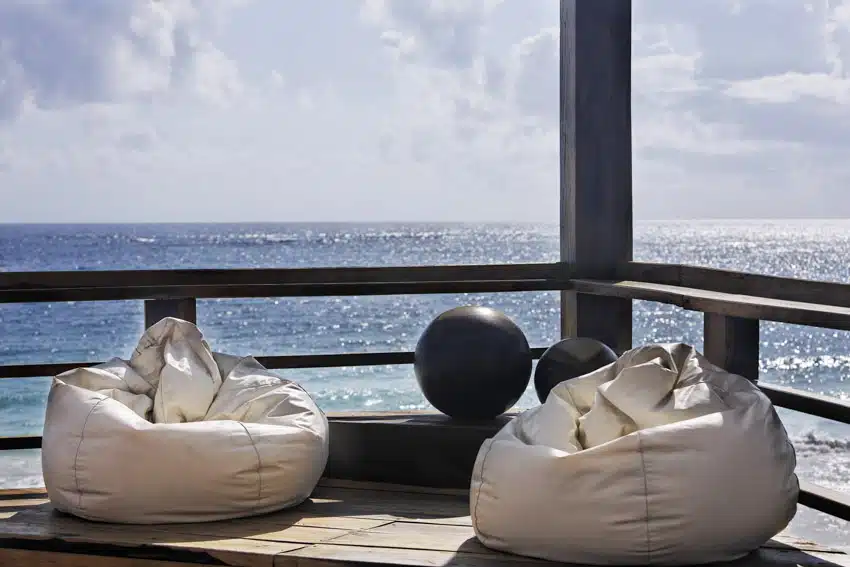 You can also get an outdoor bean bag chair that suits most types of porches, especially if you tend to enjoy staying under the sun every now and then. The biggest difference between this type is its incredibly durable and water-resistant outer covering.
You can install this chair on your porch or beside the pool, elevating your outdoor living space and adding both to its aesthetics and function. This means that you get to enjoy the sun's rays without having to worry about the chair getting damaged.
Waterproof Type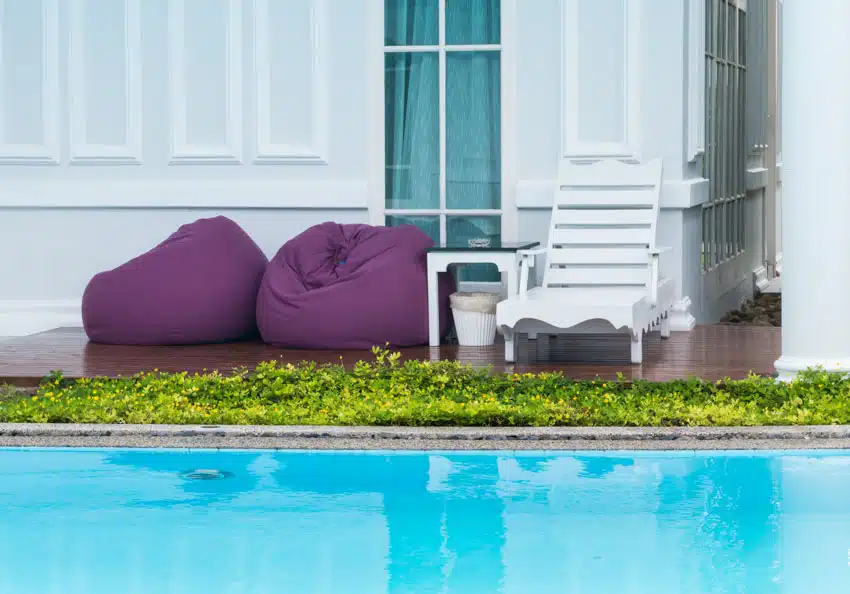 One of the major characteristics of an outdoor bean bag chair is that it is waterproof. This allows the chair to maintain its quality despite its exposure to moisture.
More than just weather damage, you can also guarantee that the chair will be protected against spills and water accidents. A waterproof variant of this chair usually comes with a durable cover and is filled with polystyrene beans.
Lounge Type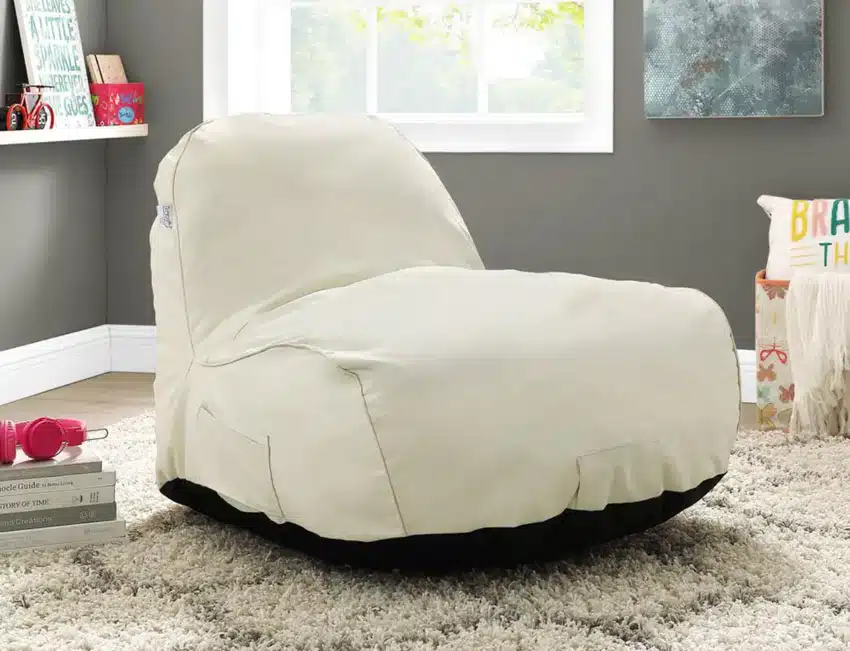 See this bean bag lounge chair at Home Depot [sponsored link]
This is another type you can look at for your home, especially if you tend to cuddle with other people and can accommodate at most 3 individuals. If not for more people, you can use this chair to stretch out and lie down in peace.
Some loungers can extend as long as 8 feet, offering more luxurious and relaxing furniture for your home. This is also perfect to use when watching TV or reading a book.
Chair Bed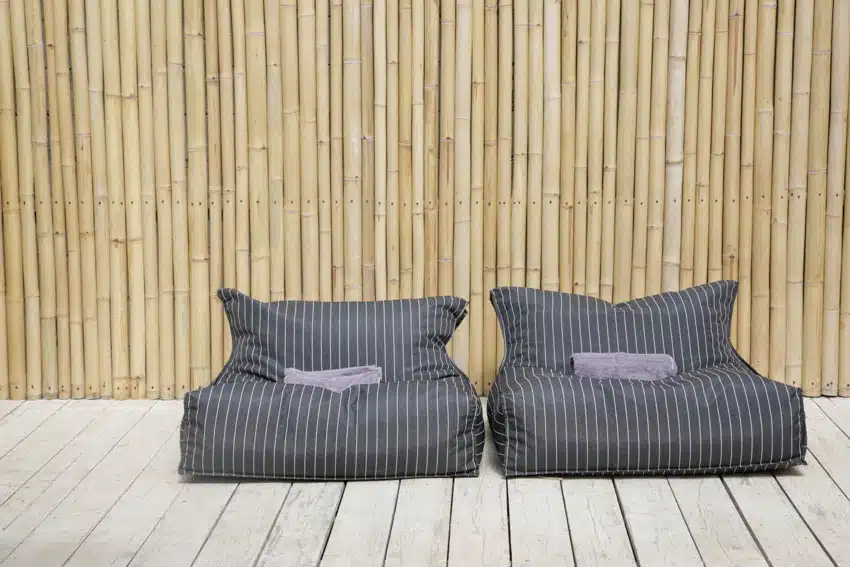 Similar to bean bag lounge chairs, this type is structured to offer an extra comfortable recliner that turns the chair into a comfortable bed. This kind of chair bed also usually comes bigger in size, acting like the perfect cocoon for the entire body.
It is ideal to be used by people suffering from back issues and pregnant women who will definitely need a comfortable surface to relax on. It is also lightweight and can be stored upright, saving space even when in storage.
Convertible Type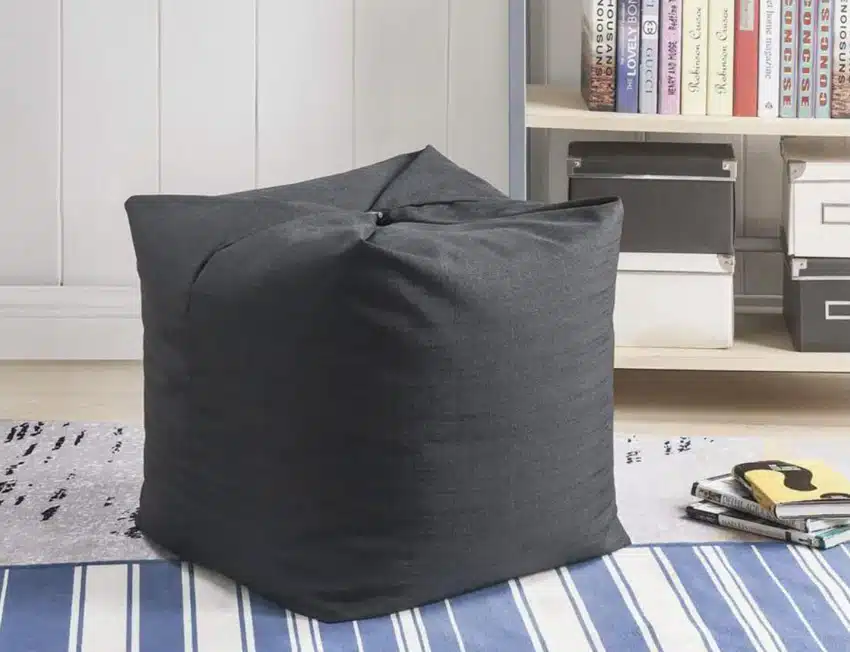 See this convertible bean bag chair at Home Depot [sponsored link]
A convertible variant is designed to transform from one form to the other. Normally, this means that it can act as a normal variant and then be turned into a full-size bed whenever needed. Its difference from a bed variant is its size. The chair bed can seem like a lounger while this convertible one will appear like a giant chair.
Sofa Chair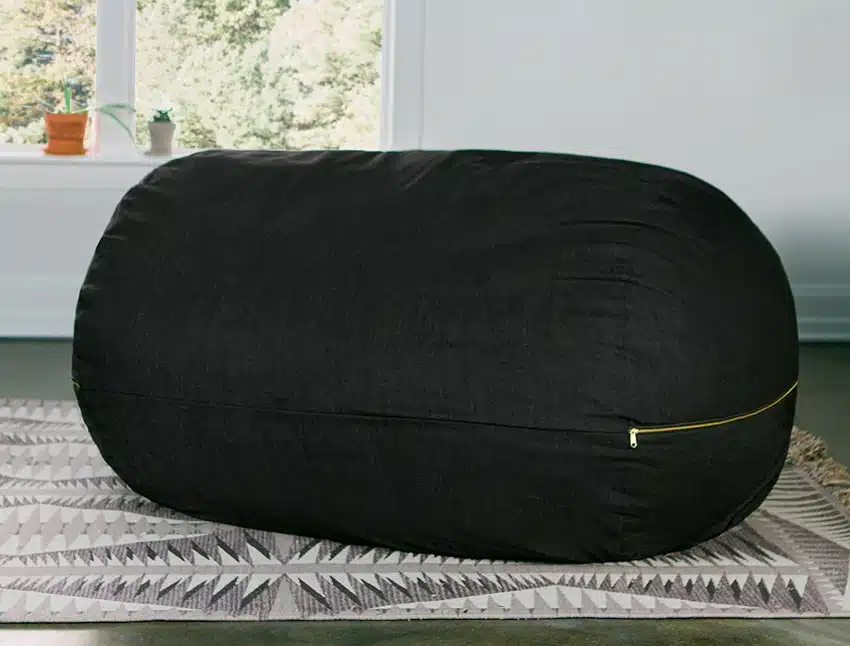 See this sofa bean bag chair at Amazon [sponsored link]
This type may be considered for the living room instead of the standard sofa furniture. This option offers more comfort and a unique look that you won't see in a common living room.
It is a bit similar to a couple's bean bag chairs but many sofa variants can accommodate more than 2 people. It means that the chair can be massive however it will remain lightweight and comfy to use.
Modern Chair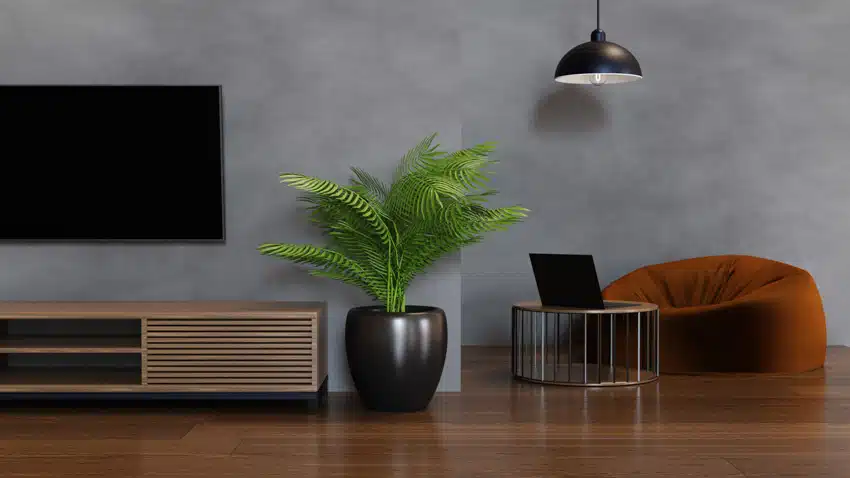 To add a modern touch to your home, whether it is for your bedroom or living room, consider a modern bean bag chair. This chair won't come in a traditional round form but may be in different shapes from a simple square, egg shaped, to a pentagon.
This chic chair option will deliver clean lines and a seamless look that will make a space feel more modern and current. Some modern designs have ergonomic shapes to contour to your body. One of the popular brands is the Moon Pod chair.

Luxury Chair

Another type of bean bag chair is the luxury one, which is crafted and decorated in sophistication and class. A luxury variant is ultra-soft and breathable, making you feel like it's actually luxurious to sit on this furniture.
Many come with a micro suede outer cover and a polyester inner cover for optimal quality. The filling used is usually high-quality foam like memory foam so that it can adapt and conform to the body's shape and temperature.
Office Type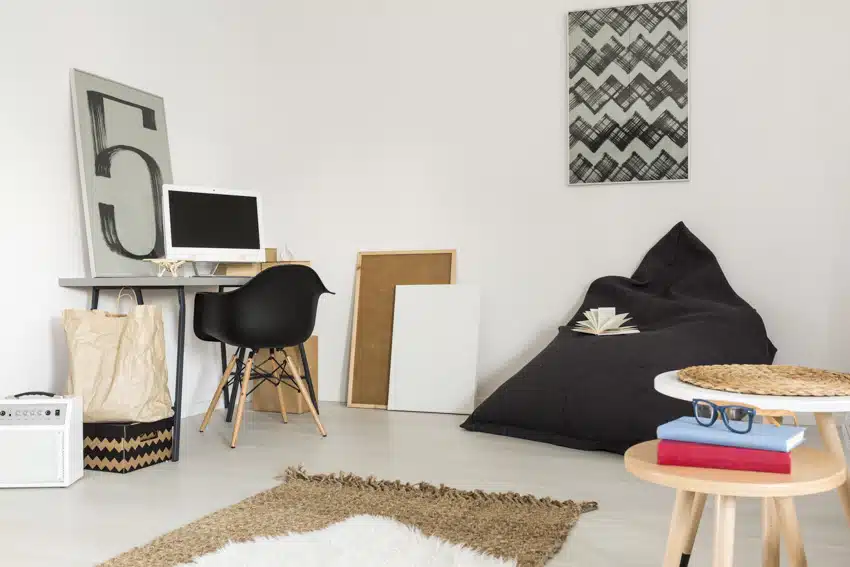 Adding a bean bag chair can soften and personalize the vibe if you don't want your office to feel too formal and stuffy. These chairs are often associated with comfort and fun, which to be honest are not words you will associate with work.
But if you want something different and you want you or your staff to feel more at ease and engaged when working, installing these chairs in an office setting will do the trick. They might even help with their creativity and productivity. See more office chair ideas here.

Inflatable Style
Getting an inflatable bean bag chair is a good recommendation for people with limited space in their living room. You can just inflate the chair whenever it is needed and have it deflated, folded, and stored in the cabinet when not in use.
This type is usually made of wear-resistant and air-permeable PVC. Just like most of these chairs, it will conform to the shape of your body and easily support it. The major difference is that instead of having beans or foam as filler, you get air instead.
With Ottoman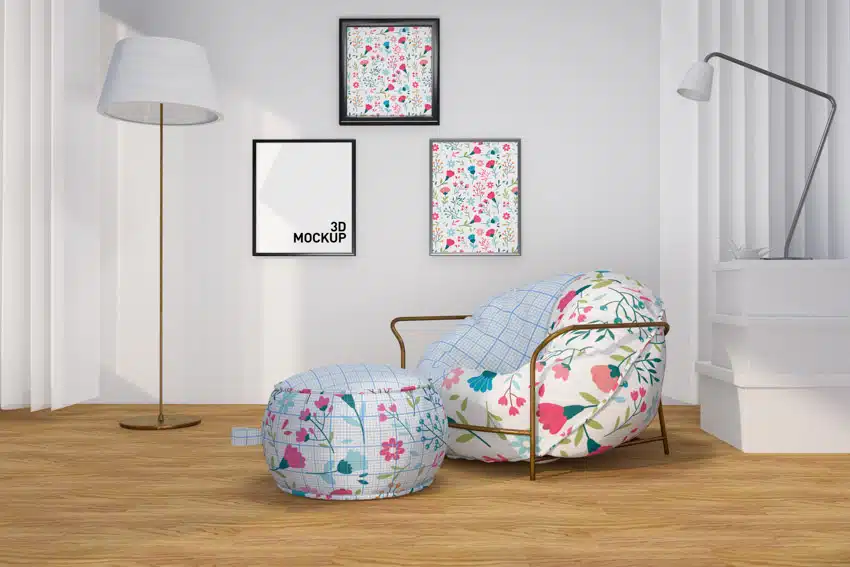 Everything is just better with an ottoman, especially if you find your feet hanging or caught on the edge while sitting. These chairs with suitable types of ottoman offer the most comfort that's quite similar to a lounger and an actual full-size bed with your feet having somewhere to lay them on.
Rocking Chair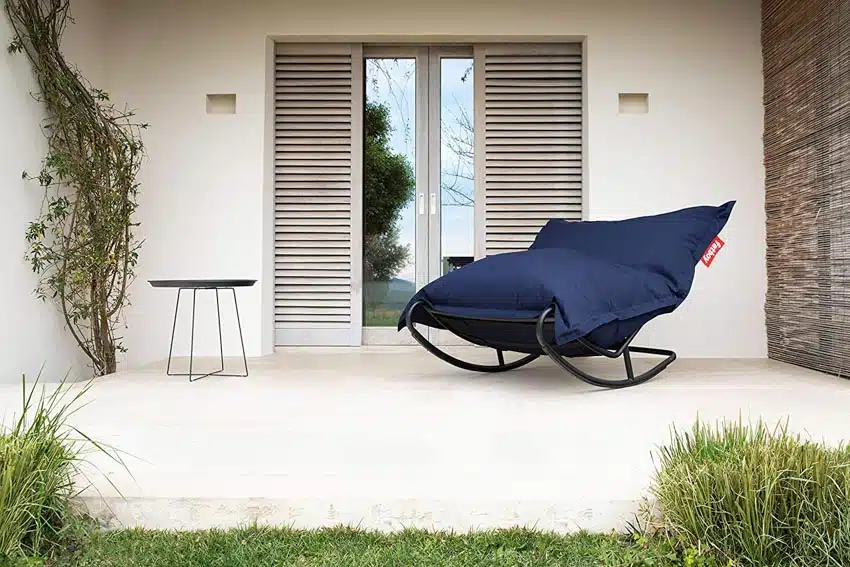 See this bean bag rocking chair at Amazon [sponsored link]
The rocking chair will always be fun to have and if you want something more than just the traditional horror story-worthy look, getting a bean bag one will be a surprising addition to your home.
With a rocking chair sporting a bean bag design, you can enjoy a gentle sway while relaxing on the chair. It's structured to have a solid frame (made of wood or metal) for the bean bag to be installed in, allowing the chair to be able to "rock".
Bean Swing Chair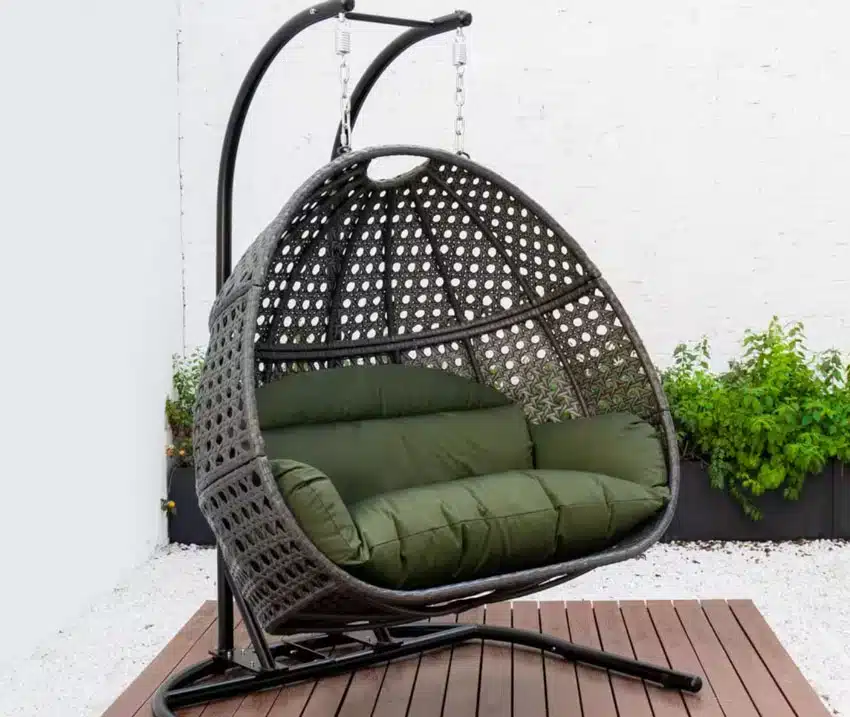 See this swing bean bag chair at Home Depot [sponsored link]
Similar to the previous entry, a bean swing chair features a solid frame where a string (usually steel chain) will be connected so that it can be turned into a swing chair. One of the most popular materials for this solid frame is rattan and the frame is normally shaped like an egg. The bean bag is then placed inside the solid frame, adding to the chair's comfort and fancy look.
Doggie Chair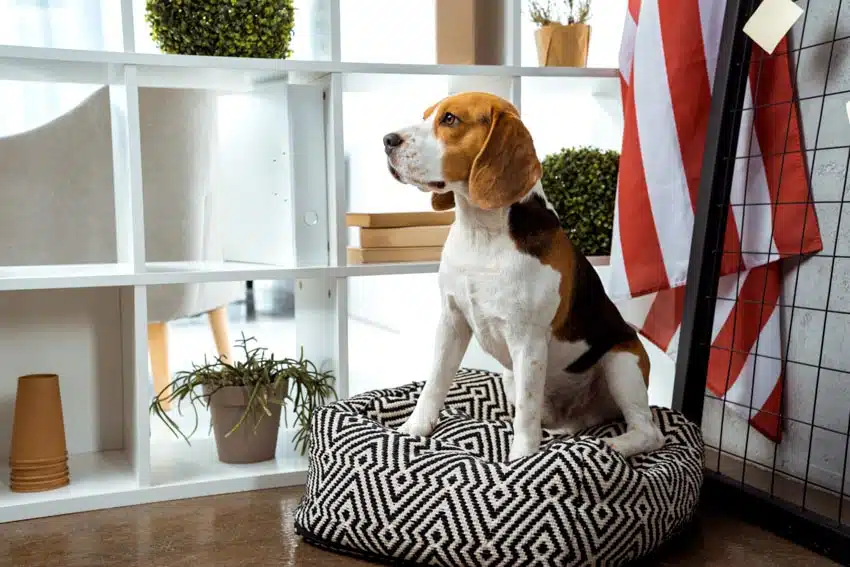 One of the common uses for the bean bag chair is for their pets. Dogs love laying down on soft and comfy surfaces, which is what bean bags can deliver.
Many of these chairs are also quite durable, so you won't have to worry about your dog's claws scratching the chair's cover. If you value the health of your furbaby, having a bean bag to rest on can actually help with sleep.
Eco-Friendly Type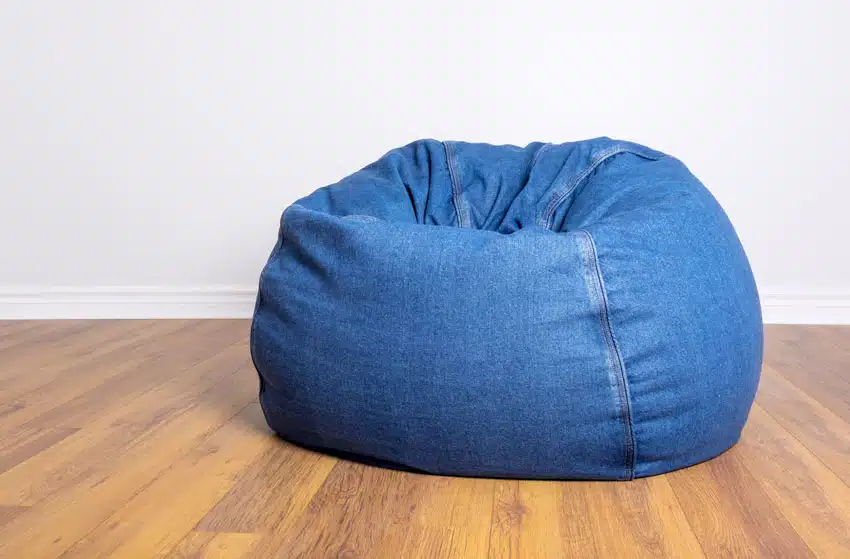 You can explore and choose many eco-friendly and non-topic bean bag chairs for your home. Many of these chairs are made from sustainable materials that can reduce the environmental impact, including organic or natural latex, kapok fiber, buckwheat hulls, cork, and plant-based foams.
This means that it's free of polystyrene and PVC, two of the plastics most dangerous to the environment. If you want to go all-out eco-friendly in your choice, recycled polystyrene, and synthetic foams are still not recommended.
Chair Materials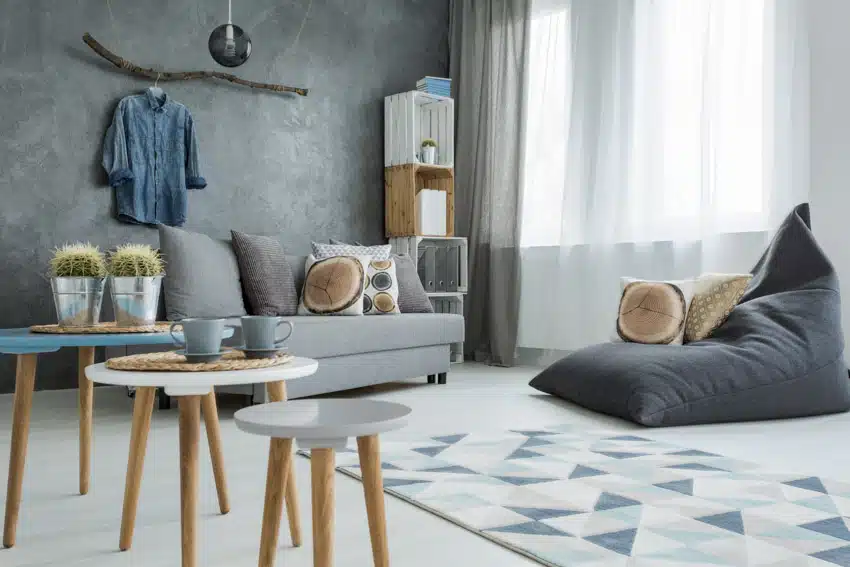 A bean bag chair can be made from different materials all assembled into one comfortable piece of furniture. While the basic parts may include the cover and the filling, the cover is also divided between an outer cover and an inner cover. This is one of the reasons why these chairs may seem soft and fragile but they are actually incredibly durable.
The materials will also have an effect on the appearance and general aesthetic and feel of the bean bag chair, which is why you need to consider them in your choice.
For the covers of these chairs, here are some of the most popular materials used and combined together.
Plush Bean Bag Chair: Plush is a material that's ideal as an interior cover but you will need to choose another material for the exterior. While plush may be durable in its own right, you will need the exterior cover to be stronger and wear-resistant.
Memory Foam Bean Bag Chair: Memory foam is another popular material used for this kind of chair, especially if you want to get the maximum comfort from it.
A memory foam bean bag chair is incredibly soft and can easily mold to your body's shape and then bounce back very slowly once the pressure is removed from the foam. Of course, this means that this chair may be more expensive to get.
Leather Bean Bag Chair: Leather will also be a luxurious material to consider, providing comfort along with elegance and top-notch quality. A leather variant is highly durable and flame-resistant but needs to be well taken care of and maintained well. A leather condition needs to be applied every now and then to keep the quality long-lasting.
If you can't afford authentic leather but want to get the look for your living room, faux leather can also work well. This strong and fire-retardant vinyl fabric showcases the same aesthetics and elegance of real leather without the cost that usually tags along with it.
Velvet Bean Bag Chair: A velvet variant features smooth and luxurious aesthetics that can be an incredible addition to your home, whether it's in the living room or your bedroom. Super soft and comfortable, this chair has this upholstery grade fabric with an excellent quality you can make the most of.
The limitation of velvet though is that it is only ideal indoors and may need meticulous care to keep its quality on top and make it last longer.
Fuzzy Bean Bag Chair: For a fuzzy bean bag chair, you can choose suede to get that fuzzy finish you're looking for and the durability of leather. It is normally used for purses, shoes, and jackets but it can be a good material to use for this kind of chair.
It is durable and highly comfortable, with its texture maintained and not fading for a long time. The material is also machine-washable but you simply need to follow the instructions of the manufacturers of the fuzzy variants
Faux Fur Bean Bag Chair: Faux fur is another material that can be used for and it is usually high-quality and fire-retardant. This kind of chair delivers luxurious and fashionable aesthetics that can spruce up the look of your room. This adds a sensual and soft texture to the decor of your home. The best thing is that you have a wide selection of animal prints to use.
Corduroy Bean Bag Chair: If you're going for something unique with an elevated texture to boot, a corduroy variant may be used considering its upholstery-grade and flame-retardant element.
The material is incredibly soft and comfortable but also robust and durable. It is a great investment since it is affordable to have and also easy to clean and maintain. And with the appropriate supportive foam filling, it can conform to your body and offer enough comfort and support.
Chair Cover Types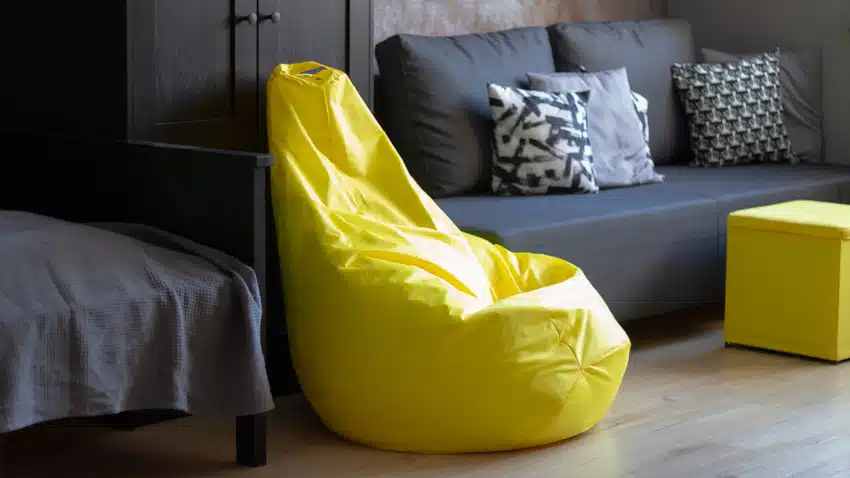 When you have this chair, there's a need to protect it from dust and dirt, especially when you place it outdoors on your porch. Getting a cover for this chair works well and two types of covers you can try are cotton covers and vinyl covers.
• Cotton covers: This most popular cover is user-friendly and easy to clean with a wide selection of prints to serve as added decor.
• Vinyl covers: This cover is much more durable than cotton but requires meticulous cleaning and maintenance.
Chair Filler Types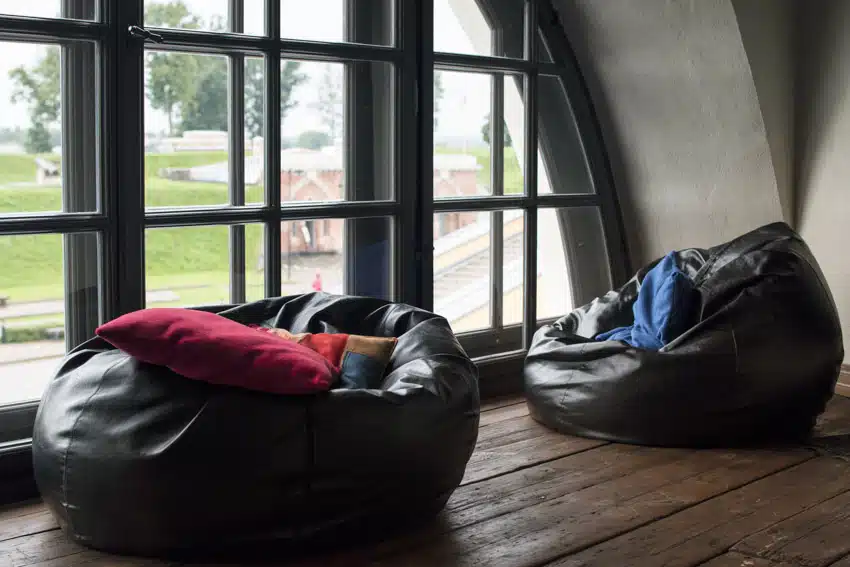 A bean bag chair needs to be soft and squishy but at the same time can perfectly mold around your body. This is the reason why the filler is an important component of the chair itself. And here are some fillers you can check out.
• Natural Fillers: This refers to dried beans, rice, corn, or grains, which may be the traditional fillers but are not really advisable today. They are heavy and more solid so won't be as comfortable to use.
• EPP Beads: Popular in Asian countries, these foam-like beads are soft and comfortable that they can also spring back to shape when the pressure is lifted.
• Polystyrene Beads: Usually round and tiny, this common filler has the same material as disposable cups, making it both light and affordable. It is also resistant to moisture and heat but tends to become compressed so make sure to give your chair an occasional shake before using it.
• Compressed Foam: The best filler for these chairs is shredded memory foam, which is a material that offers incredible comfort and at the same time excellent durability.
Beanbag Dimensions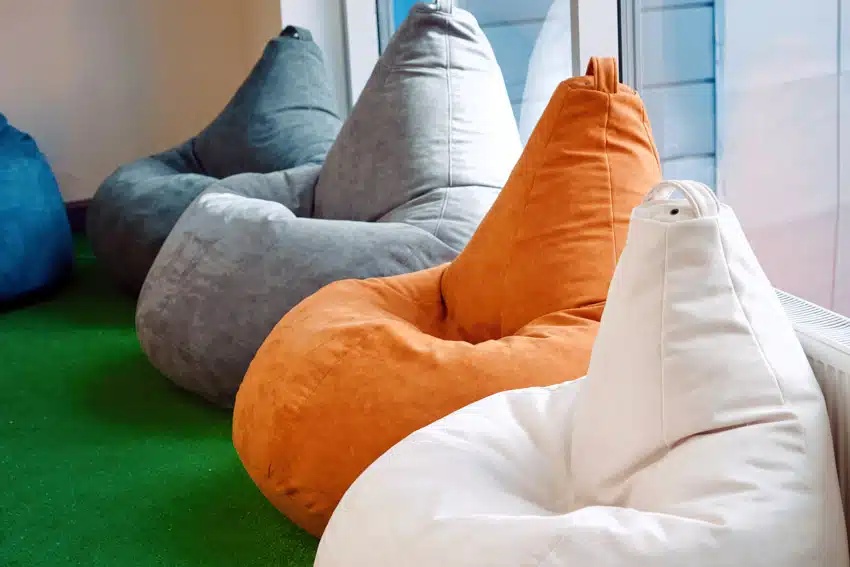 A standard adult-sized variant measures 36 to 42 inches in diameter, but this is only the common size. There are different sizes based on who will use the chair, from kids and teen sizes to impressive giant sizes for taller and bigger individuals.
Kids or Teenagers: 22-30 inches in diameter
Single Adult: 36-42 inches in diameter
Large: 48-52 inches in diameter
Extra Extra Large: 6ft or 72 inches or more in diameter
Two Person Chair: 7ft or 84 inches diameter or 8ft or 96 inches in diameter
How Much Is a Beanbag?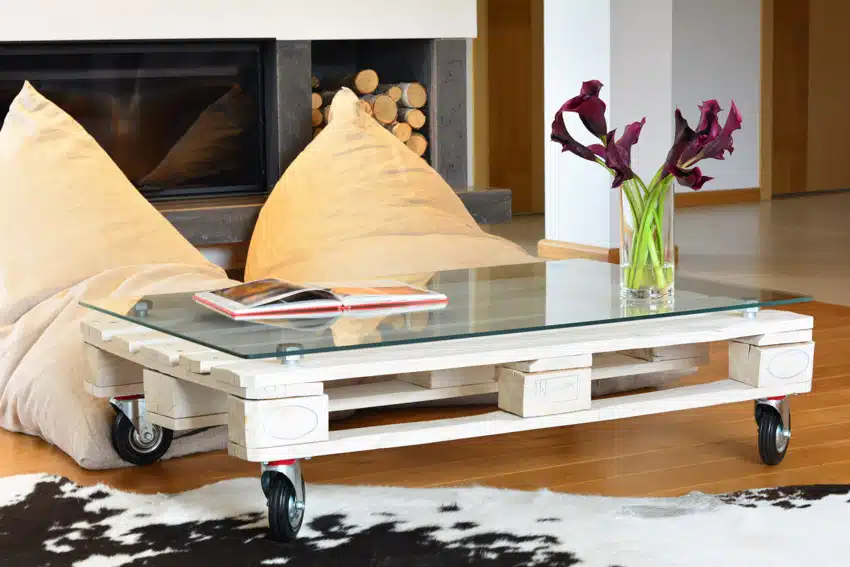 The cost of this chair depends on the materials they are made from and the size of the chair itself. If you're going for leather for the cover and memory foam for the filler, it might be more expensive compared to when you choose a cotton fabric for the cover and beads for the filler.
Generally, though, they can cost between $100 to $200 and may have a delivery fee to consider. The prices can vary depending on the materials and sizes of the bean bag chair.
For example, here's a rough estimate of what you can expect to pay.
Microfiber or vinyl: $30 to $100
Faux leather or suede: $100 to $200
Genuine leather: $200 to $300
XXL or larger: $100 to $400
How to Fill Bead Bag Type Chairs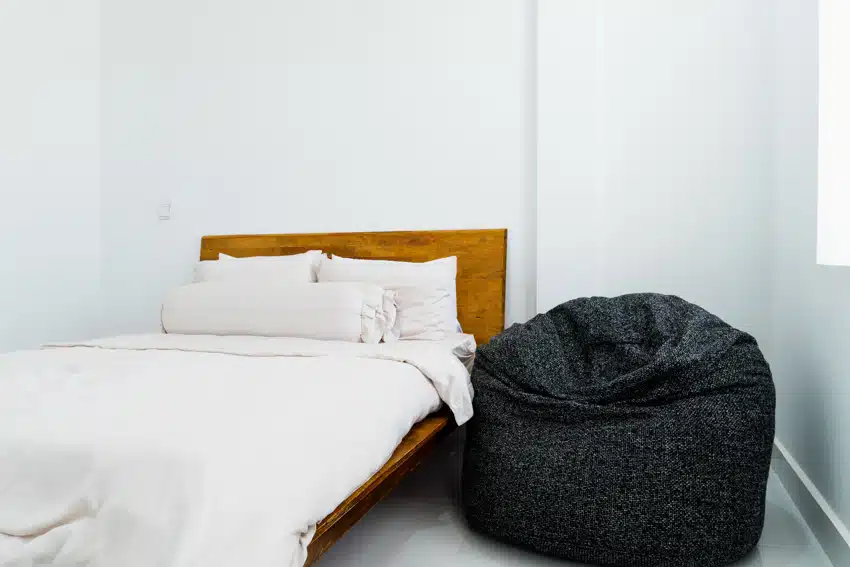 Filling a bean bag is quite easy and you only need to be strategic in where you start.
Before you begin you will want to buy the filling materials you need. Check if a tag on the chair describes the filling type being used. Most often polystyrene beads are used for this purpose and are available at many craft stores or online.
For most bean bag chairs you will need 3,100-liter bags to do the job. The amount of filler needed will depend on the size of your seat and desired amount of firmness.
Take off the cover and look on the bottom of the inner chamber for a zipper enclosure. If there is no zipper then make a hole on one side of the bag, where you can put the filling in.
Filling the bag can be quite tricky though so you might need a second hand to hold the bag as you pour the filling in. Then zip or stitch the bag to ensure the filling won't fall out. Check the seat's firmness and try adding or removing beads until you are satisfied with the comfort and feel.
Can You Wash This Chair?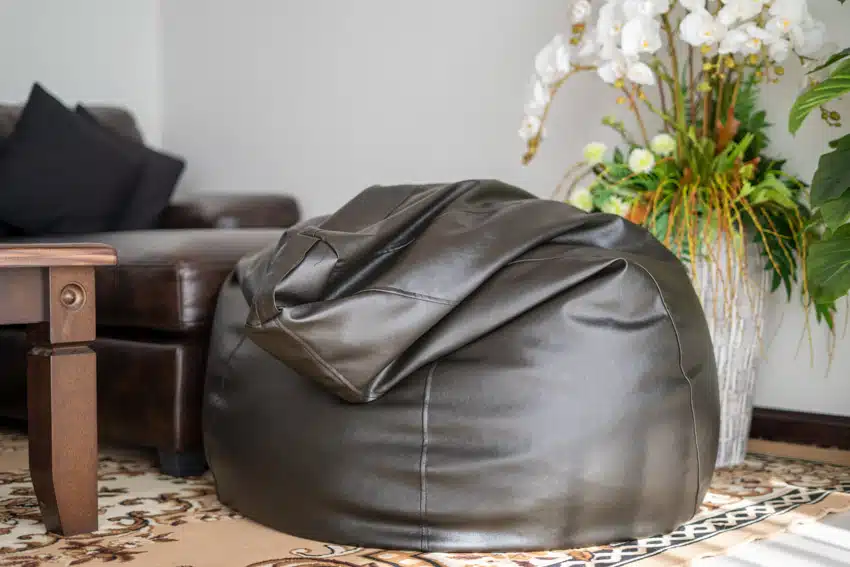 If you're talking about the traditional washing of getting the chair wet and scrubbing it with soap, then this might not be a good move to make. Depending on the materials they are made of, these chairs usually cannot be washed normally.
How to Clean This Kind of Chair
You can wash this chair with a damp cloth and soapy water, especially if you want the best result for your spot cleaning. Use the damp cloth and make light and circular motions in the area where the spot and dirt are.
If there's a more persistent stain, use a moist and soft-bristled toothbrush. Make sure to wipe the surface with a dry cloth after cleaning. To be more meticulous in the cleaning, here are ways how you can clean your chair based on the material they are made of:
• Cotton and other durable materials: Conduct spot cleaning using a damp cloth and soapy water.
• Faux suede: Use a metallic suede brush or suede eraser for marks and spots. You can also try slightly damp terry cloth.
• Velvet and other delicate materials: Use a damp cloth and a bit of water, but add two drops of dishwashing liquid to the water for persistent stains. Never use vigorous motions and gently blot on the area.
Where Can I Buy This Chair Style?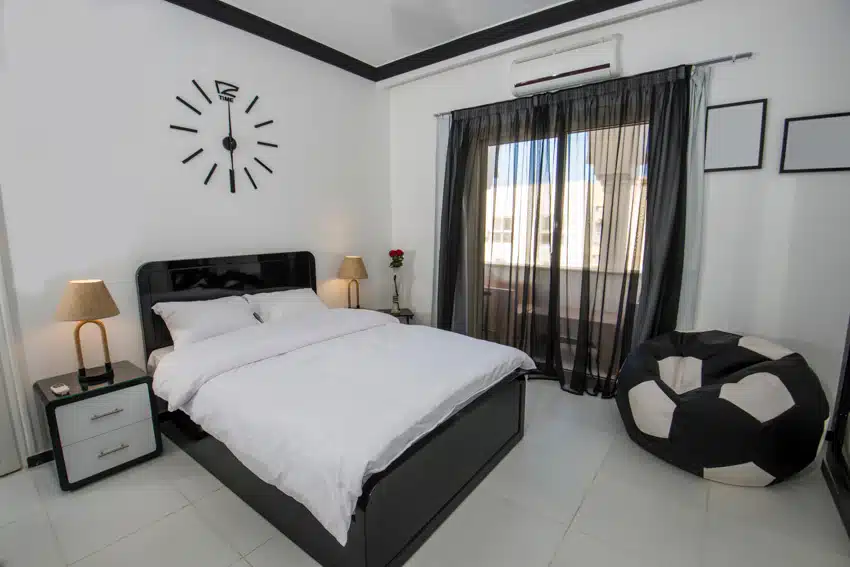 You can easily buy a bean bag chair online if you don't have the time to survey the market to look for the best one. If you have the time though, check out local stores to personally see and touch the different chairs you can purchase.
See more related content in our article about the best bean bag alternatives on this page.