Here's our types of outdoor furniture guide including the different materials, accessories, decor, storage tips, and how to choose the best outdoor furniture.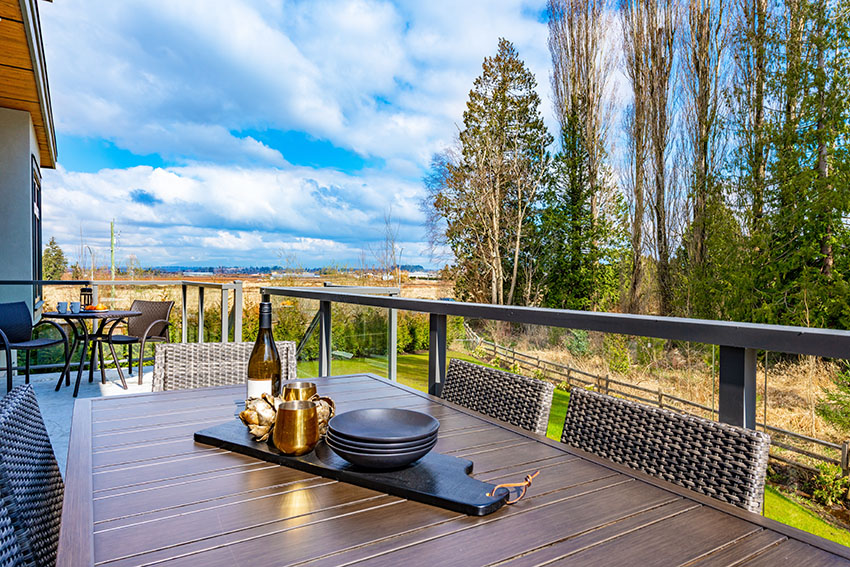 If you've been looking for an ultimate guide on the different types of outdoor furniture available in the market, look no further. In this article, we'll classify and categorize all of your different outdoor furniture options depending on the classification, material, style, and so on.
This is the best place to start if you happen to be looking around for furniture that you can procure for your backyard. Whether you have a deck, a patio, or a garden; you can be rest assured that your outdoor space is that spot in your home where you can relax and live it up to the fullest.
In order to improve the experience even more, you ought to look around and familiarize yourself with the different types of outdoor furniture. This will help you better decide on what kind of furniture will fit in well with the design and function that you have in mind for your outdoor space.
Outdoor furniture is an important investment in the home. Any purchases you make shouldn't be made without first putting a huge amount of thought into it. There are so many different types of outdoor furniture and materials to choose from but not to worry, we'll discuss everything in detail in this article.
Outdoor Benches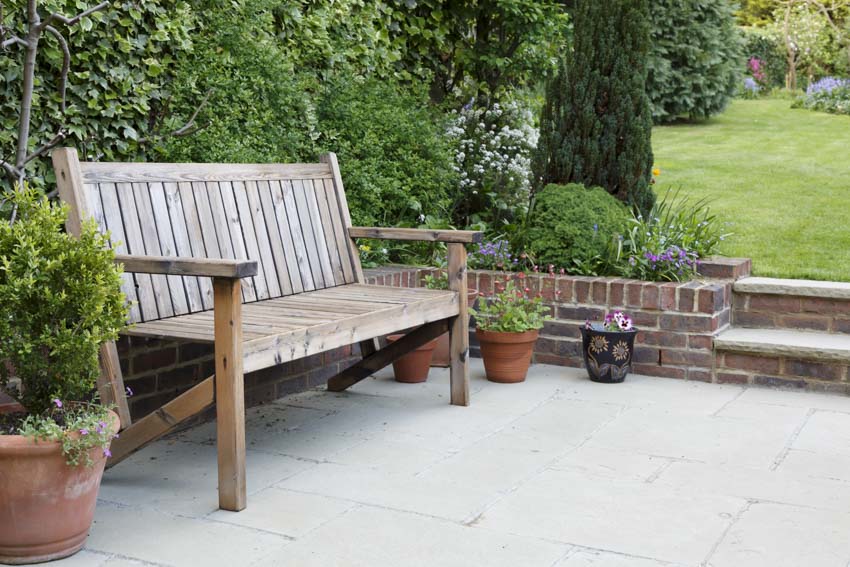 Benches are one of the most common types of outdoor furniture pieces you will find out there. They are casual and they can bring a certain sense of intimacy to your backyard garden.
Having benches in your outdoor space can bring in a feeling of coziness and warmth in an otherwise wide-open space. They can be custom-made or be store-bought in a wide variety of materials.
The most popular materials for benches are cast iron, wood, or some type of polyethylene weave. They are also quite comfortable to sit on and can blend in very well with other outdoor types of furniture styles.
There are also outdoor benches that offer the extra perk of having storage options. This can be a great feature to take advantage of if you happen to have limited space and you want to make the most use of what you have on hand.
Lawn Chairs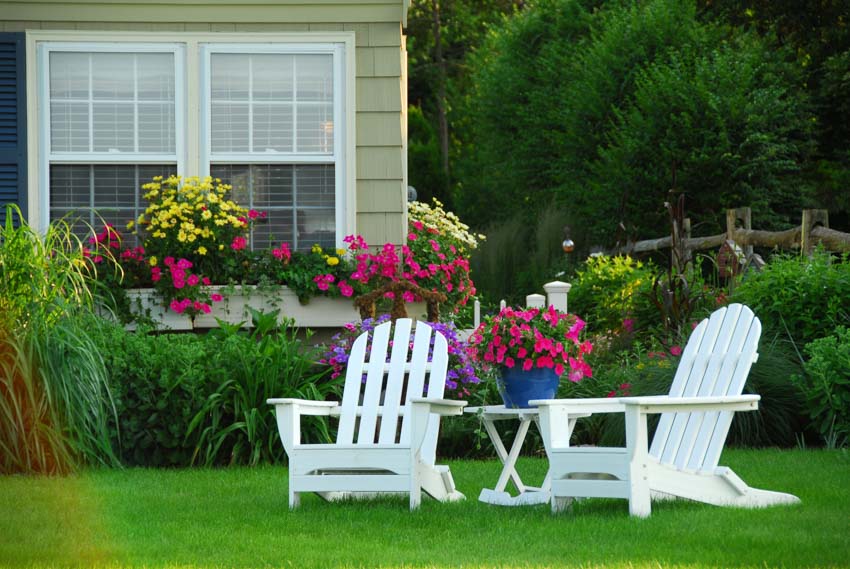 Gardens are places where you're supposed to relax. What this means is that your seating options are really essential to make them an environment where you can just sit back and relax. They're also great for when you happen to have just a small garden.
They can be made into a wide variety of materials from plastic, to wood, to aluminum, and even wicker. You can pick the material of your choice based on your preferred aesthetics as well as based on whatever fits your budget.
If you happen to have a relatively small garden, you can make do with just two lawn chairs. If you have a little bit more space, you can perhaps make the splurge and go for four lawn chairs or more. They're great for when you're entertaining or if you just happen to have a huge household.
An Adirondack chair is a popular style of chair that features a slanted back with a low seat profile. These are great for lounging on a lawn and can be folded up for storage when not in use.
Lounge Chairs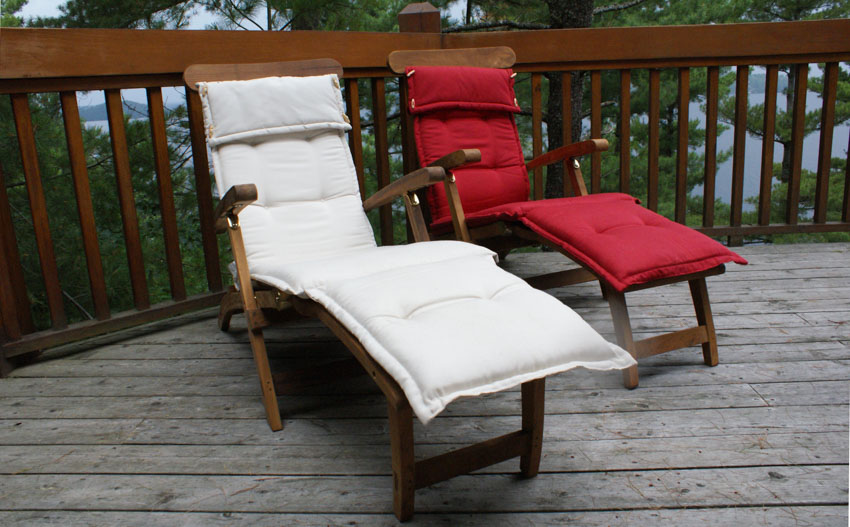 If you want furniture pieces that you can really lie down on, or just kind of lounge around, or take an afternoon nap on, lounge chairs can be perfect for you. These chairs can pair well with gardens that are landscaped or that have a nice scenery to enjoy.
They also happen to be perfect for backyard pools and the like. When picking out lounge chairs, try to go for materials that are weatherproof as they're bound to get hit by direct sunlight or get rained on all the time.
You can go with the budget friendly plastic or polyethylene lounge chairs or you can take the splurge and go for exotic rattan or even wicker if that happens to fit right into your budget for outdoor furniture.
Stools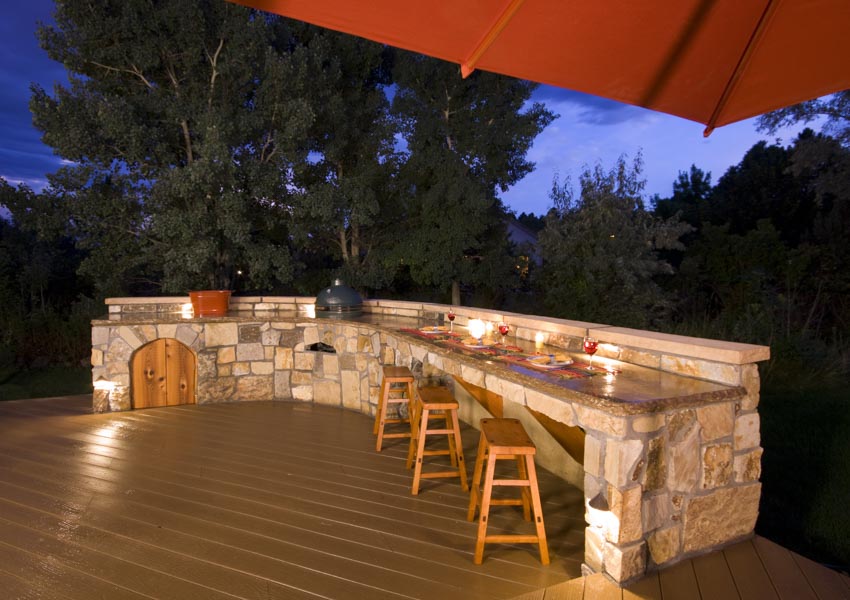 Stools are great for when you want to have extra seating space in your outdoor space. You can have as many of them as you want depending on the kind of space you have.
What's great about them is that you can spread them out especially when you happen to be entertaining like when you have a backyard barbecue and when you have a lot of people over.
On days when you don't really need that many seating options, you can just easily stack them and keep them in storage. They're very portable and lightweight and can get the job done quite splendidly.
Outdoor Dining Tables
The outdoor spaces in your home can also be a great venue for meals and parties. This is where the outdoor dining tables come in. They can come in handy for when you want to serve lunches, dinners, or even breakfasts alfresco.
Dining tables can come in a wide variety of similar materials as well such as wood, cast iron, rattan, wicker, or even plastic if you happen to be on a bit of a budget.
If you want a more versatile setup, outdoor dining tables can work to your advantage as well. You can opt for the less maintenance route and have an outdoor dining table that can also be moved and used indoors if you have no need for it outdoors.
Accent Tables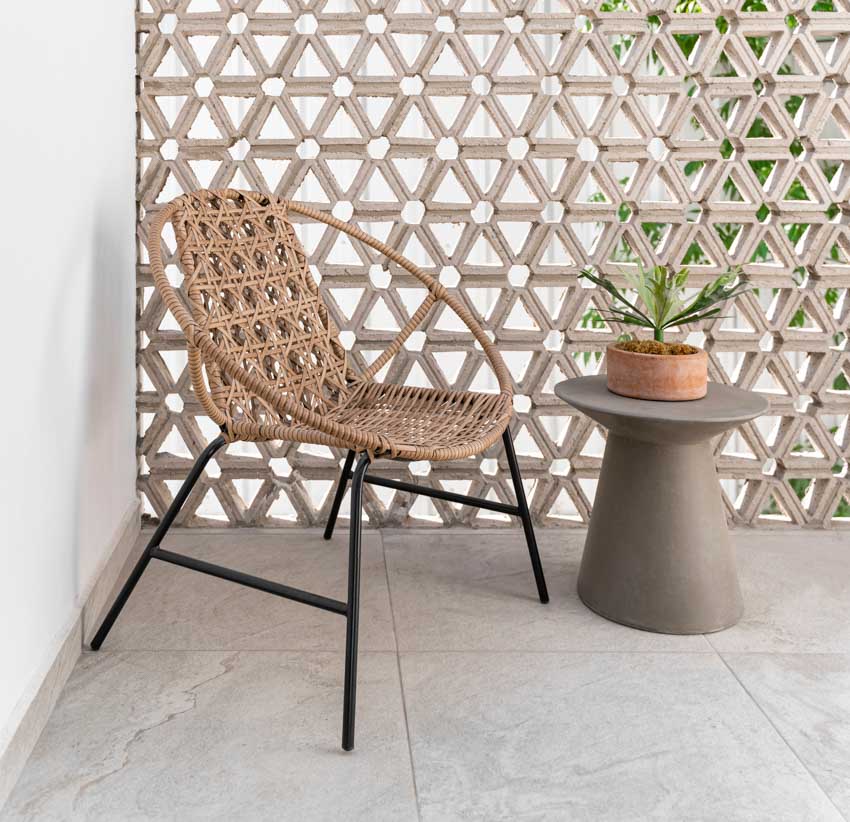 One of the main challenges of outdoor decoration is apart from ensuring that you have ample seating down pat, you also need to make sure that they fit into your desired aesthetic for the space.
Accent tables are effortless additions that you can bring in and thankfully, a lot of them tend to marry form with function. The best accent tables you can have are those that can hold all of the necessities close by.
You can go with pieces that are multifunctional or those that hold specific functions, depending on what you really have in mind. Accent tables are incredibly versatile and multifunctional.
They can serve as extra seating options in case there's a need for it. They can also serve as protection for outdoor accessories in the event of extreme sunlight or rain.
Coffee Tables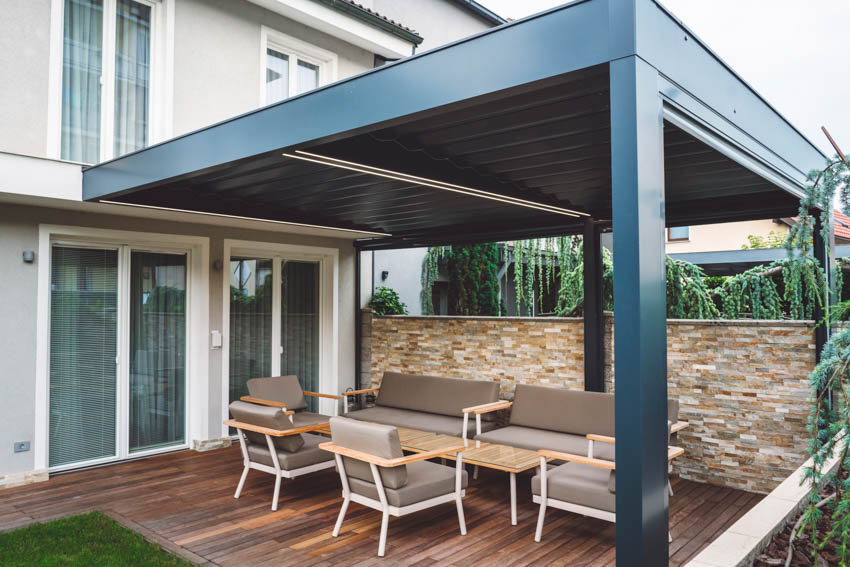 Coffee tables are quaint and romantic. But more than that, they can be multifunctional as well. They can be used for their main purpose, which is to hold up coffee mugs, a tea seat, and small food items.
Or depending on the size, they can also double up as pieces that you and your guests can place food on as well during meals outdoors. When picking out your outdoor coffee tables, make sure that you go for materials that can withstand the elements.
Keep in mind that these tables are exposed to the outdoors. Try to go with materials that will not easily chip and peel. You also need to consider pests and even spillages and food stains. Coffee tables are fairly low so try to make sure that you pair them up with low seating options as well.
End Tables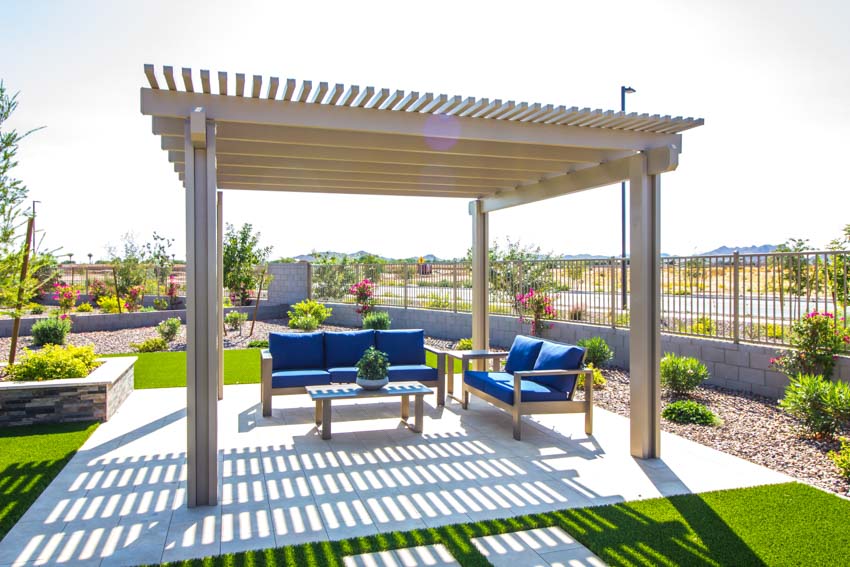 End tables are perfect when paired up with sofas and other furniture pieces that have group seating options. They can be on the sofa ends and can be very convenient as either extra optional seating or to hold beverages and small food items.
Bar Tables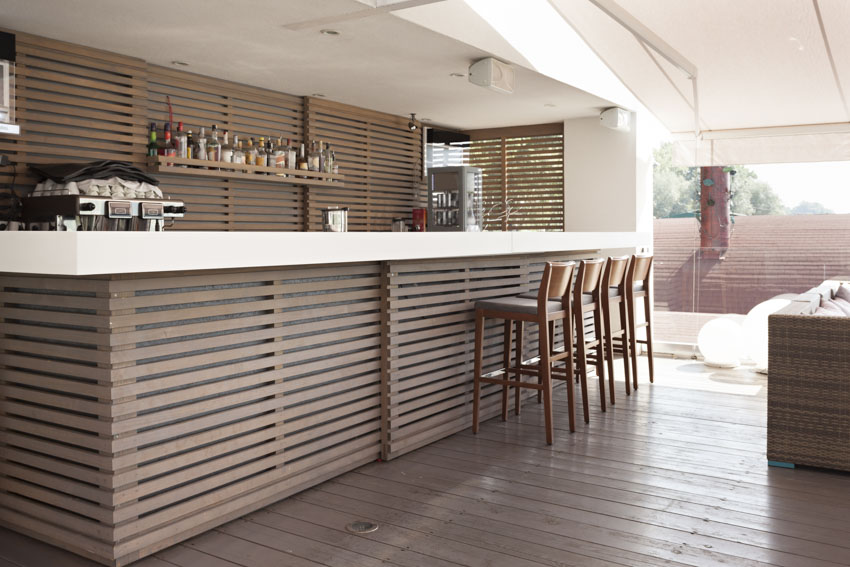 If you happen to be the type who entertains quite a bit outdoors, bar tables are great options to have. This is a great furniture option for when you want to serve drinks and the like. Bar tables are usually equipped with refrigeration options for beverages.
But more than that, they can also accommodate limited seating by adding some bar stools alongside them. They can add pizzazz to an otherwise already impressive setup and it can really up your game when it comes to entertaining your guests.
Chat Tables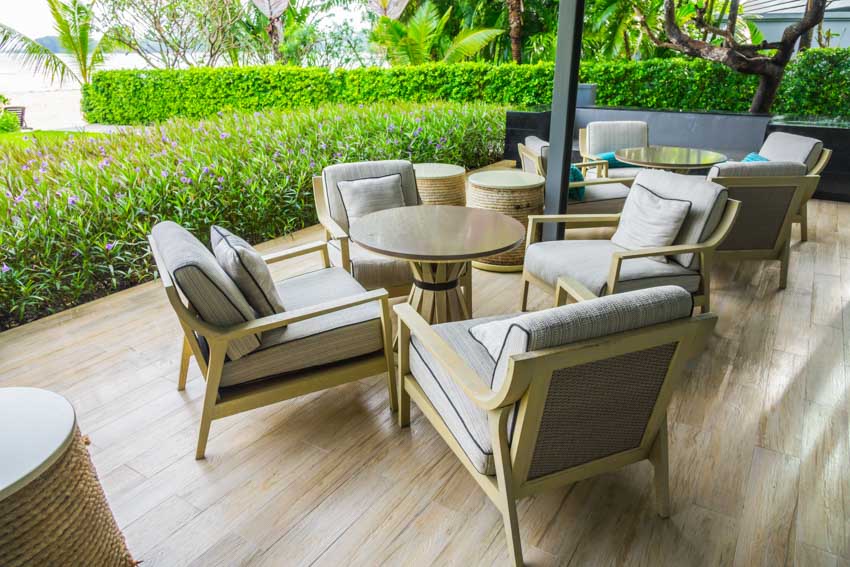 Outdoor chat tables can be great as central furniture pieces for your garden space. They can be styled along with the specific aesthetic you have in mind and in essence, their main purpose is to provide a venue for people to be able to sit huddled together and chat, as the name suggests.
They're also casual and unassuming. They're great for when you and your guests want to set down personal items such as phones and wallets. They can also be used for you to serve food and drinks on and are oftentimes perfect when paired with lounge chairs.
Fire Pit Tables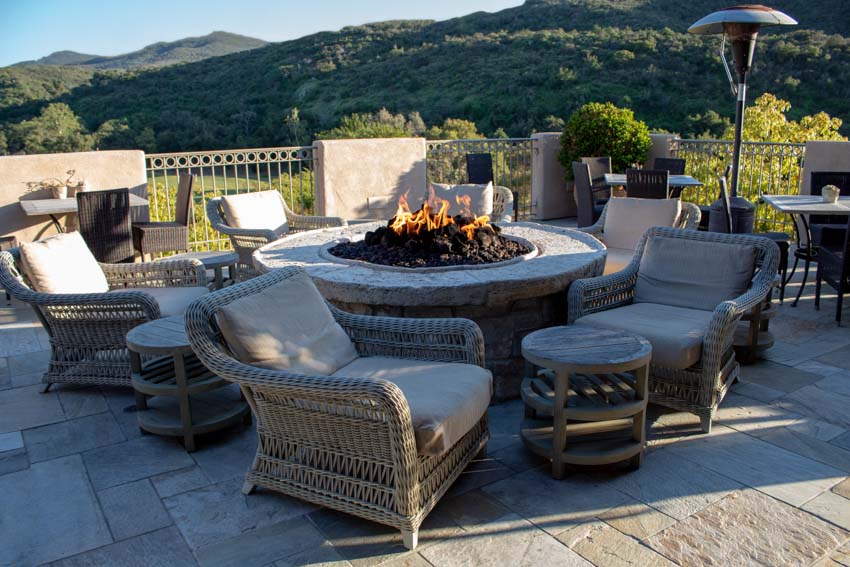 Fire pit tables happen to be one of the running favorites for homeowners when it comes to outdoor furniture pieces. A fire pit table is basically a table with a fire pit built right in the middle of it.
It can either be gas-powered or it can be traditionally functioning with coal or fire glass. They can be perfect for wine nights or during particularly cold evenings where you kind of want to huddle outside and enjoy the stars. See our gallery of fire pit design ideas here.

Bistro Tables
Bistro tables originated way back in the 19th century in France. They're usually paired along with pub stools and are either oval or round in shape. They closely resemble the quaint little café tables you usually see in Parisian cafes.
A bistro size table is typically a 24 inches round tabletop and is a little under 30 inches high. Bistro tables are oftentimes made out of wrought or cast iron materials but they can be made of other lighter and more organic materials as well. They can easily transform your outdoor space into something that's classy and trendy.
If you want to make your neighbors jealous of how great your space looks, then bistro tables are a definite must-have in your backyard.
Bistro Sets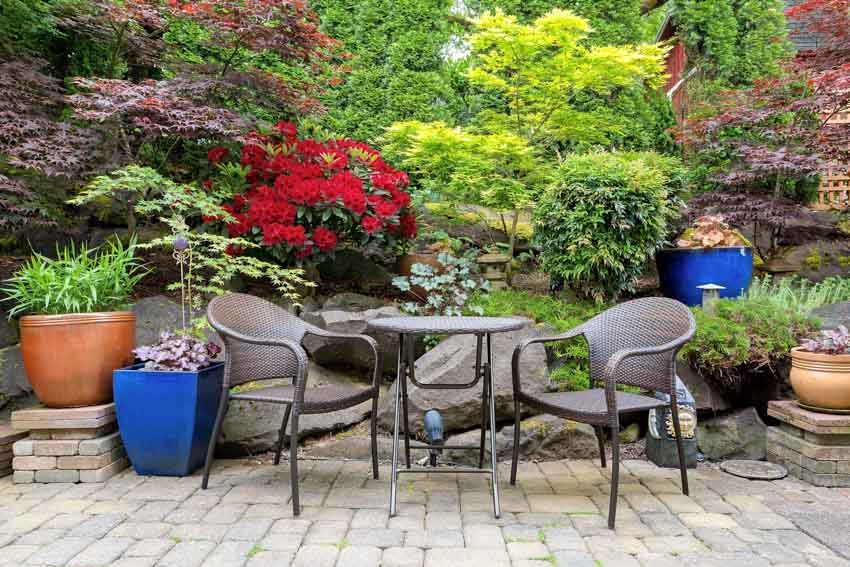 Bistro sets were hailed all the way back in France, in those trendy Parisian cafes. They're called bistros, hence the name. How bistros came to be was that they originally sprung from Parisian apartments that had tenants that had to pay for their room and board.
A bistro set consists of two chairs and a round table. They are usually foldable which makes them ideal for packing away during the colder months when their not needed.
On top of that, as a way to supplement their income, the landlords also opened up their kitchens to the public. They catered to these customers using bistro sets that have been set up in the streets. Bistro sets are great outdoors for those quick drinks and tiny food items or even full set meals.
Console Tables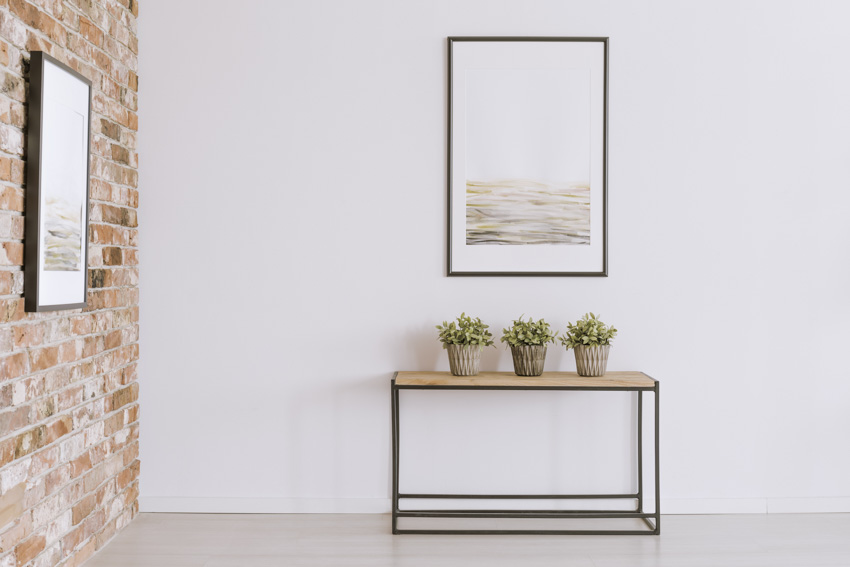 Console tables are space-saving and are oftentimes unassuming. They can work well for you if you want to embellish your outdoor space but don't really have the luxury of a lot of space because they can be quite narrow.
Outdoor console tables can also double up as movable bars or just small pieces of furniture that you and your guests can put a random assortment of items on.
You can butt one right against the back of an outdoor sofa to hold an outdoor lamp or other decorative pieces that you might want to incorporate in your outdoor space.
Sofas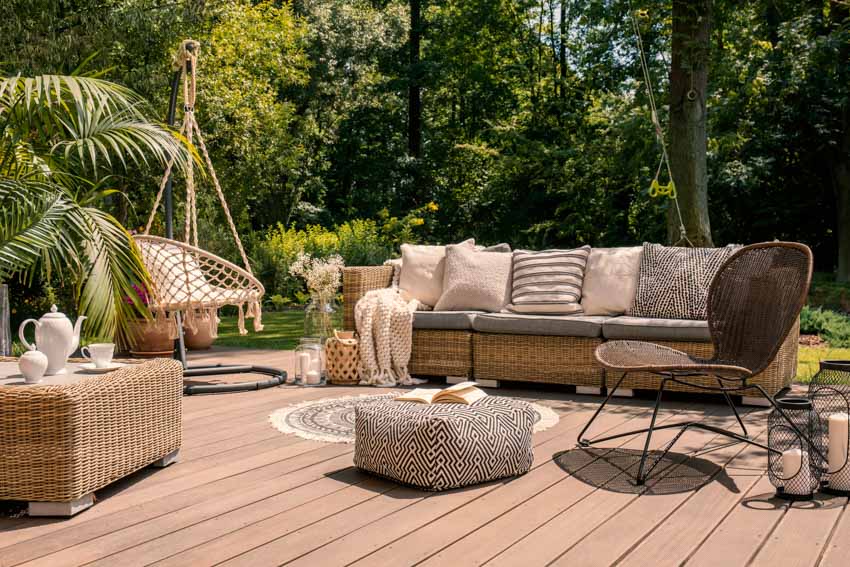 If you have a huge outdoor space and you feel that it can accommodate the bulk, sofas are great furniture pieces to have for your outdoors. They're the best ones to get, if we are to speak freely. Sofas are the very embodiment of comfort and intimacy.
Although sofas are more commonly seen indoors, it definitely wouldn't hurt to have them outdoors as well. Sofas are attractive and luxurious in their own rights so if you want to further elevate the aesthetics of your outdoor space, they will definitely turn out to be a really great addition.
There really isn't anything better than being able to spend some time sitting in comfort outdoors with your guests at home while you're in the company of lush greenery from your garden.
Sectionals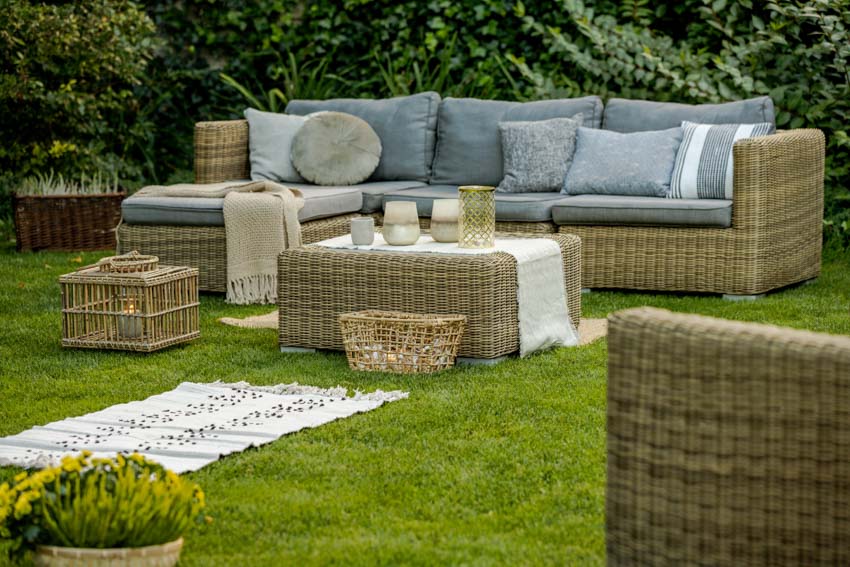 You have to consider a lot of things when you're thinking about the sectional that will best suit your needs outdoors. It goes far beyond just checking out what attracts you visually.
You also need to take a look at this as a real addition to your outdoor space layout. You have to look into how comfortable, durable, and most importantly, how functional it will turn out to be.
Sectionals are modular sofas. They are different pieces that can be assembled, disassembled, and then reassembled into a ton of different designs and configurations.
They can be very versatile as outdoor furniture and you're bound to really have a lot of fun with them. They can come in a U shape or an L shape, depending on what your preferences are and what will fit in well with your layout.
If you're tired of awkward arrangements in the patio or corners that aren't being utilized that much, sectionals can really be your best friend. They will allow you to utilize every inch of workable space in your backyard.
They can offer up far more flexibility and function compared to your traditional outdoor furniture choices. They can easily get cozy and can easily be spread out as well depending on your needs while you have friends and other guests over at home.
The different types of sectional sofas allow you to change up the layout of your backyard depending on the season or whenever you like it. This can appeal to a lot of homeowners in general.
Go with any sectional that your heart desires. Just make sure that it can actually fit into your space so always whip out that measuring tape before you make any purchases.
Gliders & Swings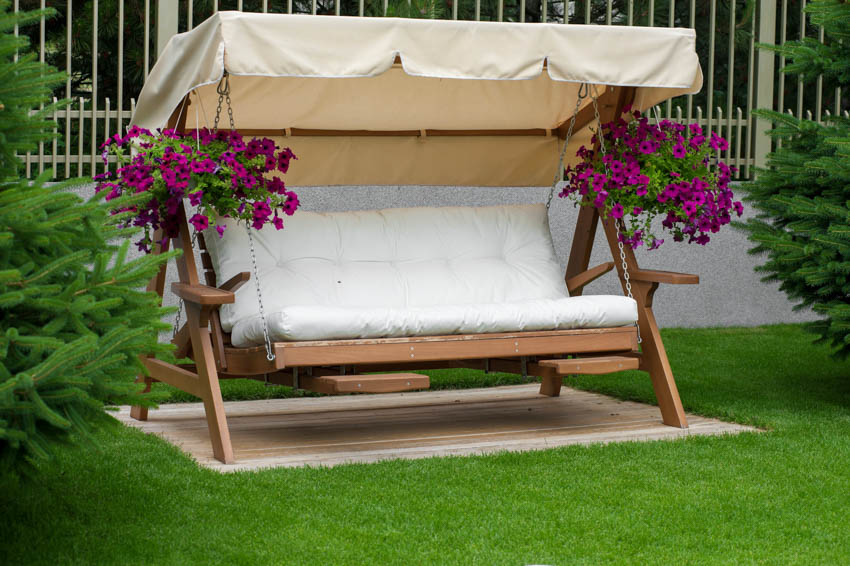 Back in the old days, the main choices as porch furniture were only between the swing or the rocker. The glider is kind of a new thing. A glider can be considered as a platform rocker. It's basically a rocking chair that also kind of moves like a swing.
The entire frame is comprised of a seat attached to the base and has a four-bar linkage that serves as its double rocker. Because the suspension arms are not parallel to the tie, this causes the seat to go about with a rocking chair motion, swinging back and forth.
Swings, on the other hand, have bench-like seats that are typically made out of wood. This type of patio furniture is a little more suitable for adults as swings may not be so safe for children.
The suspension chains for swings are usually bolted right up to the porch sealing. The seat can at times be large enough to seat up to three people with armrests on both ends.
There will also be times wherein it will be suitable to just one. It all depends on how the swing was actually built and for what purpose.
Daybeds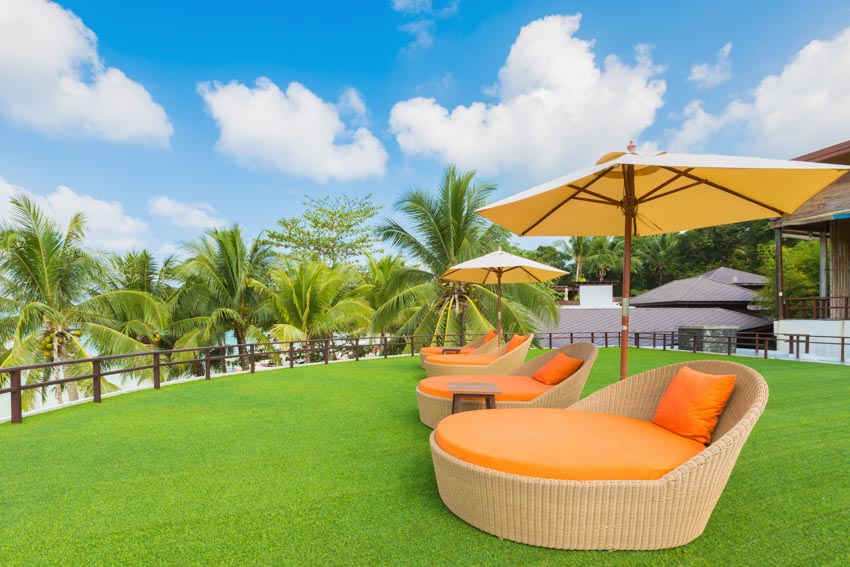 What's a daybed, exactly? It's a piece of furniture that can either be used indoors or outdoors. It can fit just as well in any living room, guest room, or bedroom, as it can in an outdoor patio.
A daybed can function both as a sofa and as a bed. It usually has a three-dimensional frame and the two sides serve as the footboard and headboard.
The third side looks and functions like the backrest of a sofa or couch. Daybeds are oftentimes made out of metal or wood and they always have upholstered mattresses, of course.
Daybeds are functional and comfortable. If you want to kind of just lounge around outdoors and maybe take a nap when the afternoon is a little cooler, then a daybed just might be the perfect purchase for you. They can also double over as extra seating in the event that you have guests over and the seating capacity inside the home is a little full.
Hammocks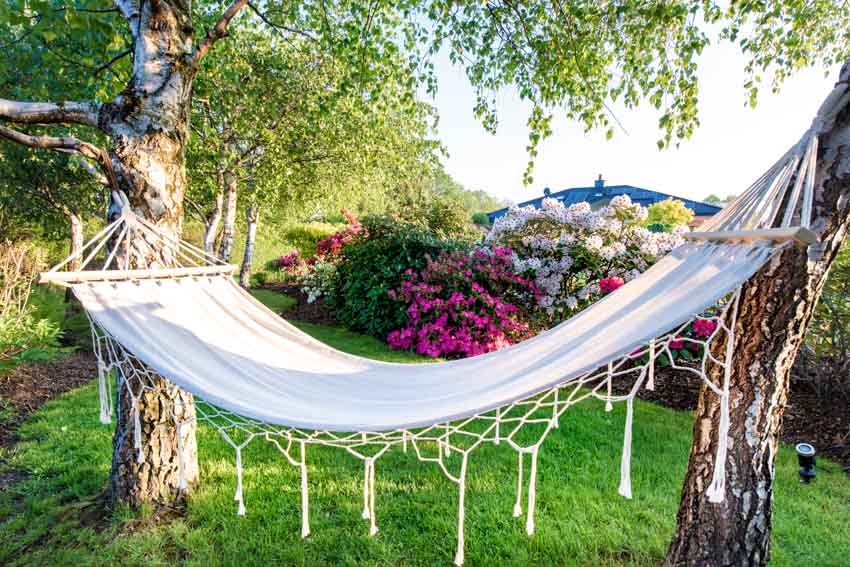 Hammocks are convenient, cheap, and they certainly don't take an army to set up. You can just order them online or buy them from your nearest store, tie them up to nearby trees or beams, and you're pretty much set.
They're said to reduce stress, improve blood circulation due to the upper body's elevation, help soothe muscle aches as hammocks kind of reel your body in to relax, soothing your backaches or any other body malaise you might be feeling at any given point in time.
On top of that, they're impossibly cheap and you can easily fold them up and keep them in storage if you have a need for the space they're occupying or if you just want a different aesthetic for the space at the end of the day.
Ottomans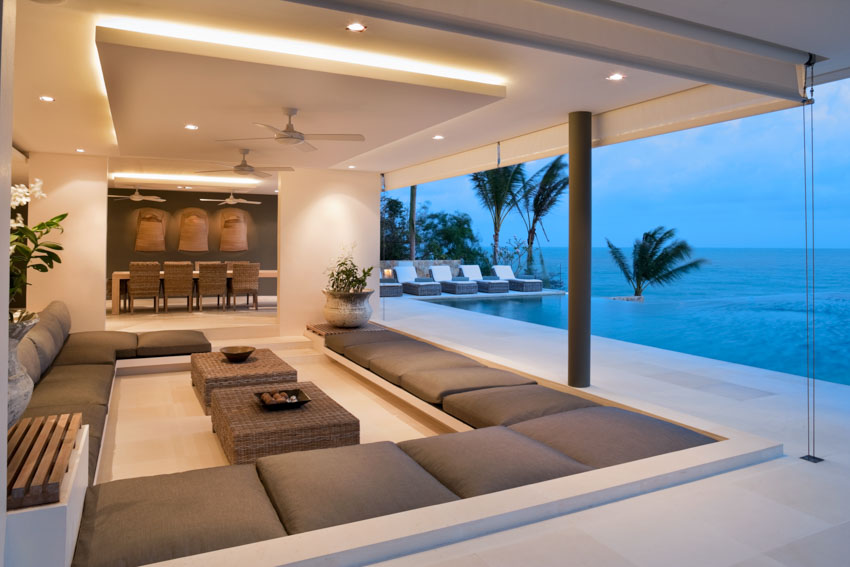 An ottoman is any upholstered furniture piece that has no arms or back. It has a myriad of different uses or functions from being a footrest, to being a seat, to a small table, or literally anything that you might consider as a need for it. They hailed all the way back in 18th century Turkey and became wildly popular in clubs and other upper-class establishments later on in the timeline.
Ottomans are great because they double as extra seating. They're that multifunctional. We've all been to parties that turned out to be a little crazier than expected and what usually happens is that in parties like those, there's almost always no place to sit.
When you're hosting, you would always want people to have a place or spot where they can comfortably sit when they aren't really in the mood to be up on their feet and go all over the place. If extra seating isn't something you fancy, that's no problem.
Use your ottoman as a footrest for when you're just relaxing with either yourself or with your loved ones at home. Working from home? Not a problem. Your ottoman can actually double up as a workplace or as some kind of coffee table.
It can also be an end table if you happen to have a sofa nearby. It can hold food and drinks and no one will be the wiser. Ottomans can literally morph into anything you could possibly need while you're entertaining outdoors.
Make it a point to go for materials that are weatherproof and try to stay away from those that are organic such as fabrics and the like. This is to ensure that your ottomans look nicer for longer.
Furniture Material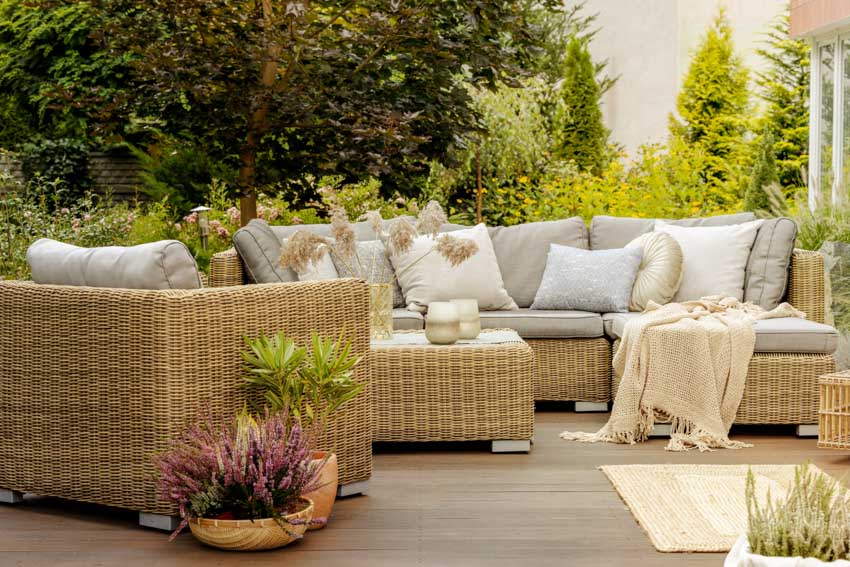 There's a wide variety of outdoor furniture materials out there but the common ones usually come in wicker, aluminum, plastic, or wood. Each of these materials has its own strengths and weaknesses.
In order for you to make sure that you really are making a good buy, you need to assess what these strengths and weaknesses are, and with a little bit of research, you should be able to make the best decision possible.
Aluminum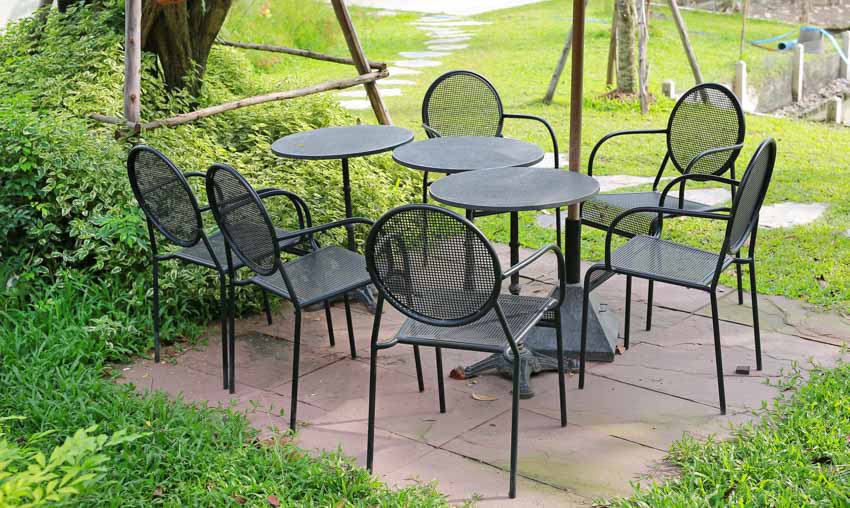 Aluminum outdoor furniture are one of the sturdier or more durable materials. Unlike the other types of metals out there, they don't rush. This makes them really ideal for when you happen to be in a location that happens to get a lot of rain or ocean spray.
Aluminum outdoor furniture also comes with a lot of different treatments. Powder coating is the most common among them.
Powder coated aluminum provides an extra barrier of protection against corrosion. They can also help immensely when it comes to the management of scratches, dings, and other effects of daily wear and tear.
Although aluminum outdoor furniture is pretty great to have in its own rights, some are put off by its high cost. Aluminum outdoor furniture is one of the most expensive in all of the material options available.
They also come in several grades but the most notable ones are cast and extruded aluminum. The less expensive aluminum grades have poorer quality than the high grade ones.
The welding joints in particular can at times turn out to be weak. The most indicative signs of poor welding joints are those that look irregular or lumpy so this should be a major buying guide when shopping around for aluminum outdoor furniture.
Cast Aluminum
How cast aluminum is formed is that the base metal is heated to temperatures that are extremely high. The molten material is then poured out into molds, and then cooled.
Extruded Aluminum
If you want to go for something a bit more creative and adventurous such as having a range of different designs for your outdoor furniture, you're bound to have a lot of fun with extruded aluminum. You can come up with frames that come in every size and shape imaginable. They only needed to make the mold for you.
Steel & Wrought Iron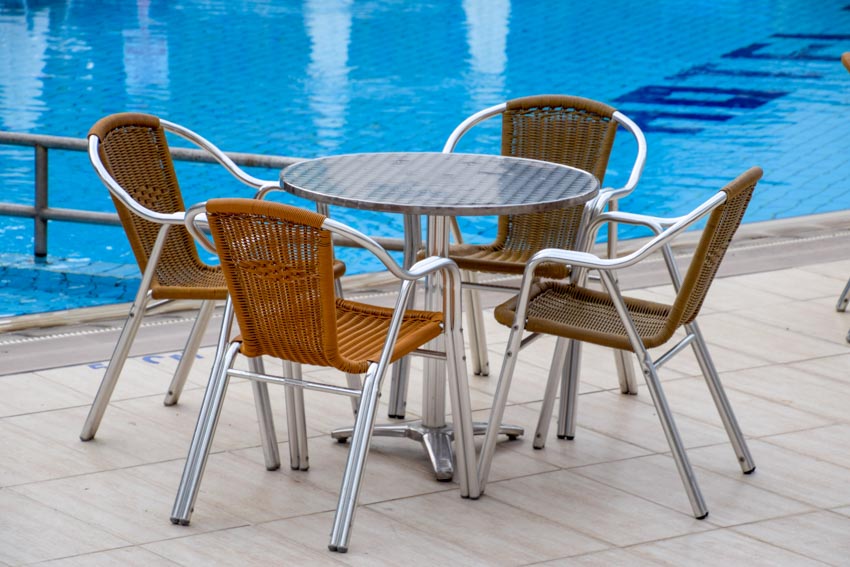 Steel and wrought iron outdoor furniture can look very stylish. If you're quite particular about the quality of the aesthetics, these may be really great candidates for you to consider.
When you compare them to other materials such as plastic, they really are way ahead. Not only are they immaculate to look at, but you can also be rest assured that they're far sturdier and more long-lasting. They bring in a long that' quite modern and fashionable without really overdoing it.
As for the price, steel and wrought iron outdoor furniture are actually quite reasonably priced. You can choose from different styles, colors, and models and they come in a wide variety of price ranges.
If you want to go and match all your sets, then you need to be prepared to shell out at least a thousand dollars. It helps if you buy one individual piece at a time as it helps spread the costs out, helping you save overall.
The only disadvantage to steel and wrought iron outdoor furniture though is that they aren't really all that comfortable to sit on. That's why when you're out shopping for pieces, it's highly recommended that you walk around in the store and actually sit on them.
Get a feel for how they feel like and what the sitting comfort is. It is always best to know exactly what you're bringing into your home as opposed to just leafing through what you see in the catalogs or online.
Powder Coated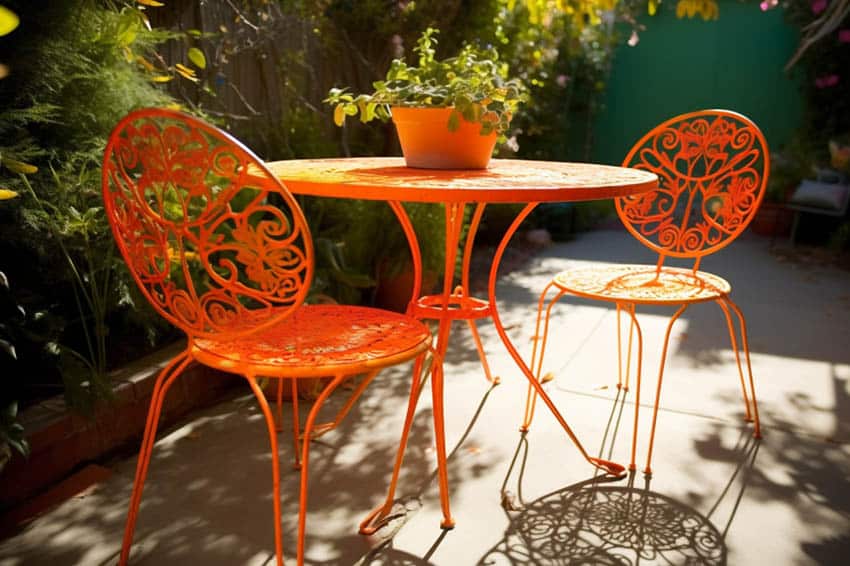 Powder coating is an add-on to the durability of steel. It can help when it comes to equipping the steel to last longer and better and withstand damages as well in the process.
When you have outdoor furniture, you also need to keep in mind that they will always be out in the open and exposed to the elements of the environment. Powder coating them arms them against corrosion.
Humidity and moisture are bad for steel because this is how rust eventually forms. When applied to the steel though, powder coating offers up that extra protective barrier that can help them prevent corrosion, extending the life span of the steel even more.
Powder coated outdoor furniture pieces are said to require little to no maintenance. They offer up a hard finish that is much tougher than regular paint.
This means that the colors stay brighter and longer compared to the regular method of getting it colored. It is also known to have very little impact on the environment. It has no solvents and hence does not emit fumes or vapors, unlike traditional paint.
Wood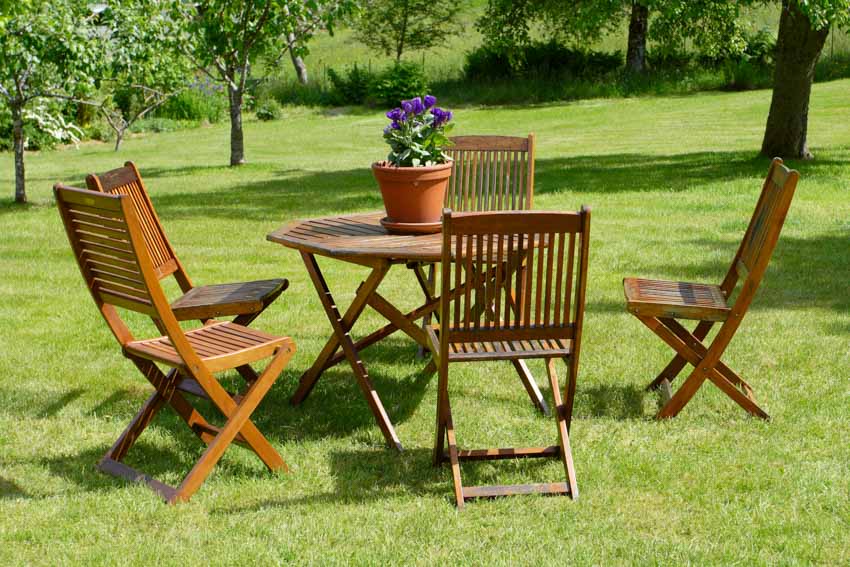 Wood outdoor furniture is classic and timeless. It brings in an organic feel to your space. It's perfect for when you want to create an aesthetic that's rustic, warm, and natural. The most common choices for wood outdoor furniture are teak, pine, and cedar.
They each have their own style. When properly cared for and maintained, wood can wear out very well and can have a really long life span. They're great for the outdoors as they don't really hold heat for long as opposed to metal or even plastic.
The downside to wood outdoor furniture though is that they can turn out to be one of the more expensive choices. They also happen to require the most amount of maintenance.
Wood tends to develop a somewhat grayish and faded finish over time and if you want to maintain its attractiveness, you would have to maintain it with some furniture oil and other available finishes in order for you to maintain their original color.
And of course, there's the obvious disadvantage of wood being an organic material. Water damage is a very real problem for wood outdoor furniture.
This means that you would have to perform seasonal maintenance should you go down this route. Most homeowners would bring their wood outdoor furniture indoors in order to protect it from damage during winter or during the harsh months.
Teak Wood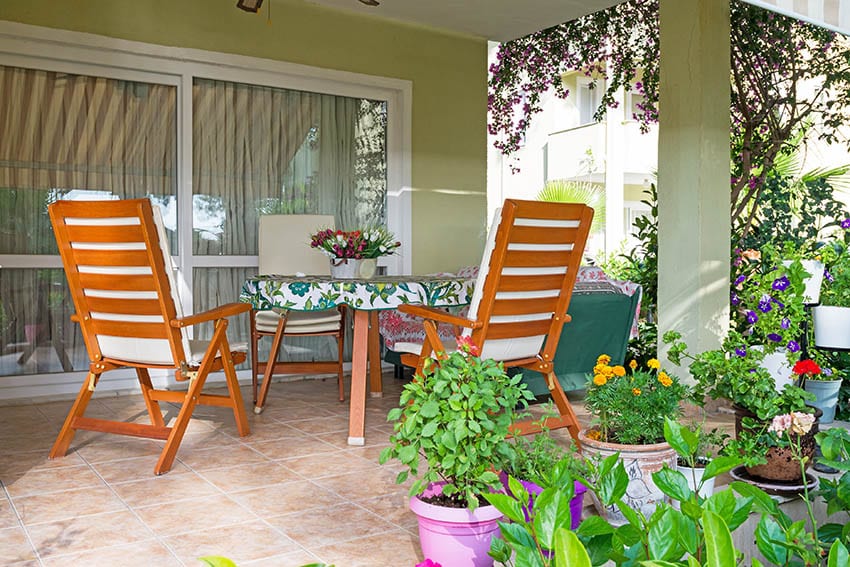 Teak is a hardwood that's known to be one of the most durable ones out there. It's built for outdoor exposure and is known to really withstand sun and rain.
This is because teak has a high oil content and a much denser wood grain that allows it to withstand moisture from penetrating it. It's versatile and easy to work with.
It's also impressively hard and has a high resistance from acid damage, termite infestation, as well as rotting. The oils that are naturally in teak protect the overall integrity of the wood. Read more about outdoor teak furniture here.

Pine Wood
Pine wood outdoor furniture is quite popular in wood making. It's friendly to the budget and is also quite lightweight. Its grain is attractive and it is known to produce great surfaces.
It is a very strong wood material. It's mainly because of its density and compressive strength. And although pine wood is considered relatively stronger compared to its other softwood counterparts, you have to know though that it's still a type of softwood. It is far weaker still compared to the hardwoods like teak.
Cedar
Cedar wood is light, can be quite soft, and easy to work with. The only downside to cedar is that it doesn't really hold screws very well. This is mainly because of the fact that it's a very soft wood. Don't let the softness put you off just yet though.
Cedar is highly recommended when it comes to the manufacturing of outdoor furniture because of its natural characteristics of being able to resist termite, rot, and even the infamous powder beetle.
Plastic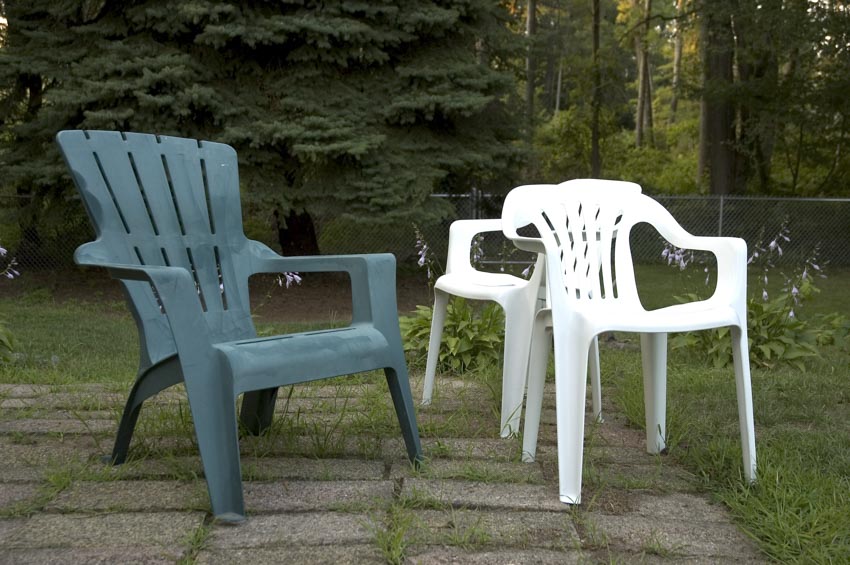 Plastic outdoor furniture pieces are the most affordable out of all of the materials available. They can withstand the harsh elements of the weather, they're lightweight enough for you to move them around depending on your needs, and they come in a wide range of colors.
When shopping for plastic outdoor furniture, you need to make sure that you pick ones that are UV-treated. This is to ensure that they won't end up fading or yellowing out due to sun and rain exposure.
A higher-end version of plastic outdoor furniture is resin. They're slightly more expensive but they have the added advantage of being sturdier and being much easier to clean or maintain.
Because of the fact that they come so cheap, you will run across that same hiccup. Plastic outdoor furniture tends to look cheap. They also won't last as long as the other sturdier materials.
Although they're lightweight and easy to move from one place to another, you also run the risk of getting them blown over in the presence of strong winds.
Plastic outdoor furniture also tends to dimple over time and they can be very prone to etching and scratches. This makes them difficult to clean over time.
Wicker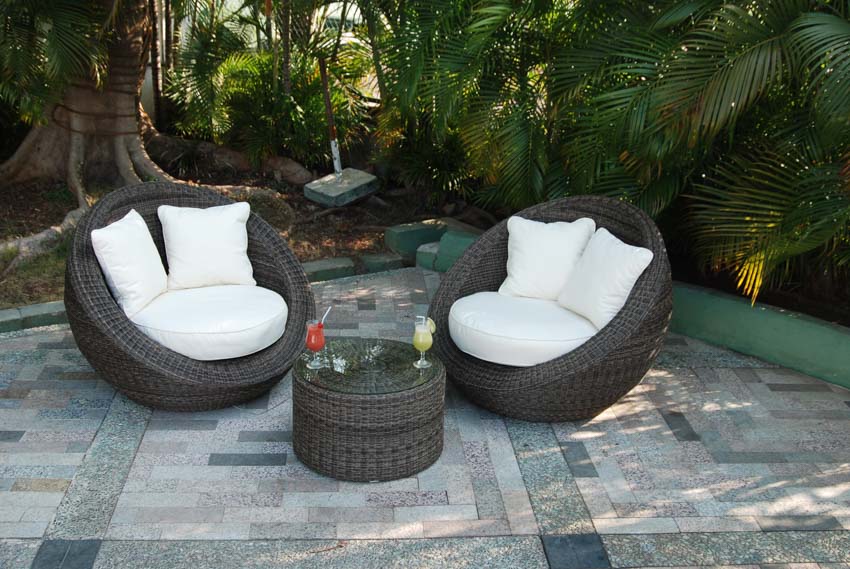 Wicker outdoor furniture looks laidback and classic. If you're going for a resort vibe in your outdoor space, then wicker is a great material for you to consider.
A word of caution though, most furniture pieces marketed as wicker in the market today are actually made out of polyethylene or PVC. This means that it's basically plastic but it's made to appear like it's wicker.
This is because the plastic qualities make them more durable and weatherproof. High quality wicker, however, will not fade out over time. It is easy to clean and is incredibly lightweight.
When shopping around for wicker furniture, keep an eye out for the quality of its weaving. A tighter weave would be indicative of higher quality. Wicker outdoor furniture that have tighter weaves tend to wear better and ultimately last longer.
Natural wicker material, however, is more suitable indoors rather than outdoors. When put outside, it tends to bear the brunt of a lot of wear and tear. Synthetic wicker, although not the real thing, can offer more durability although it also tends to cost a bit more.
Wicker also comes in different grades. The cheaper ones tend to show white when dented or scratched. Higher grade synthetic wicker can maintain its color better.
Resin Wicker Outdoor Furniture
Resin wicker outdoor furniture is a great material to keep in mind. It's resistant to fading and tremendously durable.
On top of that, it can also be very easy to maintain. The high-quality ones are usually made out of high-density polyethylene and are said to last for up to 10 to 15 years when used and maintained properly.
Because it doesn't biodegrade that quickly, resin wicker is known to be more durable compared to its natural material counterparts. It is less susceptible to sun and rain damage.
It also requires little to no care at all other than getting it occasionally washed when it gets too dirty. Resin wicker outdoor furniture is also highly resistant to mildew and mold.
It doesn't stain or fade and you won't have to deal with the gnarly issue of the paint flaking off. They also very rarely break but in the off-chance that they do, they can be easily repaired. They come in with repair kits that cost $20 or less.
The only downside to resin wicker outdoor furniture is that they might turn out to be as aesthetic or visually appealing compared to natural wicker. They're also oftentimes built on lightweight aluminum frames which means that they can be easily blown over by strong winds.
Rattan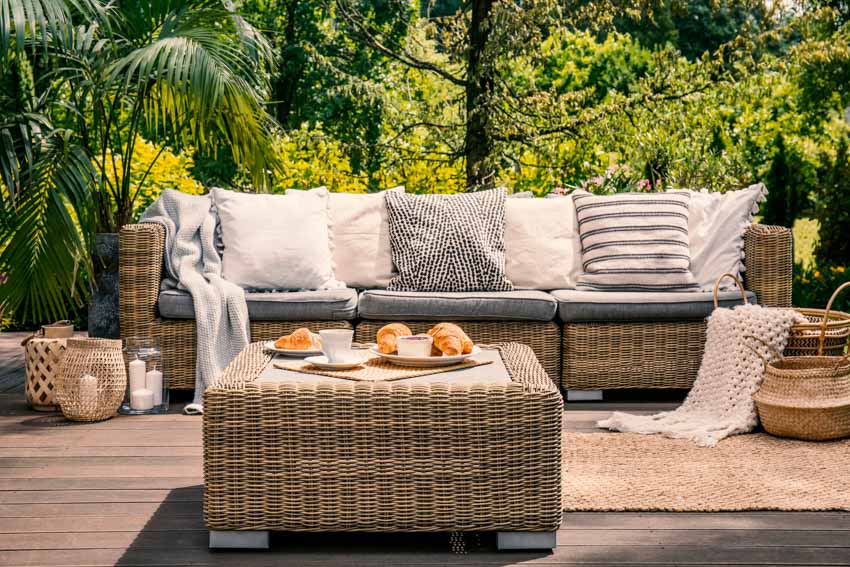 Rattan outdoor furniture is hardy and versatile. You'll find that a lot of old houses still actually have their rattan furniture intact. As a matter of fact, it's been said that rattan furniture can last for up to as long as 50 years when cared for the right way.
This means that the rattan outdoor furniture you buy today can last not just for your entire lifetime but for more generations to come. They're great indoors as well as outdoors as their aesthetic is very versatile.
Rattan is also considered as a sustainable material. This means that you're making a choice that's great for the environment because whole trees don't have to be cut down in order for it to be converted into furniture. The vines grow very quickly making supply constantly available and cheap.
Rattan outdoor furniture is resilient and it can withstand sun and rain without getting damaged. It can incredibly handle harsh cold weather as well.
Synthetic Rattan Outdoor Furniture
Synthetic rattan uses inorganic materials such as PE, PU, and PVC. What this produces is something that looks and feels just like real rattan without its shortcomings.
PVC is a type of plastic. PU is some kind of faux lather. PE is also a type of plastic but has a higher grade and is known to be the hardest wearing of the three. It can withstand harsh weather and UV rays so much better.
Synthetic rattan can withstand inclement weather and the typical wear and tear of daily use and of sun and rain exposure so much better than real rattan. The small effort of covering it up and putting it under some kind of shelter during especially harsh weather conditions can do wonders when it comes to prolonging its life span.
Synthetic rattan furniture should typically cost far less than real rattan will but it also depends on whether you are buying individual pieces or actual sets.
These furniture types usually come in modular sets and so the prices can vary greatly. Some range from $600 to $700 in sets whereas some can go up to as much as $1000.
Bamboo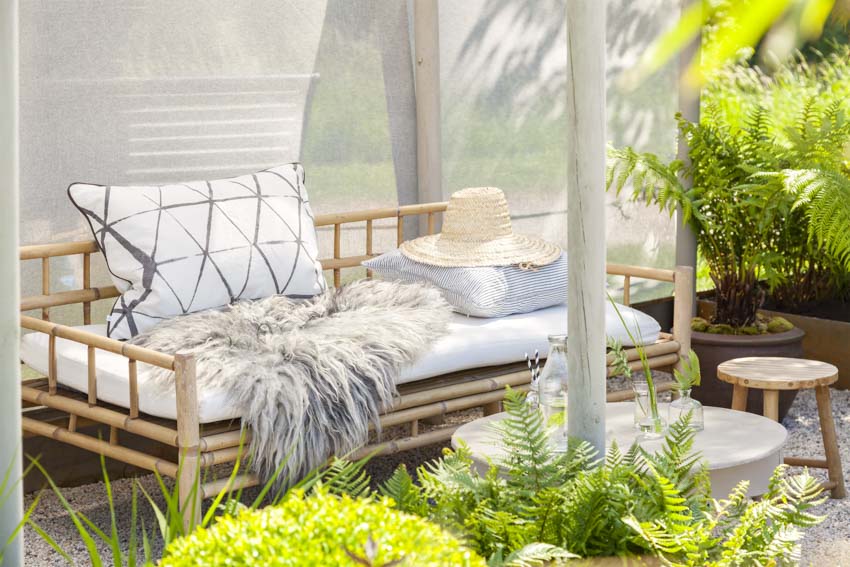 Bamboo outdoor furniture is great both for the health as well as for the environment. It has no chemical components during its manufacturing process and is known to be a renewable resource.
This is because bamboo is essentially a type of reed or grass and not an actual tree. Its growth rate is also faster and typically doesn't take years. It has a fairly natural texture, appeasing the visual senses which is a prized commodity in furniture pieces.
Bamboo is good to touch. It's great for absorbing heat and moisture. This means that it can be quite cool during the hot months and quite warm during the cold months.
It has a high weight bearing capacity, making it incredibly stable and sturdy. During the manufacturing process, it's typically exposed to a hydrothermal carbonization process.
This makes them effectively repel insects. This is why bamboo furniture can last for a very long time. They also absorb UV light. This makes them easy on the eyes especially when exposed outdoors.
Bamboo isn't perfect though and it does come with some cons. In the event that the furniture has ceased control of the water content, it can be susceptible to pests, mold, or deformities.
Polymer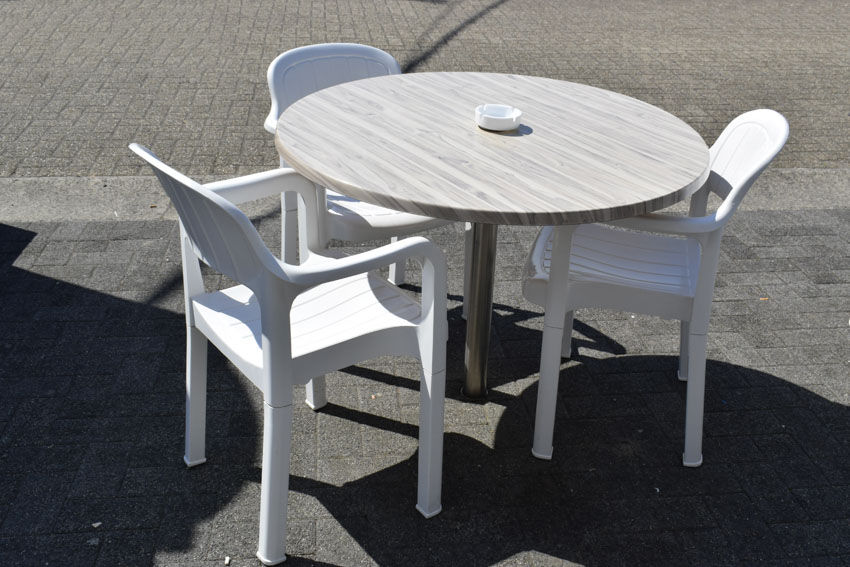 Polymer outdoor furniture costs a bit more compared to the other materials but what they lack in affordability, they actually make up for in versatility and durability. It's available in a lot of different colors and designs and can last for a good number of years.
Polymer furniture can be identified as HPDE or PEHD. In essence, it's basically some type of thermoplastic polymer that has petroleum as its main building block. It's a versatile material and does not attract pests nor moisture.
It has a very high level of recyclability in its materials that it makes it very environmentally friendly. It also happens to be extremely weather-resistant and durable. It can even be manufactured to look exactly like wood without a single piece of a tree being cut down.
Polymer is known for being able to retain its original color quite well. This is because HDPE is opaque so the colors are usually infused right into the material. Along with the addition of UV stabilizers, it ensures that your furniture pieces last longer and won't fade over time.
It can also be molded into literally any texture, design, and shape. This means that your aesthetic choices will be pretty varied and diverse.
Maintenance is a breeze and you're guaranteed that polymers are very resistant to pest infestations as well as moisture-related rotting. Sleet, rain, sun, snow, saltwater all won't be an issue to polymer outdoor furniture as well.
A major con though is because it has such a high strength-to-density ratio, it can turn out to be heavier and more expensive compared to the other plastic materials and classifications out there.
And although this means that it won't blow over when the winds are strong, it also means that you would need at least 2 people to move a lounge chair to another area of your yard or something similar to that.
This isn't necessarily a strength or an advantage. They're also quite rigid and dense which means that they won't conform to the shape of your body over time. This can make it very uncomfortable to sit on.
And because polymer is plastic, it can take up a lot of heat when exposed to direct sunlight. Make sure you bring it to the shade or cover it with a piece of towel before you actually sit on it.
Marine Grade Polymer
Marine grade polymer outdoor furniture or MGP is a type of HDPE plastic furniture that happens to be 100% environmentally friendly and sustainable because it is also fully recyclable.
It's a material that is quite durable. It does not rot or splinter. It also does not swell, fade, or warp. It can even avoid chemically breaking down despite prolonged periods of exposure to sun, rain, and other harsh or extreme weather elements.
Furniture Accessories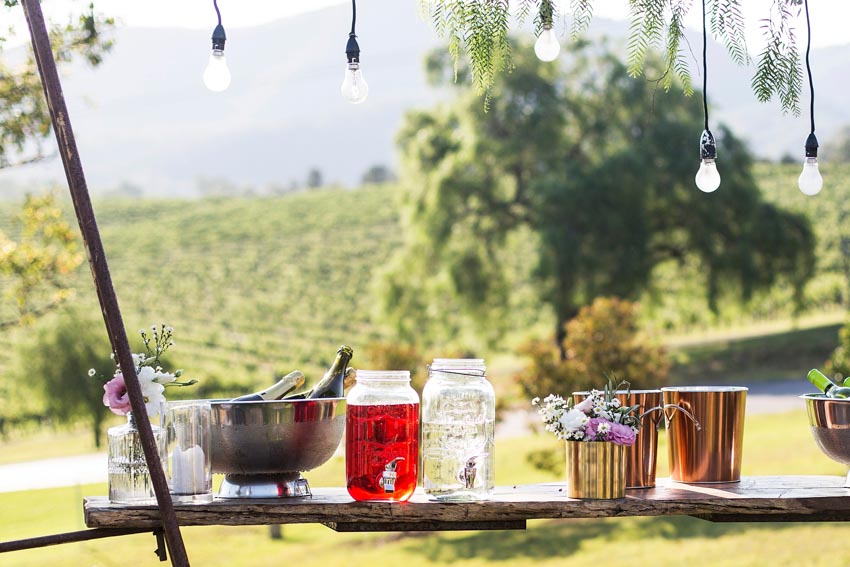 Here we share the different accessories for outdoor furniture
Cushions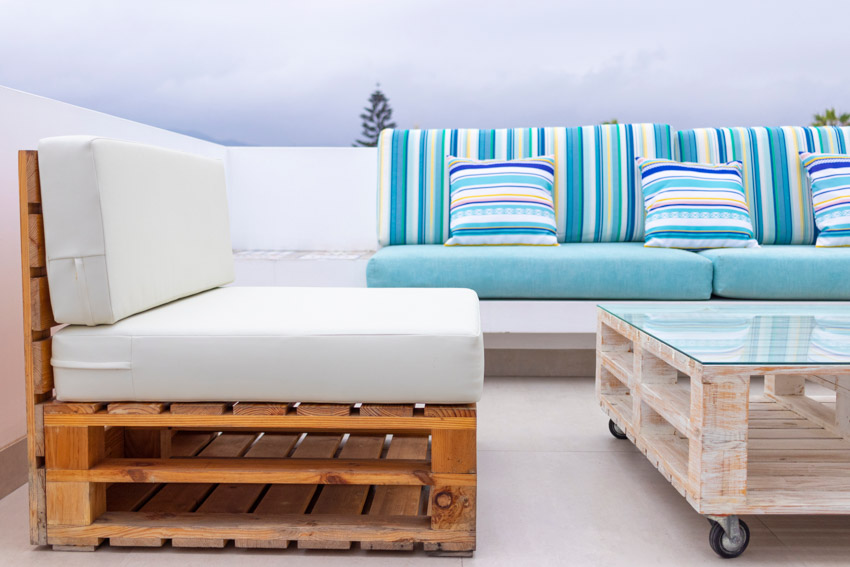 One of the most important things to look for in outdoor types of cushions would have to be UV resistance, waterproofing, and strength, on top of general comfort. You have to know right off the bat that not all outdoor fabrics are actually created equally.
Some fabrics are a little rough to the touch but can weather out harsh elements outside while some are really nice to the touch but they disintegrate almost as soon as they get exposed to a little heat or moisture.
The best fabric for an outdoor cushion would have to be polypropylene fabric. It's a marine fabric and this means that it has superior and highly excellent UV resistance properties.
They don't have any dye sites and they can dry very quickly when they get wet. Make sure that you review the different types of fabric your cushions are made of before making the purchase.
Umbrellas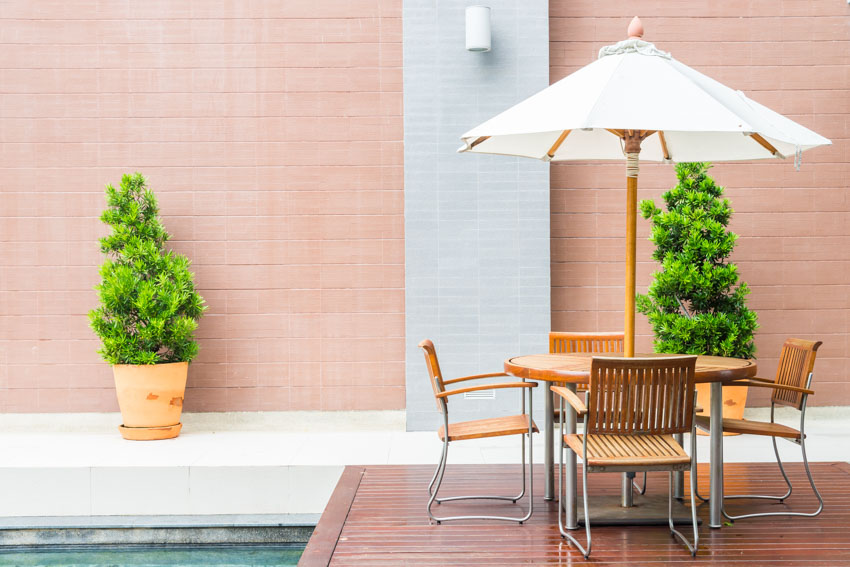 If you've ever wondered if outdoor umbrellas are worth it, the quick answer is a yes. This is particularly true if your backyard space happens to be used a lot during the early mornings or even late in the evenings.
They are also quite useful during particularly sunny days where shade is scarce and there aren't a lot of buildings around.
Outdoor Rugs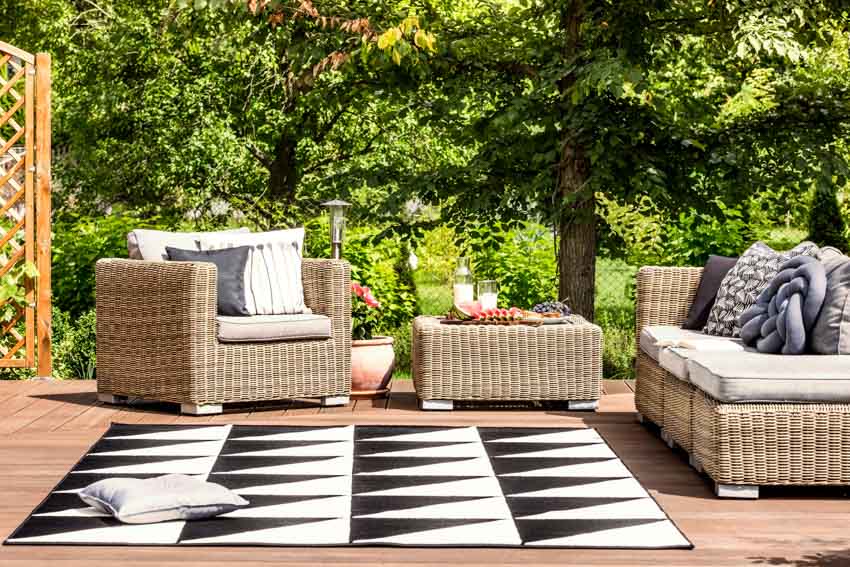 Some homeowners would raise an eyebrow against the concept of outdoor rugs. What's the point of it, right? Well, technically, it serves pretty much the same purpose as with what a rug indoors does. It unifies the space, making it cozier and more inviting and intimate.
It pulls seating spots or spaces together, making the outdoor space look and feel far less cluttered. They are not always waterproof though, just water-resistant. So technically, they dry faster. This makes it OK for you to leave them outside despite the rain.
A popular type of outdoor rug material is polypropylene (olefin). Other sought-after materials are nylon, bamboo, hemp, jute, sisal and polyester.
Lighting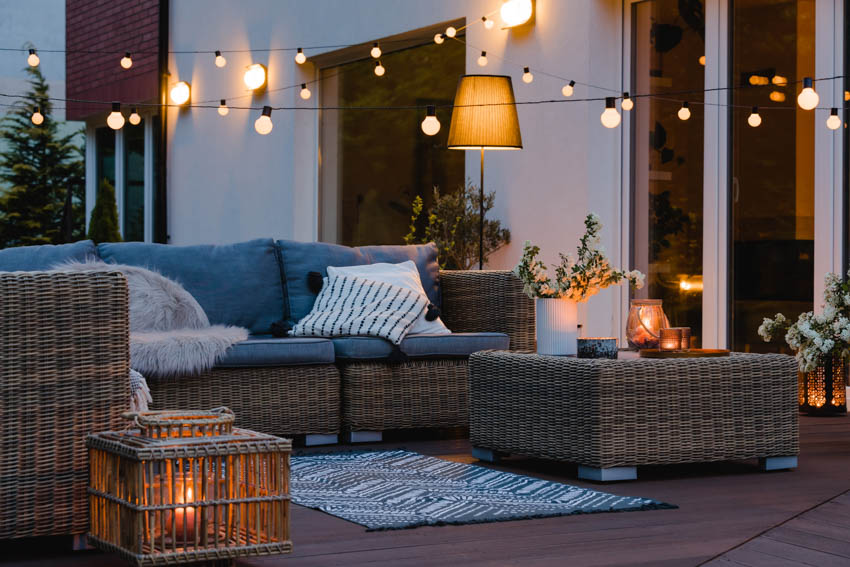 Outdoor lighting is definitely worth investing in. Not only does it look pretty, it adds a certain touch of romance and brightness to your outdoor space.
You can use string lights to illuminate a pergola or fence, as well as walkways around a pool. Some popular types of outdoor lighting are path, string, security, wall fixtures, lanterns, fence, deck, spot and landscape lights.
Having an outdoor kitchen with lighting means that you can better see your food during preparation and better utilize the space later in the day. You will need proper lighting if you plan on operating any outdoor kitchen appliances such as blenders or grills.
Outdoor lighting also offers up more practical functions. It's great for particularly deterring thieves and trespassers. It's pretty tricky to try to sneak up to a house that's well-lit from the outside, right?
How To Choose Furniture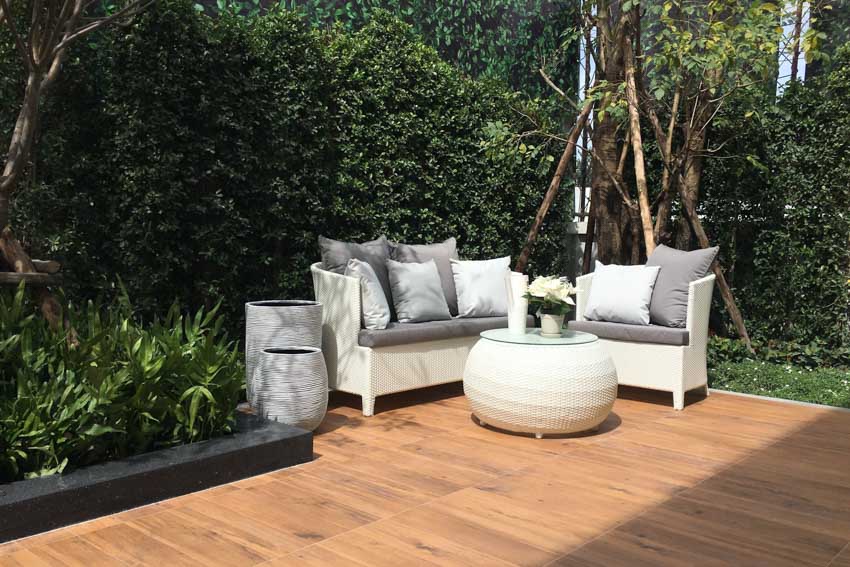 There are so many options to choose from that it can at times be a bit overwhelming to shop around for your outdoor furniture pieces. It can be quite easy to get carried away, you just need to keep in mind that it's really important to consider the overall layout of your outdoor space.
Just buying whatever catches your eye and throwing them in altogether could end up crowding your outdoor space. You need to be picky with the furniture pieces that you put in despite having a bit more liberty with the space compared to when you're mapping your layout indoors. Here are a few ways for you to get organized with it.
Plan Your Outdoor Living Space
You first need to make sure that you're able to assess the needs of your particular outdoor space. What would you like to achieve? You need a clear image of what you really want to use your outdoor space for.
It can be for relaxing with the family, or it can be for you to properly and enjoyably entertain guests who are coming over to your home. If the plan is for you to enjoy your outdoor space strictly for personal use, perhaps you won't need anything more than some comfortable benches or a couple of lounge chairs or so.
However, if the plan is for you to entertain people such as hosting meals and events, you might have a need for sofas and dining sets.
The idea is for you to make your outdoor space usage as versatile as possible in order for you to easily transition in between your proposed usage for them. Once you have that clear idea in mind, it should be fairly easy to start looking at what furniture pieces you will actually buy.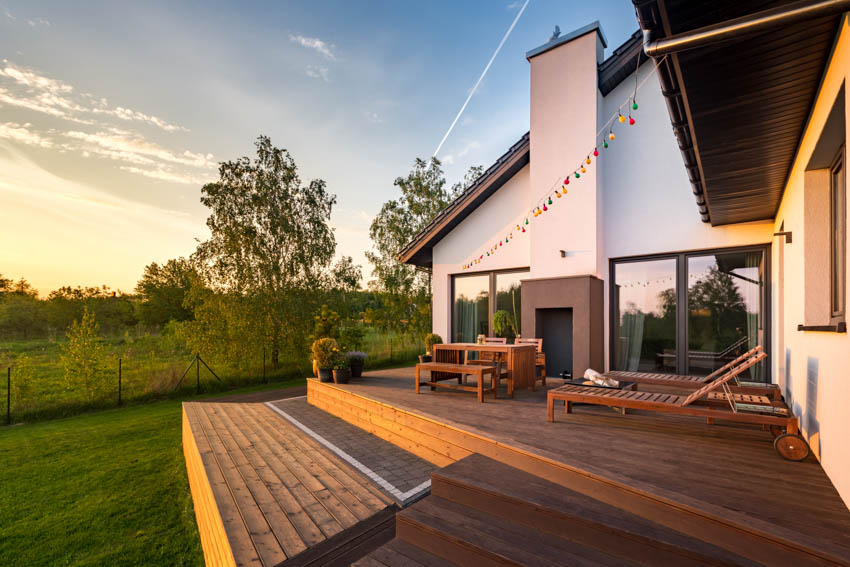 Measure Your Deck/Patio
Nothing beats the horror of buying pieces of furniture that might end up too small or too big for your space. You will want your outdoor furniture to be easy to fit into your space and more importantly, to be easy for you to move around in.
It will help out a lot if you put in the added effort of taking out a measuring time to actually measure out the furniture pieces you are planning to buy and compare them to the actual measurement of your outdoor space just to make sure that they'll all fit in.
Small pieces of furniture in a huge space or overly large ones in an otherwise small space can both be equally off-putting and unattractive. It make take the joy of enjoying your outdoor space away from you completely. So the next step is for you to keep in mind that you need to measure first and then buy later.
How Much Seating Is Needed
Keep your headcount capacity in mind all of the time. How many people do you actually plan on having over? Always go with the maximum count in mind alongside the actual measurement of your outdoor space.
This will give you a pretty good idea of whether you should go for furniture pieces that will be permanent fixes in your garden or whether you should go for something fluid, such as furniture pieces that you can move indoors or keep in storage on the days when you don't have that much of a need for them.
Determine Your Layout
It would help you out a lot if you sketch it out. Even if you aren't a professional decorator, it should be fairly easy to have a rough idea of how you would like to get your outdoor space laid out.
Consider what you want to accomplish for the space and let the rest of the pieces fall in place when you're shopping around for actual furniture to buy.
It's much easier to head out to the store or look at catalogs when you know exactly what you're looking for as opposed to when you're just aimlessly browsing through your outdoor furniture options.
Choosing Materials
When picking out materials for your outdoor furniture and accessories, you need to marry form and function and always keep that in mind.
On top of that, you also have the budget which you need to take a look at. It kind of takes the joy away from you if you turn out to keep opting for materials that are way out of your budget.
The great thing about outdoor furniture is that there are so many materials but the best ones are steel, aluminum. Basically metal.
Choosing Fabrics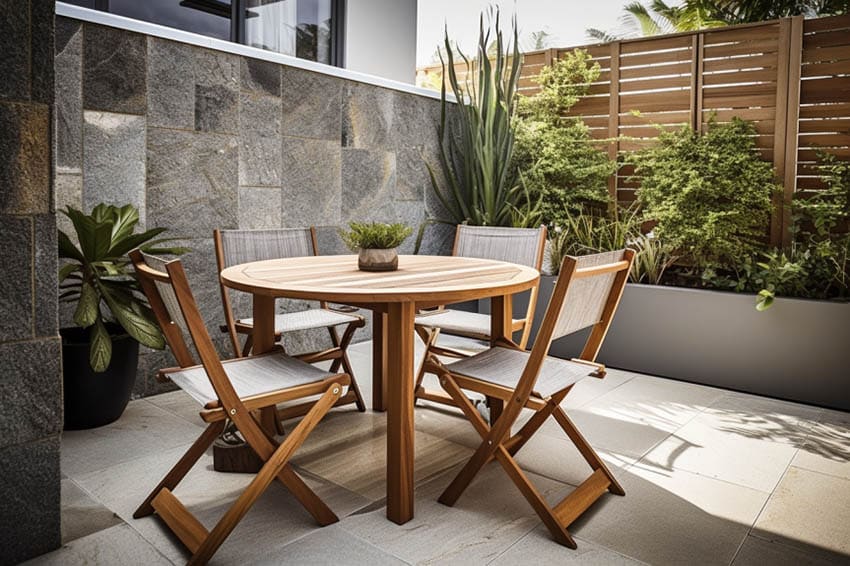 The best fabric to use alongside outdoor furniture would have to be polypropylene fabric. This fabric is UV resistant, holds well against heat and moisture, and can even dry very quickly in the off chance that it gets completely soaking wet. But on top of polypropylene, there are other fabrics to consider as well.
• Acrylic fabric: This fabric can withstand a lot of tearing and rubbing and a lot of mold and mildew as well on the side.
• Olefin fabric: This is actually the same material as polypropylene. This fabric is a synthetic type of fiber that's known for its sturdiness and weather and pest resistant qualities as well.
• Polyester fabric: This fabric is also a synthetic material and is impressively durable. It holds well against water damage and stains coming from food and drink spillages.
Storage Considerations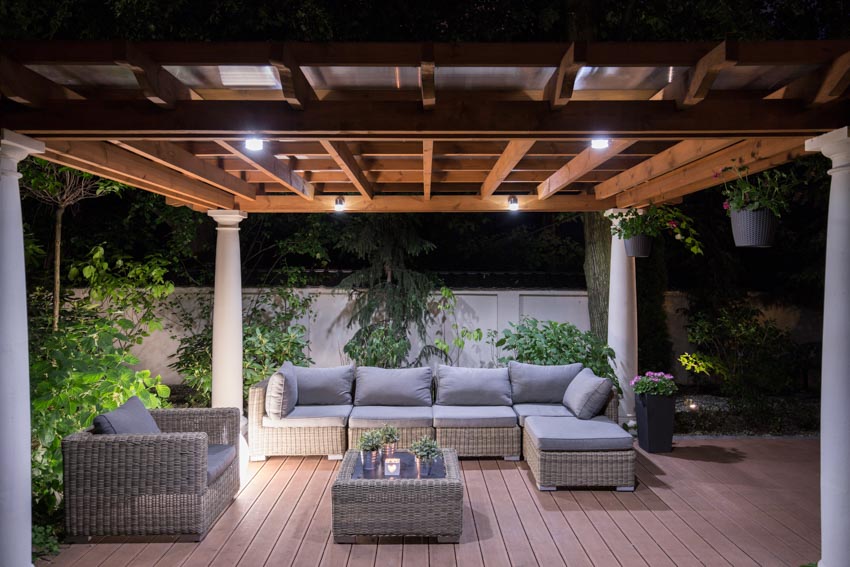 Winter is an unforgiving season and this is why you need to have storage considerations for your outdoor furniture. This will help protect them and extend their life spans, protecting your investment in the process. Different types of outdoor furniture have different requirements.
Here are some of the most common ones:
Wicker: Clean your wicker furniture up before putting them in storage. Aside from running a vacuum through the grooves, try to get into them with an old toothbrush and some soapy water as well.
You can even make do with a soft rag. Once completely clean, make sure that it has been completely dried. Any residual moisture might encourage mold and mildew growth on the furniture, causing severe damage to it.
Wood: Wood might end up cracking or splintering when left out to the harsh cold. If you get unlucky, these damages may turn out to be irreversible. To protect your outdoor wood furniture better, make sure that you preserve it with some sealant that has moisture resistance in the formula.
This works the same way as when you're getting it painted. Use a paintbrush and apply a fresh coat of it on all of the exposed wood areas. Make sure that the sealant has completely dried before putting your wood furniture up for storage.
Plastic: Plastic won't really have issues with the moisture in winter but the extreme cold may be enough to cause them to get brittle and crack. This is why you shouldn't leave your plastic furniture just lying around outside during the cold months.
Plastic is oftentimes stackable so this means that you can store them without using up too much space. You can cover the stacked pieces with some tarp to keep the dust at bay.
Metal: Metal outdoor furniture is the hardest and heaviest to keep in store during winter. One option you have is to hire a moving and storage service.
They can keep your pieces in warm lock and key until the winter is over. A cheaper and more convenient option would be for you to just leave them outside and instead just source out some well-fitted covers for them.
Scrub all the surfaces down and make sure that you prime at least once a year to avoid the appearance and spread of rust. If you're decided to put them in storage, make sure that you apply a thin layer of wax on them first.
Furniture Maintenance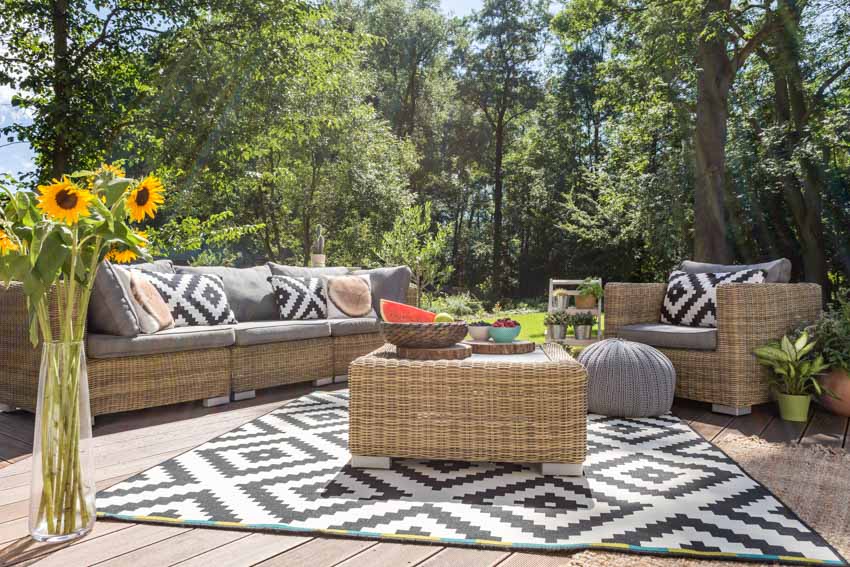 Outdoor furniture care is actually quite simple and finite. The thing is that these furniture pieces are built or manufactured to stand up against harsh weather. Paired with the proper maintenance, it can help you protect your investment, making sure that it will last for years and years to come.
Start off by wiping it down with a slightly damp cloth. This will get rid of any loose dirt and debris from your outdoor furniture surfaces.
You can proceed with giving the surfaces a deeper clean by using cleaning products that are appropriate for the specific material that you're working with. Make sure that you consult your manufacturers or the store that you buy your furniture from when it comes to the cleaning products that they recommend.
And lastly, allow the furniture to dry. Do this before you sprawl them out to lounge in the sun again or before you put them up for storage. Read more about the best maintenance free outdoor furniture here.

What Type Of Furniture for Outdoors Is The Most Durable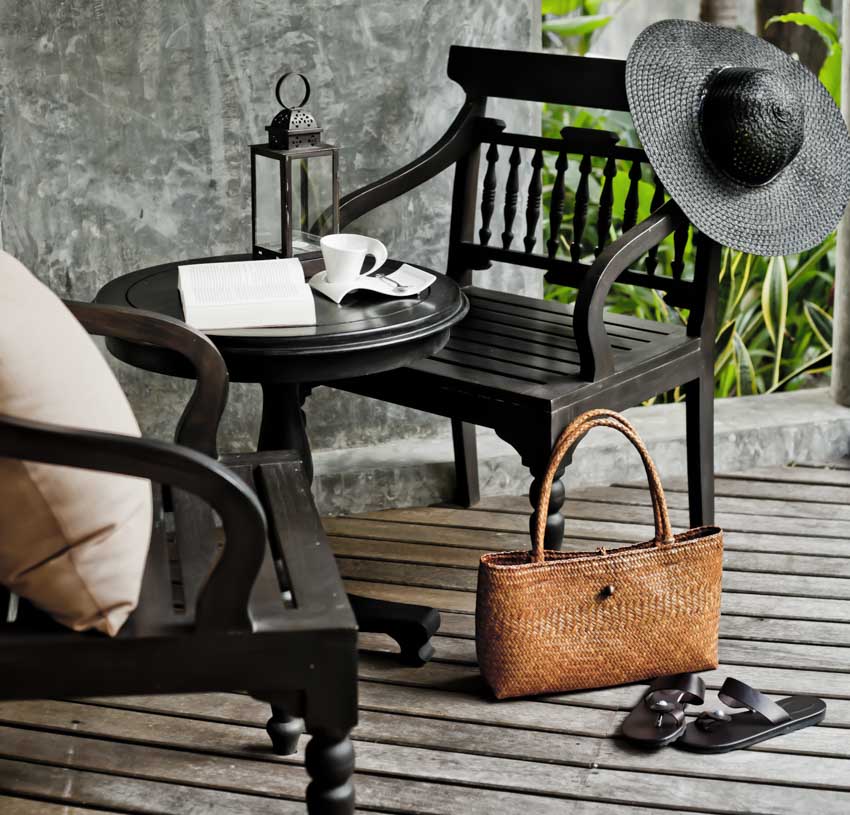 The thing with shopping around for outdoor furniture is that the options are so overwhelming and everyone sells them. As a matter of fact, even groceries and hardware stores are selling them these days.
If you have little knowledge about the products, it can be quite easy to be duped into buying outdoor furniture pieces. You need to know exactly what you're looking for before you go shopping.
Wrought iron is considered to be the most durable out of all the outdoor furniture materials. It's been said to last for entire generations. They also have the heaviest frames so it's quite understandable if they will also turn out to be the sturdiest of the bunch as well.
Best Material For Furniture Used Outside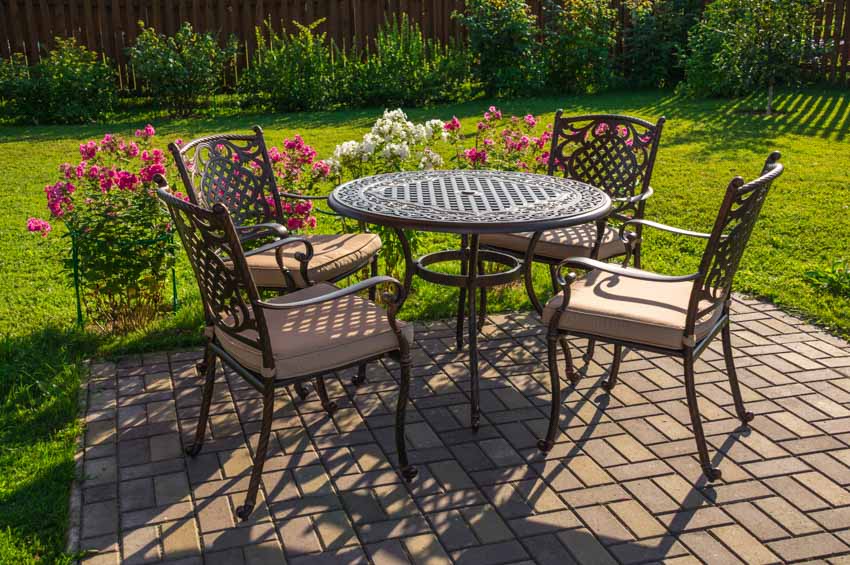 The best material for outdoor furniture is metal. It is versatile, durable, and is very commonly seen in the manufacturing of outdoor furniture. Metal is so popular because of its malleability.
It can be formed and bent into so many different styles and shapes. It's bound to match literally any type of aesthetic you may possibly have in mind.
Most metal furniture pieces are combined with other materials such as fabrics, cushions, and the like. This is because, on their own, they aren't really all that comfortable.
Manufacturers have long innovated on creating or producing metal furniture pieces that don't really have a need for screws or bolts. This means that it is highly unlikely that the pieces will break or will need repairs. Aluminum, steel, and wrought iron are 3 of the most popular metals used in the production of outdoor furniture.
See more related content in our article about using outdoor furniture indoors on this page.