Here's our Douglas fir outdoor furniture buying guide including if its good for outdoors, pros and cons and how to treat it for weather protection.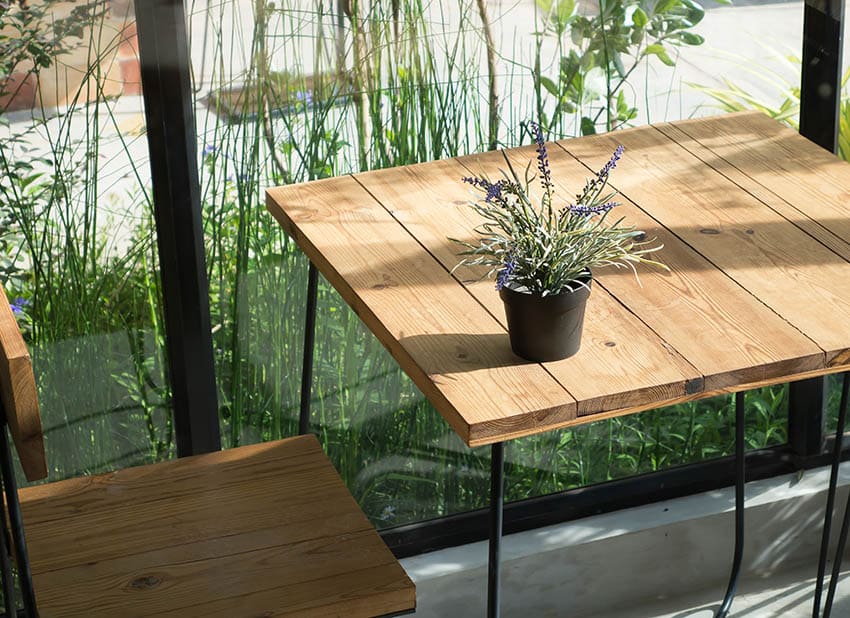 One of the common struggles of homeowners when they're looking for pieces for their outdoor furniture is that they constantly need great wood that is able to withstand the elements. The key here is to look for something that looks good while being low maintenance and offering weather resistance.
You would also have to consider other factors such as its durability, its resistance to insect damage and rot, as well as how long it would normally stand up and out over time. This is where Douglas fir can come in as a pretty good option.
Is Douglas Fir Good For Outdoor Furniture?
Although traditionally used as a flooring option inside the home, this type of wood has actually become a bit of a favorite when it comes to its use as an outdoor furniture.
As a matter of fact, as a classic, this particular wood has become a favorite material used as porch decking. It can be seen in homes that have been over a hundred years old.
The reason why builders used it a lot back in the day is still the main reason why it continues to be a favorite for builders in the modern age.
Douglas fir is a type of wood that is readily available. It doesn't cost too much. It's extremely durable. It is also a kind of wood that builders would describe as very dimensionally stable.
What this technically means is that it can expand and contract when it gets in contact with moisture. However, it isn't likely to buckle or warp because of the elements. This is because this product is vertical grain.
Pros And Cons Of Douglas Fir Outdoor Furniture
Pros
Unlimited outdoor uses – The sky's the limit when it comes do using Douglas fir for outdoor living. It can be made into virtually anything from porches to furniture used for outdoor entertaining, to outdoor decks, to patios, to gazebos and pergolas, and to literally any type of garden furniture that you can think about.
Durable wood species – When cured and treated properly, primed and painted; it can outperform any redwood in its time. It can also withstand a lot of foot traffic and of course, it can withstand the elements.
Beautiful grain patterns – A major pro for Douglas fir is that it makes for interesting grain patterns on the wood surface. With a little bit of stain, it can really bring out the dark red welted patterns can make for very eye catching aesthetics.
This isn't something easy to come by with in a budget wood type but for some reason, it works perfectly for a Douglas fir wood.
Budget friendly – Douglas Fir is considered a budget friendly wood. It is cheaper to buy and use for furniture than many other types of wood. It is slightly more expensive than cedar, but cheaper than oak.
Weather resistant – This wood has natural weather and rot resistant capabilities that makes it a good choice for outdoor use.
Cons
Can be dented on edges – One con that you ought to be aware of though is that although it is tougher than most, it is still categorically considered as a softwood. It can easily dent particularly on the edges.
For this reason Douglas fir may not be the best for uncovered work benches or tabletops. Read more about the best wood for tabletops here.
Changes color when subjected to the sun – Douglas Fir has the tendency to undergo drastic color changes when exposed to extreme sunlight.
Care must be taken when sanding – Care should also be taken when sanding the wood. Over sanding a Douglas fir wood flooring could mean that it might not be able to withstand a lot of weight in the long run.
Another related problem while sanding is to avoid using higher than 100 grit sandpaper as it will prevent the absorption of stains.
Is Douglas Fir Wood Weather Resistant?
Speaking of the elements, Douglas fir is a material that is famously weather resistant. It is readily available so it won't stretch your budget out too much but at the same time, you can be rest assured of the fact that you aren't scrimping on appearance as well as durability.
It really makes the concept of outdoor living a possibility and not just a farfetched dream. Imagine having a nice cozy gazebo with some lawn chairs surrounding a covered fire pit.
Whatever your imagined dream may be for your outdoors, your builder or you as a DIY project can whip something up using Douglas fir.
For another type of wood that holds up well in different weather conditions you may want to consider acacia wood outdoor furniture.
Douglas Fir Rot Resistance
The basic makeup of this type of wood makes it a natural candidate for rot resistance. Because of so much interest around Douglas fir wood, there have been studies conducted regarding how much time and decay it can actually withstand.
According to some research done by the University of California, completely untreated Douglas fir wood could last up to 1- to 15 years when exposed to outdoor use.
This is a tremendous feat considering that completely untreated wood is almost never a practice anymore. Builders these days would treat the wood and make sure that it has all of the preparatory care needed to make it last through the years.
So by and large, 10-15 years is a very conservative projection. You can easily double up its lifespan with the proper wood treatments especially when prepping it for outdoor use.
How To Treat Douglas Fir For Outdoor Use
The proper preservation of wood for the great outdoors is just as important as the design conception itself.
Without the proper type of protection, your Douglas fir wood could have severe effects from the elements which can be in the form of wind, air, water, salt, frost, rain, pests, and so on and so forth.
Choosing the wood type is the first step and if you've chosen Douglas fir, you've already chosen well to begin with.
The next step to take is making sure that you treat your lumber to some water repellent. Granted, this is not a permanent fix and might need to be repeated annually, this puts the wood in pretty good shape for outdoor use.
Next up is a step for preservation. Make sure that you treat it with some brush or spray treatment. This is called pressure treating your lumber.
Although the solution can be a bit on the pricey side, it's always good to reinforce your lumber particularly if you are preempting its usage to be a bit on the heavy side. Make sure you reinforce the load-bearing parts such as pieces to be used as joints, beams, and the like.
The final step is staining, of course. There are 2 main categories to staining finishes: natural and unnatural.
Natural finishes are great if you want to maintain your Douglas fir wood's natural look, particularly if it has some interesting streaks or patterns that you would like to retain. It's best to get this reapplied every couple of years or so.
If preserving its natural beauty isn't a top priority and you're going after a particular stain color, then unnatural finishes are the way to go.
For more maintenance free outdoor furniture ideas visit this article.