Here's our teak wood outdoor furniture guide including what its, price, durability and how to treat so it maintains its beauty.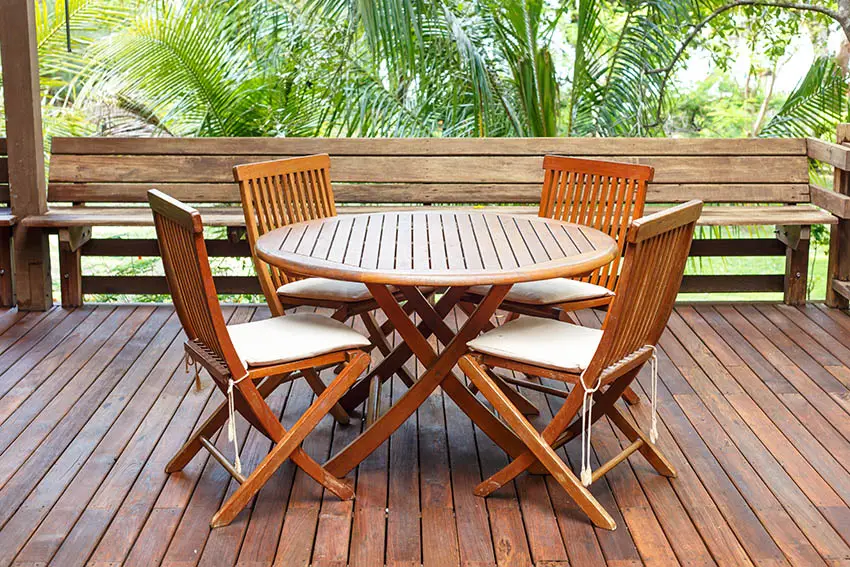 Teak wood outdoor furniture is highly sought after due to its natural weather resistant properties and durability.
Researchers and discoverers have found medieval objects in Western India caves made out of teak. And although they were made more than 2,000 years ago, the objects remain undamaged.
It is more pricey than other typical types of wood as it is far more robust, durable and long-lasting. Moreover, teak wood is commonly used in outdoor furniture. Yes, teak wood furniture is built to last a lifetime.
What is Teak Wood Furniture?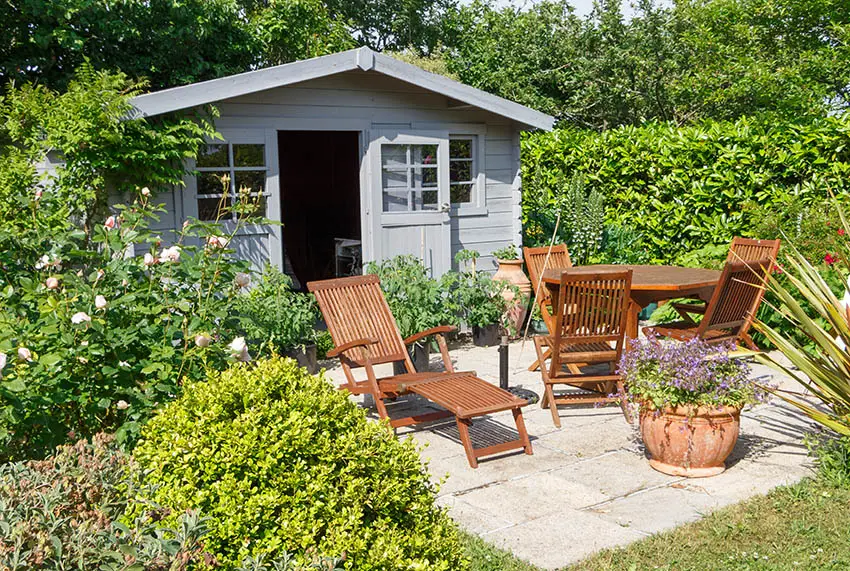 Teak is a type of hardwood that's native to South and South East Asia. Since teak can withstand various types of weather conditions it is ideal for use outdoors. Teak wood is usually used in creating boats, ships, and furniture.
Teak wood furniture possesses a gorgeous honey brown color. And over time, it'll naturally turn into a classy patina grey.
This type of furniture won't have its color faded like many other types of wood species. And even if it's in contact with metal components, it won't rust. This is the only type of wood that turns more stylish and eye-pleasing as time goes by.
What is Grade-A Teak Outdoor Furniture?
The grain that's present in grade-a teak wood is even and tight. A grade-a teak outdoor furniture contains a warm and consistent color that comes with golden shades and tones.
The natural components present in this type of wood make it purely resistant to harmful outdoor elements. Pests such as termites and moisture won't ruin grade-a teak furniture.
What makes a grade-a teak outdoor furniture extra special? Well, grade-a teak is the superior center-cut of the teak timber.
Around 30 to 40% of the timber is what makes it. This is produced by mature and strong teak trees, that's why its appearance is highly special, well-developed, and does not discolor.
Because of the purely natural components that are present in the teak wood, the furniture becomes highly suitable for outdoor use.
The organic oils and rubber both exist in teak wood. These components help prevent pest damage, moisture, and UV damage. They also make teak wood furniture all-weather.
Grade-a teak is far better and more long-lasting than other hardwood types. If you want to add a set of luxury furniture in your outdoor area, grade-a teak outdoor furniture is undoubtedly an excellent choice.
Teak Wood Furniture Durability
Talking about durability, no doubt teak wood furniture is the most long-lasting, most durable, and most all-weather among hardwoods.
Ever since the middle ages, teak wood is mainly used for ships and boats. Nowadays, most high-grade ships and even yachts are made out of teak wood because of their ultra-high resistance to water.
In 1950, teak wood easily became one of the best choices for outdoor furniture in the United States. Most of the outdoor furniture that can survive decades is made out of teak wood.
If you're going to obtain teak wood outdoor furniture for yourself, no doubt your grandchildren can still use them!
Teak Wood Furniture Price
Talking about the teak wood furniture cost in India, teak is usually bought in cubic feet. Its standard price is generally around ₹3500 per cubic foot ($47 U.S). However, in the USA, teak wood's price is normally $25 to $30 per board foot.
Even though teak wood furniture is pricey, it's actually worth the purchase. Due to its extreme durability, a person using it can actually have it for decades.
What are the factors that can affect the price of teak wood furniture? Here are some of the reasons why teak wood furniture is expensive:
Limited supply
Logging restrictions
Competition
Inventory
Exchange rates
Tree size and quality
Transport expenses
Processing expenses
Origin and age of the teak lumber
Despite the added costs, you can be certain that purchasing teak wood outdoor furniture will be completely worth it in the end due in large part to its natural beauty and longevity.
Another popular alternative to teak is acacia wood outdoor furniture.
How to Treat Teak Wood Outdoor Furniture
To maintain the natural and gorgeous hues and colors of your teak wood furniture, you can apply a teak sealant to it. It will help in preventing moisture buildup. However, applying a teak sealant must only be done once a year. It's so easy to treat and maintain!
But can you add a teak oil once the furniture is sealed? No. Never apply teak oil as it could stop the teak sealant from working properly. Since adding teak oil, molds and mildew might start to grow into your furniture.
So after applying the sealant, never add anything else. How then, can you add a teak sealant?
Here are some steps to treat teak furniture
Get dish soap and water, mix them to form a cleaning solution, then cleanse your teak wood furniture with it. For hard-to-reach and hard-to-clean areas or surfaces, use a soft bristle brush.
Leave the outdoor furniture under the sunlight to let it naturally dry and to have the grain opened.
Get your teak sealant and spray it onto the furniture. Once done, gently rub the teak sealant on the wood with a lint-free and clean cloth.
How to Clean Teak Wood Furniture
Here are some of the things you need before cleaning teak wood furniture:
Soft bristle brush
Dish soap/ laundry detergent (You can use bleach if there are major stains)
Teak protectant (only if you have)
Teak-restoring products (only if you have)
Step #1: Prepare a mixture of water and soap (or water and bleach).
Step #2: Rigorously clean the teak furniture using your water and soap/bleach solution. You can use a soft bristle brush to eliminate the dirt and grime.
Step #3: Let the furniture dry under the sun.
Step #4: If you have a teak protector, apply a thin layer of it using a sponge, cloth, or pressurized sprayer. Wait for 1 hour then apply a second layer of the teak protector.
Step #5: Let the teak furniture dry. (Note: Only do this procedure once a year)
If there are much deeper stains like wine marks, coffee stains, or watermarks, you can try brushing it with a mixture of bleach and water.
If this doesn't work, you can use rough sandpaper and follow it up with not-so-rough sandpaper so that the furniture's texture won't be ruined.
Can you Paint Teak Wood Furniture?
The appearance of the teak wood furniture itself is already good enough to look elegant and stylish. That's why painting isn't always a good idea.
But despite that, if ever you want to try something new, we'll inform you that teak wood can still be painted with different colors. Luckily, it is quite not difficult to paint.
Here are some reminders on what you should do if you've decided to paint your teak wood furniture.
Wash the teak wood first. Make sure to eliminate the excess oil, dirt, molds, and mildew as they can ruin the adhesion of your paint. Clean it with a mixture of water and detergent powder and rub it with a sponge.
Abrade the wood with sandpaper and fill the holes with wood fillers. This step is important to ascertain that the paint will be applied smoothly.
You can use epoxy as a wood filler – just combine it with a hardener then spread it onto the holes. After applying it, let it dry for 5 to 7 minutes, then scuff it with finer sandpaper.
Apply a primer. Before painting, make sure to add a durable primer. You can apply it using a traditional paintbrush. Make sure that the primer is thick enough to protect the wood.
Apply your selected paint color. Now that you've come to the painting part, make sure to use oil or latex-based paint. These can be used over a primer that's based on shellac. (Use a synthetic bristle brush when using latex paint, and a natural-bristle brush when using oil-based paint).
Make sure to coat the furniture with 2 layers of paint. Once the paint dries out, you can optionally add a clear polyurethane for added protection.
Visit this page for more related maintenance free outdoor furniture options.