Here's our guide to acacia wood outdoor furniture pros and cons and how to care for this type of wood.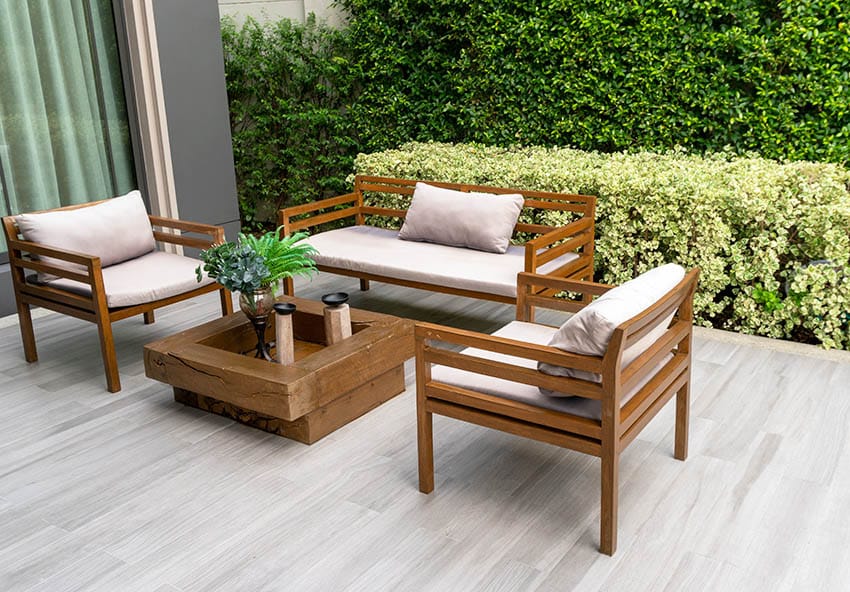 When it comes to decorating the exterior of your home it's important to choose furniture materials that are durable and long lasting. Acacia wood provides many benefits that make it ideally suited for furniture for an outdoor environment.
What is Acacia Wood Outdoor Furniture?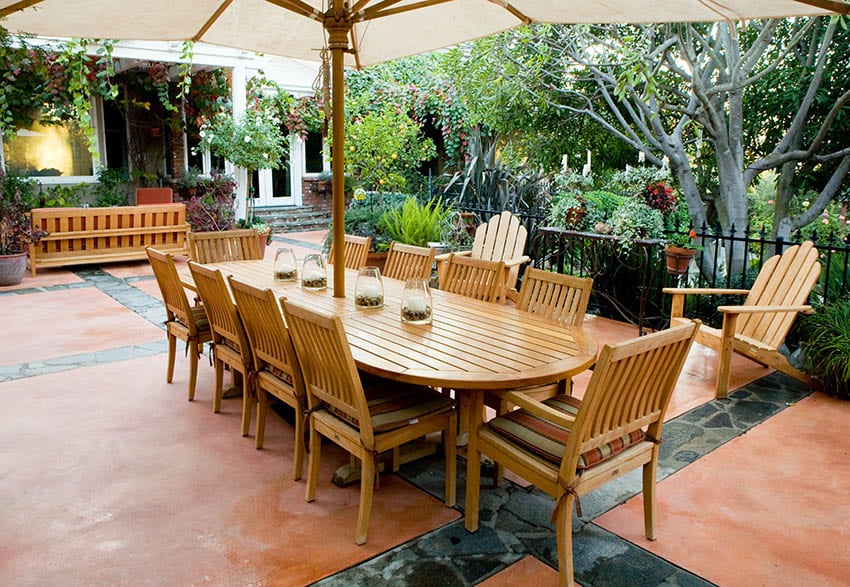 Acacia wood from the acacia tree is a popular hardwood species used for furniture. You can find acacia wood being used for furniture in both exterior and interior design. You might see it in kitchenware, indoor furniture, outdoor furniture, and even flooring. It's a type of wood with a light tone and varying grain patterns.
There are a lot of benefits to acacia wood, specifically, as well. We'll go into this more in-depth later on that but it includes not only an attractive appearance but reliable durability and wide accessibility. Not to mention, with a number of different types of acacia, there are a lot of different varieties that you can choose from to find the best look for your home.
Acacia wood is sometimes referred to as locust or monkeypod wood. However, monkeypod wood is not a true acacia and is from a different tree genus. Although both have similar traits that make them frequently used for outdoor furniture.
One of the best qualities of acacia wood is its hardness. It has one of the highest ranking for hardness out of all the types of hardwoods. The large leaf variety has a 1700 Janka rating which measures it's level of hardness. While the small leaf acacia wood rates even higher at 2220. It is a harder wood than European Oak, hickory and maple wood.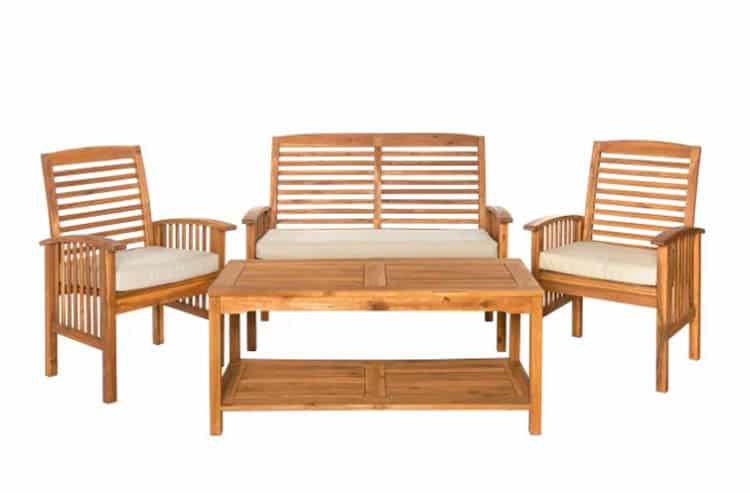 See this 4 piece acacia outdoor furniture set at Pier 1 [sponsored link]
Acacia Wood Outdoor Furniture Pros
First, let's look at the positive aspects of acacia wood outdoor furniture. There are a variety of reasons that you might want to include acacia in your outdoor furniture selection.
Affordable – For one, acacia wood is pretty affordable, so you won't have to shell out as much for acacia furniture as some of the other options. See more patio decorating on a budget ideas here.
Easy to work with – On the other hand, it's also considered a workable material. This means that you'll find options in acacia wood for a variety of different types of patio furniture. This includes a variety of sizes of pieces of wood since acacia can be harvested at a height anywhere between eight and 82 feet.
Durability – Even better, acacia wood is a durable choice. This is important when you're considering furniture that you want to keep outdoors, where it's likely to be exposed to the elements.
Scratch resistant – On top of that, acacia wood is fairly scratch-resistant, so you don't need to worry about accidentally scraping or damaging your furniture very easily.
Resists rot – Acacia wood also has natural oils that help make it resistant to rot.
Beautiful wood grain patterns – While acacia wood is a light wood to work with, it still has unique features that make one piece of furniture stand out from a competing option. This is because acacia has a variety of grain patterns from light and smooth to bold and striking.
Acacia Wood Outdoor Furniture Cons
Of course, nothing is perfect and even acacia wood outdoor furniture comes with some cons to consider. These are a few things that you'll want to keep in mind when you're considering acacia wood outdoor furniture.
Needs care – For one, acacia wood does take a fairly intensive degree of care if you want it to look good and last for a long time. We'll take a deeper look at the care of acacia wood outdoor furniture in a moment.
Doesn't do well in hot climates – Another thing to consider is the climate in your area and if you have a fairly temperate or colder climate. If you want to use acacia wood in a hot climate it is likely to warp the wood. This can be especially problematic if you live in a climate that has hot snaps that would cause the wood to suddenly warp.
Can lose original color – Finally, acacia wood tends to darken over time, especially when it's exposed to light and air, which it inevitably is as outdoor furniture.
The best way to make sure that your acacia outdoor furniture ages as uniformly as possible, you can rotate your outdoor furniture regularly.
Acacia Wood Outdoor Furniture Care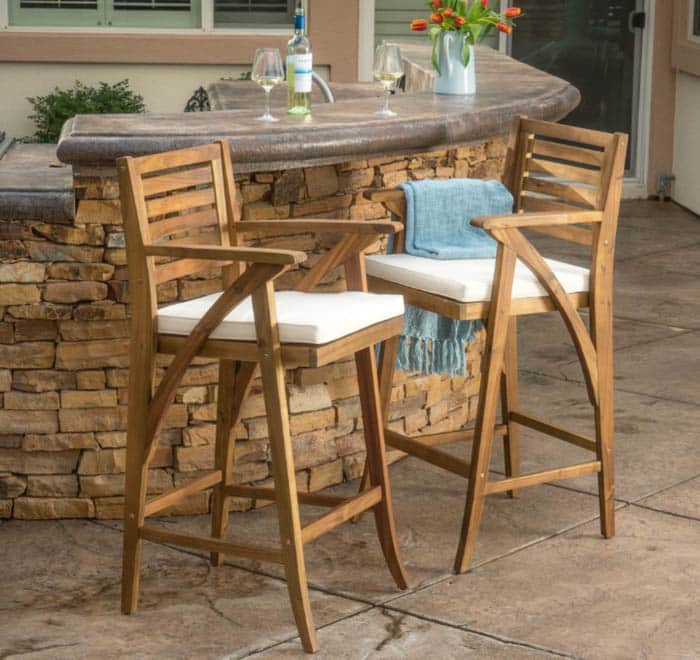 See this acacia wood bar stool set with teak finish at Pier 1 [sponsored link]
As we said earlier, acacia wood outdoor furniture takes a bit of maintenance to upkeep if you want to make sure you're furniture continues looking like new. For a more maintenance free option see our aluminum vs steel patio furniture article.
Here, we'll break down what you need to know about taking care of your acacia wood outdoor furniture.
First and foremost, you'll want to keep up with the regular cleaning of the furniture. You can do this by taking a damp rag and wiping the dust off the furniture so it doesn't build up. This is great for making sure the wood doesn't get dry and crack.
If your furniture gets wet, you'll want to address this right away too. To start off, you'll want to wash the spot where something was splashed to remove any residual mess. Then, use a clean cloth to dry the area.
As for washing the furniture, you'll want to use warm water and mild soap on a clean cloth. This will help handle any mess that comes your way without being too harsh and damaging your acacia wood outdoor furniture.
Oil for Acacia Wood Outdoor Furniture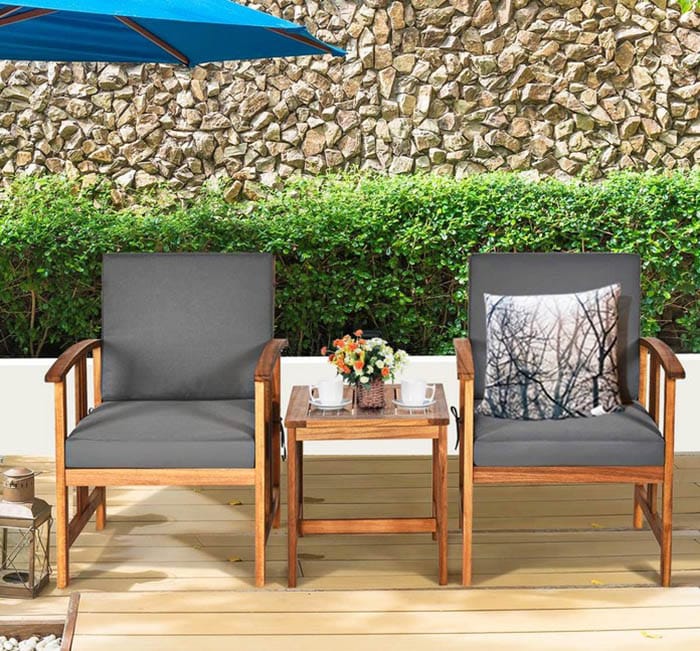 See this 3 piece set of acacia outdoor chairs and table with cushions at Amazon [sponsored link]
Another way to care for your acacia wood outdoor furniture is to oil it. You have a variety of options when it comes to finishing oil for your acacia wood outdoor furniture but your best bet is to use a pigmented oil that offers UV protection and linseed oil and tung oil are among the most popular.
Once you have your oil ready, you need to prepare your furniture as well. To start, make sure that your furniture is completely dry before starting. This way, you won't lock moisture into the wood. Now clean the wood as we discussed earlier. Finally, use 150-grit sandpaper to scuff the furniture and open the grain.
A rag or even a spare paintbrush is your best bet to spread the oil. Start with a single layer of oil and make sure that you get every part of the wood. When adding a second coat, you'll want to start by letting the first coat dry entirely.
Then, use 220-grit sandpaper to prepare for the second coat. You'll usually need a second coat on the visible parts of the furniture but it isn't always necessary to add a second coat to the underside of furniture.
For another related article see our maintenance free outdoor furniture guide.