Here's our monkey pod wood furniture buying guide including what it is, pros and cons and how to care for this type of wood.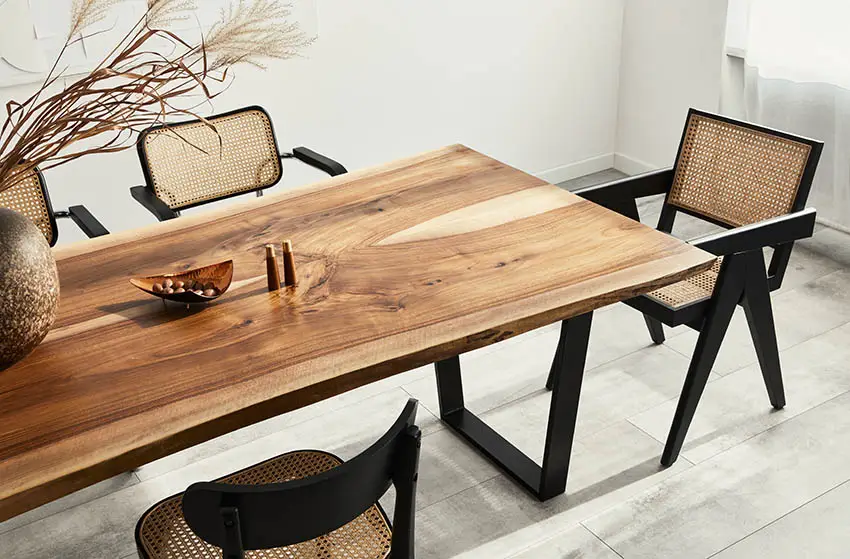 Monkey Pod wood for use in furniture is growing in popularity. Three tree itself can grow to large proportions, reaching from fifty to eighty feet high. The Monkey pod tree originates from Southeast Asia and is highly sought after due to its exotic wood grain design.
What Is Monkey Pod Wood?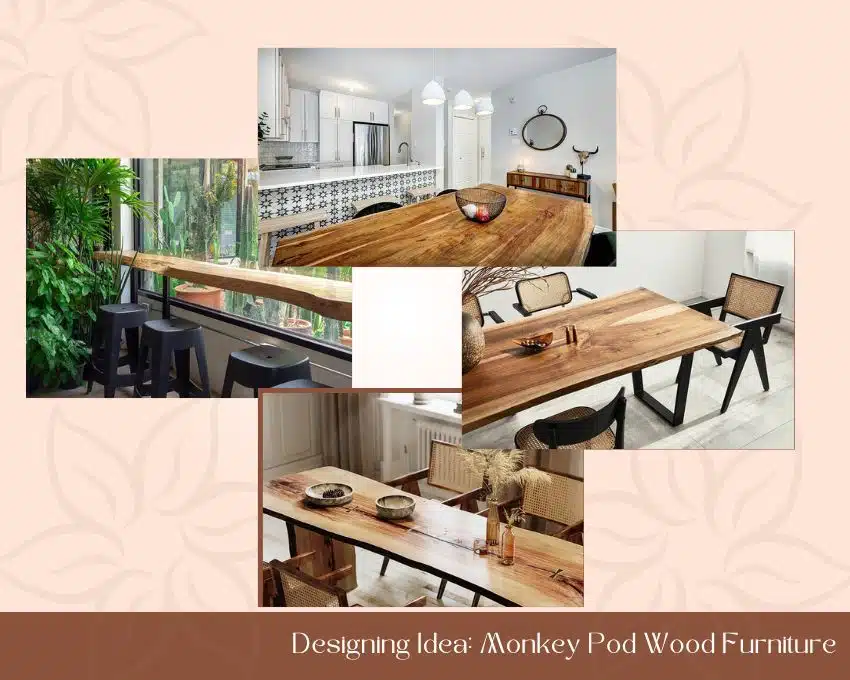 If the name sounds a little peculiar, that's because it is and it isn't commonly used. Monkey pod wood is more commonly known as raintree or saman in Spanish.
The monkey pod wood is highly valued for its aesthetics and sturdiness and is often used in furniture pieces and other carvings. It hails from the Southern and Central Americas originally but has since been naturalized in other countries.
The etymology of its lay name "raintree" came from the belief that monkey pod wood can actually produce rain at night. The tree's leaves close up at night, letting rain pass through the crown easily.
This accounts for the observation that during drought season, the monkey pod wood is one of those unique trees whose grass around it manages to stay lush and green.
Monkey pod tree, or maka mong (afzelia xylocarpa), is a strong, heavy wood used in stairs, furniture, beams, window and door frames, panelling, and veneer. -Brian Mertens, Sthapitanond, Nithi. Architecture of Thailand: A Guide to Traditional and Contemporary Forms. Singapore: Editions Didier Millet, 2012.
Its color ranges from dark brown to golden. One of its most distinct traits is that it has dark streaks, making its finish stand out when used in furniture. It has unique curly and grainy patterns.
The texture has always been characterized as course or medium, in the least. Its large pores on the surface gives it its natural luster. Consumers find this modern and attractive; hence, the constant interest in this type of wood.
Monkey pod wood is also the type of wood that ranges a bit more on the mid-range side. This is why it's a popular choice for furniture makers. It can be bought in bulk and is easily accessible as lumber in large volumes although it can border a bit on the high range.
The surfaces with patterns and grains tend to fetch higher rates and are more regarded as craft wood compared to those with plain surfaces. [Source: wood-database.com The Wood Database: Monkeypod]
Pros And Cons Of Monkey Pod Wood
Pros:
· Unique exotic appeal
· Versatile finish for furniture and decorative items
· Workable and rot-resistant
· Pliable wood with a beautiful surface area
· Odorless and blends well with furniture polishes
· Sustainable and fast-growing
Cons:
· Coarse or grainy texture requires extra polishing and finishing touches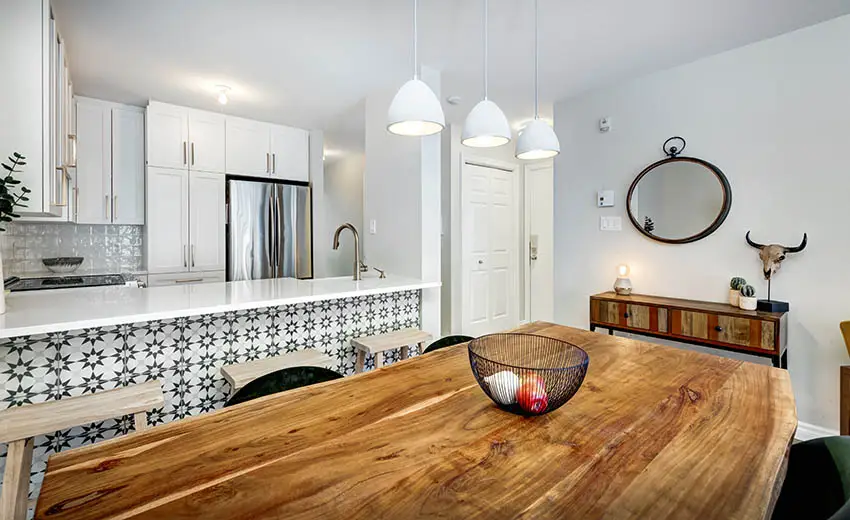 Apart from its obvious appeal as an exotic type of wood that hails from a faraway land, monkey pod wood comes with a lot of good traits. This puts it right up the list of favorites of furniture makers the world over.
Its unique finish also makes it perfect for all types of furniture finishes from table slabs to carvings to cabinetry to musical instruments, and various decorative items.Read more about the best wood for tabletops here.
One major pro of monkey pod wood is its workability and rot resistance. It can withstand insect most of the insect attacks that plague and rot wood from the inside out while at the same time, is very easy to work with either by machine or by hand.
It's a fairly pliant wood with a gorgeous surface area that finishes and polishes well and is something that is highly prized by both consumers and wood smiths alike.
Monkey pod wood also has no known odors or smells which means that it melds well with any furniture polishes of preference once converted into wooden ornaments or furniture pieces.
It is also sustainable as it grows fast and is not in the list of endangered wood species so if this turns out to be the wood of choice for, say, most of the furniture in a household; it shouldn't be any problem at all either from a cost perspective or a sourcing perspective.
The only downside to monkey pod is that it has a fairly course or grainy texture which means it may be labor intensive for the wood smith as it requires more polishing and finishing touches.
Once the surface area has been sanded down and smoothed out though, it makes for one of the most interesting designs and patterns around.
Is Monkey Pod Wood A Hardwood?
Monkey pod wood is considered as a versatile and sustainable hardwood. Its density ranges from medium to low.
This means that it bids pretty well on the price department as it doesn't cost as much although some unique surfaces with swirls and standout patterns might reel in mid to high price points because of its aesthetic value. [Source: 8billiontrees.com Janka Wood Hardness Scale Chart: Full List of 113 Domestic & Foreign Species]
Monkey Pod Slabs
Tropical hardwood is pretty exotic and that, paired along with sensible pricing; makes it no surprise why the typical woodworker would not bat an eye to getting himself some monkey pod slabs for his next upcoming pieces.
It's easy to work with and can be carved with little to no trouble. More than that, it has lesser tendencies to dry out or crack compared to the rest of the other wood slabs out there in the market.
Is Monkey Pod Wood Expensive?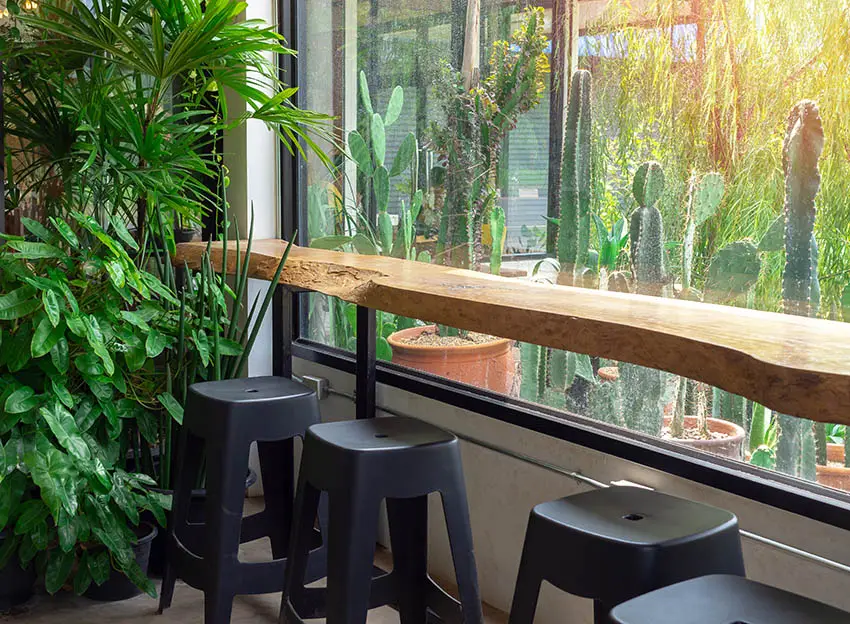 Although monkey pod easily categorizes as a craft wood due to its exotic origins, its price range makes it fair game for it to be considered as lumber.
In small batches, it still has a reputation to be considered as craft wood though. It's important to note that there is no one size fits all ideology to this wood's pricing as grain patterns vary. Those that stand out more tend to be a little bit more expensive compared to the others.
How Do You Care For Monkey Pod Wood?
Proper care and upkeep of wooden furniture is just as important as the initial purchase and selection of it. Monkey pod wood furniture is no different. It's a relief to know though that it doesn't require anything other than the usual wood care and maintenance.
For starters, it's wise to keep the furniture out of direct sunlight as much as possible as it tends to dry out the wood. A nice canopy or shade would help if the plan is to put it outdoors. A more robust choice for outdoors is teak wood.
The cleanup process is pretty simple, too. It just needs to get wiped down by a soft damp cloth and air-dried. Once cleaned, in order to restore its shine, some furniture wax or wood polish would help. Polishes also future-proof the furniture from more spills and stains. A little goes a long way.
How Can You Tell If Wood Is A Monkey Pod?
Monkey pod wood is easily identifiable because of its porous and grainy nature. The color spectrum can be from dark to golden brown but in some varieties, it can have dark streaks of brown and red in it.
Its most noticeable trait is that it usually has an explosion of curly or grainy patterns that result to handsome finishes once converted into furniture pieces.
It's a high value wood without breaking the bank. Albeit, it might not be in the usual list of furniture wood types; it has slowly grown in popularity because of its unique finishes and friendly costing.
For another related type of wood article see mango wood furniture pros and cons here.