Welcome to our guide to mango wood furniture pros and cons including what it is, appearance, grain, types of furniture and maintenance tips.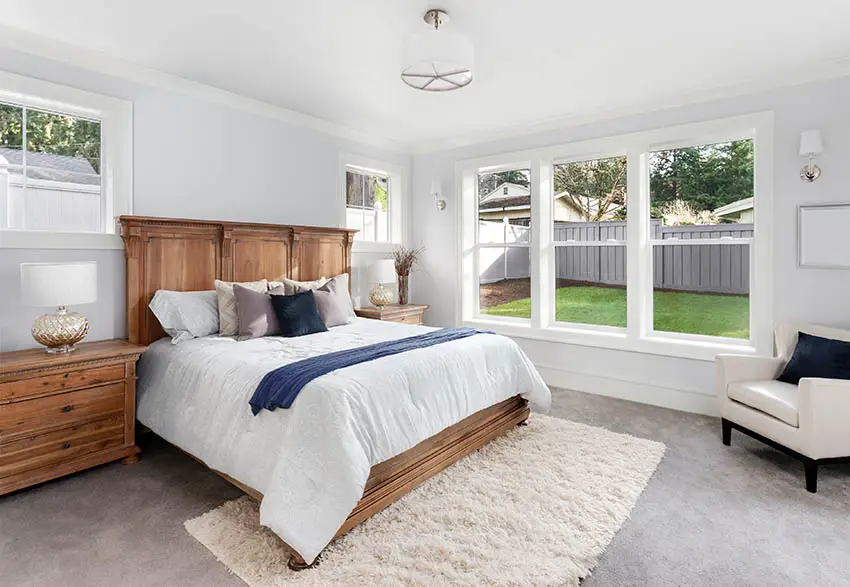 As a homeowner, it is important that you choose a long-lasting and sustainable wood for your home construction, furniture, or design. However, this is not an easy task as one would think.
Choosing the ideal wood for your home purposes can be confusing as there are many options to choose from, all of which offer their own benefits.
If you're one of those people who can't decide on which eco-friendly, affordable and low maintenance wood to choose for your home, you came to the right place.
Here, we're going to introduce you to one of the most outstanding, durable, and easy-to-work-with woods in the world, the mango wood. Here is everything you need to know about mango wood.
What Kind of Wood Is Mango?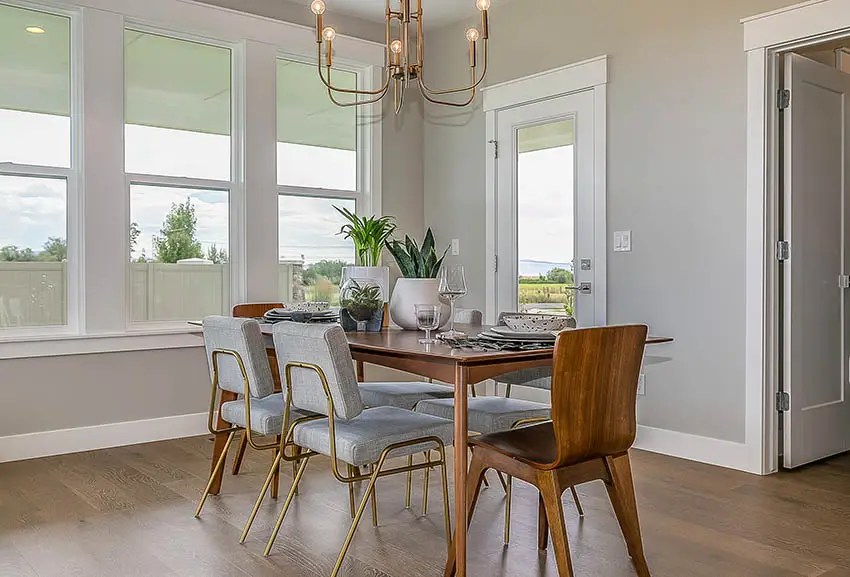 The mango tree is widely known worldwide because of its fruit that is very popular among most people. What you might not know about the South Asian tropical species of Mangifera is that it can also be successfully grown for the production of wood.
Mangi Indica (the scientific name of the mango tree) is very common among the places of Oceania and the tropical regions of Asia. However, mango trees can also be found in other tropical regions, such as Brazil, Mexico, and Australia.
The mango tree is known to grow to a height of up to 100ft. and a diameter of up to 4ft. while the mango tree is primarily grown for its sweet fruits, it has been reported that it stops bearing fruits after seven years.
After this happens, the tree is cut down; the wood is extracted and used for other purposes. Even though mango wood is not that popular in the global market of lumber trading, it is still commonly used in India and other parts of the world to make cheap furniture, musical instruments, plywood, flooring, among many others.
Homeowners commonly use mango wood as an alternative to furniture woods like Oak, Maple, and Mahogany. This is because mango wood is considered a hardwood, and it has some consistent patterns that make it ideal for making appealing furniture products.
Properties of Mango as Furniture Material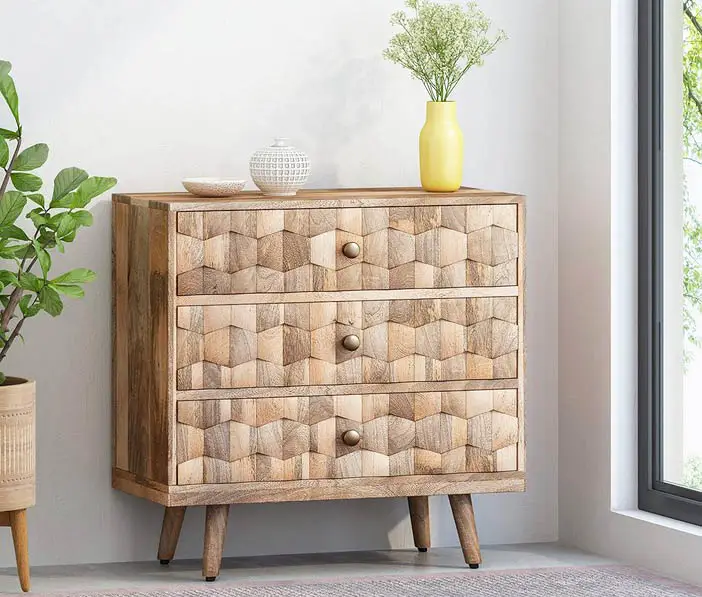 See this mid-century modern 3 drawer chest at Amazon [sponsored link]
Appearance – Unprocessed mango wood is known to have sapwood or an outer coating that is dark brown. On the other hand, the inner surface of mango wood has a paler color compared to the coating, while the processed mango wood is rough and golden brown in color.
Grain – In most cases, mango wood appears to have dark spots and irregular lines consistent throughout the surface. It is these irregular lines and dark spots that constitute the grain of mango wood. Even though these grains are fine, they're also unusual among other hardwoods.
Toxicity – Up to date, there have been no cases of any severe reactions to mango wood, although it might cause some mild skin irritation among some people.
Advantages of Using Mango Wood
Eco-friendly and sustainable – Mango wood is regarded as highly sustainable and eco-friendly among most of the hardwoods available. This is because it is only harvested after the mango tree has completed its lifespan of producing mango fruits.
For this reason, only the matured mango trees that are on the verge of barrenness are used to extract mango wood.
This means that no healthy mango trees are harmed for the sake of wood extraction. In this age, when there is a dire need to conserve the environment, mango wood is the ideal wood to go for.
Great usability – Although mango wood is regarded as hardwood, its usability is still higher compared to other traditional hardwoods you might have come across.
With mango wood, you don't need any professional tools to handle it. Also, mango wood can take any nails, screws, or glue without cracking.
High durability – Mango wood is extracted from mango trees that we all know are strong and slow-growing. The slabs obtained from mango wood are very strong and dense, making it one of the most durable woods out there. It's also important to note that mango wood's durability can be enhanced using a protective finish.
Low maintenance – In most cases, mango wood only requires to be cleaned using a soft and moist cloth to remove any dust particles. You can also apply some wax to protect your mango wood furniture from drying out.
Inexpensive – Compared to other hardwoods, such as Oak and Mahogany, mango wood is affordable and cheaper. For example, you purchase a one-inch thick mango wood for as low as $5 to $15.
Different colors and patterns – One of the reasons why mango wood is so popular among homeowners is its great variety of colors.
Based on the finishing or spalting of mango wood, you can get a gray, pinkish, brown, or yellow color ideal for your furniture. Also, depending on the wood stain used for finishing, you can still get a darker version of the wood.
Water resistance – Mango wood is highly resistant to water, making it an ideal option for those looking to construct a deck, patio, and other outdoor furniture. The best thing about mango wood is that you can increase its water resistance by simply polishing it.
Designs – Even though mango wood is considered hardwood, it's still very soft than traditional hardwoods such as Mahogany and Oak.
Mango wood can be easily shaped and carved according to the user's specifications and preferences.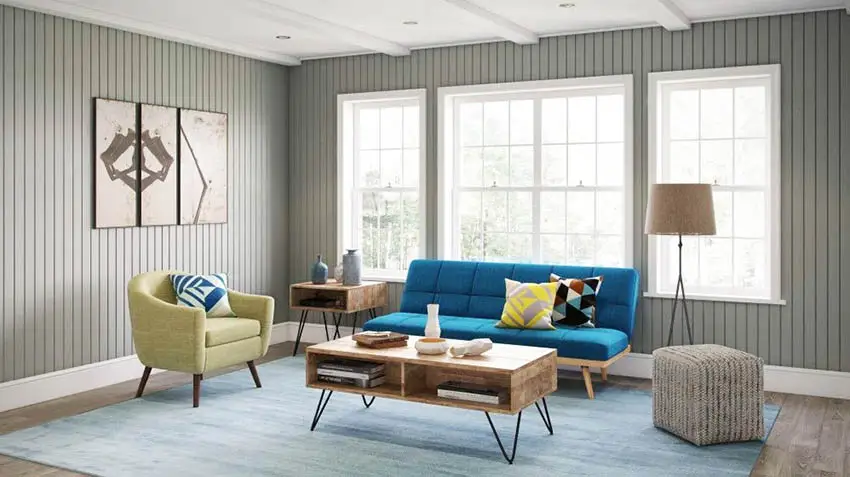 See this mango wood coffee table at Amazon [sponsored link]
Disadvantages of Mango
Prone to insect and fungus attacks – Unlike other hardwoods, mango wood is prone to attacks from woodworms and other insects.
This means that you need to treat your mango wood furniture with the required chemicals to provide a protective layer, or it won't last as long as you intended.
Not strong enough for some furniture – Unlike traditional hardwoods, mango wood is not suitable for use with furniture that requires longer plans, such as beds and wardrobes. This is because mango wood can be warped much easily.
Prone to discoloration – If left under the sun for long, mango wood furniture can end up fading or even cracking. If the furniture had a brown color, it could end up acquiring a much darker color.
How Can You Use Mango as Furniture Material?
Mango wood can be conveniently used for both indoor and outdoor pieces of furniture. This furniture includes;
• Table boards.
• Doors and window frames.
• Kitchen accessories such as chopping boards, serving trays, and bowls.
• For paneling purposes.
• For flooring purposes.
• Desks and chairs.
• Curing leather.
• Musical instruments such as drums and guitars.
• Large furniture such as wall cabinets, display units, and kitchen cabinets.
See different types of furniture styles here.
Is the Mango Tree a Hardwood?
Yes. Mango trees provide hardwood timber whose durability and general strength are much higher than that of most softwood.
However, despite being hardwood, mango trees reach maturity after only 8-12 years. According to Janka hardness, mango wood is reported to have a hardness score of about 1100 per foot.
Is Mango Good for Furniture?
Yes. Mango wood is great for making furniture. Due to its high water resistance, it can be used for both outdoor and garden furniture. See more top picks for maintenance free outdoor furniture here.
Also, since mango wood is both strong and lightweight, it can also be conveniently used for broad furniture pieces such as table sets, display units, wall cabinets, and kitchen cabinets.
Mango wood is generally thought of as a higher quality than pine and acacia wood. See examples of acacia wood outdoor furniture on this page.
Mango Furniture Maintenance Tips
• Always avoid using a rough piece of cloth to clean mango wood furniture.
• Avoid using ammonia detergents as they end up sucking the moisture out of mango wood furniture.
• Ensure that you rotate your furniture regularly to expose all parts to adequate sunlight and air.
• Avoid placing your wood furniture near fireplaces as the heat might cause wood warping.
• Cover all the scratches with matching paint as soon as you discover them.
Conclusion
Mango wood furniture is becoming increasingly popular among homeowners, and for a good reason. If you're looking for affordable and highly durable wood for your furniture and other purposes, mango wood makes for a great option.
For more related content visit our page about the best wood for table tops here.