Here's our Azek vs Trex decking design guide including pros and cons, differences in deck materials, cost and comparisons to help you choose.

Trex and Azek are top brands in composite decking that give you the beauty of the wood while outperforming its natural counterpart in so many ways.
Composite decking like Trex and Azek has changed the landscape of outdoor living. Due to their excellent durability, easy maintenance, structural stability, and ability to withstand rot, composite decks have proven to be a formidable competitor to the much-beloved natural wood decks. But between these popular brands, lets find out which is the best choice for you.
What are Azek vs Trex Decking Material?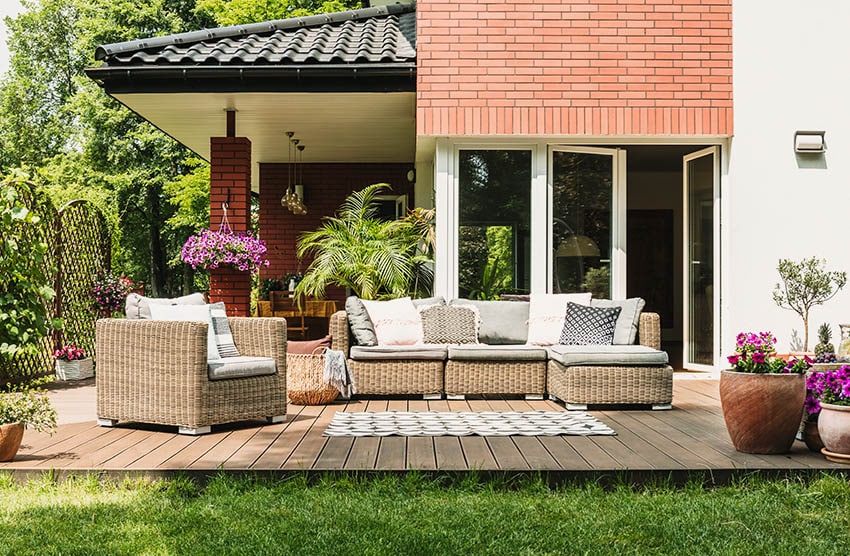 Azek and Trex Decking are non-wood materials that simulate the look of natural wood. They both deliver long-lasting beauty while aiming to simulate the feel and function of wood decking without the usual problems of the organic material.
The main difference between Azek and Trex decking is the material component for each. While Azek decking is entirely made from PVC, Trex is made from a composite of recycled wood chips and recycled plastic compressed together and considered as a capped composite decking. We've put together an article comparing PVC vs composite decking here.
Both brands are popular, considered top brand names when it comes to outdoor decking materials. Azek decking is headquartered in Chicago, and Trex is based in Winchester. Both have multiple manufacturing plants all over the U.S.
Now we'll cover some of the pros and cons of Azek vs Trex decking material starting with Azek.
Azek Decking Pros and Cons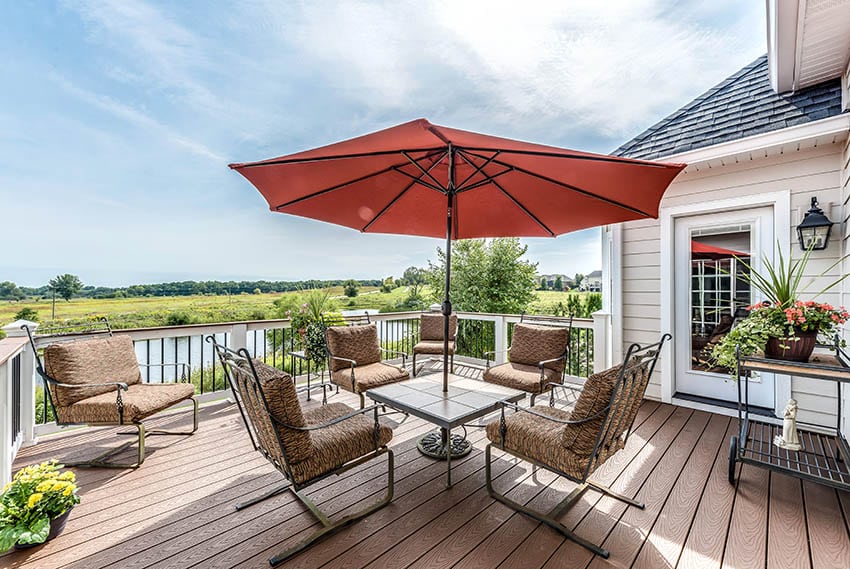 Pros:
Resistant to Mold and Mildew. Water is a number one cause for wood decking to depreciate, especially when used in pools. Azek decks are made entirely of PVC, making them virtually waterproof, preventing fungal growth. But without proper maintenance, mold can grow on the surface but will never get through the floorboards.
Insects love wood but not PVC material. You do not have to worry about carpenter bees, termites, or woodboring insects snacking on your floorboards.
Holds up to Extreme Weather Conditions. With a uniform and stable make-up, your Azek decking won't buckle or shrink even under extreme weather conditions.
Remarkable Impact Resistance. Azek decking has a very durable surface that prevents dents and scratches from showing on your decking.
Fade – Resistant. Because of the lack of organic materials, Azek decking will look pristine from its first installation up to its service life. It also offers a 50-year Fade and Stain Resistant Warranty.
Lightweight. The lack of wood components makes handling Azek decking easy. This also means you can use the PVC deck on raised decks without the need to worry about its weight on your structural foundations.
Does not Splinter. Unlike natural wood, the homogenous and stable nature of PVC material means it won't splinter, making it a safe surface for walking barefooted, especially for your little ones and even pets.
Can be Reused. While it is easy to install, it is also easy to disassemble and reuse in another location. This transferability makes the Azek decking great for renters and constant movers.
Low Maintenance. The surface is not too sensitive to cleaning agents. A soft broom will do the trick, then power hose the surface to get rid of trapped debris. For stubborn stains, the surface should only be cleaned by manufacturer-approved detergents.
Wide Range of Choices. One of the challenges of wood flooring is finding the right color and texture to match your design preference.
With synthetic decks, there are a wide assortment of designs that you can mix and match with your desired outdoor look, and you will easily find a good number of suppliers in your area.
They also have different colors and railing systems to create many different looks. See more deck railing ideas here.
Cortex Compatible. If you desire a seamless surface, you can use the Cortex Hidden Fastening System. This synthetic deck surface includes deck screws, deck plugs, and a TORX tap drive system that secures your boards on the underlayment without exposing the fasteners.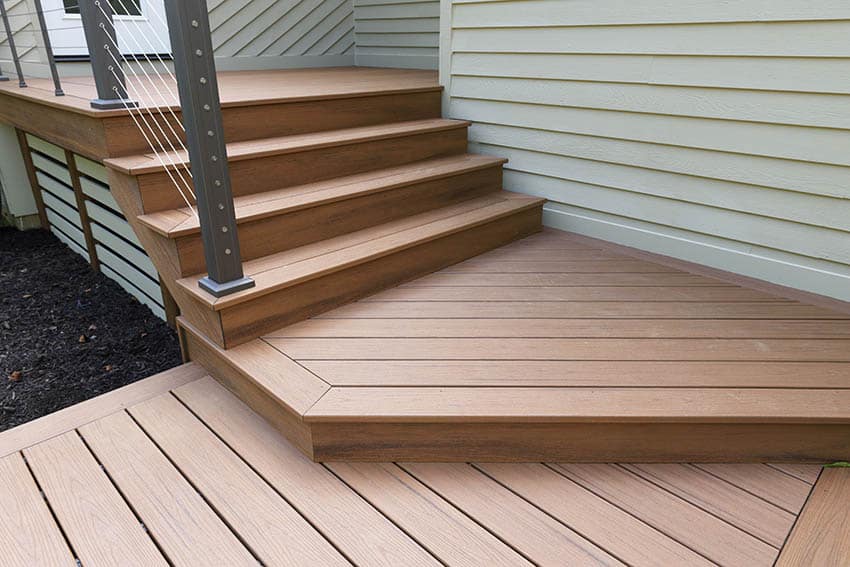 Cons:
VOC content. Azek decks are made of plastic with other chemicals that have the potential to off-gas, especially when subjected to extreme heat. Handle gloves and safety equipment during installation and wash hands before handling food.
Hazard Substances. The Azek decking system is classified as GHS-US under OSHA Hazard Standards which means the mixture is not considered a hazard when following the labeled directions.
Though cutting, sawing, grinding or other operations that generate dust may irritate the skin, eyes, and respiratory tract. It is best to seek a professional during installation.
Absorbs Heat Fast. Both Azek and Trex will heat up fast under the sun but since Azek is made from PVC materials so it will heat up faster than Trex. The upside on this is that Azek can disperse heat quickly once under the shade than that of the Trex decking.
Higher Cost. Between Azek and Trex decking, Azek is on average 20% to 30% more expensive than Trex.
Trex Decking Pros and Cons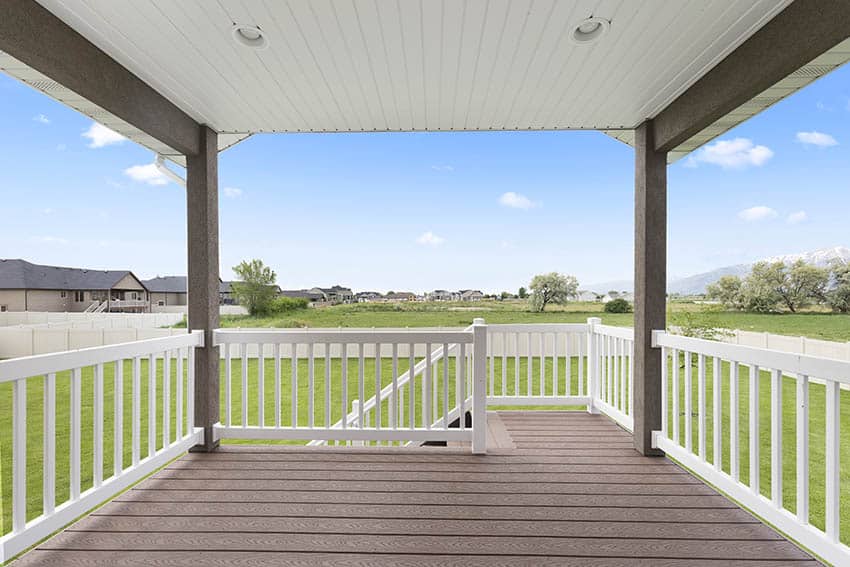 Pros:
Sustainable. Trex decks are made from 95% recycled materials that include reclaimed wood chips and sawdust with recycled plastic. This means it's a sustainable alternative to natural lumber.
Long-lasting Look and Function. The uniform material composition keeps the material solid, keeping it from cracking, rotting, or splintering into pieces, making it an ideal investment.
Low Maintenance. Unlike natural wood, sanding, staining, or painting are not required to maintain the look and structural integrity of your Trex decking.
Fade and Stain Warranty. Trex decking offers a 25-year Fade and Stain Warranty. This ensures that you will not have problems with staining or fading even when under the sun.
Looks and Feels like Wood. Trex compared to Azek looks and feels like real wood because of the textured surface and recycled wood content.
Scratch Resistant. Trex wins over Azek when it comes to scratch resistance thanks to hard shell coating that can resist scratching, and withstand long-term exposure to extreme weathers.
Comfortable Surface. As it has wood components, the Trex deck will feel comfortable to walk on bare feet, and with an equal and stable framing, you will feel a sturdy yet soft feeling against your floor decking, just like walking on natural wood.
Cost-Effective. Trex decking may be costly upfront, but it saves you more in the long run for its long-lasting beauty. It is enjoyed without the need for resurfacing. Replacements are lessened since they can last for 25 to 50 years as long as the installation was done correctly. Of course, the surface should be cleaned regularly with simple sweeping and mopping.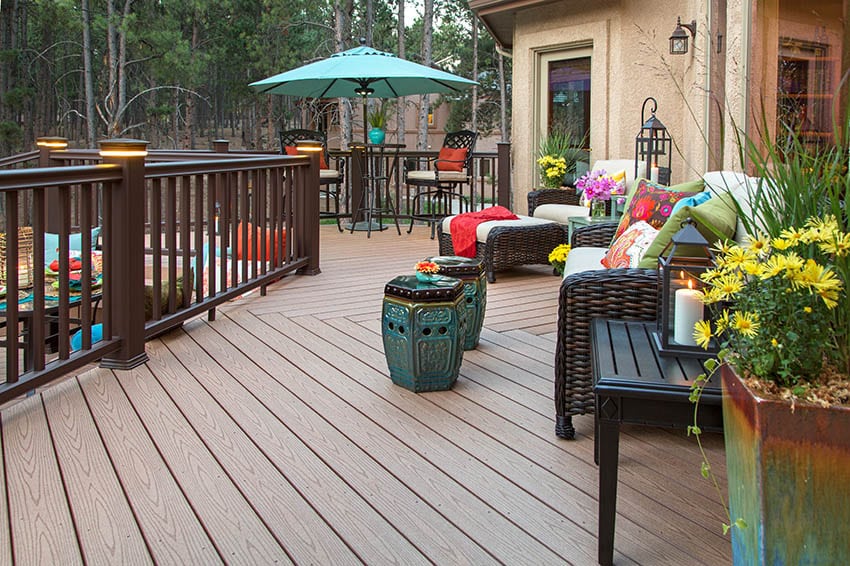 Cons:
Combustible. Since it is made from 95% recycled wood, it can get burned, but you can choose to have a Trex Fire Defense board that has a higher fire rating. However, Trex Fire Defense boards are made from 50% wood and 50 percent polyurethane which will burn slower than traditional lumber.
Cannot be Pressure-washed. It is not recommended not to pressure wash your Trex decking is it can damage the decking surface and void the warranty. You can clean your Trex decking with a damp mop and regular sweeping to prevent debris from settling on the surface.
A Challenge to Remove Ice and Snow. Trex durability remains during extreme weather conditions but can be a challenge to remove ice and snow on the floorboards.
Static Build-up. With the right conditions, especially if you live in a dry area, it can cause a small shock when walking on the surface. You can apply Staticide or clean the surface with an anti-static solution to prevent these unpleasant jolts.
Azek Versus Trex Cost
Azek decking can cost around $17.50 – $27.5 per square foot, while Trex is more affordable with a price ranging from $9 to $16.
To get a better ballpark figure get free quotations from at least two different contractors.
Azek Versus Trex Warranty
Warranties of residential use for both Azek and Trex offer limited warranties with their capped decking products covering material defects, rotting, and splintering.
You will find their basic incremental warranty protection almost identical, where Azek decks Fade and Stain warranty that covers 50 years while Trex coverage for all their models covers up to 25 years.
Both deck products have excellent warranties where they will either replace the damaged boards or issue a refund of the portion of the money depending on the nature of the defects. You can check for any updated changes in their warranties on their website.
Trex Versus Azek Decking Problems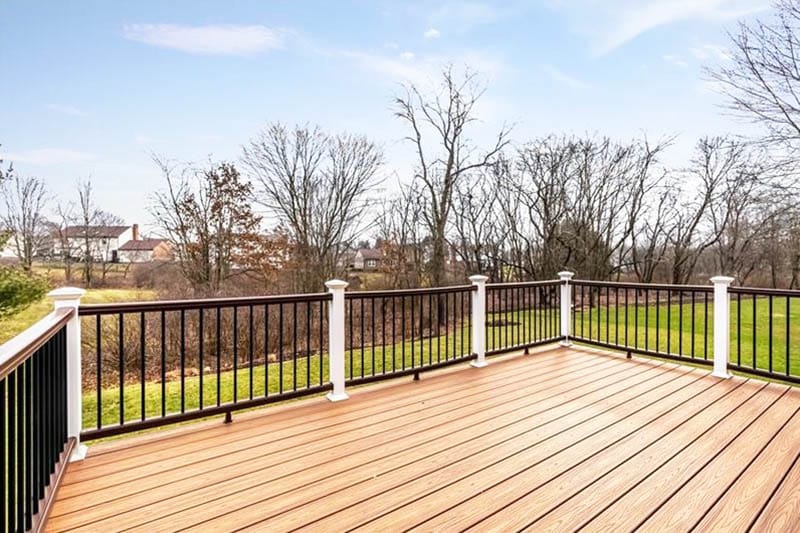 Problems with decking on both Trex and Azek decking come primarily with the fast heat absorption. Like all composite and plastic decking materials, the fast heating of your floorboards can be problematic since most decks don't receive much shade for outdoor use.
There are solutions to reduce the heat on your composite decks where the easiest is to place pergolas, awnings, or patio umbrellas that can reduce the exposure of your decks to direct sunlight. You may mist your decks from time to time with water to reduce the heat.
If you live in a sunny location, you might as well choose another material for your decks, or you can apply UV protection and reflective paint that will reflect heat from your floor surface.
Timbertech is another decking material similar to Azek made from PVC materials. For more content related to this topic visit our comparison of Timbertech vs Trex decking here.
Which is Better Azek or Trex Decking?
Azek has a shinier sheen compared to Trex's more textured look, and each also has a different feel where Trex is softer to walk on.
Azek is lighter since it contains 95% plastic, but Trex will feel colder than Azek when subjected to direct sunlight. Moreover, Azek has a longer warranty period but costs more than Trex decking.
In areas with large temperature fluctuations Trex decking may hold up better. Due to the plastic content in Azek decking it can expand and contract in wide temperature changes.
However, Azek decking may hold up better in moisture prone regions. Trex on the other hand has a greater likelihood of forming moisture which can result in mildew.
So, it boils down to what features you need for your outdoor decking. If you want a more environmentally friendly option that's more affordable and see a replacement of your decks for the next 20 to 30 years to be inevitable, then Trex is a sound choice.
However, if you want longevity and plan to reuse and move your deck area in the future Azek is a great option.
If you are designing your own deck there are programs that can help. Check out our list of the best deck design software on this page.