Welcome to our comparison guide on TimberTech vs Trex Decking including which is best for durability, cost & warranty.

Backyard decks are the ultimate 'staycation' home improvement project. When designed and built to wrap around landscaping, highlight water features, or provide gorgeous views of surrounding landscapes, a deck becomes the center spot for at-home retreats. While wood enjoyed years of being the top choice for decking, it's being replaced by newer composite and PVC materials.
Wood materials need constant upkeep, and depending on the weather, may need to be entirely replaced. Composite decking such as Timbertech and Trex decking products are made to be almost maintenance-free, long-lasting, and are easily modified to create more custom deck designs. Timbertech and Trex composite decking are two of the top contenders. Below we'll cover the pros and cons of each popular type of deck brand.
TimberTech vs Trex Durability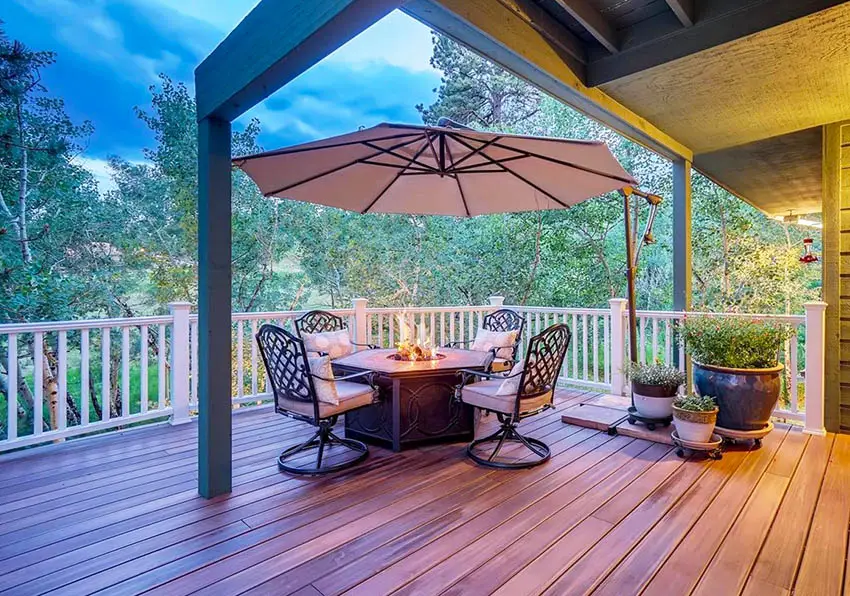 TimberTech joined the composite decking market in 1996 and is known for capping all four sides of its composite decking boards with a 1/16th inch, plastic-based shell. They call this method "capping" and use this veneer to prevent mold, staining, and fading from the elements.
Trex, the company most well-known as the pioneer in composite decking, leaves the bottom open and only coats the top and a portion of the sides with capping. The methodology is based on damage caused by the expansion of water that ends up under the capped surface. With an open bottom, water is released and the board dries from the airflow, preventing decay.
All capping will endure the rigors of outside weather and temperatures but may show a bit of fading limited to the first three or four months. The way composite decking is measured for fading is based on the Delta E metric system. The change in visual perception of a color is measured on a Delta E scale from 0 to 100. A change of only a few Delta E levels is typically hard to notice.
When it comes to scratch resistance, part of the consideration is what the boards are made of. Trex is a composite decking product made from recycled wood chips, pressed sawdust, and recycled plastic. TimberTech is a plastic board made from PVC and propriety plastic. In some scratch tests, the TimberTech scratched easier than the Trex decking, causing some deeper scratches.
For some people, scratches on wooden floors or wood decking ruin the look. While other people don't mind, Trex is known to be more scratch-resistant than TimberTech, making this an important attribute. Scratch-resistant does not mean the decking won't succumb to any scratches at all but will withstand minor scrapes and abrasions.
TimberTech vs Trex Pricing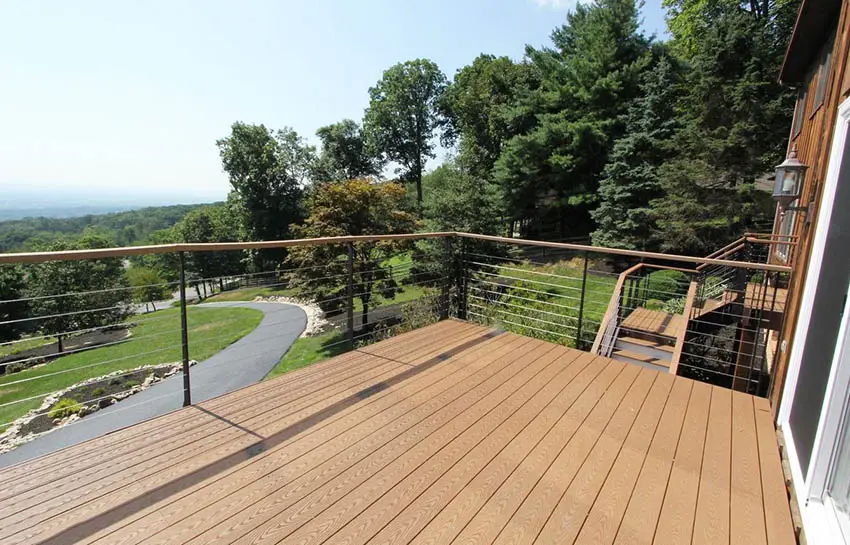 Modern deck design with Trex.
Although composite decking costs more than wood, the benefits of using composite boards for decking include saving money because of its durability and low-maintenance. Trex paved the way in composite decking and remains a bit less-expensive than TimberTech, but the difference is relative. Both companies offer tiered pricing levels based on the quality and colors of the decking.
Trex Deck Pricing

1. Trex Select (budget-level) $7 to $9 per sq ft.
2. Trex Enhance (mid-level) $5 to $7 per sq ft.
3. Trex Transcend (high-end) $10 to $12 per sq ft.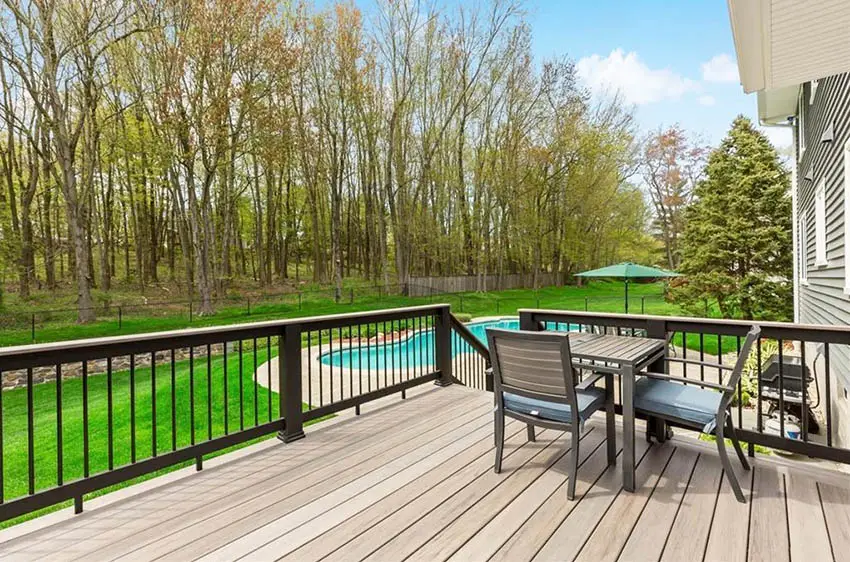 Backyard pool deck with Timbertech. See more types of decks here.
TimberTech Deck Pricing
1. TimberTech AZEK Harvest (budget-level) $9 to $12.25 per sq ft.
2. TimberTech AZEK Arbor (mid-range) $11 to $13 per sq ft.
3. TimberTech AZEK Vintage (high-end) $11.40 to $14 per sq ft.
When building a deck, Trex will average 10-20% less than TimberTech but may seem to actually cost 40-50% less if you don't include the additional cost of railings and substrate. Trex materials for railings and substrate are more expensive than TimberTech. A great way to save money on your deck project is to use Trex decking and build the railings and substrate from real wood. Pine works fine for railings and can be stained a color either close to the composite decking or a contrasting color as an accent.
The length and width of each board also factor in the cost for both Trex and TimberTech. Shorter, regular width lengths of board are typically more expensive but cover more square footage than a longer length board that's narrower. Make use of decking calculators to find the square foot coverage for whichever decking boards you choose.
Trex vs TimberTech Warranty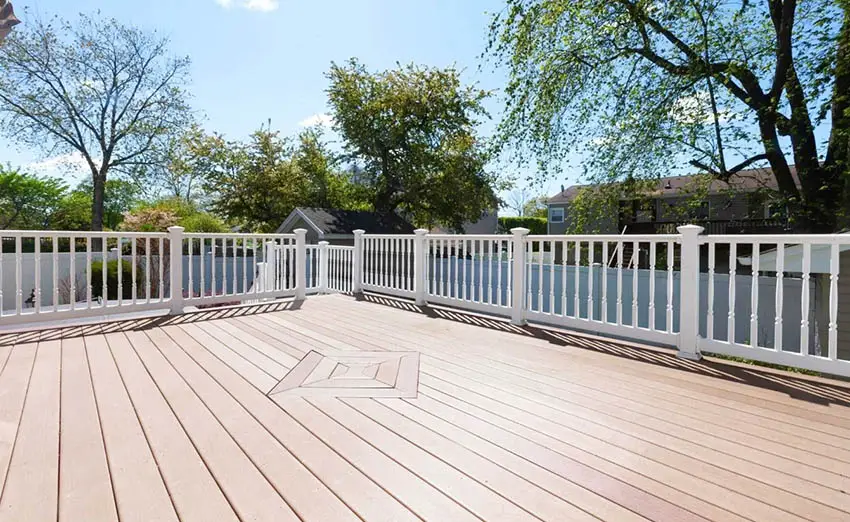 Trex brand with white deck railing design and decorative inlay.
Years ago, composite decking companies marketed their products as maintenance-free. But after several products from various manufacturers failed and caused expensive recalls due to boards decaying and splitting, companies strongly suggested regular maintenance. Both Trex and TimberTech offer warranties with Trex offering a 25-year fade and stain warranty for their composite decking and TimberTech providing a 30-year fade and stain warranty.
As stated above, the Delta E system measures the amount of change in a color. Both Trex and TimberTech will not cover fading until it reaches 5 Delta E units. Ask your salesman about the Delta E system rating and warranties when you purchase composite decking.
If mold or mildew causes staining, neither company will cover the damage. Most all composite deck manufacturers strongly suggest keeping your composite deck clean and free of dirt. Sweeping and periodic mopping with plain soap and water will help prevent mold and mildew spots. Both Trex and TimberTech provide limited warranties for rot, splintering, and material defects.
Trex vs TimberTech vs. AZEK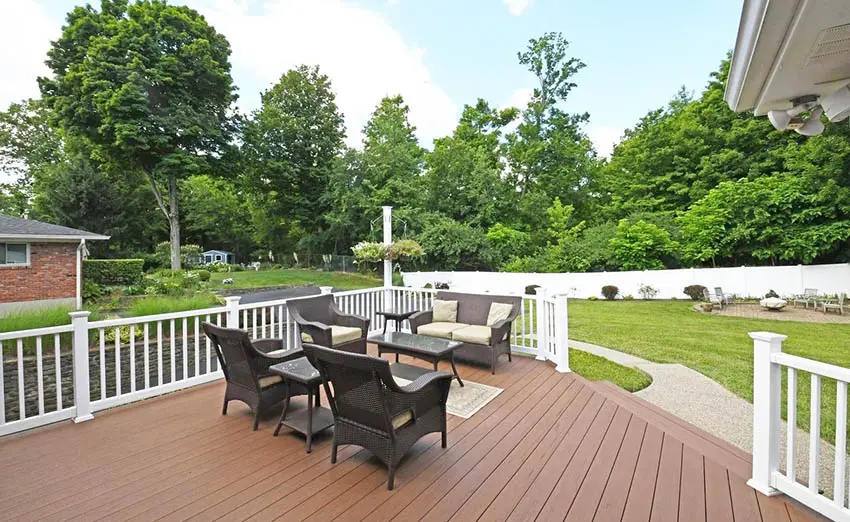 In 2012, TimberTech was purchased by an independent building product company called AZEK and is sold under AZEK's outdoor living department. TimberTech maintains the same name and is the same decking product as before, but sold with AZEK as their parent company.
Fiberon vs Trex vs TimberTech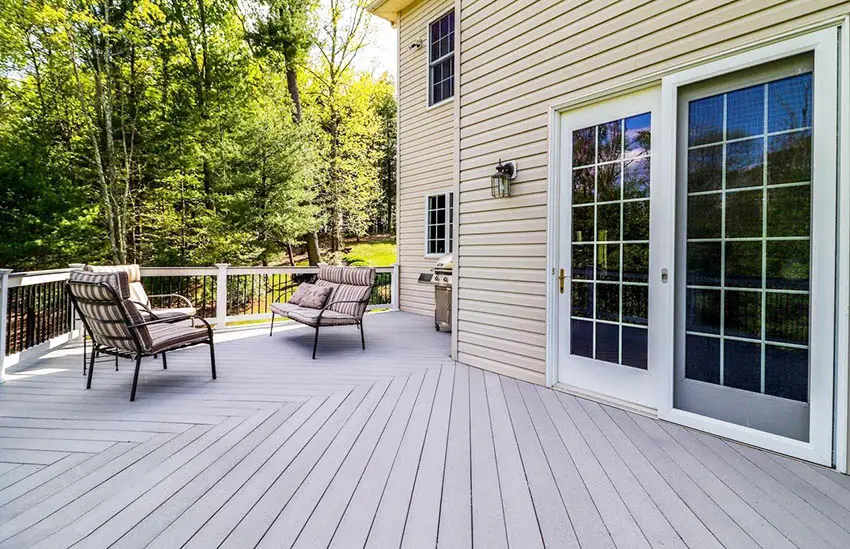 While Trex and TimberTech have three product tiers, Fiberon offers seven tiers with two of their products sold through Home Depot exclusively. Fiberon has products for budget-minded projects and up, including premium offerings. Their variety of products include 3-sided and 4-sided composite boards, solid or grooved surfaces, and additional board lengths as with their Symmetry and Horizon lines.
Fiberon manufactures both PVC plastic and composite decking boards while Trex sells only composite boards and TimberTech only PVC plastic boards. Fiberon products are made widely available being sold through home improvement stores such as Home Depot versus Trex and TimberTech, which are carried by specialty wood and decking companies.
With lower prices than Trex and TimberTech, additional pricing and quality tiers, and a wider variety color choices, Fiberon provides more decking options for do-it-yourselfers and professionals.
To help create your own deck design for your own home we've reviewed the best deck design software programs.Using one of these programs you can design and visualize how your deck will look based on the current layout of your home's backyard.
We hope you enjoyed our comparison of Timbertech vs Trex decking. We'd love to hear your feedback about which one you recommend as well as what you like or dislike about each type.