Here's our travertine patio design guide including types of pavers, tile, patterns, cost, finishes and layouts.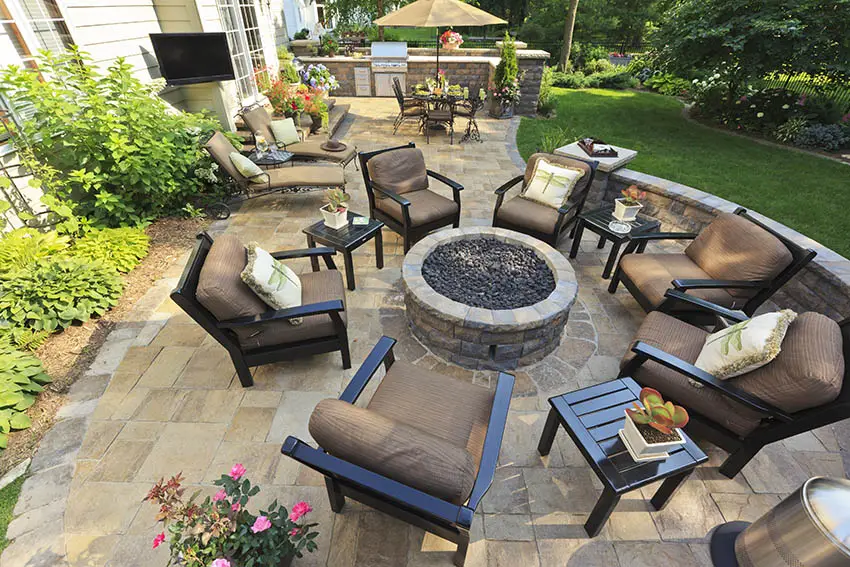 A travertine patio is a smart investment where you can enjoy quality materials and style without breaking the bank. Made from a cost-effective tile material, a travertine patio can add value to your property and increase the attractiveness of your backyard.
While wood and concrete are arguably the go-to materials for outdoor living, it's undeniable that pavers offer much visual impact, if not more than their said counterparts, depending of course on your preference.
However, the strength of a patio made from travertine tiles is that you can enjoy the outdoors any time of the day or climate. To top it off, the design possibilities are endless, which allow homeowners to put on their designer's hat and enjoy much of the process of beautifying their home.
What is a Travertine Patio?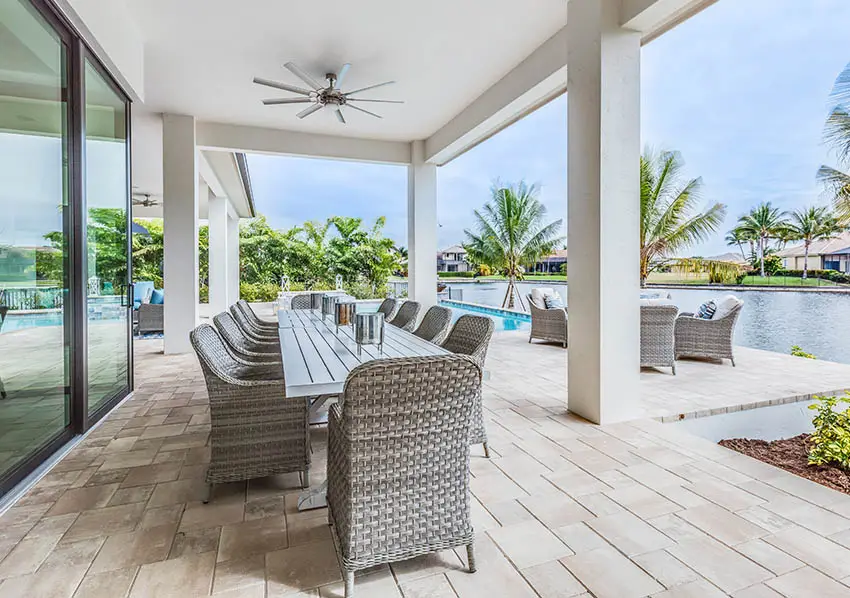 A travertine patio is an extension of your outdoor living typically attached to your home with or without a roof and has pavers made of travertine tiles.
You'll know when you have a travertine patio if you've got natural stone pavers that look porous and textured, usually with warm earthen colors. Although when sanded down, the travertine will look smoother but still has that mottled texture.
A travertine backyard patio can either go for the modern or traditional look where the rustic theme is the most popular and common style choice for the natural stone.
With the tiles' versatility, they're a gorgeous finishing that can fit any surface, have them on your planters, outdoor fireplaces, or built-in seating.
Travertine paver patios are comfortable to walk on and they're great to use for the pool deck, thanks to their heat reflectivity and low heat absorption that remains cool even when exposed under the sun. Most importantly, its coarse surface means you won't easily slip even when the tiles are wet.
Makeup: Travertine is an especially attractive form of limestone. Its fibrous, marble-like texture and attractive earth-tone colors make it one of the most popular stones used for building materials.
Durability: A travertine patio can stand the test of time. Travertine tiles, although very durable and easy to maintain compared to other types of natural stone.
Patio Travertine Tiles or Pavers?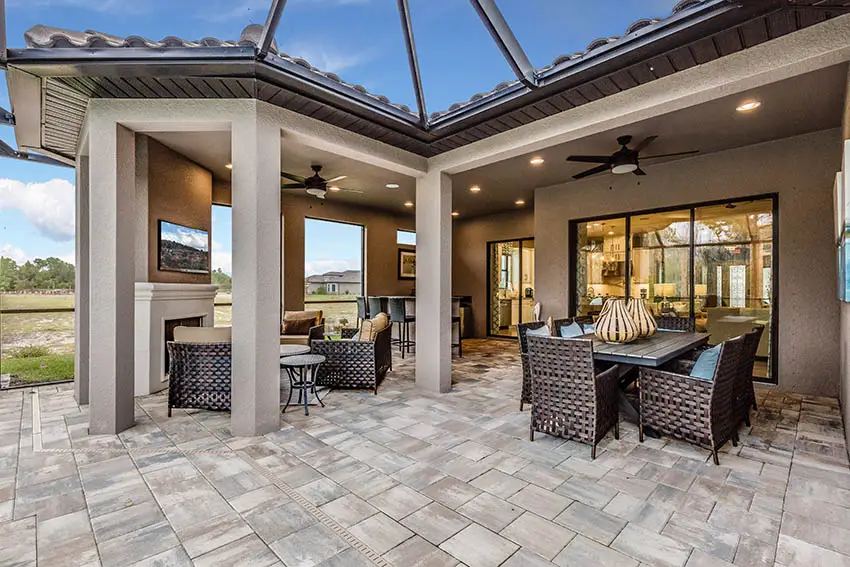 The difference between tiles and pavers is the size and the edge cut. Travertine tiles are usually ½ inches thick, while pavers are thicker with a 1 ¼ to 4 inches thickness.
Another distinguishable difference is that the tiles are straight-edged, so they can be laid side by side to have a seamless look. While pavers are usually chiseled or with tumbled edged-cut.
The most popular tile sizes are 12×12, 12×24, 18×18, and 8 x 12.
When choosing between tiles and pavers, consider their application on your outdoor patio. If you plan to have a seamless look, go for travertine tiles where you'll have a grout to hold the tiles in place. Travertine tiles can be laid in different distinctive patterns, such as brick laid and Versailles pattern.
For the larger-sized travertine pavers, they can be laid out without grout in between. This allows the natural ground cover such as grass or stone pebbles to go between the pavers.
Having a grouted surface allows you rainwater to drain easily in between without the need to plan for your drainage system. The only downside with travertine pavers bounded by grass or pebbles is the relative maintenance that goes with the pervious surface.
You can combine travertine tiles and pavers in your travertine patio or porch as well.
Travertine Patio Layout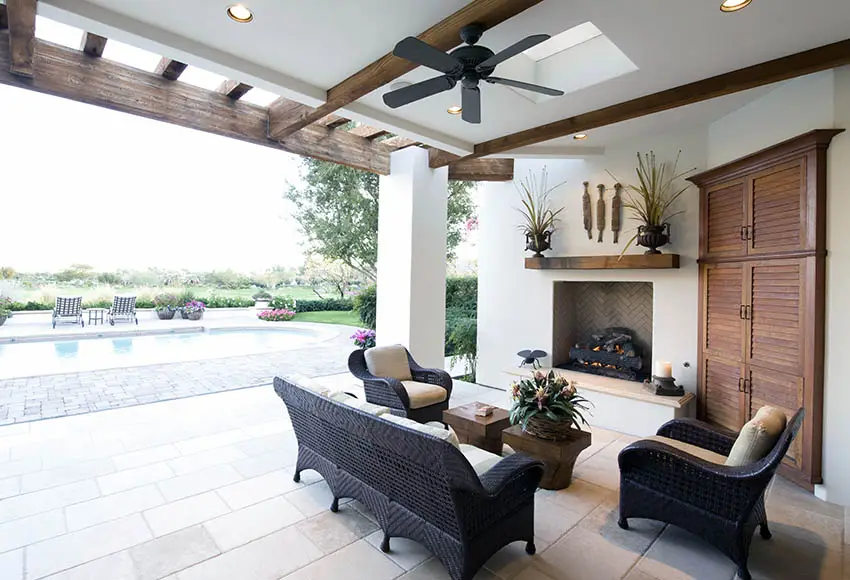 With the various sizes and cuts available, you can create a variety of patterns for your patio flooring and cladding. The most popular traditional layouts are Versailles, brick, French pattern, and Herringbone.
Other patterns include:
Fish pattern
Mosaic-checkered
Mosaic-wave
Mosaic-wave corner
Star pattern
Basket Weave
Diamond-cut
Corner set
Rattan
Travertine Paver Pattern
Travertine Patio Finish
Another advantage of travertine as your patio material is that its availability. You can find the stone tile in almost any tile shop.
You do need to know the right finish for your patio. Honed, Tumbled, and Brushed finish are great for outdoor use, especially as a pool deck because of their textured surface. For best traction use a tumbled travertine finish which is characterized by round corners and edges.
Though you may need to seal it to prevent it from staining. If you want a matte finish, go for the brushed travertine tile.
For honed finish, they come as a slightly polished surface advisable for travertine patios with enclosed designs.
Travertine Patio Cost
Compared to marble, travertine is less expensive but can still be pricier than granite or limestone. Though with its unmatched benefits of a patio made with travertine is still a sound option.
Meanwhile, for a wooden patio, the high maintenance and design limits of the material can put you off if you want more versatility in your patio design.
A concrete patio is also a great option due to its affordability and design possibilities. The only issue with concrete is that, just like wood, it expands and contracts when subjected to extreme and varying temperatures. Money-wise a travertine patio is a practical option.
Travertine belongs to the mid-range stone when it comes to its cost, however it is considered a high-end stone material overall. So, how much does a travertine patio cost?
Expect to pay around about $15 to $30 per square foot for materials plus labor. That depends on the finishing, cut, and tile grade.
There are many other factors to consider when it comes to your patio costs such as design complexity, patio size, and features.
As a baseline, a 300 square foot natural stone patio could fetch from $3900 to $15,000 for both materials and labor.
Other features that you can incorporate into your travertine patio are a fire pit, outdoor kitchen, built-in seats, roof, and enclosures. You should also consider the permits which can go around $300 to $1900 depending on your location and project details. Utilities should also be as well on the top of your list.
Another determining factor in your cost is whether you opt for a DIY project or hire a professional. Having an expert install your travertine patio saves you more in the long run because you are rest assured that the right installation techniques are done.
Though if you have the skills and can dedicate around 40 to 50 hours of labor work then DIY is a sound option.
How to Clean Travertine Patio?
Just like any other stone material, proper care should be done to maintain and prolong longevity. Clean your travertine patio using mild soap and water for soiled surfaces and never use vinegar or other harsh chemicals that can wear off the sealer.
As travertine is porous you may need to disinfect, sweep or vacuum and mop every week to prevent molds and other tiny particles to accumulate.
You also need a protective sealant as leaving the stone exposed can lead to discoloration and staining. Regrouting and resealing should be done every three to five years.
To see more types of patios visit this gallery page.