These decomposed granite patio designs include what it is, the different types of granite to use, pros and cons, patio ideas, and building tips.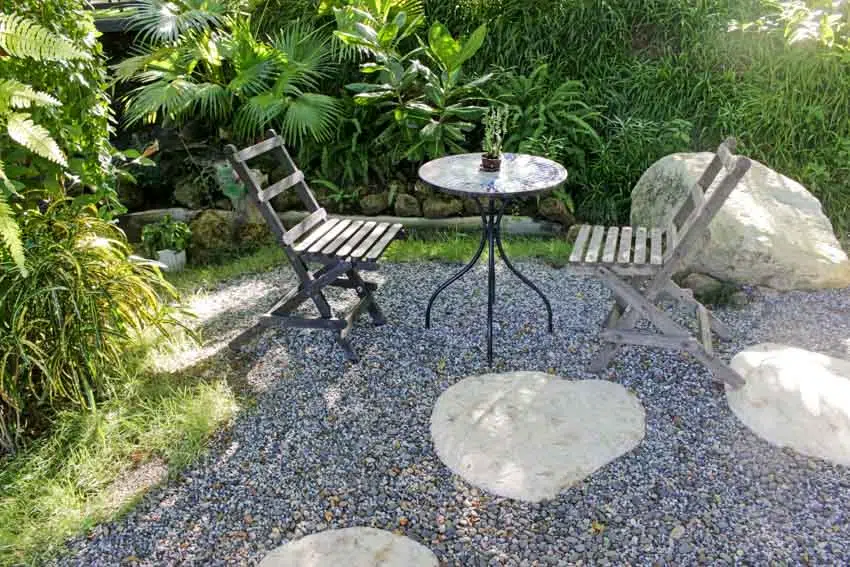 Remodeling and sprucing up your patio can mean different things. One of the options to explore is a decomposed granite patio, which is becoming a popular choice for many homeowners. It has gained popularity because of the positive features that decomposed granite has.
If you want a patio that's weed-free and doesn't get muddy, a decomposed granite patio can be an ideal choice to consider. It is also a good option if you want to save water and money taking care of your garden and patio, providing homeowners a more cost-effective and aesthetically versatile option.
Is decomposed granite one of the considerations you are looking into? If yes, there's no shortcut if you want to trim down your choices. Exploring them one by one is the best step to move forward. Let's start with a decomposed granite patio.
What Is A Decomposed Granite Patio?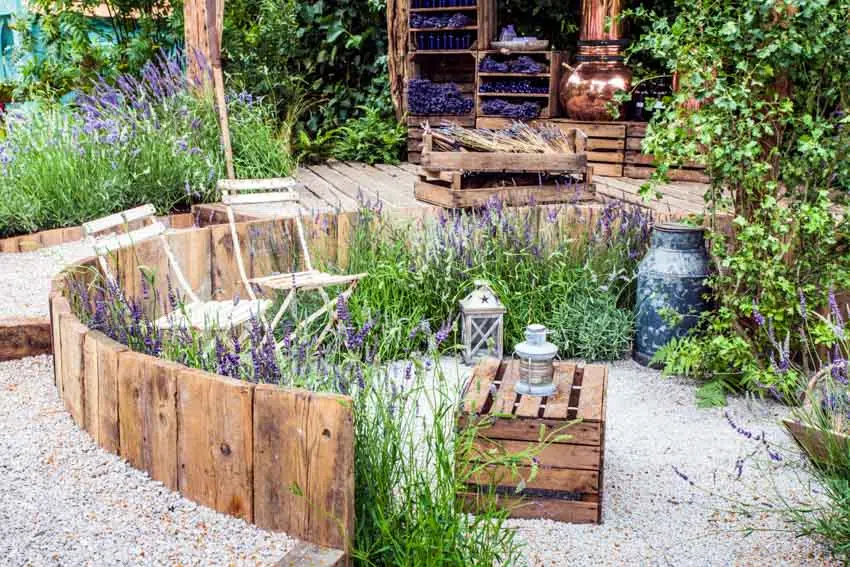 Decomposed granite or DG is a popular construction material made of finer and more stable gravel. These types of gravel materials resulted from the erosion and weathering of tough and igneous solid granite. The gravel particle is at most ⅜ inch in size with a grain of sand bigger than most of these particles. This is also the reason why it's also known as crushed granite.
DG comes in a variety of colors, giving you more options to consider for your patio. From different shades of gray and brown to green and red, you can choose the color that will match the idea you envision for the patio. This also makes decomposed granite an incredible hardscaping material.
Popular in the US southwest and southern regions. DG is known for its soft natural appearance coupled with its permeability and the ability to not crumble over time.
It also becomes hard, compact, and stable once wet. And there are also many applications you can do with this material and make use of in a variety of design besides gravel patio designs.

Some of which are the uses for decomposed granite are:

• Garden trails/paths
• Driveways
• Patios
• Ground cover
• Garden-to-wilderness transition
In installing a decomposed granite patio though, you have to make sure that it is kept in place especially once it breaks down into the lawn. The decomposed granite also needs to be distanced (not too close) to your home's entryway, especially since it can stick to the shoes and scratch your floors.
Types Of Decomposed Granite To Consider
If you've set your mind on a decomposed granite patio, you also need to take into account the type you will be choosing. More than just a variety of particle sizes and colors, there are also three major forms that decomposed granite comes in.

Natural/Loose DG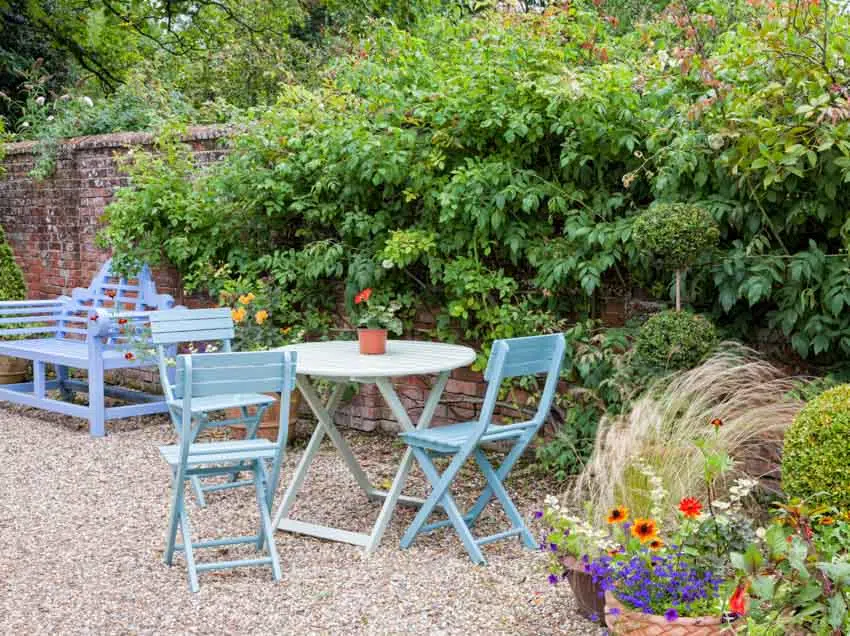 Natural (or loose) decomposed granite is when it is pure granite in its natural form and free from other additives.
Some of the characteristics of natural & loose DG you can take note of are the following:
• Least expensive decomposed granite option
• Ideal for garden beds (Used as a mulch material to be spread on the garden beds)
• Holds up better than other mulch materials and lasts longer
• Do not attract pests
• Keeps plants warm in winter
• Provides better drainage
The major downside with natural/loose DG is the fact that since it doesn't have any stabilizer, it can get messy and muddy on rainy days. Installing them in high-traffic areas is not recommended.
Stabilized DG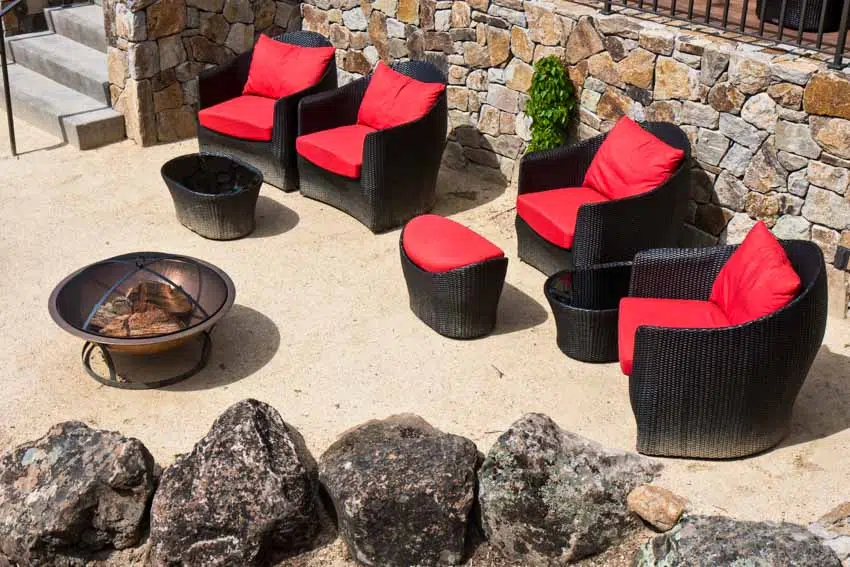 Stabilized DG is decomposed granite embedded with stabilizers in order to make them better quality material. The blend showcases the following features:
• Ideal for outdoor patios, driveways, and walkable pathways
• Less susceptible to weathering and erosion
• Low-level maintenance requirements
• Long lifespan
• Natural look compared to concrete and asphalt
Resin-Coated DG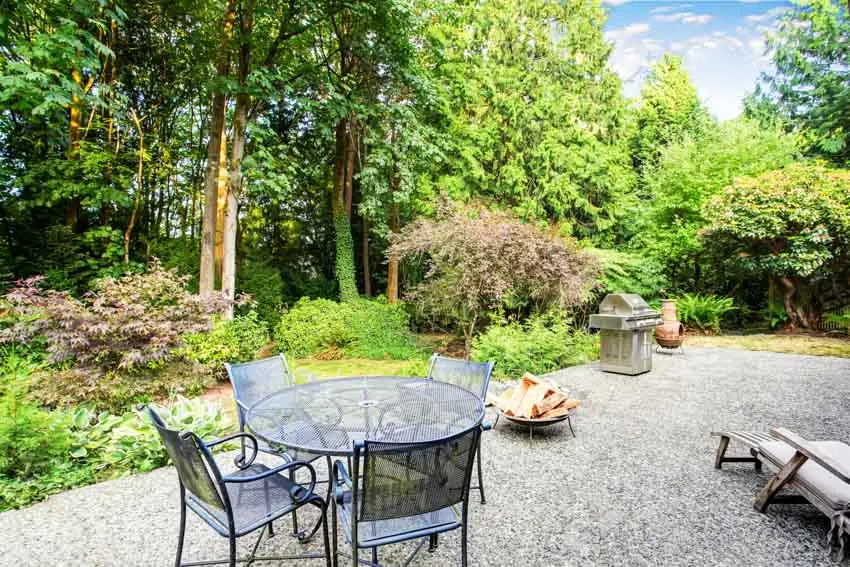 Resin-coated DG refers to the decomposed granite that is blended with resin. Here are some of the characteristics that this blend offers:
• Most expensive type of DG
• Features a similar surface to that of asphalt
• Strongest and most durable DG option
• Less permeability
• Ideal for high-traffic areas like driveways and other similar outdoor areas
Decomposed Granite Patio Pros & Cons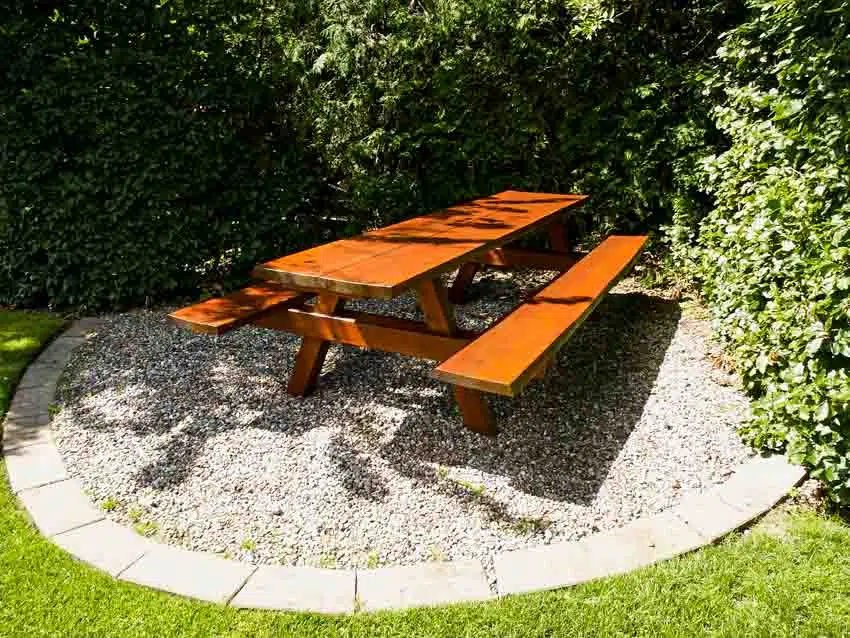 Going for a decomposed granite patio means you will have to weigh your options, as well as the advantages and disadvantages of your choice. Here are the pros and cons of adding a decomposed granite patio to your home.
Pros of a Decomposed Granite Patio

A decomposed granite patio (supposing that you choose either stabilized or resin-coated DG) provides a wonderful addition to your home. The benefits you can get from this kind of patio though would depend on what form of decomposed granite you choose. Check out these benefits you can make the most of with a DG patio.
Showcases a stunning landscape and softens your home's exterior: When added to your home, a decomposed granite patio can be a stunning landscape that can contribute to its aesthetics. Stabilized DG is a good option if you want to create your patio since you will be guaranteed that it won't be muddy.
This hardscape project can actually soften the exterior of your home and take care of the harsh lines of your pavers by adding the fine look of the decomposed granite. Since it has a similar texture to sand, it offers a more natural aesthetic.
Fairly inexpensive: Decomposed granite patio is fairly inexpensive because the material is affordable and easy to maintain. Since it is also versatile and can last long, it can be an excellent form of investment.
Highly permeable: When it comes to decomposed granite, both natural/loose DG and stabilized DG are highly permeable. This is a good consideration if you are going for a permeable patio where rainwater won't sit and build up near your home.
A variety of options to choose from: DG comes in a variety of colors, which means that you get to have a patio in whatever color you want. Over 30 shades and colors are available for your consideration so you won't get stuck with the usual grayish or brown (wood-colored) patio.
Low maintenance: A decomposed granite patio is also expected to be low-maintenance, especially if you are choosing either stabilized DG or resin-coated DG for your material. Unlike the maintenance of grass, you won't have to be meticulous in its care.
Excellent underfoot traction: A decomposed granite patio is guaranteed to have a gritty texture on the surface. This results in excellent underfoot traction that will make sure you or anyone won't slip while walking on the patio.
Cons of a Decomposed Granite Patio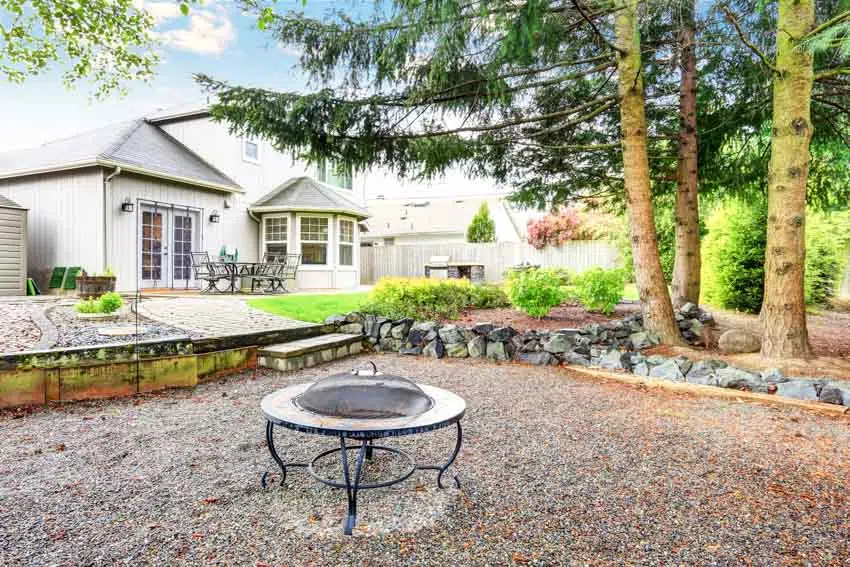 After going through the different benefits you can get from a decomposed granite patio, the next step is to explore the possible drawbacks that come along with it.
Loose DG can erode and get muddy: If you choose loose DG for your patio, you might have a problem when it rains. This type of DG tends to erode and be muddy and so if you step on it can be tracked indoors and then can damage your home's flooring.
The solution is to install the patio, if you're going for loose DG, a bit of distance away from the entry of the house to avoid this.
Resin-coated DG does not offer good drainage: While resin-coated DG has excellent durability that makes it a great patio since it won't get muddy compared to natural/loose DG, the downside is that it is not permeable and so does not offer good drainage.
Needs to refill from time to time: A decomposed granite patio needs to be maintained by refilling it from time to time. While this is not a difficult task to take, the challenge is in choosing the exact same color of DG you first used (if you plan to maintain that color).
Modern Decomposed Granite Patio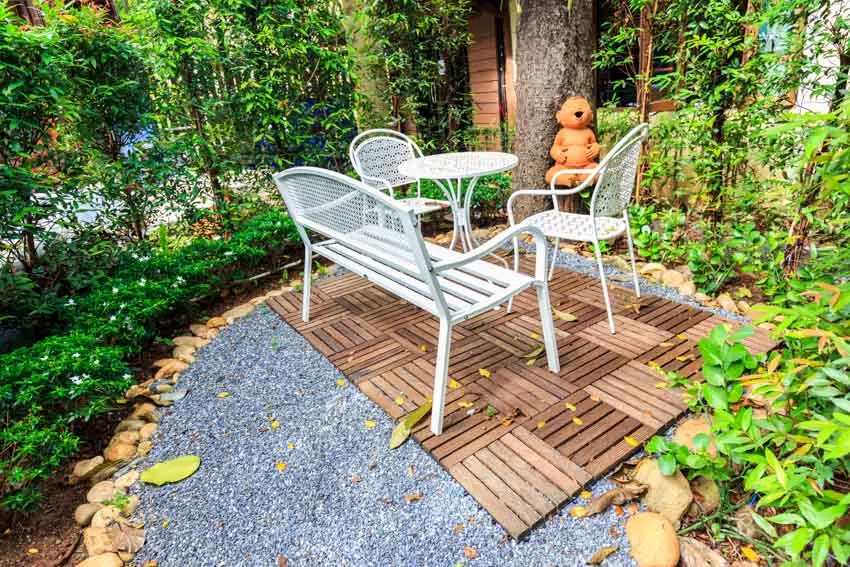 One good option for your home is a modern decomposed granite patio. This particular patio is a bit edgy and looks trendy and most of the time, it can either be using stabilized DG or resin-coated DG.
A modern decomposed granite patio features excellent durability and stability. With many colors to choose from, you can go for a quirky combination of bright colors or by combining dark colors. Straight lines and sharp angles can also be expected, as well as unique shapes and fun forms.
You can also go the other way around and settle for a minimalist design filled with straight clear lines and white DG. This type is especially sharp for a contrasting gravel garden design.

Decomposed Granite And Flagstone Patio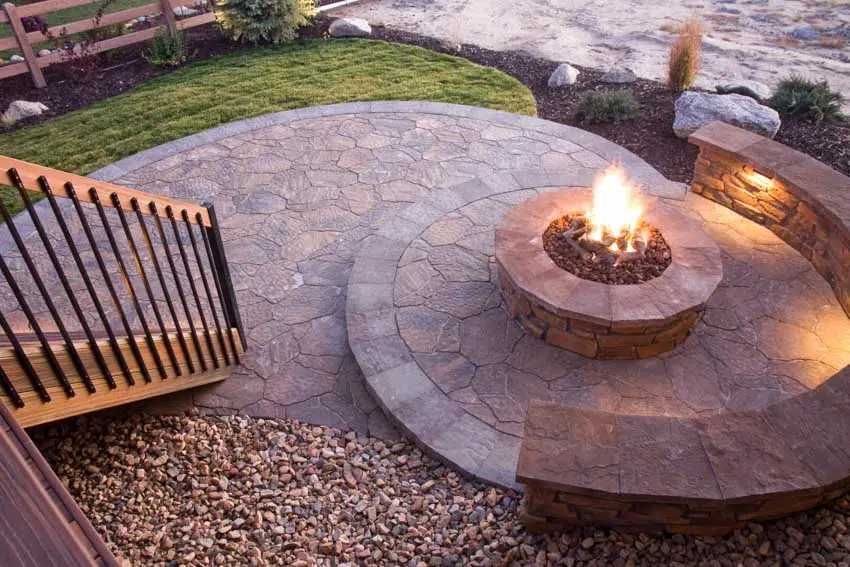 If you are going to use flagstone for your walkway and patio, decomposed granite is among the best patio material to use with it. Decomposed granite and flagstone patio offers a rustic and timeless feel to your home.
A flagstone is considered one of the most authentic elements in landscaping. Its timeless and handmade look is supported by the flat surface stones. These flagstones can be made from different rocks including soft sedimentary rocks to tough marble and quartzite.
You just need to choose the specific material you want to be used for your flagstone patio along with the decomposed granite that keeps everything together and more united.
Decomposed Granite And Paver Patio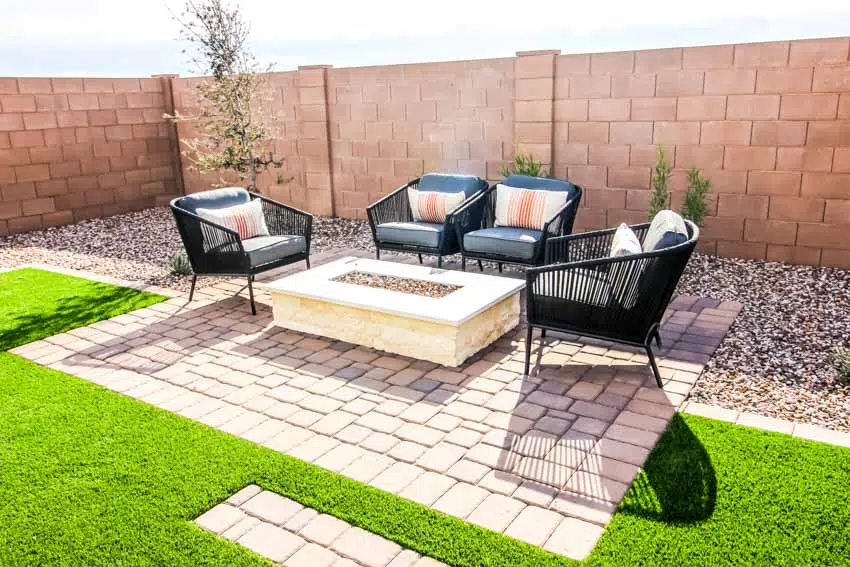 Pavers are cheap but durable materials that are usually installed for walkways, driveways, and patios. They can also be used for raised beds and retaining walls.
They come in a variety of textures, shapes, and colors so you have many options to choose from. In this way, pavers are very similar to decomposed granite since you are given many choices of colors. And so you can get as creative and quirky in your color options, especially when these two materials are used together.
A decomposed granite and paver patio is aesthetically pleasing in an outdoor space. The pavers accentuate the patio with clear and straight lines while the decomposed granite disguises minor imperfections in the patio and makes sure that it stays where it is.
The installation of a DG with pavers patio is relatively easy and it involves just a little need for a specialized tool and a bit of labor. And all of this work can be completed over the weekend!
Crushed Granite Patio With Fire Pit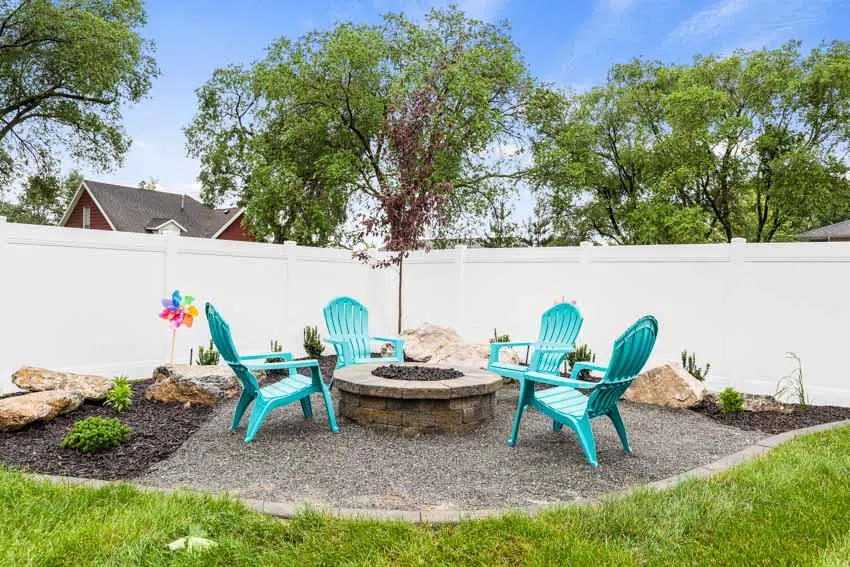 Spending time outdoors can be refreshing and yes, even when the wind is cold and the winter nights are coming. If you're fond of staying outdoors and nothing can stop you even the cold, a reliable fire pit in your crushed granite patio can help make you feel cozier and more comfortable.
Crushed granite is a good option for your patio if you're thinking about installing a fire pit. Since the material is fire-resistant, you can be guaranteed that uncontrollable fire won't be an issue.
Damaged flooring because of fire and sparks also won't be a problem. Just make sure that everything else on the patio is resistant to fire to avoid future worries. See more granite fire pit ideas here.

DIY Decomposed Granite Patio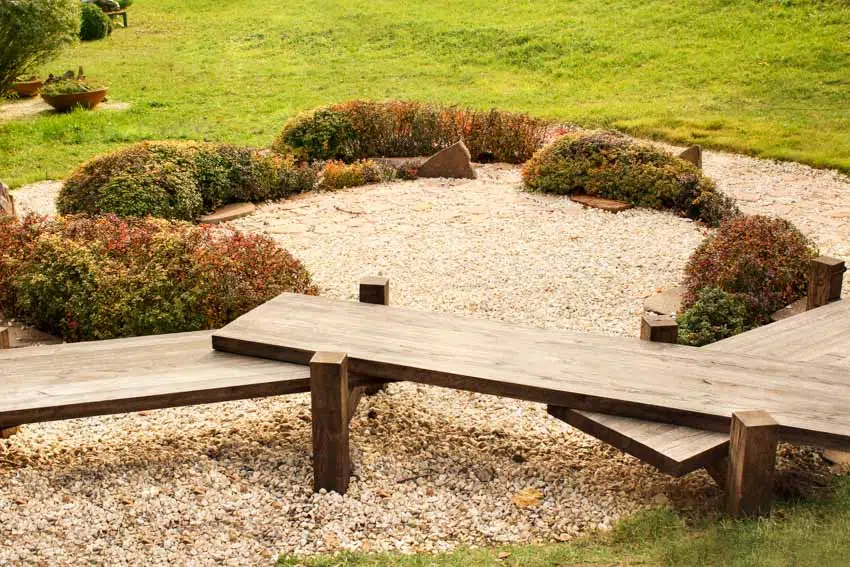 One of the best things about a decomposed granite patio is that it's DIY-friendly! It is an affordable and simple hardscape option that homeowners can explore.
With a decomposed granite patio, the materials used are cheap but the labor is a bit more meticulous. Compared to other types of patios that can be costly, you can DIY a DG patio to lower its cost.
Choosing to DIY a DG patio is pretty straightforward where you need to find a flat surface area that's also weed-free. If there are weeds, you can spray some weed killer on the area. And once weed-free, you will then need to dig in the area you want the decomposed granite patio to be. For more pictures, see our gallery of the types of landscaping rocks.

How To Build A Decomposed Granite Patio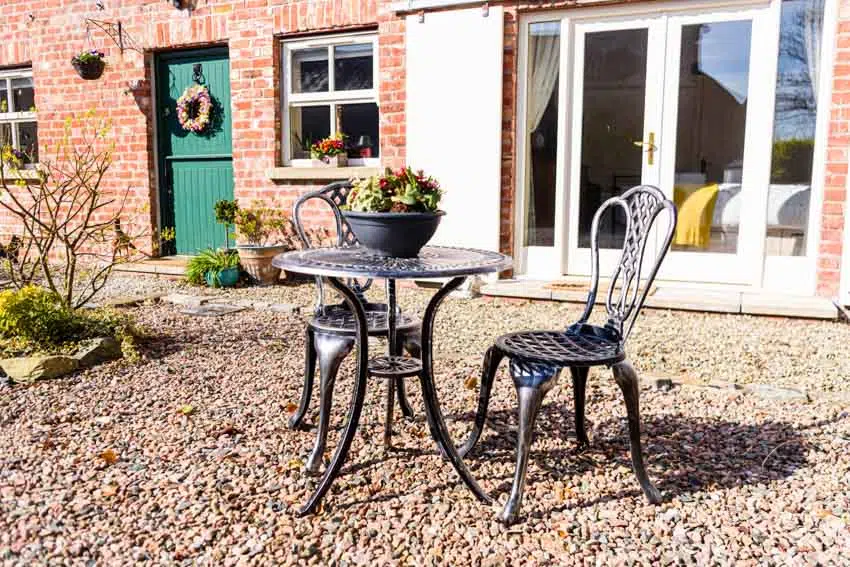 If you're set on building your own decomposed granite patio, here are simple steps you can follow as your guide.
Step 1 – Planning and Designing: The first step before digging in your front yard is planning your design. Decide on what type of patio you want to have, whether you'll be using pavers, flagstones, or other materials, and how big you want your patio size to be. Draw the design and include the dimensions of the patio.
After you have created the layout for your backyard patio using the help of a landscaping architect or landscape design software you are ready to buy materials and get started.
When it comes to the DG patio, you can install these materials next to walls, borders, and fences as long as you use them with a retaining or edging material that will keep the granite together.
Step 2 – Marking the Site: Go to your yard with strings, stakes, and spray paint and mark the area where you will build your patio. Consider all the factors within that area, from elevations to weeds.
Step 3 – Digging the Area: Get your shovel or whatever digging tool you have and start excavating in the marked area. In general, dig 8 to 12 inches in the area where you want to build your patio.
The depth you will dig will depend on three factors which are the soil type in the area, the kind of edging you will use, and if you want the top of your patio to be level with the soil around it. For most soils, if you're going for a long-term DG patio, you need a thick layer of decomposed granite. In general, prepare at least 4 inches for your compacted DG.
For the edging, you will need to dig deeper if you use pavers compared to when using a redwood bender board. And finally, make sure to take into account 3 to 4 inches for mulch if you want to level the patio with the surrounding soil.
Step 4 – Install the Edging: One of the most common edgings used is redwood bender board but you can also use boulders, pavers, and even steel edging depending on your preference. The installation of your edging will depend on what it is so make sure to explore it once you've made your choice.
Step 5 – Install the Decomposed Granite: Installing the DG is the easiest part of the process since you only need to dump it on the dug area and spread it over layer by layer. There are tools you can use to make sure that the DG is compact like lifts and plate compactors.
You can put 1.5 to 2 inches of DG at a time in the lifts to be successful in having a full thickness. And make sure that the layers are even and smooth when you spread them out one layer at a time. Lastly, once you're sure that your DG is compact, leveled, and smooth, lightly sweep a brown or leaf right on top of it for a natural and loose look.
Decomposed Granite Patio Cost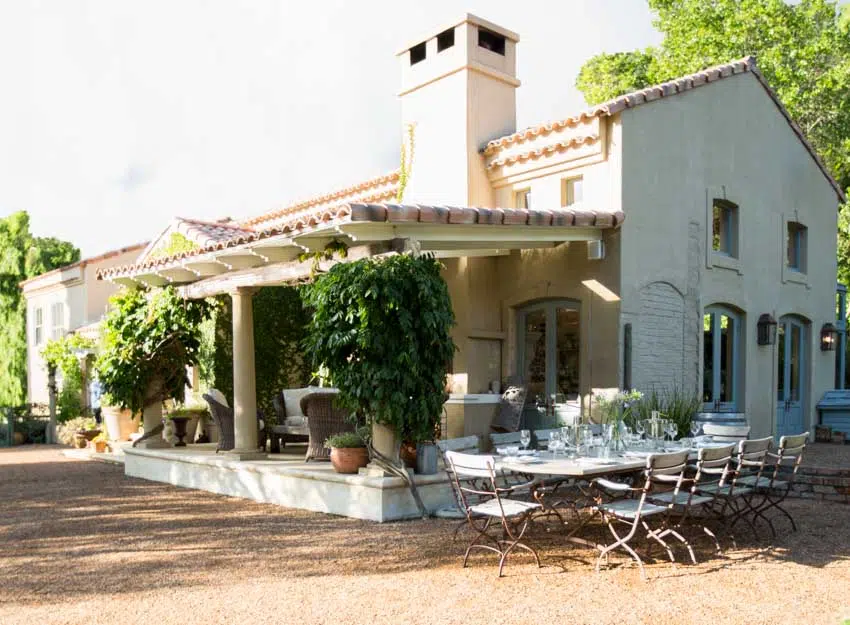 Building a decomposed granite patio will set you back $40 to $50 per cubic yard for its raw materials alone. If you choose a resin-coated DG patio though, this cost will be higher since the material has a surface like asphalt.
Hiring a professional to install it for you will be an additional cost that can go around $4 to $6 per square foot. So if you want to save some money, building your DG patio yourself (and with the help of your friends) will be a better idea.
Decomposed Granite Patio Problems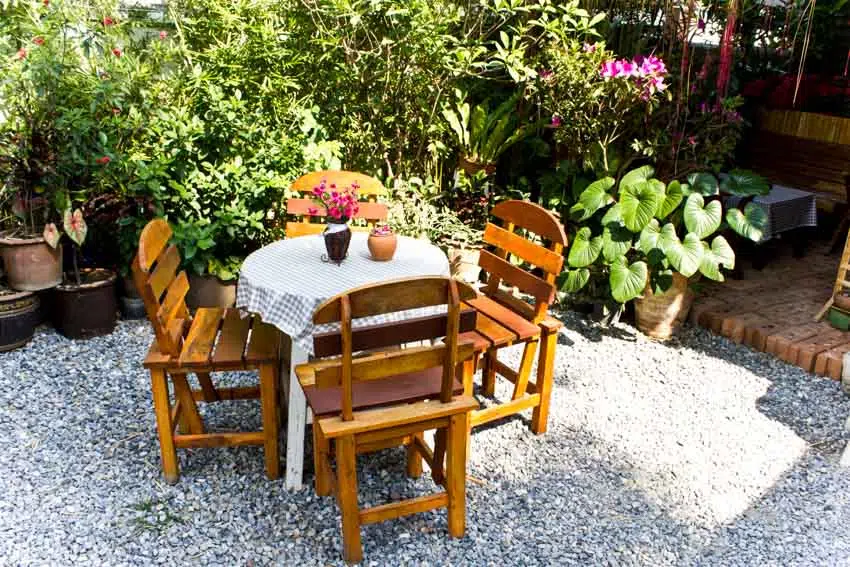 There are two notable problems you will come across when dealing with decomposed granite types of patios. First, if you happen to choose natural or loose DG, your patio will have the tendency to erode and get muddy when wet. The DG will stick to your shoes and scratch your floors when you enter your home with it.
The solution is to give it a bit of a distance from your home and have a door mat ready just to be sure. Second, if you choose a resin-coated DG patio, it is not permeable and so tends to have an issue with drainage.
How Do You Keep DG In Place?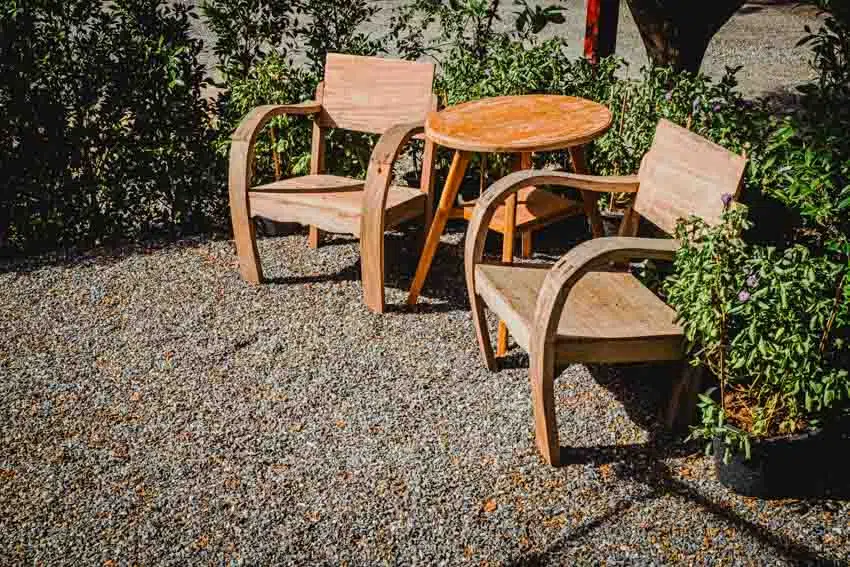 To keep your DG in place, here are some tips you can remember:
1. Make sure you dig deep enough to accommodate your DG
2. Level your DG to the surrounding soil and make sure that it's compact to avoid having loose particles that can easily be swept out of place
3. Install your chosen edging appropriately
4. Check every now and then if your DG is still in place
See more related content in our article about epoxy patios on this page.