Here we share our porch column wraps design guide including their cost, how to wrap porch posts, and the best column wrap materials.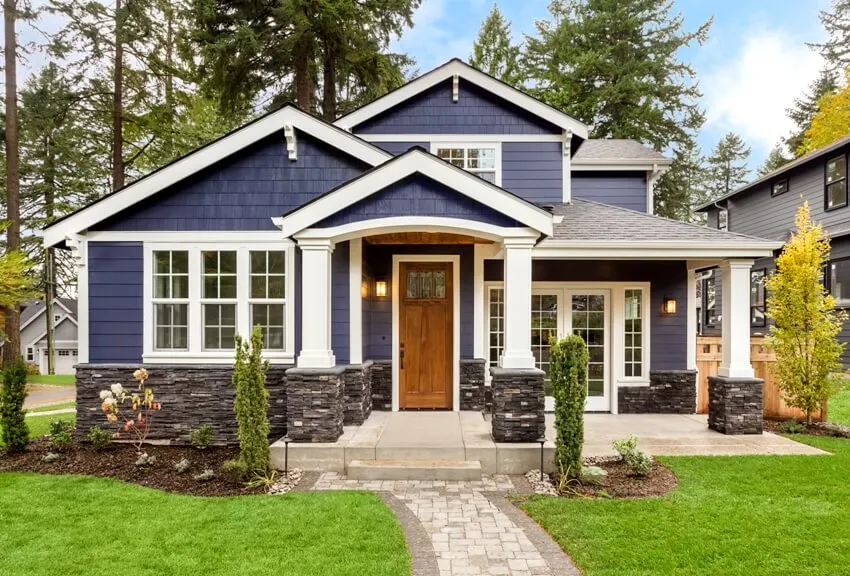 Does your porch need a facelift? Whether you're trying to increase the curb appeal or just sick of looking at dated columns or ugly posts, you've been wondering what can be done about porch columns.
Column wraps are a quick and easy way to update your porch columns, without calling a contractor. Sounds good? Keep reading to learn all about different kinds of column wraps, how much they'll set you back, and how to install them.
What Are Porch Column Wraps?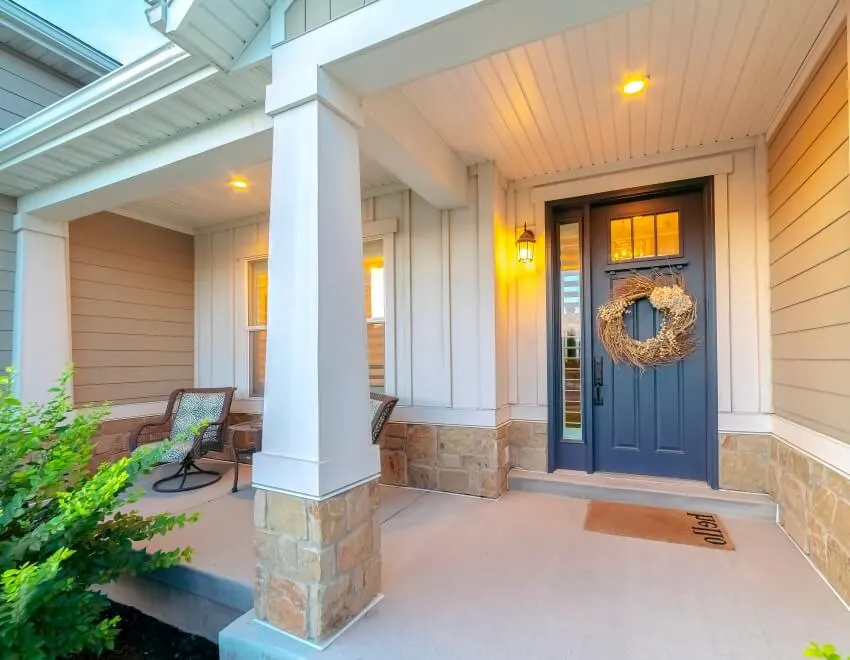 Porch column wraps are used to cover existing posts or columns on a porch or deck. They are ornamental, not load-bearing. Their purpose is to change the look or style of an existing porch column.
The top of a column (where it meets the roof) is called the 'capital'. The bottom, where the column meets the floor, is called the base. Between the base and the capital is the shaft, which spans the height of the porch. When the column doesn't reach the roof, it has a cap instead of a capital.
Porch column wraps are highly customizable, from the shape and style of the shaft to the specifications of the base, cap, or capital. They are available in a wide range of materials, styles, sizes, and colors.
The most popular materials used to make porch column wraps are; vinyl, wood, faux wood, PVC, aluminum, and faux stone.
Vinyl porch column wraps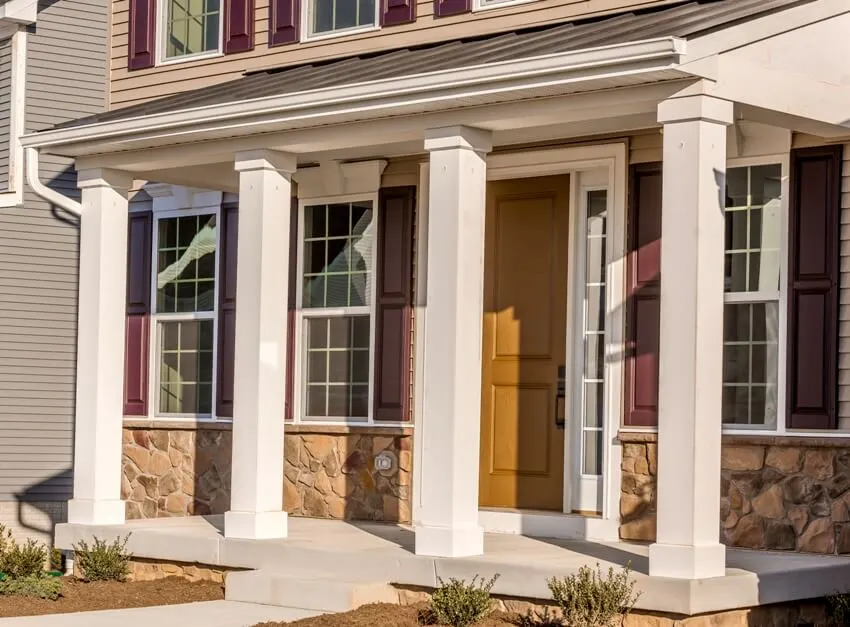 Vinyl is the most common material used to make porch column wraps, and also the least expensive. Vinyl is an ideal material for outdoor use, because it resists and repels moisture. It will not expand or contract as the weather changes.
Like exterior vinyl siding, vinyl porch column wraps are available in many different colors. Annual power washing keeps vinyl porch columns looking great. They are a cost-effective option to beautify your existing porch without the need to make structural changes.
Wood Porch Column Wraps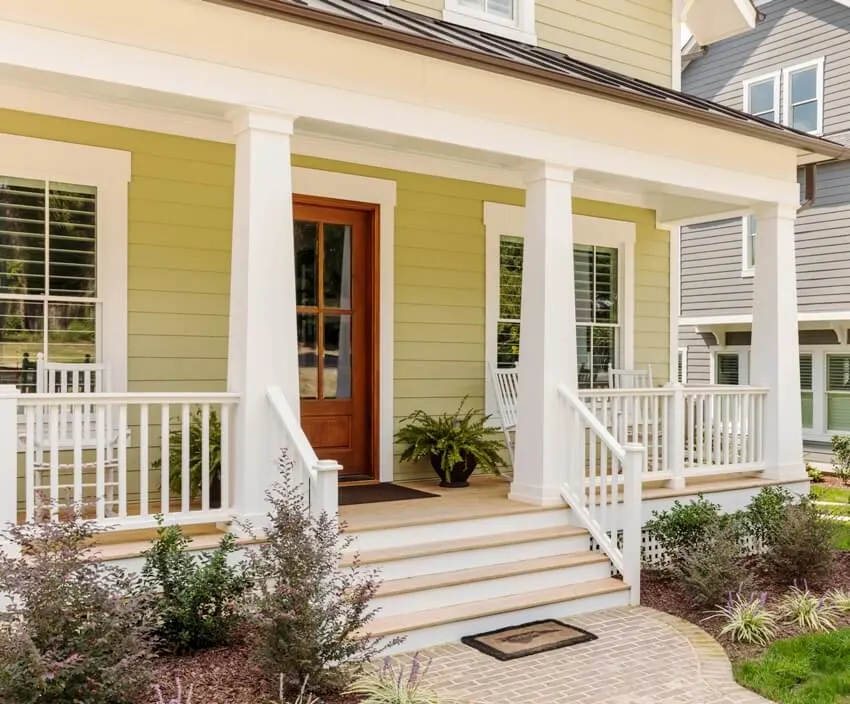 Wood porch column wraps are an easy DIY product that uses cedar or another hardy exterior wood to cover porch columns. In this project, you build a box around the existing column. The wood must be secured to the existing column so it doesn't wobble.
You can also purchase pre-cut, pre-measured wood porch column wraps. Installing them is as simple as screwing them into the existing column, and then nailing the pre-cut pieces together.
Wood porch column wraps are susceptible to moisture damage, and can warp with exposure to the elements. With proper maintenance and upkeep, they can last for between five and eight years.
Faux Wood Porch Column Wraps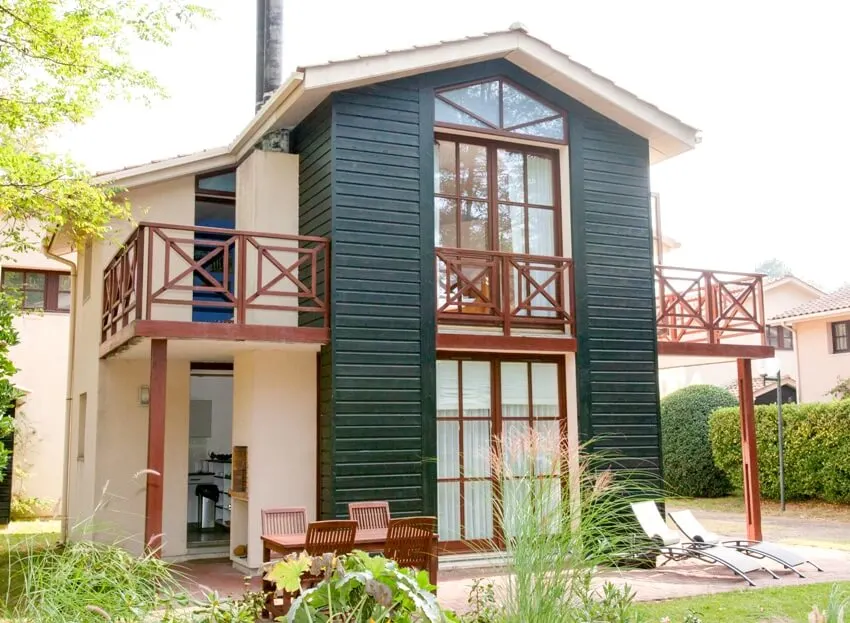 Faux wood porch column wraps have the look of wood without the weight. Made from different types of plastic, these can be surprisingly convincing in how much they resemble wood. Installation with faux wood is easier than real wood column wraps, and no staining or maintenance is required.
PVC Porch Column Wraps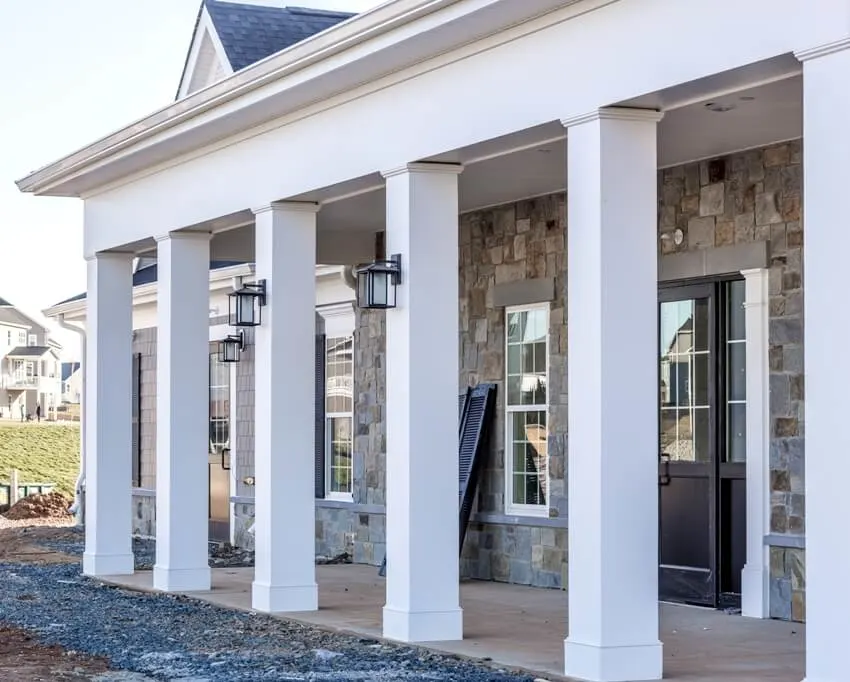 Another popular material for porch column wraps is PVC. This lightweight plastic has a tendency to yellow with exposure to UV light. To combat this, PVC porch column wraps often come pre-primed, and can easily be painted to match the exterior of your home.
Stone Column Wraps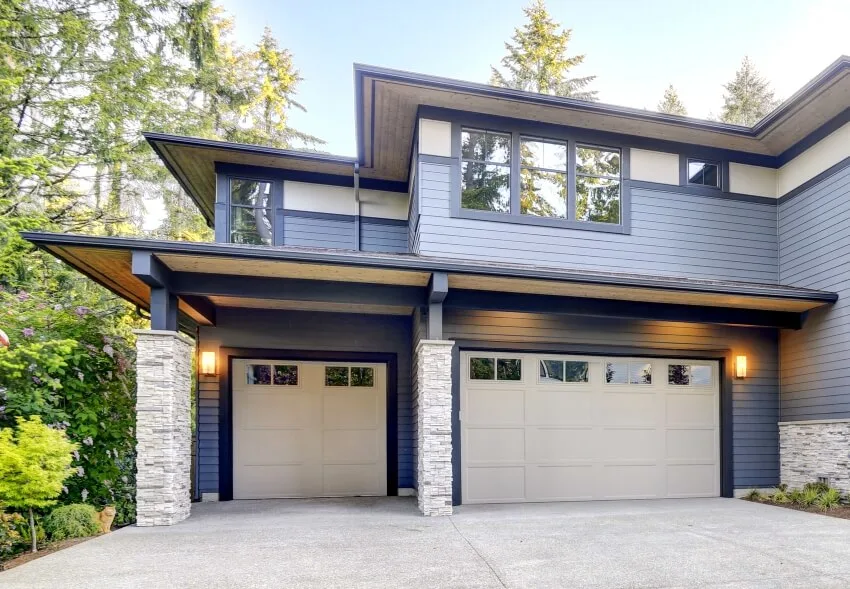 For the beautiful look of stone columns without the hassle and expense of hiring a stonemason, many people turn to stone column wraps. Made to resemble stacked slate, these innovative column wraps are actually made from composite polyurethane.
Stone column wraps are modular systems — four interlocking puzzle pieces fit together around the column, so that no seams are visible after installation.
Each section is less than two feet high, so you can combine several to cover your entire column, or use just one or two to create an elegant stone base. For more images see our gallery of stacked stone design ideas here.
Aluminum Porch Column Wraps
Aluminum porch column wraps are made of thin, light metal. They are highly durable, and can be expected to last decades with very little maintenance required. They are resistant to rust and do not warp.
Aluminum wraps have great looks, are light weight, and have durability that make them a popular option for covering existing porch or deck columns. Read more about other deck designs here.
Cost To Wrap Porch Columns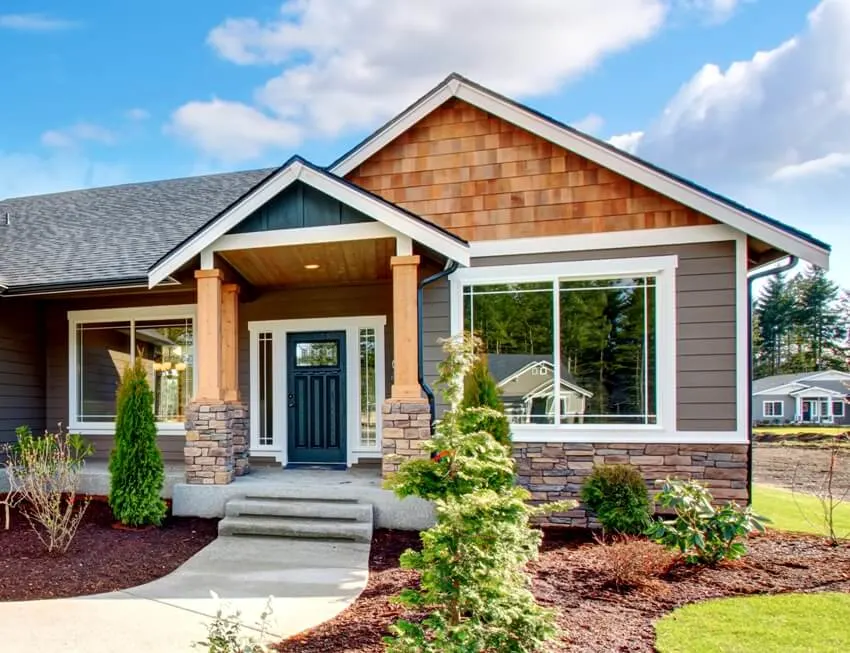 The cost of wrapping your porch columns depends on a few things; the size, shape, and number of columns, and the material you have chosen to wrap them in.
On average, a porch column wrap costs between $300-500. If you have four columns to wrap and you install them yourself, expect to spend $1,200-$2,000 on this project. Budget an additional $250 for professional installation.
Prices for a single sheet of wood veneer column wrap start at about $50 per column. A high-end PVV column with ornamental millwork can cost up to $2000, so the range is quite large.
Faux stone column wraps about four feet high usually cost around $200. Two wraps are needed for a full column, bringing the total cost per column to about $400.
Basic wood column wraps can be constructed for the cost of the lumber, about $50 per column, depending on the type of wood you choose. Labor for this kind of installation depends on your area, but budget $35-50 per hour. See the different exterior wood siding types to get more ideas.
How To Wrap Porch Posts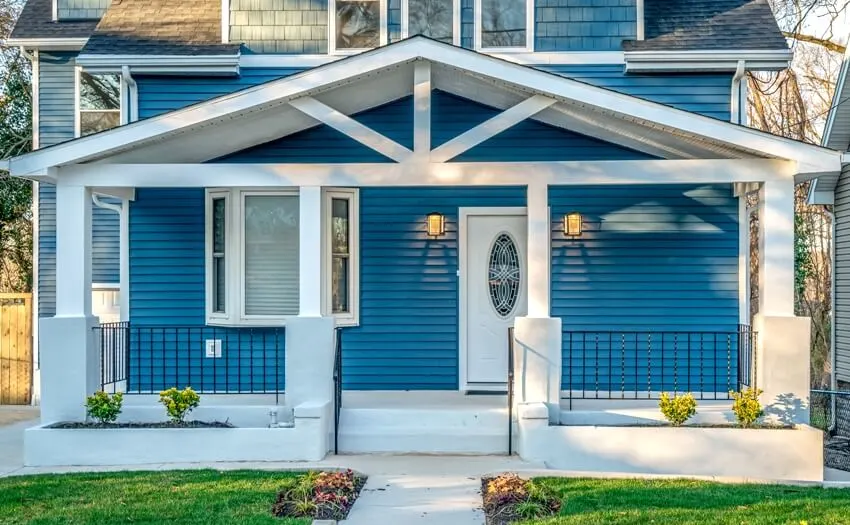 Column wraps should only be used if your porch is structurally sound. You can complete the installation by yourself, although a friend or helper may make it easier. Professional installation is also available through your column wrap supplier.
Most models of PVC column wraps come as a two or four-part package. Use a saw to cut the column wrap to the dimensions of your porch post. Then, assemble the four pieces around the post and snap them together.
Some Vinyl column wraps have two or four overlapping pieces that must be placed around the column and sealed with a special adhesive.
Faux stone column wraps are usually intended to be attached to wooden posts. Most models must be screwed into the existing column to hold their shape.
Prefabricated wood column wraps come in two L-shaped pieces. To install them, fit the pieces together around the column and use nails to secure the column wrap.
For more articles like this, check out our guide to the types of patio enclosures including different options, costs, and designs.