Welcome to our guide to the types of patio enclosures including different options, cost and designs.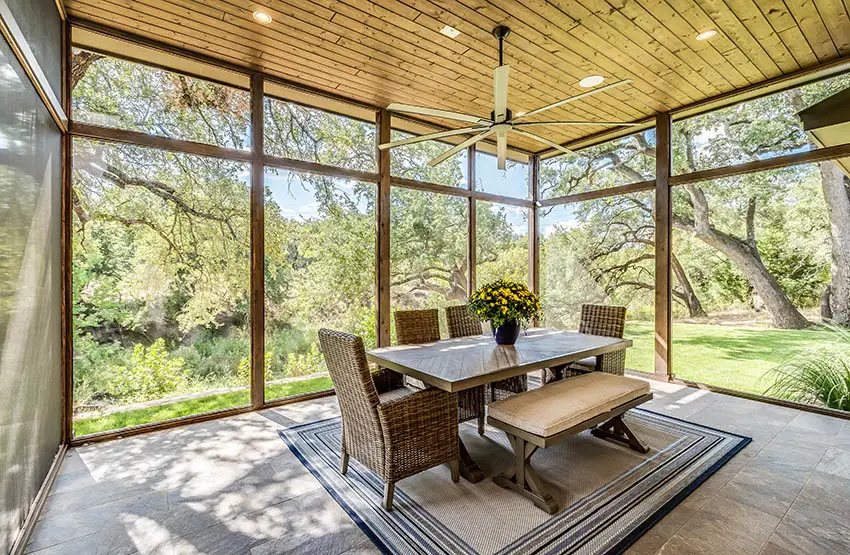 Once the weather turns warm and sunny, people enjoy using their patio for barbecues, parties, and visiting. Yet, depending on the climate they live in, not everyone has the chance to enjoy their patio year-round.
Once a homeowner decides they want to use their patio more often, they need to research the types of patio enclosures to find the best options. Patios are versatile, and it seems no two are alike. A patio design depends on a home's style, size, construction, and yard size.
Enclosing an existing patio includes decisions such as the type of construction materials, screened or glass windows, how many seasons the homeowner wants to use the enclosed patio, and what weather and elements the patio will be exposed to.
Enclosing a patio provides a more functional outdoor space to relax and enjoy your home and yard. This informative guide will discuss patio enclosure types, options, materials, and costs to help you make the best decision once you decide to enclose your patio.
Patio Enclosure Options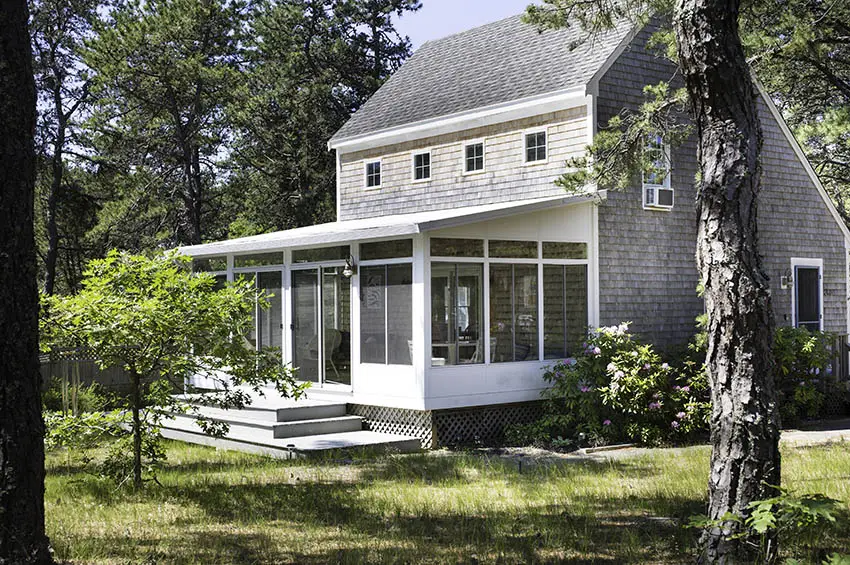 Depending on your needs, a patio enclosure could be a simple task or a full-on construction project. A simple covering such as a pop-up canopy helps shield some of the sun and light rain but does not help repel bugs such as mosquitoes.
Some homeowners hang a bamboo shade where the sun shines on the patio at the hottest time of the day. These are all easy to do but do not provide a long-lasting solution.
If a home does not have a patio or porch at all, an entirely new one would need to be added to the house. Adding a new patio is an involved process typically requiring an experienced contractor to lay a cement slab, frame the patio, and install roofing.
If an existing patio is tiny, a patio extension allows adding space onto the structure and may or may not include additional roofing.
The following patio enclosure options allow choices for homeowners and are meant to accommodate different patio enclosure needs.
Patio Screen Enclosures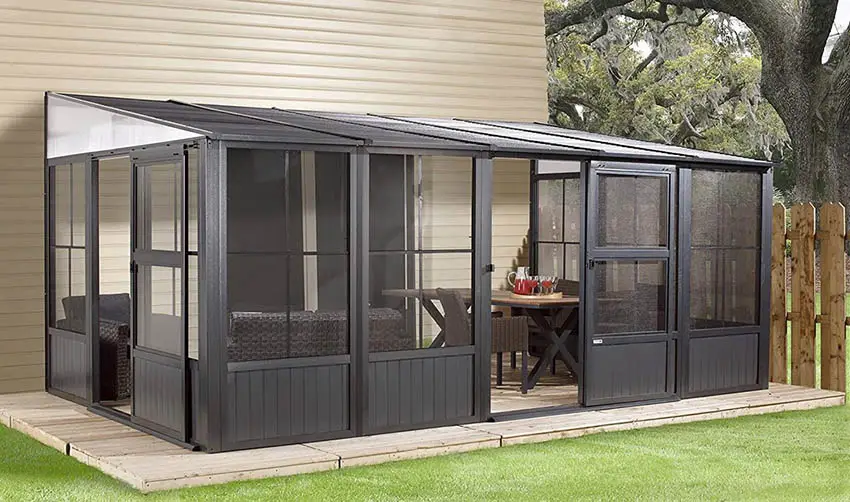 See this galvanized steel frame and screen enclosure at Amazon [sponsored link]
Cottages and beach homes are known for large patio screen enclosures allowing the ocean air to flow through the screens without allowing bugs inside. Patio screen enclosures allow homeowners to enjoy the outdoors even when it's raining.
Many patio screen enclosures come with black aluminum screen mesh that is almost invisible and more durable than standard fiberglass screen. Installation commonly includes adding an engineered screen frame around the patio's perimeter and rolling the screen around the frame.
The screen is then secured to the frame. Screened in patios can later be converted to a glass enclosure creating a three or four-season patio.
Glass Enclosures for Patio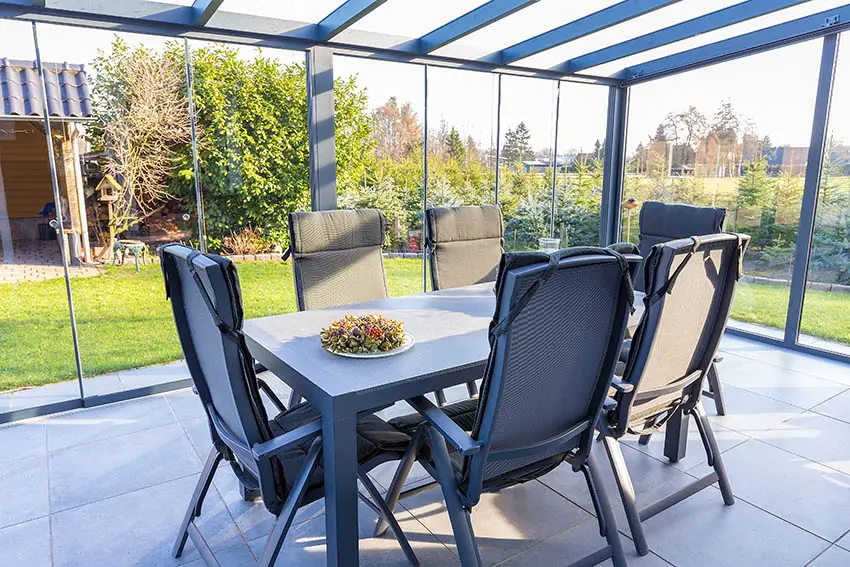 A glass patio enclosure is typically known as a sunroom and provides plenty of natural light. Most glass patio enclosures are designed for year-round use and include choices of roof style, frame finishes, type of door, and other customized features.
If your home already has a deck area or a deck under the home's roofline, the walls can be framed and fit with glass panels. These glass patio enclosures allow the patio to be climate-controlled with heating and cooling.
Glass patio enclosures that are not part of the home's roofline can include a glass roof creating a solarium. The glass surround allows for growing native and tropical plants in the solarium and star gazing at night.
If your glass patio enclosure needs airflow, replace one or a few glass panels with full-length rolling glass and screen panels.
Enclosures Made of Vinyl for the Patio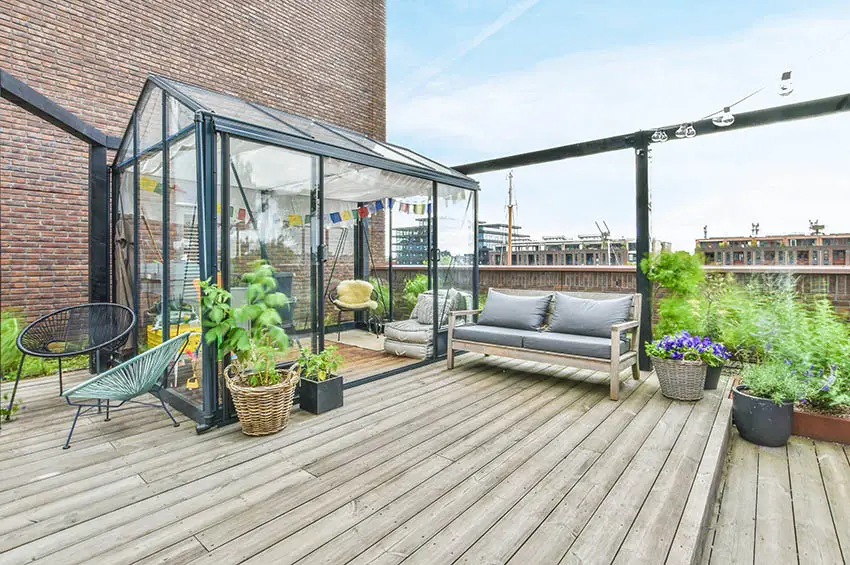 Enclosing a porch or patio with vinyl makes a warm, dry, and protected space to winterize outdoor furniture, pillows, cushions, and barbecue grills during the winter. It's also a great way to create an additional living area for your home.
Vinyl patio enclosures can be a do-it-yourself project or custom-designed and installed by an enclosure company.
The vinyl may come mounted on frames or be directly attached to the frame of the patio. Vinyl panels running on a track similar to curtains work well for protection against a gusty rainstorm. Still, they do not provide a seal against rain or snow.
Clear Vinyl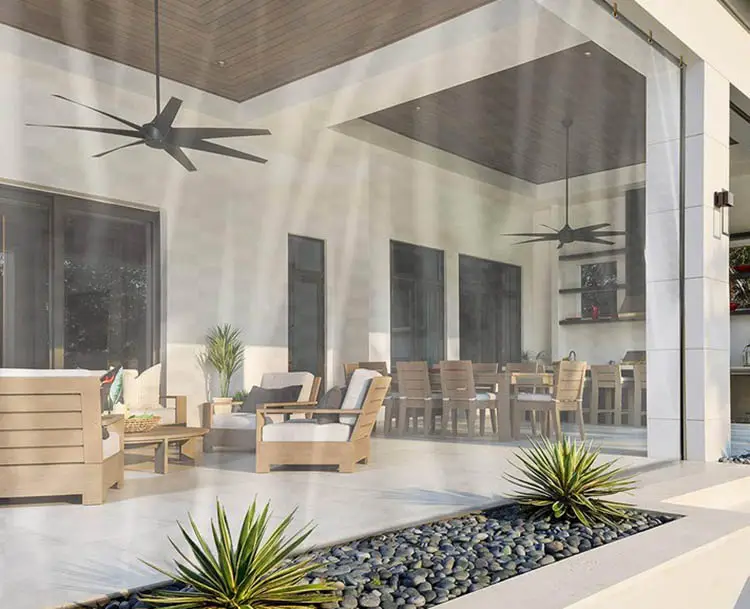 See this waterproof clean vinyl patio curtain at Amazon [sponsored link]
A less expensive option for enclosing a patio is using clear vinyl. It's an easy way to keep the weather out and still enjoy the surrounding view.
Clear vinyl comes in several thicknesses and is installed in several ways. If a patio has screens, 20 gauge vinyl is thin enough to fit in the existing channel with the spline. If creating separate vinyl coverings to place over the screen, 30 and 40 gauge vinyl provides better insulation and is longer-lasting.
Wood frames built with 1″ x 2″ molding easily pop in and out for use during the colder months or during bad weather. The clear vinyl is stretched over the frame and stapled, and these frames are placed over the existing screens.
The most used method of installing vinyl to enclose a porch is to use grommets. Clear vinyl sheets with grommets are rolled up when not needed or removed entirely and stored.
Aluminum Type Enclosures Used for the Patio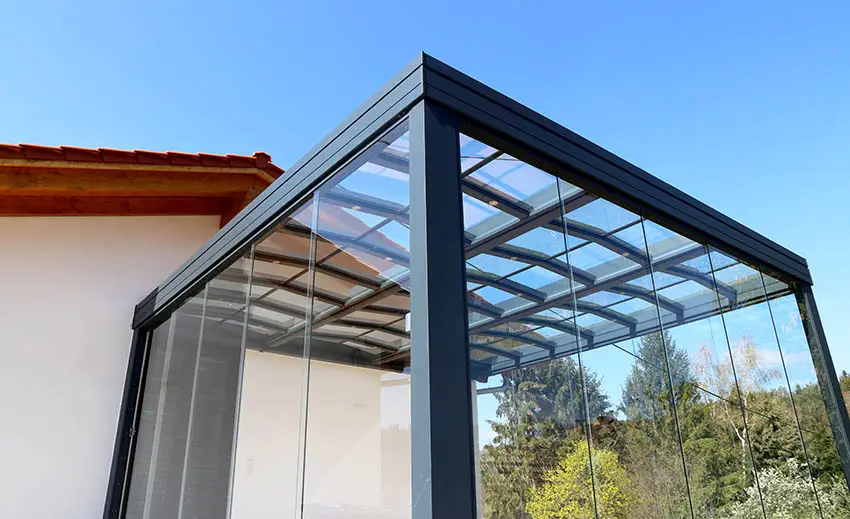 When enclosing a patio, conventional construction methods can be costly and time-consuming. Sometimes these methods may even require construction modifications to your home.
Aluminum patio enclosures are less expensive and come either with the framed walls or include an aluminum roof. An aluminum patio roof is made of panels locked together, making the roof strong and weather resistant.
Aluminum wall systems are typically made from 3-inch aluminum, and windows and doors are recessed in the wall. The windows and doors come with screen, glass, or rolling glass and screen for protection from the weather. Aluminum patio enclosures do not require painting and clean up easily.
Acrylic (Plastic) Enclosures Made for the Patio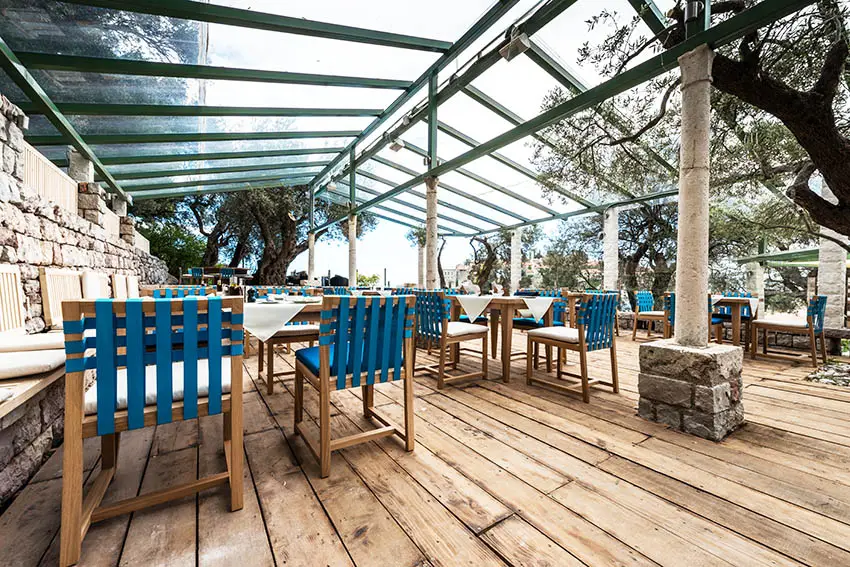 If glass patio enclosures are too expensive and vinyl patio enclosures seem too flimsy, acrylic patio enclosures are a good choice.
Acrylic panels are made from rigid clear plastic and much lighter than glass. These easy-to-store patio enclosure panels are resistant to breaking, and if they do, they do not shatter like glass, making them safer.
The drawbacks with acrylic patio enclosures include yellowing from UV exposure, scratching easily, and bowing due to temperature and humidity changes. Acrylic patio enclosures need special cleaners to prevent streaking.
Patio Enclosure Kits
For do-it-yourself homeowners, a patio enclosure kit can be an affordable and practical way to enclose different types of patios. Patio enclosure kits typically come designed to use the existing patio foundation and roof.
These kits are permanent installations and come with supplies for walls only. For homes without a roof extended over the patio, a hardtop roof kit or a soft-top kit provides a covering. Some manufacturers offer temporary patio enclosure kits, which are pre-assembled and free-standing.
Patio enclosure kits require a solid and level surface such as a concrete slab, constructed floor base, or hard ground.
A solid wall must already exist on the home to attach the patio enclosure, and many kits include built-in gutter systems for water drainage. Aluminum patio enclosure kits sometimes include an aluminum base.
Retractable Enclosures for Patios
A patio enclosure allows the homeowner to use their patio during mild weather. A glass patio enclosure keeps the cold and inclement weather out rather than a screen patio enclosure.
With a retractable patio enclosure, homeowners have the best of both worlds. The retractable mechanics enables the patio enclosure to close for bad weather or during the winter. When the weather is nice and warm, the enclosure retracts open.
Options for retractable screen enclosures include separate retractable screens and glass panels raised up and down with a powered control.
Retracting glass patio enclosures also include frameless glass panels that slide on a track to open and close. These are easier to install and don't require a power source. Most retractable patio enclosures have two rails; one rail mounted on the house and one rail mounted in the ground.
Retractable patio enclosures are the most expensive patio enclosure option and depending on the mechanisms, size, design, and how they retract, these enclosures need to be installed by a professional contractor.
Temporary Patio Enclosure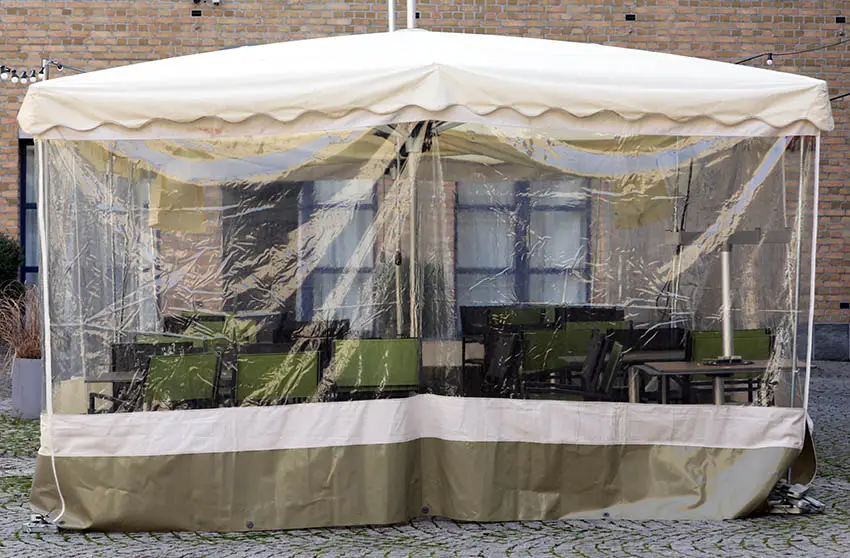 When a homeowner wants to have a heated patio for the colder months, temporary patio enclosures allow weather-proof protection but can be converted back into an open space after the cold weather passes.
At times, homeowners desire an enclosed patio to keep out bugs while allowing airflow for warmer climates. Below are samples of temporary patio enclosures.
Insulated Curtains – Easy to hang, choice of colors and patterns, and inexpensive
Dropdown Panels – Cloth or vinyl panels attached to the patio, do not have to be taken down, roll up for storage
Mosquito Curtains – Easy to hang instead of screening in a patio, keeps out mosquitoes and pests, removable for winter
Removable Screen Panels – As discussed in screen patio enclosures, screen panels can be removed when not needed and stored
Vinyl Patio Panels – Whether installed with grommets or as hanging panels, vinyl is removed and stored when not needed
Winter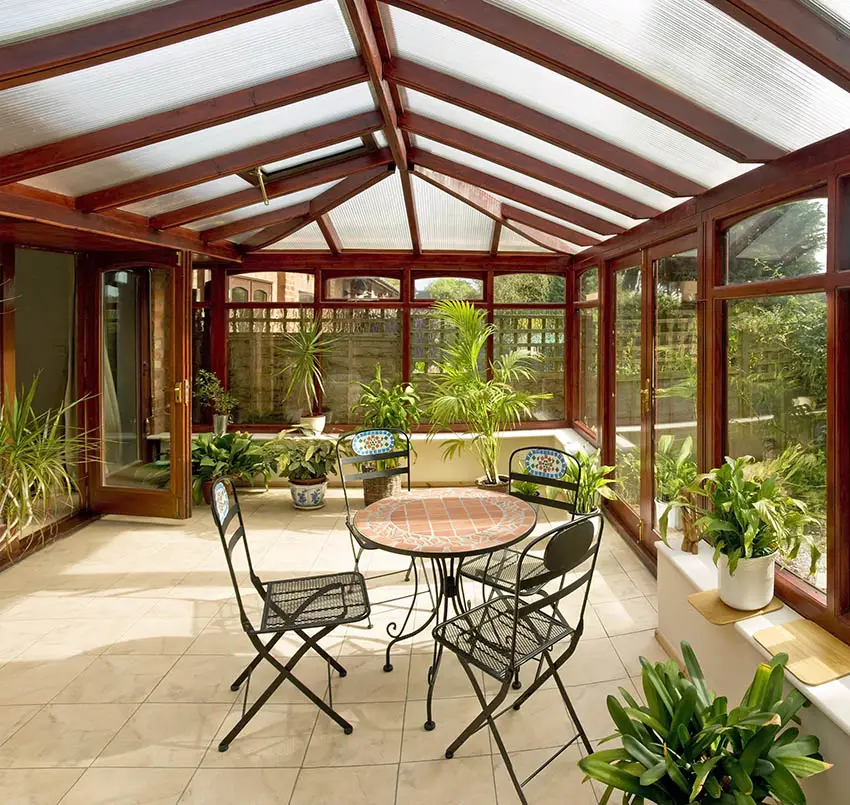 Clear vinyl works well for a patio that already has a roof and framed structure. It comes in rolls and can be cut to cover the openings of the patio frame.
Clear vinyl enclosures block almost all the cold air and still provide a great view. It allows the sun to warm up the patio during the day, and when an outdoor heater is added to the patio, the area stays warm enough to use during cold winter months.
Acrylic panels also help to protect a patio from winter temperatures and harsh weather. They both fit over screened patio frames and are made to custom sizes. Acrylic panels can be removed and stored during the warmer months or left up to create a solarium for plants.
Four Seasons Enclosures for Porches and Patios
A four-season patio enclosure offers a space to enjoy and entertain all year long and is designed to accommodate heating and cooling.
Four-season patios create a transition from indoor living to outdoors, allowing homeowners to go from an inside room to a sunroom with plenty of natural light and a view of the scenery. As a permanent addition to a home, four-season patio enclosures are built to match the home's exterior.
The glass used for the walls, and sometimes the roof, of a year-round patio enclosure is double-pane insulated glass much like that of a window. Frames are commonly made from aluminum or vinyl and can include screens for air circulation.
If an exit is wanted, doors are built into the patio enclosure. Four-season patio enclosures typically include electricity, heating, cooling, and sometimes plumbing for a sink or wet bar.
Patio Enclosure Costs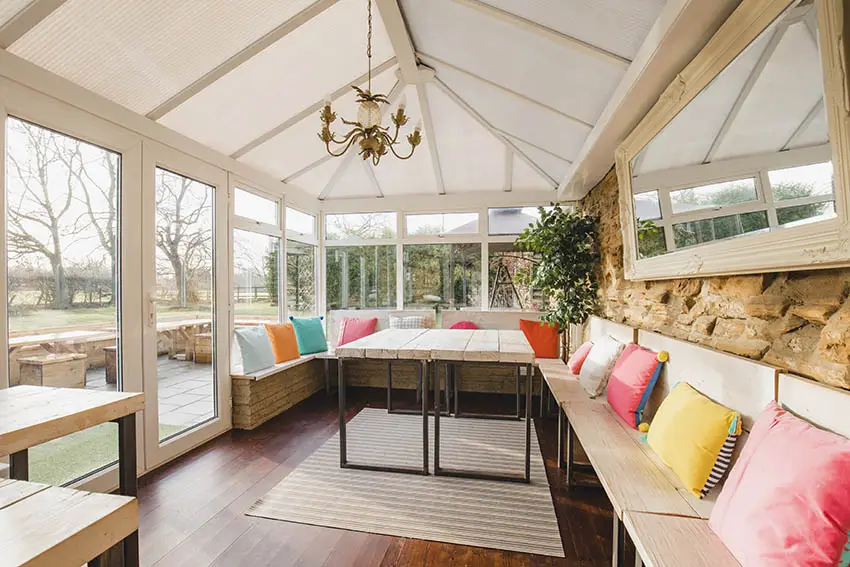 Building a covered patio enclosure can cost an average from $8,425 to $25,049, depending on type, materials, and design. The national average for an enclosed patio is $16,570. If building a four-season patio enclosure, the average cost runs from $15,000 to $22,000
The amounts below cover some of the patio enclosure options, but there are many other factors to consider when estimating the cost for a patio enclosure. These numbers are based on a 10′ x 12′ patio enclosure.
| | | | | |
| --- | --- | --- | --- | --- |
| Patio Enclosure Type | Materials | Roof Included? | Labor | Average Cost |
| Complete build with slab, framing, roofing | Wood, glass, screen, aluminum | Yes | Included | $20,000 |
| Glass Patio Enclosure | Wood, glass, aluminum | Yes | Included | $15,000 – $22,000. |
| Screen Patio Enclosure | Wood, screen | No | None | $500 |
| Screen Patio Enclosure | Wood, screen | No | Included | $1,200 – $1,400 |
| Vinyl Patio Enclosure | Wood, vinyl | No | None | $350 – $500 |
| Patio Enclosure Kits | Aluminum frame, acrylic wall panels, sliding doors, built-in gutters, roof panels | Yes | Not included | $4,800 – $6,000 |
| Patio Enclosure Kits | Pre-built | No | None | $1,000 |
Below are some of the additional costs when determining the price to enclose a patio:
Patio size and location
Building permits
Electrical requirements
Heating and cooling options
Doors
Motorized screens
Quality of materials used such as screen, vinyl, acrylic, glass
A patio enclosure can help expand your home's living areas and help you get more enjoyment from your space. Having no patio covering means rain will ruin a barbecue. Too much hot sun and mosquitoes send a party inside the house. And a relaxing visit in the fall means everyone wrapped in blankets to enjoy the outdoors.
Are there any types of patio enclosures that we missed in this article? Let us know in the comment which kind works best for you. For more related content visit our gallery of enclosed patio ideas here.