Here we share our folding patio doors design guide including what are, the design considerations, different types, materials, prices, and if they're better than sliding doors.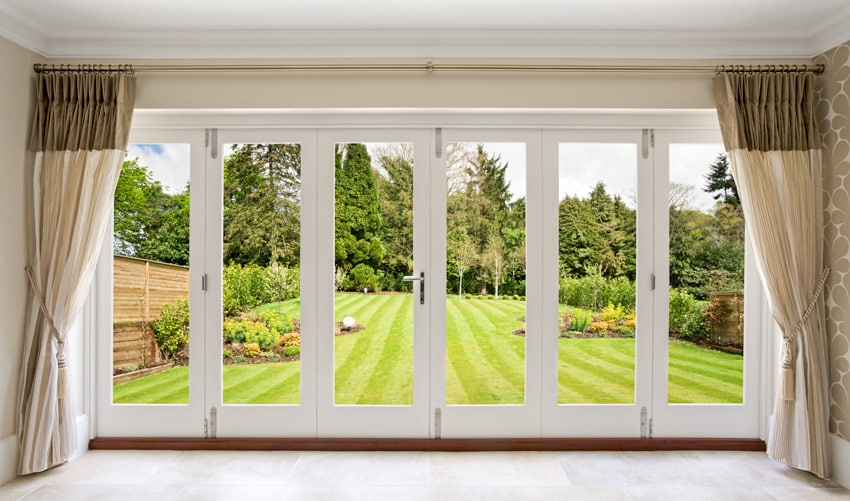 It doesn't matter if you are building a whole new home from scratch or if you are currently updating or remodeling an existing one. The thing is, when it gets to the point wherein you need to decide on what type of patio doors to go for, you're on for a bit of a surprise; and not always the good kind.
There are so many different designs and styles to choose from. If you don't have a background on it, you're going to find it really difficult. Most people would normally put emphasis on the materials the patio doors are made of.
Folding patio doors can be made out of vinyl, wood, aluminum, or even fiberglass frames. The thing is, they don't really affect the construction stage. You don't have to make this decision early on in the construction process.
You have the option to choose from the different types of folding patio doors out in the market. There are so many out there.
There are pivot doors, French sliding doors, vertical, stacking, and even corner folding patio doors. Take note that your personal preference will reign supreme here above all the others.
What Are Folding Patio Doors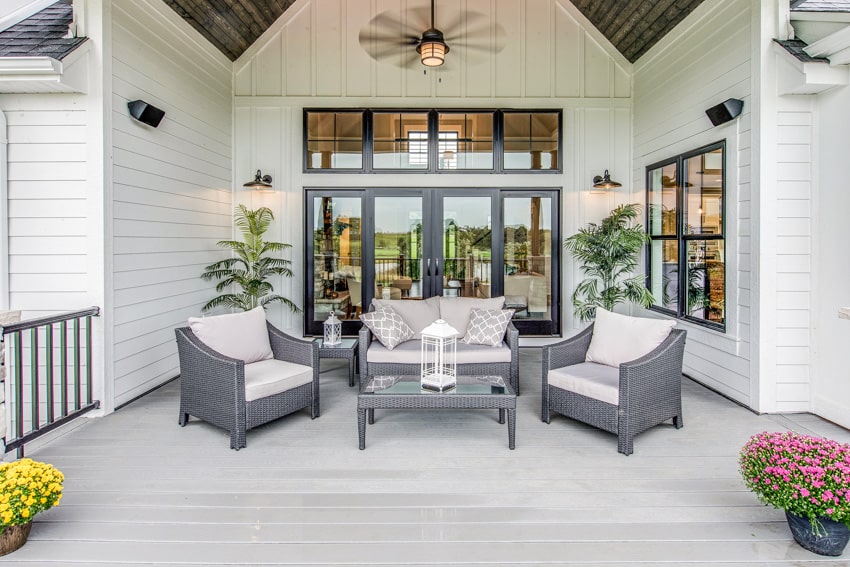 So what exactly are folding patio doors? They're basically doors with large glass panes and they both connect and separate outdoor and indoor living spaces white at the same time, allows natural light to funnel into the house.
Its main purpose is to create an outdoor-indoor experience that smoothly melds together. This is quite a popular sought-after concept in modern housing. To see other types of patios see our gallery page here.

Folding Patio Doors Design Considerations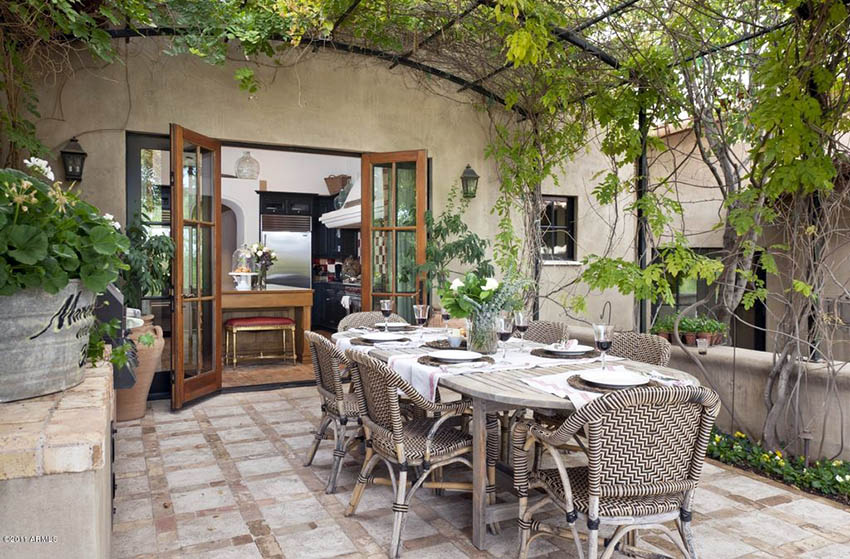 Folding patio doors facilitate movement and provide ease of access to the backyard. They also provide a great amount of natural light, which can create an illusion of a larger living space. They can be turned into decorative implements if the materials chosen are fancier than usual.
Aesthetics isn't the only thing to be considered when picking out your patio doors. You need to understand that your patio doors will be one of the most used doors in the home.
This is particularly true for homeowners who are fond of hosting get-togethers and other parties or events in the home. Convenience is another factor you ought to take a look at when picking out patio doors.
Another big decision you need to mark out is how big of a door you actually want. You can go all out and turn an entire wall in your home into a patio door.
You also need to consider that it might get overly hot in the summers and way too cold in the winters. Hence, you will need doors that are energy efficient.
Multiple patio doors around the house may also bring in a visual appeal. At the same time, they might present some safety risks for the home as it doesn't make it very secure.
Even if you are working on replacing old patio doors, you don't always have to get them in the exact same style.
Existing structures can accommodate a lot of patio door styles with minor changes. You need to look into the ease of use, how the design works well with your interiors and exteriors, whether space utilization is optimal, how much natural light it lets in, and so much more.
Types Of Folding Patio Doors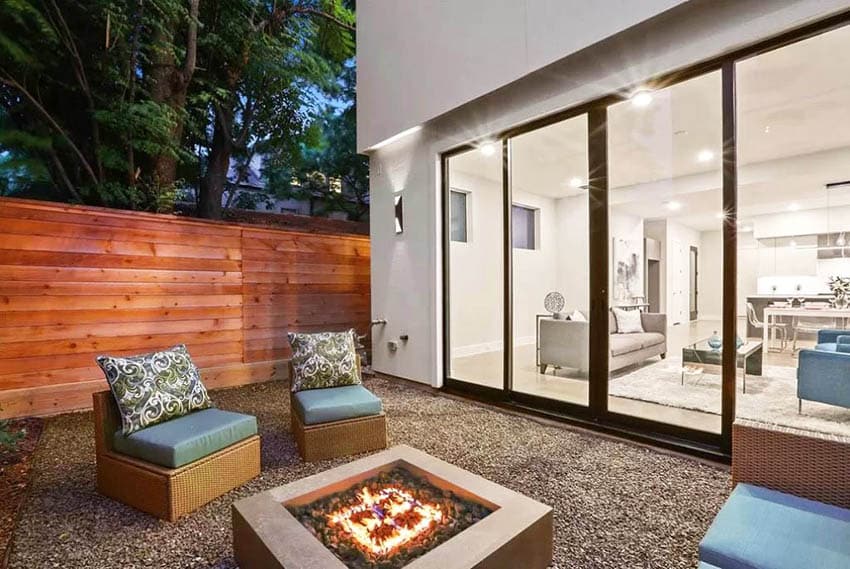 Here are the different types of folding patio doors to look out for:
Accordion Patio Doors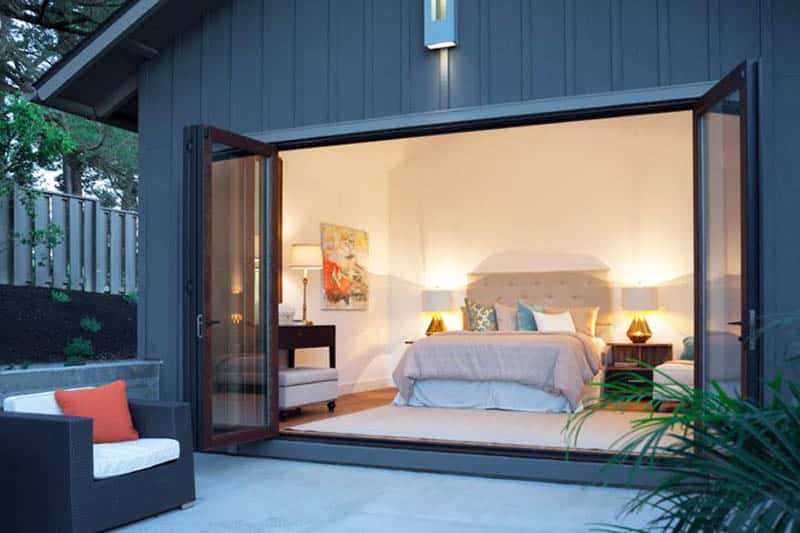 These doors are also nicknamed as bi-fold patio doors. They stack together outwards, or inwards, or at times, even on themselves.
Accordion patio doors function in almost the same way that stacking sliding doors do. The only difference is that accordion doors fold over and stack vertically, similar to the accordion music instrument. Meanwhile, stacking doors hang parallel in front of the first one.
The accordion patio doors are currently considered as the highest-selling type of patio door. Each panel folds and stacks on top of each other. These are panels that you can easily tuck away on the side.
They can fold outwards or inwards, depending on your preference and space requirements. They can be made up of only two panels or up to eight. They can create the illusion of space without any structural changes. These can be energy efficient if you opt for doors made out of double-glazed glass.
Fold Out Patio Doors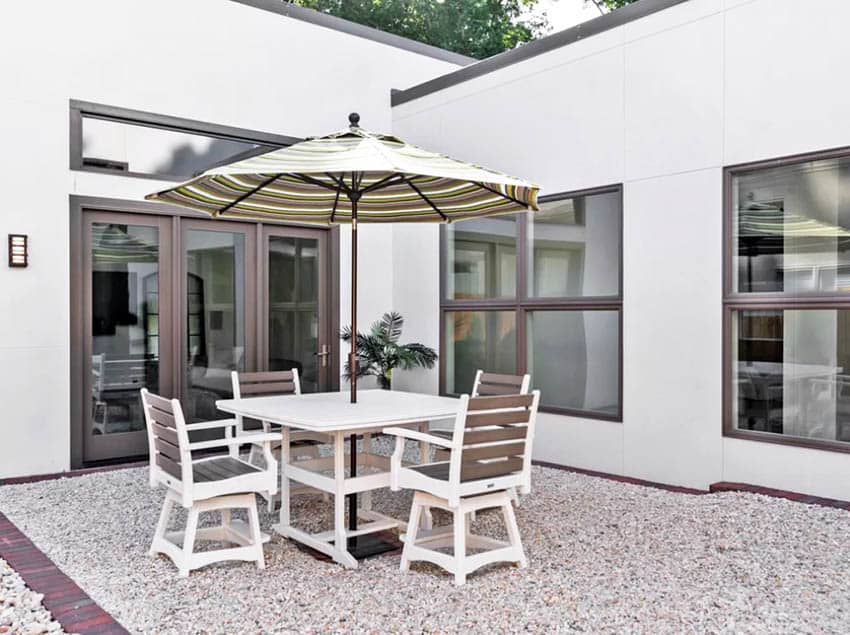 They are also cold as outswing folding doors. When fold-out patio doors are open, the moving glass walls can frame up, beautifully framing your view.
When they are closed, they provide a wall of light that extends its aesthetics to your interior space. These doors can open from the center, left, or right.
Again, it all boils down to preference and structural ease. These also come with top-hung systems that make the operation quite easy.
This door works great if you have ample space either indoors or outdoors, depending on where the doors fold out.
Tri Fold Patio Doors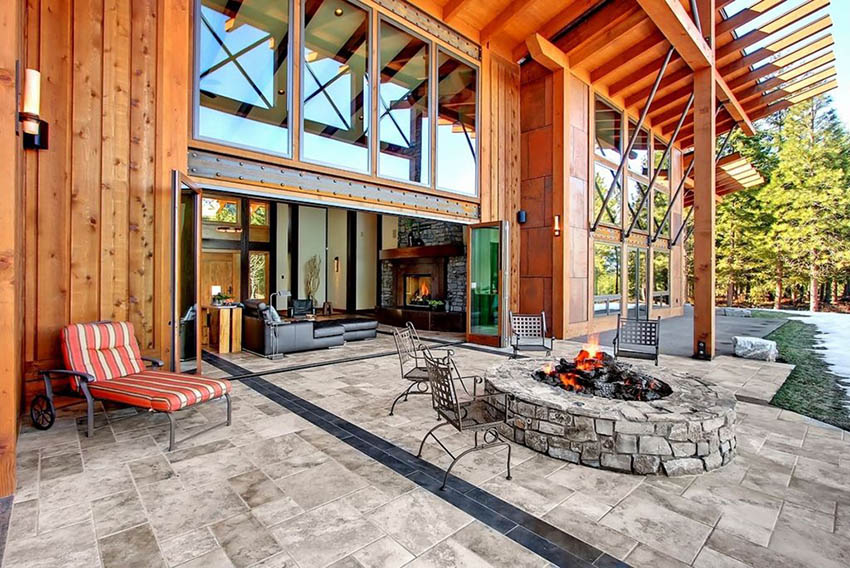 They're basically the same thing as bi-fold patio doors, only that they have more stacks or layers. Bi-fold doors are typically comprised of two panels.
As the name suggests, tri-fold patio doors are made up of three panels instead of two. They also stack vertically on top of each other and can make for very space-efficient patio door options.
3 Panel Folding Patio Door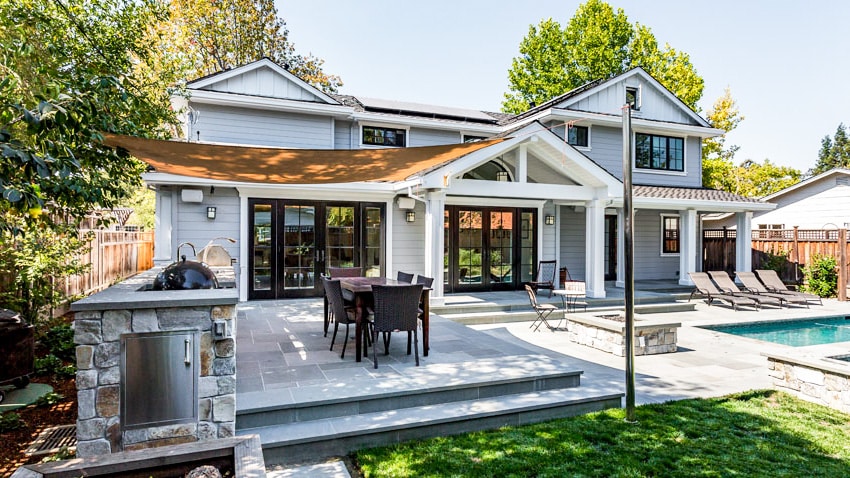 These patio doors have three panels and one of them is the operable portion or part. It can be sliding or hinged, depending on what your operable preference is.
Normally, side panels are the preferred choice of operation for most homeowners out there. But if you are working with a limited space, you can definitely opt for the sliding version.
These patio doors are perfect for smaller patios where four panels normally won't fit. It lets natural lighting in and provides great ventilation.
The frames can also be customized to fit the color and décor of the home. So if you want to go with a bolder or livelier design, these patio doors will definitely let you do that.
Two-Panel Folding Patio Doors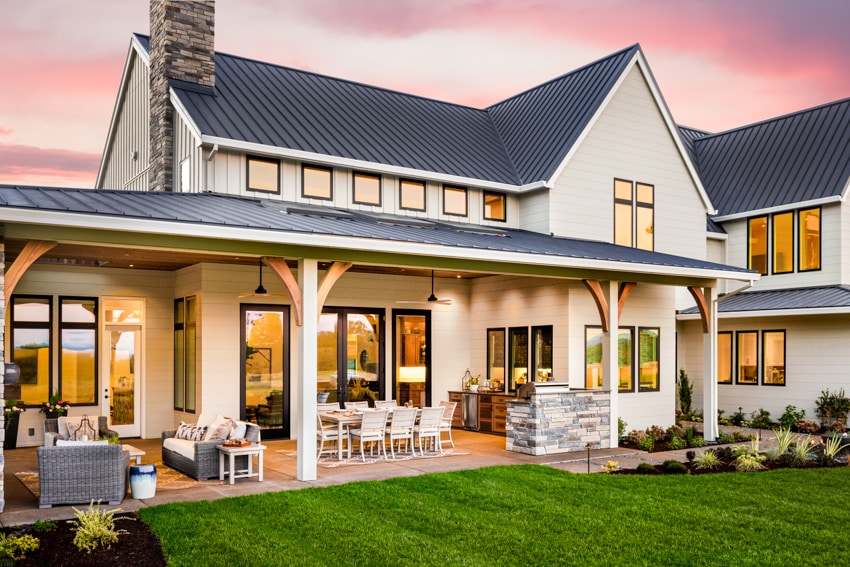 Two-panel folding patio doors are great because they offer advanced locking systems. They are usually made out of energy-efficient glass. Also, they can maximize natural lighting within your home while increasing its airflow.
As the name suggests, these doors are comprised of two large glass panels. They let plenty of light into your home, making it energy efficient. There is no need to switch the lights on during the day.
Those savings on your electricity can stack up nicely so that's another advantage from getting two-panel folding patio doors. Airflow and circulation can definitely be on the upside with these doors.
Folding Sliding Patio Doors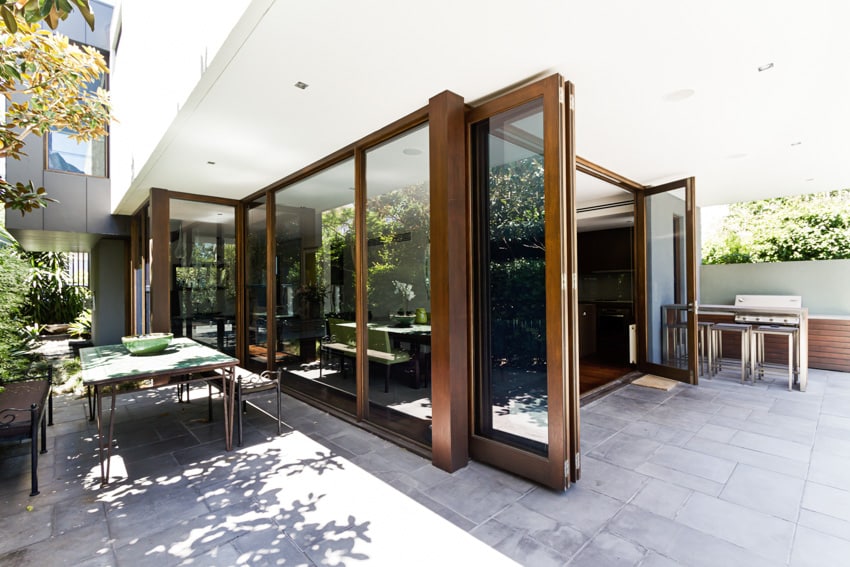 Folding sliding patio doors make for easier transitions indoors and outdoors. They allow the widest openings and can actually fold all the way up to the wall.
These systems can come in a wide variety of configurations from seven to eight feet tall doors to nine to 18 feet wide. There are those that are for daily use swing doors that provide easy access while others come in much taller configurations.
Pricing can vary greatly based on customizations. You will want to figure out how wide your opening will be and whether or not they fit into the standard heights and widths or whether you need something more customized.
Read more about our ultimate guide on the different types of sliding doors here.
Folding French Doors Exterior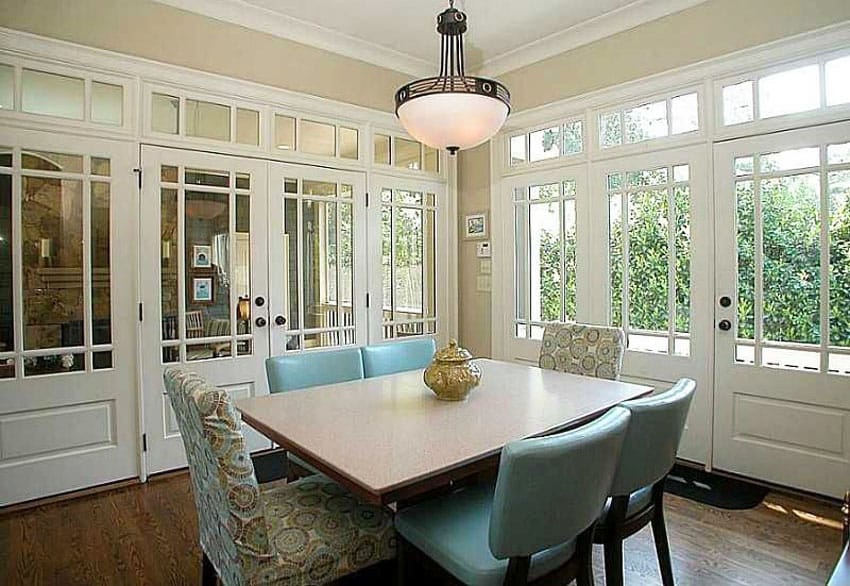 They are basically hinged doors with glass panels. Folding French doors are one of the most preferred alternatives to sliding glass doors in the event that cost and functionality don't really factor in.
They can come in contemporary designs or even traditional ones. It really all depends on the pane design that you would like to go for.
Folding French door exteriors provide decorative and highly coveted elements to your patio doors. They go far beyond just beauty, though.
They can swing inwards or outwards. You can go for in-swing ones if you have a bigger outdoor area and you don't want to take any patio space away.
This is ideal if your home has large interiors but smaller patio space. On the other hand, out-swing folding French doors are great for when you don't want to encroach on your interior space as they can be limited.
Read more about our ultimate guide on French doors here.
Folding Patio Door Materials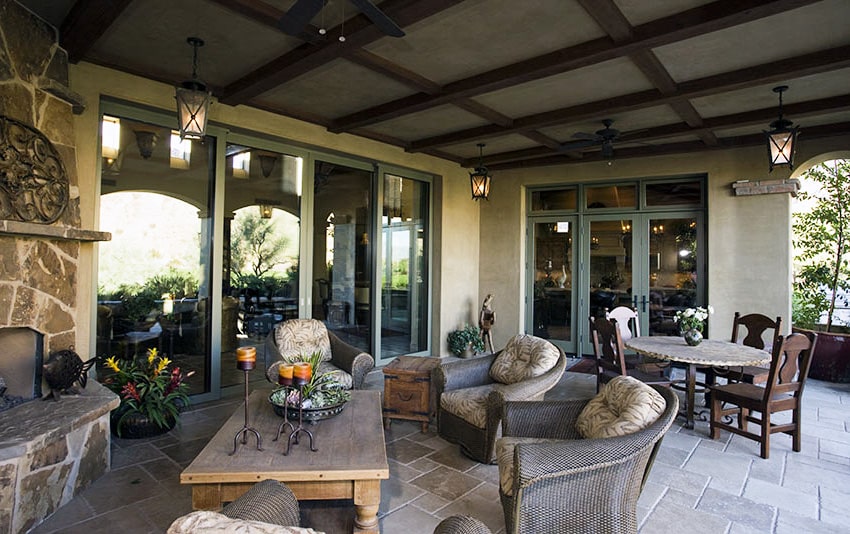 Understanding the materials used for your folding patio doors will greatly impact your convenience and comfort as a homeowner. Here are some of the best that you need to be in the know of:
Wood. It's natural, classic, and makes for a timeless appearance. Wood is very low maintenance as any scratches on it can be easily repaired and oftentimes in small parts.
Regardless of the type of weather your house may be located in, wood is known to be more durable compared to other materials. This is true, especially if treated and maintained well.
Wooden patio doors bring in ageless aesthetics. If you're a fan of traditional beauty, then this is a material you need to look out for.
Aluminum. This material is extremely reliable and sturdy. It can give your patio a very unique view and can create a really great overall appearance.
In terms of structural strength, it is at the top of its game. It's also quite low maintenance as it doesn't corrode, and is quite resistant to scratches and decay. More than that, aluminum is quite lightweight so ease of use can turn out to be a breeze.
Fiberglass. Fiberglass patio doors are exceptionally energy-efficient as they have been known to keep temperature in. This means that you will have a lot to save in terms of energy costs.
They are durable and are best to be used for homes that are prone to harsh weather as they are resistant to it. They don't really fade or warp or change in appearance over time.
Vinyl. Vinyl is one of the most common materials used for patio doors as they are rated first in terms of energy efficiency. They are known to be very resistant to varying types of temperature.
Vinyl is also rarely affected by sudden or eventual changes of temperature on the exteriors of the house. They are less expensive compared to the other materials for patio doors. To top it all off, with the proper frames, they can look attractive as well.
Steel. If you want to go for something sturdy and durable for your patio door frames, then steel is something you need to consider. It has the ability to withstand harsh weather conditions. Moreover, it is actually less expensive compared to other materials.
It doesn't crack or decay as often as the others do and enjoys higher durability overall. A word of caution though, steel patio doors require more maintenance in terms of regular painting to prevent rust.
They can also be less stylish compared to the other materials for patio doors. But if you've got your eyes set on durability, then this material is worth noting.
Folding Glass Patio Doors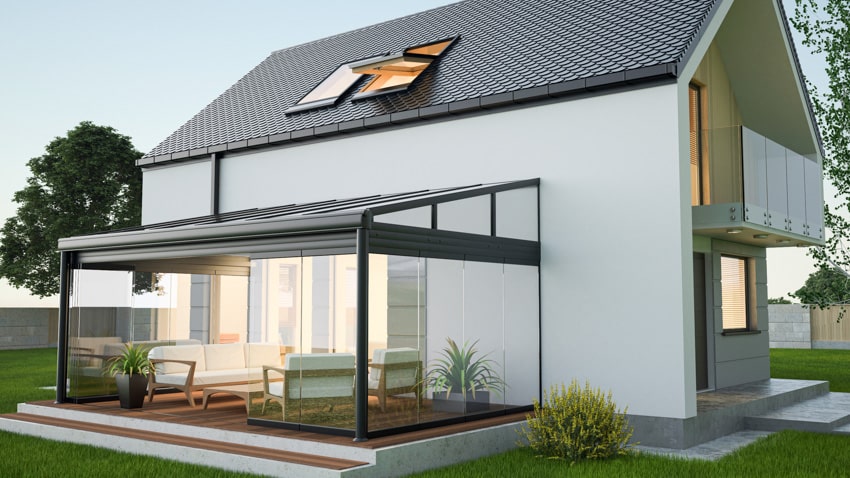 These patio doors will not only give you a great view. They can also allow immense amounts of light to stream in as well.
It gives your home the illusion of extra footage without spending way too much money on it. It operates quite simply. With the proper type of care and maintenance, folding glass patio doors can last you for years.
One thing that really makes folding glass patio doors stand out is that they offer the luxury of opening the space all the way up. In comparison, sliding doors can only open for up to 65% of the space.
Aluminum Folding Patio Doors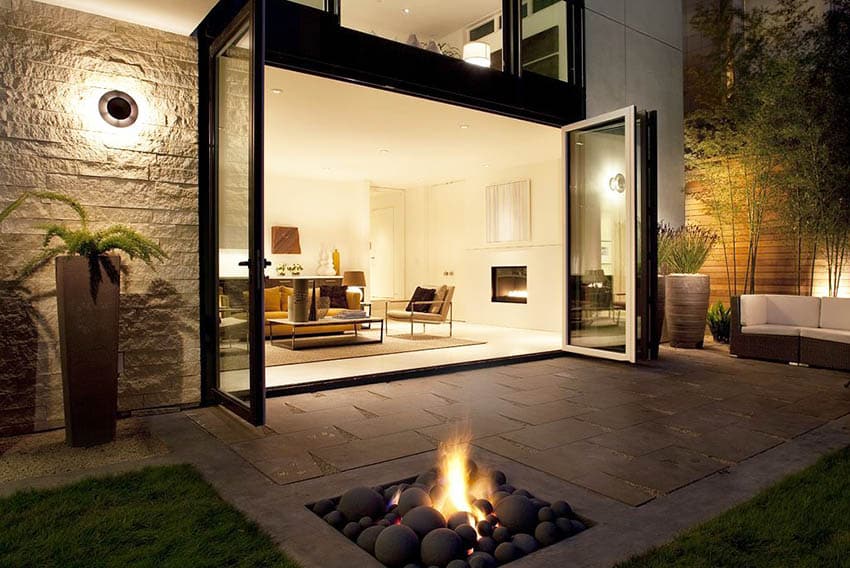 Aluminum doors are slightly more expensive compared to uPVC doors but they last longer. In the long run, they will turn out to be the better investment. They are also cheaper than timber.
This material is very strong and when coated properly, can easily last you for decades. It has very little required maintenance, too.
It doesn't warp due to weather conditions which makes it last longer than timber or uPVC. Because it's strong, you can afford to get thin frames.
This patio door style provides you with a wider view of your patio. They can also come in a lot of different colors and designs, some even mimicking the look of natural wood.
uPVC Folding Patio Doors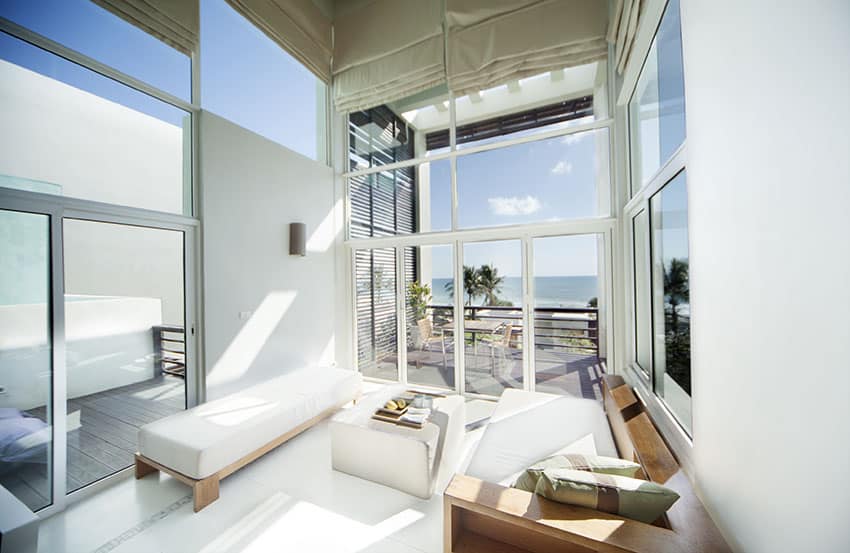 This is an extremely popular material for folding patio doors. uPVC is extremely versatile. It effectively insulates which can keep the heat in and the cold out.
It can also easily complement any style in the home, from modern to traditional. It's pretty easy to clean up and requires zero maintenance all year round.
Folding Patio Doors Prices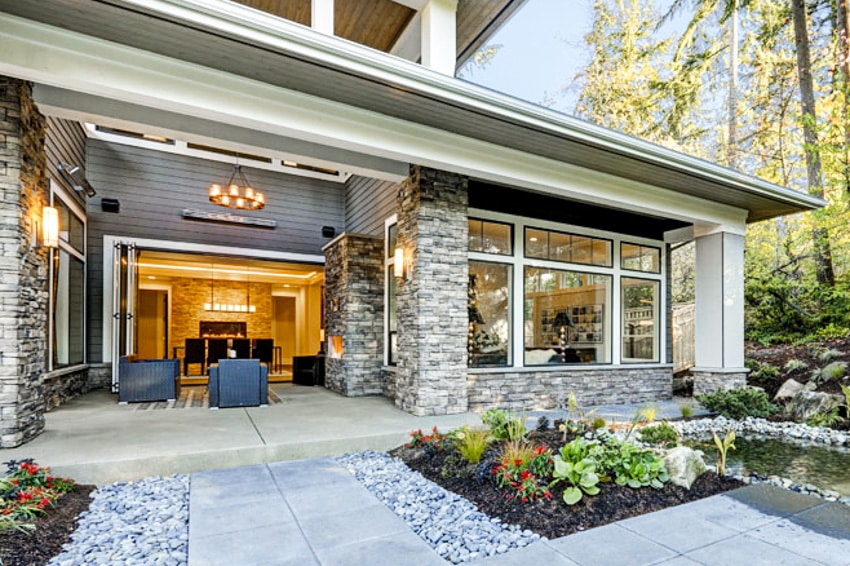 Folding patio doors normally range at around $800 to $1,200 or upwards per linear square foot. This, of course, depends on a lot of other things.
Some of these factors include the number of panels you'll get, the material, door opening size, finish, and glass options, among others. Read more about sizes at our guide on sliding door dimensions.

Which Is Better Sliding Door Or Folding Door?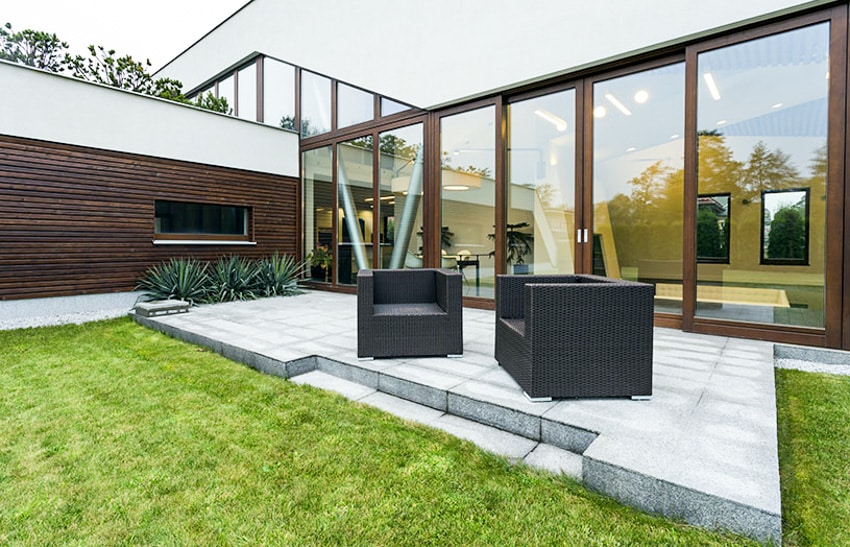 Can be fully opened. If this is your basis for what constitutes a great patio door, then folding doors win straightaway. They can be folded back, entirely opening the space up. This adds in a wow factor to your home that sliding doors can't really do. Sliding doors usually open up to 65 percent to the left or right.
Flexibility. Sliding doors win at this. They offer greater control as you can control if you want to open only an inch to let a slight breeze in or open it up altogether. This isn't a luxury you can get with folding doors as they're dictated by the size of the panels they're comprised of.
Glass to frame ratio. Although folding doors can be pulled all the way back, making the openings huge and impressive, nothing quite beats the glass to frame ratio offered by sliding doors as they have fewer frames and can make the outdoors visible without ever having to open them up.
See more related content at our article about enclosed patio ideas on this page.