Here we share laminate flooring with attached underlayment guide including what is, why waterproof it, reasons to install, and its benefits.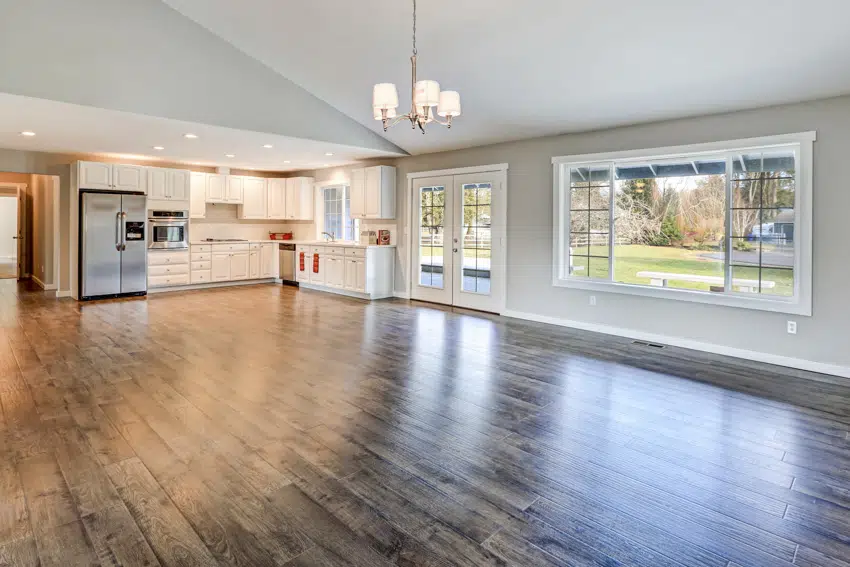 There are a few options when it comes to laminate flooring and its underlayment. There are choices of types, thicknesses, and quality. There are felt and foam underlayment choices that each offer different qualities.
The underlayment can be a variety of different thicknesses that can help improve the sound barrier, moisture resistance, and comfort underfoot.
Typically the thicker the underlayment padding, the better these qualities are. That being said, the thicker the underlayment and laminate will add to the price of the overall flooring and underlayment costs.
What Is Laminate Flooring With Attached Underlayment
Underlayment for laminate flooring can be either attached or placed before the laminate flooring is installed. While both ways are acceptable options, attached laminate is a great deal easier to install.
Laminate flooring with an attached laminate includes an additional layer on the laminate plants by the manufacturer that can eliminate the need for a separate piece of underlayment.
Most of the laminate made now is made with an underlayment built into the product since it is always required. If an underlayment is not included the laminate flooring will not sit on the subfloor correctly. Read more about our guide on the pros and cons of laminate vs hardwood flooring here.
Waterproof Laminate Flooring With Attached Underlayment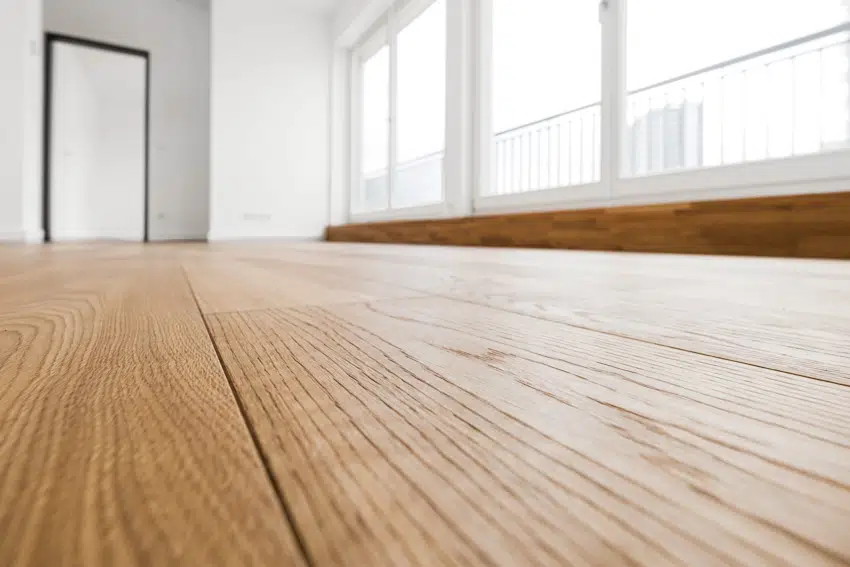 Underlayment brings moisture protection to the laminate flooring. Often floors expand and contract when there are major changes in the weather and humidity.
Including an underlayment between the subfloor and the laminate helps in creating a moisture barrier. This is particularly important when the laminate is installed on a concrete slab.
When it comes to an attached underlayment you run into the problem of gaps in the underlayment. There is not a continuous underlayment running across the entire space which can cause the moisture barrier to be broken with every plank.
When there is a need for a moisture barrier and you are planning on using attached underlayment, it is important that you add an additional moisture barrier or that you switch to a separate underlayment to prevent damage. See our guide about waterproof wood flooring for bathrooms here.
Do I Need Underlayment For Laminate Flooring With Attached Pad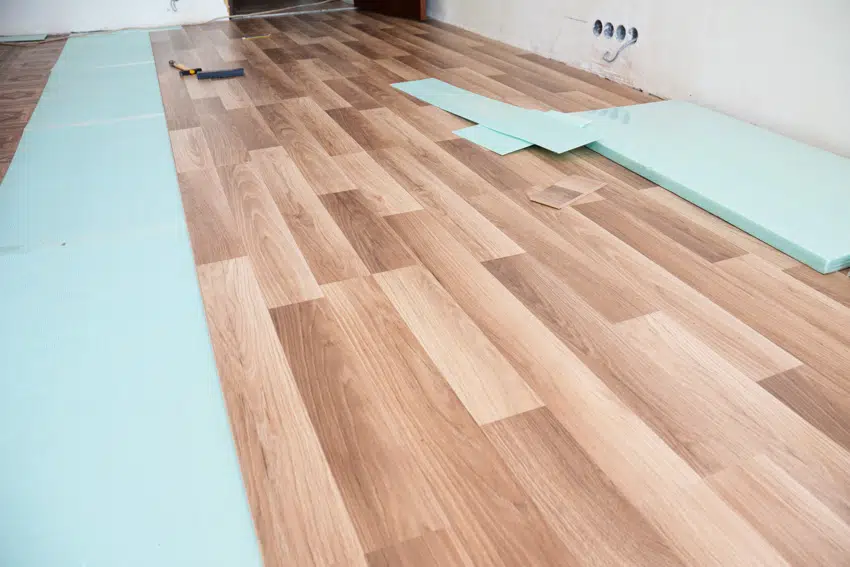 Attaching the underlayment pad to the laminate floor typically replaces the need to have a separate underlayment. In some circumstances, this is perfectly acceptable.
Attaching an underlayment to the laminate planks keeps installation time and effort low. At the same time, it still offers some of the qualities that it required for putting down laminate flooring.
Underlayment pads offer noise reduction qualities which can be important in homes and commercial spaces.
Laminate planks snap together using a tongue and groove system to create a floating floor. When you walk across a floating floor it can squeak or can sound hollow underneath, which can be mildly unnerving.
Adding an underlayment can absorb sound and help minimize those undesirable noises. Read more about soundproof flooring here.
Underlayment also can help hide imperfections in the subfloor imperfections. The laminate flooring will not sit on the floor correctly without these corrections. The flooring would have noticeable bumps and could possibly not lock together properly if the underlayment is not placed between the subfloor and the laminate flooring.
As mentioned, if you are looking to have an attached underlayment you have to remember the gaps in the underlayment within each plank. There is no moisture barrier with the attached underlayment. This means you need an additional moisture barrier or to switch to a separate underlayment to prevent damage to the flooring.
This is extremely important when installing on slab subfloors. Moisture accumulated the most on that type of subfloor and could damage either the laminate or other items in the space.
Laminate Flooring Attached Underlayment Vs Without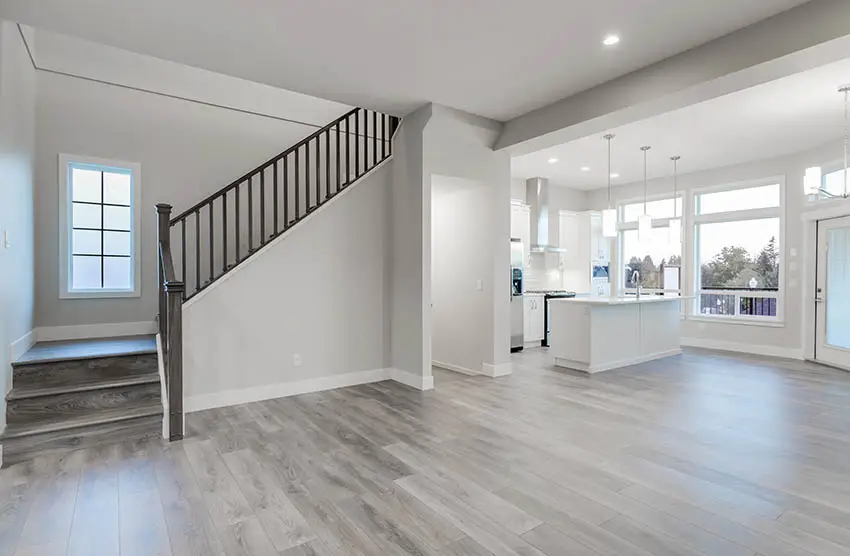 Here we compare the attached underlayment of laminate floors versus those without.
Separate Underlayment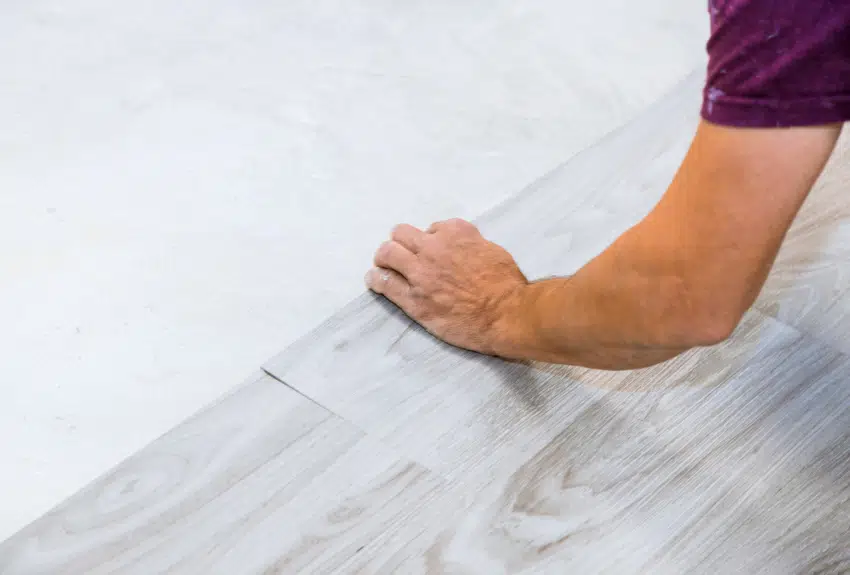 Price: There are a few selections when it comes to the kind of underlayment you can use when it is not attached to the laminate flooring. One type of underlayment is polyethylene foam underlayment.
This type, in particular, costs roughly 15 cents per square foot, which is an extremely reasonable price. You could also choose a felt underlayment which can be a little higher in cost but is comparable in price.
Quality: The choice of laminate flooring is often done because of the budget. Since laminate flooring is typically the inexpensive option it usually means that the laminate is thin and does not offer a lot of padding or acoustics.
This can vary based on the thickness of the laminate that is chosen. Separate underlayment can help counteract that by giving a higher quality layer underneath the initial laminate, if it is part of the laminate then it is usually a thinner piece to help keep prices down.
Product Control: There are a few selections when it comes to underlayment when you purchase it separately. When you get attached, you get whatever product is stuck to the laminate flooring you picked.
Separating the two products gives you the flexibility to choose two different manufacturers whose specialty is in each product. Additionally, you can select any type of laminate flooring when the underlayment is separate since you do not need to be limited by products that offer attached underlayment.
Attached Underlayment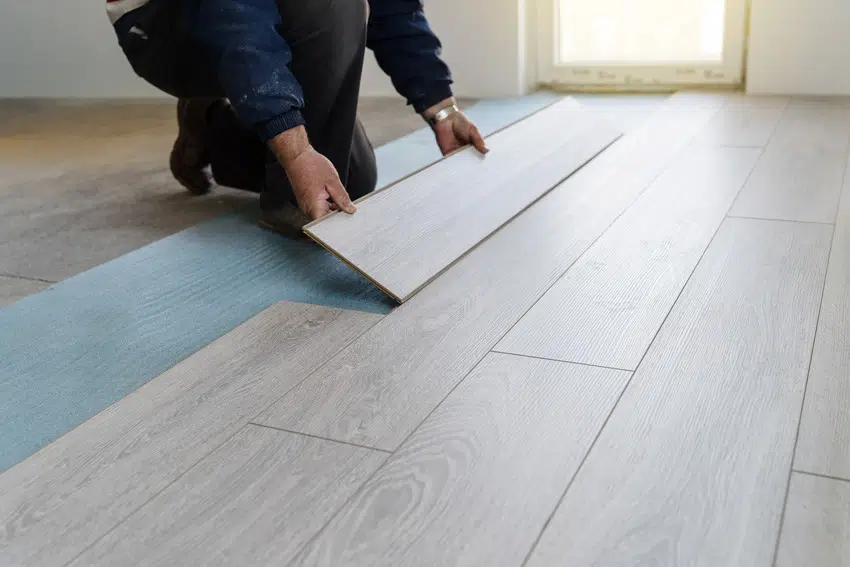 Installation: Eliminating one small step from the installation process of laminate flooring may seem small, but it could reduce the overall time spent on the project. This will help you save on labor costs.
This can counterbalance the minor upcharge for the pre-attached underlayment. If you are doing it yourself, it may not save money but it can save hassle, time, and stress which is all just as valuable.
Underlayment Gaps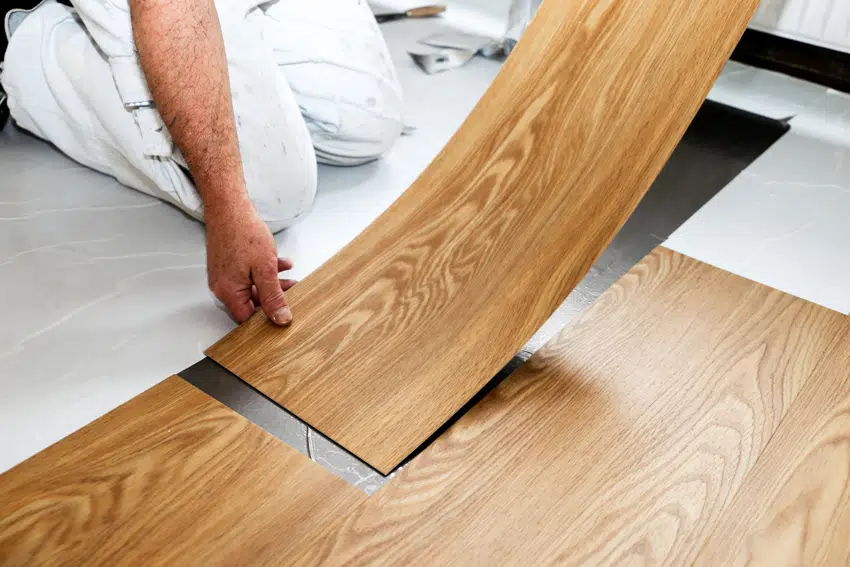 Unfortunately, each plank has its own section of underlayment that is cut with the plank size. This means that there is no continuous underlayment running across the entire area of the room which can lower the overall quality and effectiveness of the underlayment.
These gaps can affect a multitude of qualities that could be of great importance to the project. The acoustic quality, as well as any form of sound barrier, could be decreased due to the gaps in the underlayment.
Additionally, any assumed moisture protection the underlayment had is jeopardized when the underlayment is not continuous; this would be insufficient when on top of a slab subfloor.
See more related content at our article about the differences between laminate vs vinyl flooring on this page.