Find out what is a bypass door including how it works, the different types, the hardware used, and tips on how to measure for this kind of door.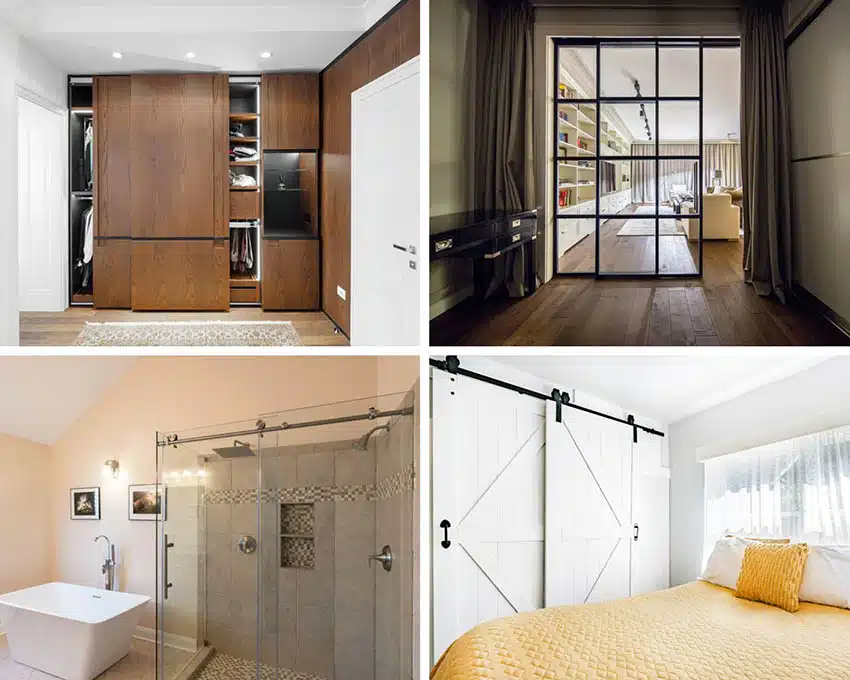 A bypass door is a popular door type widely used in different areas of the home, including closets, shower doors, and bedrooms.
It is an ideal alternative to a bi-fold closing door since it technically opens horizontally, is parallel to the wall, and slides one in front of the other.
Typically, it features two tracks where the panels slide in, and the doors move to bypass one behind the other.
Quicklook: Bypass Door Types
• Bypass Sliding Door
• Bypass Barn Door
• Bypass Closet Door
• Bypass Shower Door
If you are considering a bypass door for your home, here are some of the benefits you will surely enjoy:
• Delivers contemporary and modern look: Bypass doors are structured in both contemporary and modern styles, offering great aesthetics than can be added to the room. You can get mirrored bypass doors with a smooth sliding track for a modern and timeless look.
• Space-saving: These bypass doors open and close without needing to move furniture around to accommodate them and without needing parallel wall space.
• Wide Variety Of Options: There are different types of bypass doors you can check out. You can get them frameless or with a frame, with the option of using glass or wood. For the framed option, you can also get metallic frames to hold the door panels securely.
• Versatile in construction: Building bypass doors is quite flexible since you can get the complete structure of the door or just a part of it (incomplete parts or partly finished doors).
With partially finished bypass doors, you can choose the paint and stain to apply on them to match the look of your room or home.
• DIY-friendly: Bypass doors are available in kits, so getting them from the manufacturers would be easier. These kits will include either the partial or complete parts you need to install a bypass door but ensure you have the necessary tools for the installation before getting one.
A bypass door can be a convenient element for your home. It has this modern appeal, looks aesthetically pleasing, and has an innovative design. The downside is that this door type lacks insulation and can't keep heat or cold in.
Bypass doors are also priced differently, depending on different factors that include the size and dimensions of the doorway, materials for the doors, and the design of the bypass door you plan to have.
Bypass doors in kits are more affordable, but custom-made ones are relatively more expensive. The problem with kits, though, is that you need to get the ones that can match the accurate measurement of your doorway.
How Do Bypass Doors Work?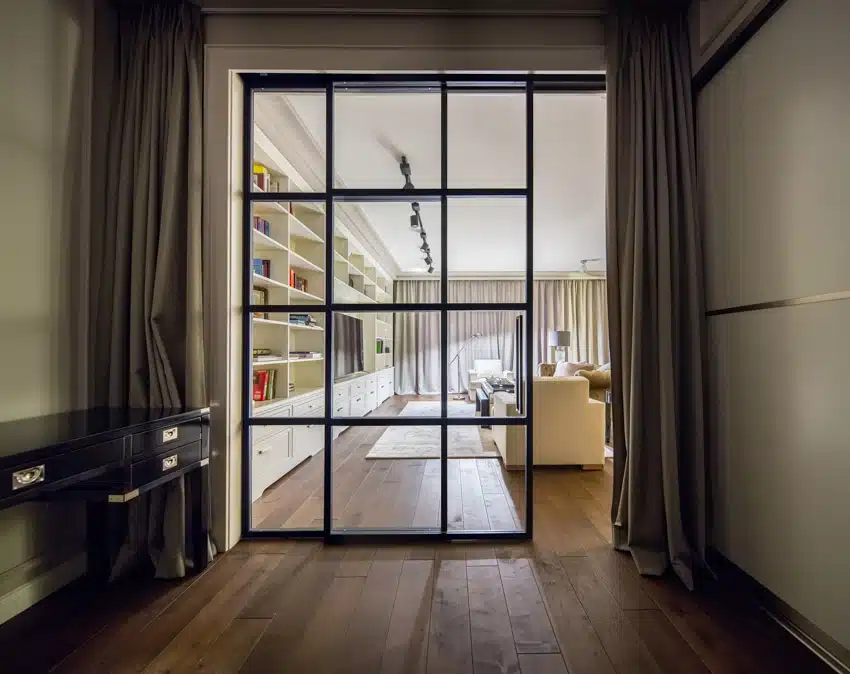 Bypass doors follow this sliding system that can be an alternative to the standard and bi-part systems. Compared to the other two systems, bypass doors are arranged where a panel is in front of the other panel and then set on its own respective tracks.
This design allows each door to bypass the other without any hindrance. There is more flexibility in using these bypass doors since they can slide in front of each other easily.
This also means that these doors will not cover any wall surface when opening, requiring less wall space compared to other types of doors. The door will only block its paired door, which is why these doors will always come in at least pairs.
The paired doors are categorized as exterior and interior with standard two doors. Depending on where you're standing, a door can be considered exterior if it is positioned in front of the other door. This means that both doors can be considered interior and exterior, depending on your point of view.
Bypass doors, such as sliding closet doors, slide on a track, like pocket doors, but have a double track and two doors that are not concealed in a pocket in the wall. – Rob Thallon, Graphic Guide to Frame Construction
Types Of Bypass Door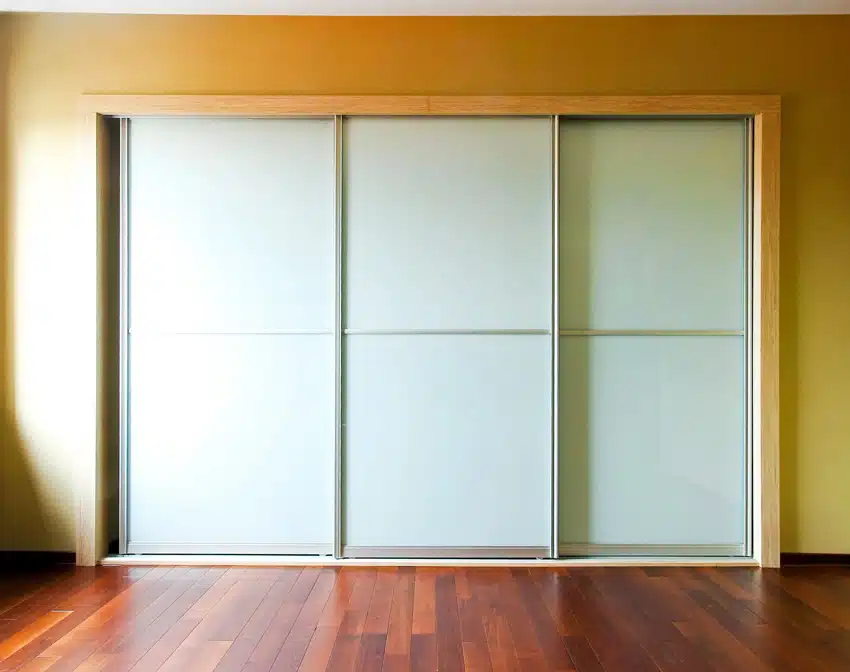 Bypass doors are ideal for spaces and rooms with limited wall space. They are perfect for homes with small, narrow wall spaces but wide doorways, specifically in bathrooms, sitting rooms, and home offices.
They can also be used for closets and kitchen pantries. And you can use them for interior and exterior applications in your home.
If you choose to add a bypass door in redesigning your home, there are different types you can consider. While, in essence, the system works in a modern way, there are bypass doors that offer rustic aesthetics that can offer you a nostalgic touch to your home.
Make sure to consider vital factors before choosing from the different types, including your running budget, the aesthetics of your home, and the space available for the doors.
Bypass Sliding Door
Technically, bypass doors are considered sliding doors because they follow a sliding system when opening or closing them. While there may be numerous configurations that bypass sliding doors come in, the installation and function are pretty straightforward.
Bypass sliding doors come in two doors, one mounted in front of the other. These two doors move parallel to the doorway, and both can move and slide to the left and right to open and close them. This means they can function even in smaller places since it is a saving-solution sliding door.
These bypass sliding doors can either be made from glass or wood. There are two methods for which sliding doors operate; one is a set of two double parallel tracks installed on the floor, while the other is mounted over the top of the doorway where the doors hang from the track. You can choose the method and aesthetics that will look good together with the style of your home.
Considered to be increasingly popular, here are some of the benefits you can get from choosing a bypass sliding door:
• Space-saving and does not require front space, unlike swinging doors
• Simpler to install and operate (Free from having to worry about door jambs)
• Can be used for different door applications, including closet doors, partitions, sliding glass pantry doors, and sliding doors for the washroom and shower area.
The downside with a bypass sliding door is that the doorway itself can be limited since you can only keep one door open at a time.
Bypass Barn Door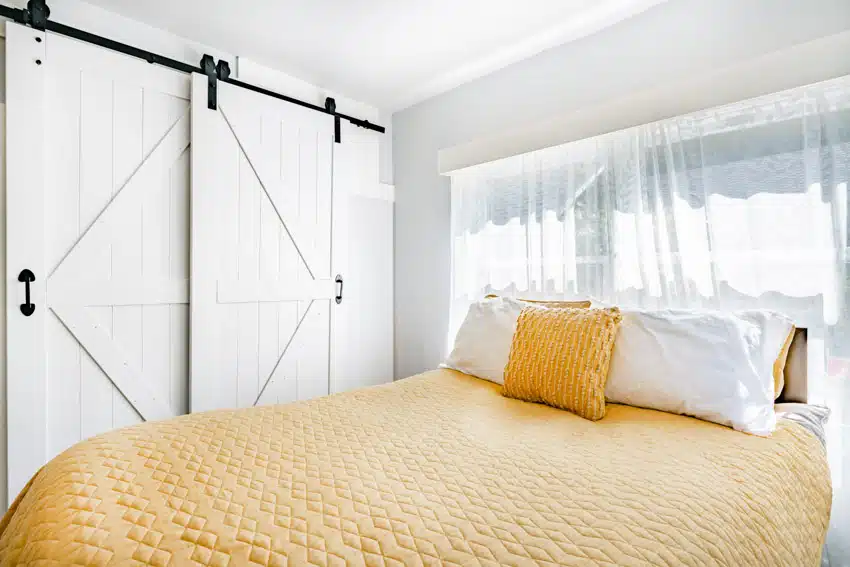 One of the most popular bypass doors is the bypass barn door. It is the solution to the space issues that a traditional sliding barn door usually has. It is the more traditional and rustic type of bypass door, and they commonly install their tracks at the top of the doorway.
It also requires less wall space so you won't have to worry about this. And the great thing about bypass barn doors is that they are not limited to barn use and can be installed in your homes as a rustic partition.
Bypass barn doors are more commonly made from wood to mimic authentic brands' rustic and old-age look. In terms of looks, these interior sliding barn doors will be the perfect addition to your home if you want to have that nostalgic touch.
Bypass Closet Doors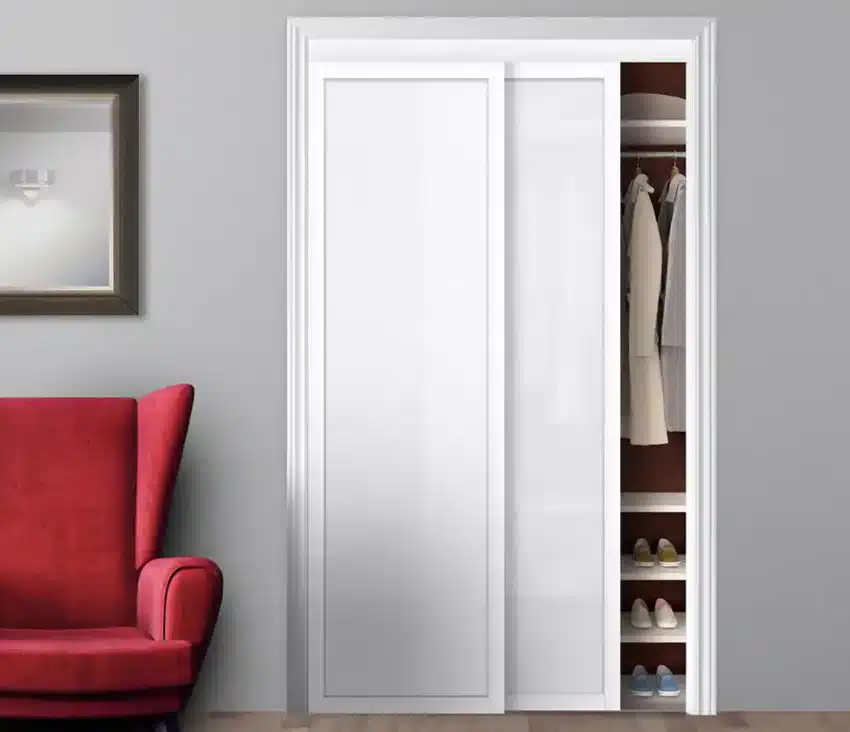 See this bypass closet door at Home Depot [sponsored link]
Many closet doors are also popular for following the bypass method. Two sliding panels are ideal for closets primarily since these storage options are usually flushed into corners and need to be space-saving, which is what a bypass door can deliver.
These bypass closet doors usually move in tracks and are installed in one of the following:
• Linen closets
• Hall
• Small laundry room
• Water heater
• Furnace spaces
Bypass closet doors need large openings to help you easily access the items inside, even if only one panel can be opened simultaneously. These doors can be made from different materials, including metal, wood, and glass.
Some of the metal bypass closet doors are structured with patterned holes to help with the ventilation inside the closet.
Mirrored bypass doors are also highly popular for closets. You can look at yourself in the mirror as you choose your outfit and prepare for the day.
Full-length mirrors can also help make a small room appear bigger and more spacious, with the light reflecting on the surface, making the room brighter.
If you want a modern touch for your room, a mirrored bypass door for your closet will also be a good addition. You can get the doors with metal frames to stay true to this elegant style.
Bypass Shower Doors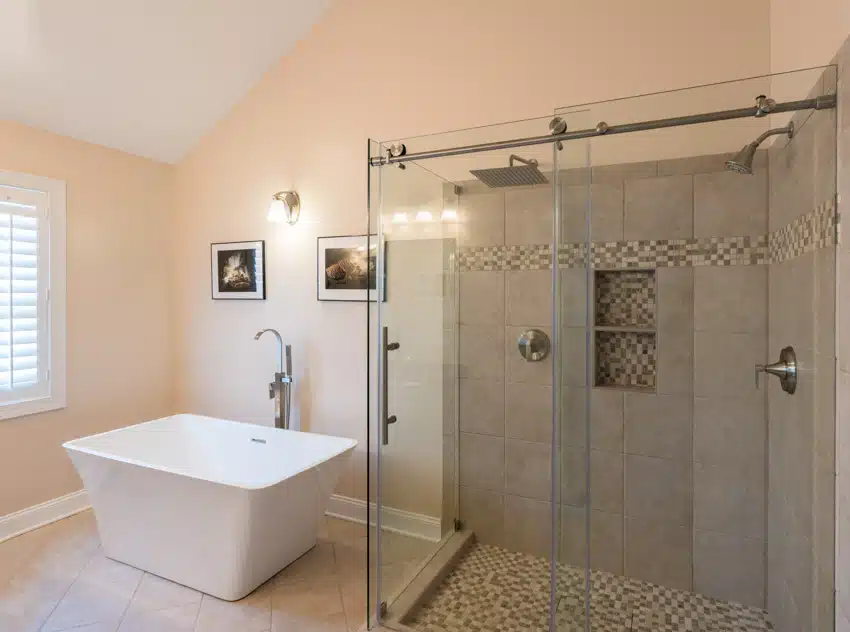 Bypass shower doors are also hugely popular in many bathrooms today, normally made of either plastic panels or tempered glass. These panels are commonly installed in two aluminum tracks, one in front of the other.
Compared to other shower doors, bypass shower doors do not need parallel wall space or a swinging area. They are highly available in the market and easy to install. And since they're not swinging doors, they feature less exacting tolerances.
Framed bypass shower doors are also fairly affordable, but you might need to spend more with frameless options. They are also more child-friendly when compared to pivot doors.
The downside with bypass shower doors is that they collect grime and water in these aluminum tracks. To prevent water intrusion, you must schedule regular cleaning and annual caulking for these tracks.
Cleaning may also be challenging because of the overlap design between the panels. Mobility issues may also be experienced, from noisy and rattling doors to overlapping glass shower doors with the sliding movement hampered over time. And make sure to choose thinner shower doors since thicker ones are difficult and heavy to move.
Bypass Door Hardware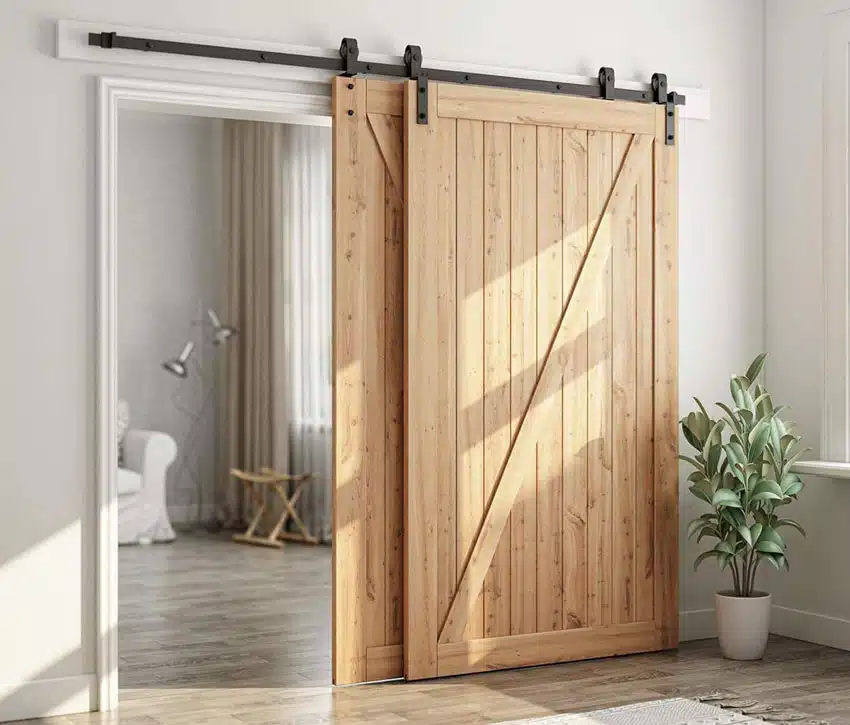 See this bypass barn door set at Amazon [sponsored link]
One of the best things about a bypass door is that you can get them in kits. If you don't have the budget to customize a bypass door, you can get bypass door hardware kits and install them yourself.
While convenient, these kits also require accurate measurements to install them right. The most common hardware kits are compatible with openings that measure 4, 5, 6, and 8 feet.
These bypass door hardware kits usually include the following items:
• Two to three doors or panels
• Rollers
• Brackets
• Two tracks
• Hangers (For tracks installed above the doors)
How To Measure For Bypass Doors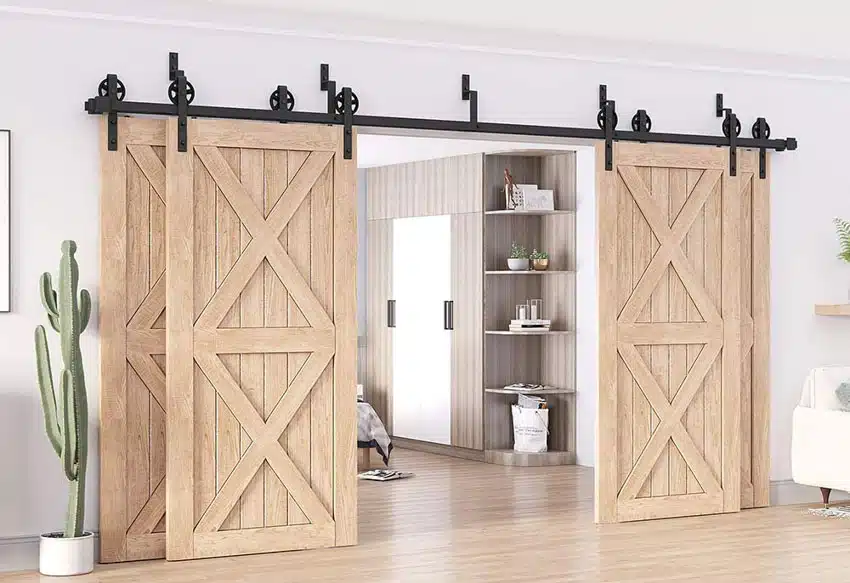 See this double wood bypass barn door set at Amazon [sponsored link]
If you need help with the measurements for your bypass doors, prepare your tape measure, pen, and paper to take note of the numbers.
Here are the areas you must measure before installing a bypass door.
• Door opening (From left to right)
• Inside track (Centerpoint, guidelines, and holes for mounting)
• Bypass brackets (Guidelines and holes for mounting)
To help you with the installation, here are the measurements about bypass doors you need to know about:
• Interior doors: An estimate of 1 ⅜ inch for each panel (Thicker panels are difficult to slide while thinner ones will result in a wide gap between each panel)
• Overlap between the panels: ½ inch
• Width of bypass doors: Width of opening + 1 inch
See more related content in our article about the different types of wooden doors on this page.