We've assembled a gallery of bedroom accent wall paint ideas, including the different color options, which shade works best, paint picks, and what finish to use.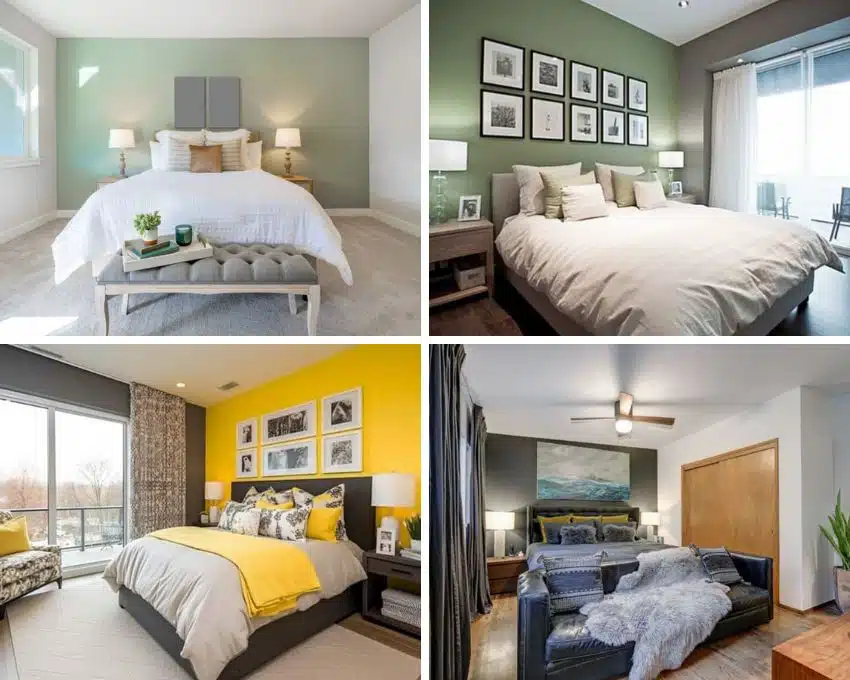 Adding a painted accent wall is one of the easiest ways to add personality to a bedroom design and create a statement. Accent walls are perfect if you're keen on experimenting with design opportunities in patterns, textures, and colors. It might be overwhelming to paint all your bedroom walls with them instead of just picking one accent wall.
An accent wall can completely transform how your bedroom's ambiance and overall aesthetic will turn out at the end of the day. You can go for a vibrant or bold color or something more muted and subtle.
You can also decide whether to throw a patterned or textured finish on your accent wall for added depth and dimensionality. It's a cost-effective way to update your bedroom design; with the right paint, you can make your space look different.
Quicklook: Bedroom Accent Colors
Pale Blue
Blush Pink
Sage Green
Deep Navy
Burnt Orange
Rich Burgundy
Bright Yellow
Deep Purple
Bedroom Accent Colors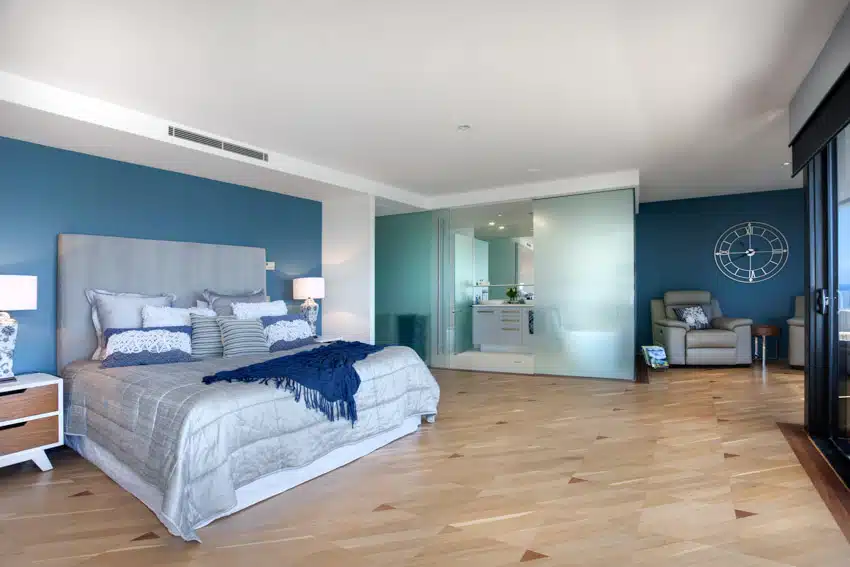 Accent colors don't just apply to painted walls. They can be applied through various décor elements in your bedroom, from wall art, rugs, pillows, curtains, bedding, and so much more.
Picking out the accent colors for your bedroom can be exciting and fun. It is because you can let your creativity run free and allow you to personalize your space depending on the look and mood you want to create.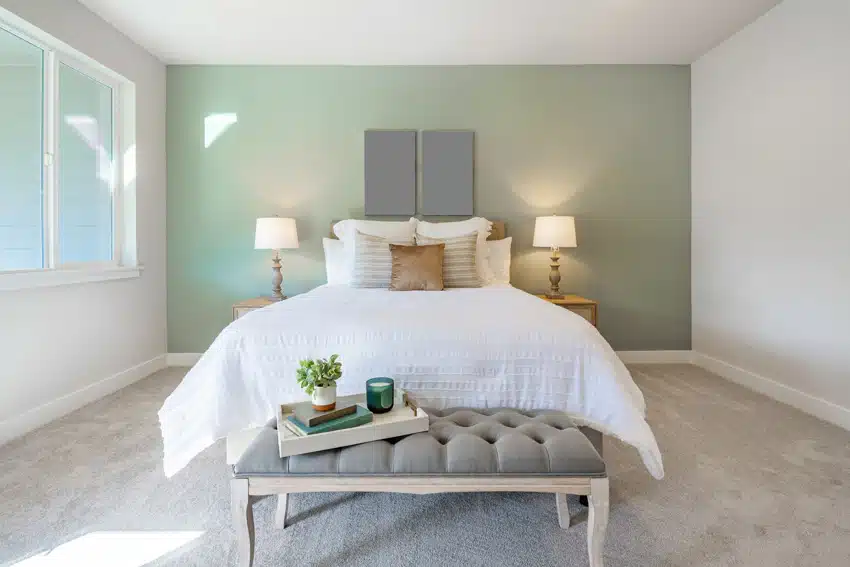 Speaking of moods, you also need to consider what effect you want your accent colors to have in the bedroom. If you want something calming and peaceful, the best accent colors are sage green, lavender, pale blue, and other similarly muted tones.
On the other hand, you can have something more energetic and exciting in the bedroom. Go with brighter, bolder shades such as electric blue, vibrant orange, or deep red.
Here are some of the most popular bedroom accent colors to consider: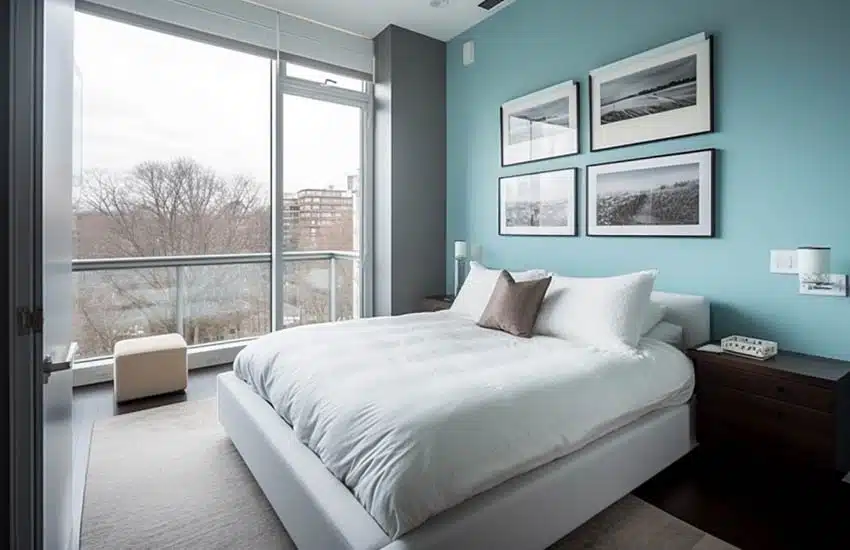 Pale Blue: Pale blue is soothing and soft. The color creates a relaxing and calming atmosphere when introduced in the bedroom. It also tends to work well with neutral tones, and when paired with cream or white, the finished look is fresh and airy.
Blush Pink: Blush pink is a feminine shade, and it's perfect in the bedroom if you want to have that soft and romantic ambiance with a touch of warmth. It can pair well with metallic finishes and neutral tones.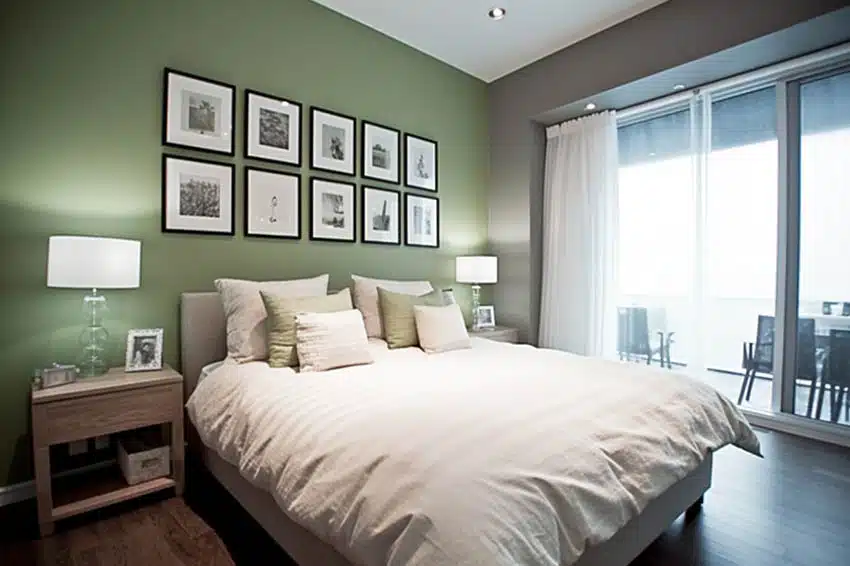 Sage Green: Sage green is an earthy and natural color. Suppose you want to create a sense of balance and tranquility in the bedroom. In that case, sage green bedroom walls can be considered as an accent idea. It works well with beige, cream, and various wood tones.
Deep Navy: Deep Navy is a rich and dramatic color that can make your bedroom appear sophisticated and add depth. The result is an abundant and elegant space when paired with metallic accents.
Burnt Orange: Burnt orange is a vibrant and warm color, and it's perfect if you want to create something energetic and exciting in the bedroom. When paired with the right neutral tones, it can create an inviting and cozy space at home.
Rich Burgundy: Rich burgundy is a striking and bold accent color, and it's perfect if you aim to add depth and drama inside the bedroom. It also pairs well with metallic finishes and touches.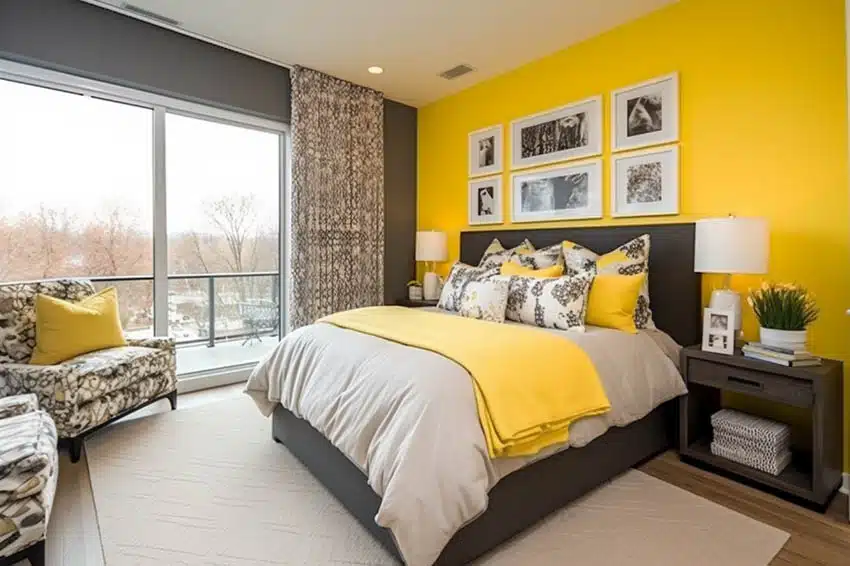 Bright Yellow: Bright yellow is a lively and cheerful accent color perfect for adding that pop of color to an otherwise muted-looking bedroom space. It pairs well with neutral tones and is the ideal color to create a fun and playful vibe in the bedroom.
Deep Purple: As an accent, deep purple can look elegant and regal. It's perfect for when you're looking into adding sophistication and a sense of luxury to the bedroom space. When paired with metallics, it tends to look very glamorous and romantic.
What Is Color Accent Wall Best For Bedroom?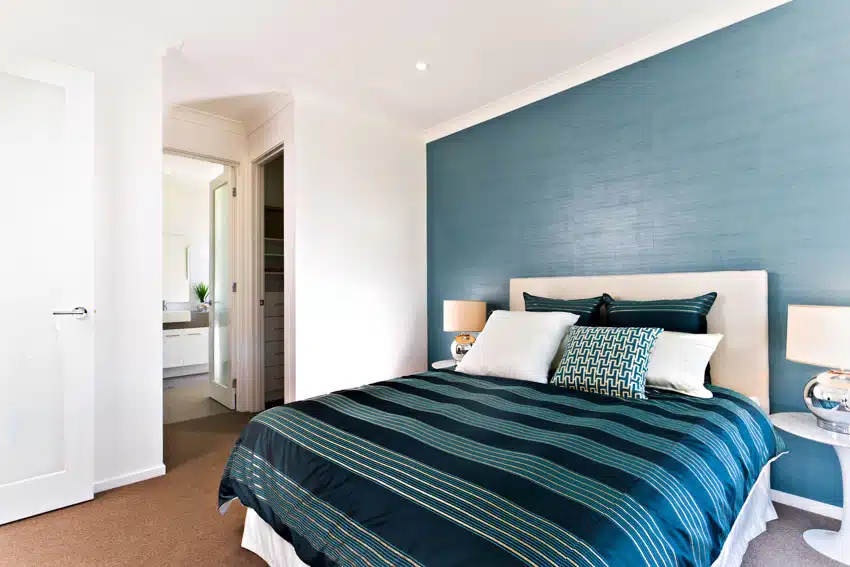 There isn't any definite answer to this question, as it depends heavily on your personal preferences and what design aesthetic you would like to achieve in the bedroom.
The perfect bedroom accent wall color for you may not be as fitting for someone else with different tastes, personalities, and preferences. However, here are a few guidelines to consider when selecting an accent wall color:
Mood: Think about the mood or ambiance you are trying to create in the bedroom. Are you looking for colors that help you sleep?
Soft and muted shades may be the best route for you. Muted colors bring that sense of tranquility, especially when trying to wind down and relax after a long day.
On the other hand, if you want something a bit bold and refreshing, bold and vibrant colors might be a better choice at the end of the day.
Typically, the most suitable wall to highlight is often the first one that catches your eye as you step into a room. It's a wall that will always be within sight for both you and your visitors according to Walla Painting.
Color Scheme: You also need to consider the overall color scheme of your bedroom space. Your accent wall should enhance and complement the rest of the colors in the bedroom and not clash with them; unless the goal is to create a striking contrast. Ultimately, you can decide what's best for you, depending on what you want to create.
Bedroom Accent Wall Paint Picks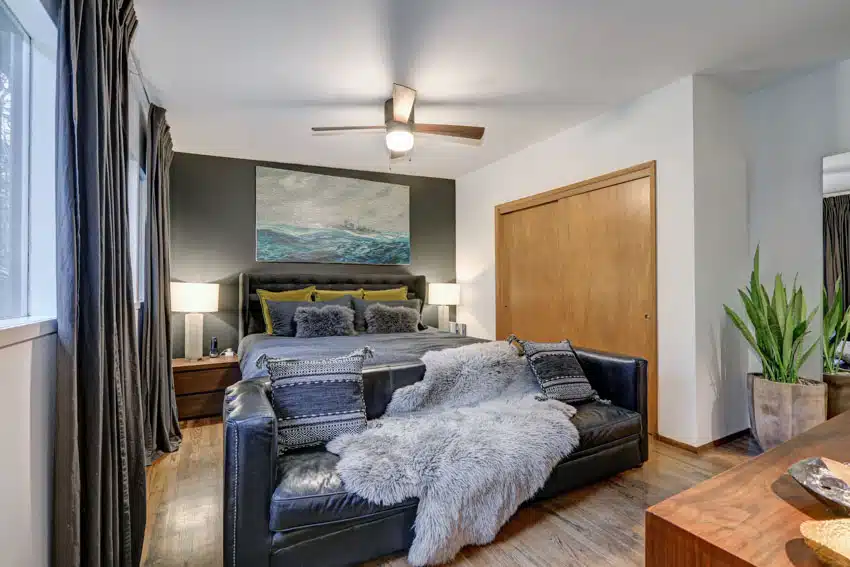 When picking out a paint color for your accent wall, remember that the other colors and décor elements in the room must blend cohesively. A great way to ensure that would be to bring home actual samples.
Once you've done so, you can see how they look in the space without committing to an entire painting job. Try to test it out during different times of the day to see how it looks depending on how the light falls on it.
Here are some of our recommended paint picks: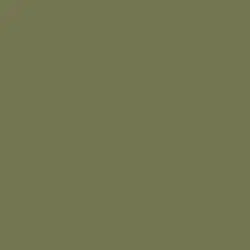 Behr Secret Meadow (N430-3): Secret Meadow is a soft, muted green shade with a slight blue undertone. It's light to medium tones and sits comfortably on the spectrum of not being too light or dark.
Green is the color of rejuvenation, new plants, optimism, and youth. It is also known to reduce blood pressure and can help us feel balanced. – Color Idea Book, Robin Strangis
Because of that, this shade is versatile and can work well with different color schemes and design styles at the end of the day. This color is reminiscent of a calm and tranquil meadow and pairs well with beige, white, cream, and other soft and muted colors. Rattan, stone, and natural wood are excellent materials to pair with them.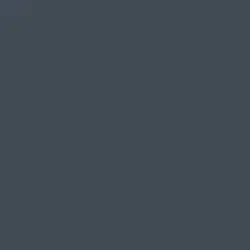 Benjamin Moore Hale Navy (HC-154): Hale Navy is a deep shade of navy blue with gray undertones. It's a rather dramatic and bold color, and it's great for adding depth and sophistication to the bedroom. Since the color was derived from the US Navy's uniforms, it also tends to have a classic feel. It's popular for accent walls and pairs well with light-colored metallics.
Although bold, it isn't overwhelming and complements a wide range of colors, from gold, brown, white, gray, and other similar colors. It's great for making a statement in the bedroom but maintaining a sense of coziness.
When deciding on an accent wall, opt for a wall that naturally grabs the person's attention – it'll be the immediate focal point. In rooms featuring darker walls, a lighter color hue might be the best choice for the accent wall.
Alternatively, in spaces with light color walls, a richer, more audacious color could be an excellent choice for the accent wall according to Benjamin Moore.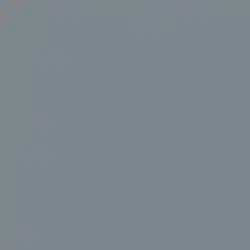 Sherwin-Williams Serious Gray (SW 6256): Serious Gray is a neutral, soft gray color with warm undertones. It's a medium shade of gray and sits in the middle of light and dark, so it's a versatile color that can work with various other colors and design schemes.
This option is among the modern bedroom colors that look very chic and great for adding a touch of elegance to any space. It looks understated and subtle and pairs well with whites, beiges, and creams. You can also pair it with bolder shades like blue or yellow to create a more dynamic-looking aesthetic.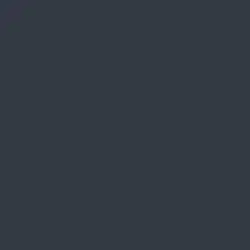 Farrow & Ball Hague Blue (30): Hague Blue is a moody shade of blue with deep green undertones. It looks dark and intense and is perfect for creating a sense of drama in the bedroom.
This color was inspired by Dutch furniture, which explains why there's a very sophisticated yet timeless feel to it. Hague Blue appears striking and bold and pairs well with metallic accents such as copper or brass. The finished look tends to appear very opulent and classic.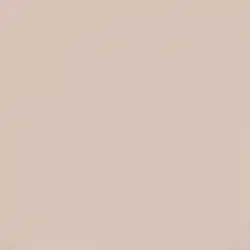 Dulux Soft Tone (4-024): Soft Tone is a delicate pale pink shade with warm undertones. It's a light color with a soothing and gentle effect when used as an accent wall color in the bedroom. This paint color looks very romantic and feminine.
Still, at the same time, it can work with various design styles, ranging from contemporary to traditional. It's best paired with white or gray, as the similarly muted colors can bring a cohesive and serene look to the bedroom space. If you want to go bold, the perfect pairings are navy blue or emerald green.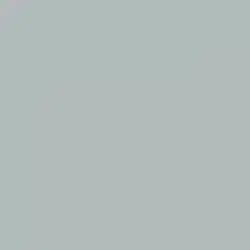 Valspar Autumn Fog (4007-18): Autumn Fog is a warm and earthy beige with slight gray undertones. It's a neutral color that's exceptionally versatile because it works well with various design schemes and color combinations.
This paint color is a popular choice for bedroom accent walls, and it's pretty easy to see why. Its subtle and understated appearance can work with almost any décor style, but it's best for modern to rustic styles.
It works well with the usual neutrals, but if you want to go bolder, you can pair it with reds or oranges for a more energetic and dynamic aesthetic.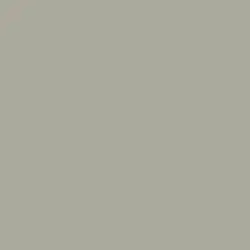 PPG Paint Hot Stone (PPU24-23): Hot Stone is a beautiful and sophisticated shade of gray with brown undertones to it. It feels elegant and calming in the bedroom and complements soft pastels and bright and bold shades.
Because of this, it is among the best bedroom paint colors if you want something more timeless and classic. It pairs well with metallic accents of gold and silver. You can also add wood or stone elements to make the overall design appear more organic and warm.
What Paint Finish To Use For Bedroom Accent Wall?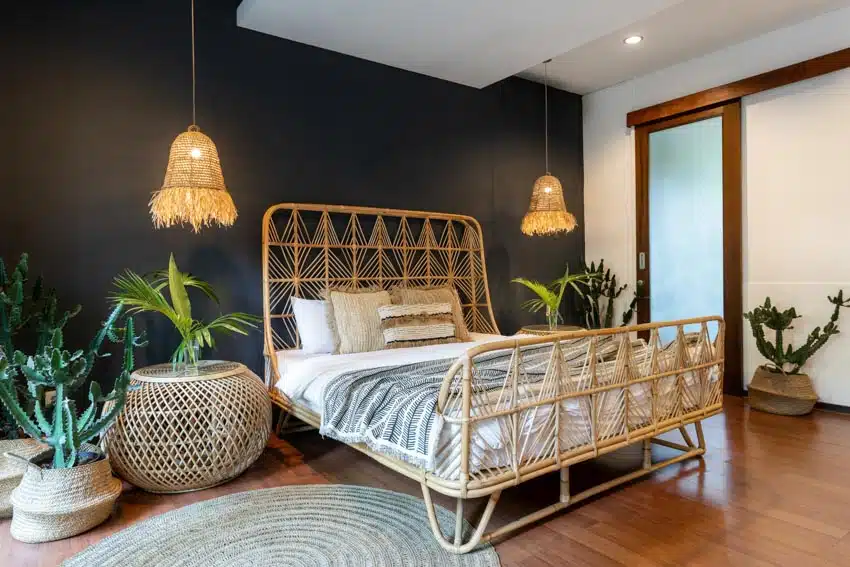 When painting a bedroom accent wall, the paint finish is as important as the color you pick. The paint finishes you pick out will impact the overall look and feel of the bedroom space. It also affects the ease of maintenance and the durability of the paint as time goes by.
What's recommended for a bedroom's accent wall finish is either something glossy or something that has a slight sheen to it. These finishes reflect light, meaning the colors will appear brighter and more vibrant.
Semi-gloss, eggshell, and satin finishes are popular accent wall ideas for bedrooms. They're not too shiny but great for creating that subtle sheen in your walls. And because of this, they offer better ease of maintenance and durability as well. They also stand up better against stains and moisture on the walls.
Which Wall Should Be The Accent Wall In A Bedroom?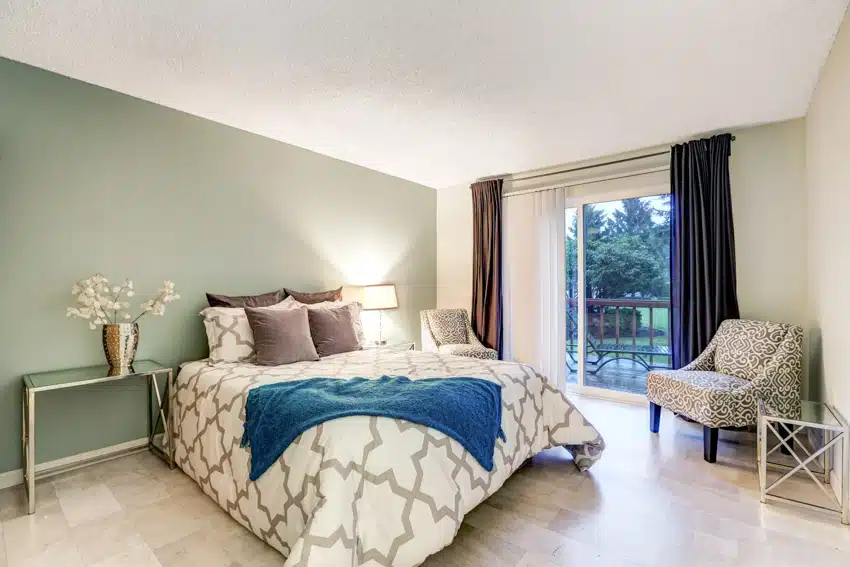 When you think about an accent wall, consider which wall in your bedroom will draw the most attention and will be the focal point. This wall is further emphasized when you paint it a different color than the rest of the room.
A slightly brighter or shinier paint finish will also help it stand out more. You also have the option to play it up with patterns, textures, or any other highlighting features you might want to bring in.
When picking out the perfect wall, there are a few things you ought to consider:
The placement of the bed: The accent wall should be the wall that's right behind the bed's headboard. Doing so will ensure that your accent wall has a visual anchor for the room's aesthetic and will immediately draw the eye to it when you entire the bedroom.
The room's layout: Consider the other architectural features in the room's layout, such as if it has a fireplace, built-in shelving, a large picture window, and the like. The accent wall should frame these architectural features so that they get to stand out even more.
Selecting the right bedroom wall to turn into an accent wall dramatically impacts how your bedroom's focal point is highlighted, so keep these tips in mind and have fun.
See more related content in our article about the best bedroom paint colors on this page.